When you're a remote WordPress developer, finding customers that can afford to pay you adequately is one of the most challenging aspects of the job.
Fortunately, web developers are in great demand, so there are plenty of high-paying opportunities available if you know where to search.
5 Best Places to Find Remote WordPress Developer Jobs 2023:
We'll go through five of the finest locations to look for remote WordPress developer jobs in this article.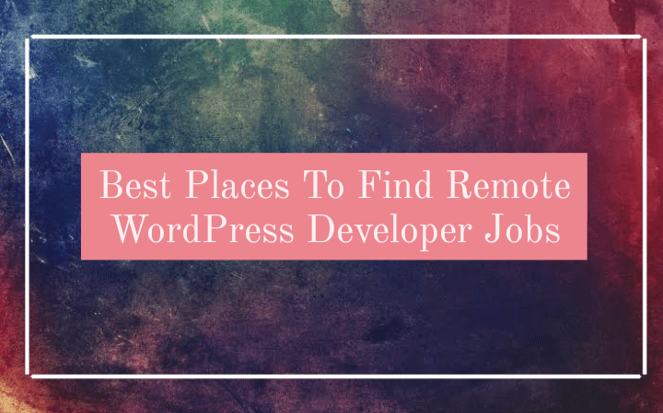 For both freelancers and paid professionals, these sites are the greatest places to begin your hunt for new customers and jobs. There we go!
1. LinkedIn
LinkedIn is a well-known professional social networking site. It also features a job search feature that might help you locate developer opportunities.
Log into your LinkedIn account to look for WordPress development jobs. From the navigation bar, choose the Jobs button. Fill in the location box with "remote" to get remote development jobs.
You may search by job type, experience level, and more. When you find a job you desire, you may apply without leaving LinkedIn.
You may also use LinkedIn to network with peers. This might help you locate jobs not listed on the job board.
Regardless matter how you choose to look for employment on LinkedIn, keep your profile up to date. This is what potential employers look at initially.
So make sure it looks decent to give a good first impression. We've previously discussed how to create a fantastic LinkedIn profile that can help you obtain more customers and better career possibilities.
2. Upwork
Upwork is a freelance and remote employment marketplace. Businesses searching for talented freelance developers typically start here. Some companies utilize Upwork to hire permanent employees.
To get started with Upwork, you must first establish a profile and get accepted. Upwork verifies freelancer applications to guarantee high competence levels. Acceptance should be quick for competent WordPress developers.
You'll need to submit a pitch for each job outlining why you're qualified. Specify your fees, methods, and projected timelines in your pitch. Employers might also invite you to apply directly.
You may establish your own hourly pricing on Upwork. This is shown to prospective clients on your profile. On Upwork, a WordPress developer earns between $15 and $28 per hour.
Upwork has several remote WordPress development opportunities. Finding work should be simple if you have the abilities.
Your Upwork profile should be detailed and stand out from the crowd. Professional and thorough Upwork profiles. To make your page stand out, add videos and professional credentials.
Receiving good comments on your account may also earn you a Top-Rated badge. Access a top-rated customer pool.
3. Codeable
Codeable is a freelancing network for professional WordPress developers. It connects developers to short-term and long-term WordPress development projects.
Codeable developers are guaranteed minimum hourly pay between $70 and $100. They also receive coaching, assistance, and training. The site also offers a unique pricing structure that prevents freelancers from participating in a price war.
Codeable thoroughly screens all applications. To begin, you'll need to provide a complete application. If you pass the application step, you'll be interviewed and coded.
If you're accepted, you'll get a 45-day trial. Examine jobs and interact with customers. Once you know the scope of your work, you may estimate a price and set terms.
Codeable's extensive verification procedure makes it tough to get started. When it comes to remote work, it pays to be a professional WordPress developer.
4. WP Jobs
WordPress Jobs is a part of WordPress.com. From contributor and writer options to front-end and full-stack developer possibilities, it's a terrific resource.
WordPress Jobs is a user-friendly employment board. Simply type in a term like "front-end developer". Selecting the Developer category in the sidebar displays all possible developer positions.
Sadly, there is no way to filter jobs by location. However, each job post explicitly states the location. Most have a "N/A" listing, indicating they are entirely remote. For most jobs, you'll be asked to apply through email.
5. Facebook
Facebook is becoming much more than a social networking site. It's a gathering place for neighborhood organizations, small enterprises, and even job seekers.
There are several Facebook groups dedicated to remote work. There is even a handful of remote WordPress developers.
Employers and developers alike might profit from finding work through Facebook. Employers do not have to pay for post-employment adverts.
They may also advertise their job openings in a WordPress-related group to reach the relevant candidates. Using Facebook groups for job-seeking also allows engineers to relax.
They don't have to fill out reams of paperwork to apply. Sending a direct message to the original poster might help you get a position.
You don't want to be overly relaxed. Applying for employment in Facebook groups is still courteous and professional.
Remote WordPress development employment may be found in many Facebook groups. But we suggest WordPress Freelancers and Developers. This group is a wonderful method to network with other developers and find work.
Quick Links:
Conclusion: Best Places to Find Remote WordPress Developer Jobs
It might be difficult to find a remote WordPress development job that pays well and is a good fit for your skills. You may begin your search at any of the previously mentioned websites.
What are the best locations to look for remote WordPress developer positions? We'd love to hear from you if you have any questions!