Welcome to My Beaver Builder Pricing Plans! If you're seeking a powerful and user-friendly website builder that allows you to design great websites without any coding experience, you've come to the perfect spot.
I'm excited to introduce you to Beaver Builder, a popular WordPress plugin that helps you to easily create stunning and flexible websites.
Whether you're a professional web designer, a small company owner, or a blogger, They provide customizable price options that are suited to your individual requirements.
In this introduction, I'll walk you through the many price choices available, as well as the features and advantages each provides.
So, let's get started and choose the best plan for your Beaver Builder website-building experience!
Here is a summary of questions that will help you understand the contents of this blog better:
Why does Beaver Builder do this?

What are the features of Beaver Builder?

What are the pros and cons of using it?

What is the pricing plan of Beaver Builder?
Overview Of Beaver Builder
Whether you are a blogger, web designer, or businessperson, you must have heard the advice to use WordPress when starting a website. 
Since it is adaptable, packed with options, and excellent for aesthetics, WordPress is undoubtedly the most widely used platform for creating websites. 
To put it simply, Beaver Builder is a plug-in that improves your WordPress experience and makes you stand out from the competition. 
Although it can be challenging to paint your website's vision on a white canvas, Beaver Builder's exciting and distinctive features will put you in good hands.
With this plugin, you are provided with a beautiful library of ready-to-use templates, which can be customized as per your liking.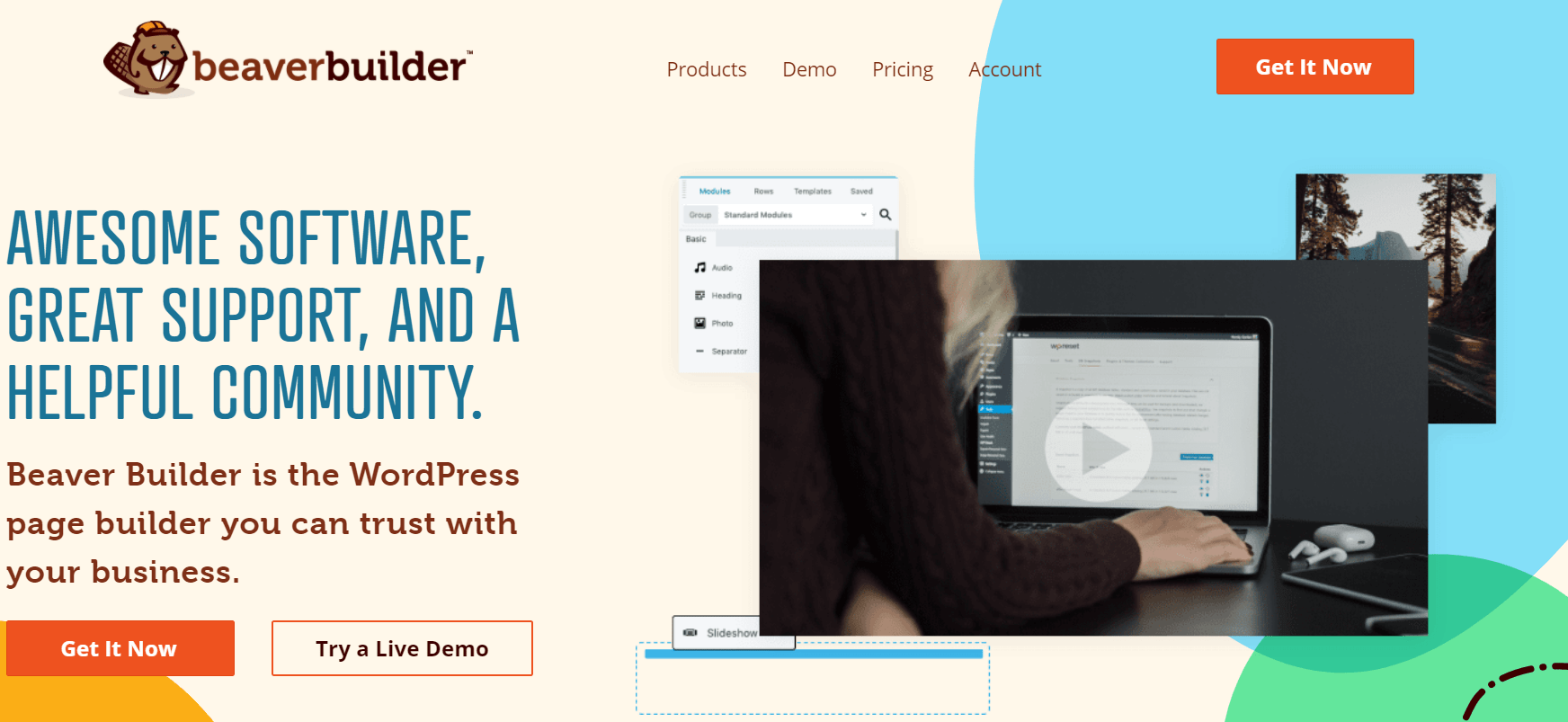 Your days of frantically searching the internet for instructions on how to modify your WordPress template are now over as Beaver Builder's user interface is simple to operate and simple to understand. 
The plugin is light and does not slow down your computer, which is evidently a plus. You can quickly create a unique and professional website with just a few clicks! You can now create websites without hassle. 
Simply click and drag a few options onto your template after you have made your selections. Even this small task occasionally becomes unnecessary because Beaver Builder Templates already have the majority of the necessary components.
And what if you are new to the intricate and complex world of web design and have not had the opportunity to try out Beaver Builder?
How can Beaver Builder Help you Out?
Some of you might be thinking- why should I pay for Beaver Builder when I can just hire someone to do my work?
The answer is simple: by using Beaver Builder, you will not only save money on hiring an expensive designer, but you will also have the freedom to design your website to your liking.
You will have complete control!
If you decide that your blog or website's current style isn't working for you, or if you simply want to give it a new look, you can customize it yourself without having to waste time looking for and coordinating with a new developer.
Beaver Builder does not require any coding knowledge; all you need is your creativity and design vision. Are you ready to be different and stand out from the crowd?
You May Also Like This:
Beaver Builder Pricing Plans
This software is considered to be higher in price range as compared to its two main rival software that is Elementor And Divi Builder.
This might look like quite the problem but if you were to use the features of Elementor Pro, you would naturally have to buy Beaver Builder. 
The most notable benefit of using Beaver Builder is that it can be used on multiple sites regardless of the package you have chosen to use the software in.
The license type used here is either Standard or Pro.
The main point for selling this is a Pro and that is if your client is looking to start from scratch and re-build an entire site from the ground up.
But if this is for the usage of a site that is already existing, the Standard plan is well and good.
Although they don't provide the option of using a free trial, the Beaver Builder software does put up a very good demo that can be used by the client to check if the software is good enough and will therefore be able to cater to the needs of his website.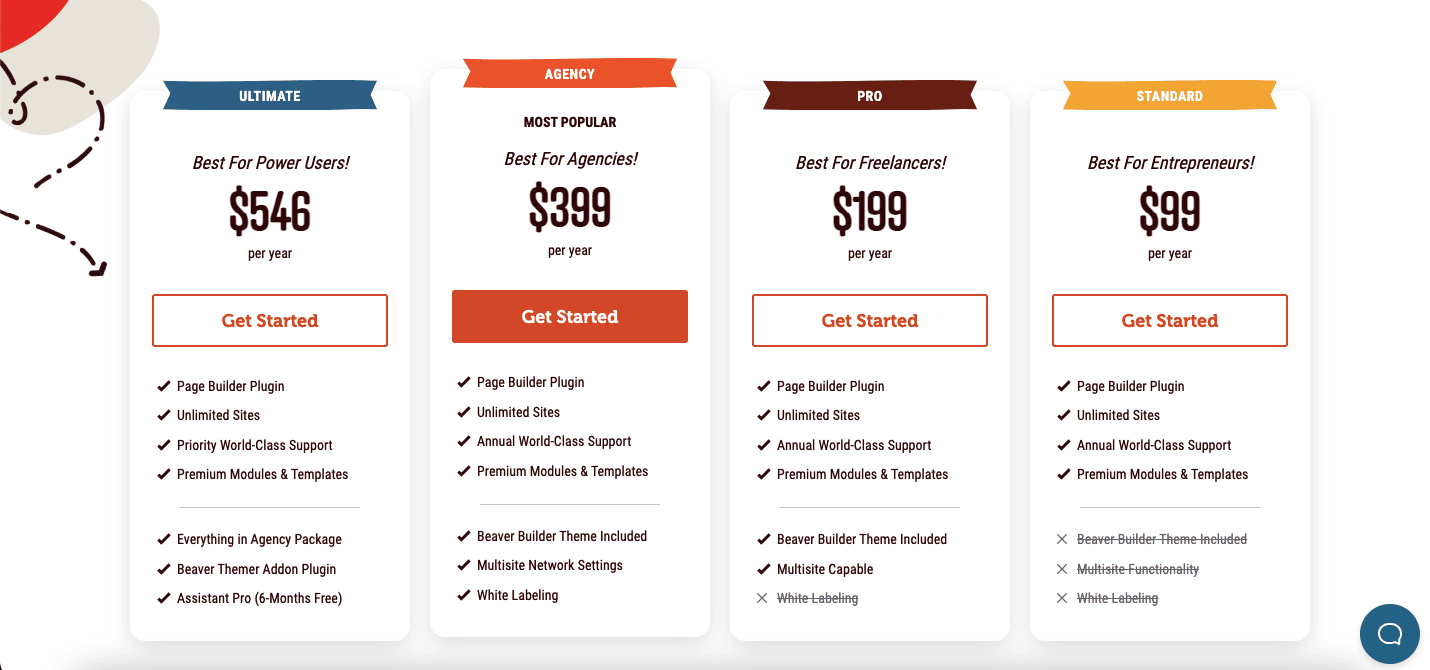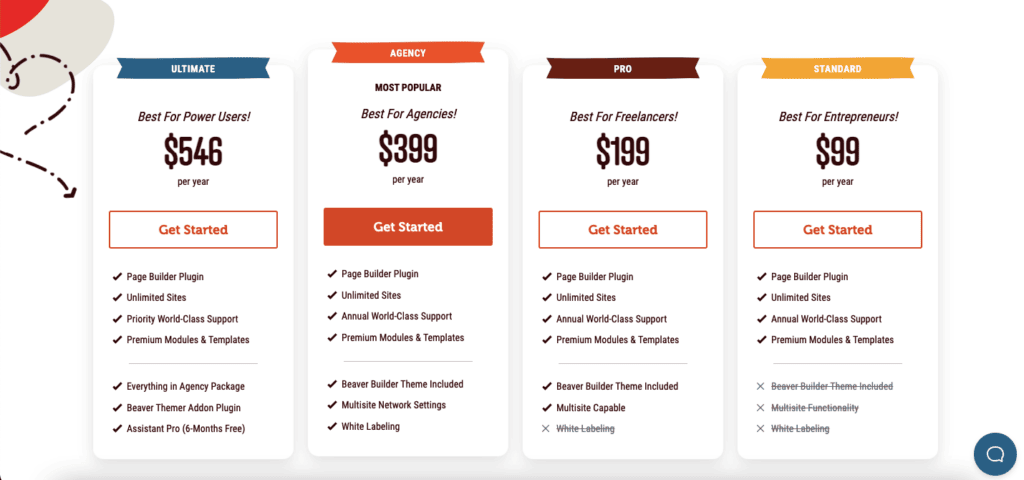 1. The Standard Plan:
To reap the advantages of the Standard version and access to the basic features you have to pay  $99 per year. This is the lowest rate that Beaver Builder offers.
With this basic version, you get all the core features. You have no limit on the number of pages and products you add.
2. The Pro Plan:
This is the most popular subscription among the clients of Beaver Builder. It empties only $199 per year from your pockets and wrenches out the best for your business.
You get all the Standard version features for unlimited sites. This version has proven to be most indigenous to the users for versatility.
3. The Agency Plan:
To get the best long-term benefits you can choose the advanced subscription at the price of $ 399 per year. This does not have any new features or add-ons apart from white labeling.
In the long run, the sum of money invested is completely extracted through business profits.
FAQs On Beaver Builder Pricing
Is the Beaver Builder software considered a plugin or a theme?
It is considered both! The standard package only contains the plugin as page builder but the pro or the agency package includes both of these that is the plugin as well as the beaver builder theme.
Is Beaver Builder software compatible with the X theme or Y plugin?
The builders of this software have worked tirelessly to ensure that this software becomes compatible with multiple plugins and themes but if you choose to test your Beaver Builder with the plugin stack, it is possible through WordPress.
Can I make my own modules in Beaver Builder?
Yes! That is also an option. A plugin is available which is called the custom modules documentation and a boilerplate plugin is available. It is possible to use a widget from WordPress on a Beaver Builder.
How much does Beaver Builder cost?
The Beaver Builder Lite version is available for free while the Standard Plan starts at $99/year and the Pro plan costs $199/year. The Agency plan costs $399/year.
What are the refund policies of Beaver Builder?
This is a feature that gives relief to those who are planning on testing out Beaver Builder. It may seem like a daunting venture to place that much on software but it is definitely worth it, and you think otherwise; after purchasing it. No worries, Beaver Builder offers you a refund if claimed within the first thirty days.
How does the Beaver Builder Booster plugin work?
As soon as you install the plugin, you can initiate it and the additional modules by actuating on the Beaver Builder dashboard. After you refresh the normal Beaver Builder Interface, you will be able to see all modules accessible on the sidebar of the page. The code of this plugin is designed in such a way that it is compatible with both the WordPress interface as well as Beaver Builder interface. This makes it possible for users to avail themselves of the modules of the add-on with ease.
Quick Links:
Conclusion: Beaver Builder Pricing Plans 2023
Yes, I'm confident that you embrace Beaver Builder and all of its components by this point. But Beaver Builder Pricing is the central focus. 
You must have been ecstatic to hear that the already affordable Beaver Builder platform is now even more accessible.
This exemplary tool ensures that its users can receive the highest quality of each feature and does its price justice. Therefore, now is the time to get yourself and your company off the ground.
Trust Beaver Builder, as we are confident it won't let you down.
To learn more about Beaver Builder, visit their Facebook and Twitter pages. If you have any questions, you can also reach out to them.