In this post, we'll walk you through what Beaver Builder landing pages are and how to create a landing page using Beaver Builder.
We'll start with the basics and work our way up to some more advanced features to give you as much insight into the builder as possible so that no matter what your skill level is, you can easily create an effective landing page for your business or organization.
Beaver Builder takes this one step further by providing you with an easy drag-and-drop editor which will allow you to create your own custom landing page without any coding knowledge necessary!
Let's dive right into how to use Beaver Builder for creating a successful landing page that captures leads for your business!
We have already given a review of Beaver Builder. To know more about Beaver Builder Review click here.
About: Beaver Builder
Beaver Builder is a WordPress website builder and uses a simple drag-and-drop design method. It is a well-known tool and most clientele can tell when it is used.
There is a sense of reliability that comes from using Beaver Builder and seeing the interesting but distinct formats that users have gotten creative with.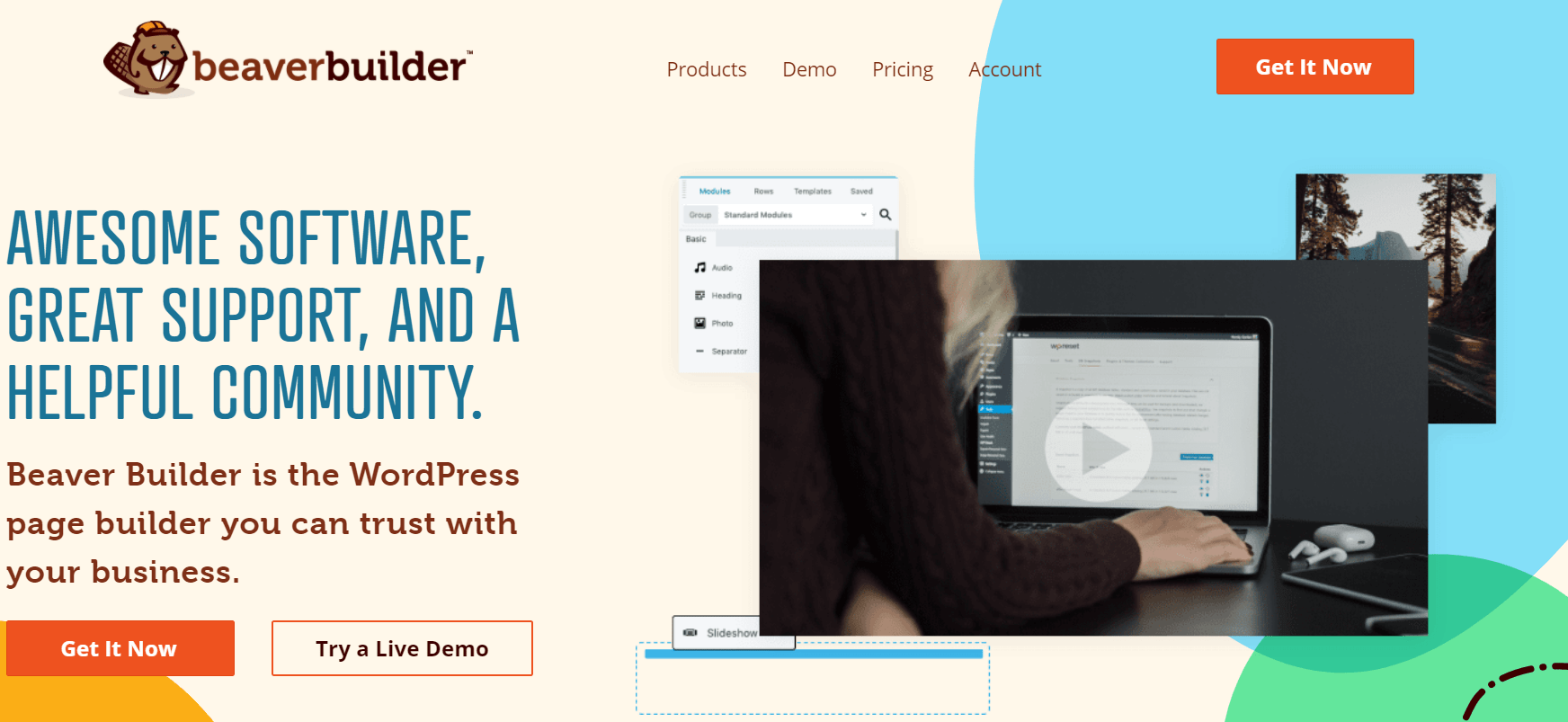 You can start from scratch to unleash your creative senses or start with a template that gives you a rough idea of how you want yours to look. Look around from the hundreds of templates Beaver Builder has to offer for their landing pages and pick your best fit! 
Looking for a complete website builder? Read the detailed Tailor Brands Review and find out if it's for you?
What is a Landing Page? 
What does it mean to have a landing page? What does a landing page look like to you? 
To begin with, the purpose of a landing page is simple; a singular call to action. Furthermore, a landing page is meant to be viewed by a distinct audience.
You need to efficiently strategize a particular landing page for a particular kind of crowd. It is essential to know what it is that attracts the crowd you are interested in being popular with. For example, a food-related landing page will most certainly bait a majority of the female population.
 A landing page holds itself apart from other types of web pages. What this means is that a good-looking website may not necessarily be a good example of a landing page.
Oftentimes, the best landing pages have one offer. Everything is focused on that one conversion. Visitors can reach your landing page either through ads or a link on the Google search page.
The job of your landing page is to grab their attention and persuade them to make a decision that is favorable to them. This is done in many different ways.

Another example that showcases the prior statements is when you can have a place for viewers to sign-up with their email, or perhaps you can distribute coupons, or even host a competition.
You want to drive your visitors to the intended call to action, and of course, you can use creative and innovative methods to do it.  
Not to mention, what is the difference between a webpage and a landing page?
In short, a landing page is more precise and to the point, not deviating from its main focus, whereas a web page sometimes tends to even overwhelm you with everything it presents in front of you.
In addition to this, another good way to bring viewers to your landing page is to give incentives. If you allow your viewers to feel like they are gaining something, or striking an opportunistic deal, then your page is doing something right.
A way to do this, perhaps, is if your product is a collection of household cleaning items, then perhaps you could offer your audience free tips to keep your house or flat clean. 
Why is the Landing Page Crucial? 
It is crucial to have a landing page because it gives the audience exactly what they want. A landing page must present fewer to no distractions from the primary goal. Everything on the page contributes to a single cause and shows the viewer a choice.
This choice to make, whatever it may be, is often singular. The more options a webpage offers, the less likely anyone is going to choose something at all.
The goal of a landing page is to make the viewer make the decision you and your products need. Furthermore, landing pages can be duplicated and used for different functions.
They are an essential tool for online marketing and a really efficient way to bring you and your company more traffic from online viewers. It is important for really getting your brand out there and more viewers. 
Are you spending too much time, money, and effort on a landing page that isn't converting the way you want?
How To Make An Effective Landing Page on Beaver Builder?
Excited to begin your experience with Beaver Builder but unsure how to? No need to be baffled and have faith in yourself!
We are glad to help give you the basic steps that you will require to begin your Beaver Builder journey.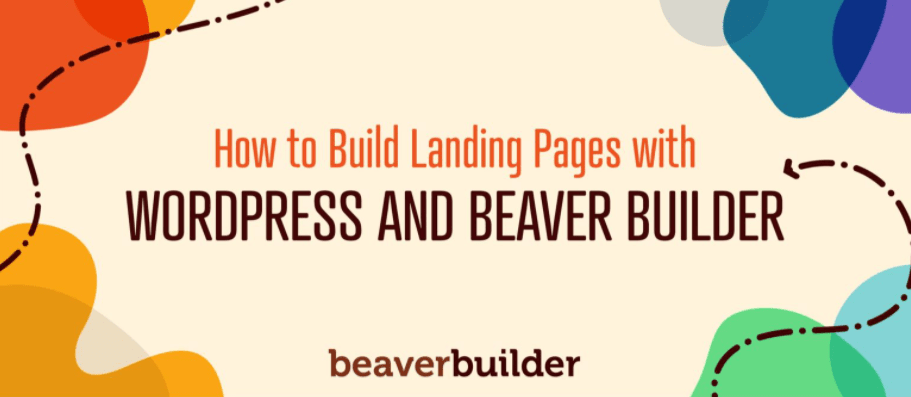 Here are a few short and easy steps that will guide you through the right path to end up with an exquisite landing page:
Compose for yourself a simple

WordPress background

suitable enough for a sales website. You are not looking for beauty or complexity, but rather minimalism and clarity. 

Then install any of the free-themed logos, and configure them. Don't make it too flashy, just enough to be identifiable and give your landing page credibility.

Even get yourself a layout free of cost, and configure it. There are several layouts available that can be used to construct a landing page. 

The next step is to download Beaver Builder.

Then advance to use their beginner-friendly drag-and-drop tool to make yourself the required landing page. You will notice that you have many different modules to pick and choose from. For example, the call-to-action layout, or the testimonial layout, which will be further discussed.

In the above step, you have the flexibility of adding text, adding photos, adding all sorts of buttons, going to town, and creating for yourself a perfect landing page.

Last but not least, add a contact form, or a sign-up sheet,  absolutely free. As mentioned earlier, there are many ways to create an effective landing page, and a contact site is a good place to gain a potential customer.  
Features: Beaver Builder Landing Pages
Unlimited Sites:
This means that you can use the Beaver Builder plug-in on any number of sites. There is no limitation on how many sites you create.
This can be utilized for making many different landing pages for your products. The landing page does not have to be overly complicated for elegantly designed but rather needs to be short and quick.
This allows for higher efficiency. You can save modules and they will be put in an easily accessible space for your drag-and-drop comfort. 
Page Builder Plugin:
In particular, Beaver Builder offers a very useful contact form for the usage of landing pages.
Through the usage of plugins, you can also use the contact forms for more than just traditional uses. Many plugins like this go together well with the page builders.
World-Class Support:

Beaver Builder offers support in many different ways. The most relevant aspect of support is seen in the many articles and FAQs that are promoted on the site.
There are comprehensive guides and dictionaries for the terminology used in digital marketing and many "how-to" videos and articles regarding all the features and updates of Beaver Builder.
Most of the support, however, is offered almost exclusively on the website itself. There is a support ticketing system in place.
A support ticketing system is a software package that exclusively manages lists and organizes all the observed or advised issues.
This allows for optimum and efficient interaction between the support teams and the clientele. Tickets are opened when the issue is introduced and dealt with, after which is it promptly closed and recorded for further research. 
Premium Modules and Templates: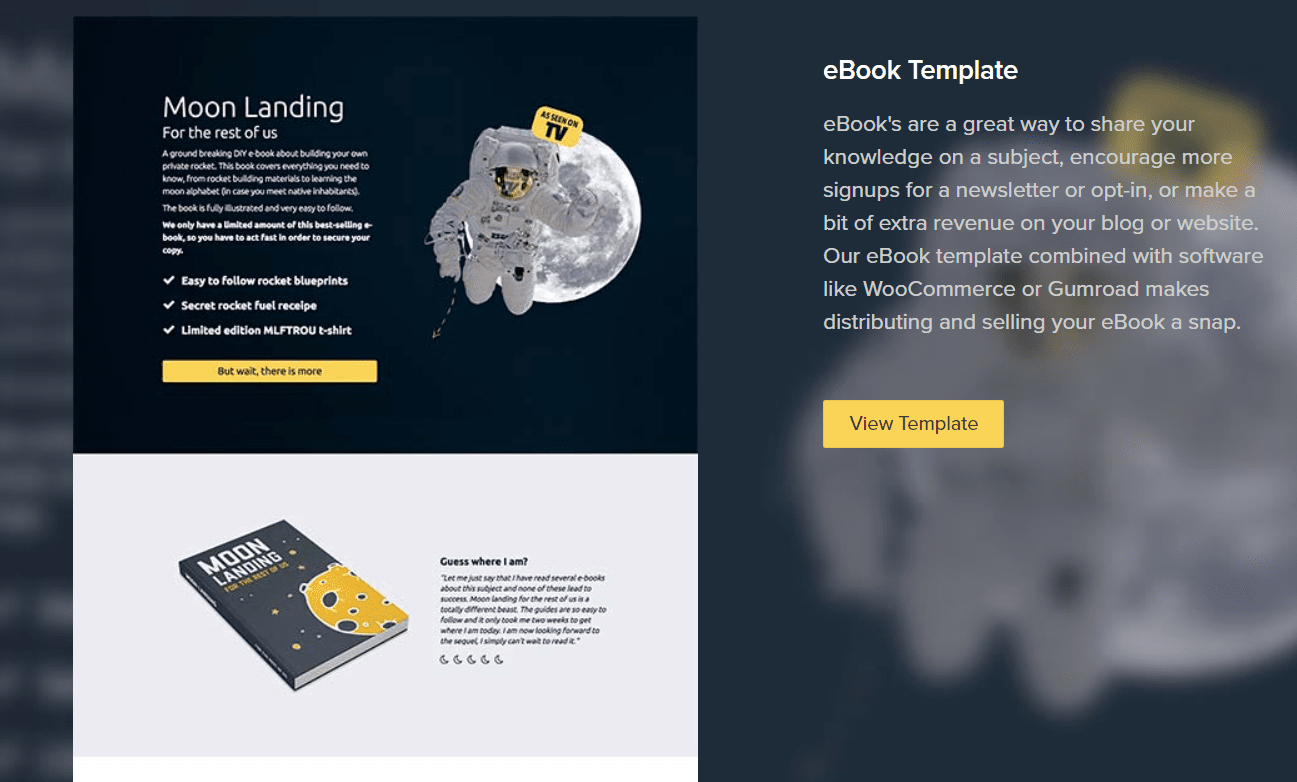 You can choose between basic and advanced modules to pick the ones best suited for your site. In specific, there is the testimonial and call-to-action module that could be helpful while building a landing page.
There is in fact an entire library full of themes and templates for users to look at and mix and match if needed.
You can add to the library by creating new and reusable page layouts, modules, and rows. The testimonial module allows you to use customer feedback in the form of a testimonial.
The number of testimonials you can add to your site is unlimited and you can add them in any format you'd like. 
Do It Yourself (DIY) Launching:
A feature most suitable and commonly used for the younger generation. It includes attributes specially designated for hosting independent platforms.
Publish personal interests, hobbies, creativity, and basically anything that comes to your mind that you have the confidence to bring in front of the public eye.
Are you proud of your art? Do you think of yourself as a budding author? Perhaps an underrated Baker? This is perfect for you to bring your talent out into the open. Be sure to make enormous profits out of something you may be genuinely good at with this feature of Beaver Builder.
Multisite Potential:
Build and be in charge of multiple websites without having more than one WordPress Dashboard. Either be in charge of all of them or a lot of them to people working under you, the choice is yours.
Have the liberty to handle all your sites from just one place instead of having to visit numerous websites in a rush and finding yourself in a muddle.
You can even grant limited access to people and allow them to create sites of their own but be the mastermind behind it all. You will be restricted to use the same themes and plugins, but that should hardly be a problem if all your sites are related to the same workspace. For example, education.
Translation:
Bid farewell to a language barrier that seems nearly impossible to overcome. Translate Press is one of the most renowned features.
It allows you to expand your business across the globe without the need to travel. You need not pay through your nose to hire a translator.
Develop a multilingual website and broaden the path of your business into countries of your choice with ease. It is super easy to use. All you have to do is select the text you need to be translated and allow your clients from different countries to view your website.
Completely Optimized SEO:
If you are too proud of all your work and it seems nearly impossible to categorize your website according to its order of importance, this feature is perfect for you.
Sit back and allow it to do the needful. It links itself with Google to arrange different pages of your website in the order of their importance.
A super easy, reliable, and convenient way to generate important links, such as real estate, etc more frequently than those of less importance.
Pricing Plans of Beaver Builder
You are only a package away from building yourself a supreme landing page! Beaver Builder Category is offering you three stupefying pricing packages.
Purchase anyone and earn the privilege to use over one lakh websites using Beaver Builder.
The three packages are listed below:
1. Agency @ $399
2. Pro @ $199
3. Standard @ $99
Each of the above offers will have to be renewed annually.
Scrutinize the Features available for each of them and select the one that will benefit you most!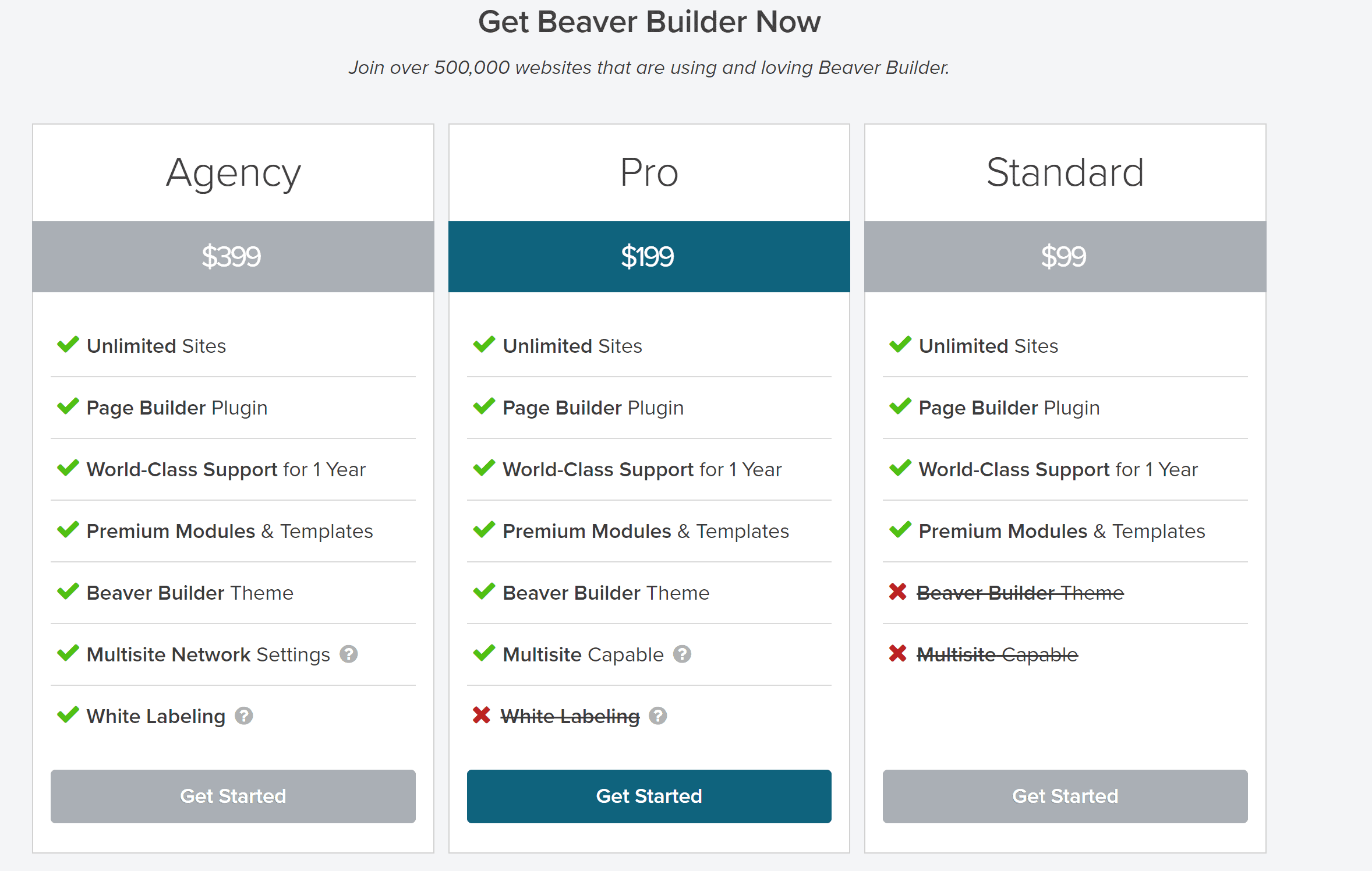 Beaver Builder User Reviews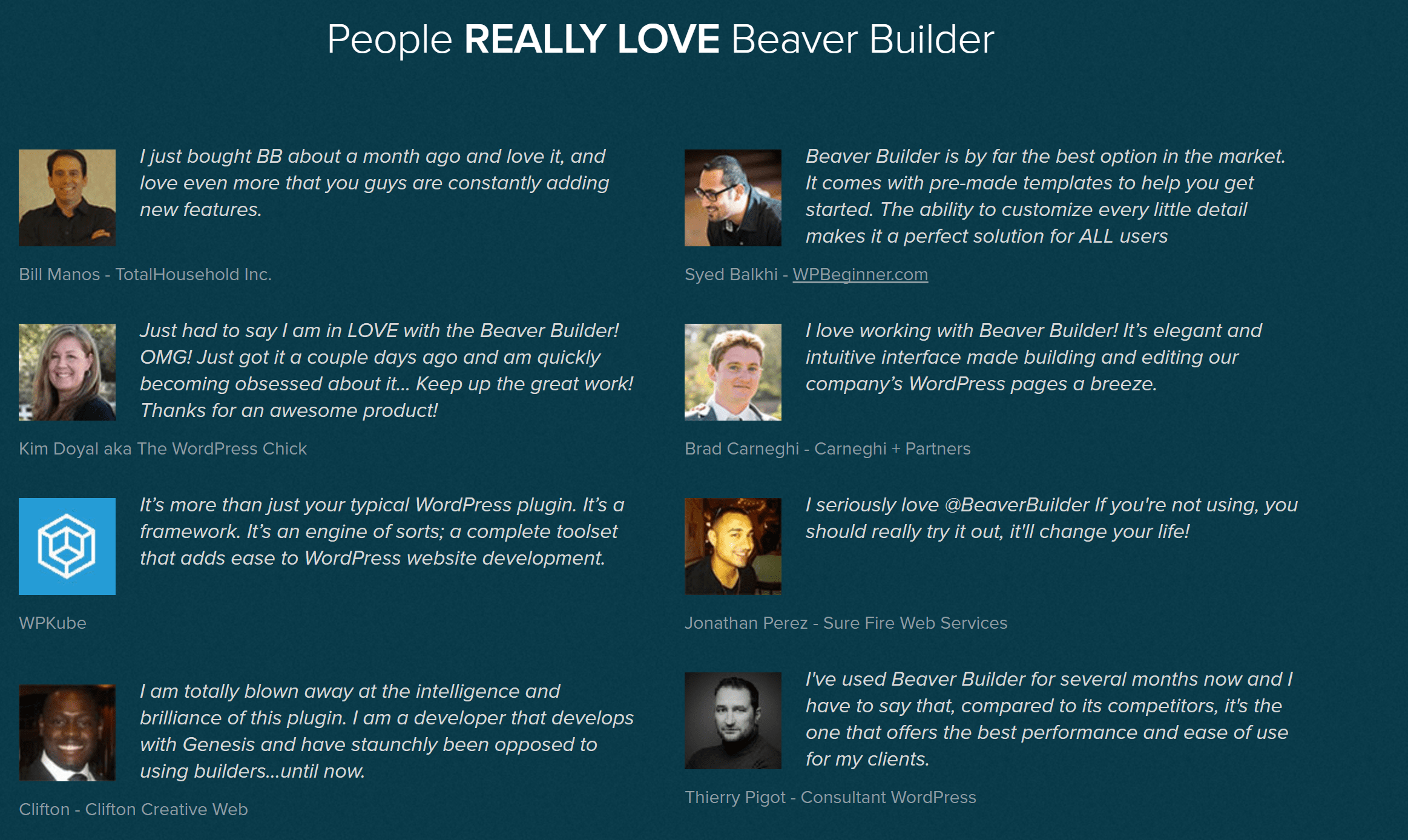 FAQs On Beaver Builder Landing Pages
How does Beaver Builder's white labeling feature function?
Beaver Builder's White Label feature proves to their customers that they do care! It points out that its priority is to provide its customers with the necessary attention. This is basically a feature that allows you to replace any Beaver Builder broadcast/advertisement with a logo or emblem of your own. Though this prevents Beaver Builder mentions on the front end of your page, this is only applicable to the back end of your personal website.
How do multi-site support and network-wide settings differ from each other in Beaver Builder?
The pro package of Beaver Builder, when purchased allows multisite downloads. The pro offers, basically the multi-site support that it provides, which needs you to compose Beaver Builder settings on every individual site. On the other hand, the network-wide settings panel is offered by the agency package, you can configure your Beaver Building settings on all the sites that are included in your channel. You can then alter those settings individually and at your own pace
Can I make mobile responsive templates using Beaver Builder?
Absolutely! The number of people who use smartphones vastly outnumbers personal computer users. Hence you must provide an option for mobile users so that you can tap into this colossal market. Beaver Builder provides mobile app templates for both iOS and android operating systems.
How do I create a landing page in Beaver Builder?
What is the simplest landing page builder?
There are various landing page builders available, but Beaver Builder is regarded as one of the most user-friendly. It includes a simple drag-and-drop interface that enables you to easily construct bespoke landing pages without any coding skills.
Can I use Beaver Builder with any WordPress theme?
Beaver Builder supports most WordPress themes. However, a Beaver Builder-compatible theme is better. Beaver Builder recommends themes that work well with the plugin.
Is Beaver Builder a free plugin?
Beaver Builder is a paid plugin. Standard, Pro, and Agency rates are available. The Standard license lets you use the plugin on one website, while the Pro and Agency licenses enable usage on many sites and include multisite support and white-labeling.
Quick Links:
Conclusion: Beaver Builder Landing Pages 2023
When you are making a landing page, you aren't just making a single call to action but actually placing the foundation for your development of a marketing campaign.
Many small details need to be looked at while making a landing page. Don't be afraid to use colors, pictures, and more to get an edge.
There is a way to look at a landing page and know whether it will or will not be high converting. There is a structure to it, but one does need to know the anatomy of the page to know if it does well or not.
To quickly recap, remember the call to action, also known as a CTA. Secondly, remember to put your value proposition in the header. That means the incentive, or the deal being struck. 
This is because if you are unable to catch the viewers' attention with the headline, then there will not be any vested interest in the rest of the page.
This idea works for newspapers, articles, and ultimately landing pages. Don't forget to use an eye-catching image in the background.
A picture is worth a thousand words, so don't waste the space given on the page. Beaver Builder has an extremely simple method to add pictures and change colors that you can use to your advantage. 
Structure your landing page with ease. Landing pages are different from person to person, brand to brand, and company to company.
If you're ready to start improving your conversion rates with landing pages, the beaver builder platform is an excellent place for a trial run. They offer free trials for all and no credit card is required.
It's incredibly easy to use and has many templates that can be customized for any campaign or business goal. Don't wait another day before taking action on this powerful tool!