In today's digital landscape, maintaining online privacy and security is of utmost importance.
Private proxy services have emerged as a solution to safeguard personal information, enable unrestricted access to content, and facilitate efficient online activities.
With a plethora of options available, it becomes crucial to evaluate and select the right private proxy provider that aligns with your specific needs.
We will delve into details about their IP address availability, pricing plans, security measures, customer support, and additional features such as proxy rotation and customization options.
Whether you are a business looking to enhance web scraping capabilities, an individual seeking secure and anonymous browsing, or a marketer targeting specific geographic regions, this guide will provide valuable insights to aid your decision-making process.
Join me as I explore the world of private proxy providers, uncover their strengths and weaknesses, and help you navigate through the options to find the best fit for your online privacy, security, and access needs.
Let's dive in and discover the ideal private proxy solution to empower your digital journey.
What Are Private Proxies?
Private proxies are a crucial tool in maintaining online privacy, security, and access. To understand what private proxies are, it's essential to first grasp the concept of proxies.
A proxy server acts as an intermediary between your device (such as a computer or smartphone) and the internet. When you access a website or any online resource, your request passes through the proxy server before reaching its destination.
The proxy server masks your original IP address and assigns a different IP address to the request, effectively hiding your identity and location.
This process is commonly referred to as "proxying" or "tunneling."
Private proxies, as the name suggests, are proxy servers that are dedicated exclusively to a single user or a specific group of users.
Unlike public proxies, which are often available to anyone and may suffer from reliability and security issues, private proxies offer a more controlled and secure environment.
Private proxies ensure that your online activities remain confidential and protect sensitive information, such as your IP address, from being exposed to websites or potential attackers.
One of the primary advantages of using private proxies is the ability to enhance online privacy and security.
By routing your internet traffic through a private proxy server, you can obscure your real IP address and make it difficult for websites, advertisers, or malicious entities to track your online activities.
This can be especially beneficial when accessing sensitive information, conducting research, or engaging in tasks that require anonymity.
Another key benefit of private proxies is unrestricted access to online content. Proxies can help bypass geographical restrictions imposed by websites or services, allowing you to access content that might otherwise be unavailable in your region.
This can be particularly useful for individuals who wish to stream geo-restricted content, access blocked websites, or conduct market research in specific locations.
10 Best Private Proxy Services in 2023
So, if you're looking for the Best Private Proxy Services, here are a few good choices.
My Private Proxy stands out as a leading private proxy provider renowned for its exceptional service. It is widely regarded as one of the best options available in the market.
This provider offers affordable private proxies that are specifically designed for fast and reliable connectivity.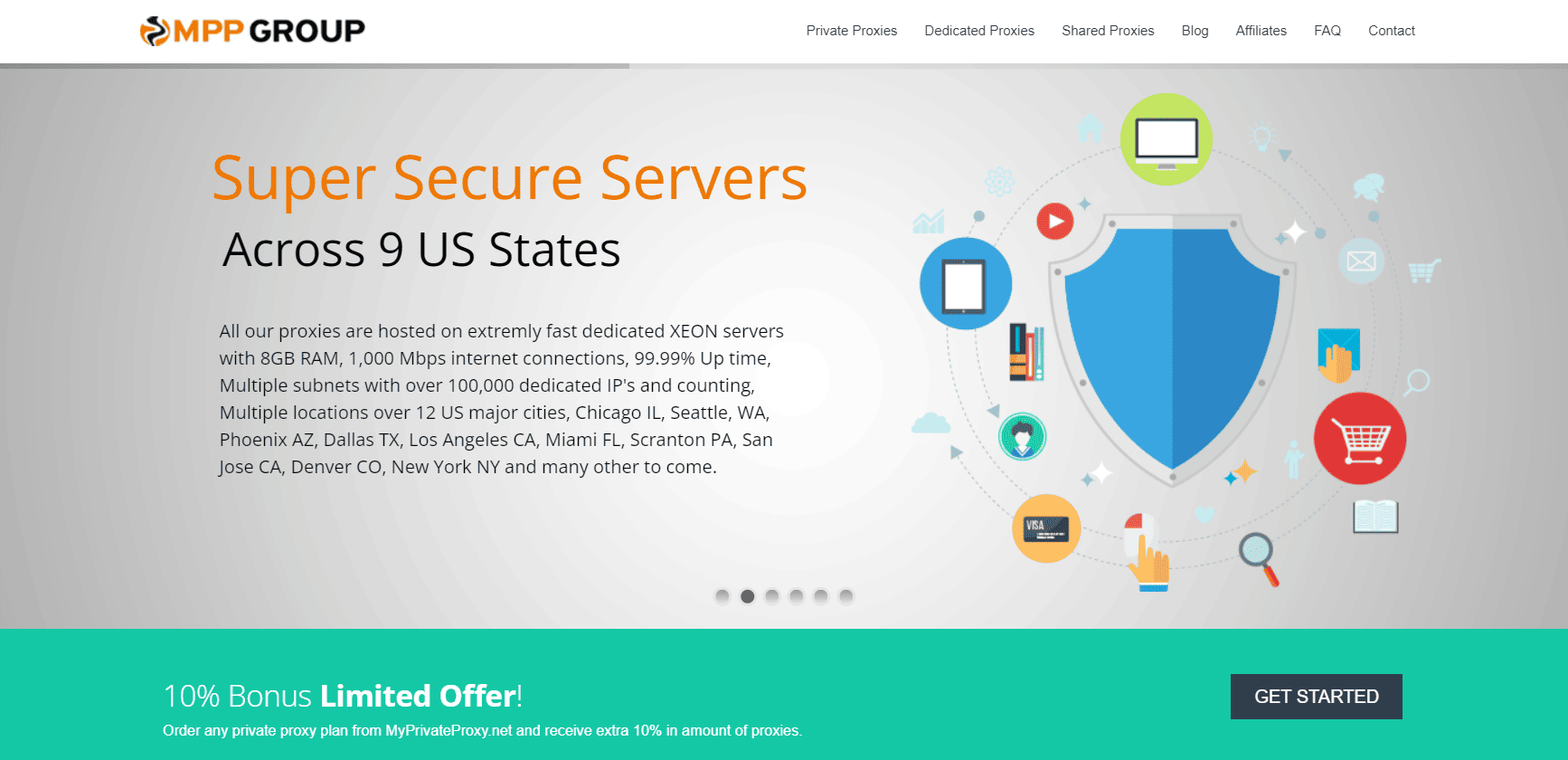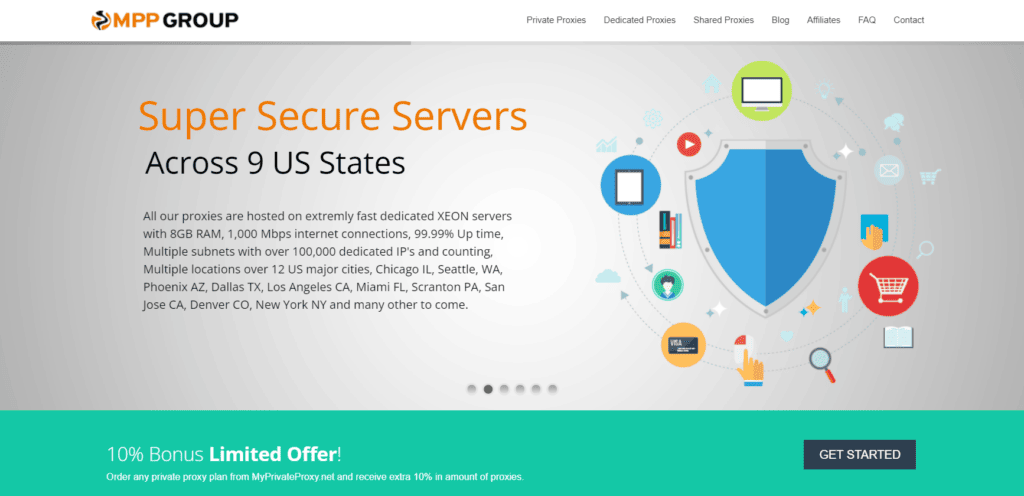 Operating exclusively within the United States, they have established servers across nine states, ensuring widespread coverage and efficient performance.
The primary target audience for My Private Proxy consists of SEO service providers, social media automation services, and web scraping services.
These businesses can confidently utilize their private proxies across various online platforms without encountering any issues.
By employing My Private Proxy's proxies, businesses can significantly reduce the risk of encountering spam-related problems. This adds an extra layer of security and peace of mind for their clients.
Additionally, My Private Proxy is dedicated to environmentally-friendly practices. They prioritize the use of green energy to power their operations, relying on electricity generated by wind turbines.
This commitment to renewable energy sources allows them to maintain a reliable and sustainable power supply.
Smartproxy stands out among the top private proxy providers by offering its customers access to a vast pool of over 40 million unique private IP addresses.
With services available in 195 countries, they cater to a global clientele. The network seamlessly integrates with web applications and automation scripts, providing users with unparalleled flexibility.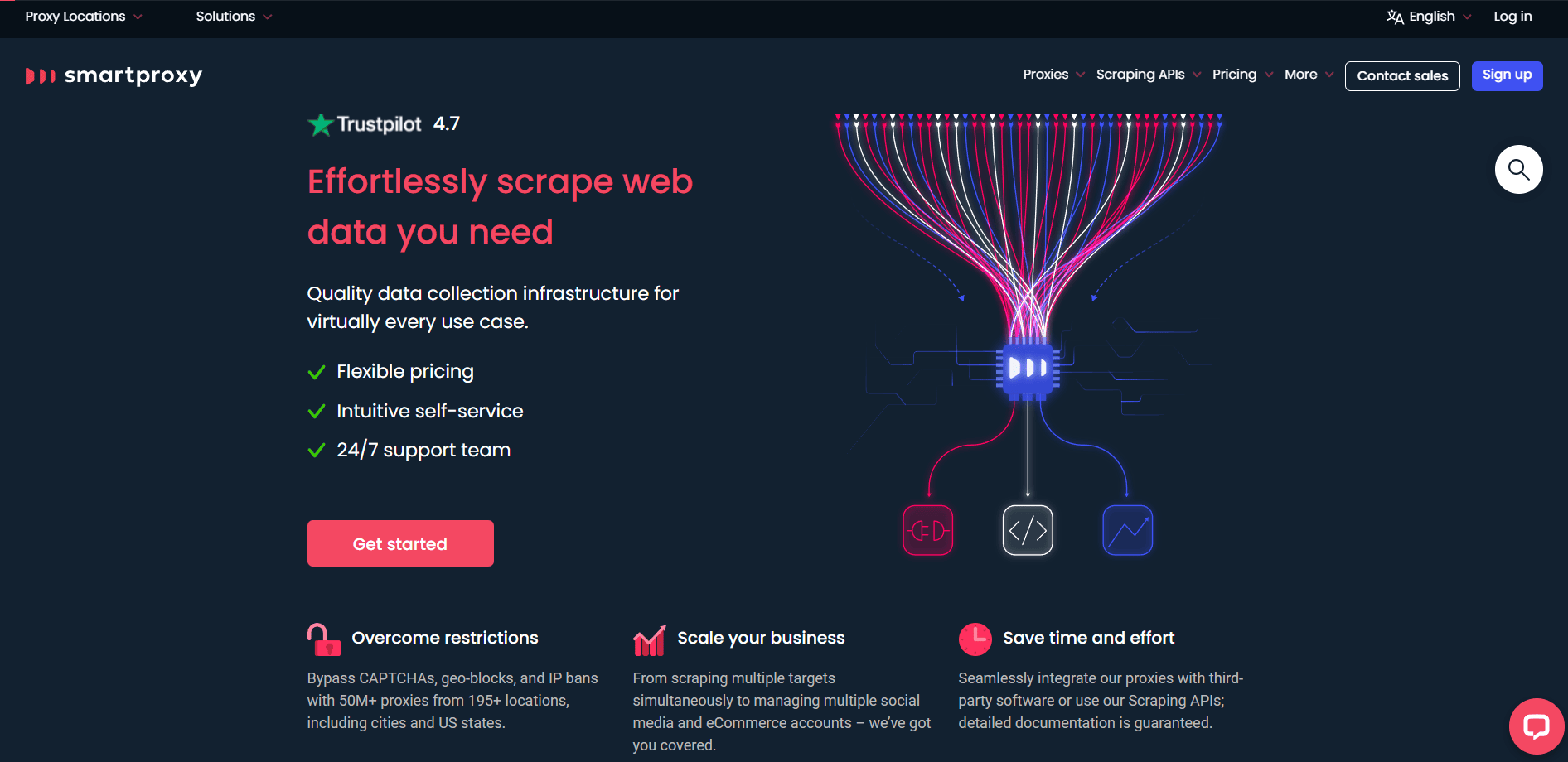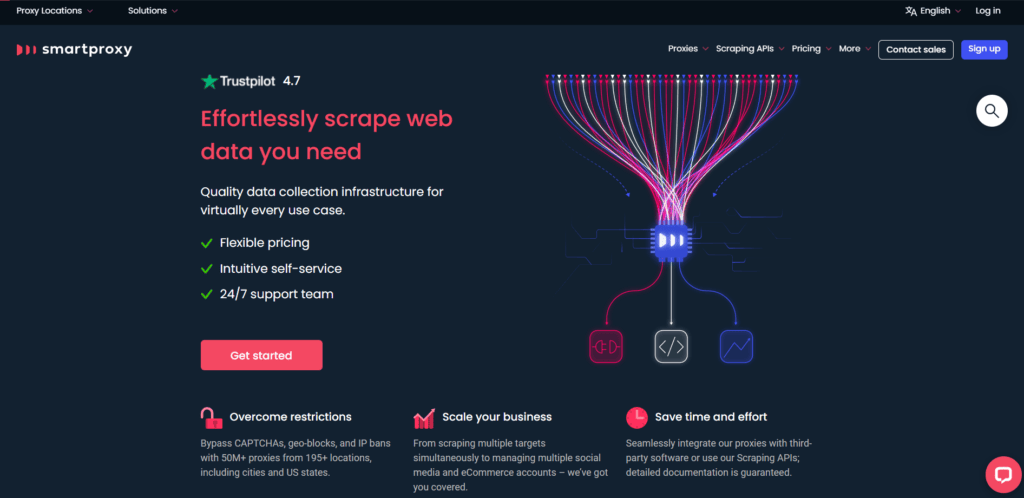 One distinctive feature of Smartproxy is its array of intelligent tools designed to facilitate data search and collection from anywhere in the world. These tools enable users to gather valuable information effortlessly.
By leveraging real private proxies, Smartproxy ensures that search engines recognize the IP addresses as originating from genuine mobile and computer devices.
Smartproxy primarily targets both individuals and businesses that require bulk access to public data. Many retail companies rely on their services for conducting price comparisons effectively.
To ensure unrestricted data access, Smartproxy offers a substantial number of exit nodes through their proxies. This extensive network allows users to retrieve the desired information without facing any limitations or roadblocks.
Proxy-Seller stands out as one of the most cost-effective private proxy providers available in the market. They offer HTTPS and SOCKS5 proxies, catering to clients worldwide.
While their private proxies serve a wide range of purposes, the company specifically targets ad agencies and social network managers. Their services attract businesses relying on social media marketing, aiming to establish a strong global presence.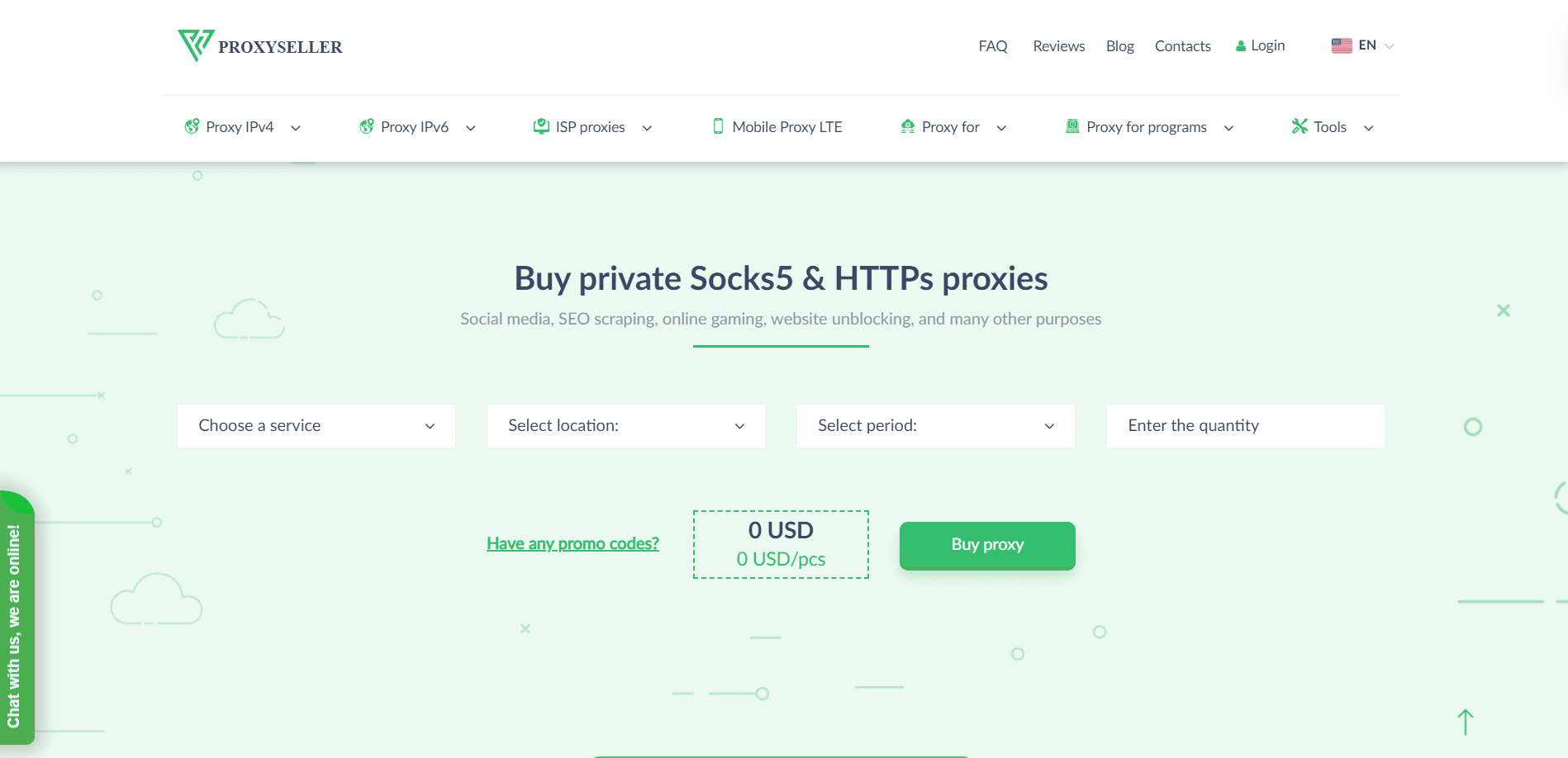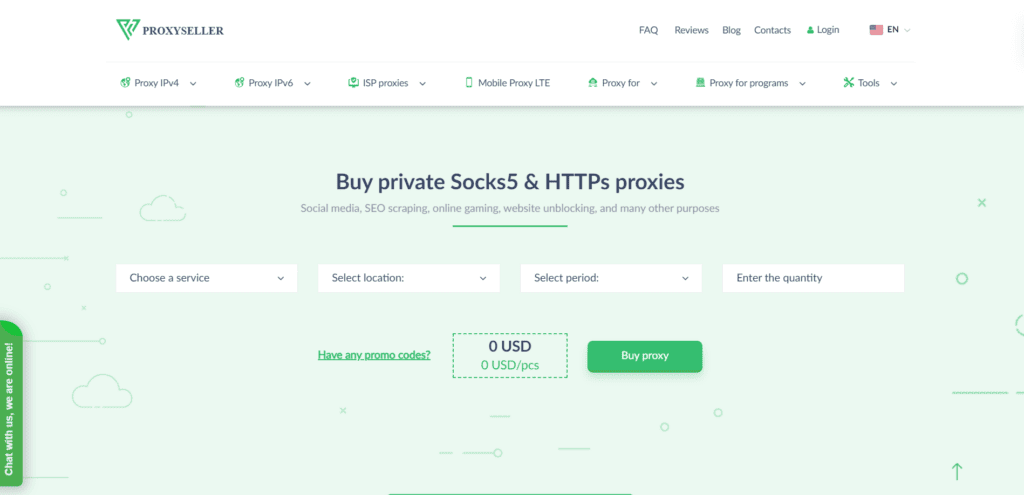 One key advantage of Proxy-Seller is the ability to bypass geographical restrictions imposed by websites. By utilizing proxies from Proxy-Seller, users can overcome such blocks effectively.
The platform offers proxies from multiple countries, allowing users to access the desired content even if they are banned from a specific country. This versatility in proxy options ensures unrestricted access to online content.
Proxy-Seller provides a comprehensive selection of proxies from countries including the USA, UK, Canada, Russia, Germany, Ukraine, and more.
This wide variety allows users to choose proxies according to their specific requirements and target locations.
Bright Data stands among the largest private proxy providers worldwide, thanks to their extensive database of over 72 million IP addresses spread across various countries.
Offering impressive speed and reliability, Bright Data is recognized as one of the best providers in the industry, boasting an exceptionally low 1% failure rate.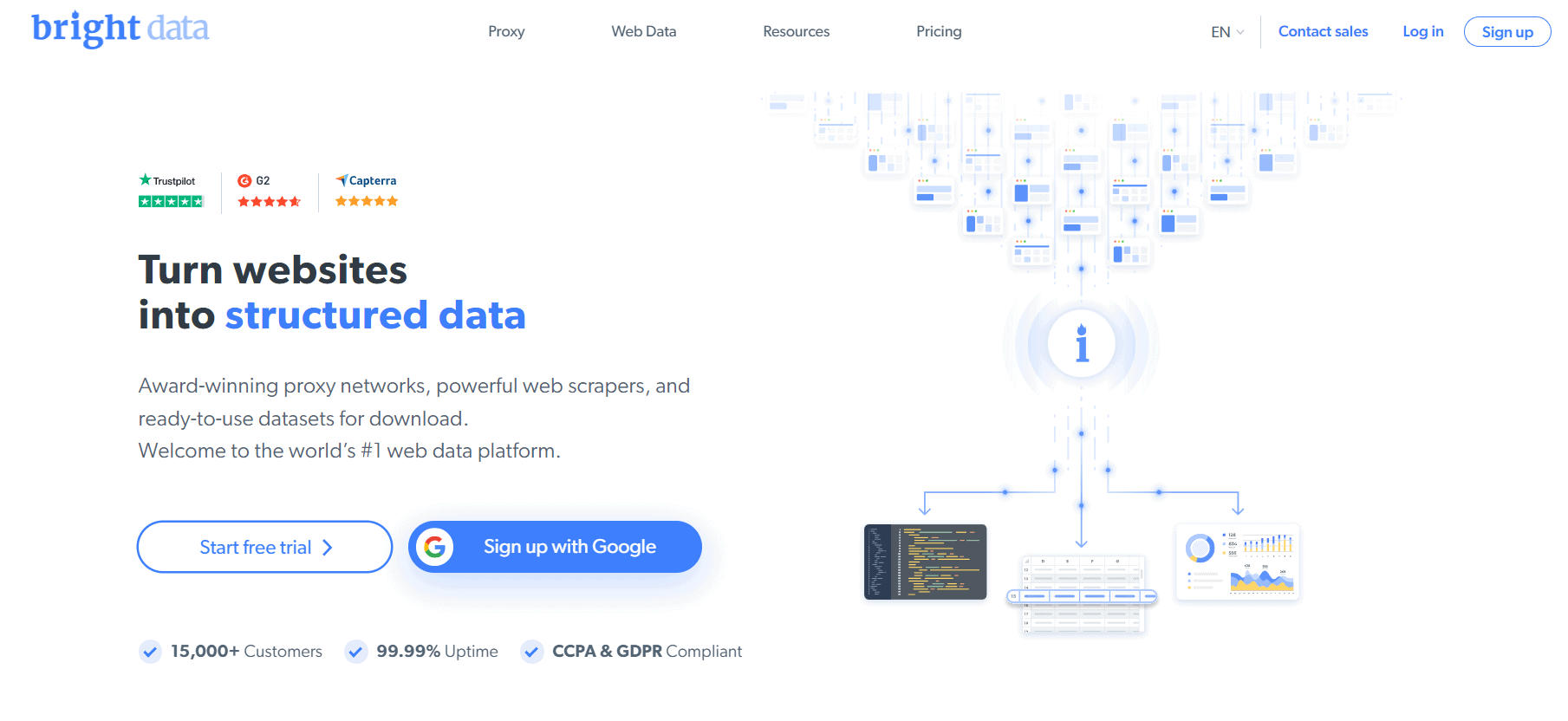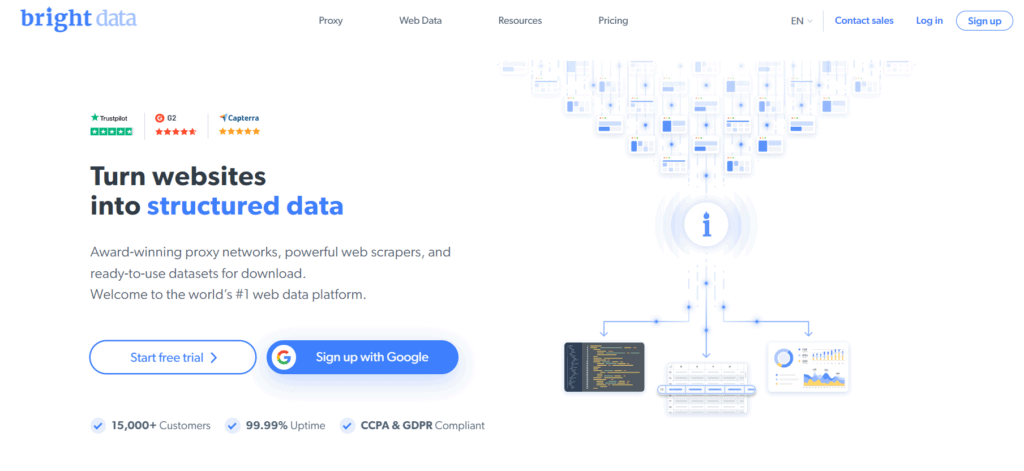 One of the key strengths of Bright Data lies in its vast IP address availability. With such a substantial database, they employ high-quality rotation techniques to prevent websites from banning their proxies.
This ensures uninterrupted access to online content. The company specializes in providing private proxies for data centers, residential use, and mobile proxies, catering to diverse user needs.
Unlike other providers, Bright Data offers users full control over the rotation period of their IP addresses. Users have the flexibility to set the rotation time according to their requirements, enabling them to customize their browsing experience.
Oxylabs stands out as a leading premium private proxy provider, offering one of the most advanced proxy networks in the industry.
With an impressive collection of over 100 million IP addresses spanning numerous geo-locations, they provide exceptional coverage and accessibility. Additionally, Oxylabs offers excellent features for web scraping purposes.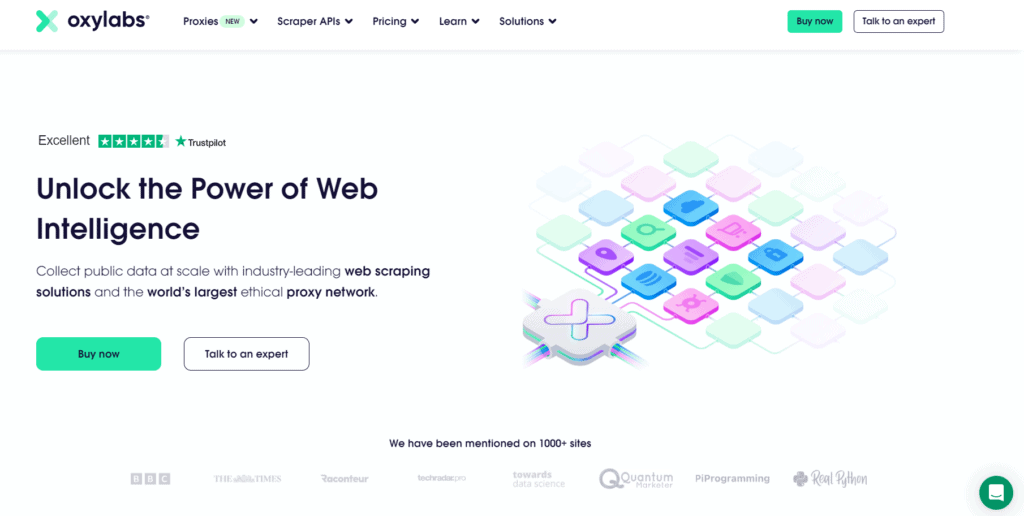 One notable aspect of Oxylabs is their support for both SOCKS5 and HTTPS proxies. This versatility allows users to choose the proxy type that best suits their specific needs and preferences.
Furthermore, Oxylabs provides the option of proxy rotation, giving users the flexibility to switch out their proxies according to their requirements. This feature enhances user control and customization, ensuring optimal performance.
Oxylabs offers a comprehensive solution for private proxies, encompassing all the essential features required to excel in online activities.
Whether it's for secure browsing, web scraping, or other purposes, Oxylabs provides the necessary tools and resources to thrive.
ProxyEmpire earns its place among the top private proxy providers for its impressive features and user-friendly accessibility. Their packages boast an exceptional 99.9% uptime with unlimited bandwidth, ensuring a seamless browsing experience.
Furthermore, ProxyEmpire prides itself on transparency, with no hidden charges for its services.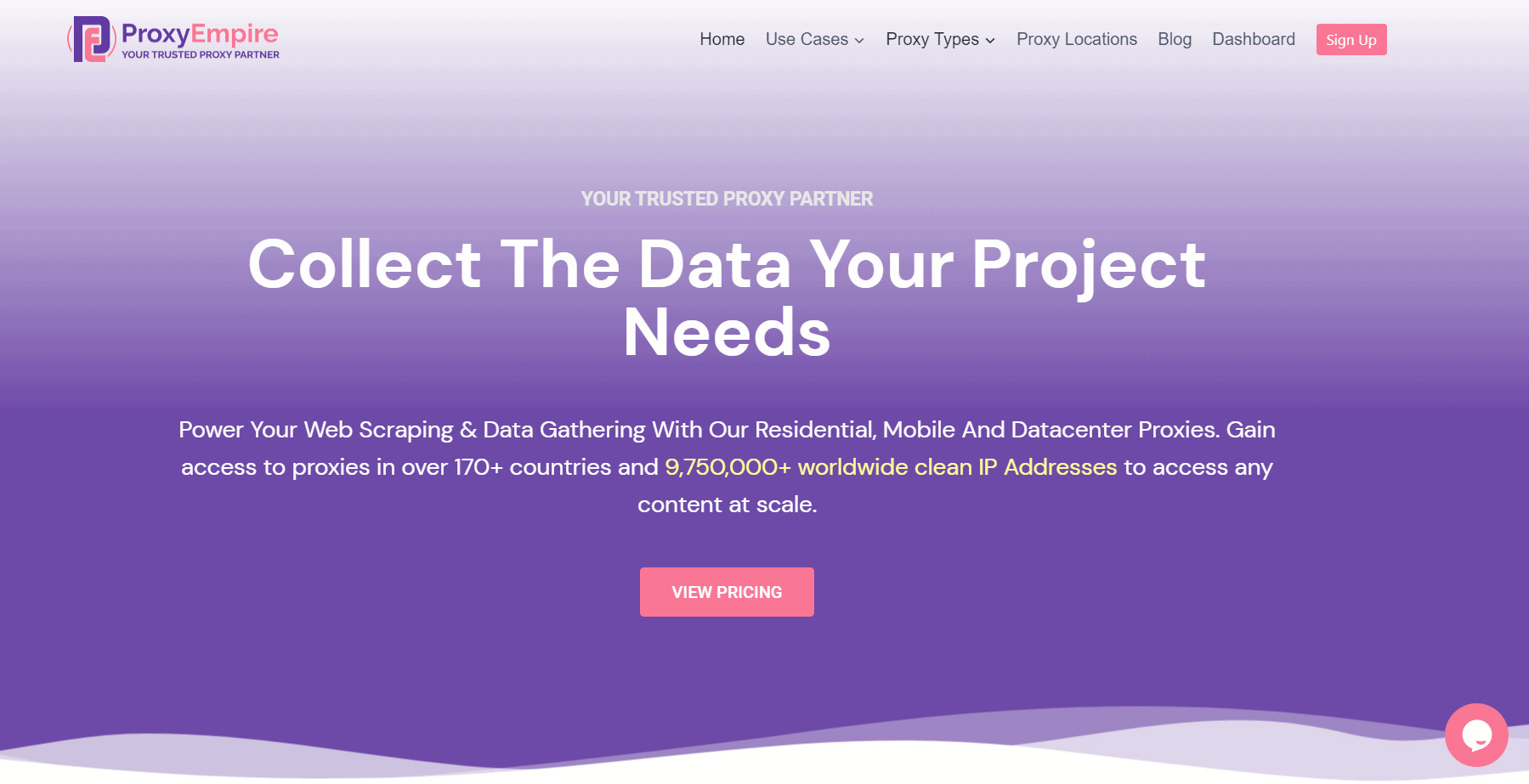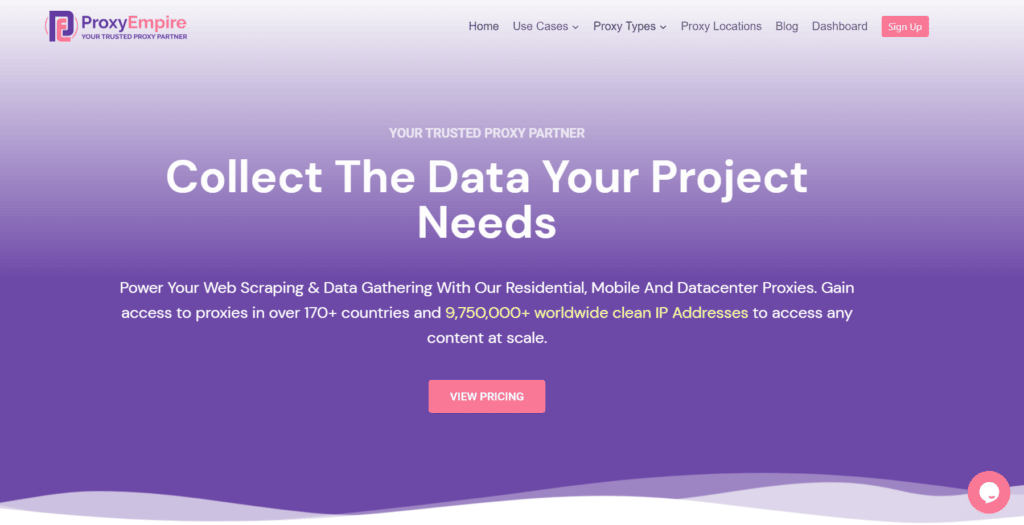 Upon subscribing to a package with ProxyEmpire, their fully automated system swiftly provides you with the necessary proxies, allowing you to start using them immediately.
The automated system eliminates the need for human intervention, streamlining the process and ensuring prompt service delivery.
ProxyEmpire offers multiple authentication options for their proxies, allowing users to choose between IP address authentication or using a username and password. This flexibility caters to individual preferences and provides an additional layer of security.
SSL Private Proxy offers a comprehensive solution for concealing your identity and ensuring heightened security while browsing the internet.
Their packages provide unlimited bandwidth and private proxies, guaranteeing that you remain hidden from both ISPs and websites throughout the entire month.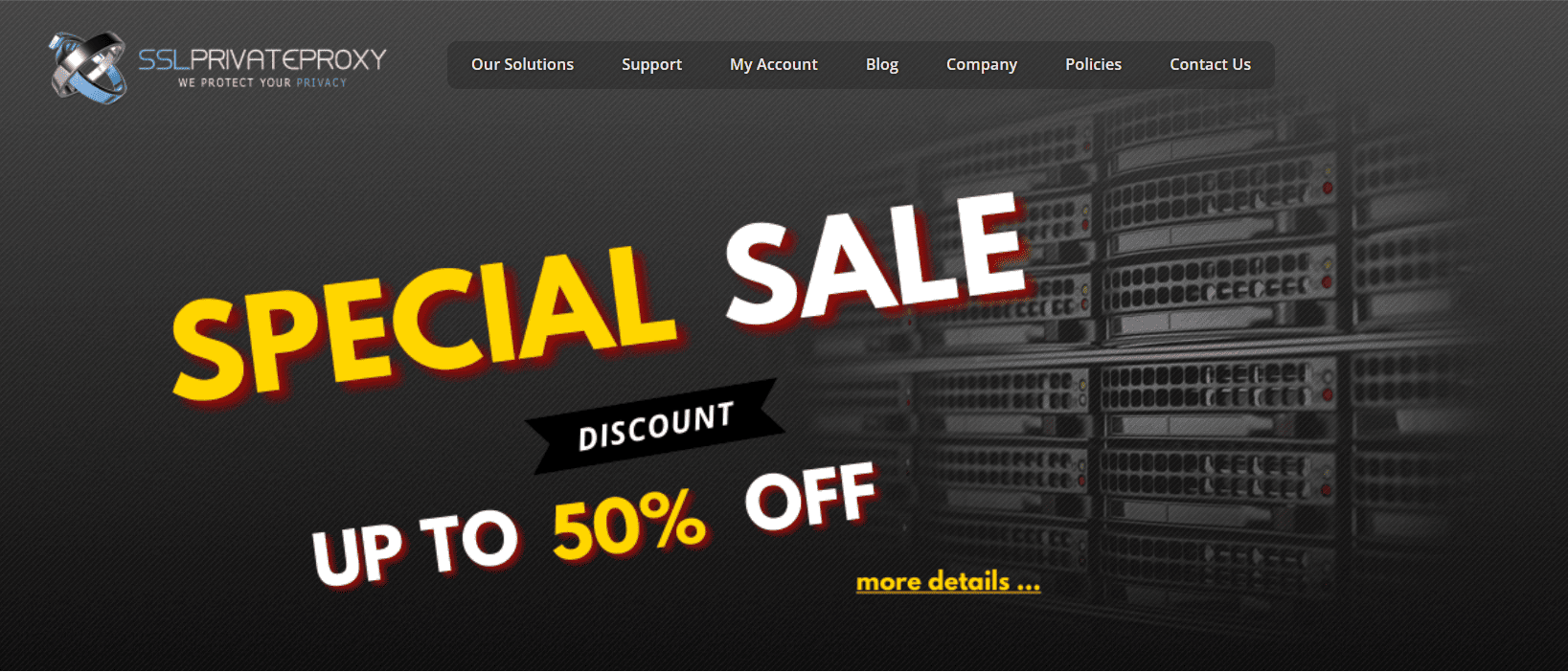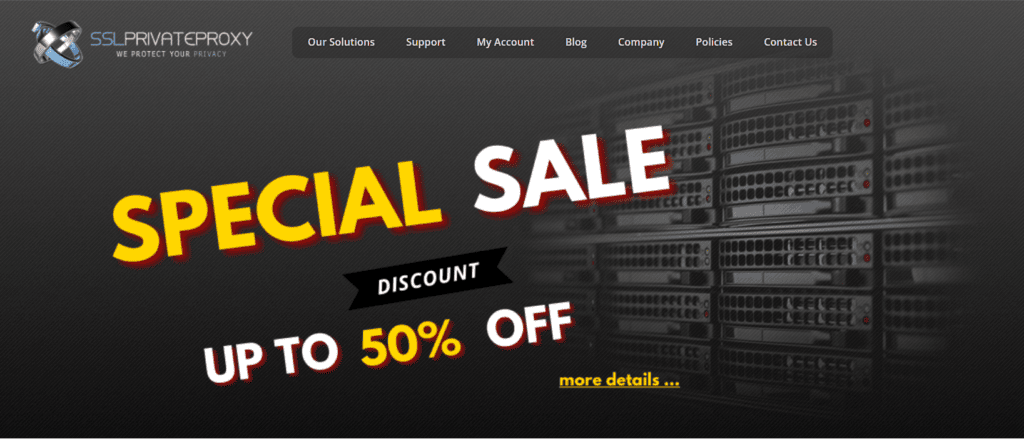 One notable feature of SSL Private Proxy is the ability to select from different cities and set your preferred location.
This option enhances your online search experience by making it more specific to a particular area, enabling you to access localized content effortlessly.
With SSL Private Proxy, you can leverage a single private IP address to send hundreds of concurrent requests. This level of efficiency allows you to carry out various online activities seamlessly without compromising performance.
Furthermore, the IP address you rent remains exclusive to you for the chosen time period, ensuring that only you have access to it.
The Social Proxy has earned its place among the top 10 private proxy providers due to its smooth functionality and effortless connectivity.
This service is particularly well-suited for businesses and individuals who require regular access to public data. The company prioritizes user anonymity by implementing robust safety and security measures within their IP addresses.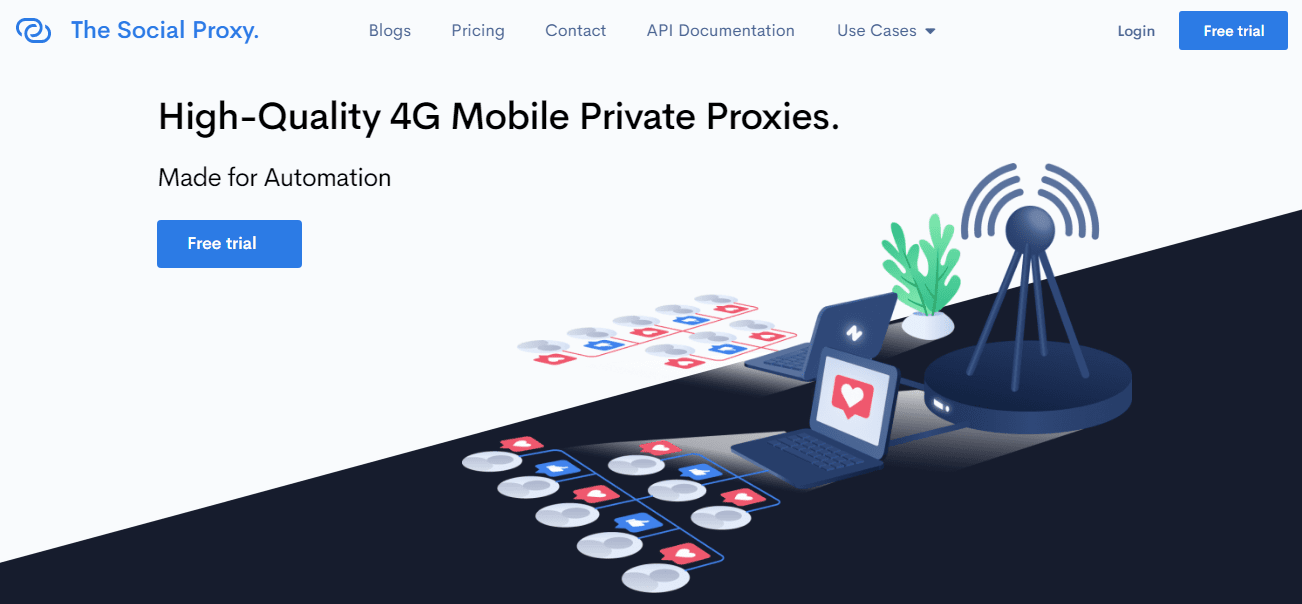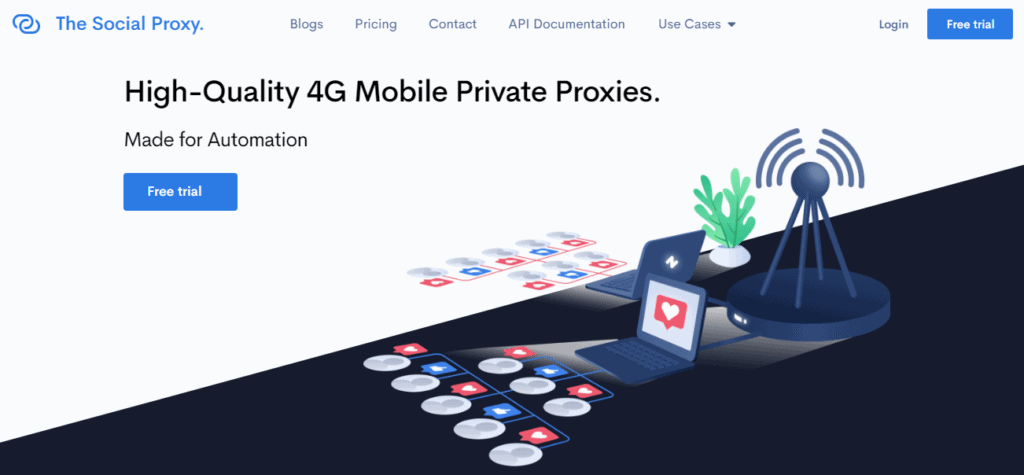 One notable advantage of The Social Proxy is its specialization in residential proxies. This significantly reduces the risk of encountering blockages from various online platforms.
Residential IP addresses are considered more trustworthy by websites and are subjected to less scrutiny. As a result, users can enjoy uninterrupted access to their desired online content.
The Social Proxy offers two authentication options for added convenience: username and password, as well as authentication via the IP address itself. Users have the flexibility to choose the method that best suits their needs and preferences.
When it comes to finding a reliable private proxy that prioritizes your online safety and caters to your unique requirements, Private Proxy emerges as an excellent choice.
Their commitment to providing a distinct approach sets them apart from the competition. They thoroughly evaluate each client's request and offer tailored solutions based on specific scenarios.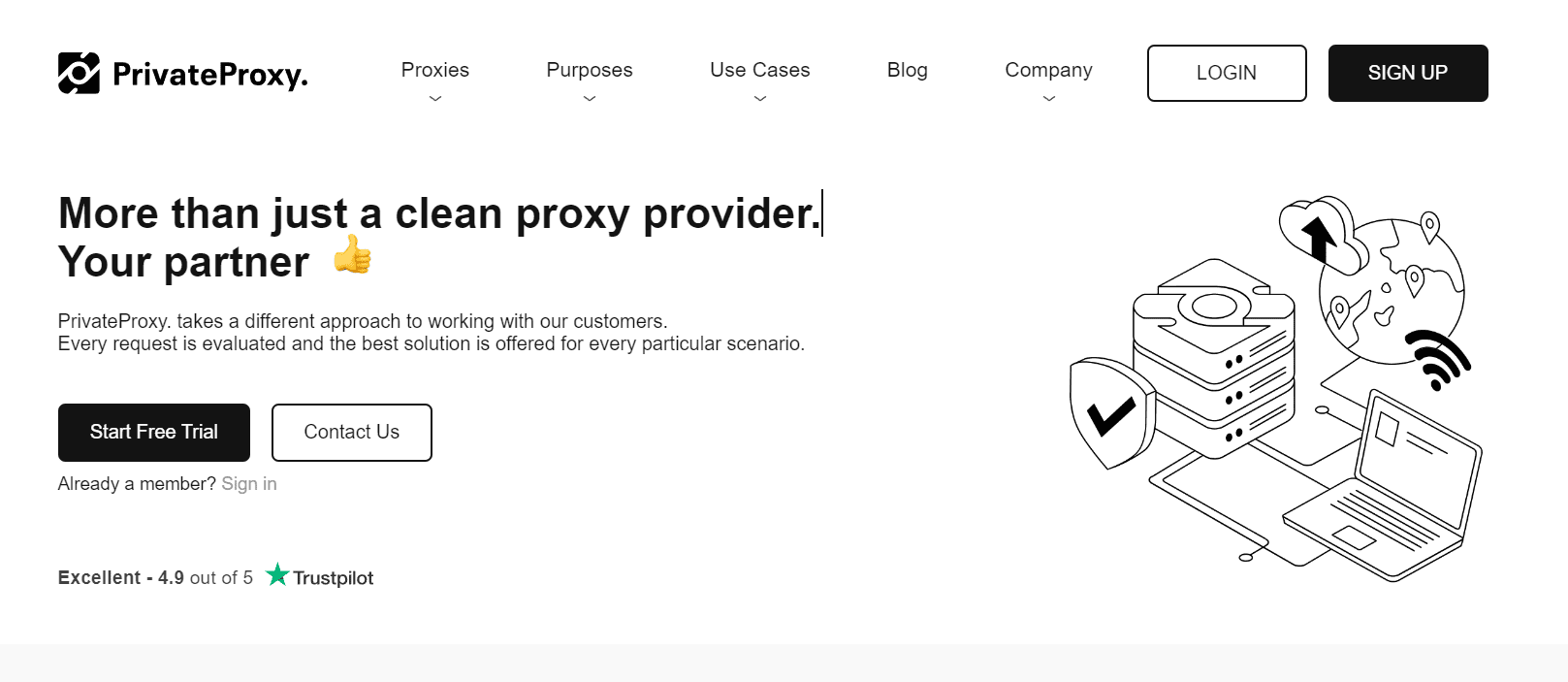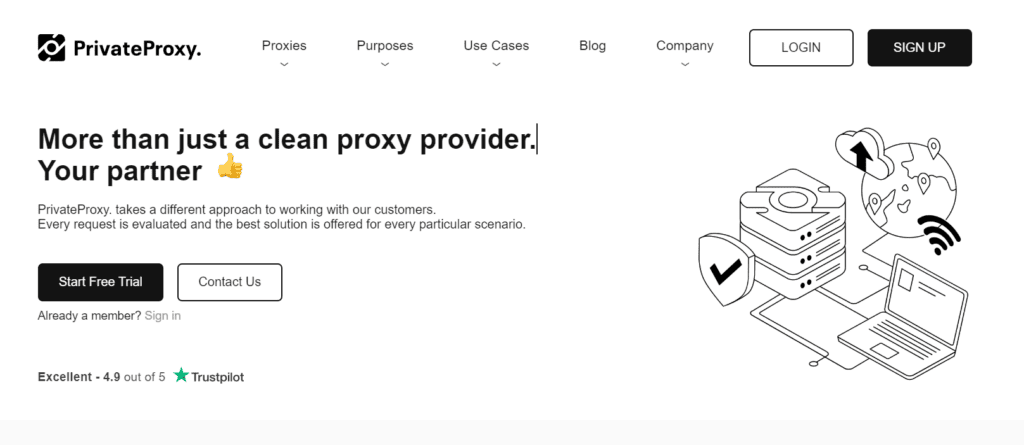 Private Proxy offers direct communication channels, allowing you to reach out to them from the beginning.
This enables a personalized experience, where you can discuss your objectives and expectations of using a private proxy. Alternatively, you have the option to start a free trial and experience their services firsthand.
In terms of their private proxy options, Private Proxy offers both rotating and static proxies. Alongside unlimited bandwidth, Private Proxy allows unlimited connections, ensuring seamless multitasking and uninterrupted performance.
Additionally, they provide the flexibility to swap out your proxy for free once a month, enabling you to adapt to changing needs and preferences.
When it comes to private proxies, BeeProxy stands out as a top choice, providing exceptional IP addresses that allow up to 100 simultaneous connections.
Whether for personal or business use, BeeProxy offers some of the best private proxies to meet your daily needs.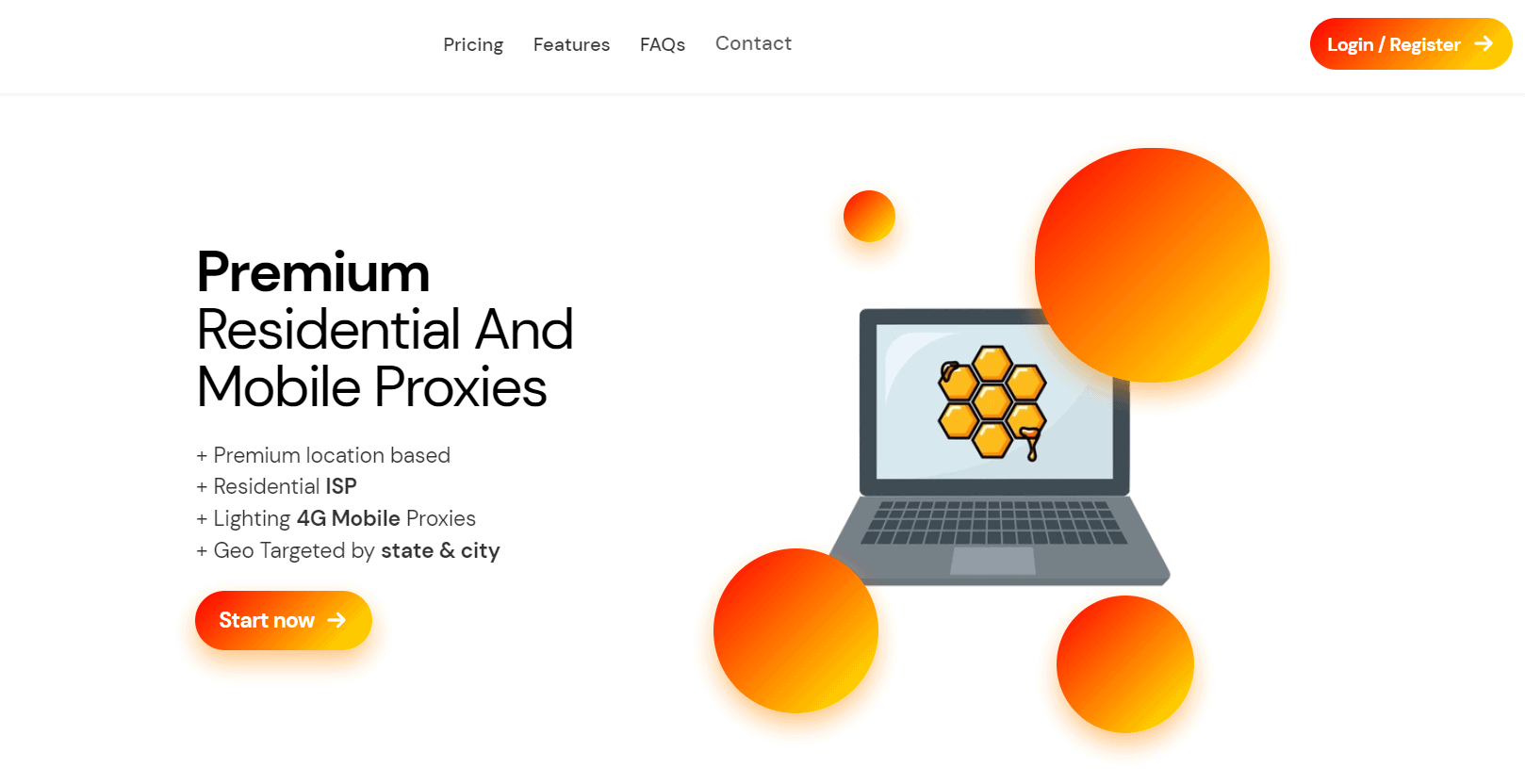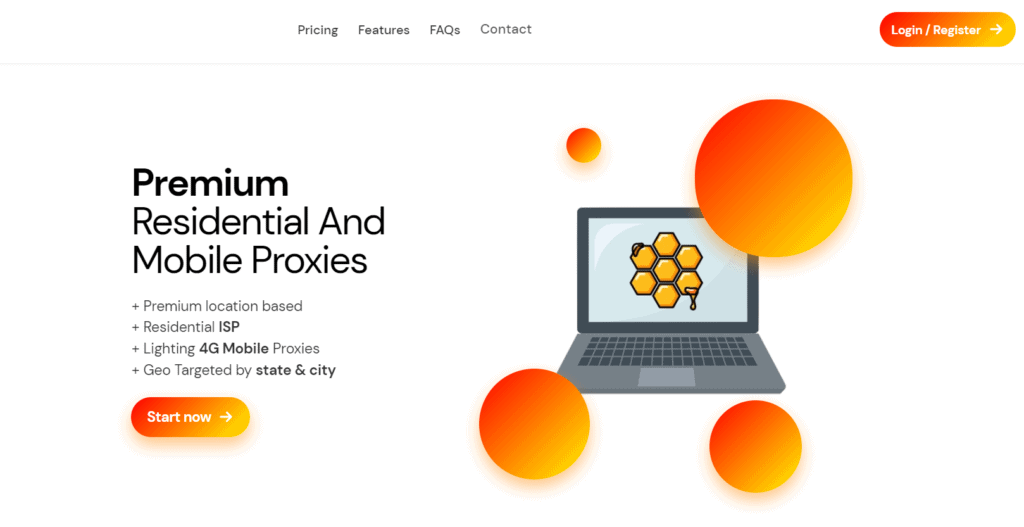 With over 2 million private proxies available, BeeProxy offers a vast selection spread across more than 100 countries.
This extensive network ensures users have access to proxies from various locations, enabling them to tailor their online experience to specific regions or overcome geographical restrictions.
BeeProxy guarantees an impressive 99% uptime, ensuring a reliable and uninterrupted browsing experience for their customers. This commitment to stability and availability enhances user satisfaction and productivity.
FAQs About Best Private Proxy Services
What factors should I consider when choosing a private proxy provider?
When selecting a private proxy provider, it's crucial to consider factors such as IP address availability, reliability, features, pricing, customer support, security measures, and trial options. Assessing your specific requirements and priorities will help you make an informed decision.
What are the advantages of using private proxies?
Private proxies offer numerous benefits, including enhanced online privacy and security, unrestricted access to content, efficient web scraping capabilities, targeted location customization, and the ability to bypass geographical restrictions. They provide a layer of anonymity and protection for individuals and businesses engaging in various online activities.
Which private proxy provider offers the best IP address availability?
Several providers offer extensive IP address options. Providers like My Private Proxy, BeeProxy, and Bright Data boast a wide range of IP addresses, spanning multiple countries and geographic locations, ensuring comprehensive coverage and flexibility.
Are there any free trial options available to test the service?
Some providers, such as Smartproxy, Proxy-Seller, and Bright Data, offer free trial periods to allow users to experience their services before committing. This trial period helps evaluate the speed, reliability, and performance of the proxies, aiding in the decision-making process.
What is the pricing range for private proxy services?
The pricing of private proxy services varies among providers. Options like My Private Proxy, Proxy-Seller, and BeeProxy offer affordable plans starting from as low as $1.49 to $5 per month. Premium providers like Oxylabs and Bright Data offer more advanced services at a higher price point, providing additional features and customization options.
How do I ensure the security of my private proxies?
Private proxy providers implement various security measures to protect user data and ensure anonymity. Features like HTTPS and SOCKS5 proxies, IP rotation, and high-quality rotation techniques are offered by providers such as Oxylabs and ProxyEmpire. It is essential to review the security measures provided by each provider to make an informed decision based on your specific requirements.
Quick Links:
Conclusion: Best Private Proxy Services 2023
Choosing the right private proxy provider is crucial for ensuring secure and efficient online activities.
With a wide range of options available in the market, it's important to consider factors such as IP address availability, reliability, features, and customer support.
Providers like My Private Proxy and SSL Private Proxy excel in offering reliable and affordable private proxies, with a focus on specific target industries. Smartproxy stands out for its vast proxy network and intelligent tools for global data search.
The Social Proxy offers easy accessibility and targeted location customization. Proxy-Seller provides smooth functionality and budget-friendly pricing plans.
BeeProxy offers extensive IP options and flexible rotation settings. Private Proxy offers an automated system and customizable rotation periods.
While each provider has its pros and cons, users should carefully assess their requirements and priorities to make an informed decision.
Considering factors such as pricing, features, customer support, security measures, and trial options is essential in selecting the most suitable private proxy provider.
Ultimately, the goal is to find a provider that not only meets your current needs but also offers room for growth and scalability.
By making an informed choice based on the information provided, users can enhance their online experiences, ensure privacy and security, and achieve their desired outcomes.