Software affiliate programs provide an excellent opportunity to earn money by referring customers to the software products you promote.
Whether you are a blogger, YouTuber, or online influencer, you can use your platform to recommend high-quality software solutions and get rewarded for them.
In this article, I list some of the best software affiliate programs out there that allow you to make commissions for every successful referral sale.
So, read on and find out what these top-notch programs have to offer!
What Are Software Affiliate Programs?
Software affiliate programs are an excellent way for software developers to promote their products and services.
Through these programs, affiliates earn a commission when they refer customers to the developer's website or store.
Affiliates typically get paid based on the number of sales that they generate as well as any additional bonuses negotiated with the developer.
Software affiliate programs come in many different forms, from cost-per-click (CPC) and pay-per-lead (PPL) to revenue-sharing models.
CPC works by paying the affiliate each time someone clicks through from their site to the developer's product page.
PPL pays the affiliate for each lead generated, such as filling out a form or signing up for a mailing list.
The revenue-sharing model pays a percentage of each sale and is often the most lucrative option.
Software affiliate programs also offer affiliates the ability to customize their marketing campaigns with banners, text links, or even custom widgets.
This allows affiliates to better tailor their promotions to fit the look and feel of their website.
Affiliates can also track the performance of their campaigns by accessing detailed reporting for clicks, leads, and sales generated from their referrals.
Overall, software affiliate programs are an effective way for developers to boost sales while providing affiliates with a great opportunity to earn commissions.
Both parties benefit from these relationships when done properly, making software affiliate programs an excellent choice for both developers and affiliates alike.
Top 32 Best Software Affiliate Programs in 2023
Here are some of the best Software Affiliate Programs we have mentioned.
The Jotform staff is a fantastic affiliate partner. An online form builder with a broad range of features, integrations, and use cases is Jotform.
It offers customers much more than just an online form builder, enabling them to enhance every step of the data-collecting and management process.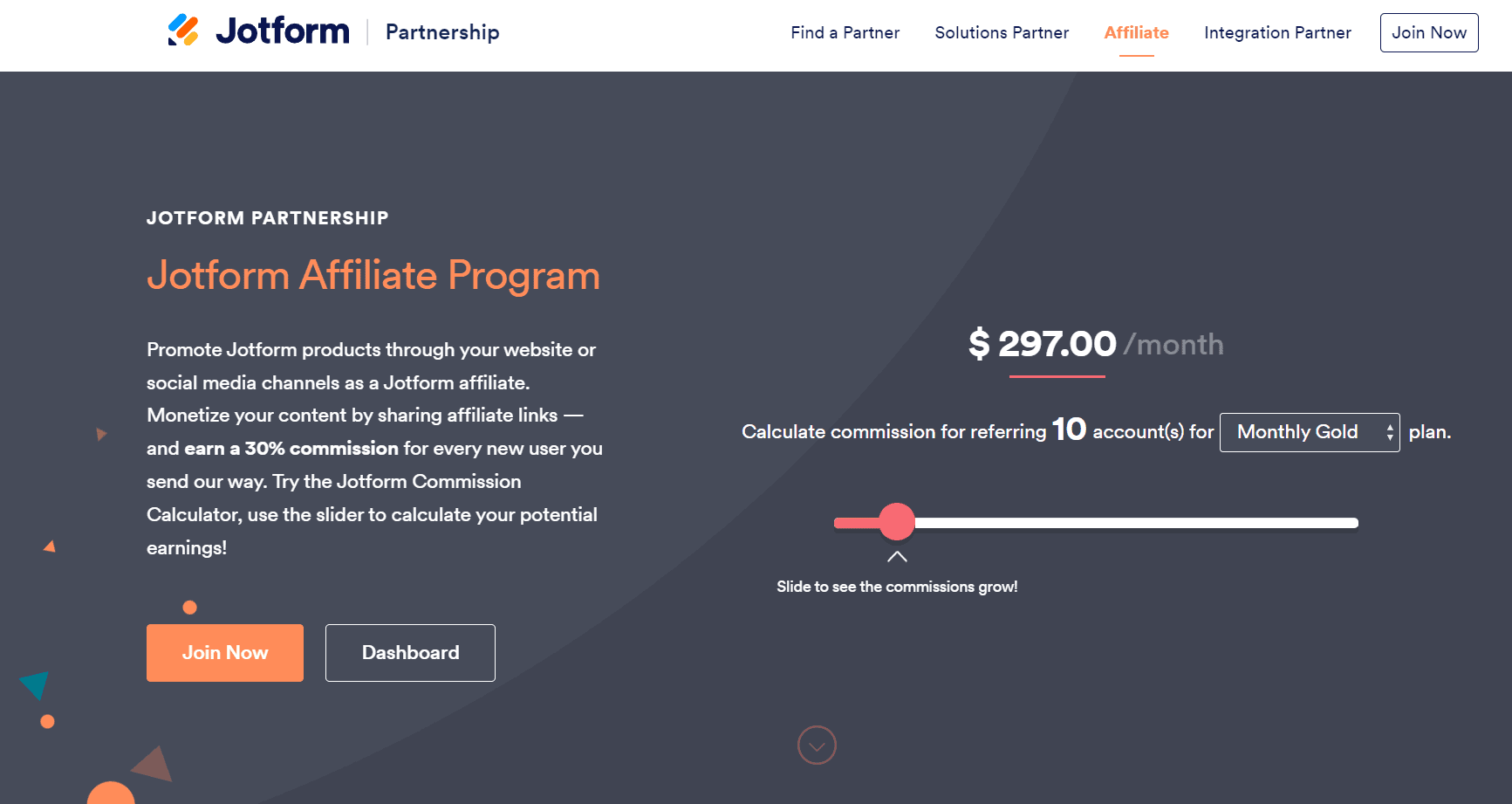 In addition to its robust form builder, Jotform includes thousands of templates, strong privacy protections, HIPAA compliance, payment forms, team collaboration, and even document creation tools.
Duration of Cookies: 60 days
Rate of Commission: 30% commission for every paid user
Since 1992, Rosetta Stone has been helping individuals learn a foreign language from the convenience of their own homes.
Their innovative method teaches you a foreign language by immersing you in it, as opposed to making you learn words and phrases.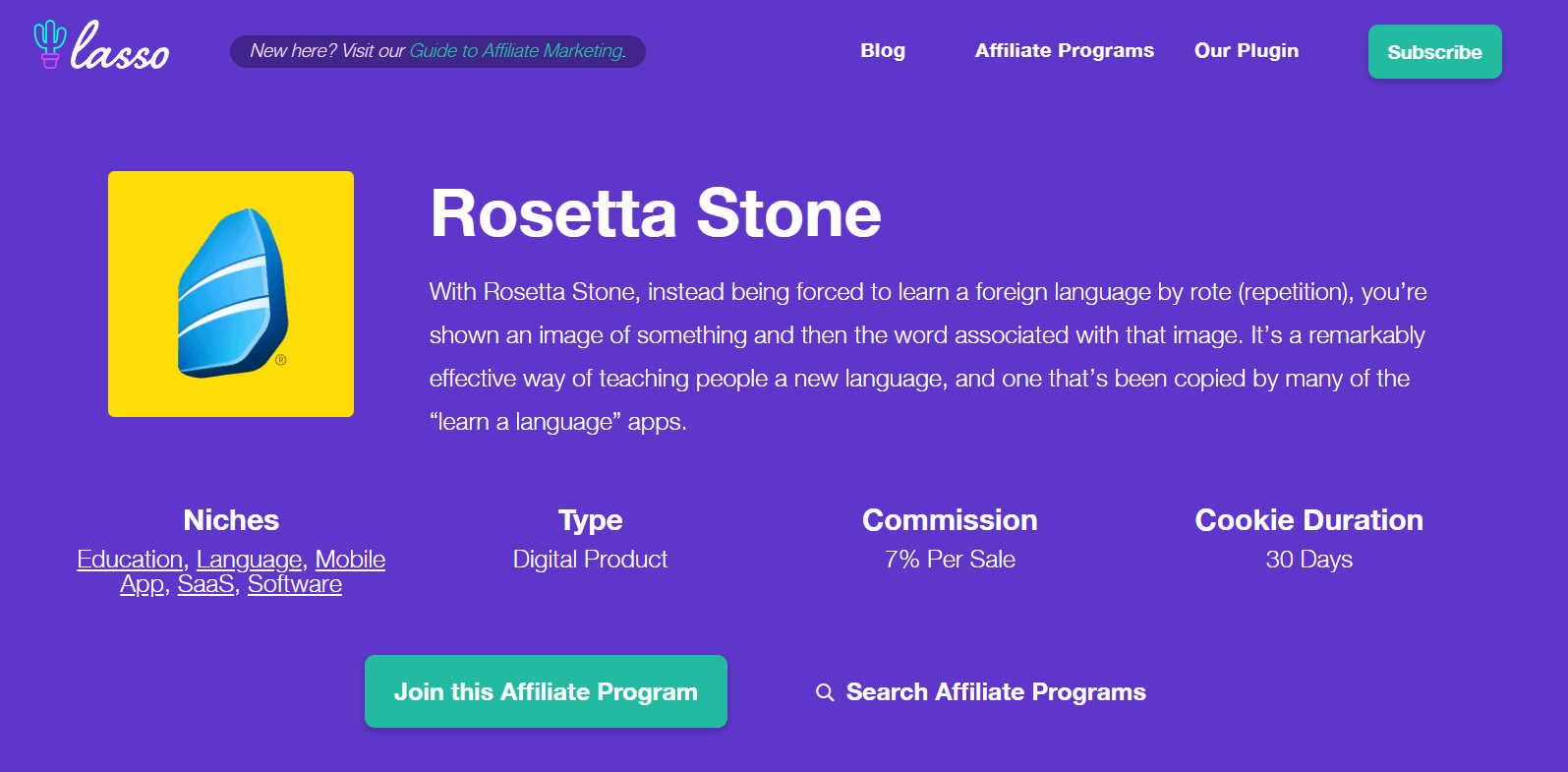 For a single monthly charge, their products now support 30 different languages, from Swahili to English.
You should make as much use of Rosetta Stone's 3-day free trial in your pre-sell material as you can.
Duration of Cookies: 30 days
Rate of Commission: 7%
For photographers who want sophisticated online picture editing and image modification tools, DxO offers cutting-edge software.
To assist photographers in fixing the most frequent problems that affect RAW digital photographs, their program makes use of AI.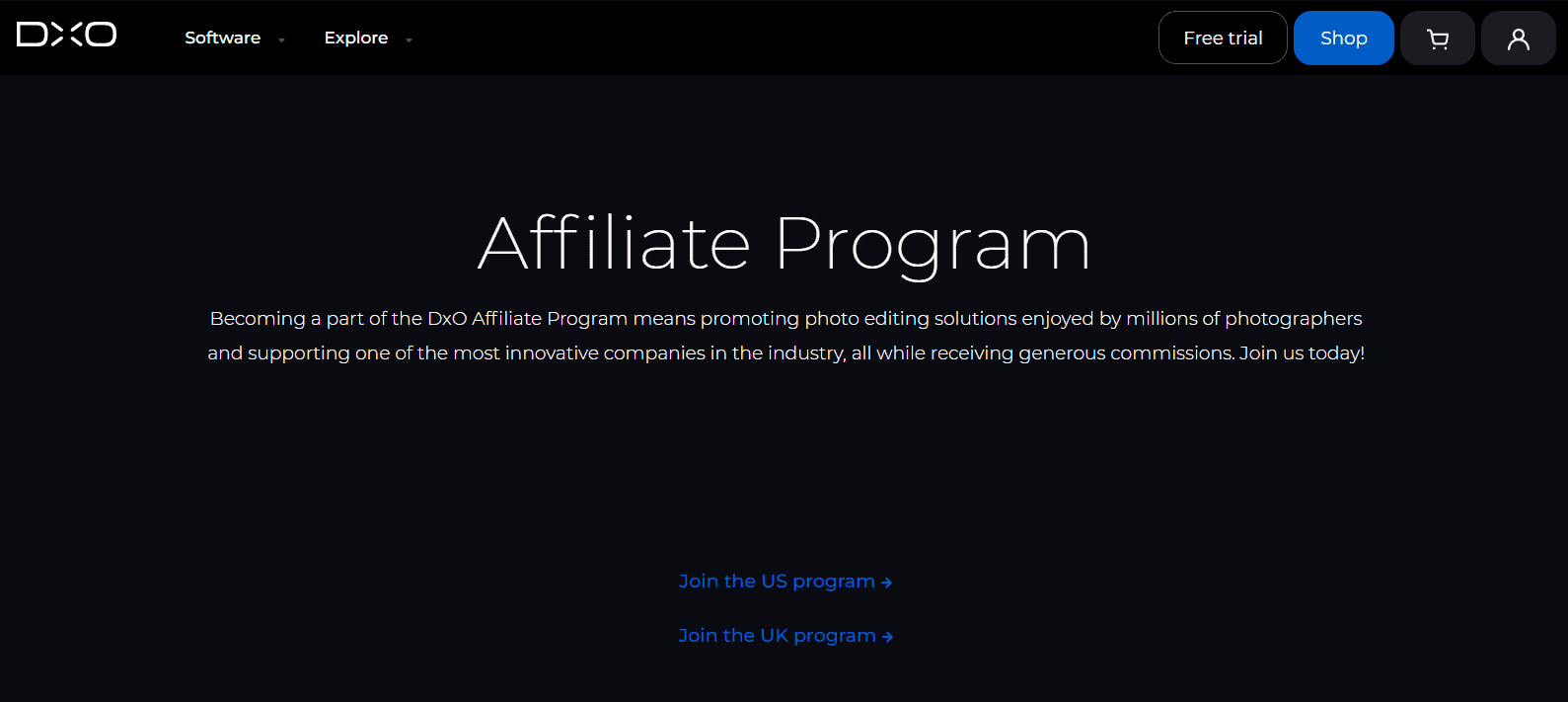 Thus, the finished photographs are beautifully rendered even before they are loaded into Adobe Photoshop, saving a photographer or designer several hours of laborious image editing before publishing or printing.
This business also offers a variety of Photoshop plugins, enabling you to enhance and manipulate images to new heights.
Duration of Cookies: 30 days
Rate of Commission: 15%
The "less expensive" grade of VPN service available to your visitors is Nord VPN. However, that does not imply that it lacks features.
Users get a safe VPN service with more than 5,300 servers spread over 60 different nations, many of which are located in particular towns.
Up to 6 devices may connect to an account simultaneously with Nord, which is fast enough to accommodate popular video streaming services.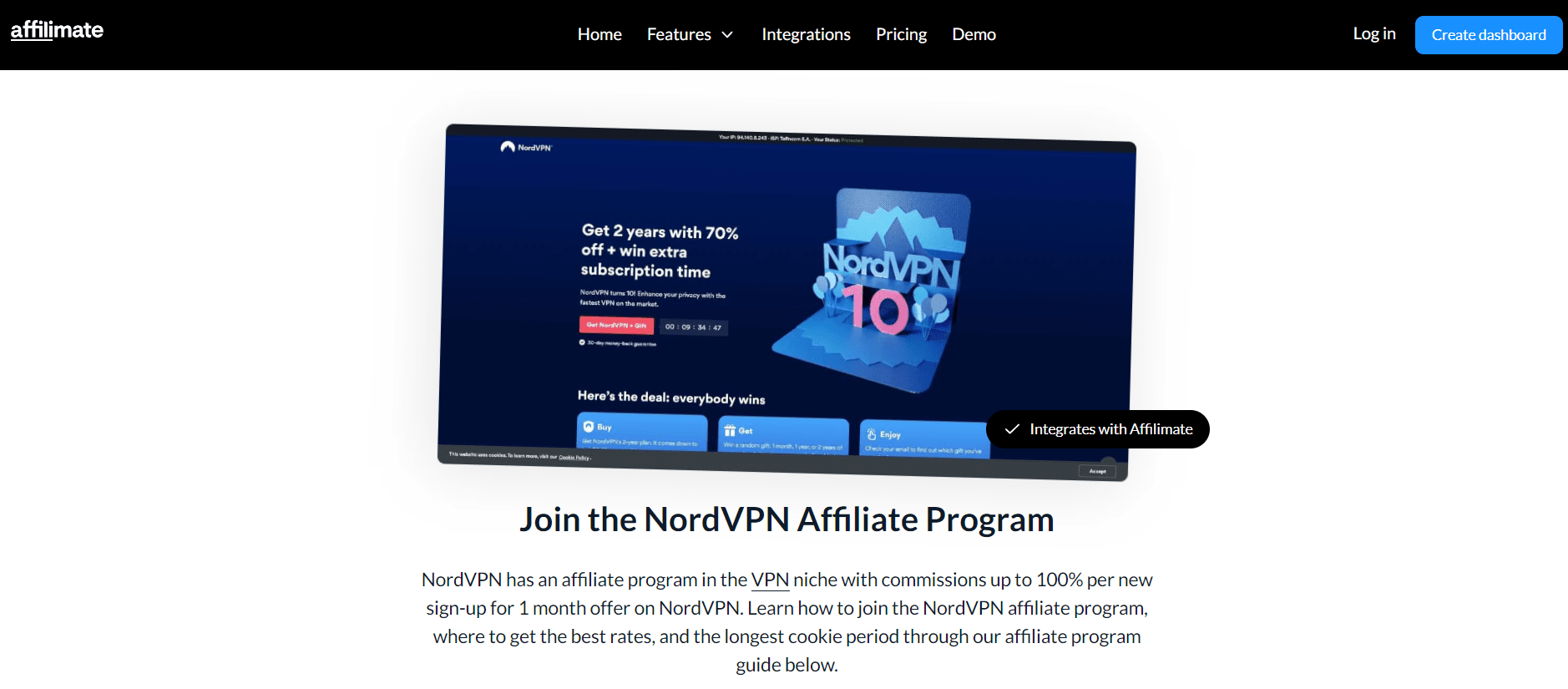 They follow a rigorous "No logs" policy, use obfuscated servers so that your data doesn't seem to be on a VPN, and guarantee that there will be no DNS leaks in order to assist you to maintain your anonymity.
Duration of Cookies: 30 days
Rate of Commission: 40%
The popularity of VPNs has greatly increased as a consequence of growing worries about data privacy, online anonymity, and governmental scrutiny.
That is why it is anticipated that this business will expand by around 20% per year until roughly 2030.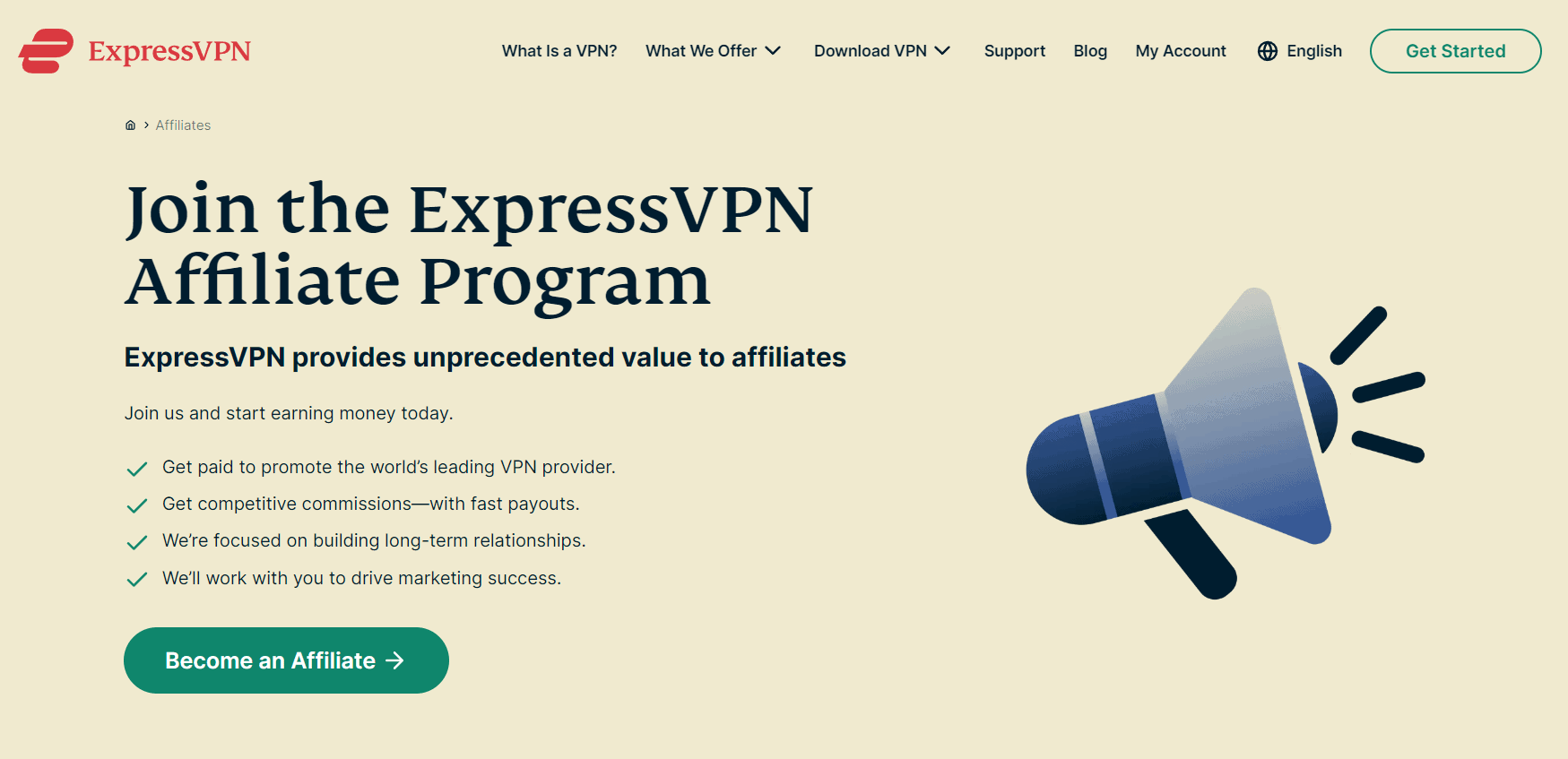 With more than 7,000 good online evaluations, Express VPN is one of the most well-liked virtual private networks accessible today.
Although it is one of the most costly goods on the market, can privacy really be valued? When promoting their items to your audience, keep their price in mind.
Duration of Cookies: 90 days
Rate of Commission: $13 – $36 per sale
Wondershare is the creator of a wide variety of software programs, including those for graphic design, file recovery, and video editing.
The nice thing about the Wondershare software collection is that it's probable that at least one of the products will be of help to your visitors.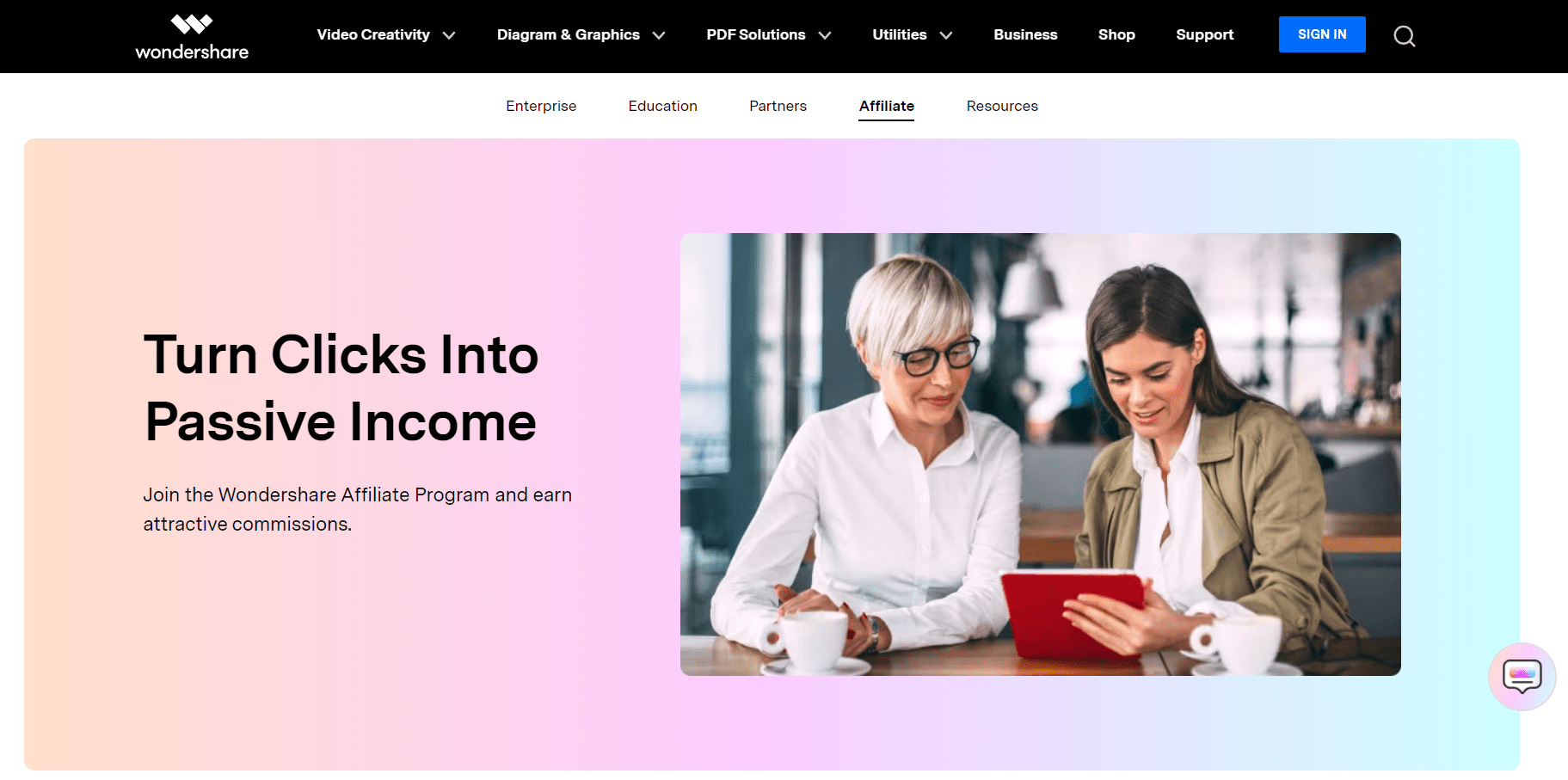 Sending traffic randomly to their offerings won't work; instead, sending warm traffic to targeted offers.
In addition, their best affiliates make $3k every week. They provide a broad choice of software items with something to interest practically any audience.
Duration of Cookies: 90 days

Rate of Commission: Up to 50%
Aweber is a tool for email marketing that has existed since the beginning of the Internet.
You may interact with your email list using this marketing platform's capabilities and insights by sending out newsletters or email broadcasts.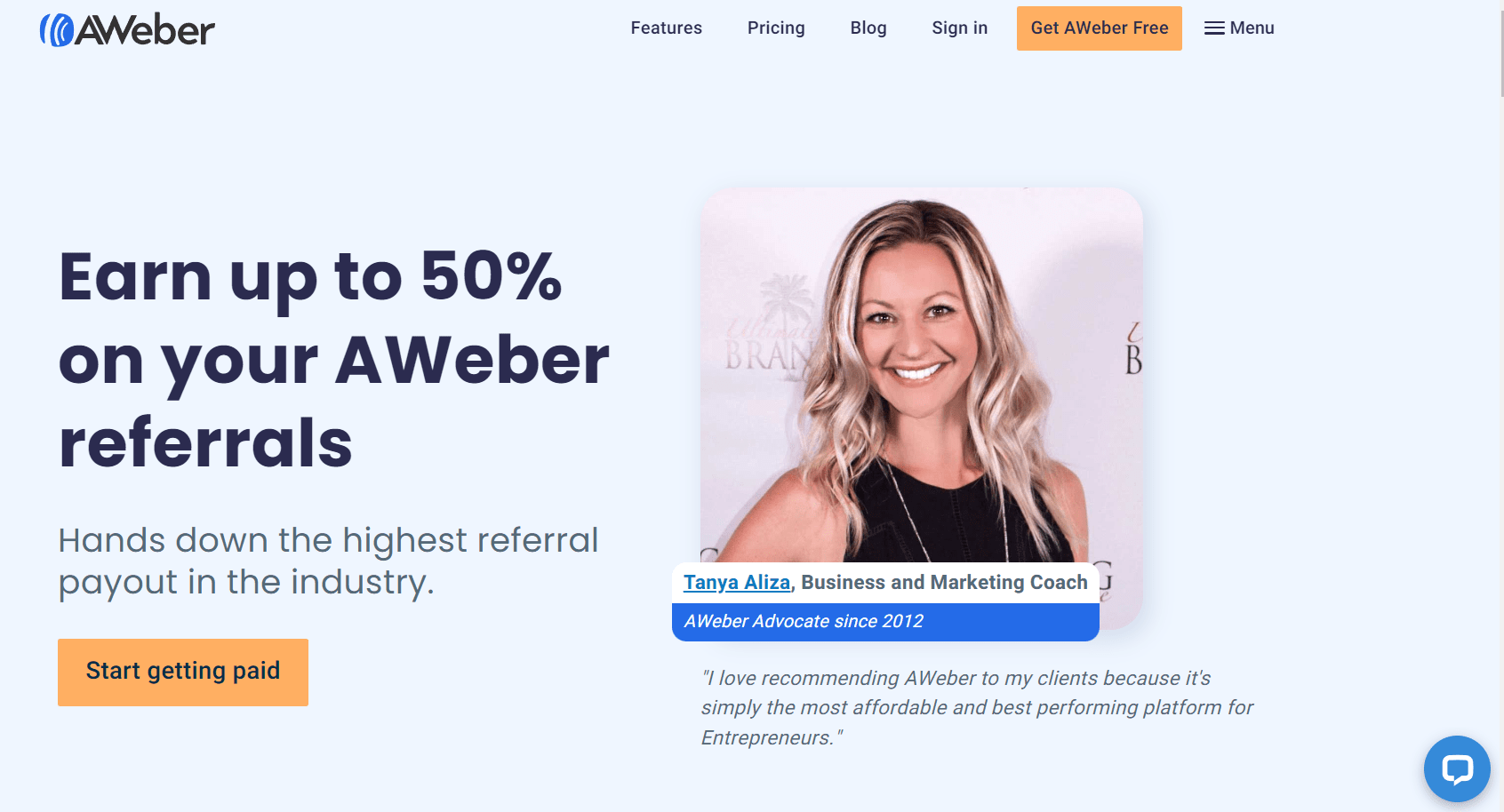 If you don't currently have a list for your software area, it may also assist you in creating one.
Aweber has a ton of useful connectors that further expand its capabilities, and you can even use it to create landing pages for your marketing efforts.
Duration of Cookies: 45 days
Rate of Commission: Up to $300
With the help of the writing tool Grammarly, users may avoid embarrassing spelling and grammar errors in their work.
However, Grammarly's handy feature is that you don't have to copy and paste your text or message into another application to have it checked.
Instead, Grammarly offers in-line corrections while you write an email in Outlook or Gmail, a paper in Word, or a message to your team in Asana.
As a result, you may quickly improve your writing while picking up new grammar rules with each letter you write.
Duration of Cookies: 90 days
Rate of Commission: $20 per sale
Tens of millions of websites use WordPress as their CMS of choice. And one of the most well-liked page builder plugins for WordPress is Elementor.
With this plugin's drag-and-drop interface, you can now design the precise layout you desire for a page or post as opposed to having to depend on the layouts provided by a certain theme.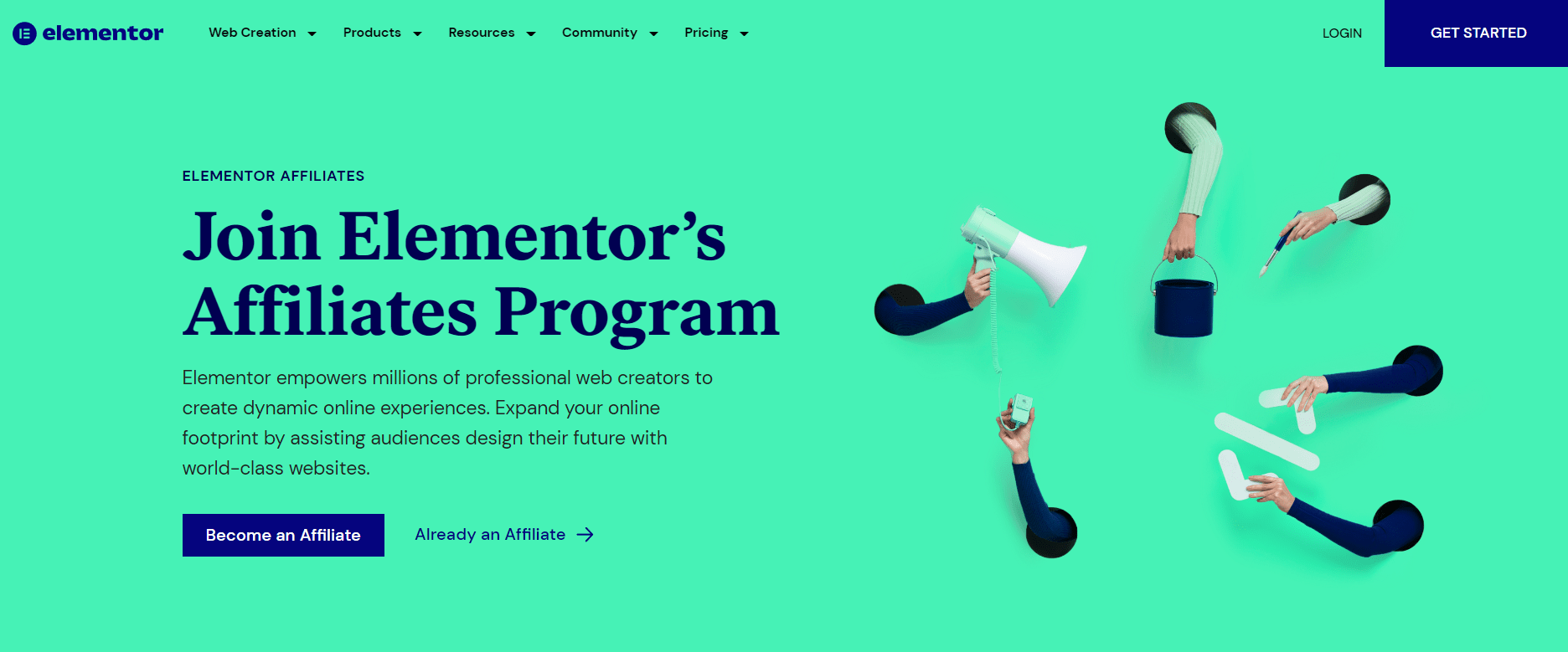 So you can develop anything with WordPress, from simple affiliate marketing websites to online shops.
With the help of Elementor, almost anybody who can use a drag-and-drop interface may create websites.
Duration of Cookies: 30 days
Rate of Commission: 50%
Over 5,000 SEOs and online marketers already utilize Surfer SEO as a tool for on-page optimization and content analysis.
It demonstrates the precise words and phrases that should be used in a piece of content to improve Google and other search engine rankings.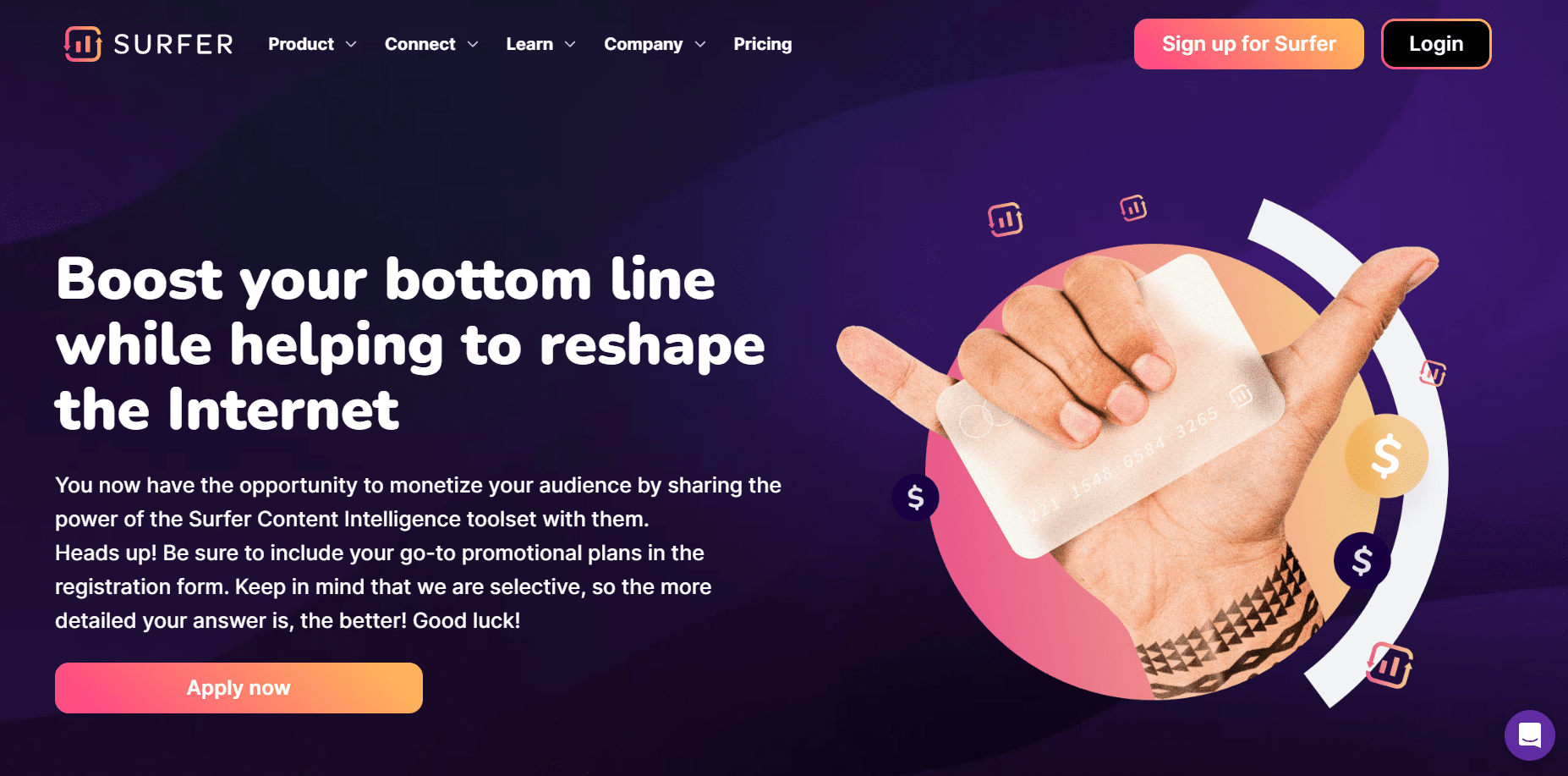 I like Surfer because they keep adding new capabilities to it, such as the most recent incorporation with the Jarvis AI content production tool.
Additionally, it contains a basic topic grouping tool that has a lot of potential.
Duration of Cookies: 60 days
Rate of Commission: 25% (recurring)
As the name implies, SEO PowerSuite is a collection of software solutions specifically targeted at the SEO, affiliate, and digital marketing markets.
This software affiliate program might be used by an SEO to improve a client's website or by an affiliate marketer to monitor their own website.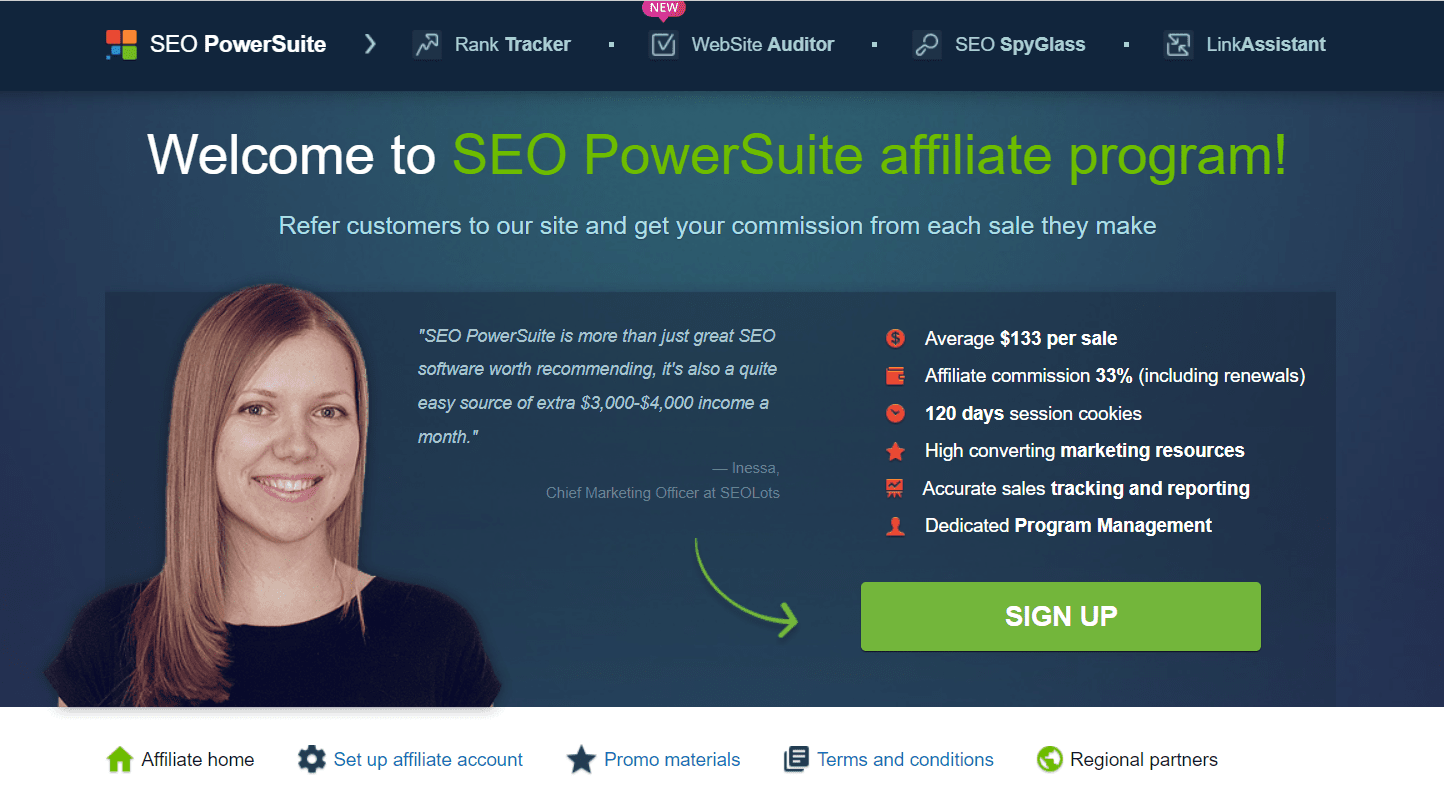 In my view, it is one of the finest software affiliate programs.
You receive an all-in-one platform of strong and adaptable capabilities with this affiliate network that can manage the great majority of SEO, affiliate marketing, or digital marketing initiatives.
Duration of Cookies: 90 days
Rate of Commission: 33%
The password manager LastPass is available as a browser extension. For each login they use, it makes it simple for your visitors to establish a safe password.
You don't need to keep track of every username, password, or even the login URL since LastPass can autofill your logins.

Users don't ever have to reveal their real passwords since they may securely exchange login information with others.
LastPass is accessible on Windows, Mac, Android, and iOS devices, but using it across multiple platforms requires a premium membership.
Duration of Cookies: 14 days
Rate of Commission: 25%
For both residential and commercial customers, Webroot produces antivirus and computer security software.
They established themselves as leaders in this field by using AI to spot fresh security flaws and "wild" infections before most other businesses did.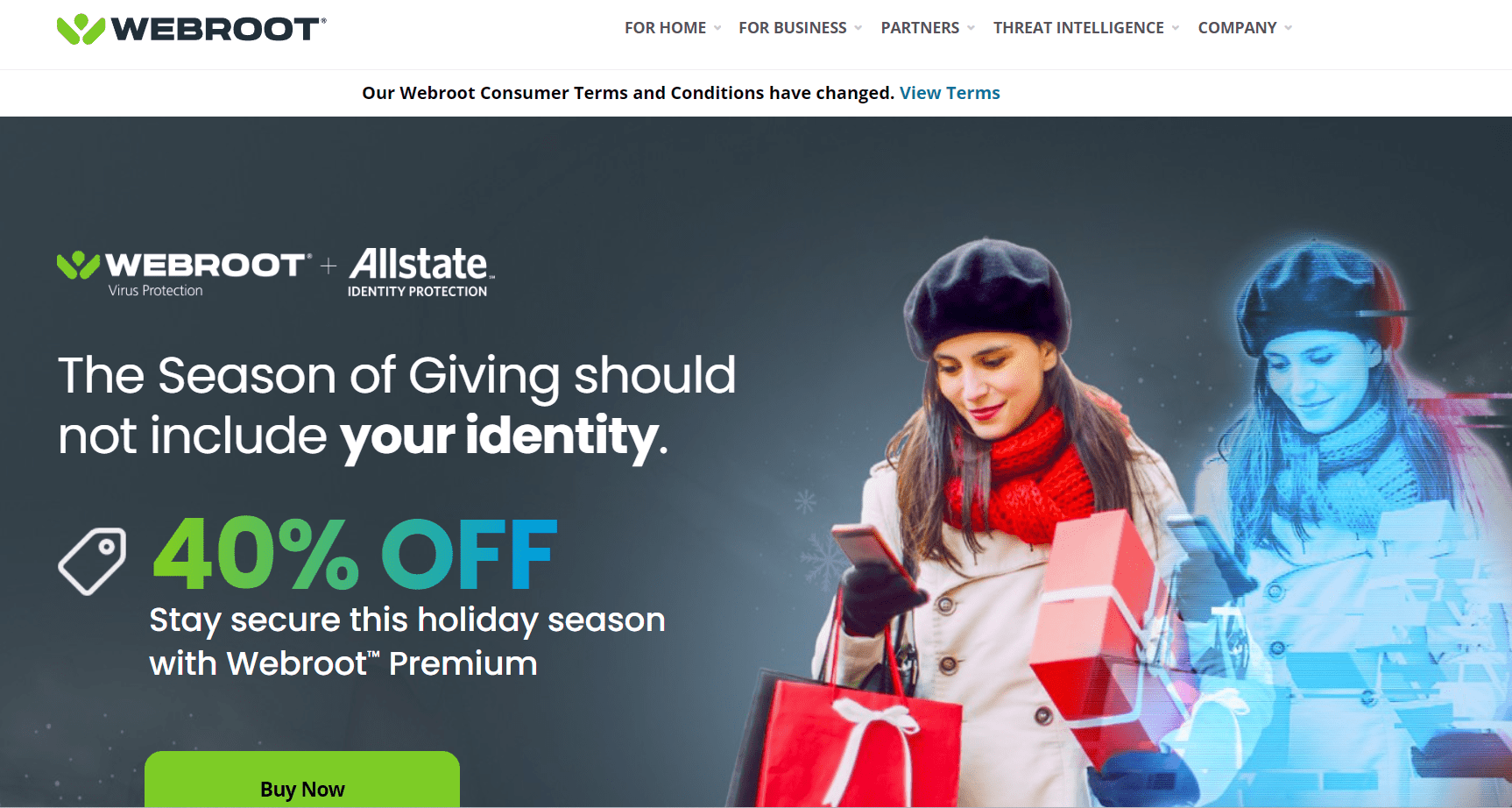 Therefore, you may depend on their web platform to safeguard your laptop or to provide enterprise-level enterprises with real-time security protection.
It is important to point out in your affiliate marketing efforts that their home-user software is quite reasonably priced.
Duration of Cookies: 10 days
Rate of Commission: Up to 12%
One of the earliest manufacturers of antiviral software for computers, McAfee began selling its products in 1984 over a BBS (Bulletin Board System) that operated before the Internet.
They, therefore, have 5 million consumers globally and approximately 40 years of expertise in this field.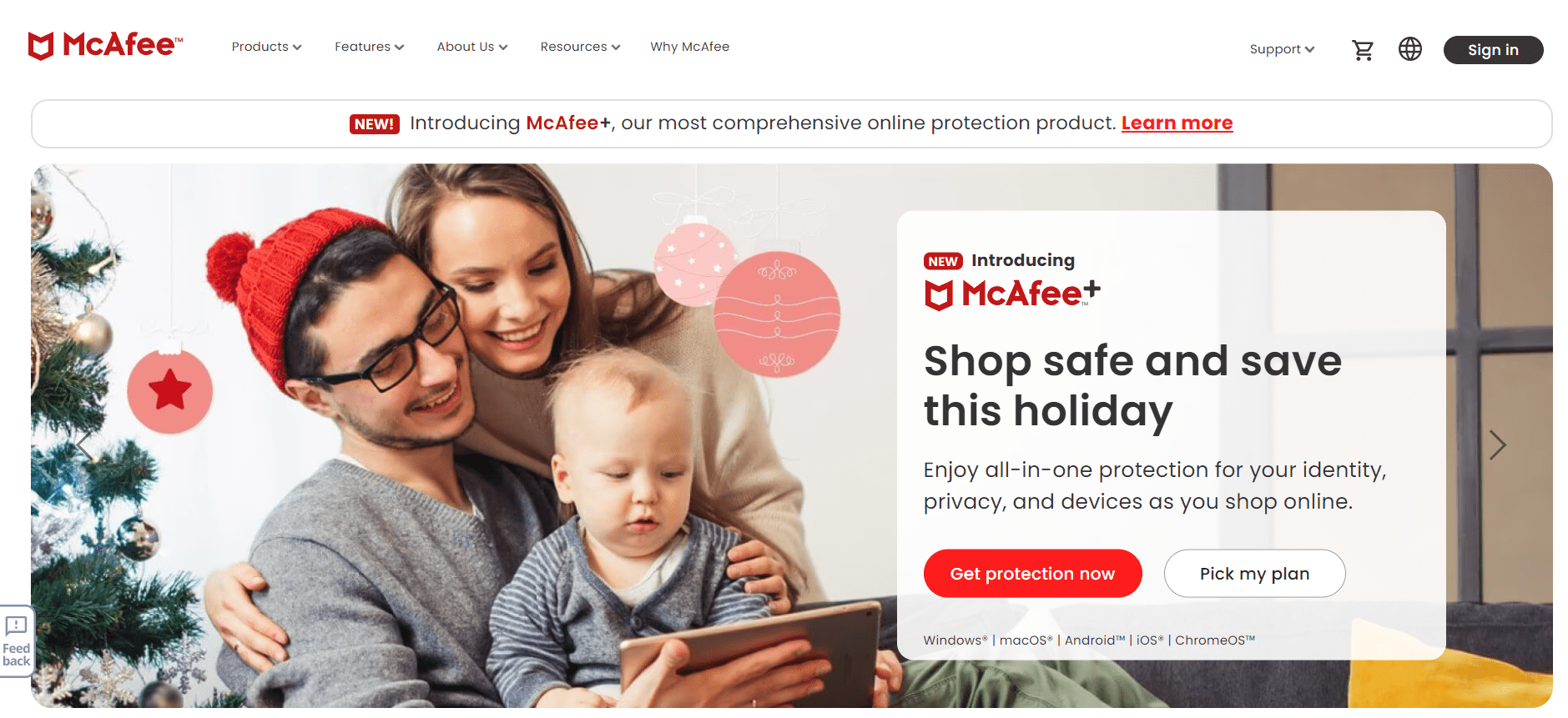 The firm now offers a wider selection of computer security solutions, such as its own VPN product and the "Total Protection" software package.
The fact that McAfee offers security without charging a premium, or is less expensive than everyone else, sets them apart from the competition.
Duration of Cookies: 45 days
Rate of Commission: $10 per sale
Right now, cyber assaults are a hot topic, and for a good reason: every 39 seconds, a computer system is tried to be attacked.
Therefore, a computer system that is unsecured is practically begging to be attacked.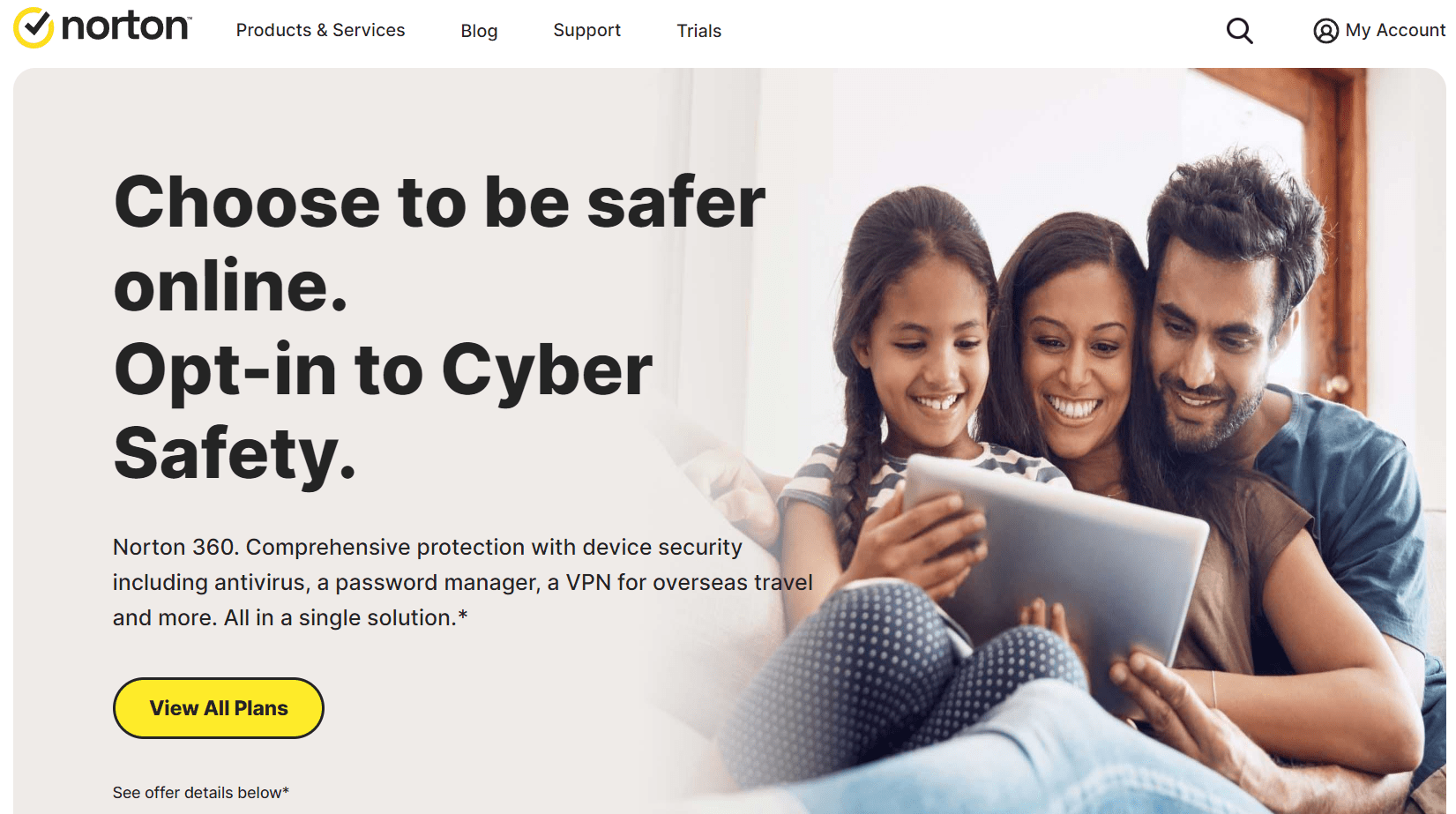 Visitors to your website should think about utilizing Norton security solutions to shield their computers and private data from hackers and online criminals because of this.
In addition to decades of expertise in assisting consumers in keeping their computers secure from viruses and other risks, they provide a plan or solution to meet almost any budget.
Duration of Cookies: 60 days
Rate of Commission: Up to $200 per sale
A wide variety of 3D design, rendering, and animation products are made by AutoDesk.
AutoCAD will be recognizable to engineers and architects, but 3DS Max will be familiar to everyone who has ever animated a 3D model.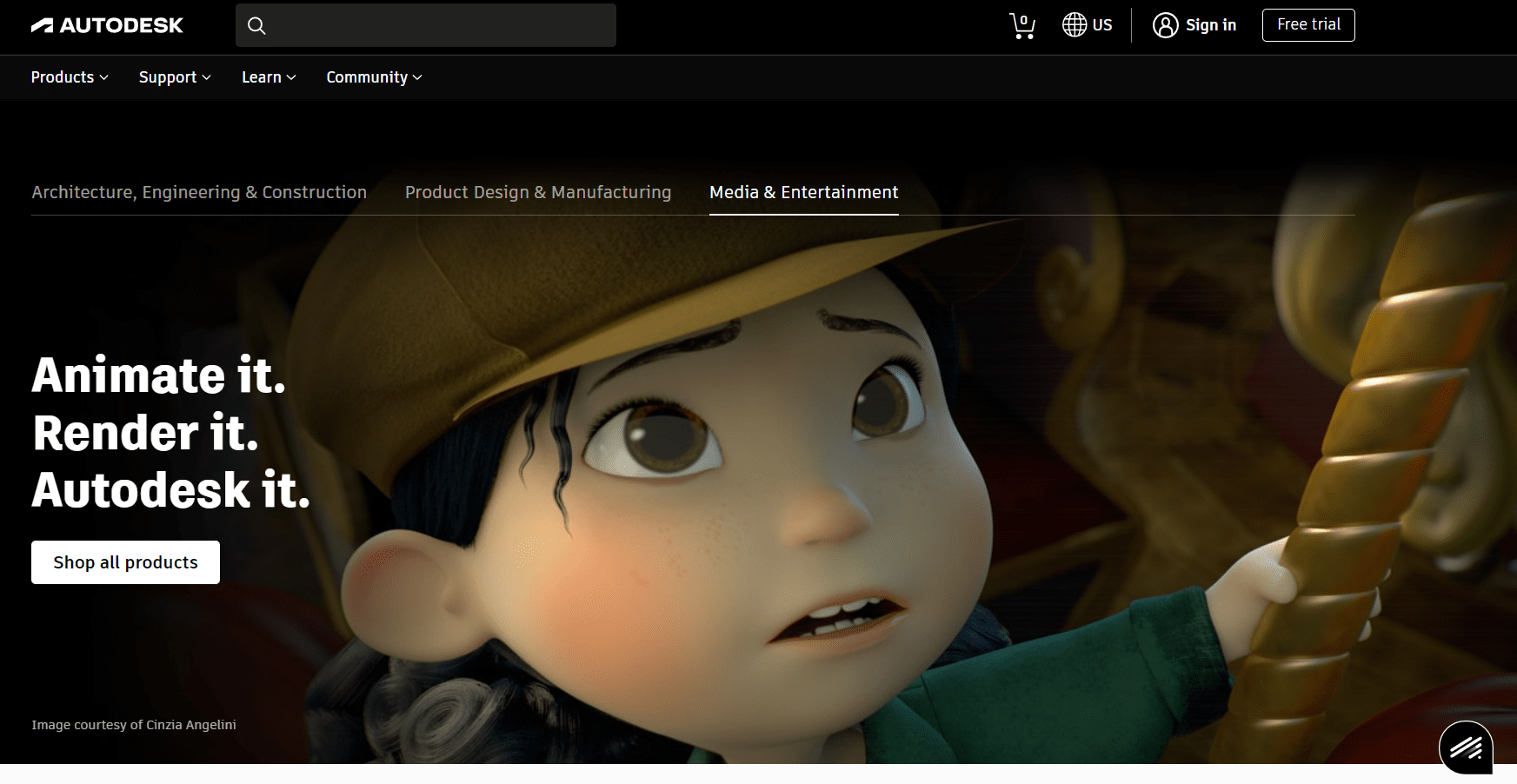 Their program enables you to design and simulate anything in the digital world, from a bicycle wheel to a skyscraper, long before it ever materializes.
The good news is that they also have a successful affiliate network, which is wonderful for the affiliate marketers who are reading this.
Duration of Cookies: 60 days
Rate of Commission: 9%
Most individuals are terrible at making captivating presentations.
You've probably had to suffer through a deck of more than 50 barely readable or understandable slides at some point in your life.
Beautiful. AI guarantees that your presentations appear fantastic while also cutting down on the time it takes to generate them.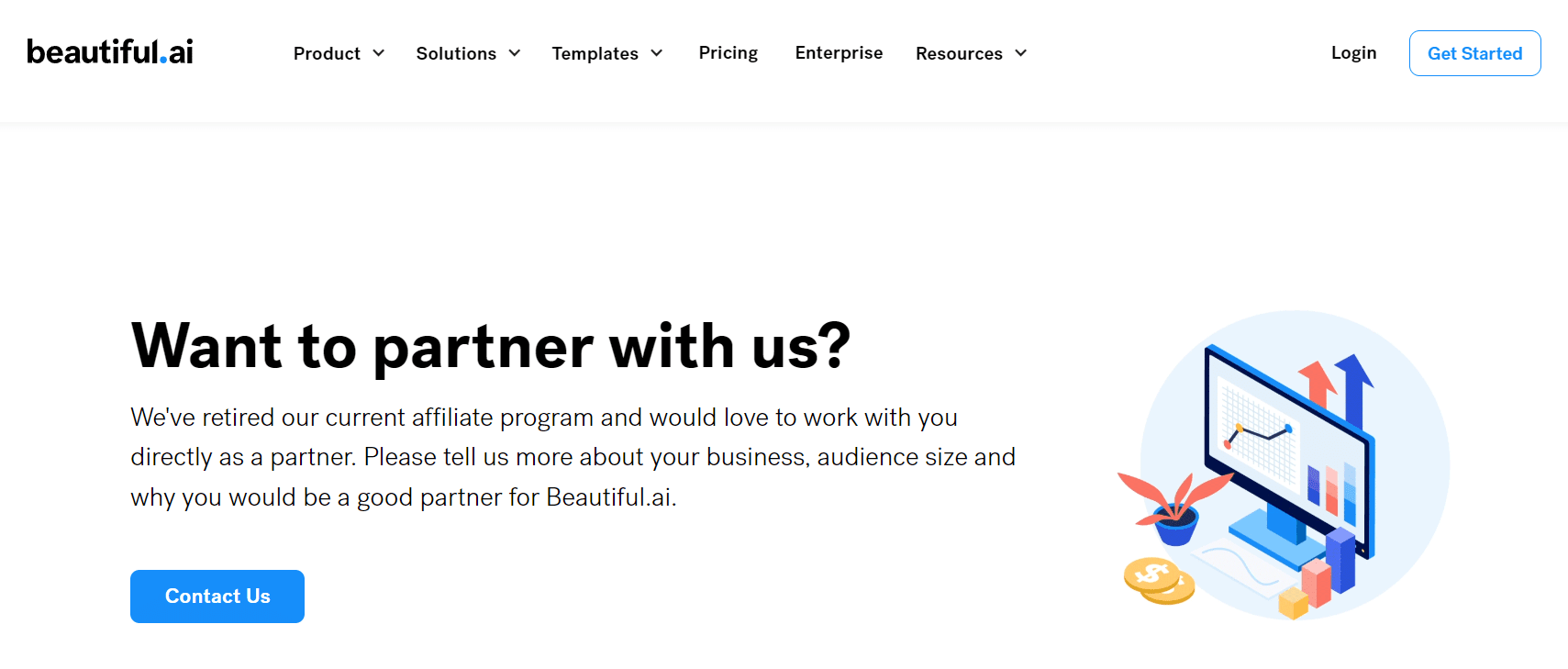 It does this by using AI to make sure that your presentation adheres to the fundamentals of interesting and usable design.
When used in conjunction with their intelligent templates, you have a system that lets you concentrate on the content you're presenting rather than worrying about design minutiae.
Duration of Cookies: 45 days
Rate of Commission: 15%
In the existing limited software industry, My Choice Software is somewhat of a niche offer.
For items like Microsoft Office, Exchange, or Windows Server, they offer you a cheaper price on what is known as bulk or "site" licenses.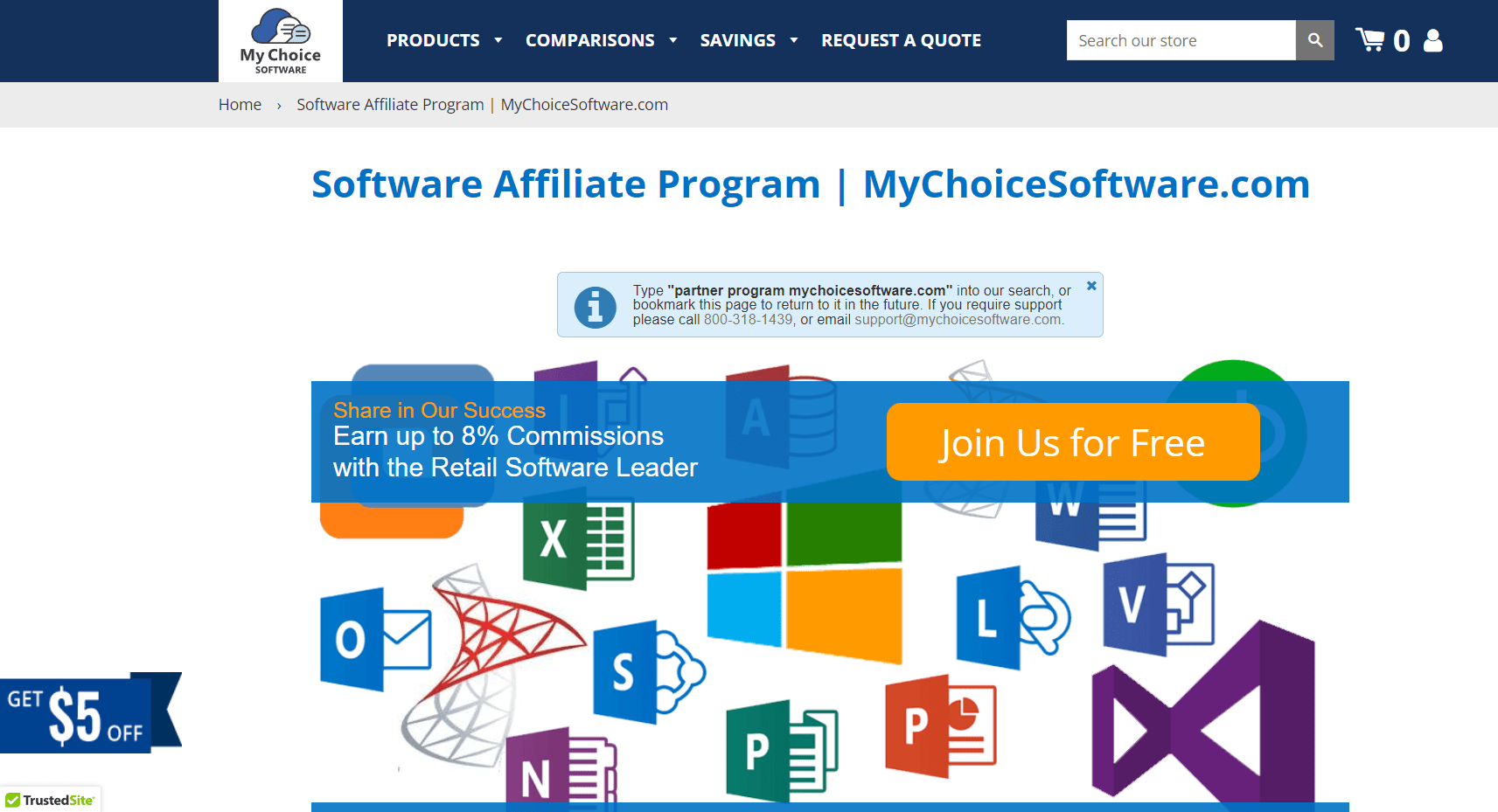 Thus, a company seeking several Microsoft Project licenses would be your target market.
However, even though their service is primarily targeted toward businesses, they also offer individual software licenses.
Duration of Cookies: 90 days
Rate of Commission: Up to 8%
I won't waste your time outlining Microsoft's history.
The fact that they provide an affiliate marketing program allows you to earn money by recommending their goods to blog visitors is what matters to you.
But not all Microsoft products allow you to earn a commission.

However, you are allowed to advertise their Office 365 line of goods, which also just so happens to pay up to $10 for each lead.
Before creating your affiliate marketing program, be sure to consult with your affiliate manager.
Duration of Cookies: 14 days
Rate of Commission: Up to 7% or $10 per sale
In 1983, QuickBooks began offering accounting software to small- to medium-sized company owners who lacked accounting knowledge.
Since then, they've increased the number of products they provide and developed into one of the top cloud accounting solutions.

However, they continue to concentrate on assisting small and medium-sized enterprises with account management.
Because of this, depending on the source of your statistics, they have a market share that ranges from 56% to 72%.
Duration of Cookies: 30 days
Rate of Commission: Up to $55 per sale
There are several advantages to interacting with clients directly via a chat feature on your website.
One of them is responding to client concerns nearly immediately while also getting crucial input on your good or service.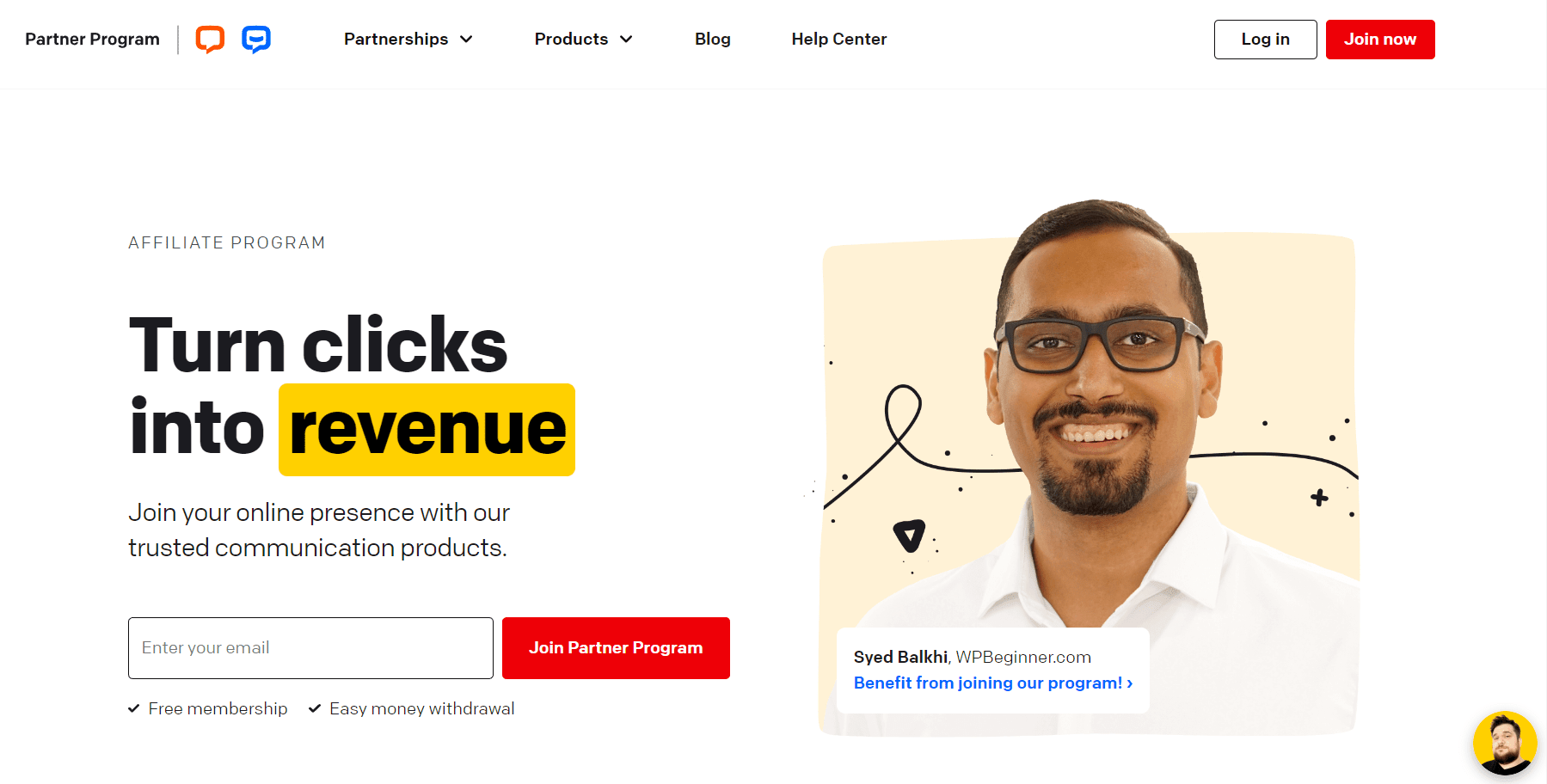 In addition to the aforementioned tasks, Live Chat also features a ticketing system, a chatbot, and a mechanism to highlight your items during a chat session.
Their chat software is being used by more than 20,000 enterprises across 150+ nations.
Duration of Cookies: 120 days
Rate of Commission: 20%
Web designers, graphic designers, and pretty much everyone else who could ever require a font will find this affiliate program appealing.
The widest font selection purportedly now offered anywhere in the world is provided by Monotype.

Visitors to your website may choose from around 500,000 typefaces that can be used for both desktop apps and online publishing.
So you may be paid a commission if they discover at least one font they wish to purchase.
Duration of Cookies: 30 days
Rate of Commission: Up to 15%
A caching plugin designed exclusively for WordPress sites that need to speed up page load times is WP Rocket.
By giving users a simple-to-use interface for carrying out challenging operations like minifying CSS and aggregating JavaScript files, it aids users in improving page and site speed.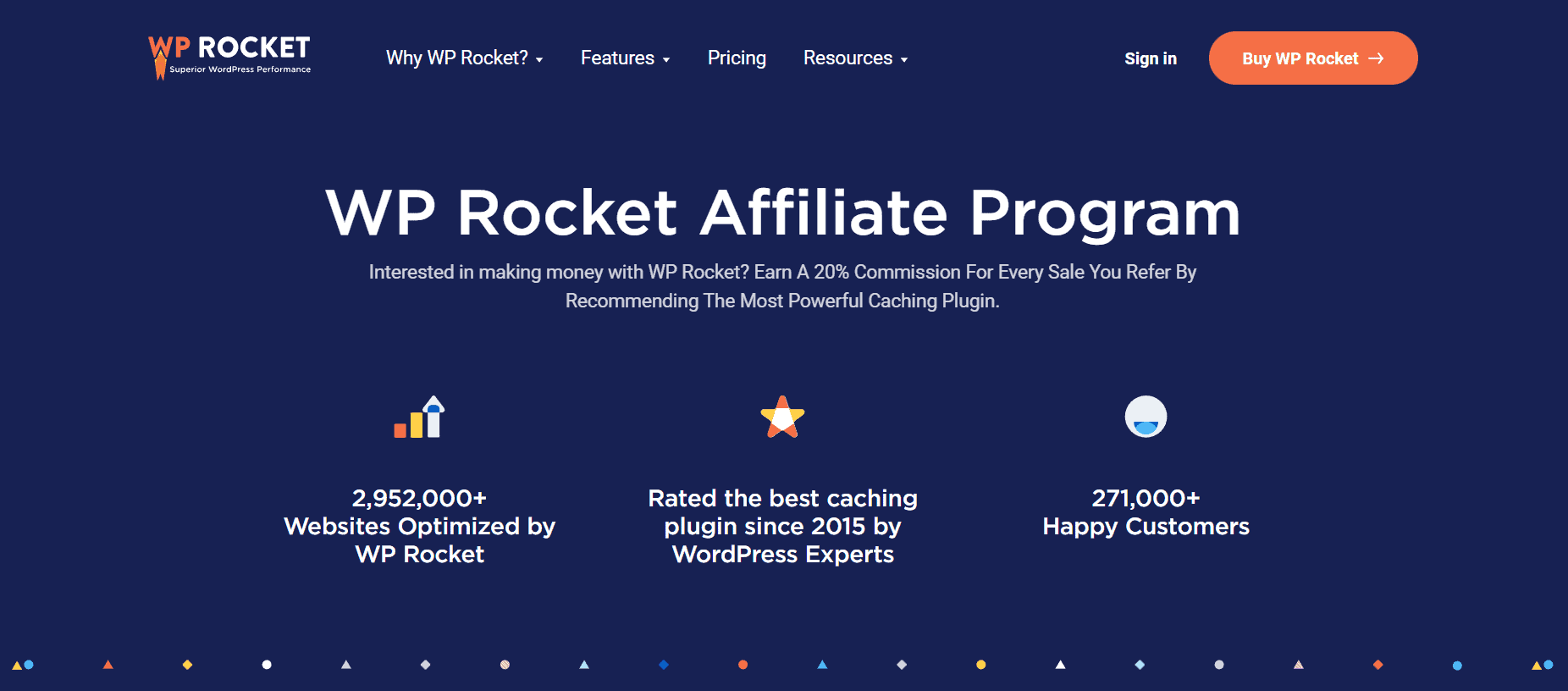 Therefore, it can be used by those who aren't programmers or web development specialists.
However, users must be prepared to pay as this is not a free plugin if they want a speedier website.
WP Rocket can interface with various well-known CDNs while also providing its own CDN (Content Delivery Network).
Duration of Cookies: 30 days
Rate of Commission: 20%
30,000 businesses, many of which are eCommerce sites, utilize the affiliate program and affiliate management software Post Affiliate Pro.
They are one of the top businesses offering affiliate monitoring software in this area of digital marketing.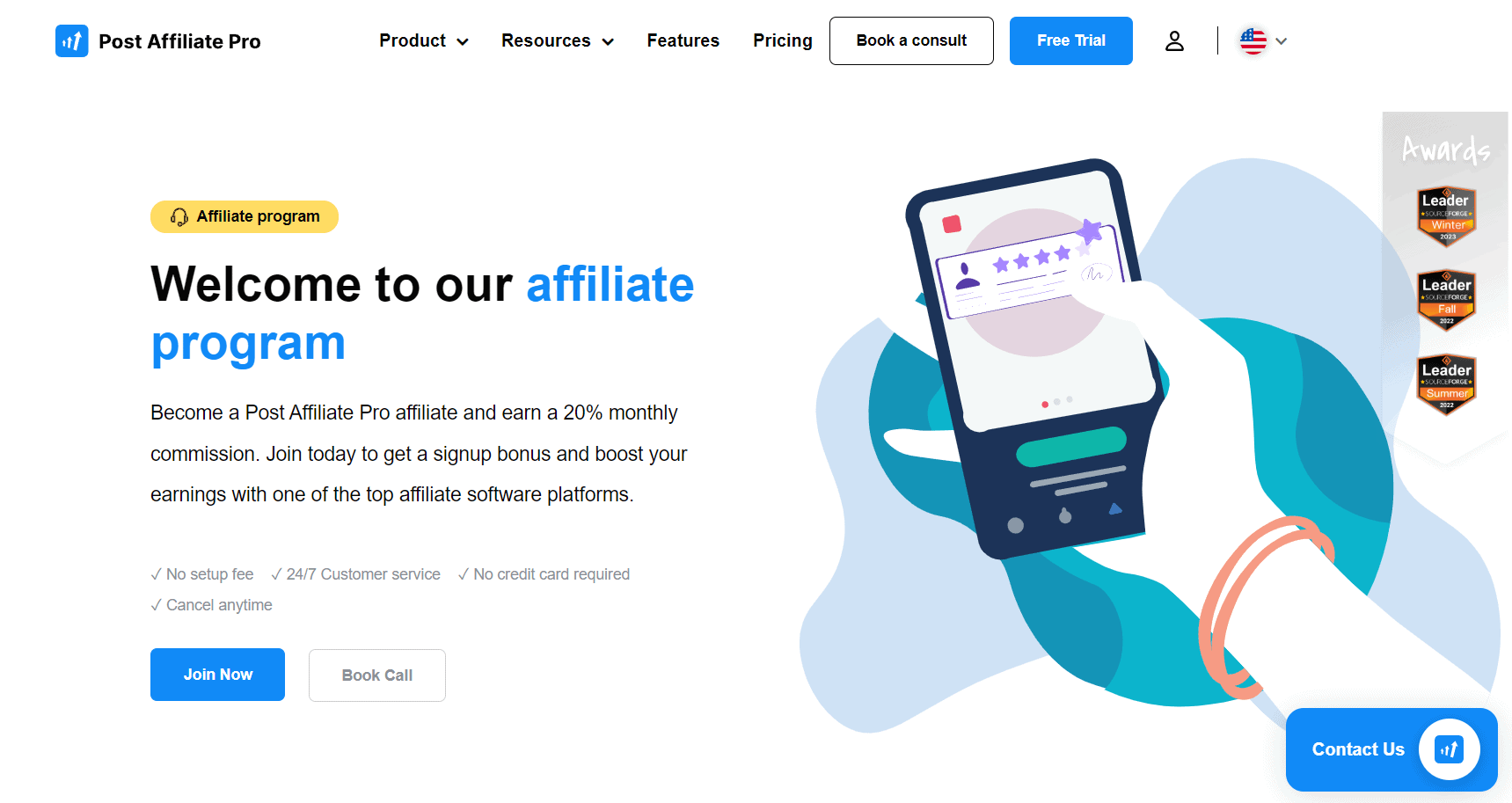 Simply said, it enables you to manage your own affiliate programs independently of affiliate networks, allowing you to monitor referrals for your company.
However, it also gives affiliates the option to log in and see their statistics and commissions, giving it more capabilities than the average affiliate monitoring program.
Duration of Cookies: Permanent
Rate of Commission: $5 per signup
What exactly does "all-in-one affiliate software," as claimed by Voluum, mean?
The individuals that utilize sponsored advertisements to direct visitors to their landing pages are the target audience for their affiliate tracking service.
If you fall into such a category, this is most likely one of the best software affiliate programs to take into account. Without a doubt, it will benefit your affiliate marketing plan.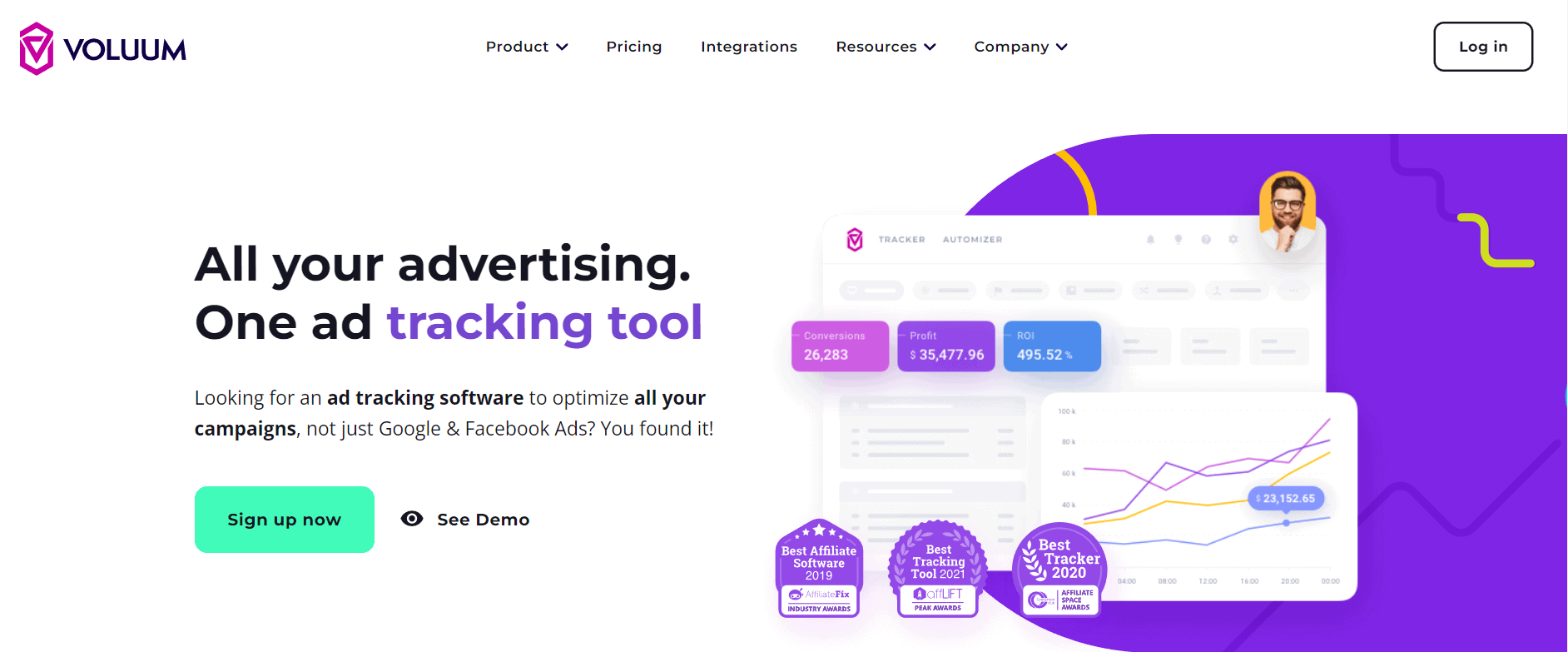 However, there is essentially no reporting latency with Voluum compared to other affiliate software.
This means that rather than having to wait hours for a report to come, you can make wise choices for your digital affiliate marketing efforts as they are already running.
Duration of Cookies: 30 days
Rate of Commission: 20%
When typing, a human can only go up to 60 words per minute. However, humans communicate at a rate of 150 words per minute on average.
Dragon by Nuance takes use of this distinction by properly typing what you say into almost any program that supports text input.
In other words, by speaking into a microphone instead of tapping away at a keyboard, you can instantly increase your productivity by three times.
For the doubters reading this, voice recognition and dictation technologies have advanced significantly in the last ten years alone.
Duration of Cookies: 30 days
Rate of Commission: 8%
Smile is not the teeth-whitening or orthodontics service that it may first seem to be.
Instead, they are the entity responsible for the "TextExpander" product.
Its strength is in its capacity to save a vast library of content snippets that can later be remembered and added with a few keystrokes or a shortcut to any document.
However, unlike templates, a Text Expander snippet may be made instantly and used with a wide variety of programs.
Because it enables them to process client responses in seconds as opposed to minutes, this software is popular among those who work in customer care.
Duration of Cookies: 45 days
Rate of Commission: 20%
Musicians from all around the globe will be interested in Splice's offer.
You may download and utilize the library's more than 2 million unique audio samples right in your digital audio workstation (DAW).
However, they also provide composers and musicians a means to rent plugins and pay for them on a monthly basis until they own them.
In order to save money on otherwise costly software tools and samples, you should be able to discover lots of artists that wish to join up.
Duration of Cookies: 60 days
Rate of Commission: $5 per lead
With the help of skill matching, players may identify qualified opponents to compete against on the Skillz eSports platform, which guarantees that every game is a fair battle.
However, it also offers independent creators a means to make money off of their games so they can cover their expenses and continue making games for their fans.
Additionally, it provides a chance for players to profit financially from their pastimes via cash awards. Each and every Skillz game is free to play and catered to mobile gamers.
Duration of Cookies: 90 days
Rate of Commission: 32%
For anybody with a creative readership, Magix can be the ideal affiliate program.
That's because they provide software for designing and editing videos, audio, and photos, as well as their corresponding add-ons and plugins.
Like Sound Forge Pro and Vegas Video, some of them are only intended for experts.
For those who merely want to make an animated presentation out of their vacation photos, they also provide more beginner-friendly solutions like Photostory Deluxe.
Simply make sure you're marketing the appropriate product to the appropriate audience, depending on their expertise level and purchasing power.
Duration of Cookies: 32 days
Rate of Commission: Up to 30%
For businesses or people that struggle to record their finest ideas as they emerge, AYOA offers a solution.
It does this by integrating task management, mind mapping, and whiteboard features into a single application.
However, numerous individuals may work on them at once, and the finished products are accessible online and off, even on mobile devices.
Every brainstorming session may now be recorded in its entirety and shared with the whole company.
Duration of Cookies: 60 days
Rate of Commission: 30%
Software for parental control is rarely a novel concept.
However, Web Watcher goes a step further by enabling you to keep an eye on what your children are doing on both their cellphones and PCs.
On a PC, Mac, or smartphone, the installation just takes a little while.
The most common messaging services' incoming messages as well as SMS, phone calls, images, messages, and social networking postings, are thus remotely accessible to your visitors.
This may lessen instances of cyberbullying and protect kids from internet predators.
Duration of Cookies: 10 days
Rate of Commission: 35%
FAQs About Software Affiliate Program
What is a software affiliate program?
A software affiliate program is a type of partnership between a software company and an individual where the latter gets rewarded with a commission for every successful referral sale they make on behalf of the former.
How much money can I earn from these programs?
This depends on the program and how many sales you are able to generate through it – some offer up to 50% commissions while others may be less generous in terms of commission rates. Additionally, some programs also offer bonuses, rewards, and other incentives for successful affiliates.
Is there a minimum amount of money I need to invest in order to join these programs?
Generally speaking, software affiliate programs require no investment from the affiliates in order to join. However, some may have certain requirements or restrictions which you should look into before signing up with any particular program. Additionally, each program has its own set of rules and regulations that must be followed in order to stay eligible for commissions and rewards.
Can I use these programs on multiple websites?
Most software affiliate programs allow affiliates to promote products through multiple websites as long as those websites are owned by them – this helps maximize their earning potential while also minimizing the risk. However, some programs may have restrictions regarding the number of websites an affiliate can promote – it is always best to read the terms and conditions thoroughly before joining any software affiliate program.
Quick Links:
Conclusion: Best Software Affiliate Program 2023
Software affiliate programs are a great way for anyone who has an online presence or influence to make money while promoting quality software solutions.
There is something in it for everyone – whether you're a blogger, YouTuber, or influencer.
With insightful information about the best programs available, you can find the perfect fit for your website and start referring customers to make cash!