With the e-commerce industry booming, fashion affiliate programs offer a great way for marketers to capitalize on this popular trend and make some serious money.
In 2023 there are several fashion affiliate programs available with big payouts that will help you promote clothes and accessories from leading retailers and brands.
From electronics to apparel, there are plenty of opportunities to earn money from the top fashion affiliate programs.
What Are Fashion Affiliate Programs?
Fashion affiliate programs enable online store owners to partner with fashion bloggers, influencers, and other websites to increase their sales.
By affiliating an online store with a fashion blogger or influencer, the store owner gains access to a new demographic of potential customers.
The affiliate then earns a commission on any sales generated through their website or blog.
This type of partnership is mutually beneficial as it allows both parties to profit from the relationship.
Furthermore, fashion affiliates can use tracking tools to measure performance and tweak their marketing efforts accordingly.
There are a variety of different types of affiliate programs available depending on the needs of the store owner and the style of clothing they sell.
For example, some stores may offer pay-per-click (PPC) commissions while others may opt for flat-rate commissions.
By researching the different options available, fashion store owners can find a program that best meets their needs.
Additionally, most affiliate networks provide comprehensive support to ensure affiliates have the tools they need to be successful.
Working with an affiliate network also allows store owners to access a larger pool of potential partners and increase their visibility in the fashion industry.
Ultimately, fashion affiliate programs are a great way for stores to reach more customers and build relationships with influencers who have already established followings.
With the right strategy, these partnerships can significantly boost sales and propel your business to success.
14 Best Fashion Affiliate Programs in 2023
Here we have mentioned some of the Best Fashion Affiliate Programs you should look for.
Urban Outfitters is a global lifestyle retail company with locations in the US, UK, much of Europe, and the UAE.
They employ almost 24,000 employees and have approximately 250 physical stories.
The parent company of Urban Outfitters, URBN, also owns Nuuly, Terrain, Free People, BHLDN, Menus & Venues, Anthropologie, and Free People.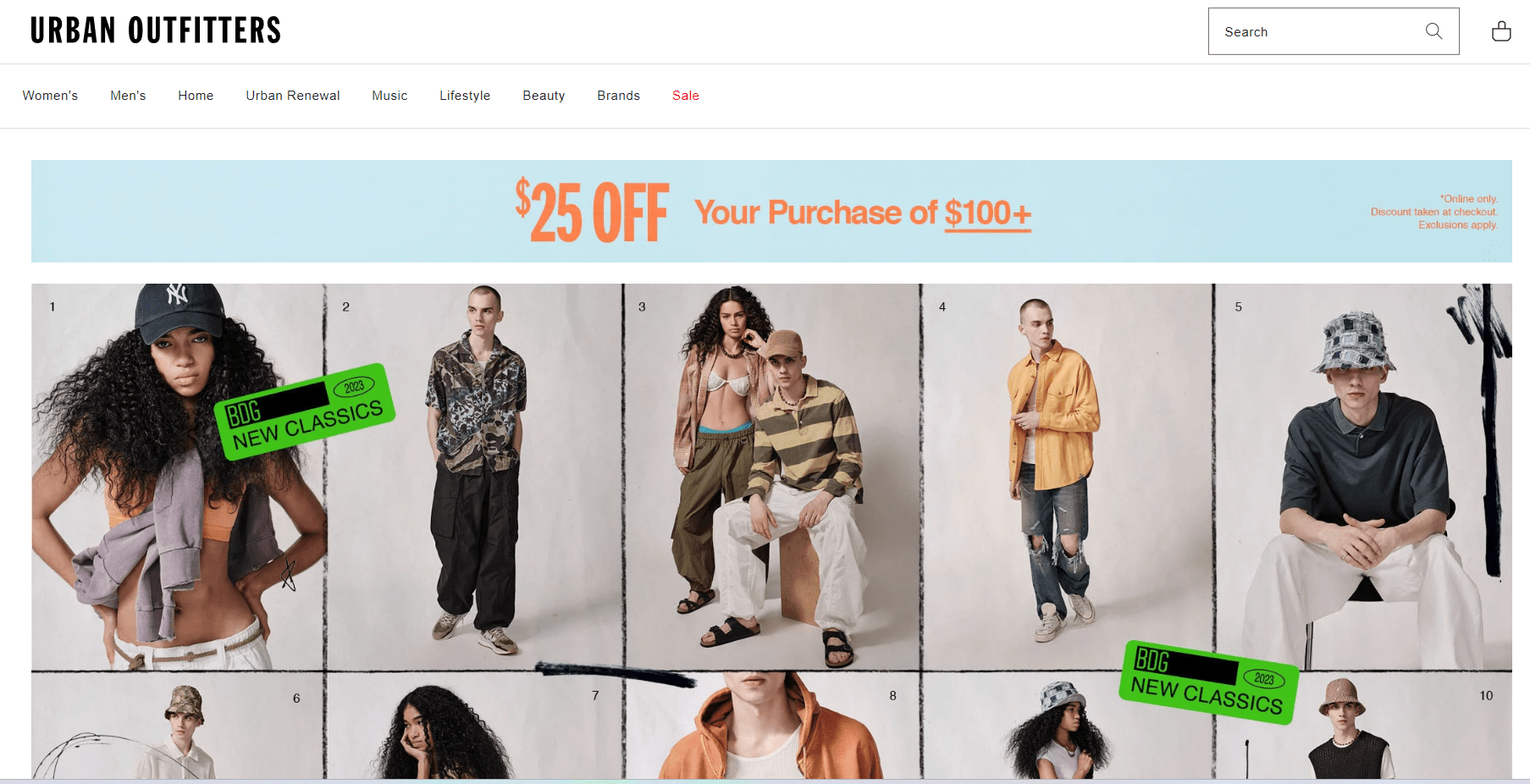 The majority of the brands that are offered at Urban Outfitters are also created by the business under several brand names.
Depending on where you live, commissions range from 1.5 to 2%. However, they do seem to be flexible.
However, gathering a lot of sales throughout the 1-day cookie time could be challenging.
This program's weekly affiliate email, which gives out offers you may share with your audience, is one of its benefits.
Additionally, Urban Outfitters provides a product feed and creatives for your website.
Duration of Cookies: 30 Days at Rakuten
Rate of Commission:  2% for US customers
Products from Levi's, which are essentially associated with jeans, are available both directly via the retailer's website and through dozens, if not hundreds, of other stores.
This venerable American company has long ago moved beyond only jeans to include items like sweaters, jackets, shirts, shoes, and more.
In case your target demographic is interested in that, they've even created a Plus-size line.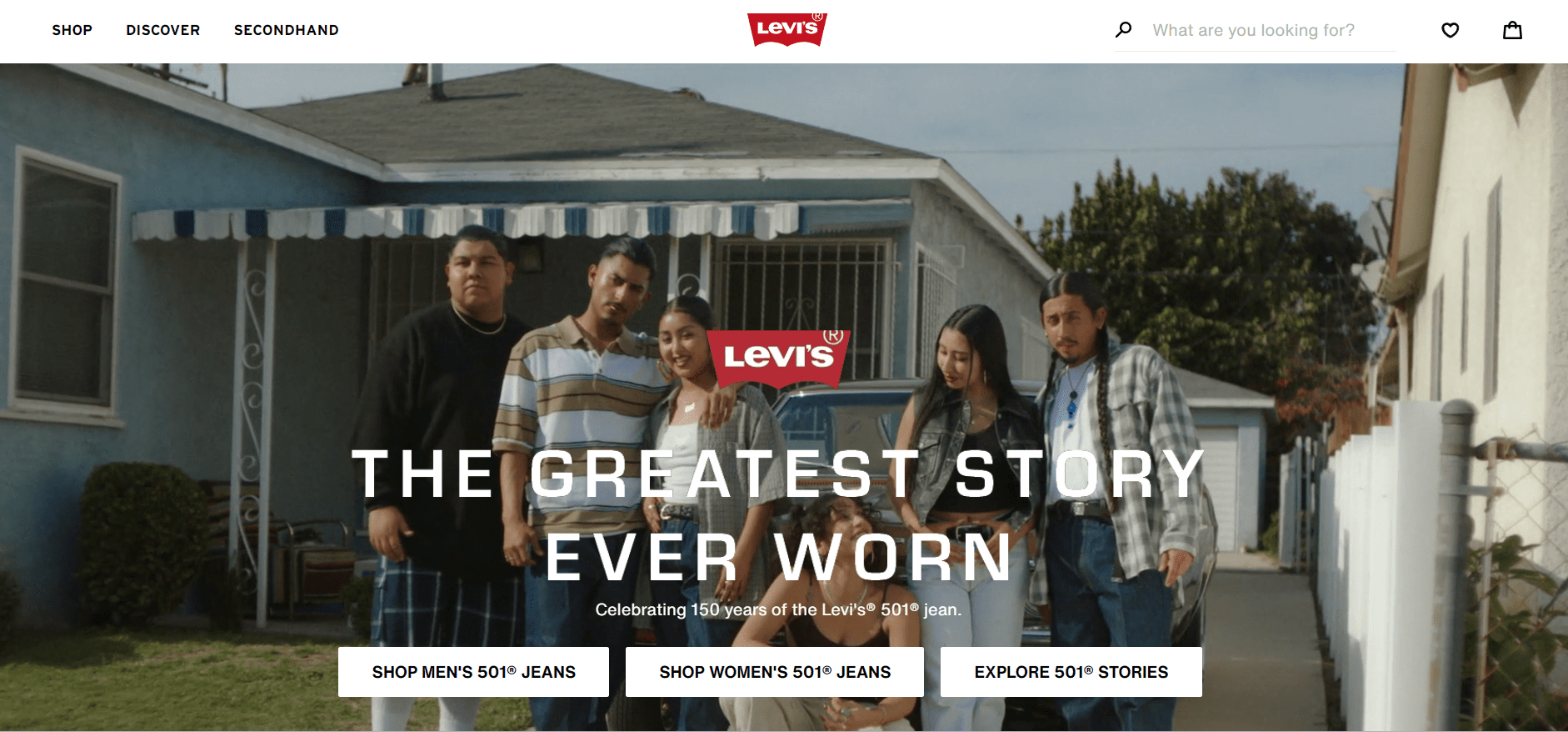 For commissions, Levi's is providing 3-4% to customers in Canada and the US and 7% to Australian customers.
This isn't a terrible rate given that the majority of items cost between $60 and $100, but it will need a good amount of conversions to turn it into a reliable source of cash.
Levi's offers a wide selection of banner advertising, logos, and text links to support your efforts.
Duration of Cookies: 28 Days at Impact
Rate of Commission:  4-7% on Impact
Great denim is what Madewell is renowned for, and the business has long surpassed J Crew, its parent company.
It was so successful that it was split off in an attempt to allow the growing brand more room to expand.
Despite assurances to the contrary on Madewell's official affiliate landing page, the basic compensation is just 1.5% before negotiation.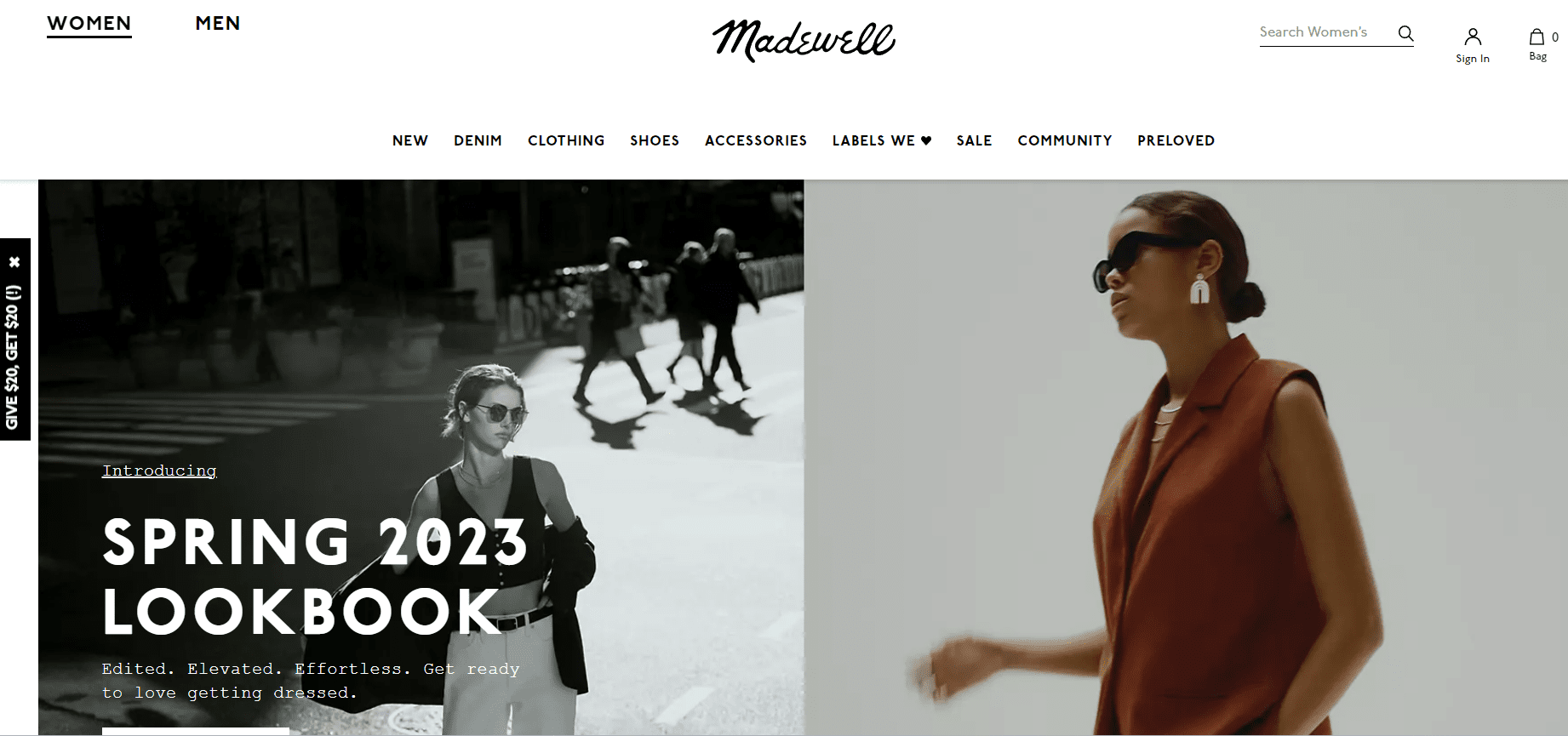 You should thus speak with your account manager when enrolling in this program to find out what may be done to raise that figure.
Duration of Cookies: 3 Days at CJ Affiliate
Rate of Commission:  1.5-5% on CJ Affiliate
H&M, which is essentially associated with "quick fashion," was first established in Sweden but has since spread over the world and gained notoriety.
It also owns businesses like & Other Stories and COS, which also target somewhat more affluent customers.
When you examine H&M's affiliate program, it becomes evident that its compensation structure benefits new clients.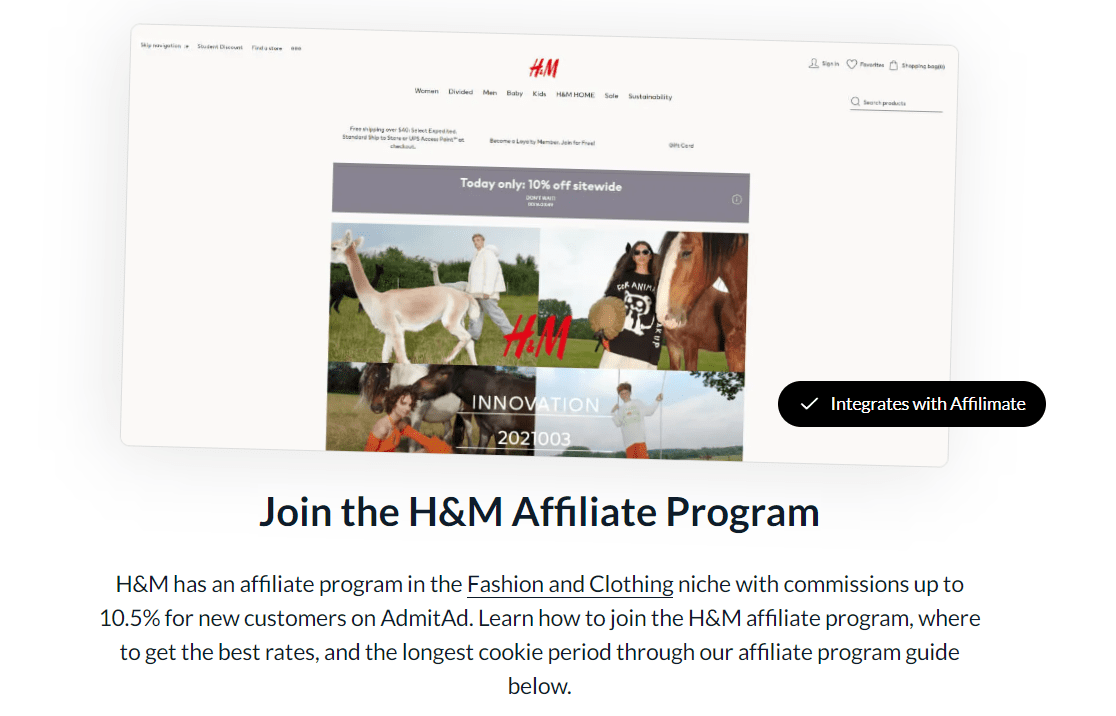 Their objective, like that of many fashion businesses, is to attract new customers who they may turn into loyal ones.
With 10.5% commissions and a 30-day cookie duration, the business is providing affiliates with considerable incentives.
The issue is if H&M's average order value, which is notorious for its very low pricing, is high enough for you to succeed without a lot of volume.
The program offers a variety of goods, including garments, footwear, and accessories.
Duration of Cookies: 30 Days at AdmitAd
Rate of Commission:  10.5% for new customers
Express has a well-established image as a mall brand, but it recently made headlines when speculative purchasing on Reddit's now-famous /r/WallstreetBets led Express shares to treble.
It was targeted in part because, like Gamestop before it, this brick-and-mortar business has been having financial difficulties ever since the outbreak.
There has been far less traffic in its natural habitat, which is retail malls, than in previous decades.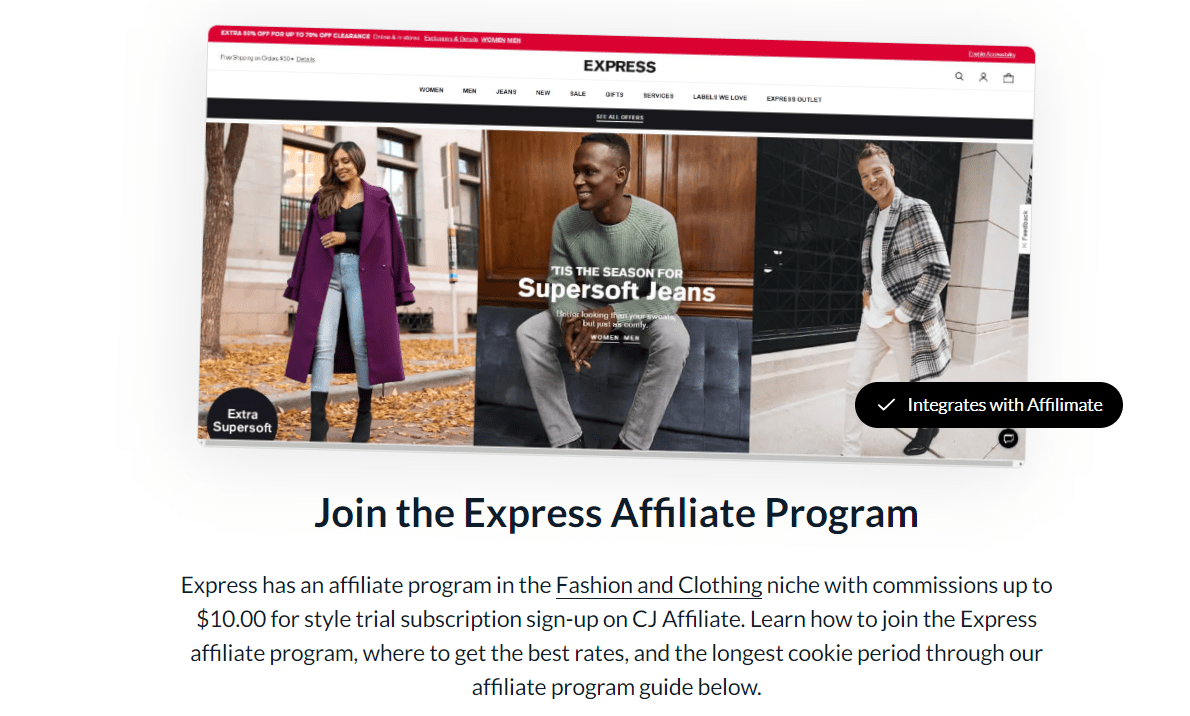 They have updated their product since hiring a new leader two years ago to better reflect what customers are purchasing right now.
Additionally, they have begun a "Style Editor" influencer program, on which they are counting to spread the word.
They seem to be following Revolve's lead, a business that has, in many ways, eclipsed Express when it comes to online purchasing for this audience.
Duration of Cookies: 20 Days at FlexOffers
Rate of Commission:  1.6% at FlexOffers
Revolve was infamously founded by two men with no prior knowledge of fashion.
In 2019 when they filed for an initial public offering, they succeeded in building a $1.23 billion apparel brand for millennial women.
Their performance has been solid over the last several years despite being originally pricey.
Revolve has made significant investments in social media marketing to attract young, urban clients, yet they are not the only business doing it.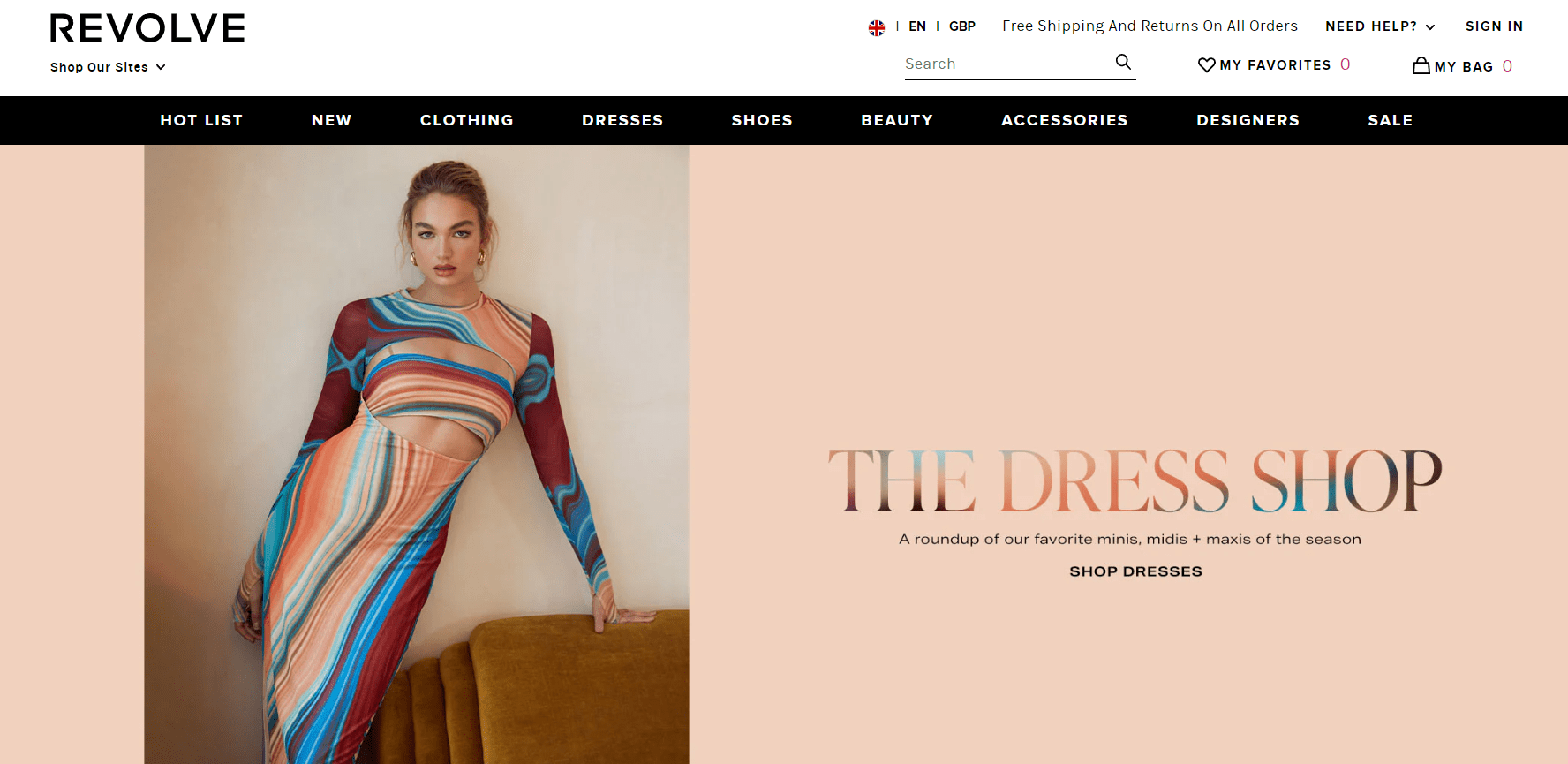 So it's safe to assume that this business "gets" how important partners like affiliates and influencers are to its development.
Despite the commissions' modest nature (5% and a 7-day monitoring cookie), you are given the means to maximize them.
These include magnificent banners and other creatives, high-resolution catalog photographs that you are free to use, as well as exclusive offers that you can share with your followers to create a sense of urgency.
Duration of Cookies: 7 Days at CJ Affiliates
Rate of Commission:  5% at CJ Affiliates
One of the most well-known sellers of designer apparel worldwide is Nordstrom. From shoes to apparel to cosmetics and jewelry, they have a huge assortment.
On Nordstrom's website, you may advertise a ton of designer apparel products as an associate.
If your target market is more cost-conscious, you could check out Nordstrom Rack's affiliate network.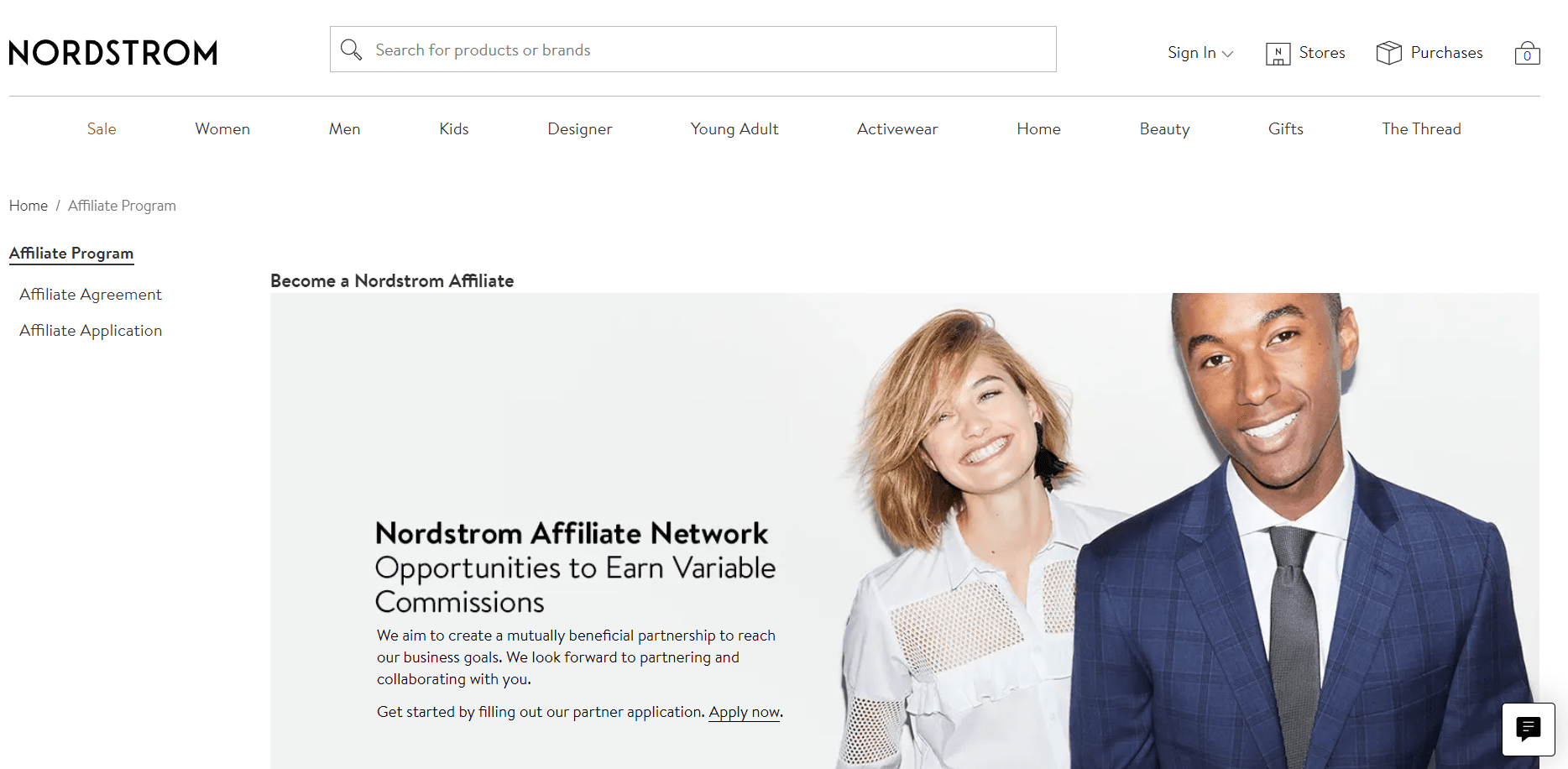 Although this program is only worthwhile promoting if you're able to negotiate your rate out of the gate (which may go as high as 11%), the basic commission is just 1% when you join via Rakuten.
You can make up to 12% with Sovrn, albeit the precise commission level isn't made public.
Duration of Cookies: 12 hours
Rate of Commission:  1-11% negotiable
NET-A-PORTER, which was established in 2000, revolutionized online designer apparel buying.
The retailer was valued at approximately $6.4 billion when it was acquired in 2018.
Unexpectedly, I discovered that Net-A-Porter routinely ranked among the businesses with the most links on high-end fashion blogs.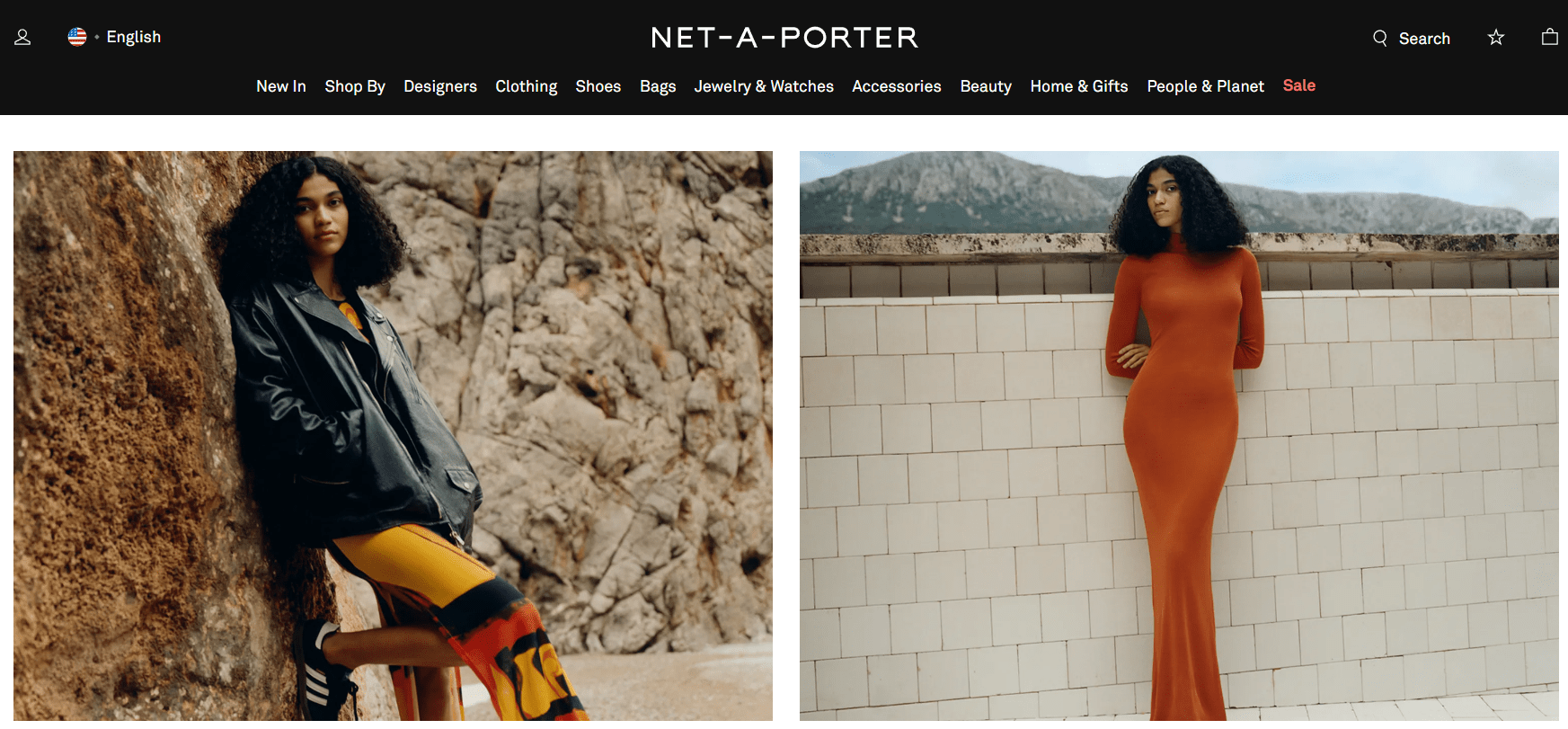 Be mindful that the majority of these affiliate networks will provide a reduced fee for things that are on sale.
In the case of NET-A-PORTER, the commission is 3% rather than 6%.
Last but not least, if you're interested in promoting luxury watches as an affiliate, NET-A-PORTER, and its MR PORTER cousin have you covered. Both stores carry Cartier timepieces for both sexes.
Duration of Cookies: 14 days on Rakuten
Rate of Commission:  3% on Rakuten
90% of Karen Kane's designs are created in the United States, according to the fashion designer (a practice known as "insourcing").
Their emphasis is on eco-friendly clothing that stresses striking a balance between comfort and style.
Large department shops, including Dillard's, Bloomingdale's, and Nordstrom have taken the name on. The size-inclusivity of Karen Kane's product range is another intriguing point.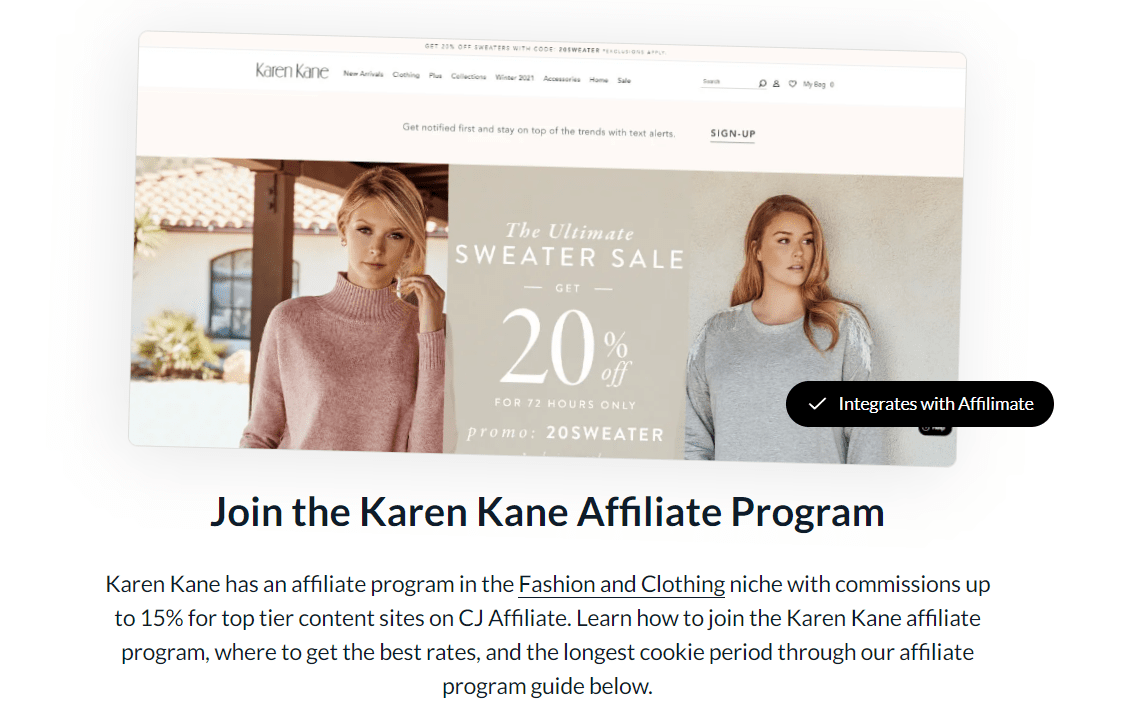 The designer provides plus-size and petite-size collections in addition to sizes XS through XL.
Therefore, this program can be a wonderful match if your target market is interested in "American-made" items, sustainability, and non-standard size.
Finally, there are the commission rates, which might be either reasonable or extravagant. If you run a top-tier content website, you can work your way up to 15%, starting at 7-8%.
Duration of Cookies: 45 days for CJ Affiliates
Rate of Commission:  15% for top-tier content sites at CJ Affiliates
A well-known sustainable fashion company called Everlane is renowned for openly disclosing production prices on its website.
Everlane offers a variety of products for sale, many of which are produced from plant-based materials, including cotton and vegan leather.
Their looks will appeal to those who appreciate eco-friendly design, which vegans often do.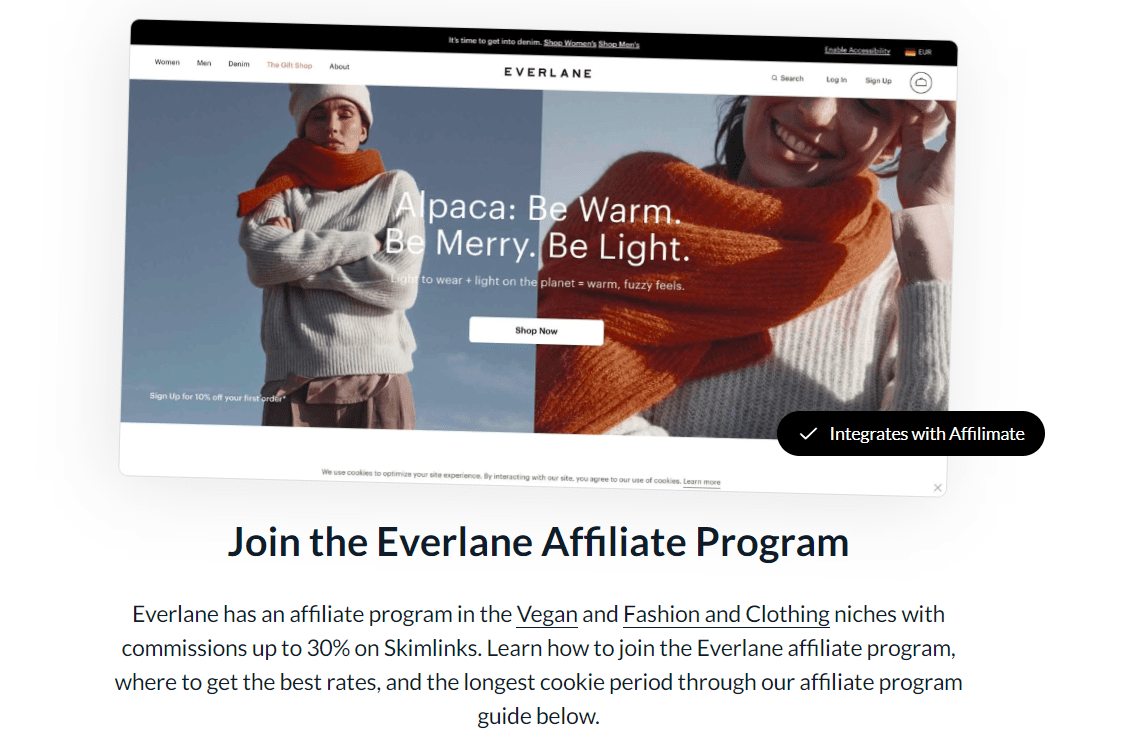 It's interesting to note that their Pepperjam program seems to provide a lesser commission than using Skimlinks.
Although we are unsure of its accuracy or currentness, it will be worthwhile to try both to see which generates the most earnings per click (EPC).
Duration of Cookies: 7 days at Pepperjam
Rate of Commission:  10% at Pepperjam
A premium sneaker company called KOIO provides both men's and women's shoes made of high-quality Italian leather.
The target market for KOIO is described as being between the ages of 25 and 34 and earning over $124,000 annually.
This program can be a wonderful match for you if your target audience fits that description.
The price of each pair of shoes on the KOIO website ranges from $300 to $400, translating to a basic commission of roughly $28 for only one pair.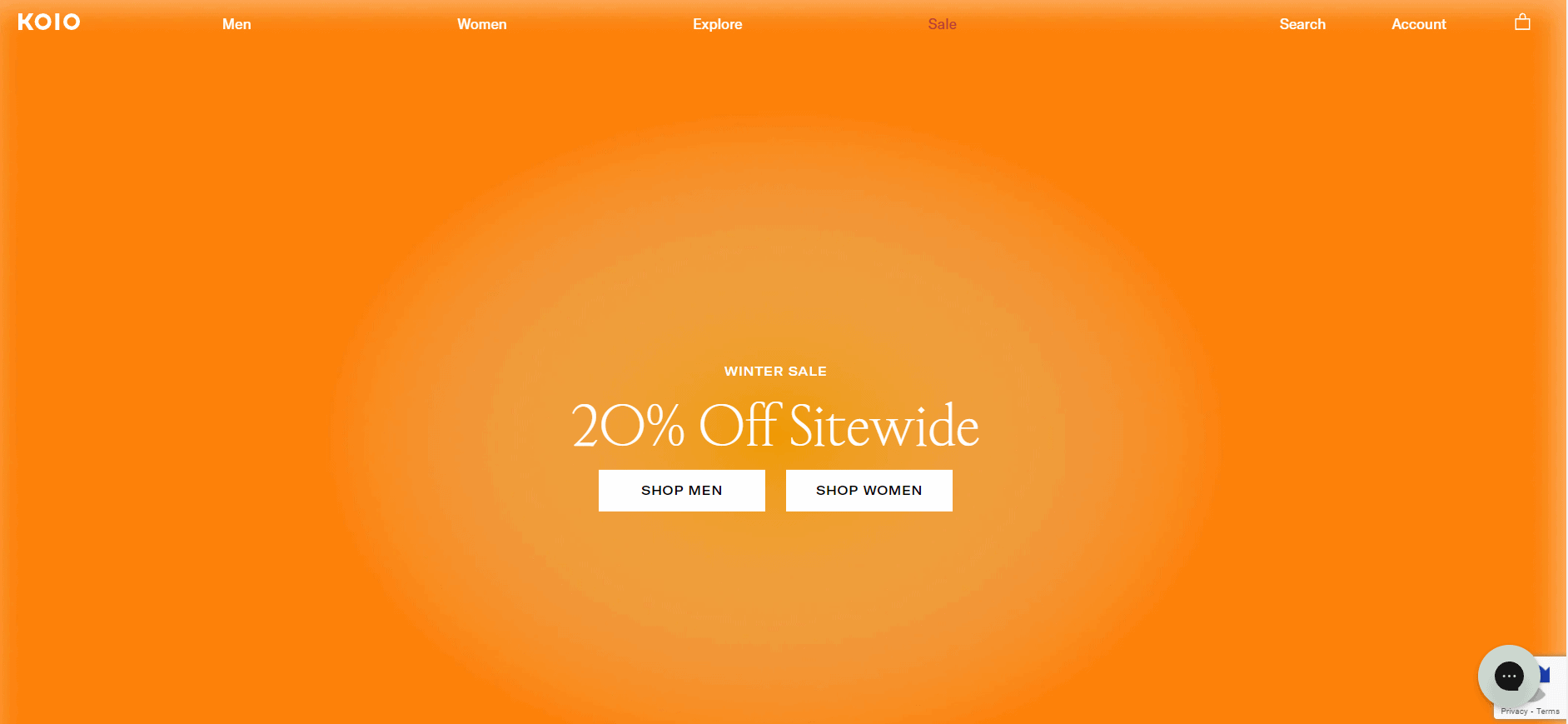 You may increase that to $52 with a high-quality content website by taking advantage of KOIO's 15% commission for qualified publishers.
You should monitor your conversion window to see how many sales you would lose out on if your cookie was reduced to only 14 days.
Finally, KOIO offers a list of suggested keywords to use while promoting its products: leather shoes, high-end sneakers, Italian sneakers, luxury sneakers, men's sneakers, women's sneakers, etc.
You should now have a good notion of who may benefit from this program.
Duration of Cookies: 30 Days at CJ Affiliates
Rate of Commission:  10% at CJ Affiliates
A direct-to-consumer (DTC) company with headquarters in New York City, Mott & Bow sells both men's and women's clothes at fairly upscale rates.
From the standpoint of commissions, this is fantastic since it tends to increase the average order value.
You don't need to sell many goods to get tremendous results from this program since most items have a 10% discount.
By the volume of the transaction sale, Mott & Bow additionally raises charges. You'll make 11% on sales above $500 and 12% on sales over $1,000.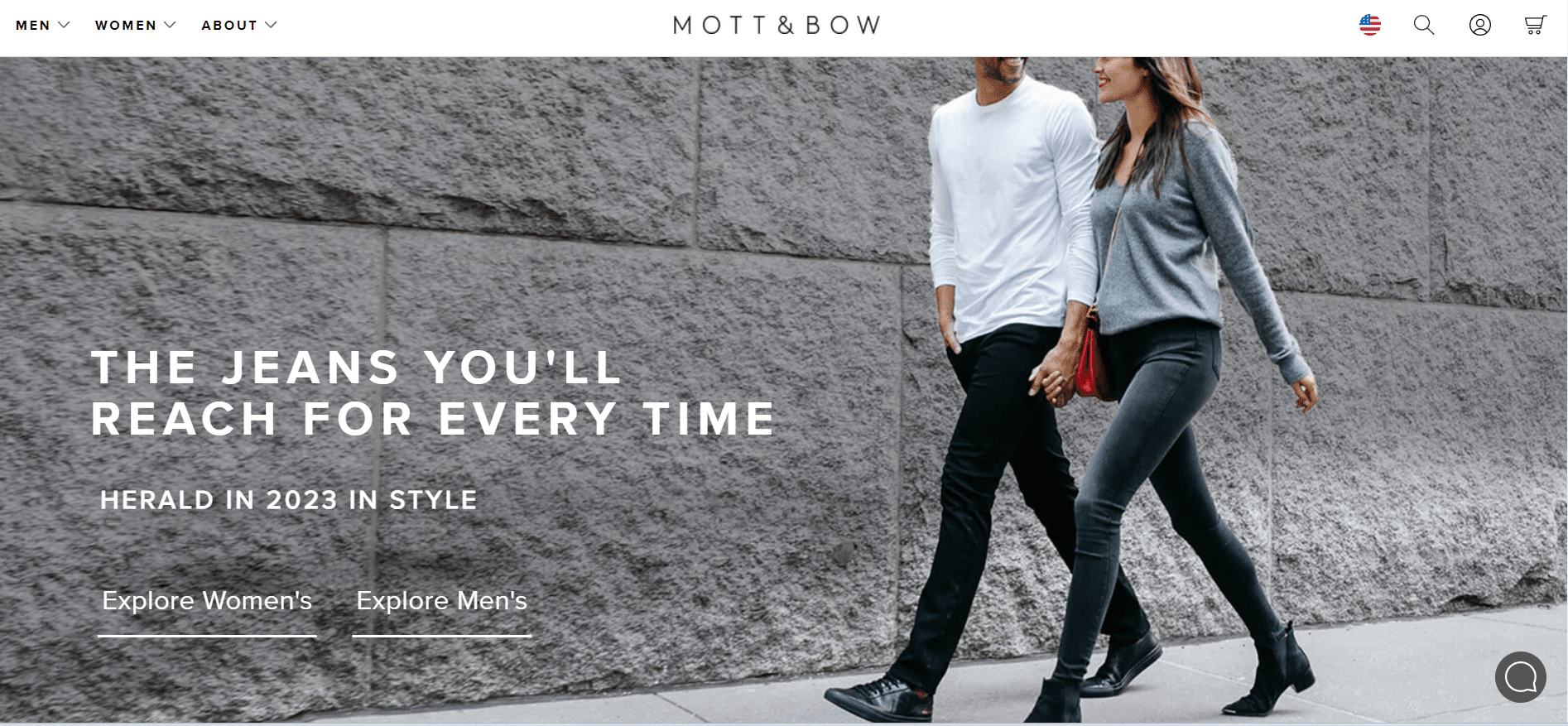 Despite stating 20% commissions and 14-day cookies, the official Mott & Bow landing page deviates from the information provided in Pepperjam.
Once you have a history of delivering excellent traffic, the fees may be often negotiable.
Duration of Cookies: 30 Days at Pepperjam
Rate of Commission:  10% 
Fast fashion store ASOS was established in the UK in 2000.
They generated £3.26 billion in sales in 2020, and in 2021 they were successful in a bid to purchase Topshop, Topman, and Miss Selfridge.
According to our data, this online fashion behemoth has one of the most well-known fashion affiliate programs in Europe.
You may market shoes, apparel, cosmetics, and other items for individuals with various budgets as an affiliate.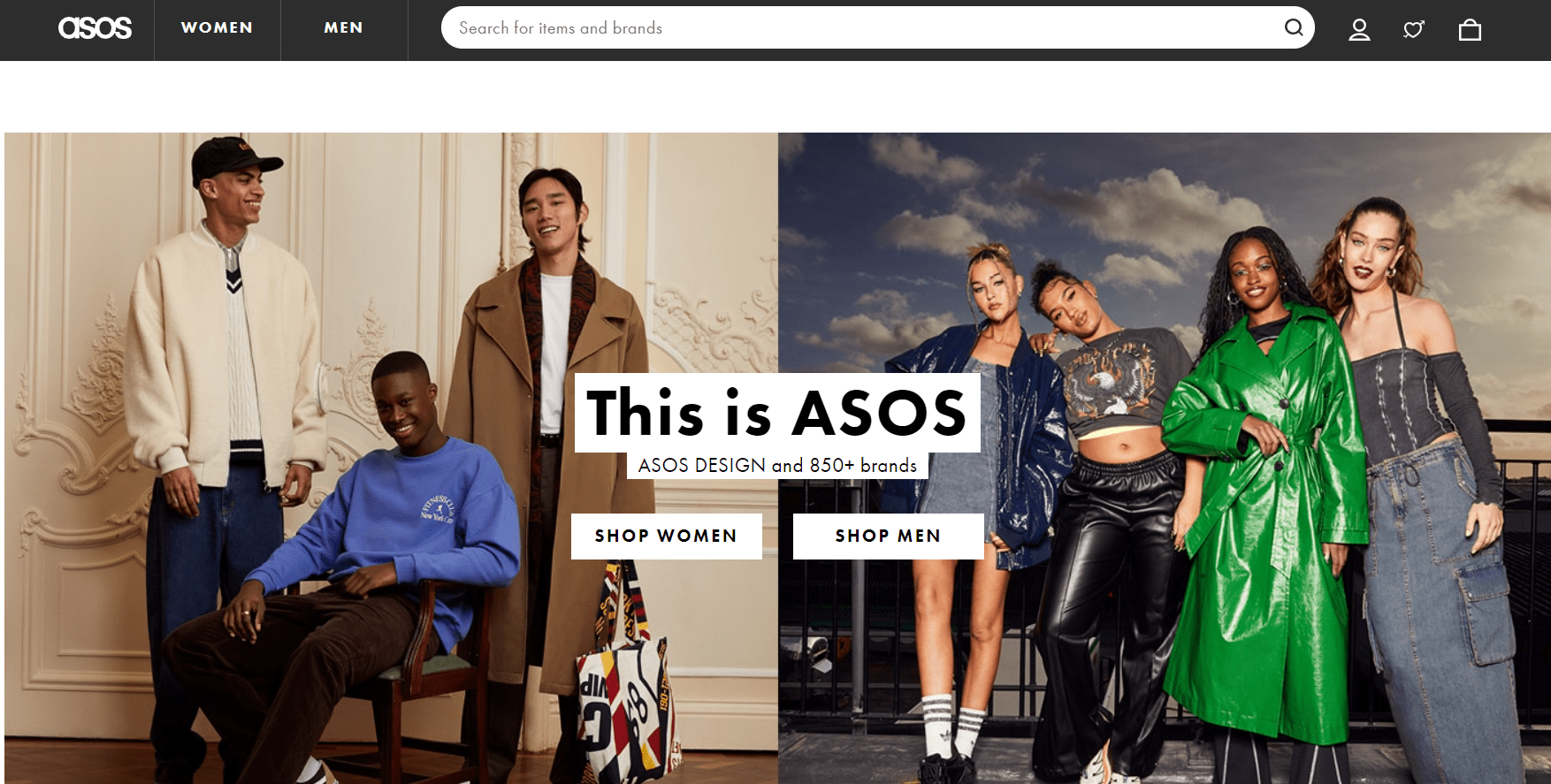 Additionally, they provide a 10% student discount and have an ASOS outlet where you can share deals with your audience.
Due to their Premiere Delivery service, which offers next-day delivery on all purchases for only £9.95 a year, ASOS also enjoys high levels of client loyalty.
You should recommend new consumers to the ASOS affiliate program to earn the most commissions.
When you refer a new customer to ASOS' website who makes a purchase, they will give you up to 6% of the sale.
Be aware that ASOS provides lesser rates (up to 3% instead of 6%), similar to many fashion affiliate programs, for coupon and reward sites.
Duration of Cookies: 30 Days at Awin
Rate of Commission:  6% for new customers at Awin
Amazon purchased Zappos in 2009 for $1.2 billion. Since then, Zappos has expanded its product selection to include eyeglasses, clothes, accessories, and luggage in addition to shoes.
The most recent data from 2015 shows $2 billion in yearly income. There is little doubt that many families are familiar with the name Zappos.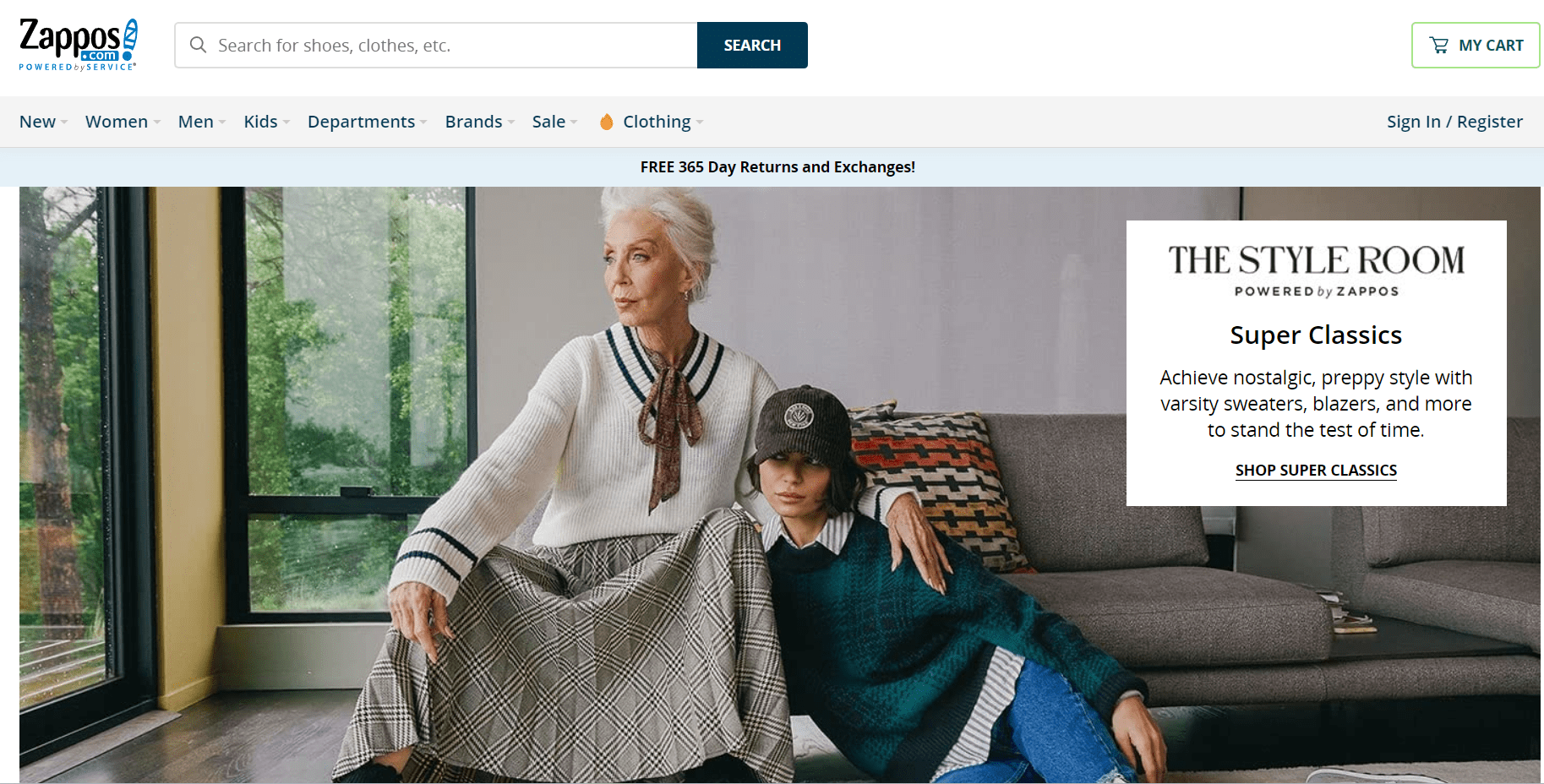 However, when is it advantageous to advertise a brand on Zappos as opposed to Amazon?
The majority of the affiliate material we reviewed sticks to marketing Zappos' signature product: shoes.
This is logical given that Zappos gives a 7–10% discount, and Amazon limits shoes at 4%. At 30 days on CJ, Zappos' cookie term is likewise rather long.
As a result, Zappos offers over 1,300 other brands in addition to the affiliate programs for Clarks, Vans, UGC, and Nike.
Duration of Cookies: 30 Days at CJ Affiliates
Rate of Commission:  7% at CJ Affiliates
FAQs About Best Fashion Affiliate Programs
What kind of products can I promote through fashion affiliate programs?
You can promote a variety of products, including apparel, shoes, bags, and accessories.
How much can I earn through fashion affiliate programs?
Your earnings will depend on the program you choose and how effective you are at driving traffic and sales. However, there are some programs with big payouts that could potentially increase your profits substantially.
What should I consider when choosing a fashion affiliate program?
When choosing an affiliate program it's important to consider the commission rate, cookie duration, and payment terms. Additionally, make sure to read through the terms and conditions carefully to understand any restrictions or limitations before signing up for the program. You should also research each retailer's reputation to be sure that you are working with a reputable company.
What is the cookie duration for fashion affiliate programs?
The cookie duration varies from program to program and can range from a few days to several months. Make sure to check the specific details of each program before signing up.
Are there any restrictions on what products I can promote?
Some programs may have certain restrictions or limitations, so it's important to read through all of the terms and conditions carefully. Additionally, some retailers may only allow you to promote certain types of products or brands. You should always research each retailer's reputation before signing up for any program.
Quick Links:
Conclusion: Best Fashion Affiliate Programs 2023
Fashion affiliate programs offer a great way for marketers to make money and benefit from the e-commerce industry.
2023 saw some of the best payouts yet, and there is no telling what new opportunities will come next year for fashion affiliates.
With so many options available, it's important to do your research before choosing which program is right for you.
By researching all of your options, you can be sure that you're making an informed decision that could potentially increase your profits by a substantial amount.