The best web designers in 2022 will need to be more than just talented artists. They'll also need to be able to think outside the box. It will help you figure out where to spend your time and money in the future by looking at these web design statistics.
Best Web Design Statistics & Trends
1. Online access is available to 59% of the world's population. (DataReportal). That's 4.66 billion individuals actively utilizing the Internet to hunt for information, find new solutions, and buy what they need without having to step foot inside a store.
2. Mobile phones are used by 92.6 percent of Internet users to access the Internet. (DataReportal) With so many people accessing websites via smartphones these days, responsive design is a vital component of a company's success.
3. People spend an average of 6 hours and 54 minutes every day online. (DataReportal) Furthermore, 3 hours and 39 minutes of that time is spent on mobile. Despite spending so much time online, people have a difficult time deciding where to spend their time.
4. There are about 1.9 billion web pages on the internet. (Internet Real-Time Statistics) With roughly 2 billion websites, Internet users are increasingly reliant on search engines and other platforms such as social media to help them locate the best of the best. But it's not simply a thumbs-up from a tech platform that they're after. They will finally select which websites are worthwhile to visit depending on their quality.
5. According to 73.1 per cent of web designers, a non-responsive design is the most common cause for users to quit a website. (2021, GoodFirms)
Given that billions of people use the internet via mobile devices, it's critical that your website be optimized for both smaller screen sizes and PCs. According to a poll of 200+ web designers and freelancers, not having a responsive design is identified as the #1 reason users would quit a website. Slow load times, poor navigation, and poor content structuring are further factors.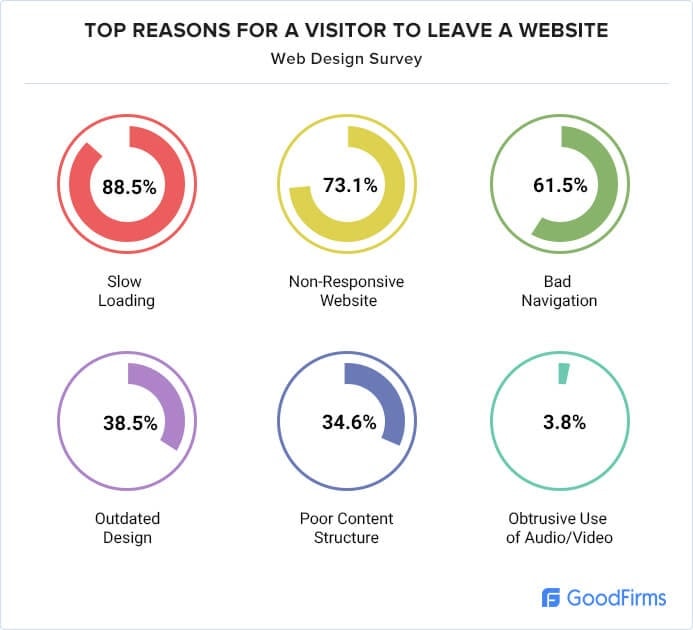 6. According to 53.8 percent of web designers, "not being responsive on all platforms" is the most common cause for a website to be redone. (2021, GoodFirms. According to the same group of 200+ web designers and freelancers, if your website isn't responsive, it's time for a makeover. A responsive design might also solve the other top causes — low conversion rate, high bounce rate, and "needs improved UX."
7. The overall number of web developers and designers in the United States is expected to reach about 178,900 by 2020. This figure is expected to exceed 205,000 by 2030. (2021, Statista)
Web developers and designers were described in this study as individuals "responsible for the design and development of websites or interfaces, including overall layout, graphics, font type, and so on." Over the next decade, the market is forecast to add more than 20,000 employment.
8. From 2019 to 2029, the employment of web developers and digital designers is expected to expand at a rate of 8%, substantially faster than the average for all occupations. 2021 (U.S. Bureau of Labor Statistics)
According to the U.S. Bureau of Labor Statistics, employment of web developers and designers will expand substantially faster than the national average for all occupations. It expects that the continuous popularity of mobile devices and ecommerce will fuel demand.
9. In 2022, the average cost of a website constructed with core features is $3200. (GoodFirms) Web designers charge a broad variety of prices for the ordinary business website:
10. In 2022, the average turnaround time for a professional website is two months. (GoodFirms) Given that the majority of web designers who replied to this poll utilize professional design software like as Photoshop, this estimate appears to be reasonable. There may, however, be more efficient ways to create a professional-grade website. Everything is dependent on your approach, toolset, and the intricacy of the client's request.
11. According to 88.5 per cent of web designers, the most common reason users quit a website is because it takes too long to load. (GoodFirms) Other factors are given for website desertion included:
12. 42 per cent of consumers believe they will abandon a website that does not perform properly. (Leading Design Firms) It appears that web designers understand their consumers well, as all of the causes for website abandonment given in the GoodFirms study lead to a bad user experience.
13. According to 84.6 per cent of web designers, the most prevalent error committed by small businesses is congested site design. (2021, GoodFirms.) The most common error that small businesses make when developing a website, according to an overwhelming majority of web designers (84.6 percent), is congested web design. That implies you should include photos, color, video, and other visual components that customers enjoy – but not too many of them. A minimalist approach can be beneficial.
14. 42% of people will abandon a website due to poor functioning. (Top Design Firms in 2021)
Web design is more than simply creating visually appealing websites; it is also about creating websites that are simple to use and navigate. If yours isn't, it's quite probable that many visitors will leave. According to a Top Design Firms survey, 42 percent of respondents would quit a website with inadequate functioning.
15. 38.5 percent of web designers say that outdated design is the most common cause for users to quit a website. (2021, GoodFirms)
Aside from non-responsive design and operational difficulties, web designers mention outdated design as a primary factor for people quitting a website.
Quick Links:
Conclusion: Web Design Statistics
The web design business is expanding, as are users' expectations of how websites and online stores should appear and function. Will you be ready to confront them?