Are you looking to start blogging or simply take your business online? If yes, you need a brand name and see if it is available to buy. Your journey to get started with your online business starts with a domain name and that's where you might want to get it for the cheeapest possible price.
You may have a tight pocket or simply want to spend the least dollar on that.
And here I am with a detailed guide on where and how you can get that .com domain for the cheapest penny ever. Further, hosting it with a web hosting plan and setting it up is another big thing that we will be discussing in this article.
Let me take you through the process
Seekahost is an immensely powerful yet cheap web hosting and domain name registrar. You can not only get a domain for the least cents, but also host it without spending all you have in your pocket. No matter you want 1 or 100 domains, the pricing is always affordable and the panel can easily handle it all.
You can get a .com domain for $5.99. In India. This is the cheapest price you will find in today's time.
Ah, i think its time to get started.
Start off with visiting the website seekahost.app where you can see all the products and services you can buy right away. However, there is a search box which will check the domain's availability for you.
So, if you already have one in mind, hit it there. Otherwise, there are domain name generators on the internet where you can generate ideas for your next blog's brand name.
I think it is the time to hit my domain in the search box and get it right away before anyone else put their hand on the same.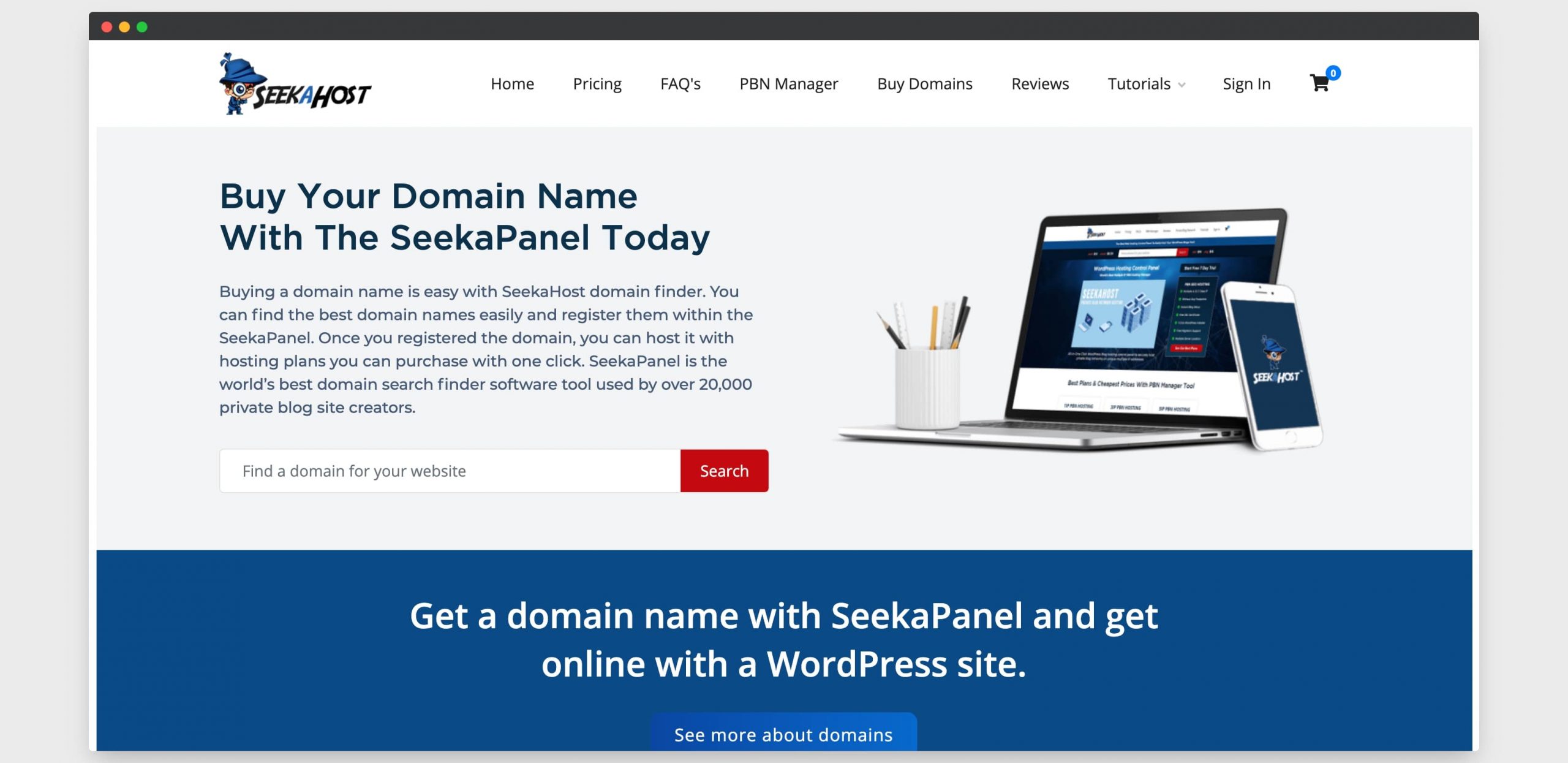 Once I hit the search box, it checks for the availability of the domain. If available, you will get the option to add it to the cart. The yearly charge is just $5.99/yr.
Once ready, add the domain to the cart and proceed further.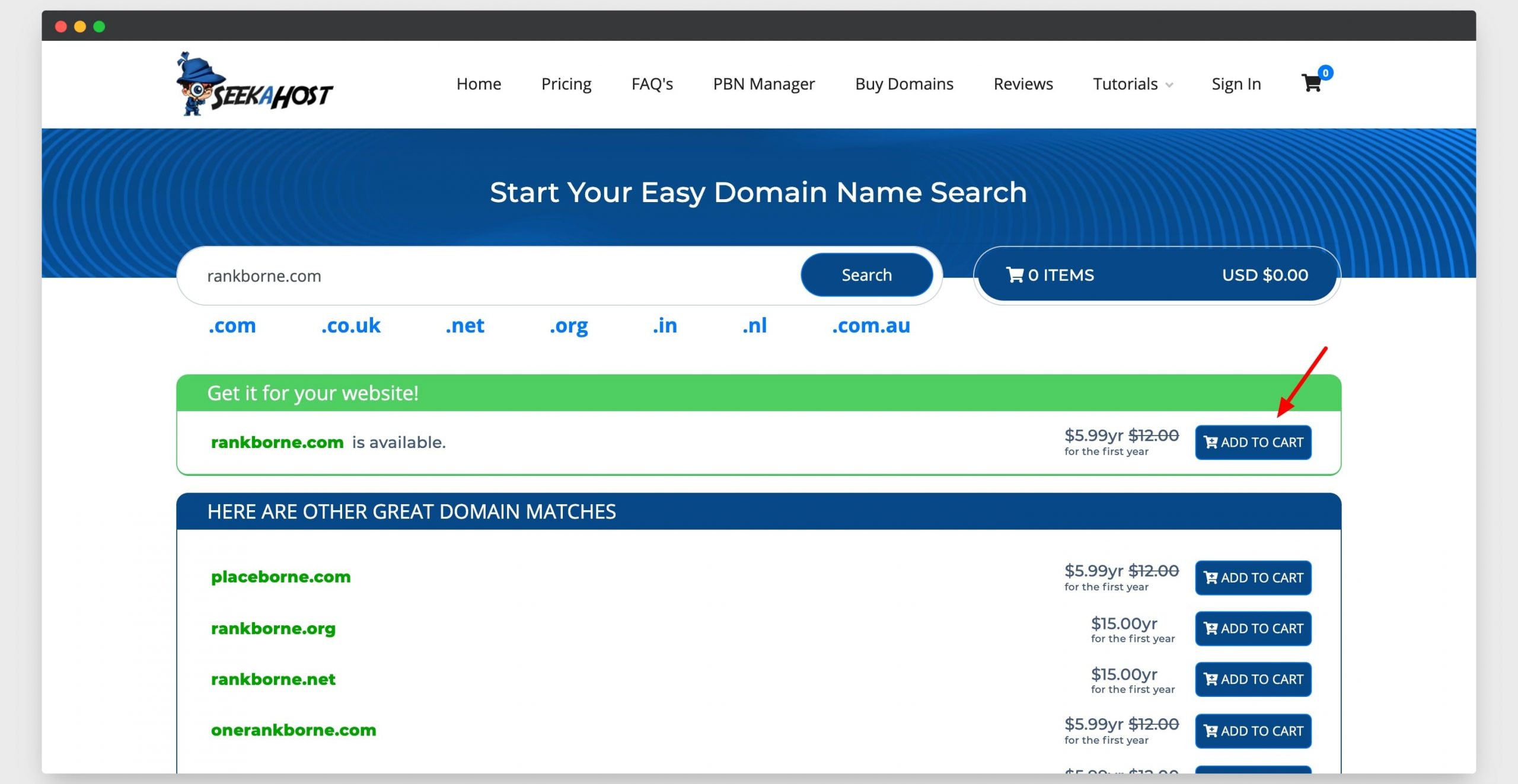 Now you should see that the domain is added to the card and can click on the "cart" icon on the top right corner of your browser screen.

Proceeding further to the checkout, you will see the purchase wizard. In the first screen of the wizard, you will see the option to add domain contact privacy to your order as well.
As far as you're comfortable with your contact details being publicly displayed on the whois record, go ahead without that option. The domain without the contact privacy costs $5.99 only.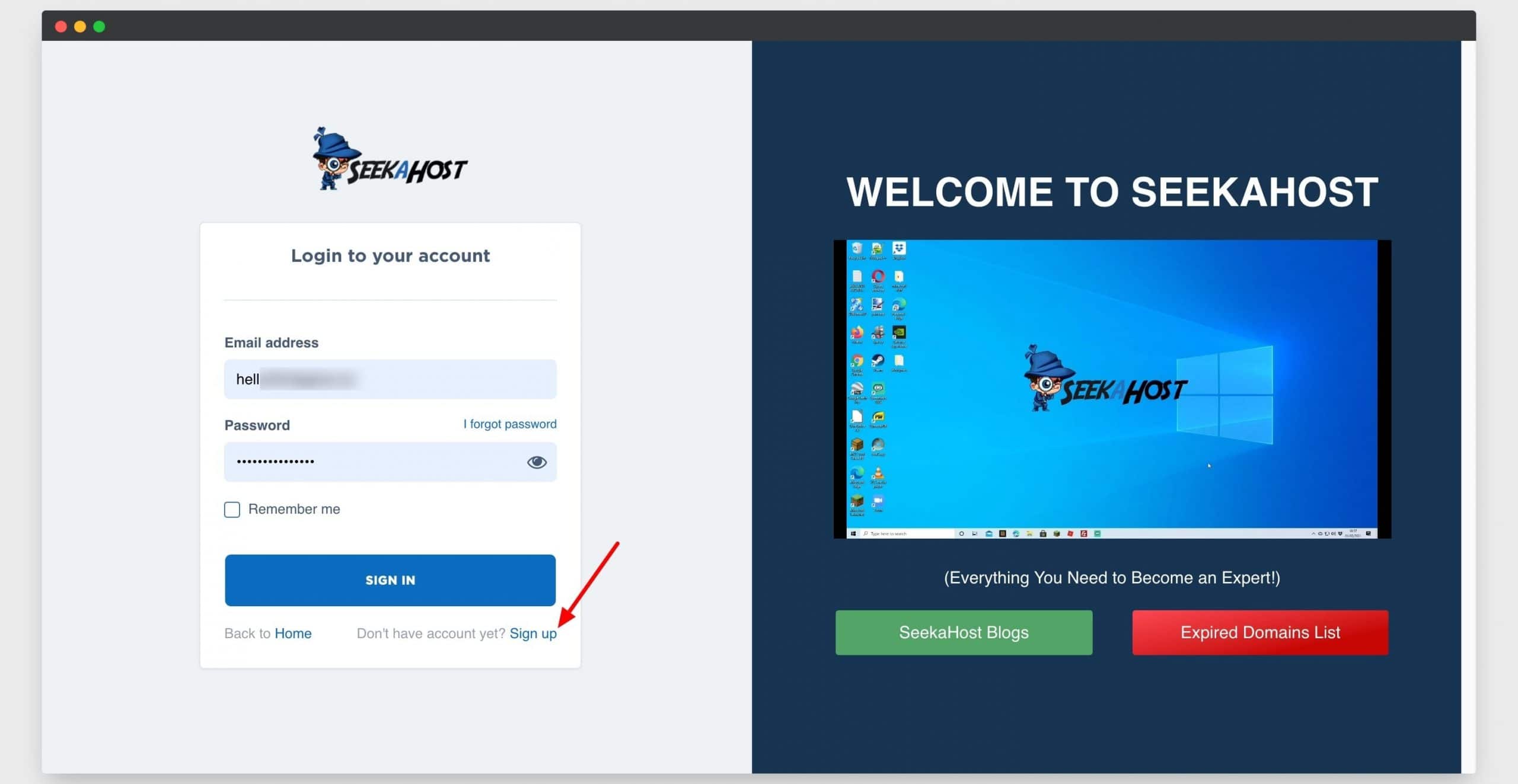 For the first order, you gotta signup to create an account on the platform. Once you do, confirm your email by clicking on the activation link that you receive in your email.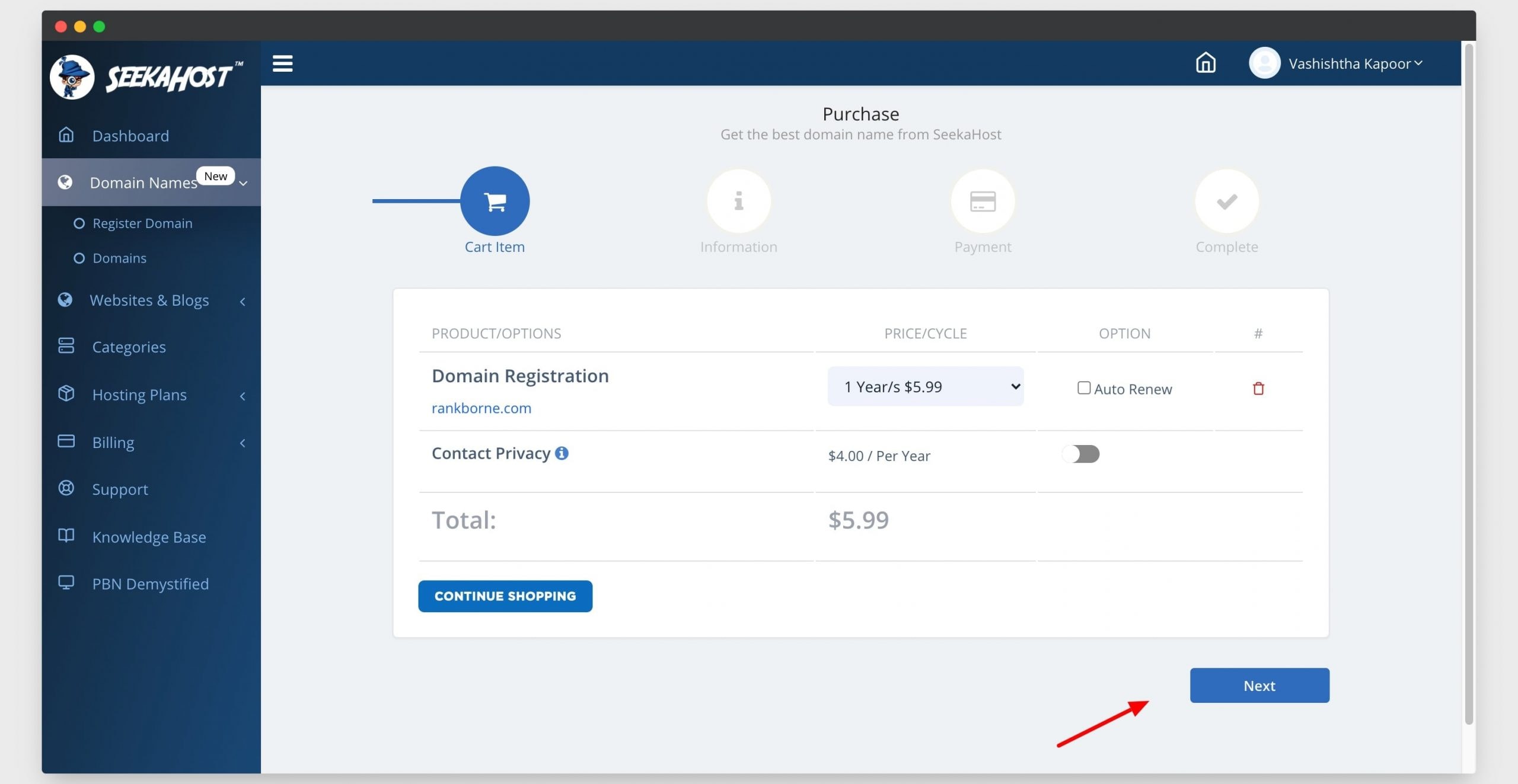 Hiiting next, you will land on the screen that asks you information about your business and its address. This information will be required once only.
Fill it up. (this information shall be visible for public if you left contact privacy unchecked in the cart)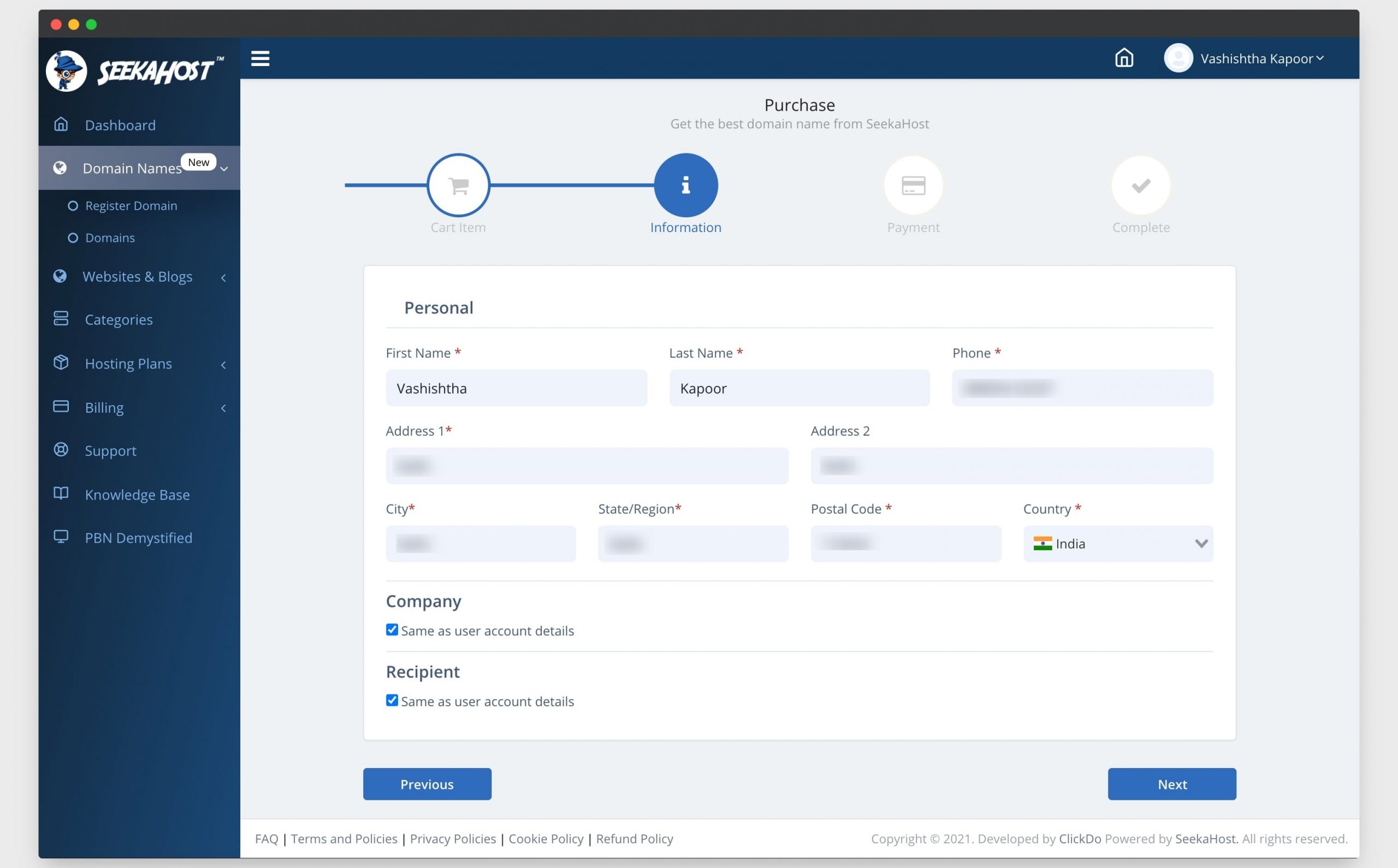 Finally, you must enter your information.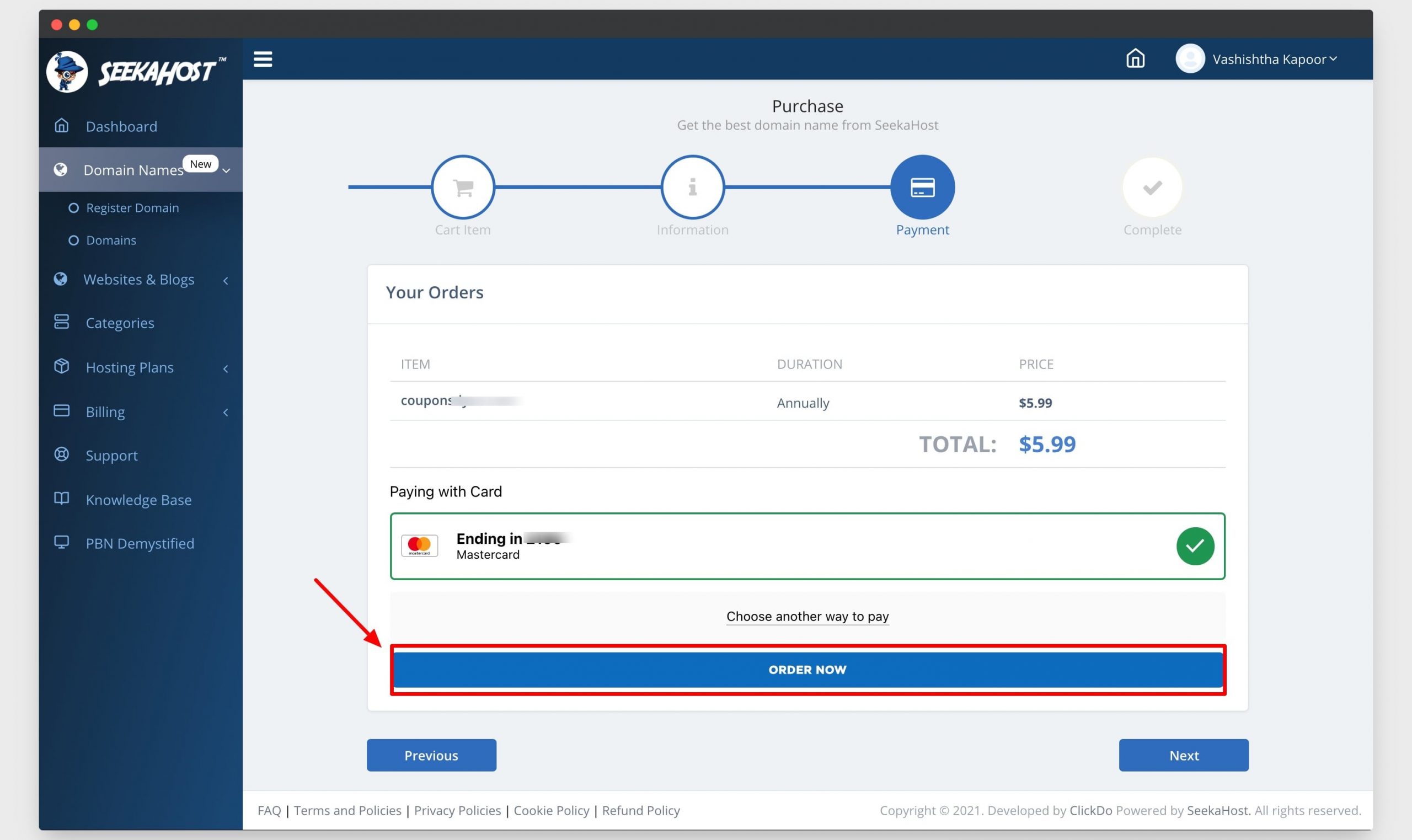 After that, go to the next screen, where you need to make the payment.
Now click on Order Now once you've filled out the card details. The payment for the domain name registration will be applied to your card after you click order now. For the first transaction, you will go through an additional one-time password.
I've completed my purchase and it's on the way.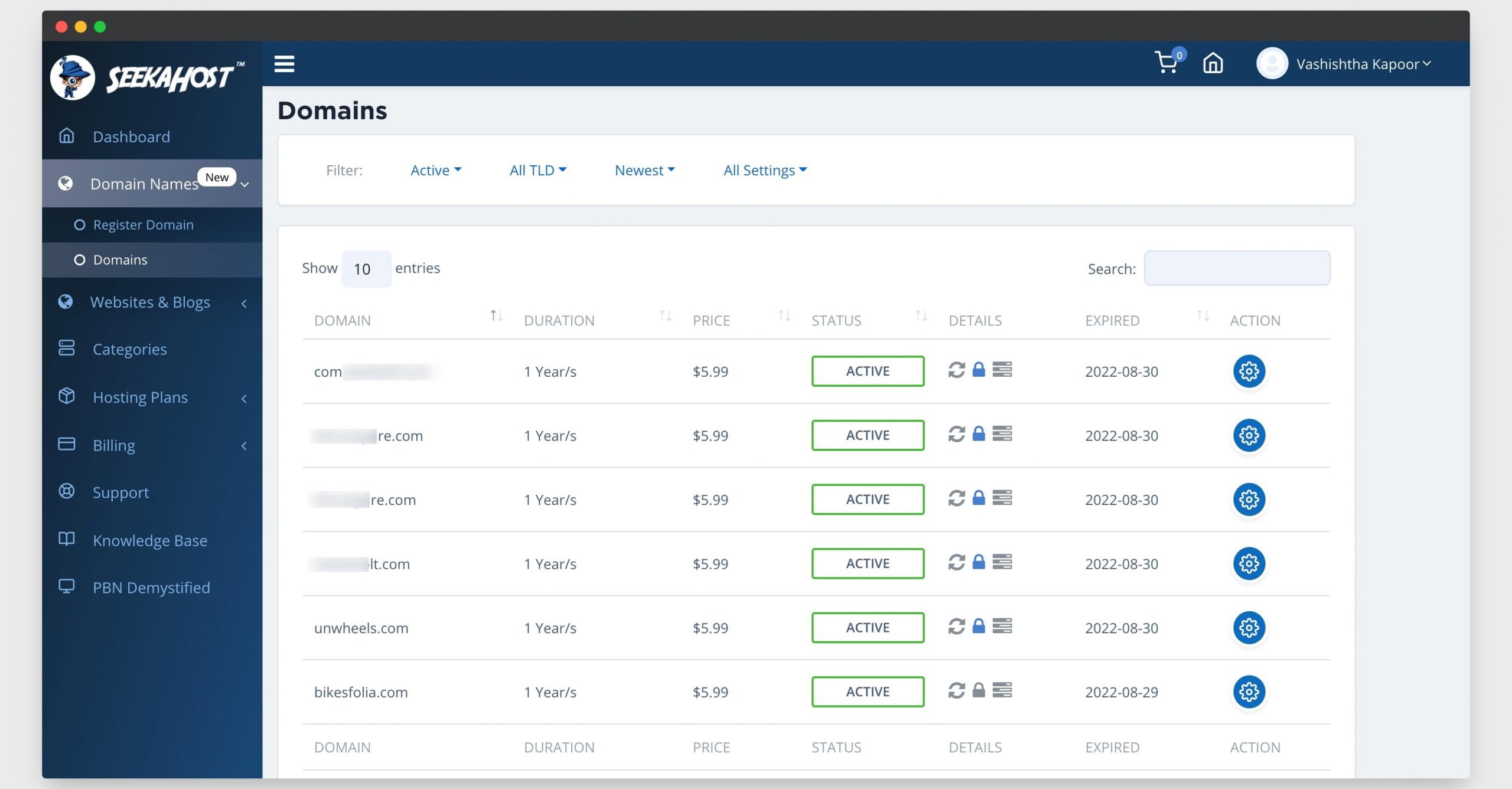 To see the domain and manage it from your dashboard, go to "Domain Names >> Domains"
Domain is active. Woohoo.
Hosting it using Seekahost.app WordPress Hosting Plan
To quickly give life to your domain name, let's get a web hosting plan for that.
You need not look anywhere else for that. Just navigate to "Hosting Plans >> WordPress hosting" right there in your dashboard.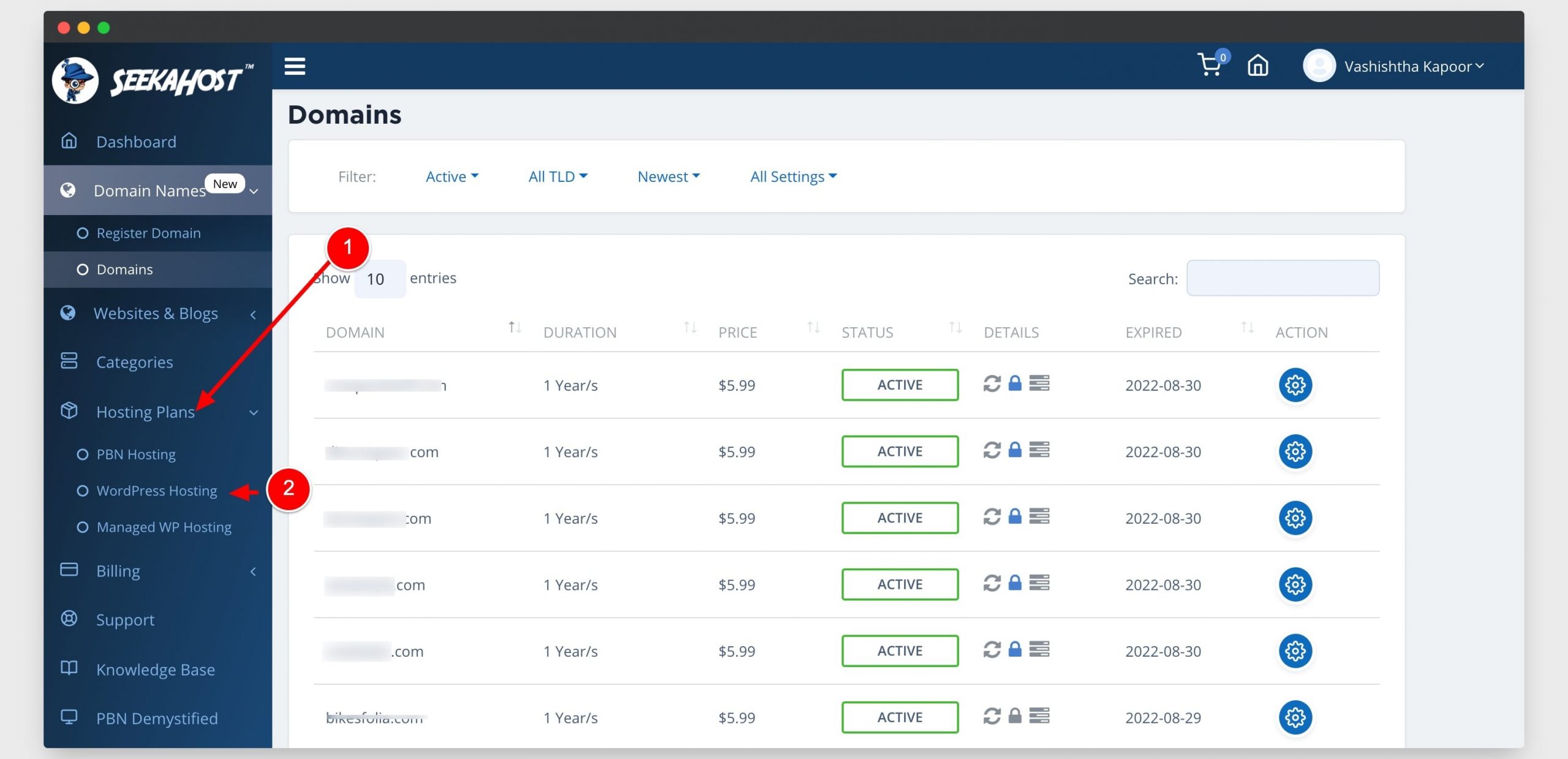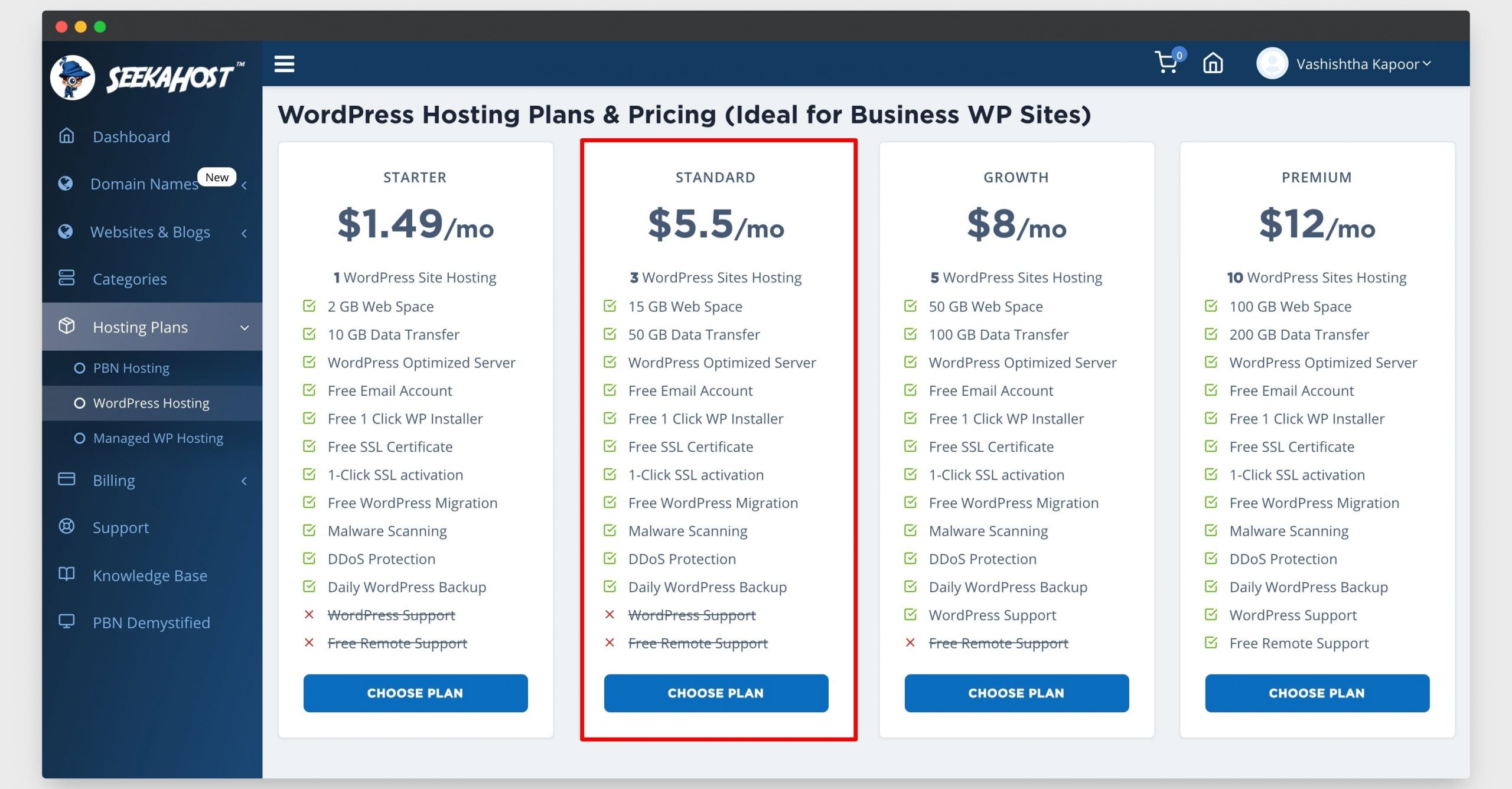 The hosting plan costs $1.99 per month (The Starter Plan). This is perfect for individuals who just need a hosting plan for one WordPress website.This plan offers 
2 GB of web space

10 GB transfer

Free SSL

1-click WordPress installation, and

a free email account. 
Even the starter plan is powerpacked with great features and enough resources to host your website successfully. 
If you're so stuck with your budget, you can get the start plan for your new domain. However, for a smarter choice, I will recommend to buy the standard plan that will cost you only $60/yr.
Choose and make the payment likewise. On a successful transaction, the hosting plan will be there you will be able "Add wordpress site" in "Websites & Blogs -> WordPress Sites". 
This is where you will see all the sites hosted with seekahost.app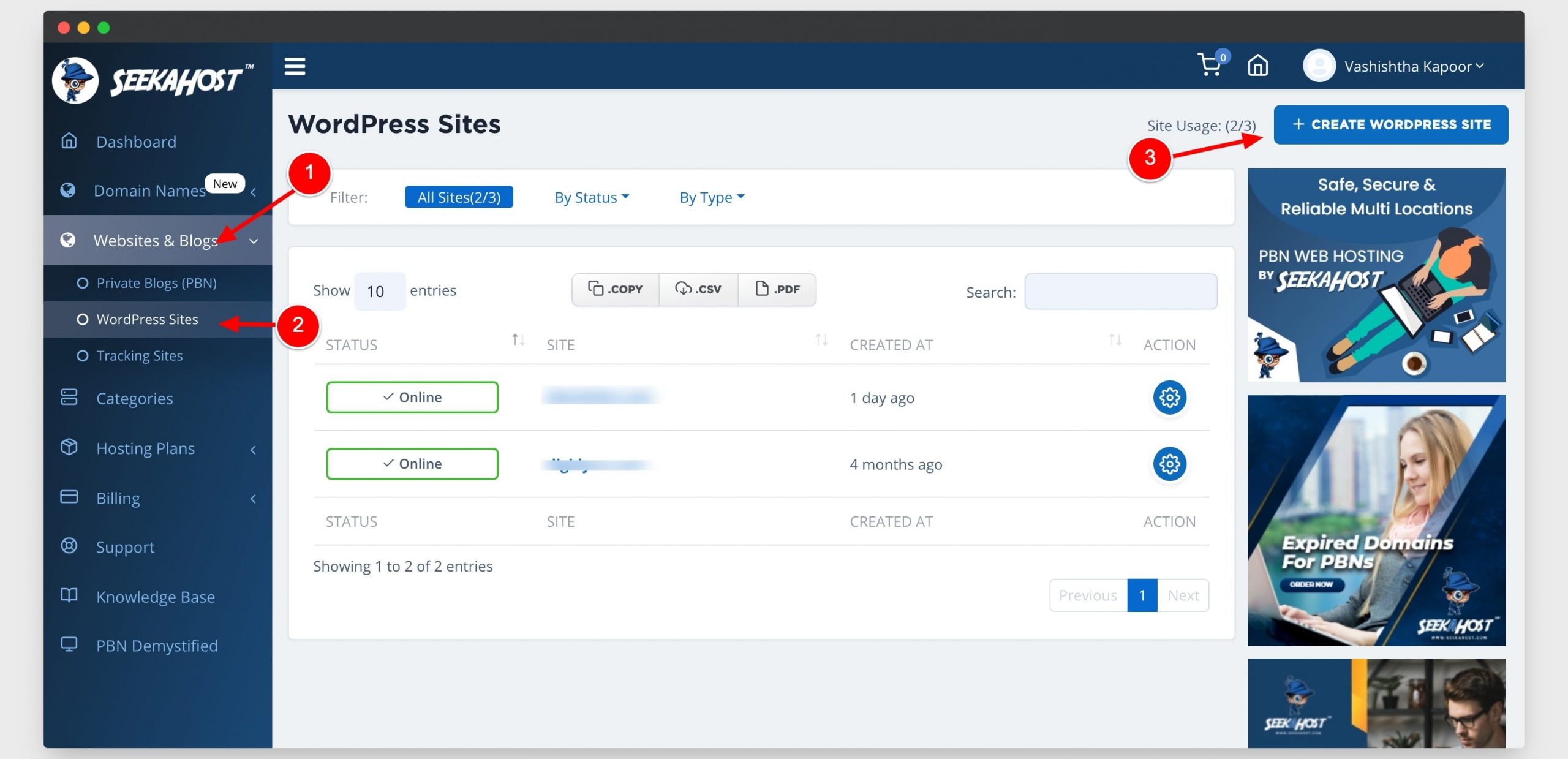 To begin with, go to the top right corner of your screen and select "Create WordPress Site."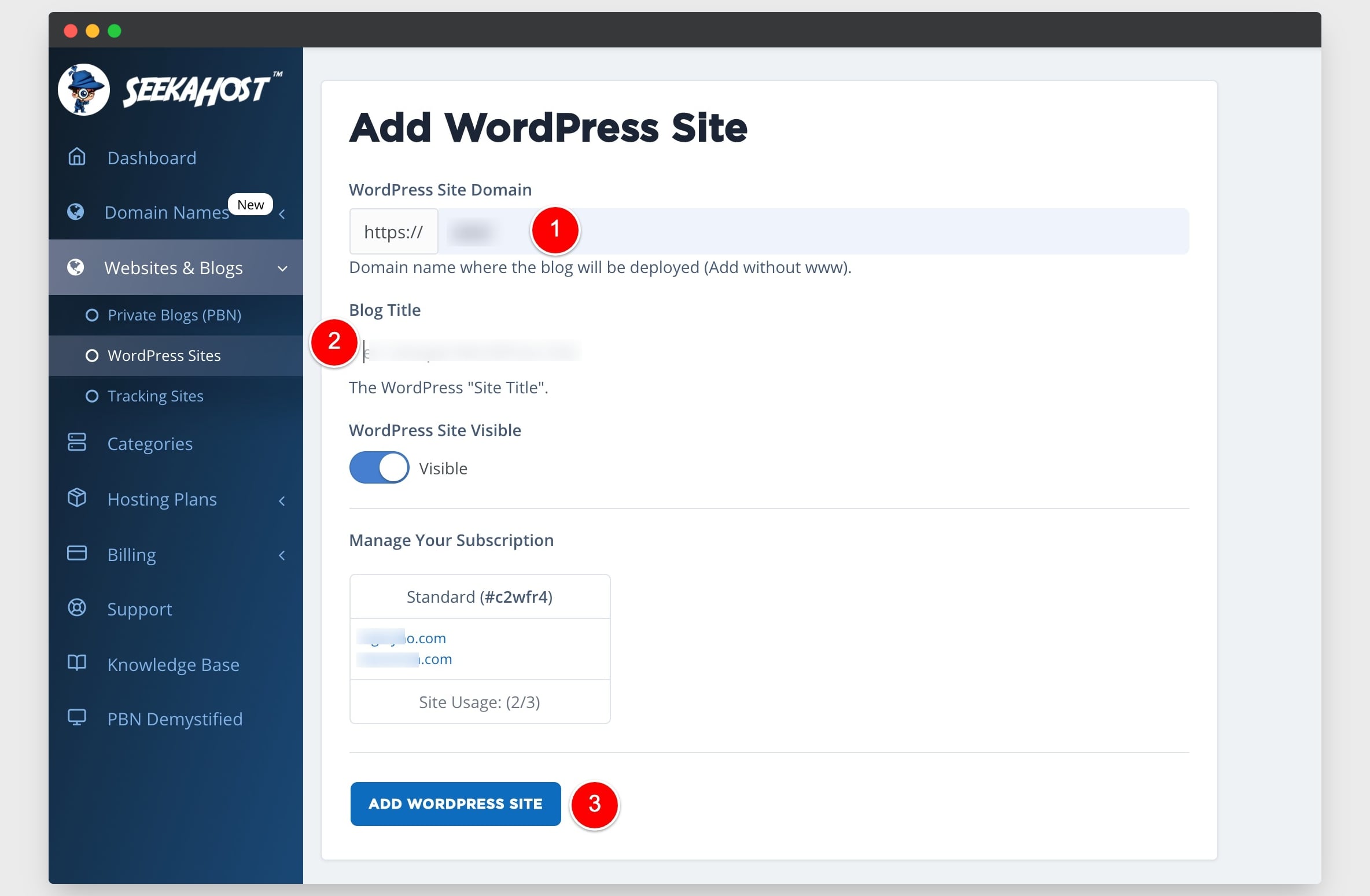 Simply input the domain name, pick a blog title, and then click the "Add WordPress Site" button. It might take a while to finish your website's installation.
To be able to visit your website by typing the domain in your browser, you gotta point the domain name to the website hosting nameserver and enable the SSL certificate.
Watch the video below for further instructions.