In this post, we are going to talk about Best Joomla Alternatives in 2023.
It's crucial to pick the correct content management system (CMS) for your purposes since high-quality digital content plays an increasingly important role in engaging and pleasing website visitors.
You've most likely come across Joomla as a result of your study. The Joomla content management system is well-known on the internet, with roughly 2% of websites using it today.
Joomla is free and achieves a balance between being accessible to novice users and adaptable for expert developers, which is easy to notice. Joomla may be used to create practically any kind of website with the help of a dedicated team (and perhaps some extra plugins).
Despite its advantages, Joomla may not be the best choice for your online endeavors. Some website owners may desire greater control over their assets and publication, while others may choose to use a website builder to avoid having to worry about technical aspects like hosting.
Fortunately, there are a variety of additional tools that cater to various sorts of websites and degrees of expertise. We'll look at some of the finest free and paid Joomla alternatives accessible in this article, so you may publish content you're proud of to a website that your visitors will like.
What Exactly Is Joomla?
Joomla (sometimes spelled Joomla!) is a free content management system (CMS) for storing, organizing, and distributing digital information.
Joomla, which was launched in 2005 and is now the second most popular CMS behind WordPress, is known for its flexibility and functionality. Joomla is also open-source, which means that anybody may see and alter the PHP source code.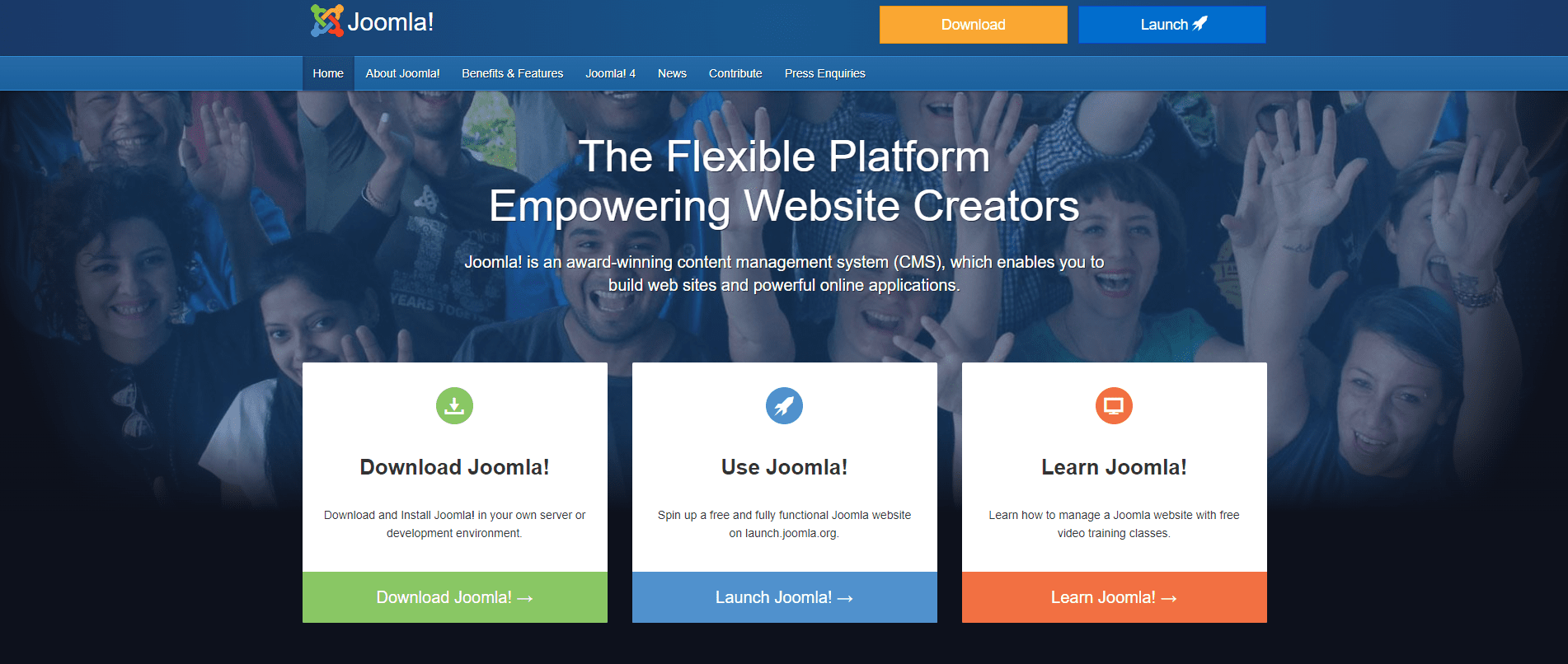 This has resulted in hundreds of free and paid third-party extensions that improve the CMS' capabilities, making Joomla a viable option for websites in every area.
Those without prior programming knowledge may find the tool to have a high learning curve, and some developers may prefer an alternative open-source tool.
Some people may consider Joomla to be too basic and desire a fully hosted platform instead. There are alternatives available for every occasion.
5 Best Joomla Alternatives 2023
Here are some of the best Joomla Alternatives:
1. CMS Hub
HubSpot's content management system, CMS Hub, is an all-in-one platform for creating and maintaining any kind of organizational website, online shop, or blog.
CMS Hub is the only choice on our list with a native CRM, which means that all activities visitors perform on your CMS Hub website are synchronized with HubSpot CRM, providing for easy lead gathering and reporting.
CMS Hub's page building interface is built on a drag-and-drop interface that doesn't need any code to create a great site — just choose a template and fill it with your information.
SEO tools, hosting, built-in security measures, a worldwide CDN, and unmatched customer service are all included. HubSpot will take care of the technical aspects, allowing you to concentrate on satisfying your visitors, prospects, and customers.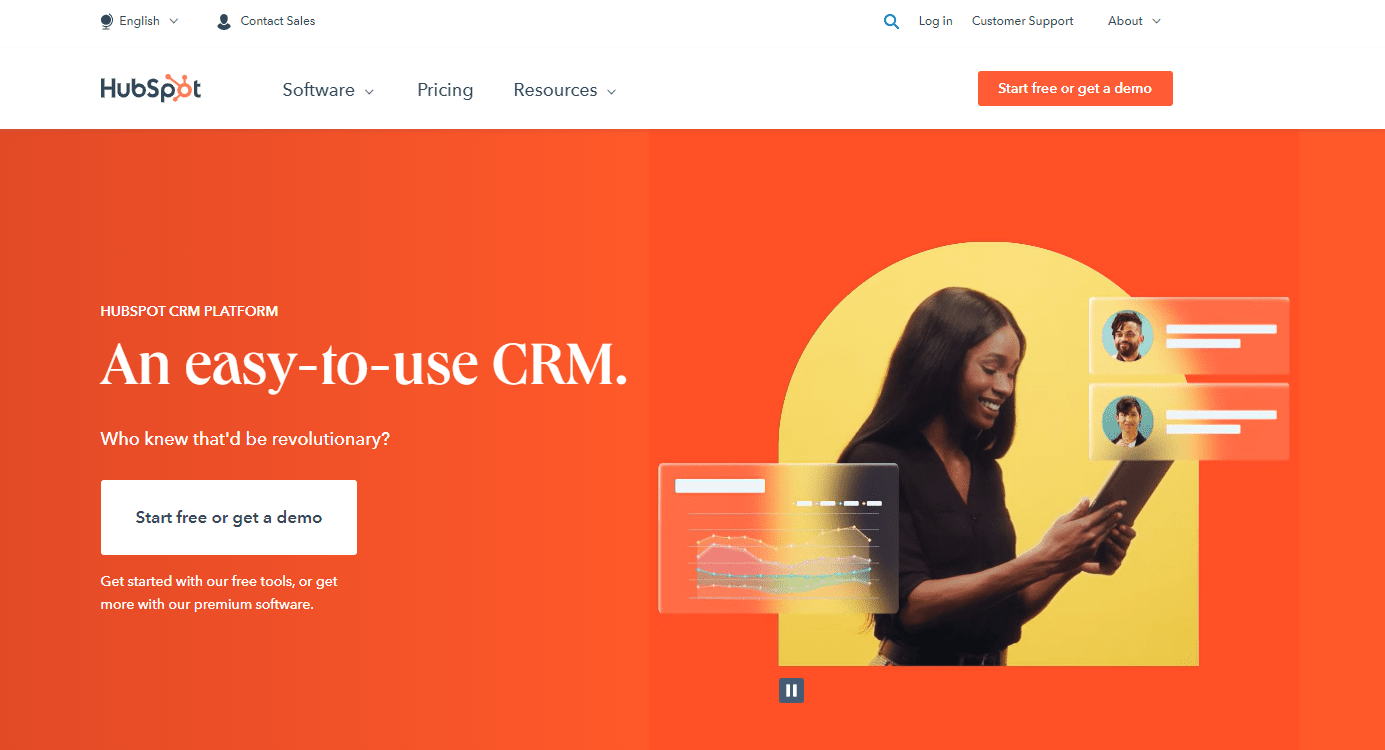 CMS Hub is also designed to work in tandem with other HubSpot marketing products, such as CTAs, marketing automation, and live chat. There's no need to go for third-party addons or jump between apps to get things done since everything is in one location.
Finally, HubSpot works with a small number of third-party applications that you may link with your HubSpot portal for further customized capabilities.
Pricing: CMS Hub has two price tiers: Professional and Enterprise. Professional is $270 per month (paid yearly), while Enterprise is $900 per month (billed annually).
2. WordPress
WordPress, which powers almost a third of all websites, scarcely requires an introduction. This free, open-source CMS began as a blogging platform and has now evolved into the free CMS for any online domain.
WordPress is still best suited for online publications such as blogs and news sites with a lot of information.
From modifying your site's design with a theme to creating layouts with its drag-and-drop block editor to organizing pages and posts with tags and categories, WordPress makes managing content easy.
WordPress also allows site owners to designate distinct user roles depending on permissions, which helps them manage their teams.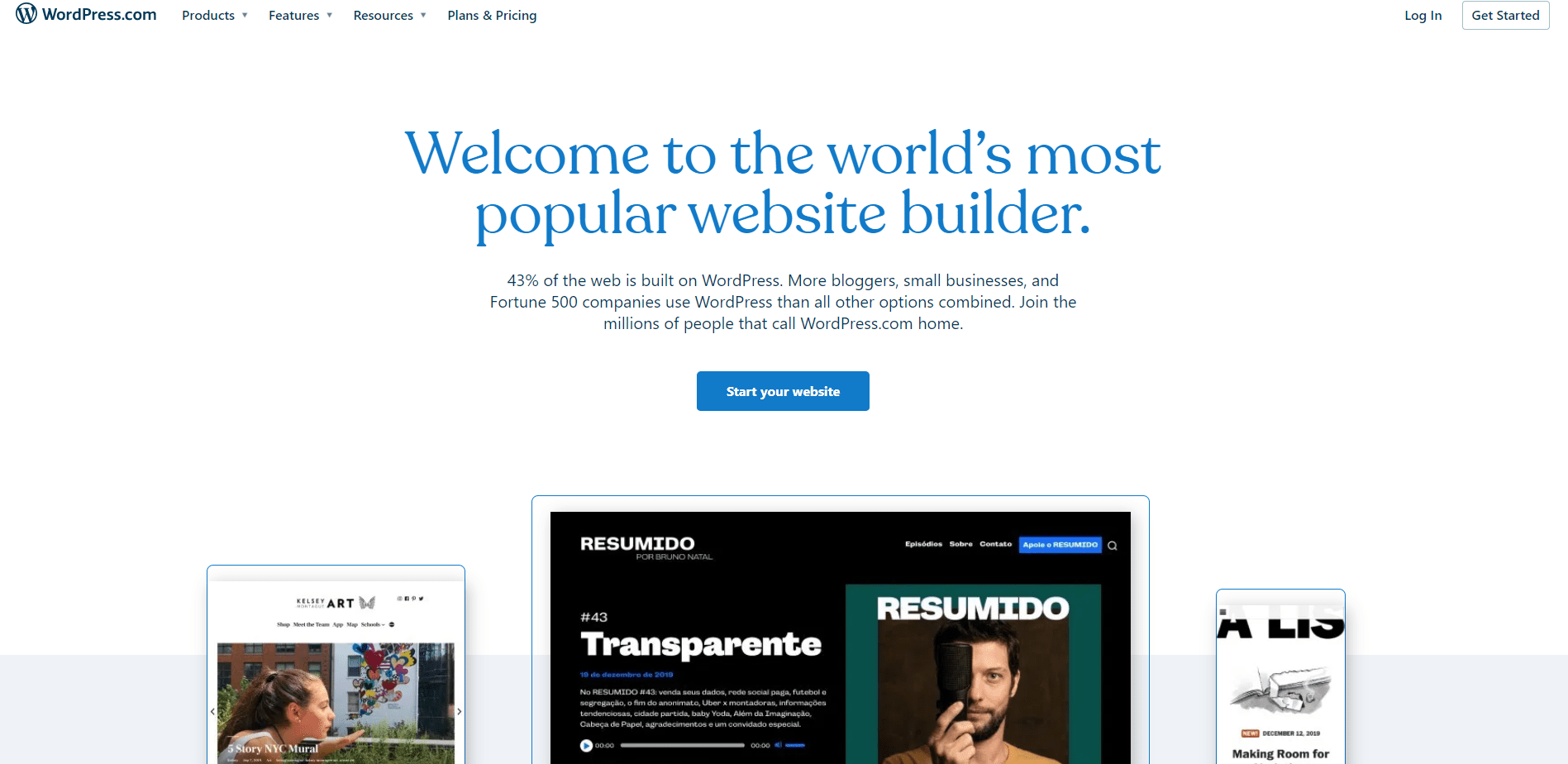 All of this can be done with little to no coding knowledge; just keep in mind that you'll be responsible for finding hosting and putting security measures in place yourself.
The true strength of WordPress, however, resides in its plugins, which are software extensions that extend the capabilities of your CMS. Over 50,000 free and commercial WordPress plugins are available, with more being added every day.
Plugins may be used to add dynamic page components, boost SEO, or even convert your whole site into a shop or community.
Pricing: WordPress is a free content management system.
3. Shopify
Shopify, a fully hosted e-commerce platform, is certainly familiar to those in the online retail market.
Because Shopify is all about selling online, you'll have e-commerce capabilities like inventory management tools, payment processing (with different currencies), and the option to sell items on other marketplaces like Amazon incorporated into your account right away.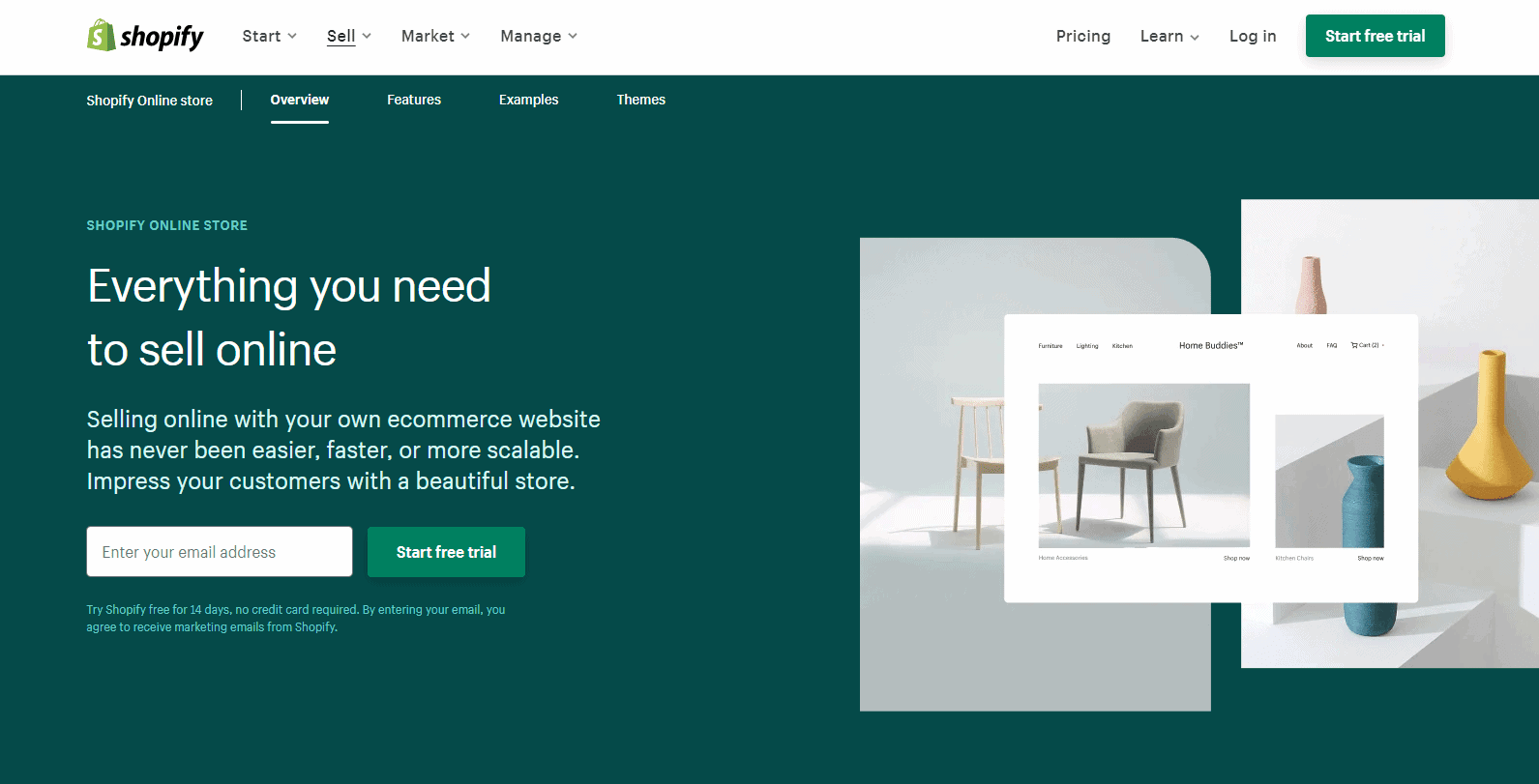 Shopify strives to offer you everything you need to expand your online store under one roof, including hosting, security (including an SSL certificate), frequent backups, and access to thousands of app extensions to fill in the gaps on your site.
There are over 100 free and paid themes to apply to your sites in terms of graphics, albeit this number pales in comparison to what CMSs like WordPress have to offer. Even yet, finding a specialized e-commerce system of superior quality than this is tough.
Pricing: Basic Shopify ($29 per month), Shopify ($79 per month), and Advanced Shopify ($299 per month) are the three primary Shopify options. Shopify Lite is $9 per month, while Shopify Plus is for businesses.
4. Wix
Wix is often compared to Squarespace; it's a website builder that includes hosting, security, SEO tools, and a user-friendly page builder. Its monthly rate is also similar.
Wix, on the other hand, differs from Squarespace in that it has an app store with over 300 distinct add-ons.
There aren't as many integrations as there are with WordPress or Drupal, but there are still enough to work with without having to worry about the more technical components of your site.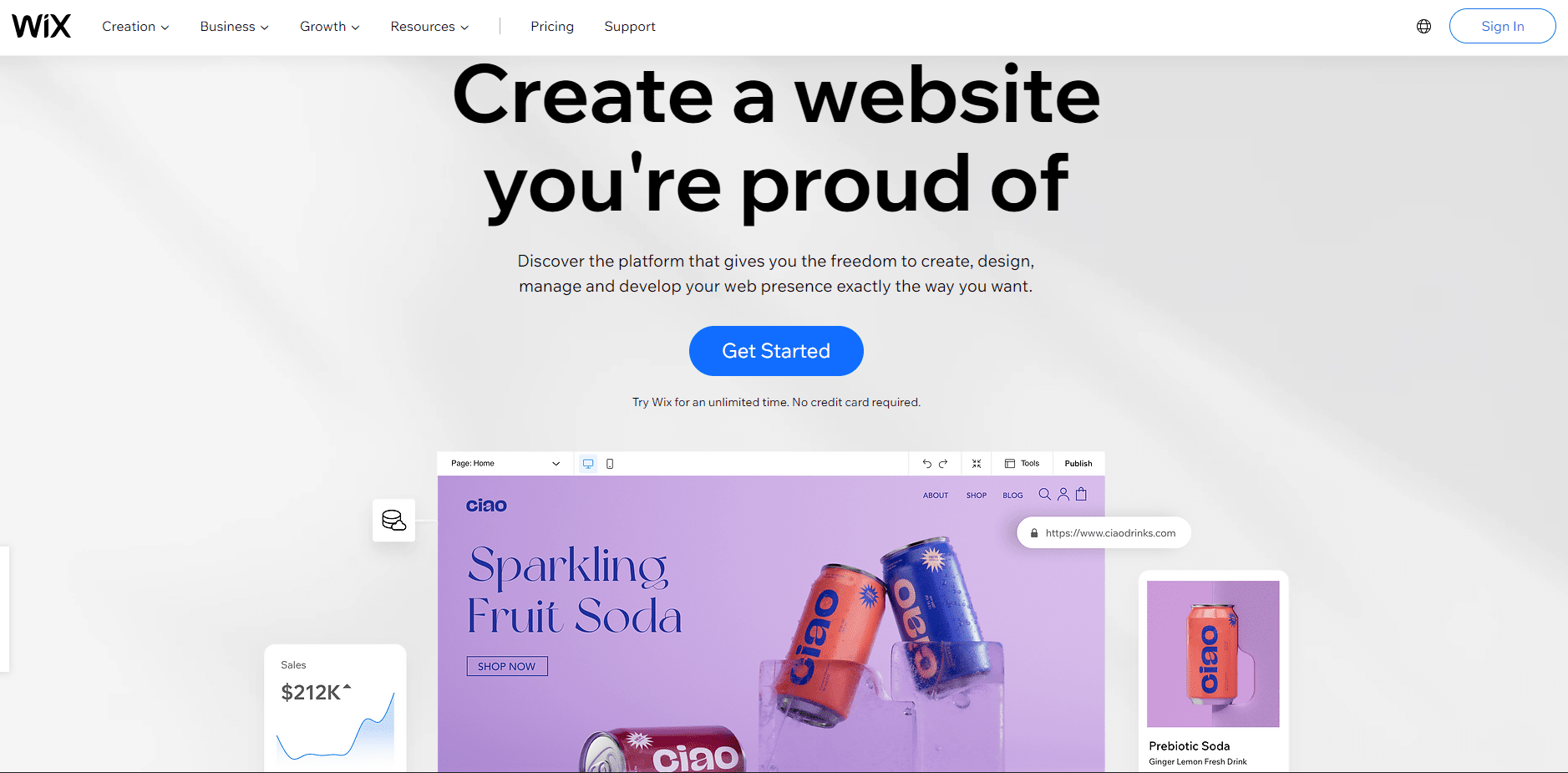 Wix is also recognized for its drag-and-drop editor, which allows you to quickly personalize any of its 500+ templates. Alternatively, you may use HTML and CSS to build your pages from the ground up.
Wix also includes helpful tutorials for online sales and managing your company money, which is a wonderful touch for small firms. It's also worth noting that Wix has a free version, however, it's restricted and ad-supported.
Pricing: Wix has four price tiers: Combo ($14/month), Unlimited ($18/month), Pro ($23/month), and VIP ($39/month). It also has a free ad-supported plan, as well as custom business and e-commerce options and an enterprise solution.
5. Weebly
Weebly, the last specialized e-commerce website builder on our list, is great for shop owners on a budget – Weebly's plans are less expensive than Shopify and Magento, and there's even an (ad-supported) free option to get started.
As a result, you won't get as much out of Weebly as you would with other solutions.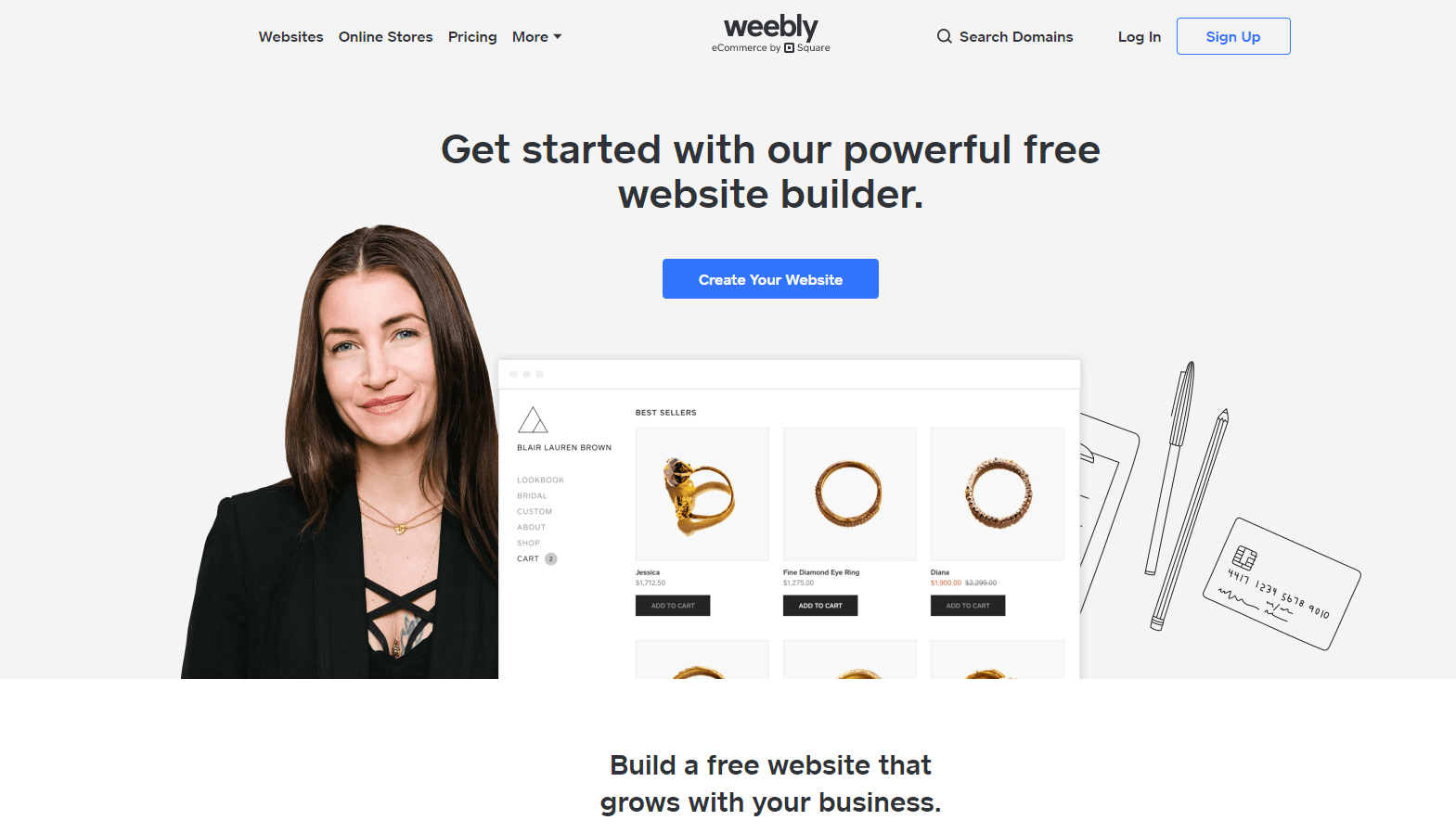 Although its features are restricted in comparison to those of its rivals, it nevertheless has the essentials that all online shops require: shopping carts, inventory management, gift cards, coupons, and the ability to offer digital items.
Look through Weebly's app store for any missing features. Furthermore, the page editor is simple to use, and your pages will be made mobile-friendly automatically.
Pricing: Weebly has three premium tiers: Personal ($6/month), Professional ($14/month), and Performance ($26/month), all of which are invoiced yearly. For simple sites, there's also a free ad-supported option.
Quick Links:
Conclusion: Best Joomla Alternatives 2023
If there's one thing to be certain of, it's that there's no lack of tools and applications available to assist you in organizing your material and publishing your website.
The all-in-one CMS Hub, free open-source CMSs such as WordPress, and hosted alternatives such as Shopify and Squarespace are all available.
To prevent any large interruptions or software migrations in the future, it's vital taking the time to consider your choices before making substantial moves.