In this article, we have featured the Top 10 Copy Paste Job Sites. Want to make money as a freelancer? Copy-paste job is one of the most incredible options to help you make ample money. But how? What exactly are copy-paste jobs?
Where can we apply for these jobs? This article will let you know everything you need to know about copy-paste jobs. You just need to scroll the page down to get informed!
Copy-paste jobs are the most preferred and sought jobs for one apparent reason. Do you know it? Anyone can dive into this stream of business without requiring technical knowledge or any hard skills, which means you can do it even if you pass from a top college or an ordinary one.
You only need a powerful internet connection and a computer to start your work and earn money. Another thing you might require is a good typing speed.
However, innumerable spam or fraudulent websites have encountered many innocent people in their trap. That's what we are here for! So, you do not fall into predators' trap by helping you know all of India's legitimate and reliable copy-paste sites.
Best Copy Paste Jobs Online Without Investment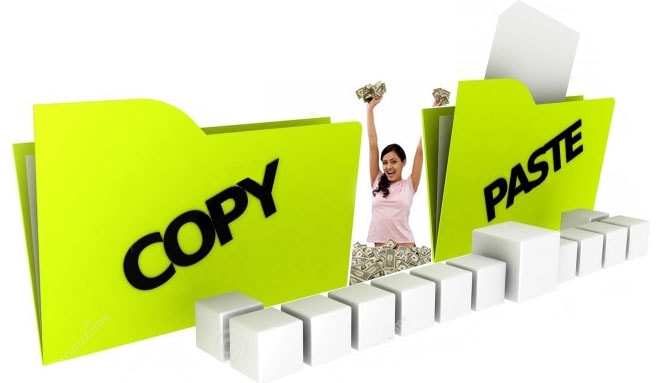 What are Copy Paste Jobs?
Copy-paste jobs require you to copy and paste the information from one given data to another. Predominantly, the employees assigned these jobs are provided with a source, which could be an image, word document, or excel sheet. Then your job is to convert this source into another. For instance, you are given a word document; the company might want you to convert that word document into a PDF. As simple as that!
I hope that you are now clear!
Great!
Now you are clear with this copy-paste work. The content you are given to copy and paste might be in numbers, letters, words and etc. But this content or data is time-consuming and hectic work.
These types of copy-paste posts are given a deadline and hence you should be quick enough to complete them in that particular span of time. Your typing speed should at 50-60 WPM (Words per minute).
Types of Copy Paste Jobs?
Knowing this will help you know all types of data entry. So, let's get enlightened about different kinds of copy paste jobs that you can come across if you are looking to make money in this stream:
1. Excel to Word/ Word to Excel: The data is given in an Excel spreadsheet that needs to be converted to a Word document or vice-versa.
2. PDF to Word Document/ Word Document to PDF: The data is given in PDF or Word format. So, your role is to convert the file from PDF to Word or Word to PDF format.
3. Scan Copy to Sheet/Word Document (Image to Doc conversion): The image is provided that needs to be converted into a Word document or Excel sheet (PNG or JPG to text).
4. Visual Basic/Visual Studio: It requires you to copy and paste the personal details such as name, address, phone number, etc.
5. Invoice Generating: All you need to do is copy and paste the invoices generated in the Word document.
6. HTML from Testing Jobs: Here, you need to fill the form in HTML format.
7. Adding the product to e-commerce websites: You are provided with a product that you need to add to the e-commerce website, such as Amazon, Flipkart, Snapdeal, or any other. The process of adding products to all e-commerce stores is the same. Once the product is added, you need to specify the product's name, an image, short description, and price.
8. Ad posting jobs- You are required to create a page post in the Ads Manager.
Types Of Copy Paste Jobs
This information will be helpful for you to know the types of Data Entry. Have a glance,
1. Word to PDF: Here you are supposed to copy and paste from the Word document and later you can convert that word document in PDF.
2. Excel Spread Sheet to Word / Word to Excel / Excel to Excel: The data given in excel is to be copied into another excel. The word document to excel.
3. Word to Word: Here you need to copy and paste the document which is in Word to another word.
4. Visual Basic / Visual Studio: This is related to forms. You have to copy and paste the email address, name, phone number, etc.
5. HTML Form Testing Jobs: Filling from in the HTML format.
6. Invoice Generating: You might be knowing the bills or invoices, yes! here you have to copy and paste those invoices in the word document.
Conclusion:
I tried my best to deliver as better content as possible. Online Copy Paste Jobs in India are available, but it is difficult to get copy paste jobs online without investment. I provided most of the sources in this list of top 10 copy paste job sites that are completely free.
You can start a startup with an investment as low as Rs. 10,000/- by choosing an idea from these low-investment startup ideas in case you are willing to earn more.