In this blog, I will enlighten you on how to make a phone call with car play?
With Apple updating its software's, now and then keeping a track of its all-new features becomes demanding. What is CarPlay, is one such question that has gained prominence due to its amazing benefits and uses.
CarPlay is designed for driving scenarios and it even features Siri voice control. CarPlay enables you to connect your iPhone to your car. In simple words, it is Apple's in-car technology.
From that phone calls to sending text messages and navigating through maps to play music and listen to podcasts, it does it all. In fact, not only this, it is capable of doing much more.
However, do not confuse CarPlay with an entertainment system, it is just an app. It is heavily dependent on Siri voice commands, making it easier for you to keeps your eyes on the road while driving.
You can use CarPlay only with select cars and stereos, but a lot of car companies are now rolling out vehicles with CarPlay with each new vehicle introduction.
CarPlay needs a Lightning Connector and a certain amount of oomph to operate; thus it works only on models like iPhone 5 or the ones launched after iPhone 5. It means that iPhone 4S or earlier models are not compatible with this system.
The best thing about CarPlay is that it has an easy-to-follow interface with features of larger graphics and buttons. Let's discuss in more detail what CarPlay is exactly and how it works:
Set up CarPlay with your iPhone
With CarPlay, you can have a familiar iOs user interface on the infotainment display. Take a look at how to manage settings to set up CarPlay with your iPhone:
The first and foremost thing is to make sure that your car or stereo supports CarPlay.
While you connect CarPlay to your car, make sure that your car is running.
Next, open the Settings app on iPhone and go to "General"
Scroll down and click on "CarPlay".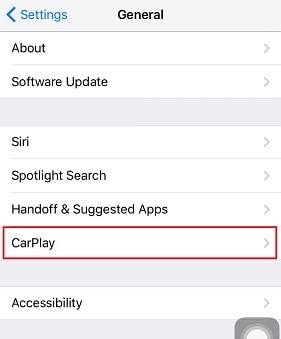 5.You will be given two options to set up CarPlay: Bluetooth, or with USB.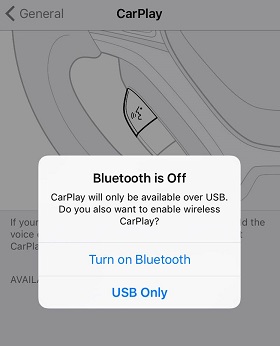 6.If your car supports wireless CarPlay, just press and holds the Voice Control button on your steering wheel to set up CarPlay. See Available Cars and select your car. Otherwise, plug your iPhone into the dashboard with a               Lightning cable.
7.Your car will detect that your iPhone has been connected. The CarPlay icon will pop up on the in-dash display.
8.Along with it, all compatible apps will also be updated. Though, CarPlay apps must support Siri for hands-free operation.
And CarPlay is set up. It functions the same as you would work on iPhone. The only difference is that it is on the car display unit. Utilize it to the fullest and ask Siri for whatever you require. You can ask Siri in two ways:
a) First is the same as you would have done it with the iPhone; Press and hold the Home button on your iPhone until Siri appears on the stereo display. Once it appears, ask whatever you need.
b) Or you can simply hold the Voice Control button on your steering wheel and ask what you need.
How to Make a Phone Call With CarPlay?
With CarPlay you can use your iPhone's phone and messaging functionality easily. You can simply use your phone or Siri to initiate a call. The ways via which you can make a call:
Using Siri to make a call
There is nothing more convenient than using your voice to make your iPhone do things for you while driving a car.
Just say "Hey Siri" and Siri will be activated, either by pressing the on-screen button or either by using the control on your steering wheel.
Just say the name of the person you want to call, i.e. "Call Nik"
Confirm the name and your call is placed.
Just keep in mind that you speak each number clearly and separately. The best part about Siri is that even if the person you want to call isn't in your Contacts list, Siri can search the Internet for the number, and then connect you.
Attending Incoming Calls
Receiving an incoming call is way much easier than making one. Take a look at how you can do the same:
In case your car has that green button to receive incoming calls, press it.
Else, simply slide to answer on your iPhone.
And you are done! Just attend the call and it automatically phone calls will be coming through the speakers of your car.
Making a call via Phone app
You can make a call similarly you would have done, in case you would not have been connected via CarPlay. The simple change here is that you can use your voice to make a call. Let' see how:
Click on the Phone app on your screen.
Now speak out the name of the person you want to call.
And the call will be placed.
Scrolling through a list of your contacts while you are driving can divert attention and can be risky. Thus, this is the safest option. However, you'll need to tap on Show Contacts to view more options like Favourites, Recents, Contacts, Keyboard, and Voicemail.
Featured Post: Talkroute Business Phone System Review 
Conclusion:- How To Make A Phone Call With CarPlay?
However, one thing that can be annoying about CarPlay is that as it relies on a connection to the cloud, the response of Siri can be slower. But, unlike other apps, the best part about CarPlay is that it reduces distractions, which eventually improves safety.
So at present, if you don't have a CarPlay compatible car, be sure that the next time you decide to buy a car gets a CarPlay-compatible one only.
In short, with CarPlay you can get directions, send and receive messages, make and take calls and listen to music, all in a way that helps you to stay focused on the road. Just be hands-free as with CarPlay, as you no longer have to actually touch the head unit itself for most actions.
So for people who use navigation a lot or cannot avoid making or taking calls while driving, CarPlay surely is a blessing in disguise for them. Plugin and enjoy driving without any phone distractions with CarPlay!