Here I will teach you how to make ringtones for iPhone?
The proverb, "Learn to Change, Change to Learn" strikes straight through my mind. These four words simply sum up human life. It's a fact that people love to buy gadgets and with any advancement in technology, they are inclined to buy a new one.
Known for its innovation, Apple has established a unique reputation in the consumer electronics industry. The default ringtone of Apple truly differentiates the iPhone from all other mobile phones. But, then a single ringtone can turn to be monotonous, all the time.
Sometimes, you even want to assign some special ringtone to an important or special contact. In such a case, the question, How to make ringtones for iPhone, gains prominence.
Now, a lot many people wouldn't find it worth it, to pay for the ringtones. So, take a look at how you can make ringtones for iPhone. But before that let's see how you can simply change the ringtone in iPhone:
Changing Ringtones
Ringtones are a way to personalize your iPhone. Simply allocate specific songs to certain people and you'll instantly know, that it's a call from them. It is very easy to change ringtones on your iPhone, as iPhone comes with dozens of quality ringtones pre-installed. Take a look at how to change the ringtone on iPhone:
From the iPhone's home screen, tap the Settings app. And from there Tap Sounds.
Go down to the Sounds and Vibration Patterns section. In that section, look for Ringtone. You will see that the menu displays what you have set as your current iPhone ringtone. Click that menu to choose a new ringtone.
You will see two sections. One will be Ringtones Section. Look down the Ringtone list and you'll find a tick beside the one you currently have set for use.
 Tap through the other ringtones to find one you prefer. Checkmark the ringtone you want to choose.Another section will be of the Alert Tones. These are not exactly ringtones. They are alert sounds normally used for alarms and other notifications, but you can use them as ringtones, too.
Your ringtone choice will be saved automatically.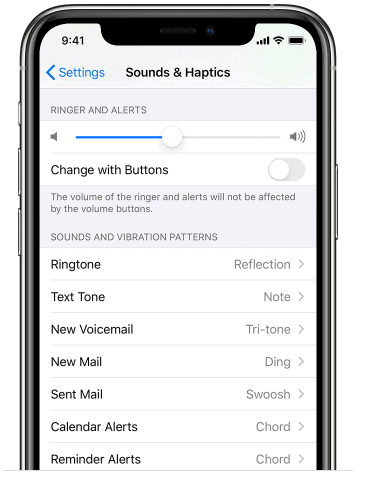 This was about the ringtones. Take a look at how to change the Vibrations:
Go to Settings, and tap Sounds.
Make sure that Vibrate on Ring or Vibrate on Silent are set to on/green.
Now, scroll down to the Sounds and Vibration Patterns section, select Ringtone and Tap Vibration.
Select the pre-defined options to test them or tap Create New Vibration to make your own.
Once you have decided on your vibration patterns, simply put a checkmark next to it. And your choice will be automatically saved.
How to make Custom Ringtones
By default, the same ringtone, set by you, will play for each call. Now, in case you want different ringtones to play for different people, then take a look at the steps:
Click on the Phone app on your iPhone and tap the Contacts menu at the bottom centre of the screen.
Simply, click on the name of the person, whose ringtone you want to change, and Tap the Edit button in the top right corner.
Now, scroll down and tap the Ringtone option. The list of ringtones available on your iPhone will be displayed.
Tap the ringtone to hear a preview, and once you have selected the ringtone you want to assign to that person, click the Done button, in the top right corner to save your selection.
Now, whenever that particular person will call you, you will hear this set ringtone.
Quick Links
Conclusion:-How To Make Ringtones For iPhone?
The process of how to make a ringtone on iTunes may seem longer to some and it requires a computer. In that case, you can always resort to various ringtone maker apps available on the App Store and create your own ringtones directly on your iPhone. A lot of free apps are available that allow you to download free ringtones and alert tones to your iPhone.
One such app that allows you to do so is GarageBand. It is one of the most popular, Apple's featured apps, and the best part is that it is for free. Using this, you can simply export the edited songs as a ringtone using the Share menu.
There are various other tools too, that can be used in lieu of, How to make ringtones for iPhone. But, out of all, the above-stated ones, are the handiest. So, simply follow the above-mentioned hacks to make ringtones for iPhone, and enjoy various melodious ringtones on your iPhone.