Ever since the release of Windows 10, Microsoft chose to offer it to windows 7, 8, 8.1 users as a free upgrade.
At the double, millions of users upgraded their windows versions and became window 10 users with grace.
Upgrading windows from the previous versions to 10 was easy, as the windows 10 notifications were popping up every now and then on your computer's bottom right pane and the users just needed to follow the on-screen instructions to upgrade to Windows 10.
Soon after the windows upgrade to windows 10, some people realized that windows 10 is not their OS and they started searching for How to Uninstall Windows 10 and Downgrade to Windows 7 or 8.1.
There are certainly a bunch of new features in Windows 10 but some people didn't find the Windows 10 interface as cool as the windows 7/8/8.1.
That's the reason we have compiled a detailed and comprehensive guide on how to uninstall Windows 10 and revert back to Windows 7.
So ready to learn How to downgrade Windows 10?? Read along!
How to Uninstall Windows 10 and Downgrade to Windows 7 or 8.1:
If you have recently upgraded your windows to windows 10, then things are pretty easy for you.
Because you get an easy downgrade windows option from Microsoft within 30 days of upgrading your windows version.
And a 30-day trial period is sufficient for anyone to decide if they want to keep the newly installed windows version on their computers or want to revert it back!
But if it has been longer than 30 days since you upgrade your windows to windows 10, things might become a little complex for you!
But the good thing is, it's still possible to revert back to windows 7 and 8.1.
If you have recently upgraded your Windows version, just follow the below steps and learn how to downgrade preinstalled windows 10 to windows 7/8.1.
Note: Before starting the downgrading process, it is recommended to take a backup copy of your hard drive. Though there are very rare chances of loss of data it is always a good idea not to take the risk.  
Step 1. On your Windows 10 computer, just click on the start menu and go to Settings. Have a look at the below screenshot.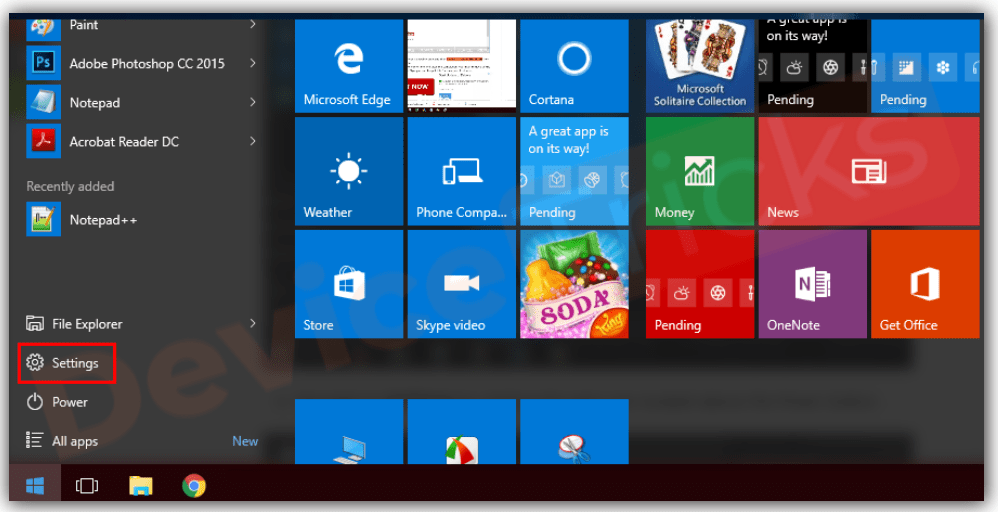 Step 2. Clicking on the Settings option will redirect you to the following page.
Now you need to click on the Update & security option.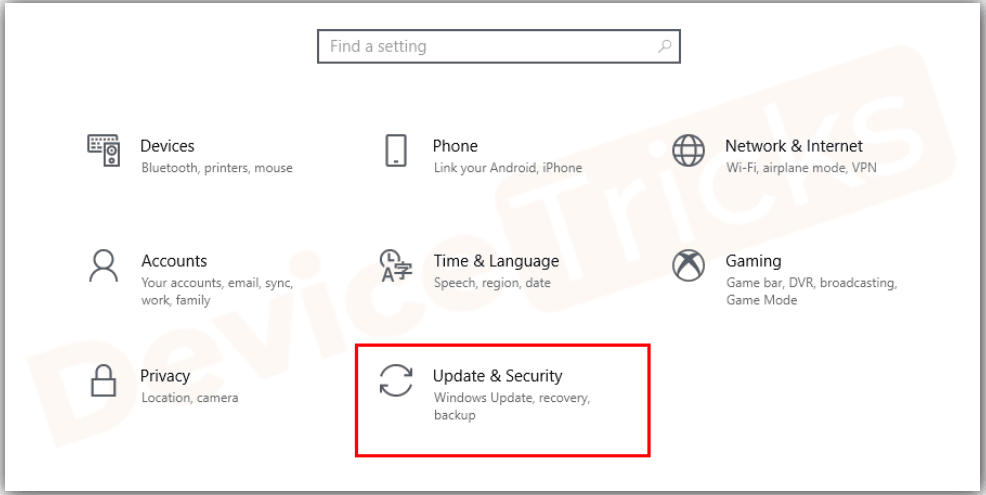 Step 3. On the upgrade and security page, you will find several options and one of them is Recovery in the left pane. Just click On recovery to see the following page.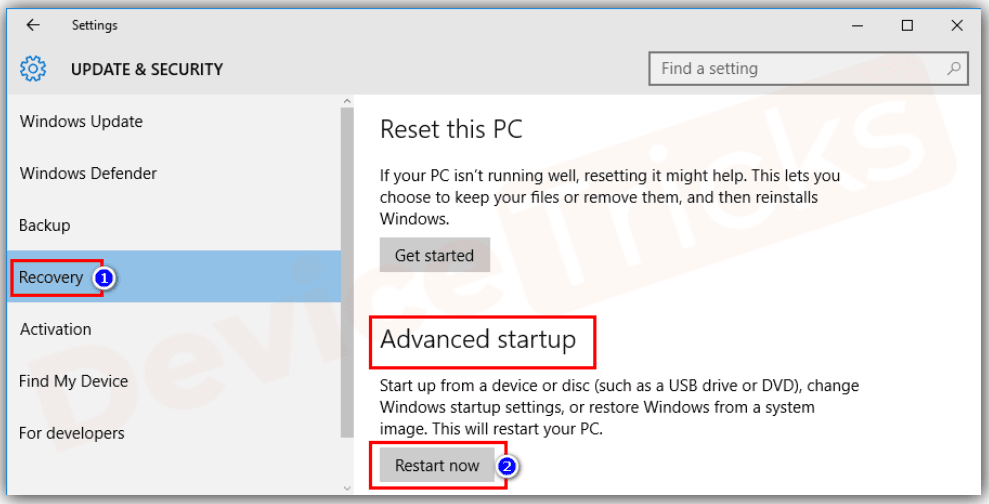 Step 4. In the above screenshot, you can see there are three options, Reset the PC, Go back to windows 8, and Advanced Setup. Now since our motive is to Downgrade the windows version, we need to click on Go back to windows 8.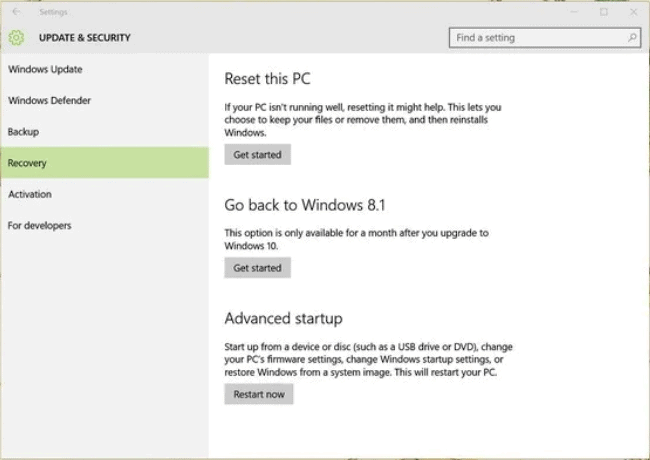 Note: If the previously installed windows on your computer were windows 7 or windows 8.1, you will see Go back to windows 7/8.1 instead. Since my previously installed windows on my computer were windows 8, I'm seeing the Go back to Windows 8 option. 
Step 5. Now on the next screen, you need to select the reason for downgrading windows 10, to the previous versions, select any of the appropriate reasons and click Next. The screenshot for the same is given below.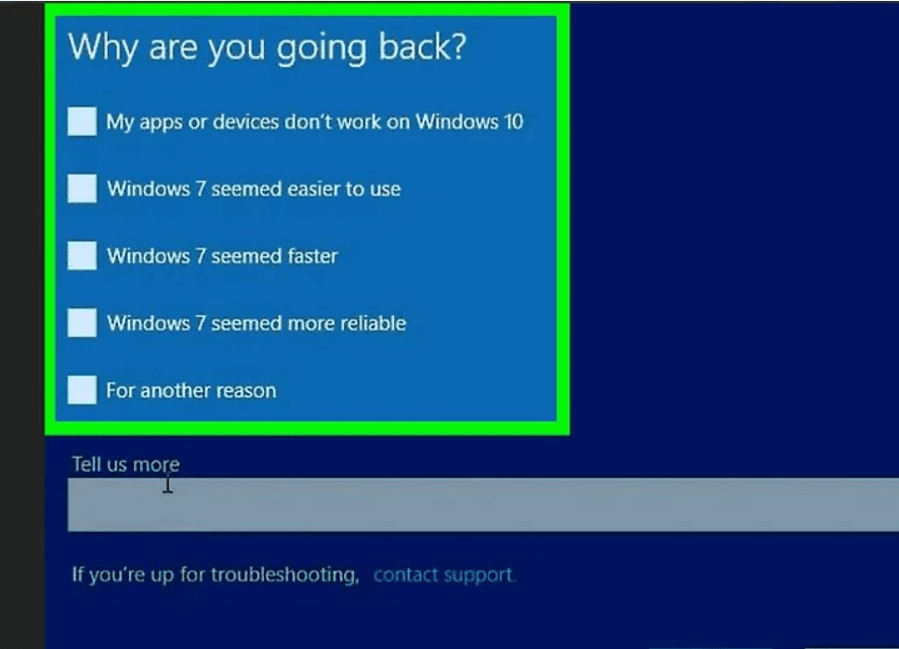 Step 6. In the next step, you will be asked to check the system updates in case they might solve your problem. But if you are sure of quitting windows 10 and reverting back to windows 7/8/8.1, you better click on No Thanks and process further.
Step 7. Now keep reading the instructions provided on the screen and keep clicking the Next button to complete the process.
Step 8. On one of the screens, you will be provided with some information about what will happen if you choose to downgrade the windows 10 like if you downgrade the windows 10 to previous versions, all the computer settings you made after installation of windows 10 will be gone and some apps and software might also be lost.
Also, the downgrading process might take some time so you need to keep your computer system turned on and untouched.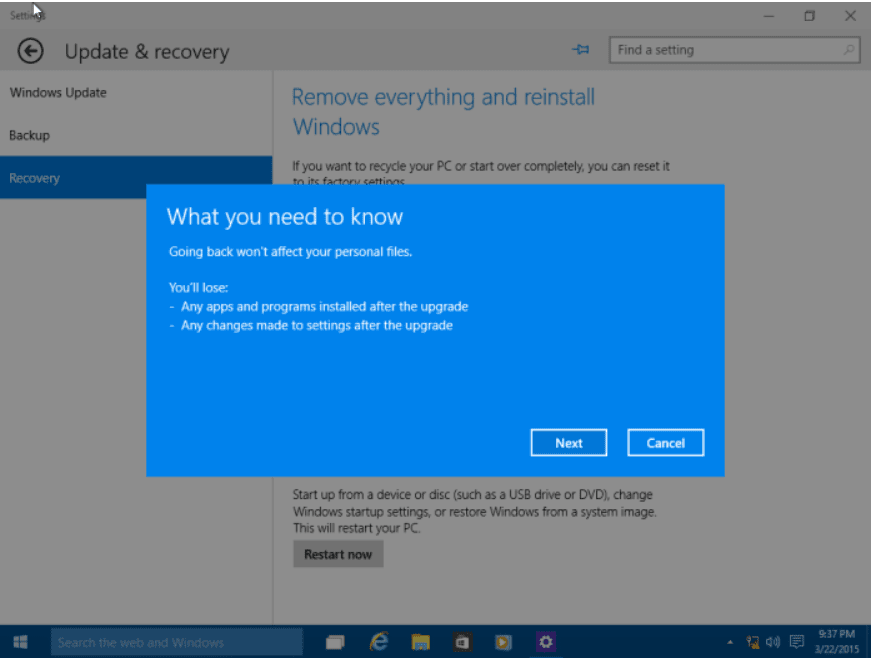 Step 9. By now you are almost done. As sooner you click the Next button on the above screen, you will encounter the following screen and you need to click on the Go back to Windows 8 button.
Now you are done with your part of the work.
The rest of the work is done by your computer so keep your computer or laptop turned on and wait for the next 10-15 minutes as the process gets complete.
Once the reverting process is done and your computer is rolled back to its previous version successfully, the system will restart automatically and you will see your previous, beloved Windows version installed on your computer.
Isn't the process simple? This process of Downgrading to the previous version of windows is only applicable for you if you have recently upgraded your windows version.
Because whenever you upgrade your windows version to the next level, a copy of your previous windows version i.e windows.old gets saved on your computer.
But If for any reason, you have deleted this old windows copy from your computer, or you have bought a new laptop where Windows 10 is installed, or if you have performed the clean installation of Windows 10 on your computer, the above steps won't work for you.
In such cases, you need to manually install windows 7/8/8.1 on your computer.
And for that, you need to have a windows 7/8/8.1 installation CD/DVD or a USB with your desired window ISO files and 25 digit product key.
If you have that, you can fresh install windows 7/8/8.1 on your computer and enjoy using it.
So depending on how you have installed windows 10 on your computer and how many days are passed, the steps to downgrade your Windows version from 10 to its previous version might vary.
So I assume, by now you have understood how to uninstall windows 10 and downgrade to Windows 7 or 8.1. 
If you have any doubts or queries, drop us a comment and any one of our team will reach out as soon as possible.
Quick Links –