Numerous WordPress themes are available, but not all are simple or designed with SEO in mind. To make matters worse, some themes are expensive and have slow load times because they are overburdened with features you don't require.
OceanWP is a popular and rapidly growing WordPress theme that sounds fantastic. Generatepress is an ultra-lightweight theme that offers plenty of advanced features with multiple site licenses that are included with their premium plans.
Overview: GeneratePress vs OceanWP
Generatepress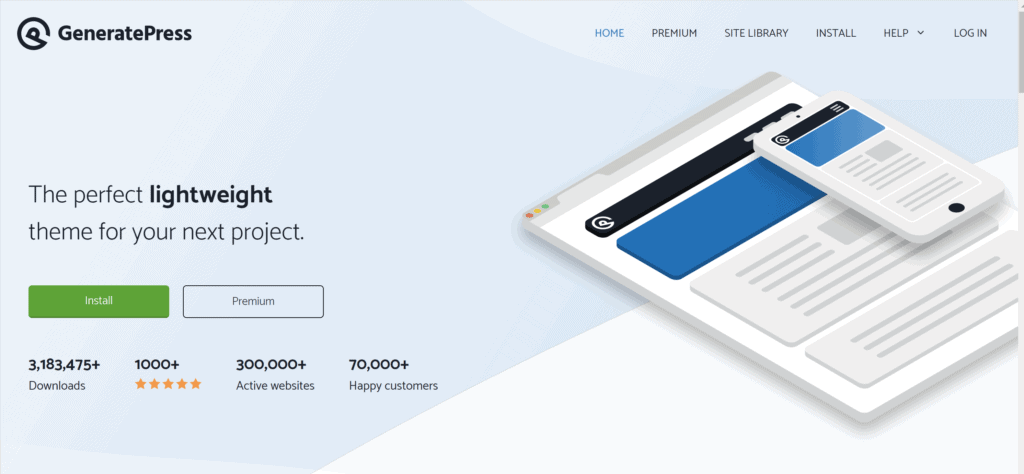 GeneratePress is a lightweight and customizable WordPress theme that is fast, responsive, and easy to use.
It is built using the latest HTML5 and CSS3 techniques, making it fully responsive and mobile-friendly. GeneratePress is also SEO-friendly and optimized for performance, which helps improve your website's loading speed.
One of the key features of GeneratePress is its customization options. The theme has a built-in Customizer that allows you to change your website's layout, colors, typography, and other design elements without any coding knowledge.
It also has a large library of pre-designed templates that you can use to create a professional-looking website quickly.
Overall, GeneratePress is a versatile, lightweight, and customizable theme perfect for users of all skill levels who want to create a fast, responsive, professional-looking website.
OceanWP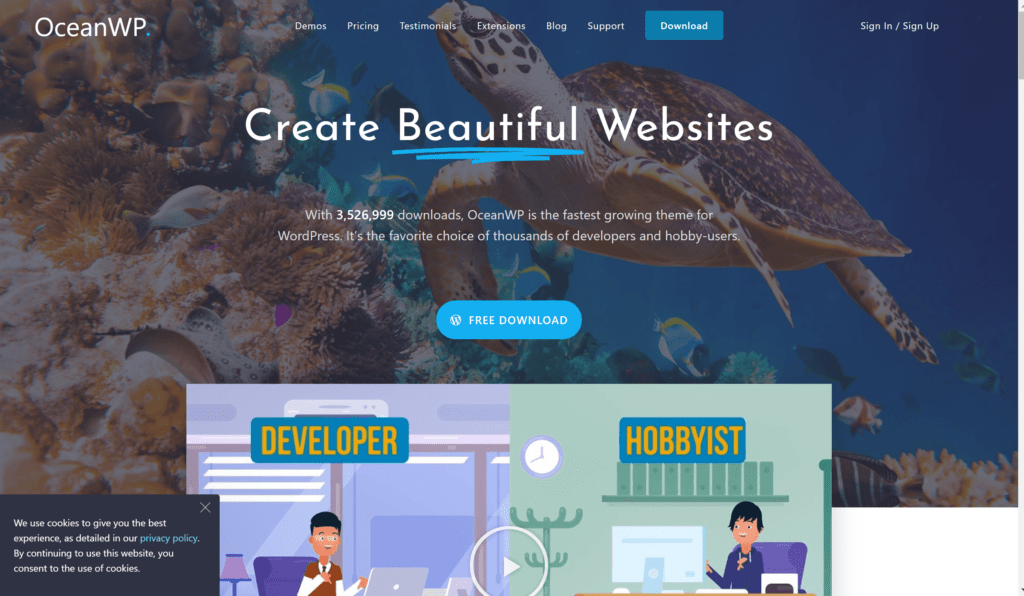 OceanWP is a popular WordPress theme builder known for its flexibility and ease of use. It is a free, multipurpose theme that you can use for a wide range of websites, including blogs, portfolios, online stores, and more. It is fully responsive, mobile-friendly, and built with the latest web technologies.
Another important feature of OceanWP is its WooCommerce integration. The theme is fully compatible with the popular e-commerce plugin, making it easy to create an online store and sell products directly from your website.
It also comes with a variety of pre-designed templates and demos that are specifically designed for online stores.
GeneratePress vs OceanWp – Features
Performance – Speed
GeneratePress:
GeneratePress is a performance-focused WordPress theme that is both lightweight (at only 30kb) and fast-loading. It doesn't rely on jQuery, which further improves its loading speed.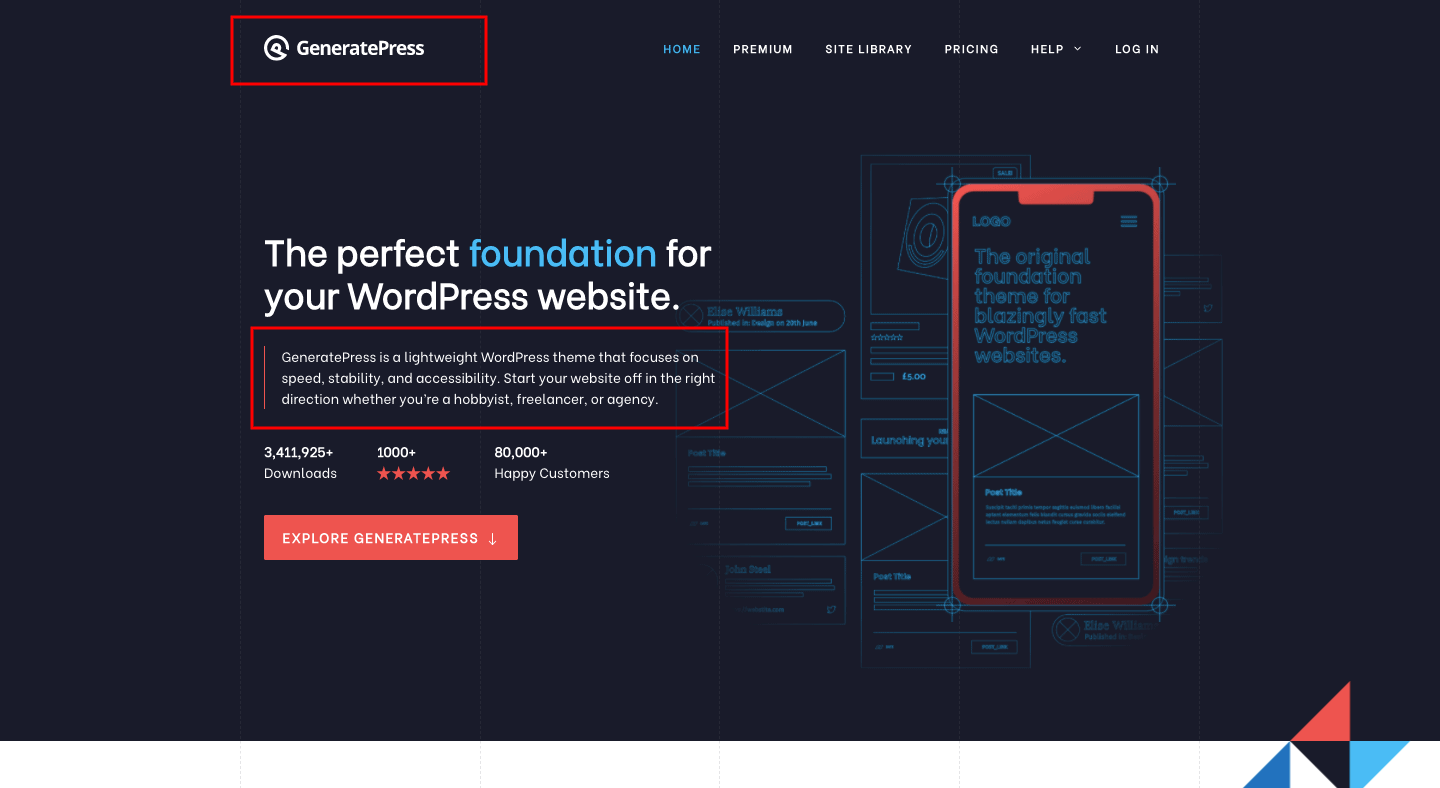 This theme also supports WooCommerce, allowing you to create an online store. It's fully customizable, with endless resources available to help you make it your own.
Additionally, GeneratePress is built with secure codes, making it a great choice for users who prioritize performance and security.
If you're looking for a theme that offers both speed and customization options, GeneratePress is an excellent choice for you.
OceanWP: 
OceanWP is a flexible WordPress theme that offers a balance of performance and customization.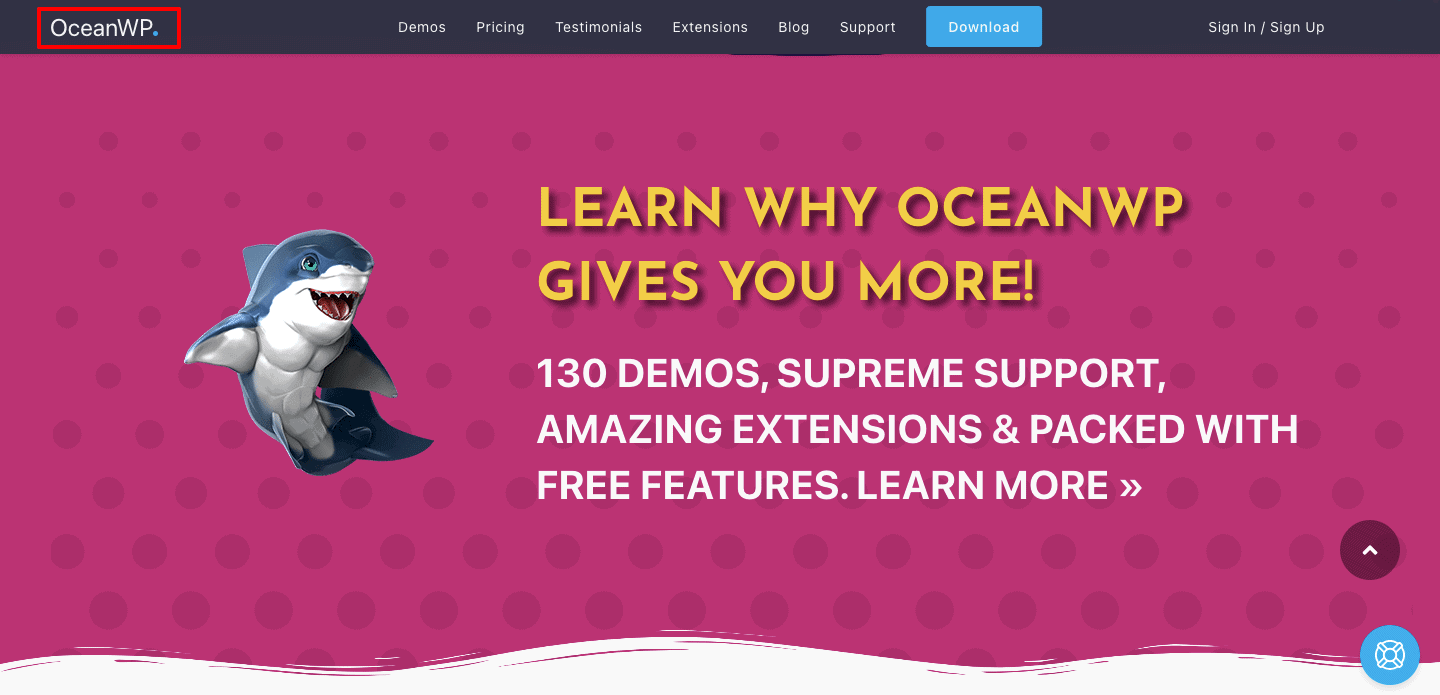 While it may not be as performance-centric as GeneratePress, it provides a wide range of options for customizing your website's design, aesthetics, and content.
With many customization choices available, OceanWP is excellent for users who prioritize design and flexibility over pure performance.
User Interface/Customization
GeneratePress
The free version of GeneratePress is basic. Still, its Customizer has been enhanced to include options for changing the site's logo and icon, customizing the header and footer, and changing the primary navigation layout.
It also has color presets, making changing the theme's color scheme easy. Upgrading to the premium version unlocks additional features such as the "Sections" extension and access to dozens of demos.
Activating the license and installing the GP Premium plugin is required to access these features. Still, the theme allows you to deactivate any extensions not in use for improved loading times.
OceanWP
OceanWP is easy to set up and customize, with a helpful setup wizard and options to change your website's appearance using the built-in WordPress customizer or the Elementor plugin.
The theme also includes an OceanWP panel that allows you to change universal settings, such as header styles and titles for individual pages.
Although it suggests installing three plugins, the Ocean Extra plugin is optional for the theme's functionality.
It's a great option for those who want to easily customize the look of their website while keeping the rest of the site intact.
Page builders and Integrations GeneratePress vs OceanWP 
GeneratePress –
GeneratePress introduces a meta box structure to posts throughout, intending to provide you with access to all of the settings of Elementor.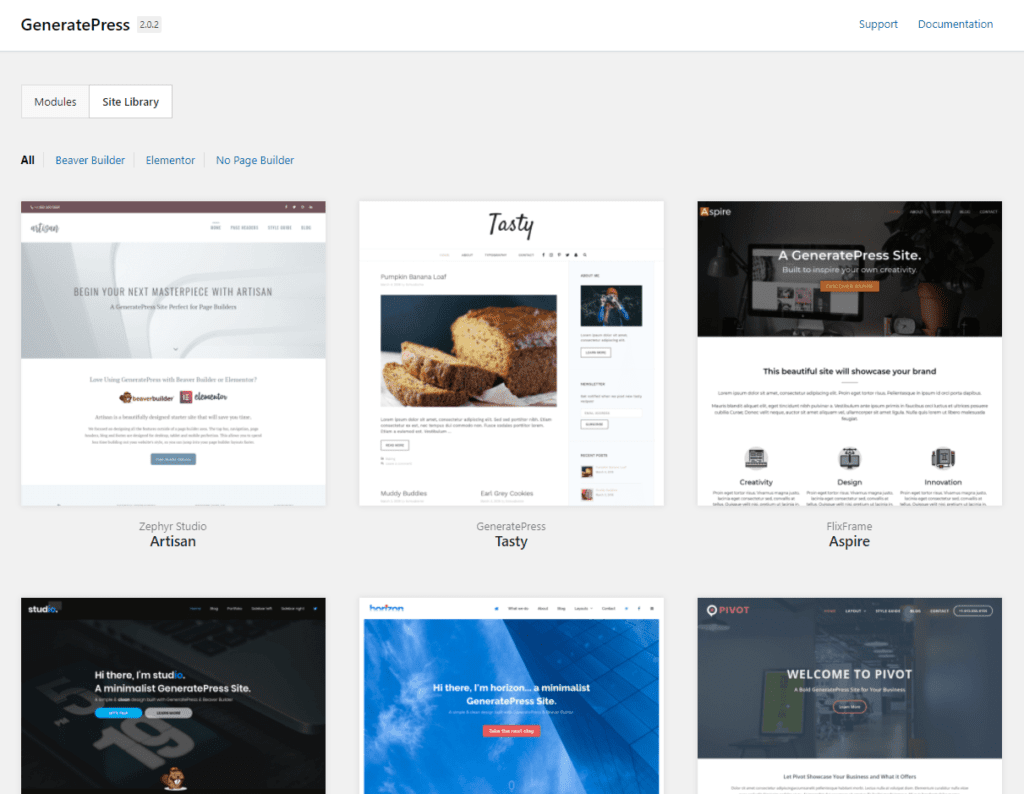 You can do the following:
Various layouts and design – arrangements of sidebars can be incorporated
The number of footer widgets can be altered.
Certain elements can be disabled (This feature gets interesting with the premium version)
Adjusting the design of the layout frame
OceanWP –
The Extras companion plugin, included with the installation of OceanWP, provides an all-inclusive meta box for managing every detail on your page, from the logo to every single element.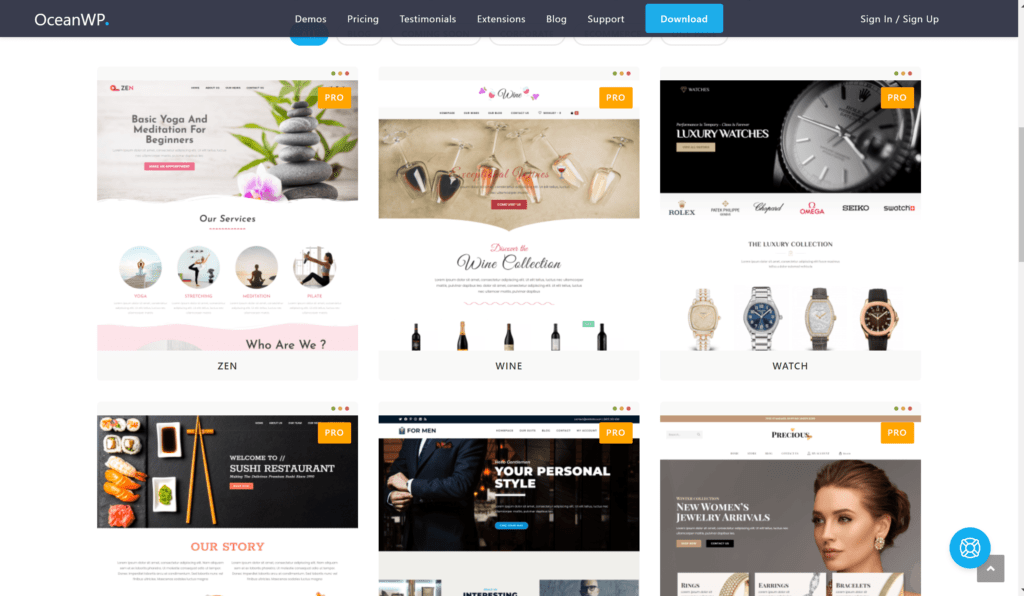 This plugin also aids in using Elementor by providing all the necessary tools.
Control over almost all the elements that could cross during any phase of the design process

The choice to pick the layout options.  
The introductory post or page editor in WordPress may be useful for writing content but needs more capabilities to make it look professional. That's why page builders have gained popularity.
With a page builder, you can create a post or page without any coding knowledge, using drag-and-drop pre-built elements to build your layout and design.
If you're considering using a page builder, a theme like OceanWP is a great choice.
GeneratePress vs OceanWP – WooCommerce Customization 
GeneratePress
GeneratePress's paid version offers a variety of features for enhancing the look and functionality of your WooCommerce store.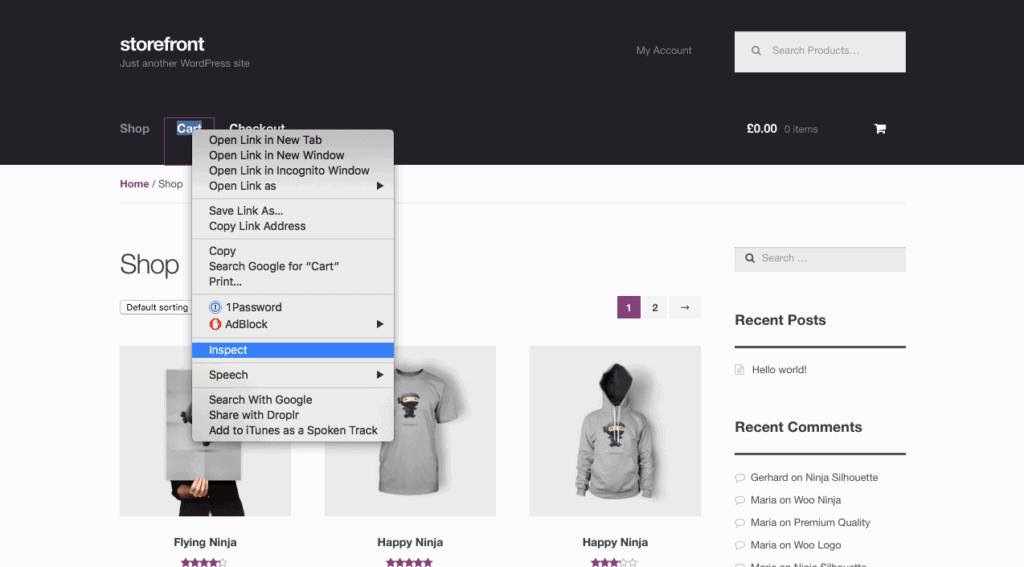 These features include
the ability to customize the appearance of archive tabs for products,
a preview cart icon,
an AJAX add-to-cart icon, and
the ability to style WooCommerce content in a customized way.
Additionally, it provides an effortless and hassle-free space for checkouts and the ability to choose the product category that appears.
OceanWP
OceanWP offers a wide range of options for setting up a Woocommerce store.

These include
the ability to view any products,
a customizable cart icon with a dropdown menu optimized for mobile view,
highlighting of products in the cart after adding,
search options and filters with an off-canvas feature,
a floating bubble with an "add to cart" pop-up button,
sales badges,
a step-by-step checkout process with minimal distractions.
Ease of Use
Generatepress-
The theme structure of GeneratePress is straightforward to use, making it ideal for beginners.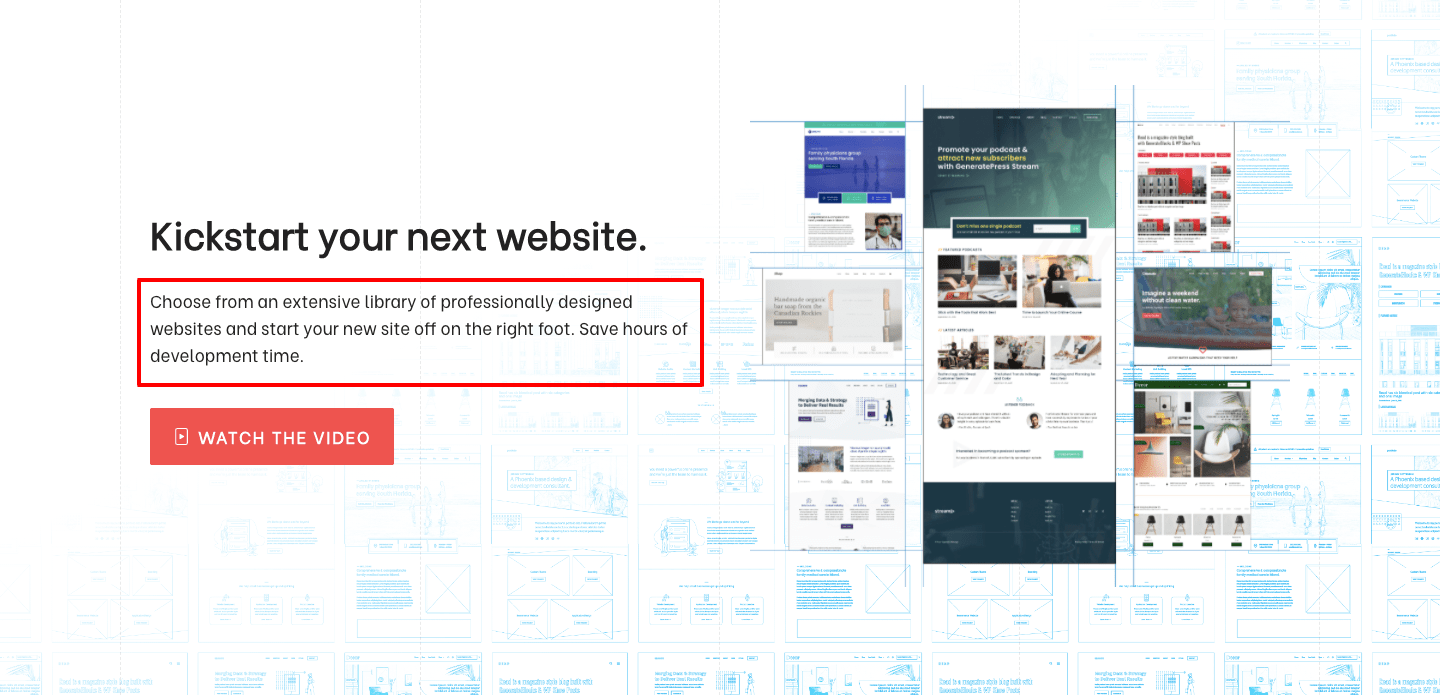 The installation process begins with the free version of the theme and then upgrading to the premium plan to access a plugin file that needs to be installed in the site's plugin folders.
The theme offers well-organized and fully functional add-on options, a fast loading speed, and a user-friendly control panel.
OceanWP –
OceanWP offers a wide range of design options and flexibility, with beautiful designs available on all devices and high-quality demo videos to provide a good overview of the site.
However, the theme may be challenging for beginners to navigate due to the options being spread out and confusing.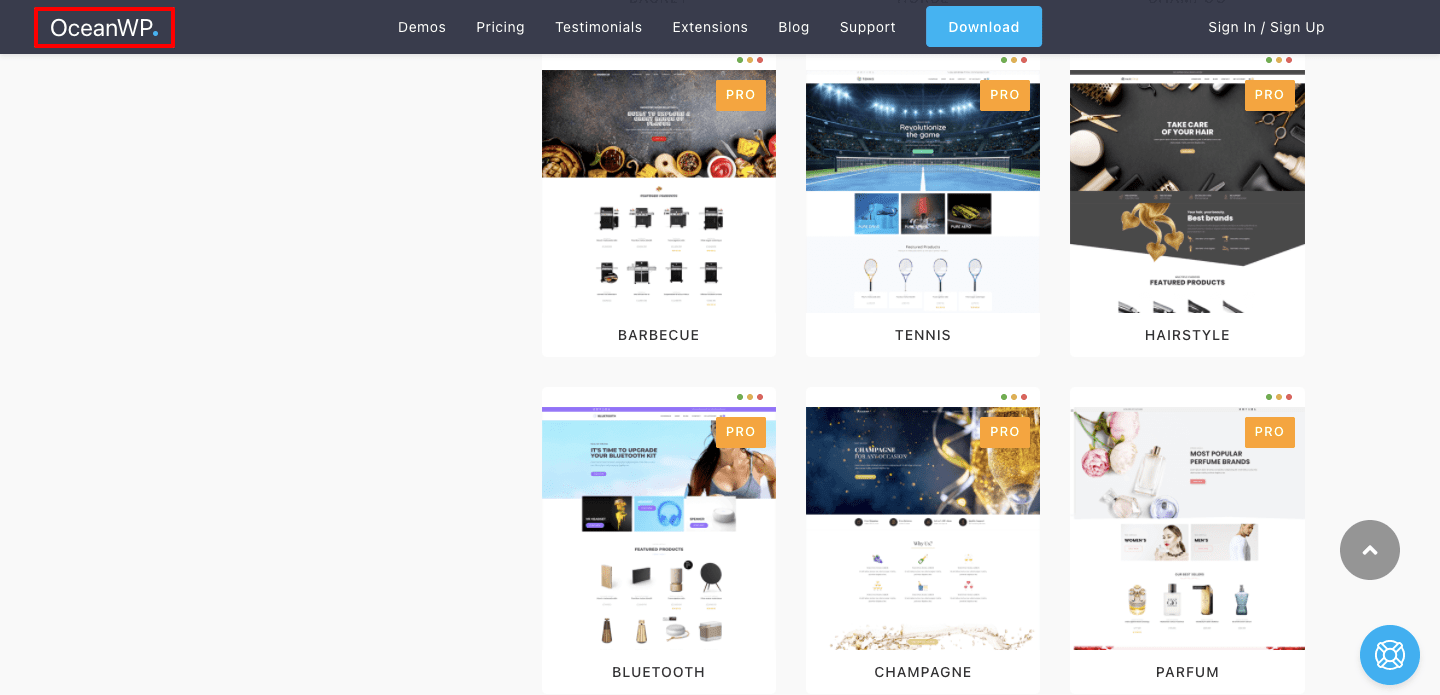 The premium plan only adds a collection of extensions, which need to be installed and uploaded separately for each one.
On the other hand, GeneratePress is easy and simple to understand, less complicated, and offers a faster loading speed.
Page Builders and Overall Customization Options
We will compare these two themes based on their customization options. A theme with more adaptability options gives you more freedom and control over the design of your website.
A theme with more customization capabilities eliminates the need for additional third-party plugins.
Lightweight themes often have limited design options, so they are often paired with page builder plugins. We will also evaluate how well these themes integrate with WordPress page builders.
GeneratePress
To our relief, GeneratePress works well with page builders, particularly the major ones like Elemetnor, Thrive, Architect, Beaver Builder, and others. So far, I've had no issues with this platform's compatibility with Elementor, the Page Builder I usually use.
To make matters worse, almost every Page Builder has officially included GeneratePress in terms of compatibility.
OceanWP
Ocean Extra Plugin is a plugin that supports the OceanWP theme. It runs the theme installation wizard and gets you up and running in seconds. The wizard will ask you to add some extra plugins or add-ons during the installation process, depending on your chosen theme design.
This theme, unlike GeneratePress, comes with several WordPress requirements, such as Page Builders and Form Builder Plugins, but some are optional. You can skip them when importing demo content if you wish.
The theme's premium library offers numerous attractive designs for almost any type of website.
The number of add-ons available for this theme is impressive. The more extensions you install, the more options you have for customizing the theme.
Demo Websites Or Site Templates – GeneratePress vs OceanWP
GeneratePress
GeneratePress has significantly improved and now offers over 40 demo sites for import, with various traditional and Elementor/Beaver Builder-based options.
The template selection may not be as extensive as GeneratePress or OceanWP, but it is still impressive.
Keep in mind that importing demo sites requires purchasing the premium package.
However, a benefit is that the demos were created using the Elements (a GeneratePress premium module) and can easily be replicated in your site design.
OceanWP
OceanWP offers a wide range of importable demo sites with over 70 options.
However, only a small percentage (about 10-15%) of these are free to import, with the rest requiring a premium license.
The theme also provides niche-specific website options for bakeries or the wedding industry. It is worth noting that most of the demo sites on OceanWP are built using Elementor.
WooCommerce Support and Customization Options
WooCommerce is an e-commerce platform that you can easily integrate with WordPress.
All two themes, OceanWP and GeneratePress, work seamlessly with the WordPress Customizer.
OceanWP offers the most control over the shopping cart, product pages, and other settings. These themes are useful for creating online course websites.
GeneratePress
The premium version of GeneratePress offers more advanced features for integrating with WooCommerce, including a dedicated WooCommerce module and access to a real-time customizer. The free version does not include these capabilities.
You can also control the following using this customizer:
Control the shopping cart icon on the menu with a dropdown effect for searching for items in the cart without leaving the page
Modify the appearance of product archives
Add a cart button to the top of the page and a sticky panel.
Configure content styles for WooCommerce.
OceanWP
OceanWP, like other choices, comes with a slew of WooCommerce possibilities. Here are a few examples: –
It has a 'quick view' option for products.
View items in the cart without leaving the page using the cart dropdown.
For mobile users, this is an excellent implementation.
A separate menu is available for searching for products and applying filters.
When the user scrolls down the page, a floating bar appears to help them add things to their cart.
Simple checkout options
Customer service
Generatepress:
GeneratePress offers a public support forum for users to ask questions and find answers and a ticket submission option for quick help.
The theme's extensive documentation covers everything from basic setup to all Customizer options.
However, there are no priority support plans, phone lines, or live chat options for complete beginners.
 OceanWP:
OceanWP, on the other hand, only offers an email ticketing system for customer support which may result in delayed responses.
a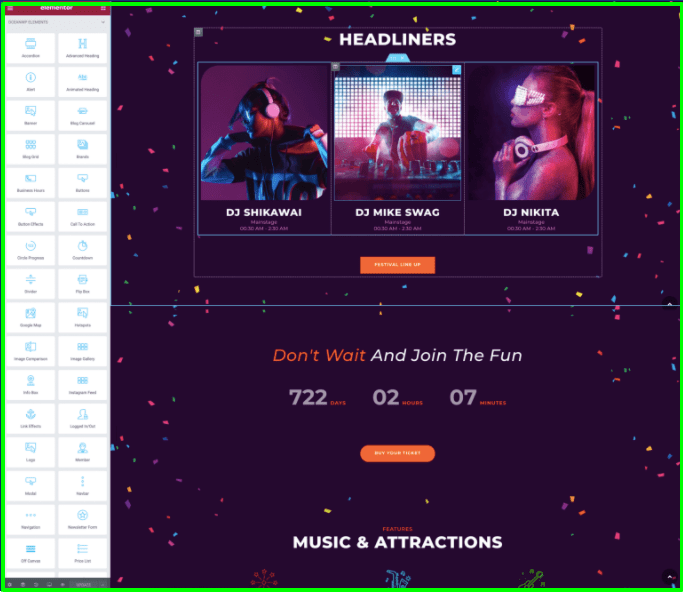 Overall, GeneratePress has better and faster support options than OceanWP, which may be more suitable for those who have the patience to wait for email replies.
Page Builders and Overall Customization Options
When comparing these two themes, it's important to consider their customization levels.
A highly customizable theme allows for greater flexibility and control over the website's design and functionality.
This can be especially beneficial for webmasters as it eliminates the need for additional third-party plugins.
Additionally, many lightweight themes often lack a variety of design options, which is why many webmasters opt to use page builder plugins.
Therefore, it's important to consider how well these themes integrate with WordPress page builder plugins.
GeneratePress
The GeneratePress theme offers great performance, with its Gutenberg-optimized templates making it a convenient option.
It offers a variety of styles that you can apply to a range of projects, such as landing pages, publications, restaurants, business portfolios, and blogs.
Although the Pro demo templates are less extensive than others, it is compatible with all major website builders.
The unique pro component, Elements, allows for easily adding features to the theme, including header layouts, custom calls to action, and more.
Additionally, the GeneratePress Blocks plugin can enhance Gutenberg's functionality, making it a great choice for any Gutenberg site owner. It is recommended to use them in tandem.
OceanWP
The Ocean Extra Plugin is a powerful addition to the OceanWP theme that streamlines the installation process and offers a wide range of customization options.
With the theme installation wizard, users can quickly set up their website and add various plugins and add-ons depending on their desired theme design.
Unlike GeneratePress, OceanWP includes a variety of built-in WordPress requirements, such as Page Builders and Form Builder Plugins, which can be optional when importing demo content.
With a premium subscription, users can access a vast library of attractive designs for various types of websites and a large number of impressive add-ons.
These add-ons make it easy for users to customize their website with features such as pop-up registration forms, an Instagram gallery, and more.
Pros and Cons Comparison:
GeneratePress Pros
A well–built theme for performance

Extensive documentation

Good customer support

Amazing hooks and filters

Available in 20 languages

Ultra – Lightweight theme

Compatible with all plugins
Cheaper and affordable
Many customization options are available
Good site templates
Easy to use
GeneratePress Cons
Not many third-party integrations

Dated default style as the theme is 6-year-old

The free version is very limited

Beneficial for developers only
OceanWP Pros
E-commerce ready

Wholly responsive

Advanced mega menu available

Free templates available

RTL support

Fully customizing options available
Native cart pop-ups
Good page builder compatibility
Off-canvas filter
OceanWP Cons
Lots of ads in the free version

The options panel is not well organized

Outdated demo sites and default styles
Installation requires a lot of plugins
Very slow when compared to other themes.
Pricing Comparison: GeneratePress vs OceanWP
Generatepress: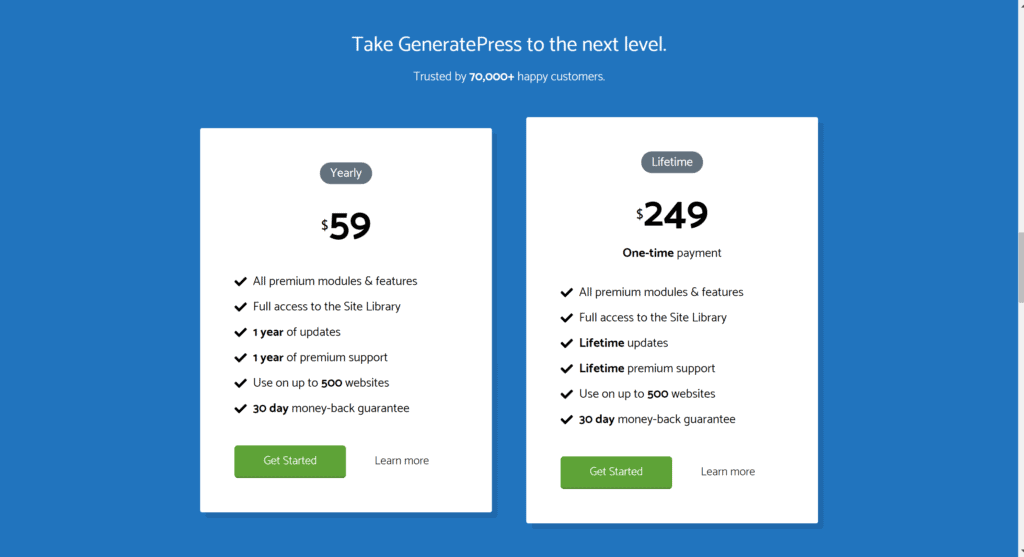 In terms of pricing, GeneratePress offers two options – a yearly plan for $59 and a lifetime plan for $249.
The $59 package includes the following:
All modules.
Access to the site library.
One year of updates and premium support.
The use of the theme on up to 500 sites.
The $249 package, on the other hand, includes premium modules and features, lifetime updates and premium support, and more.
The lifetime plan is a great value and offers the added benefit of a 40% discount on future renewals.
Regardless of your chosen plan, you'll have access to all the features and support you need to create an amazing website.
OceanWP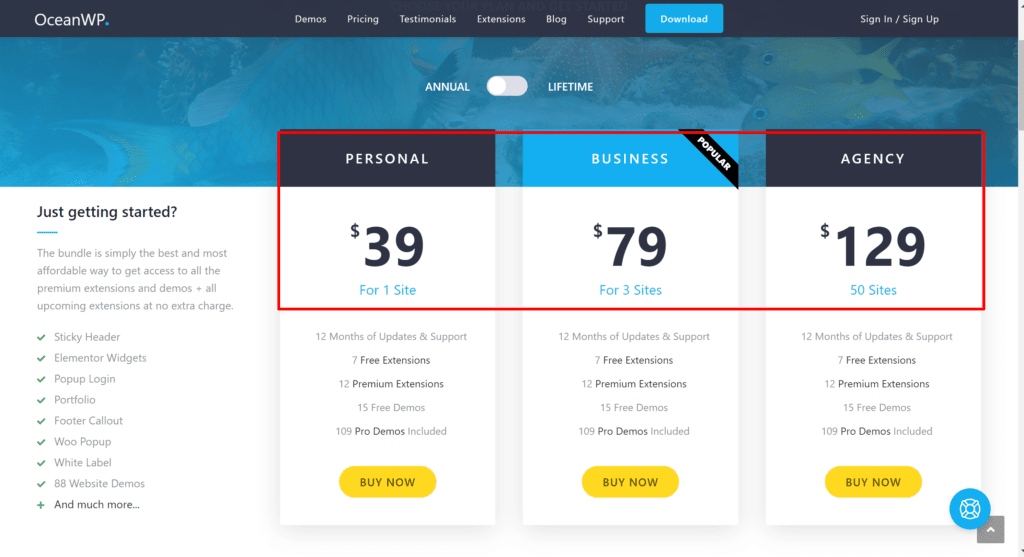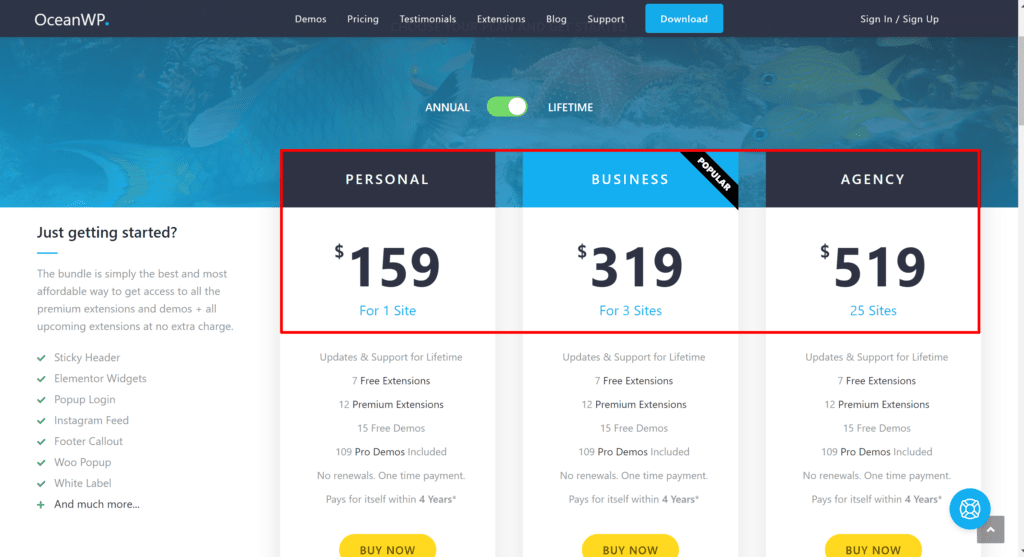 OceanWp theme is considered highly customizable and offers a range of support, extensions, and demos through its three premium plans, which differ only in terms of the number of site licenses they provide. The plans are priced at $43, $71, and $127, respectively.
The $43 plan grants access to only one site and includes 12 months of updates and support, eight free extensions, 12 premium extensions, 13 free demos, and 60 pro demos, with all plans providing the same features.
The $71 plan offers three sites, while the $127 plan grants access to over 25 sites.
The plans are named Personal, Business, and Agency, respectively, with the Business package being the most popular choice.
Additionally, users can purchase individual extensions if they only require specific premium features.
The pricing plan of Generatepress is more cost-effective and offers a better value than OceanWP. Investing in Generatepress would be a wise choice for those looking for an affordable option.
FAQs: GeneratePress vs Ocean WP Comparison:
✅ Are both Generatepress and Oceanwp SEO friendly?
Yes. Both the themes Generatepress and Oceanwp are SEO-friendly. OceansWp uses SEO-friendly practices such as headline HTML tags, site navigation structures, and more. It also uses schema markup, whereas Generatepress has inbuilt schema integration and is optimized for SEO.
💼 What is the fastest WordPress theme?
In terms of the fastest WordPress theme, one can easily think of Generatepress. It can easily be installed and is extremely lightweight, as mentioned in the article above, which is only 30kb. The system loading is fast and better, and the theme is easy to understand.
💥 For beginners which is better GeneratePress Theme or OceanWP?
We performed the test and found GeneratePress is more user-friendly than OceanWP.
👉 What is the difference between GeneratePress Theme and OceanWP?
Oceanwp is gaining popularity and is a rapidly growing theme that sounds amazing. Generatepress is convenient for beginners and is an ultra-lightweight theme and also offers plenty of advanced features with multiple site licenses that are provided with their premium plans.
GenratePress vs OceanWP Conclusion: Who Wins the Battle?
In terms of features and user experience, both GeneratePress and OceanWP are excellent choices for WordPress themes. The decision ultimately comes down to personal preferences.
If speed, performance, and lightweight design are important factors, GeneratePress offers all three while also catering to user needs.
OceanWP also offers top-notch design, templates, and customization options.
GeneratePress boasts a clean, modern look that is versatile enough for any website design while still being easy to use.
It also prioritizes speed and performance, allowing users to focus on creating valuable content and optimizing their websites.
GeneratePress and OceanWP are top-performing WordPress themes, and users will not be disappointed with either choice.