In this post, I am going to do a detailed Tom Morello Masterclass Review. He is a veteran musician master in Electric Guitar.
Tom Morello is living proof of the transformative power of rock'n'roll.
As the co-founder of Rage Against The Machine, Audioslave, and Prophets Of Rage, and through collaborations with everyone from Bruce Springsteen to Johnny Cash.
He has continually pushed the limits of what one man can do with six strings. Rolling Stone has recognized Tom as one of the 100 greatest guitar players of all time.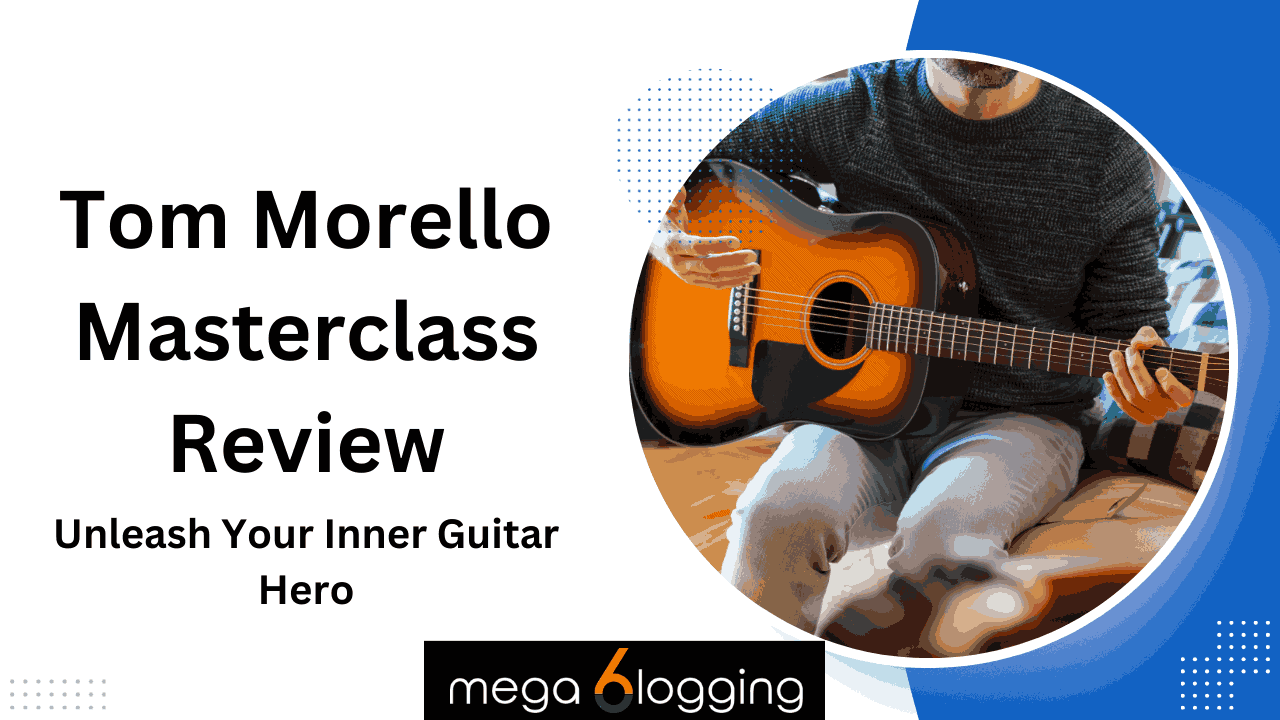 What You'll Get In This Tom Morello Electric Guitar Masterclass
In his first online guitar class, the co-founder of Rage Against the Machine will teach you the riffs, rhythms, and solos that launched his career and sent his music to the top of the charts.
Tom will share his approach to making music that challenges the status quo and teaches you how to create your own musical style.
This masterclass has seven sections that are further divided into a total of 26 subsections.
Every lesson is perfectly divided into knowledgeable lessons that are approximately 10-15 minutes long. If you are looking for a fun way to learn then you should definitely take this class.
Tom has a lot to offer and this 3 and half hour (Approx) class really is perfect for those who want to learn the art of guitar.
Along with great lessons you also get access to a wonderful workbook.  This 187-page long workbook is full of all the tips and techniques that Tom has to offer.
It also contains Toms' improvised music and an essential listening list. Do not forget to download it before getting started.
Here's A Glimpse Of Each Section
The first section is about getting started. In this section, you will be learning how to find your voice and practice licks as you begin your rock journey.
Tom Morello teaches you that you can go beyond your traditional sound and discover something when you have that guitar strapped to yourself.
The section is 1hr and 21min long and is divided into 7 subsections. Let us take a look at each subsection.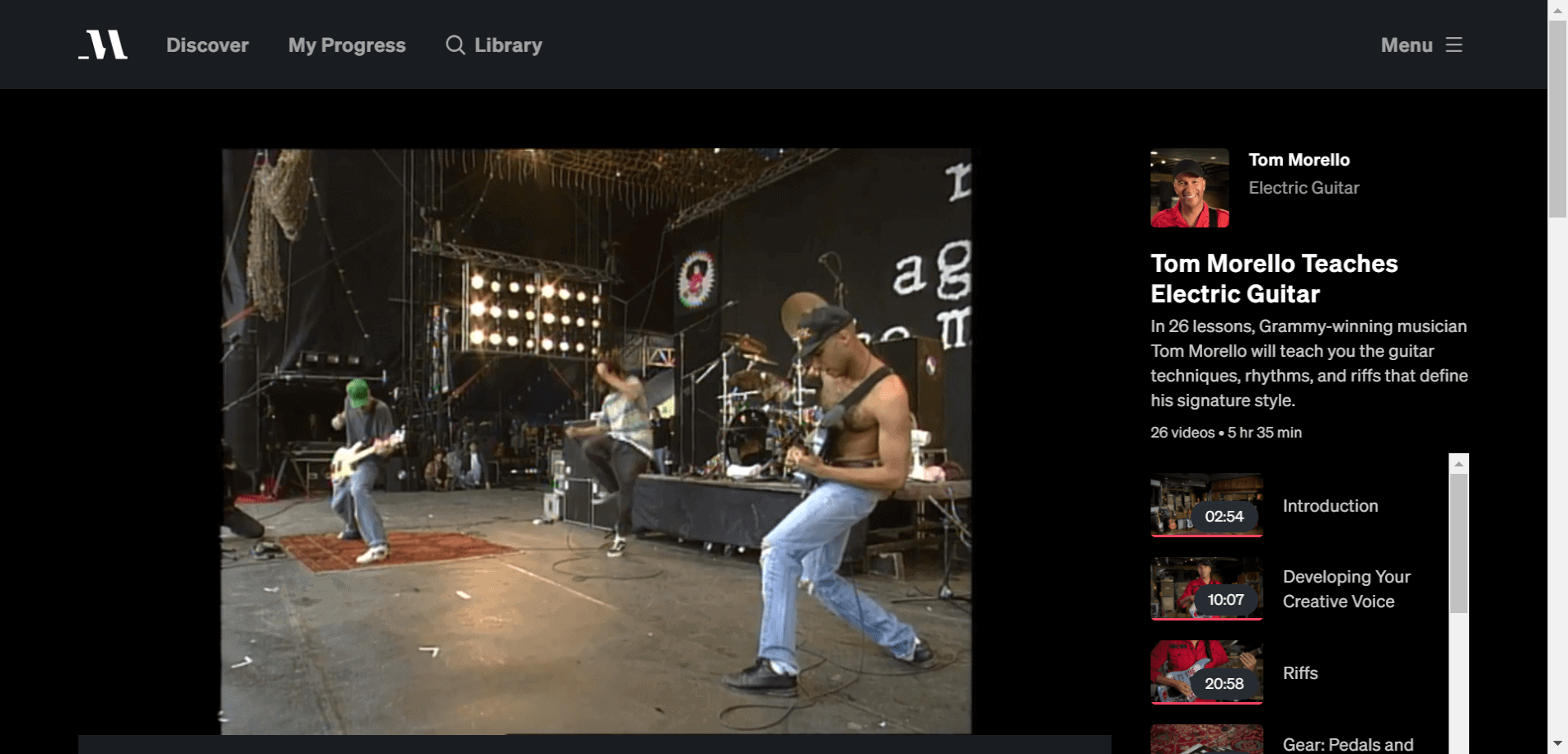 Lesson-1
The first lesson is about Developing your creative voice. Tom begins the first class by talking about what and who influenced you to pick up a guitar.
He believes it is always someone famous or at the top who influences you.
Tom teaches you how to think beyond your musical influences and challenge the traditional boundaries of the electric guitar. It is important that you start developing your own voice as a musician
Lesson-2
The second lesson is about Practice. Practice is the most important when it comes to guitar playing, you need to be consistent in your practice sessions.
Constant practice is what will get you to learn new techniques and discover your own sound.
Tom Morello teaches you how to structure your practice time, from balancing technique and theory to segmenting your practice day.
Tom divides his training regimen into 4 blocks which you will be seeing in the video.
Lesson-3
The third lesson is the Technique: how to develop speed. Speed is one of the important factors that differentiate the greats from an average guitarist.
Playing speed on a guitar is something that you won't be learning to do overnight. Tom believes that you have to play slowly to learn to play fast. He teaches you the finger exercises he used to go from scribbling around on the guitar to confidently shredding.
Lesson-4
The fourth lesson is Tom's Influences: Rock, Jazz, Classical, and Folk. Everyone is influenced by someone they look up to no matter the genre, Tom talks about his influences.
Tom believes that a diverse set of musical influences can help you take your playing to the next level.
You will be learning about how Tom incorporates the genres that have made an impact on him into his own music, and how you can do the same.
Lesson-5
The fifth lesson is Tom's Influences: EDM, the Blues, and Hip-Hop.
In this chapter, Tom further explains how you influence your playing with more genres.
You can learn from other artists' styles, melodies, attitudes, and sounds.
Tom teaches you how to incorporate blues guitar and more modern, non-guitar sounds from EDM and hip-hop into your playing.
Lesson-6
The sixth lesson is Theory: Unlocking the fretboard. Learning the fretboard is the most important when it comes to playing solos. In this section you will be learning, methods for soloing in any key, anywhere on the neck. Tom walks you through each section on how to work the fretboard. 
Lesson-7
The seventh lesson is about Beginner Theory: Pentatonic and Blues Scales. Tom talks about music theory for beginners.
With music theory, you can do a lot more than just by learning new techniques.
Tom shows you the pentatonic scale and the blues scale to help you start improvising solos.
This can greatly improve performance for guitar players who are beginners.
The second section is Rock, Riffs, and Songwriting. Tom sheds light on the Riff writing and songwriting process which will unlock a new world of creativity. These two processes will change your playing techniques and style.
The section is 1 hr and 7mins long and is divided into 5  subsections. Let us take a look into these subsections.
Lesson-8
The first lesson in this section is an introduction to Riffs. Riffs are the soul of rock and metal music.
A single Riff can change the momentum and intensity of a song. Tom's musical legacy has been comprised of powerful, hard-driving riffs which were the heart and soul.
In this lesson, Tom will give you tips for experimenting with tuning, slides, and more, to unleash heavy, rocking riffs of your own.
Tom believes that the more you experiment and practice the more you will come across new music. 
Lesson-9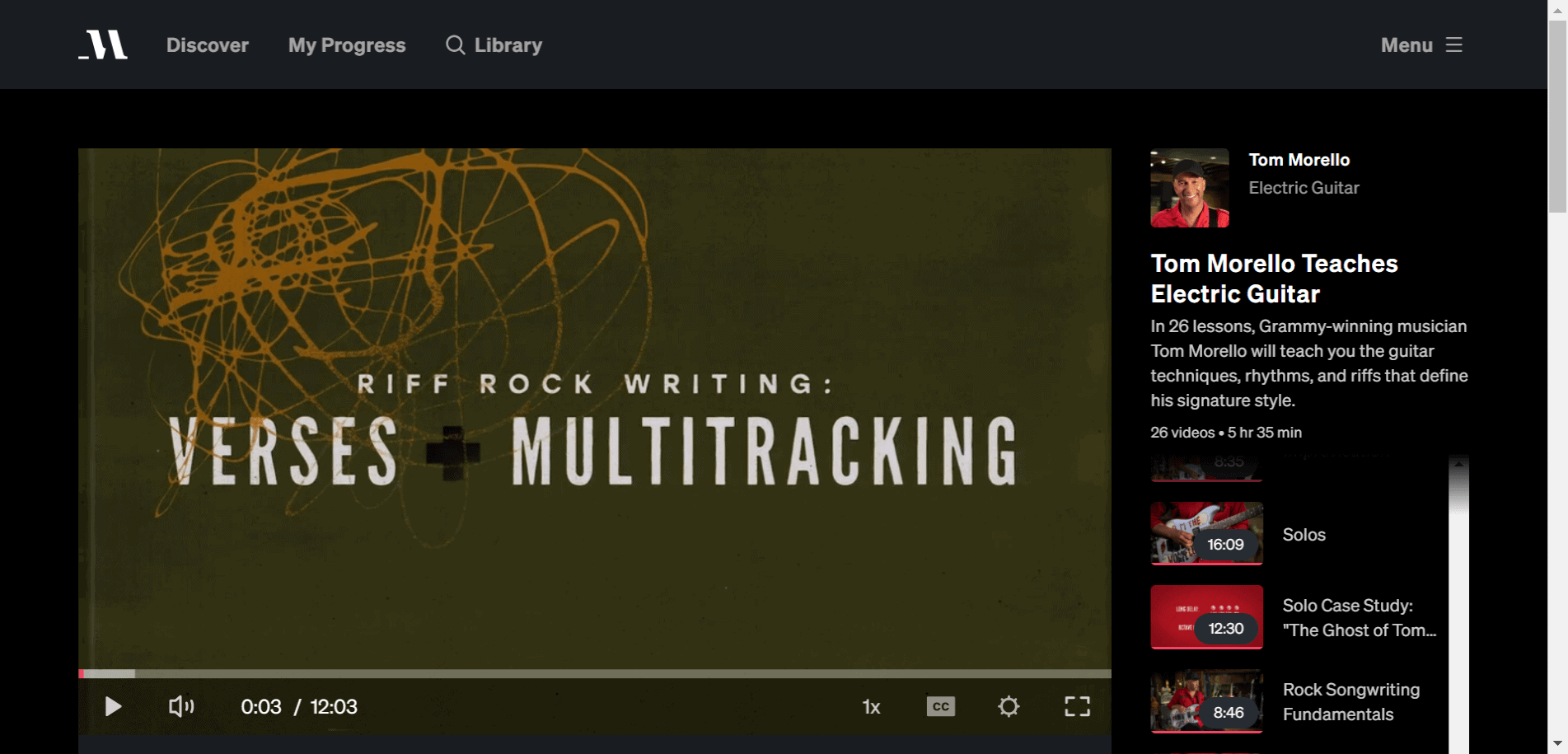 The second lesson is Riff Rock Writing: Verses and Multitracking.
Tom believes that you should record any idea that pops into your head. He says that you don't need fancy and hi-tech equipment to display your skills.
Tom goes over his riff-writing process and you can apply these simple studio recording techniques to begin creating a song of your own. He says that recording your ideas will eventually lead you to get more out of your ideas.
Make sure you write down the verses as they pop into your head.
Lesson-10
The third lesson is Riff Rock Writing: Chorus, Solo, and Arrangement. The chorus is an important aspect of every song. The chorus and the solo are the biggest components in a rock song.
Tom will teach you how to complete your song by adding a chorus, a solo, and a structural arrangement to the whole piece. Tom also breaks down the arrangement of the Rage Against the Machine classic, "Bulls on Parade." 
Tom believes that as an artist you always need to maintain the arrangement of the song and create something that is unique to you.
Lesson-11
The fourth lesson is about Rock Songwriting fundamentals.
In the earlier chapters, you saw how rock song structures are built in this lesson Tom teaches you some fundamentals that you need to have before writing a rock song.
Tom shows you the songwriting process to teach you how to break down the barrier between yourself and the greats.
You will be learning how to stay open to inspiration and patiently explore your ideas to create original, authentic songs 
Lesson-12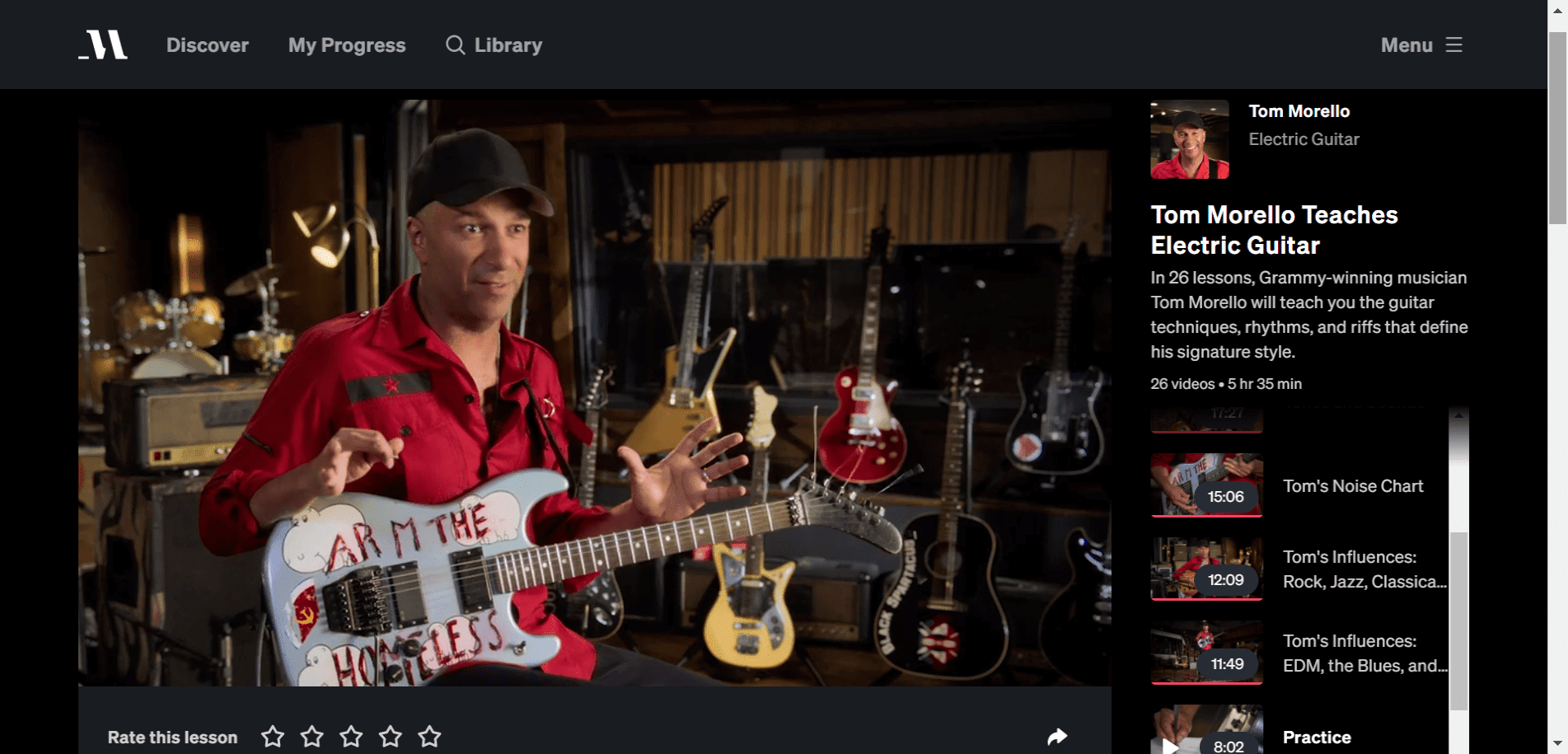 The fifth lesson is about Lyrics and melody. Lyrics are what give your audiences a glimpse of who you are, what are your beliefs. Tom believes everyone is a poet and it's a matter of whether you notice it or not.
Tom suggests that you should first have a melody then the words will come out automatically.
The third section is essential gear.
You will be checking out the gear that Tom uses to create his unique sounds.
Take notes on the gears and equipment that Tom showcases so that you can benefit from it. The section is 30mins long and divided into 2 subsections. Let us take a look into these subsections. 
Lesson-13
The first lesson is about Gear: Tom's Guitars and Amps. Tom shows his first ever purchased guitar in this lesson and shares the story of it.
Tom Morello walks you through his signature guitars and trusty amps and shares the story behind each. It is quite a ride checking out the legends inventory and getting to know the story behind it.
Lesson-14
The second lesson is about Gear: Pedals and Effects. Tom believes that the gear you use doesn't matter all you need is the practice and skill to produce good music. Tom shares his story of how he used a 50$ guitar at the start of his career.
Further in this lesson, Tom walks you through his basic pedal rig from delays to tuner and wah-wah to whammy.
He teaches you how he uses each to create a diverse collection of sounds and effect 
The fourth section is making noise. In this section, Tom shares his process of discovering sounds and helps us discover how we can make our own noise. This section has 2 lessons and is 32 mins long. Let us take a look at each lesson. 
Lesson-15
The first lesson is Tones and Sounds. Tom says- It's not what pedals you own, it's how you use them. In this lesson, we learn about Tom's creative process for discovering sounds and how we can create our own sound.
Tom also shares his insights into Deconstructing the Guitar, Following our Sounds to Songs, and replicating studio sounds.
Lesson-16
The second lesson is Tom's Noise Chart.
In This lesson, Tom walks you through his own noise chart, including examples from "Guerilla Radio" and "Your Time Has Come," to show you his system for keeping track of all the elements that come together to create an original sound.
He also gives us tips on how to make our own noise chart.
The fifth section is Solo Magic. In this section, Tom discusses his strategies for making innovative solos with various melodies and effects. This section has 3 subsections and is 37 mins long. Let us take a look at each lesson.
Lesson-17
The first lesson is Solos. There are many guitar players and music critics that believe that the guitar solo must match the song but tom thinks that this is not true.
In this lesson, Using examples from guitarists Randy Rhoads and Eddie Van Halen tom teaches his techniques of creating great solos.
Lesson-18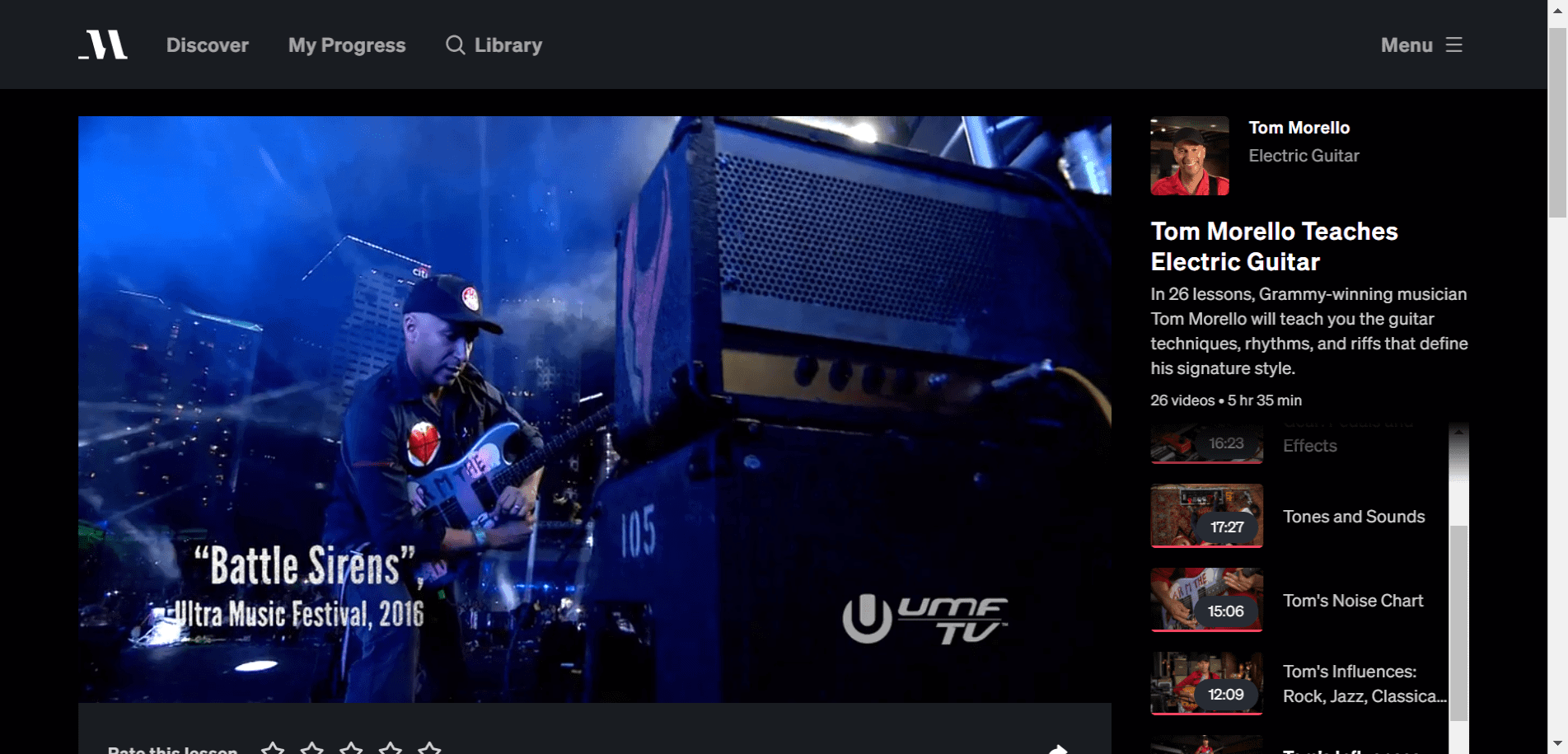 The second lesson is a solo case study: the ghost of Tom Joad. in this lesson, Tom deconstructs his solo in Rage Against the Machine's cover of Bruce Springsteen's "The Ghost of Tom Joad". Using this example Tom illustrates how a solo can defy convention and transcend genre. 
Lesson-19
The third lesson is Improvisation. In this lesson, tom shares his techniques of becoming an improviser and teaches us how to experiment and step out of our comfort zones. 
The sixth Section is Performing in a Band. In this section, Tom talks about live shows and collaborations. He shares his warmup Techniques, performance tips, and thoughts about being in a band.
This section has 5 subsections and is 1hr 17 minutes long. Let us take a look at each lesson.
Lesson-20
The first lesson is Live Shows: Philosophy and Nerves. In this lesson, tom shares his philosophies on finding our voice as a performer. He also teaches us how to combat and overcome the nerves that stop us from growing as an artist. 
Lesson-21
The second lesson is Live Shows: Practicalities and performance. 
Live performances help an artist become better and improve.
In this lesson, tom advises us to Mind the Small Things, Don't Be Afraid of the Bad Performance Police, Take Risks and Stay Present and Treat Every Show Like a Battle of the Bands.
From warming up your hands to crafting the perfect setlist, Tom teaches us how to create powerful experiences for our audiences. 
Lesson-22
The third lesson is on Bands and Collaboration. Playing with other people is a wonderful way to expand your artistic experience and to get a lot better.
In this lesson, we learn how to find the right bandmates to help grow our artistic vision and how to diffuse the inevitable band problems that surface from creative collaboration.
Lesson-23
The fourth lesson is on Studio Recording. It's one thing to write music and songs, it's another thing to play, write, and improvise solos.
In this lesson, Tom takes you on a philosophical and practical tour of his strategies for getting the most out of a studio recording session.
Lesson-24
The Fifth lesson is a Case study of "Killing in the Name". There's not a single rock fan who won't recognize this rock ballad from a mile away. This tune has been a legend from its time to date.
It was a global hit and in a way a track that reshaped the rock scene in the early 90s.
In this lesson, Tom slowly deconstructs one of Rage Against the Machine's biggest hits, from inception to recording and release. He gives us the story behind each section of the song.
The final section is some Parting words from Tom Morello.
Let us take a look into what Tom has to say before he finishes his masterclass.
Lesson-25
The lesson is the conclusion to the masterclass.
Before wrapping up his class Tom has a few parting words and an artistic challenge to you: "Envision something that goes beyond what anybody's imagined before" and never stop pushing.
Who Should Buy Tom Morello Electric Guitar Masterclass
The instructor being the legend Tom Morello himself, you can not go wrong while choosing this class.  But then the question may arise: who is this course for? 
The course is mainly for guitar users.
As the name suggests art and soul of guitar, Tom helps guitar players with all the prerequisites needed to be a full-time musician.
The workbook contains all kinds of tips, techniques, and notes to help guitar players. 
If you are an amateur player, this class is for you. You can use this masterclass as a baseline and work on your skills where you lack or need practice. 
If you know your Guitar well and are just looking for tips and advice to get better, you won't want to miss out on this class. 
If you are a professional player then you can use this masterclass to refresh your memories with the basics. And lastly, for anyone who is a fan of Tom Morello, this is a must-listen.
Pros of Tom Morello Masterclass
The best thing about it is that you get to learn from Tom Morello for more than 3 hours at a very reasonable price and from any corner of the world. Trust me it is really difficult to get an opportunity to learn from him directly and thanks to Masterclass, for making it possible.

You do not have to spend more money on buying all the expensive crazy equipment. you can use your guitar and amp to create your own unique music.

The way Tom teaches about the electric Guitar is something very extraordinary and you get to experience music at a whole different level.

You get to learn from a legend in the field of music, Tom Morello. Getting the knowledge from a famous and respected person in the music world will help you learn things from a different perspective 

The instructions from the tutor are clear and on point. You can start focusing on your weaknesses with the help of the workbook that comes along with the masterclass
My personal experience with Tom Morello masterclass
Now that you know all about his masterclass I would share my personal experience with you.
Personally, I am a big fan of Tom's work.
He has been a role model for me for over a decade. With his constant dedication and contribution, he has made a huge change in the music scene. By infusing jazz and blues as well as modern music he has created art unique to himself.
With his vast experience, his wisdom grew and can be seen in this masterclass.
As soon as I heard of this masterclass, I enrolled right away.
Something in me was just telling me that this class is for me and I won't get a better opportunity to directly learn from Tom Morello.
This masterclass interaction was very helpful and instructional in different ways. 
Tom shares his years of experience and shows us his gears in a really charming way.
You can see this passion and love for music through this masterclass. I used to play guitar but struggled while doing so. So I stopped playing a few years back. 
After taking this class my confidence in working on my guitar skills went up, I started practicing again. 
The masterclass by Tom Morello helped me pick up so many new techniques on the guitar. And now I am so much more confident about my skills than I have ever been in my entire life.
Quick Links:
FAQs | David Baldacci Masterclass Review
🎸Who Should Buy Tom Morello Electric Guitar Masterclass?
The course is mainly for guitar users. As the name suggests art and soul of guitar, Tom helps guitar players with all the prerequisites needed to be a full-time musician.
💁 What is MasterClass?
MasterClass is the streaming platform that makes it possible for anyone to watch or listen to hundreds of video lessons taught by 100+ of the world's best.
📺 Where can I watch?
With MasterClass, you can learn and be inspired anytime, anywhere, including your smartphone, personal computer, Apple TV, Amazon Fire TV, and Roku streaming media players. You can even download your favorite lessons and watch on the plane or listen during your commute in audio-only mode
🤑What is the pricing of masterclass ?
Masterclass All-Access Pass is billed at $180 and comes with a 30-day moneyback guarantee.
🤷‍♀️ How does the 30-day guarantee work?
Our goal is to make sure that you have the best learning experience possible. If MasterClass isn't for you, then email us within 30 days of the date you purchase your subscription, and we'll offer a full refund.
So The Final Question, Is This Masterclass Worth It?
Yes, This class was definitely worth it for me and I am sure it will be worth your time and money.
There is no better person that would teach you this art of music in such an astonishing manner, and it is a really big thanks to the masterclass to provide a platform for making learning from Tom so much easier and more affordable.
Tom Morello MasterClass On Social Media
i'm taking tom morello's electric guitar masterclass and he said : "it shouldn't be daunting to create. if you have ideas and the courage to sit down and play them, then you can be an artist right now" and i cannot express how important this is and how much hearing it helped

— 𝘢𝘯𝘥𝘺 ⋆。˚𓆟 BLM-ACAB! (@iamvedders) April 3, 2020
Did you guys see that now Tom Morello is teaching electric guitar on MasterClass? Amazing!!!

— Micaela Delgado (@perseveranciaMD) November 27, 2019