Your website's Google Pagespeed Insights score is low, and you need to improve it to rank higher in search results and provide a better user experience.
A slow website can frustrate users and cause them to leave before they can see your content. This can lead to reduced traffic and lower sales.
NitroPack is the perfect solution for improving your Google Pagespeed Insights score. Their software will optimize your images, scripts, and CSS files so your website loads quickly on any device.
Let us check out NitroPack Review in a little more detail.
NitroPack Review 2023: What is NitroPack?
NitroPack is a user-friendly and all-in-one tool that provides a hassle-free solution to enhance the speed of your website, without requiring any coding knowledge.
This tool guarantees to help you manage your website's excellent speed, providing your users with a better experience.
NitroPack offers seamless integration with some of the most popular content management systems and eCommerce platforms, including WordPress, Magento, OpenCart, and WooCommerce.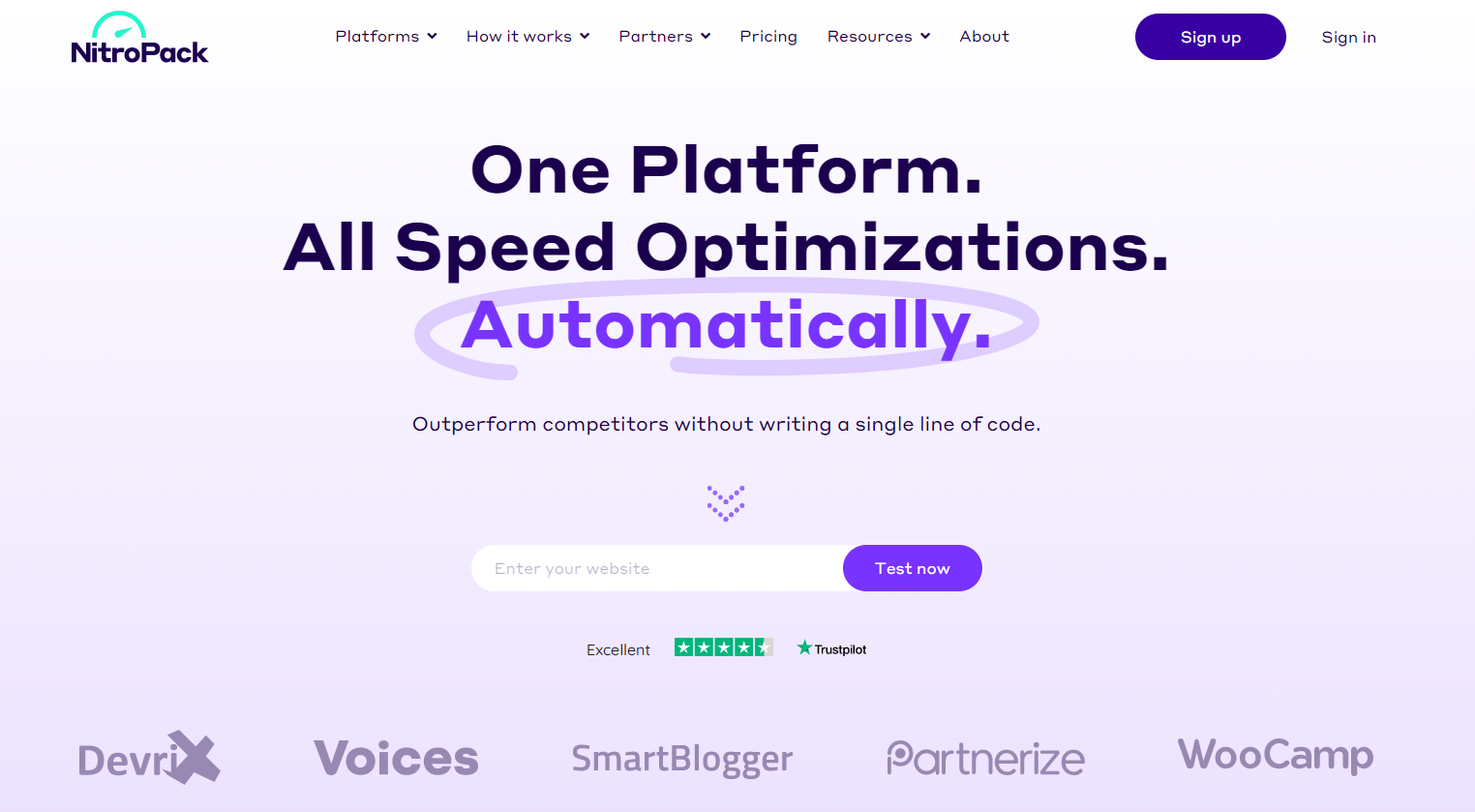 What sets NitroPack apart from similar tools is that it incorporates crucial features for website speed optimization, including caching, CDN, and image optimization.
These built-in features ensure your site loads faster, providing users with an excellent experience that results in better conversions and overall business performance.
With NitroPack, you can guarantee that your website will be fast and reliable, leading to increased traffic and higher customer satisfaction.
How Does NitroPack Work?
NitroPack is a powerful caching tool that reduces load times, boosts PageSpeed scores, and enhances real-user metrics, surpassing almost all other caching plugins available.
One of the most significant benefits of NitroPack is that it requires no coding or technical skills. Setting it up takes less than five minutes, and you can instantly see your page speed test results.
NitroPack automatically optimizes your website pages, including optimizing for the Largest Contentful Paint, which is crucial for website performance.
If you have a WordPress, OpenCart, or Magento website, NitroPack can be easily installed via a connector (or extension).
Follow the instructions in NitroPack's Help Center, and you'll be done quickly. Moreover, NitroPack comes with a PHP SDK and API, enabling integration with other websites.
You can easily go through their documentation with your developer to get started.
Unlike other plugins, NitroPack is a cloud-based service between your host server and your website's visitors, providing minimal overhead to your servers.
NitroPack's infrastructure performs all the heavy optimizations, resulting in faster website speed. NitroPack also optimizes javascript for better website performance.
When Should You Use NitroPack?
NitroPack is a powerful optimization tool worth considering to achieve top-notch website performance.
One of the biggest advantages of NitroPack is its ability to deliver impressive performance improvements.
NitroPack significantly reduced page load times in tests, even for already relatively fast websites. For example, it cut page load times by over 50% in both Chicago and Mumbai tests.
NitroPack also improves user experience performance metrics, particularly Google's Core Web Vitals.
These metrics are becoming increasingly important as Google has made them an SEO ranking factor starting in 2021.
For instance, NitroPack can reduce the Largest Contentful Paint (LCP) time, one of the most important Core Web Vitals metrics, from 2.319 seconds to 0.958 seconds in the Chicago test.
Given that load times are closely linked to metrics such as conversion and bounce rates, NitroPack is an excellent choice for websites serious about their online presence, such as eCommerce stores or membership sites.
By helping you sell more products and creating happier customers, NitroPack can easily pay for itself.
Therefore, if you are willing to invest in your website's performance, NitroPack is worth considering.
Quick Links:
Conclusion: NitroPack Review 2023
NitroPack has an easy-to-use user interface, great customer service, and the capability to increase your Google Pagespeed immensely.
It is a simple and powerful way of improving the speed of your website.
I haven't experienced any major downsides throughout my time with NitroPack and believe it should be strongly considered if you want to make your website faster.
It's allowed me to take my blog to the next level, and I can already see its impact on my SEO performance.
Additionally, you could monitor performance metrics more accurately with NitroPack, which provides me peace of mind knowing that my site always performs optimally.
The best part is that you don't have to be a tech expert or pay a webmaster; NitroPack has made speeding up my website a breeze!
Overall, NitroPack has been an invaluable tool in optimizing my site, and I can assure you that it will work just as well for yours too!