Before asking the question How To Remove Spoolsv.exe Virus?
Ask yourselves if you even know what the Spoolsv.exe is.
Only when you've got a clear understanding of it can you decide if you want it to be on your system or not, isn't it?
A lot of times Malwares and Spywares force us to get rid of files and processes which otherwise we need or protect us, hence let me start from the very basics of this article.
What is Spoolsv.exe?
Spoolsv.exe is originally a genuine windows host file that is needed to run the Print spooler service.
The genuine file isn't malware, spyware, virus, or anything else, it's a required part of your system's good health.
Spoolsv was originally developed by Microsoft to make your printing jobs easier, because back in the good old days when there was no "graphical interface", there were no icons or mouse, in those days there wasn't the "printer" issue cause printing came much later.
(printing from a computer at least.)
So when the graphical interface did come and we started playing with fonts, graphics and colors that's when Spoolsv had to be invented.
It's a cache-creating process, which stores your printing jobs as "images" just after you hit the print button for your printer to print because computers can't technically understand colours and fonts or graphics.
Now why some classify it as a "virus" is because, the common man's definition of a virus goes something like "Any file which lags my system, slows it down and freezes my computer is a virus".
What you need to understand is, "freezing/lagging or slowing" of your computers are just side-effects or consequences of most viruses, they aren't the yardstick to measure if a file is a virus or not.
Spooling is a memory-consuming process because converting your printing jobs into images isn't quite easy, hence in some cases if your hardware isn't really fast enough you might face the "slowing down of system" issue, but that doesn't mean it's a virus.
Although that's a good enough reason for you to want to kill the process, especially if your system isn't high-end or at least of the moderate kind.
Identifying the Original Spoolsv.exe:-
Now this being a "suspicious" kind of file, it plays right into the hands of hackers and people with a negative edge to their brains because they can just create a virus with a similar name, and most people won't notice. And even if they do, they'd take it to be the official Spool file.
So before showing you How to Fix Spoolsv.exe Application Error, let me show you how to identify the original spoolsv.exe file:-
The original file must be located in the C:WindowsSystem32 folder.
The file isn't a Subsystem app.
How to verify the details:-
Press Ctrl + Shift + ESC to bring up the task manager. Scroll down till you find the "spoolsv.exe" task.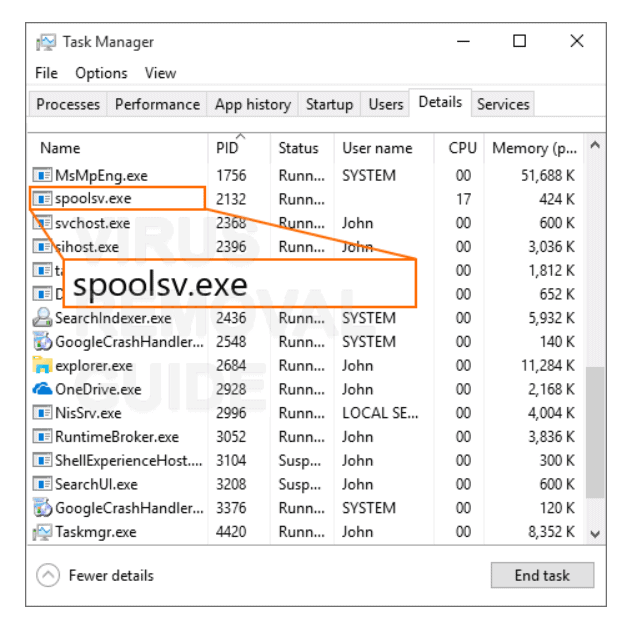 Check if its description says "Spooler subsystem app". If that's verified, right-click on it and click on Open file location.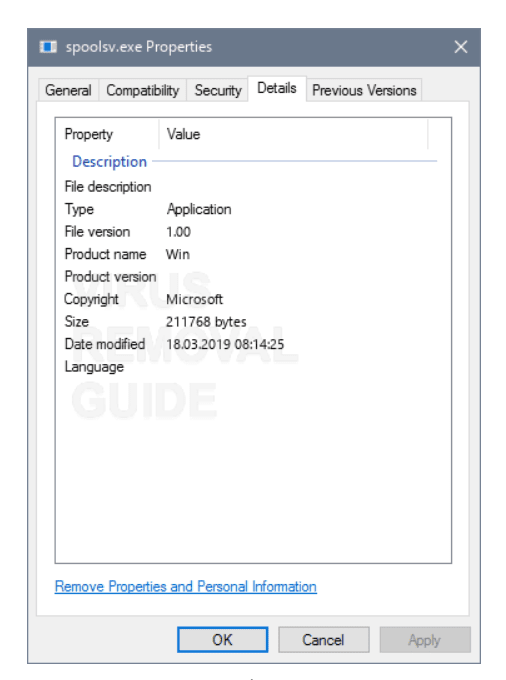 Check if the file location is C:WindowsSystem32. If it is, in that case, it's the official, genuine spooler service.
But in case your spoolsv.exe is found at some other location than the official one, you should consider it a virus already.
Or even if it is the official service, you might want to stop it for obvious reasons.
How To Remove Spoolsv.exe Virus:-
Be it a virus or not, in some cases it causes an application error on your system, and in "more than some cases" it causes the system to slow down.
So either way, you'd want to stop it, use method 1 only if you don't own a printer or don't use it that often.
Method:-1 (Temporarily Disabling the File)  
Press Ctrl + Shift + ESC to bring up the task manager. Scroll down till you find the "spoolsv.exe" task.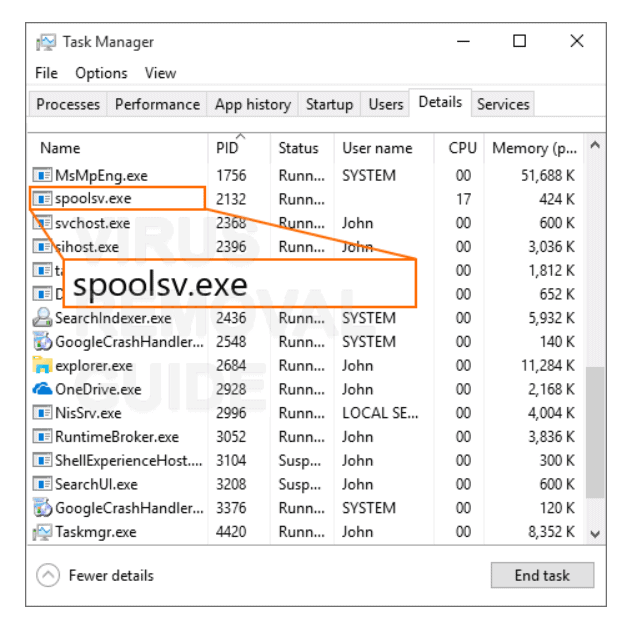 Right-click and click on "End process tree".
Done!
Some Important Points:- The process you just stopped was the legitimate spooler process, we stopped it to boost system performance and to get rid of any application error it might be causing on your system. Although once you re-boot your system it would start once again because it's a system file so even if you do use a printer, you don't have to worry about it because all you'd have to do is, reboot.
Method 2:- How to Fix Spoolsv.exe Application Error
This method is primarily helpful if you've been getting the Spoolsv application error.
Now, this is just one of the examples of what the application error might look like, anyway the solution would work for any and all kinds of Spoolsv.exe error.
Go to your control panel and search for Administrative Tools.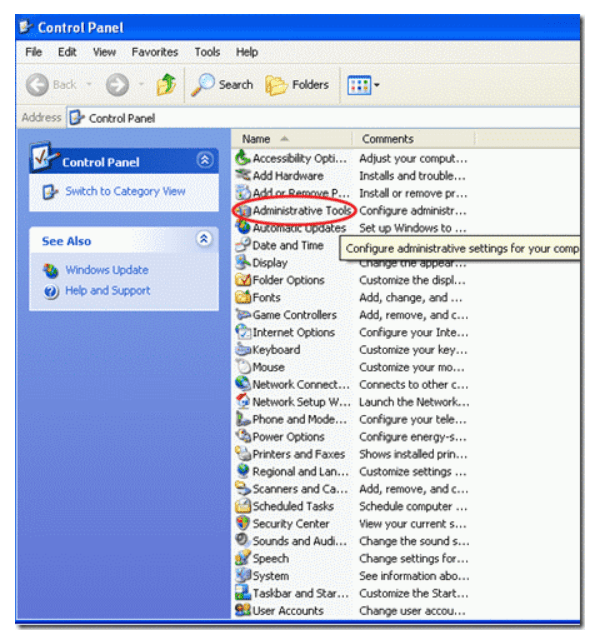 Find and click on the option that says "services".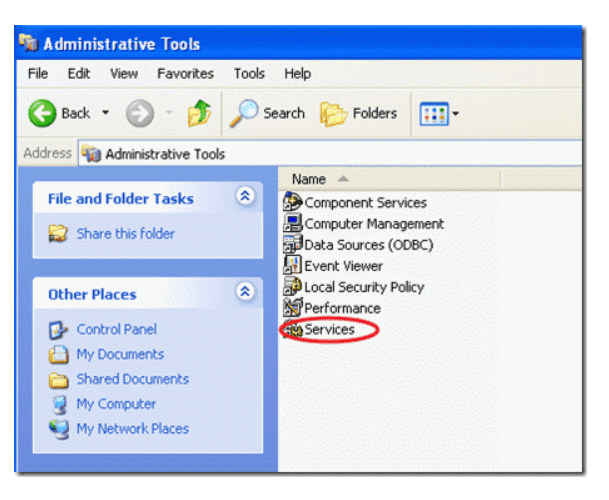 Now find the "Spooler" or "print spooler" service, right-click on it, choose "stop".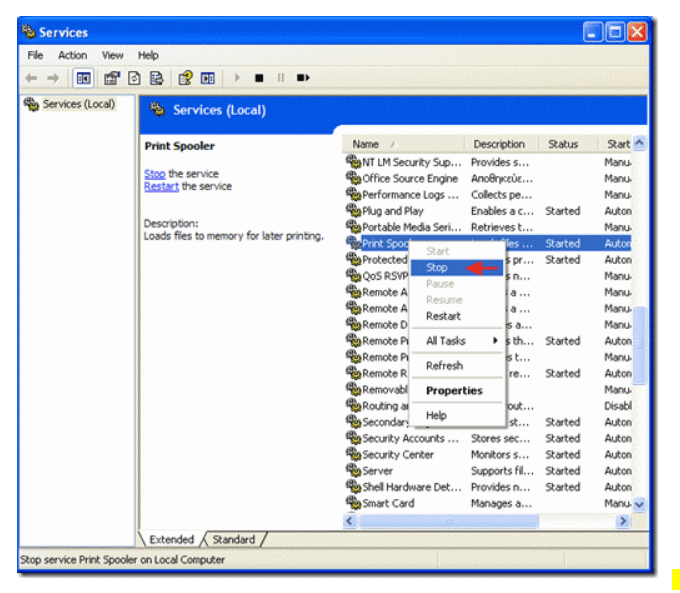 Done! The service has been stopped. Now we need to clear the files from your system. For which you'd want to go to- C:WindowsSystem32SpoolPrinters

Done!
If for some reason it doesn't work, try deleting all your Temporary files from the %temp% folder and it should fix it because it's like clearing your cache in a way.
How to access the folder:- Start> Type "%temp% in the search box > click on Temp folder.
Final Words:-
So that was all I had on How To Remove Spoolsv.exe Virus folks.
I hope this piece helped, if it did I'd appreciate it if you let me know your results in the comment box.
Although there's one thing I'd like to borrow your attention for, do not use the temporary disable method if you use your printer on a daily basis, it will make your printer "unusable" and you'd have to restart your whole system hence not the best possible solution.
Also if you got some better, simpler methods to get rid of the Spool virus, you can scribble them down in the comments too.
Quick Links-