In this post, we have done a detailed and trustworthy Robin Roberts Masterclass Review. She will teach about effective and authentic communication. I Hope it makes your decision easier to go for the Masterclass or not, so let's get started…
What is a Masterclass?
To begin with, Masterclass has some of the best A-class teachers like Bob Iger, who teaches business, Aurel Stein, who teaches writing, and the list continues.  Just demand a course, and they have on their list along with the best teachers.
And it doesn't stop here. They keep adding new courses every now and then.
They have videos to teach and also some awesome workbooks for you.
So, how much does it cost? If you wish to do a single course, then you have to pay $90, but they have an awesome option where you can take an all-access pass for $180 and enjoy any course you want.
To be honest, do not just take it because it sounds fascinating; if you are going to do only one course, then do not take this!
Trust me, I have an all-access pass, and my friends and I sit down every weekend and spend time learning on Masterclass rather than wasting time on Netflix, YouTube, etc. 
Trust me, masterclass is a great platform if you love to learn.
Robin Roberts Masterclass Review 2023: (Can You Really Trust?)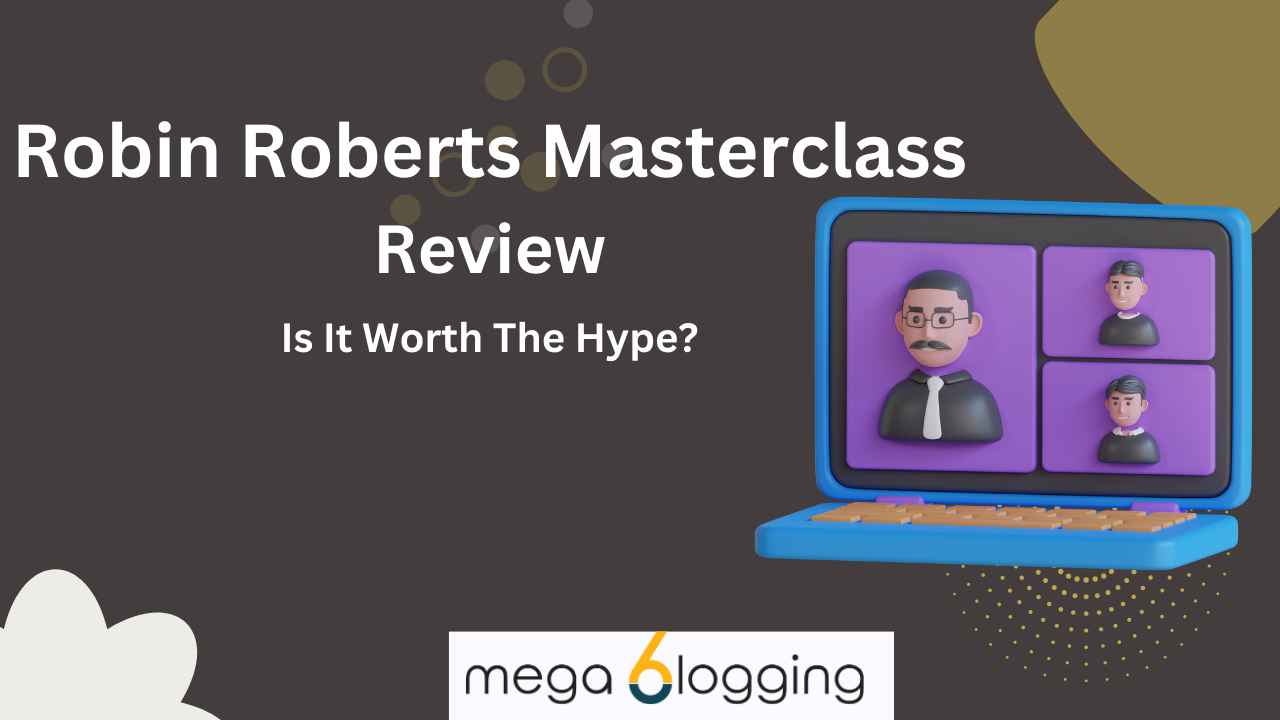 In-Depth Robin Roberts Masterclass Review
Robin Roberts is a proud daughter of Colonel Lawrence and Lucy Marion.
She says she is the happiest military brat; she just loved her journey.
They traveled every now and then to different countries. She says she lived in a city where they had international neighbors and where she had to learn different languages and various customs.
She says this childhood taught her a lot in her career.
As a child, she wanted to be an athlete initially and not a journalist because it taught her teamwork, leadership, goal setting, how to win gracefully, and, most importantly, how to deal with losing, but she found out that she had a heart and desire for being one. Still, she couldn't be a pro athlete.
This made her move to plan B.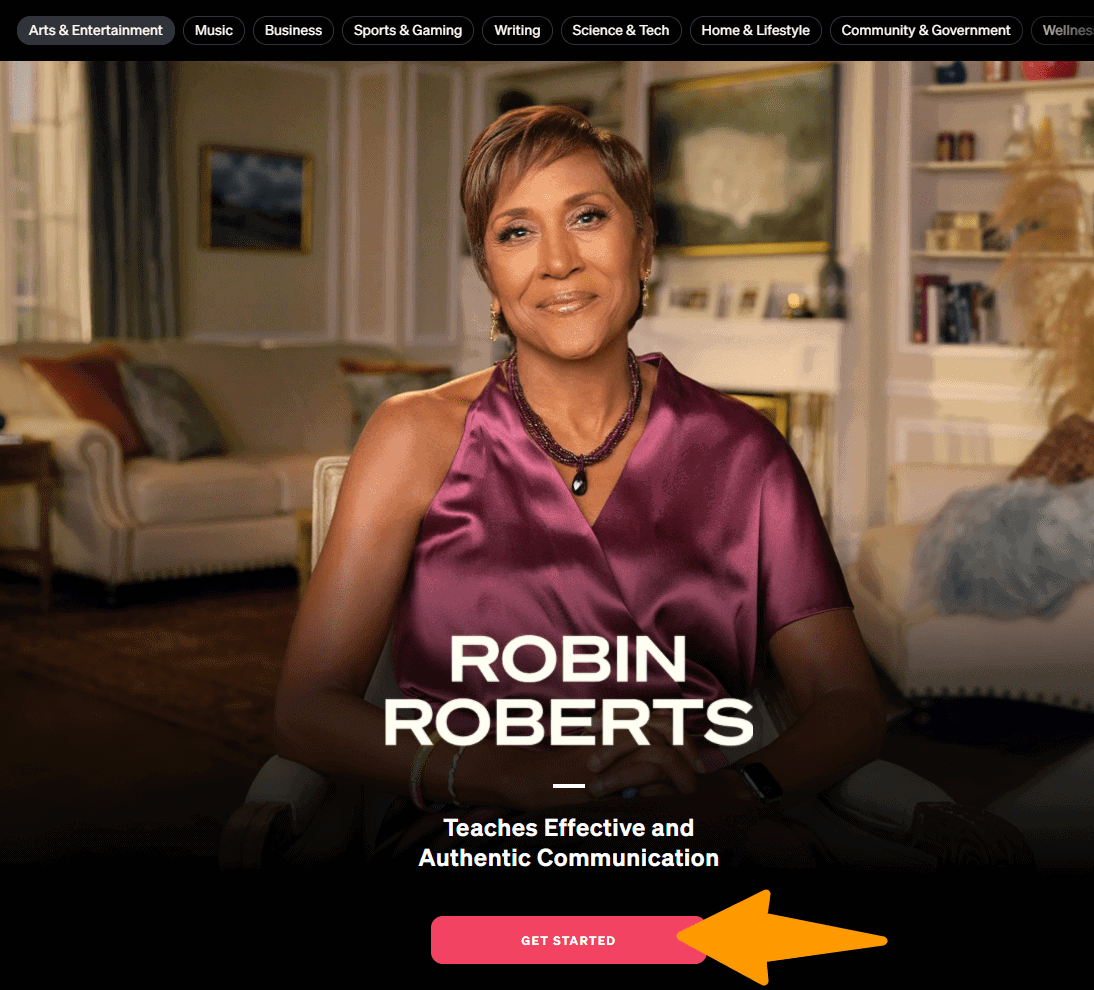 The question was, what can still be done to stay close to being an athlete?
She chose to be a sports journalist, where her first job paid her $5.50 per hour and she worked 30 hours a week.
She turned down a full-time offer she got for a news channel because she wanted to be a sports journalist, and that offer came back to her after 9 months for the sports department, which they hadn't had earlier but was launching soon.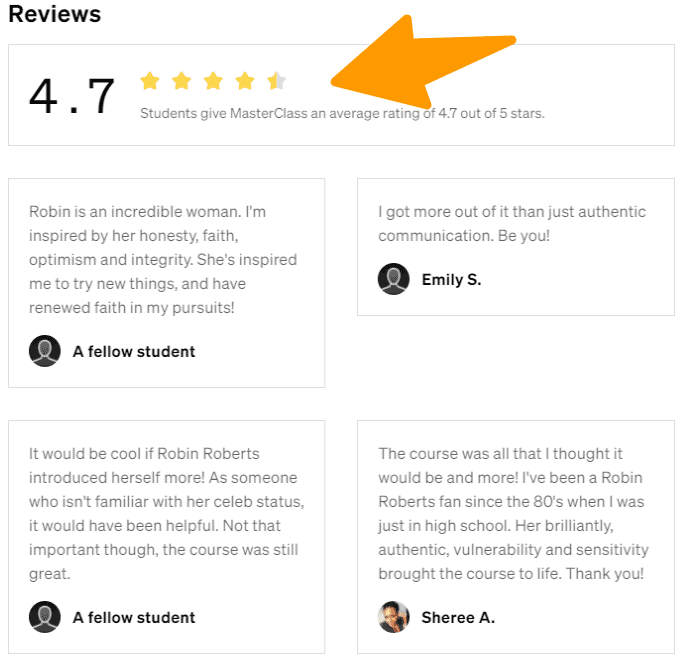 Then she got a job offer from ESPN (her dream, her goal).
You know what? She turned down her dream! Why? Because she thought she wasn't yet ready for it, and also, she didn't want to be the first black lady and the last one, she says. "And you know what's interesting? Even after she turned down ESPN, she got a call again after two years, and she was more confident than ever and grabbed the opportunity."
She had this time in her life when someone just slapped her with words that she was just too afraid to get out of her comfort zone, which is sports, and this made a huge difference in her career.
---
Robin Roberts Masterclass Review: Description of the Course
Section 2: Professional Communication
The three-letter word JOB (For Videographer-Spell it before saying) scares all of us.
Can we crack the interview? Can we get through this? We always have multiple questions overlapping with each other.
Here is the first lesson from this section, which is Interviewing for a Job. 
She describes her initial career and her best interviews. You will enjoy the stories she shares; honestly, I was super engrossed!
She gives lots of strategies and the right methods one should adopt before, during, and after an interview.
She gives a very useful piece of advice here: you really need to be creative in getting yourself into that door to meet people who would make a huge difference in your life and who will give you the position you want.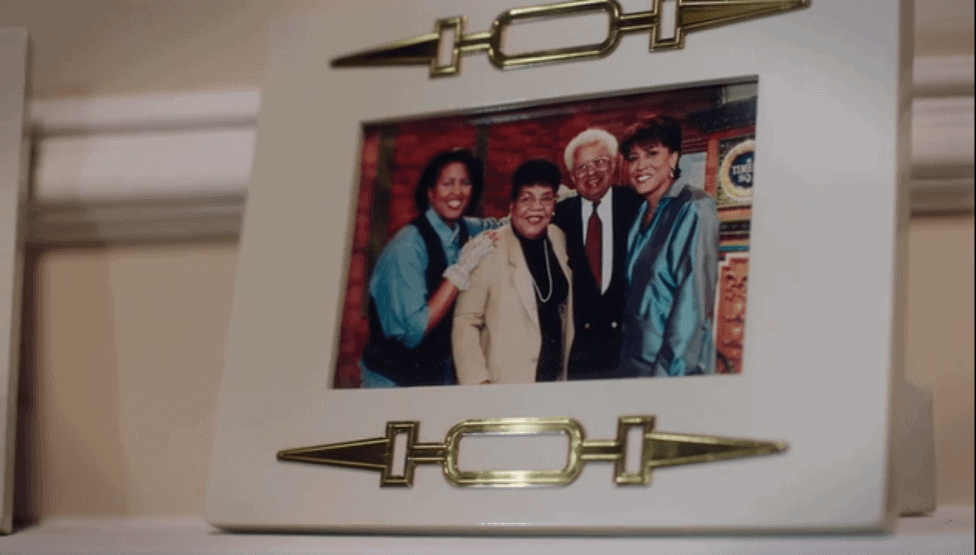 Do you want to know the tip she gives that I'm just waiting to try?
Do your homework well and make your job easier, and you have an extra bonus! 
She is a person who does not just grow but is always ready to lower the ladder and pull people up and not push them down to prove herself better.   
You got a job. Congratulations! The next part is Communicating Your Value at Work.
She says it's always good to go beyond your job description because if you want to grow, then you have to do right in the position you are in. Wouldn't life be super easy if someone appropriately told you to do this and don't do that?
Your life will turn magical when you know it's the right advice. Here, Robin gives you all the dos and don'ts for negotiating.
She teaches with an Example from her life at ESPN about how one should build a win-win situation. She also teaches how to form allies genuinely.
"We are going to discuss public speaking. Don't run out of the room; just stay where you are; we will get through this together."
This is the last part of this module, Public Speaking.
Always keep bullet points and not a complete script, or people will just stare at your script and wait for the last page of the script to arrive super soon. She says you cannot be perfect every time, but you definitely get better all the time.
Section 3: Communicating for Television
 "Behind the Scenes of Gooooooood Morning America."
Here we go for the best ride ever! Do you know what time she wakes up? 3:15 Am!!!!!!! Oh my god!!!!!!!!!!!!! I guess I was probably dreaming at that time, and she was making her dreams come true at that time. See the difference. In this video, she takes you through her entire day at Good Morning America.
She gives various tips for communicating on television with tones, words, voiceovers, etc.
Moving on she shows the entire set and her entire morning schedule, and lovely co-workers, actually great friends that she has built a relationship with in many years."
She shares some awesome stories about her co-workers, too, in super humorous ways.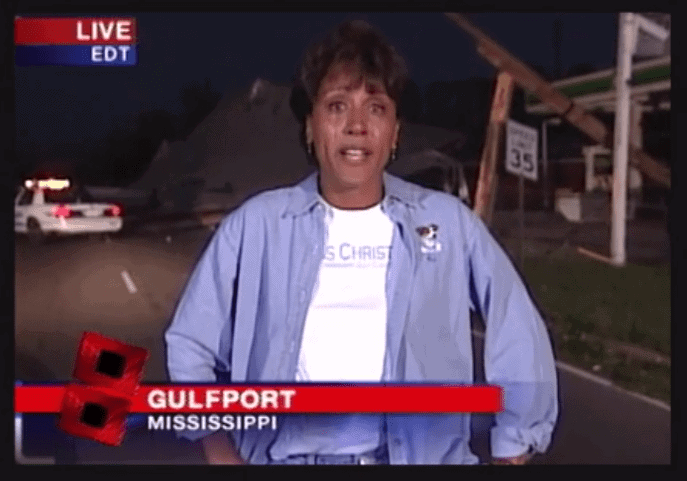 Communicating via television is the second part of this module.
Robin reveals her approach to communicating for TV, including focusing on storytelling, letting your authenticity shine, and choosing people over process.
She also gives the difference between the traditional approach and the modern approach and how you can be one of them.
The last part of this module and the entire course is Interviewing people for TV. She shares the most wonderful experiences from the most memorable interviews.
Want to know about the interview with Barack Obama or first lady Michelle Obama? Or an interview with Selma Blair? You will get to know all of these in this part. It definitely has a blasting end!
What I Enjoyed Most About Attending the MasterClass Led by Robin Roberts
Feels like a 1-1 MasterClass
It is immediately obvious, right from the beginning, why Robin is such a well-liked and successful broadcaster.
Her straightforward attitude, together with her body language and manner of speech, immediately draws you in.
There were times when I felt as though I had special access to her; it was more similar to a live Zoom meeting than a pre-recorded MasterClass.
No stumbling. No "you know?"s are allowed.
Just honest and moving accounts of the difficulties she's overcome and the life lessons she's gained as a result of those experiences.
In addition, you will receive sound and useful guidance regarding the ways in which you can implement these lessons into your own personal and professional lives.
The opening is intriguing, and it makes you wish there was more to come. The first part of this essay sets the scene by explaining how and why Robin became the person she is today.
She discusses the ways in which her life experiences have molded her, as well as the ways in which she has molded others.
After this, you will move on to a portion that is highly practical and contains information that you can immediately put into practice in your everyday life.
It is important to note that the class has been restructured since the original recording was made. This is cause for optimism. It demonstrates that MasterClass does not keep its services frozen in time but instead revisits them regularly.
In this video, Robin not only explains and shares her methods for conducting interviews but also demonstrates those methods using some excellent interview footage.
Caution: If you've made it this far in the MasterClass without shedding a tear, congratulations! At this stage, you should make sure that you have a box of Kleenex on hand.
Communication that works
Robin Roberts has always been a favorite of mine. She was the first black anchorwoman for ESPN, which was a big deal (among a string of firsts in her career). So when I saw that she was teaching at Masterclass, I had to give her class a try.
In 11 videos, Robin Roberts teaches a clear, emotional class on how to talk to people in a good way. The classes range from ones that teach you the basics (like how to make a real connection) to ones that teach you how to do something (like public speaking).
I really liked her class on how to get a job interview. I hadn't thought of that before in terms of how to communicate effectively, but now that I've seen it, I can see how important it is to the job search process.
You should take Robin Roberts's class if you want to get better at interviews or public speaking, or if you want to keep your conversations with your spouse from turning into pointless fights.
Robin Roberts Masterclass Pricing
Robin Roberts Masterclass Pros & Cons
Pros
Make your Mess the best Message; this pro is definitely at the top of my list of learnings.

Robin Roberts is very genuine, strong, hard-working, and truthful, and all the amazing verbs can be used to describe her.
This is a very effective course, and the tips this lady provides are extraordinary.
This course is much more than what the name suggests. Her experiences, stories, and relationships are worth all time admiration.
Cons
It is a detailed and thorough course, so some of you might find the course lengthy
Quick Links:
FAQs | Robin Roberts Masterclass Review
💁 What is a Masterclass?
Masterclass has some of the best A-class teachers like Bob Iger teaching business, Aurel Stein teaching writing, and the list continues. Just demand a course and they have in their list along with the best teachers.
🤑What is the pricing of masterclass ?
Masterclass All-Access Pass is billed at $180 and comes with a 30-day moneyback guarantee.
📺 Where can I watch?
With MasterClass, you can learn and be inspired anytime, anywhere, including your smartphone, personal computer, Apple TV, Amazon Fire TV, and Roku streaming media players. You can even download your favorite lessons and watch on the plane or listen during your commute in audio-only mode
🤷‍♀️ How does the 30-day guarantee work?
Our goal is to make sure that you have the best learning experience possible. If MasterClass isn't for you, then email us within 30 days of the date you purchase your subscription, and we'll offer a full refund.
Conclusion: Robin Roberts Masterclass Review 2023
I will start with one line: Do you want to be a supporting role in your own life or a leading role? If you wish to have a leading role in your life, this course is definitely for you!
This course is the best for any person who is willing to learn. Robin Roberts teaches some great life lessons that you will benefit from forever. Robin is a fantastic human being, and she provides a lot of value in this course.
I would definitely recommend this course. For masterclass discount deals and coupons, check our masterclass all-access pass article here.
You can follow Masterclass's social media handles, like Facebook, Twitter, Instagram, Linkedin, and YouTube, here.
Robin Roberts Masterclass On Social Media 
Inspiring @masterclass with @RobinRoberts! Her enthusiasm and optimism for life is infectious 🙌🙏 #MASTERCLASS pic.twitter.com/56PVnxgtws

— amyssorrells (@amyssorrells) July 18, 2020
This is gonna be the most inspirational quote so far. You made my day! @masterclass @RobinRoberts pic.twitter.com/6cDBGnzmqT

— Adrian Liew (@be_adrianliew) May 17, 2020
Legendary @voguemagazine Editor-in-Chief Anna Wintour sits down with @RobinRoberts to talk all about sharing her skills with the world in her new @masterclass: "My strong advice is work with a mentor…and just take the time to do it right. Don't rush." https://t.co/xaqZD0O0JX pic.twitter.com/sCimGEnBMo

— Good Morning America (@GMA) September 5, 2019