In this article, we have featured Startup Statistics 2023. Do you have a concept that you believe has the potential to alter the world? Do you fantasize about creating a business based on this concept and making millions of dollars, or even billions of dollars, in the future?
You have the potential to launch a startup company. The rise of the startup as a dominant kind of business that propels both innovation and economic expansion around the globe.
Every year, startups come up with innovative concepts for new kinds of products and services. They are the product of enterprising individuals who are imaginative, driven, and possessed of incredible ideas.
When we hear the word "startup," our minds typically jump to the many different success stories and rapid expansion of businesses that have occurred since their inception. Having said that, in the real world, not all new businesses succeed. In most cases, the only information that is shared with us concerns the winners, which is incomplete data that does not reveal the full picture.
Everyone enjoys hearing about other people's achievements, but if you want your startup to be successful, you need to be aware of all of the relevant information.
We have made the decision to provide you with some crucial information on startups, such as Startup Statistics, data, and trends that will assist you in gaining a deeper comprehension of the overall landscape of startup companies.
Interesting Startup Statistics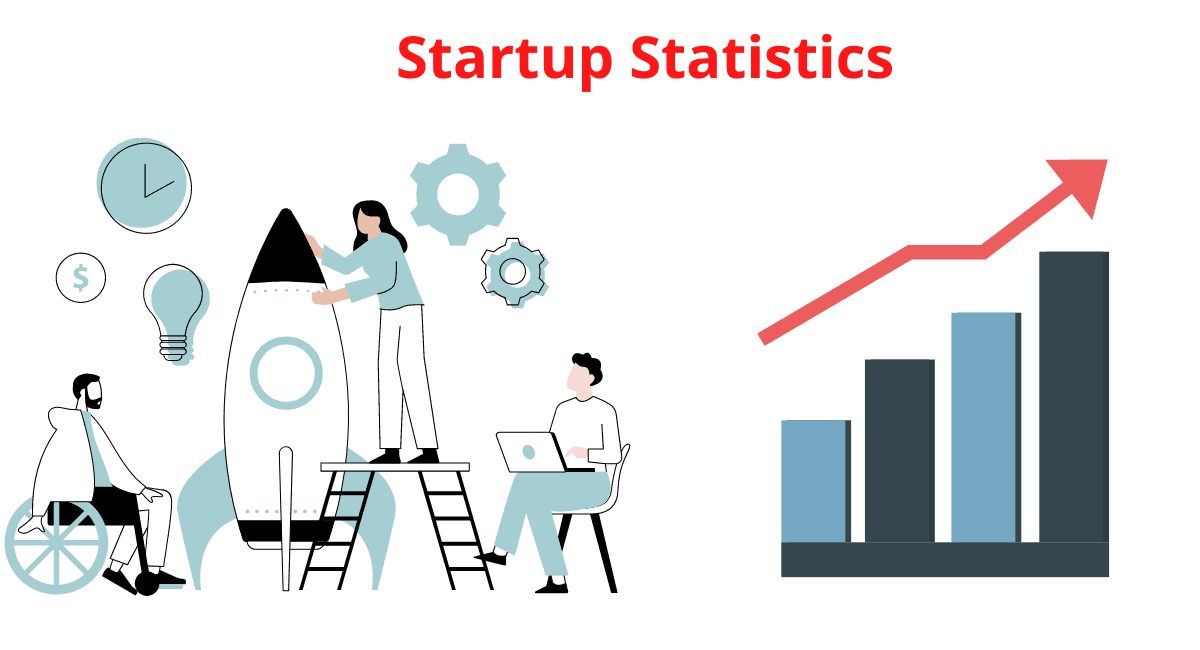 The United States of America is the nation with the highest number of new business ventures (71,153).
The financial technology (Fintech) industry is home to 7.1% of all new businesses being launched around the globe.
Bytedance, a Chinese company, has a valuation of $75 billion, making it the most valuable privately held startup company in the world.
More than 69% of new firms have their start as home-based operations.
Only around one-third of new businesses eventually turn a profit.
When launching a firm, the most difficult obstacle to overcome is competition (19%).
When they are just getting started, 58% of new businesses have less than $25,000 in available capital.
60% of business owners believe that artificial intelligence is now the most promising innovative technology.
Startup Failure Rate Statistics
Roughly nine out of ten startups are unsuccessful.
Within the first year of their operations, 10% of new businesses are unsuccessful.
There doesn't appear to be much of a difference between the rates of failure for different types of startups.
70% of new businesses are unsuccessful between years two and five.
42% of unsuccessful firms did so because they misjudged the demand in their target market.
The lack of available finance and personal funds was a contributing factor in the failure of 29% of new businesses.
In 2018, difficulties with maintaining sufficient levels of available capital led to the failure of 82% of firms.
The lack of a market needs accounts for the majority of failed small businesses (42%), followed by running out of money (29%), not having the ideal founding team (23%), being outcompeted (19%), price or cost concerns (18%), and an unfavorable product for users (17%).
Startup Statistics from 2019 indicate that approximately ninety percent of newly launched businesses are unsuccessful.
(Source: Investopedia / Yahoo! Finance)
According to Startup Statistics on new businesses, over 21.5% of them fail within their first year in operation. There are numerous examples of unsuccessful companies, some of which include Quibi, MoviePass, Jawbone, Scalefactor, and Chef'd.
Around the world, there are over 800 startups with the potential to become a unicorn.
(Source: Visual Capitalist)
Unicorn startups are defined as large, prosperous startups with a valuation of more than one billion dollars. Some successful firms that go on to become unicorns are so well known that they are nearly household names, such as Elon Musk's SpaceX and Sweeney's Epic Games, respectively.
The now-famous Theranos was originally founded as a company.
(Source: Yahoo! Finance)
Over six hundred million dollars was lost by a number of prominent investors, including the founders of Walmart, Rupert Murdoch, Betsy DeVos, and others since this business failed to deliver on its promise of developing a commercial portable blood analyzer.
Silicon Valley is home to more than 40,000 new business ventures.
(Information obtained from Startup Genome)
Even though the pandemic and the tremendously high expenses caused a decline in the number of startups in Silicon Valley, there are still a significant number of startups, venture capital firms, and technology enterprises in the region.
AI and e-commerce firms are currently riding high on the popularity wave.
(Source: Cloudways)
The terms "EdTech startups," "fintech startups," "food and beverages startups," "blockchain startups," "healthcare startups," "fashion startups," and "Internet of Things" (IoT) startups are some of the other categories of trendy startups.
The State of Startups Statistics
Startup Statistics on the Current State of Startups 45% of companies that are just getting started in Europe reported that they have simple access to funding.
32% of European companies reported that it was difficult for them to gain access to capital.
66% of European entrepreneurs cite self-financing as their primary source of funding, compared to 9% that were funded by business angels and 7% that were funded by venture capital firms.
In the United Kingdom, Canada, and the United States, venture capital was the principal source of investment for 42% of new businesses.
In the year 2020, Black and Latinx women entrepreneurs brought in a total of $3.1 billion in funding for their venture-backed companies.
More and more Black and Latinx women founders have been successful in raising more than one million dollars in the median seed investment round.
Quick Links:
Conclusion: Startup Statistics
It would appear that if you have a brilliant concept, you can earn a lot of money off of it, given that revolutionary startups appear to be dominating the globe.
Because COVID is taking technological advancement to a whole new level, now might be an excellent time to develop your amazing idea into a startup company.
Just be sure to have a well-defined business strategy in place to maintain the viability of the firm and stay one step ahead of its rivals.