Whether your skateboard has been gathering dust or you're just starting out with tricks in Tony Hawk: Pro Skater, the Tony Hawk MasterClass is for everyone.
It provides the motivation and guidance to step into a skate park, even if it's your first time. In this review, I'll give you a fair look at the Tony Hawk MasterClass, helping you decide if it's the right choice for you.
So let's get started.
Tony Hawk Masterclass Review 2023: Is It Really Good?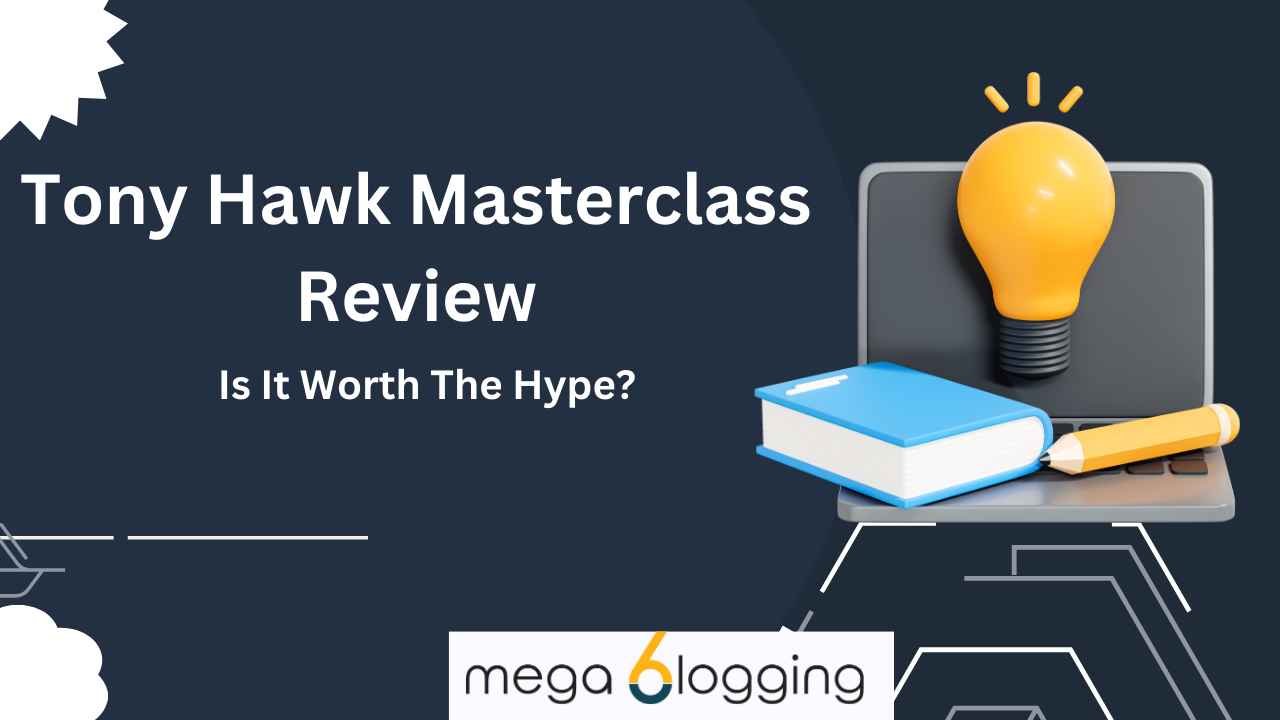 About Tony Hawk Masterclass
As you all know, Tony Hawk is one of the most recognizable sports entities around the world. He has taken skateboarding from being a casual pastime to being a full profession for elite skateboarders.
His aura and dominance are widely acknowledged around the skateboarding world. I personally think she is the greatest skateboarder to have graced the ground.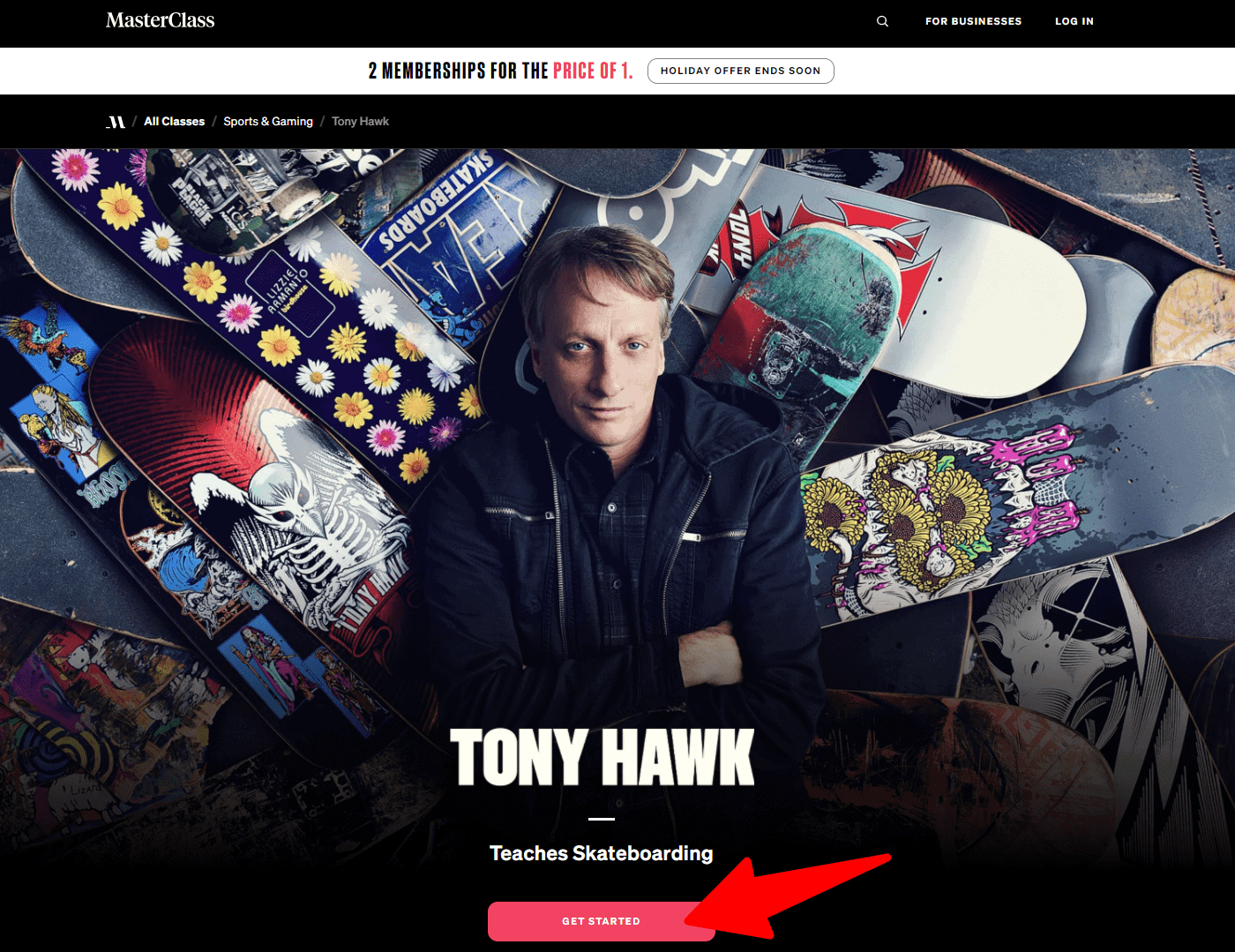 The number of years he spent mastering and creating new skills is just insane. Tony Hawk is the epitome of the skateboarding world, hands down.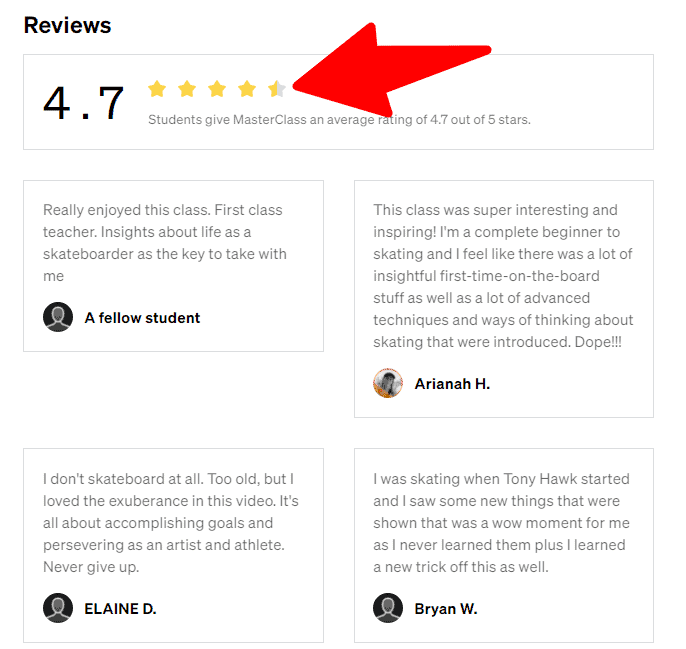 ---
Tony Hawk Masterclass Course
Hear me out, guys; even if you have never tried skateboarding and just want to do it for fun or you are trying to take it to a competitive level, this course is for you.
It covers everything from basics like hopping on the board and pushing it all the way to the advanced skills you see being performed in Xgames.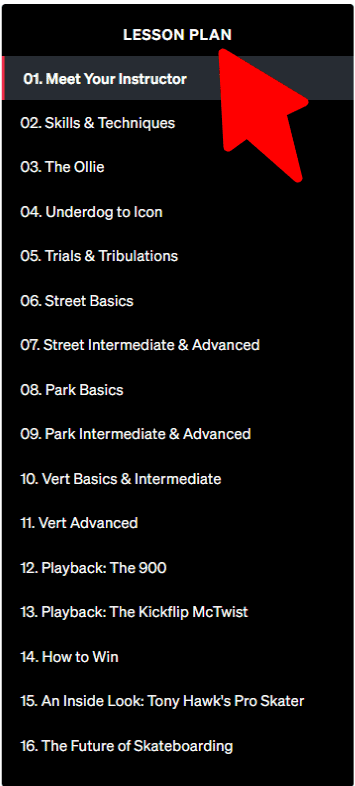 With an in-depth analysis of nearly 50 moves, you can surely learn and improve no matter where you are from a professional point of view.
With the masterclass providing enough resources for you to excel in skateboarding, itis a must-watch.
Tony Hawk Masterclass: Course Overview
Segment – 2
Session – 1
As we move on to the next segment of this masterclass, it's all about grasping the key elements of skateboarding.
Starting with his skills, Tony Hawk teaches and shows us some basic moves that can be done on the street.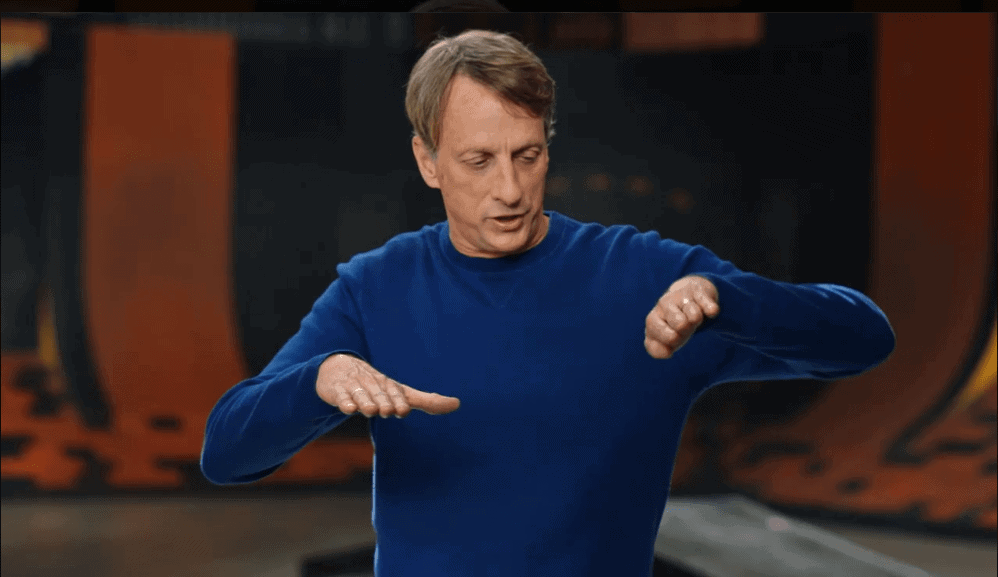 Since he considers himself more of a vert-type skateboarder, after a few tricks, he hands down the masterclass to his son and an expert street skateboarder, Riley Hawk.
Street skills are fun to do simple tricks, yet equally important to build your arsenal upon.
If the core of your skateboarding skill set is weak, you are bound to run into trouble when you try to improve your game. 
Session – 2
This next session is all about skills, so put your gear on, and let's dive into it. Riley Hawk walks us through some intermediate skills and a few advanced ones.
This great session is packed with skills like the kickflip, heelflip, and backside ollie, just to name a few.
The amount of work and graphics put into this session just to make it understandable is insane.
You can easily combine two or more skills once you become familiar with the technology behind them.
With so many skills to learn, I felt like I had come to skateboarding heaven. As they say, like father like son, Riley leaves no stone unturned when it comes to educating us on street skills.
Tony Hawk steps back in and teaches us two really crucial movement techniques in park-style skateboarding. Carving and dropping in are two such techniques that give thrust to your body for skills to be performed.
According to Tony, these two skills make or break your routine while training as a skateboarder.
A complete grasp of these topics is a must in order to excel at performing skills. Carving and dropping in is all about having control over the momentum of your body. Overdoing these skills may cause failure and, in the worst cases, some serious injuries.
Session – 3
In this next session, we are introduced to yet another entity, Lizzie Armando.
A well-known face in the world of skateboarding, Lizzie defines the upcoming female domination in skateboarding.
Tony handed over the masterclass to Lizzie, where she taught us some quality park tricks.
The skills gradually increase in difficulty, and personally, I would like you to learn and practice them in sequence.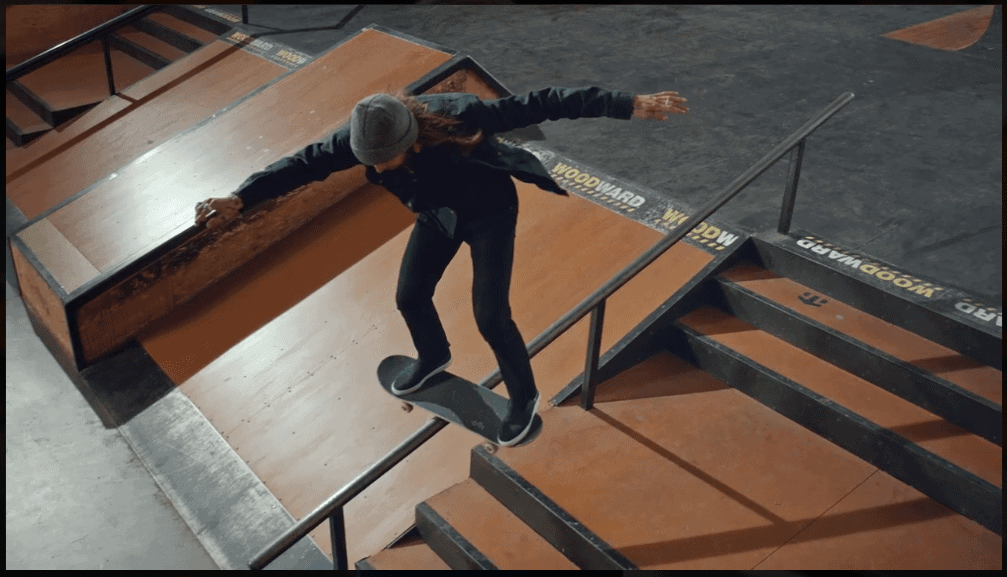 You will learn how to nail a backside ollie, the frontside 5-0 grind, and so much more.
It is eye-opening yet pleasing to see that women have taken over another aspect of sports only related to men.
Lizzie has some exceptional knowledge to give about perfecting every skill.
I personally found her backside 5-0 grind the best skill I have seen in a long time.
Session – 4
With vert ramps becoming extinct in the modern world, this session deals with Tony giving us the fundamentals of skateboarding on the vert.
Arguably one of the best on the vert ramp, Tony guides us through with lessons on how to pump on the vert ramp.
I found this session very exciting because here, he talks about and teaches us how to do his signature move, the madonna.
Numerous vert skills are included in this highly informative session.
Do you think that was it? Think again.
Tony blows our minds by giving us valuable lessons on vert ramp advanced tricks.
Once you are familiar and confident in the basics of vert ramp skills, you can proceed to learn some amazing advanced skills like the blacksmith grind and the famous 560 mc twist.
As the name suggests, it involves rotating 560 degrees in the air with the board. Tony says how he always looks to find the ramp mid-air so that he can perfect his landing.
The landing is usually where most stunts go stray for many skateboarders.
Session – 5
As we progress towards the last session of this masterclass, Tony decodes his thought process. He reacts to him performing the infamous 900 back in 1999.
He says that it is important for a skateboarder to know how to adjust to newer tricks in a given amount of time.
So was his story of landing a perfect 900 after 5 to 6 failed attempts at the competition.
Never forget, guys, that determination and adjusting are key skills to perfect any art form.
I can watch the video of him performing the 900 all my life. It is so mesmerizing.
Session – 6
Tony Hawk carries the same thought process when he reacts to him doing the mctwist in this session.
He glances back at his youth, where he and his skateboarding group would go around town skateboarding and having fun.
He still believes that the amount of support and motivation given to others by fellow skateboarders is very enriching.
His move, the kickflip mctwist, was a result of such support from his group. He also gives us a tutorial for the same. 
Session – 7
Now that we have the skills all accounted for, we move into this next session.  Here, Tony describes his winning mentality.
Really, guys, listening to the legend speak about his trade is very motivating.  Tony tells us that the life of the skateboarder is full of challenges, and one must keep on adapting to newer phases in life as well as the sporting world.
Being #1 doesn't matter if you can't keep the level up for the future.
Hence, challenging yourself and pushing yourself to do better will keep you at the top for sure.
Session – 8
I remember when I first bought my PlayStation, I was always hyped to play tony hawk's Pro Skater.
It remains one of the best skateboarding games of all time.
This next session deals with Tony talking about how he got himself the game deal at that time.
He thinks bringing this new skateboarding game to gamers was game-changing( pun intended).
He was shocked about the money he earned from just this single game.
With this game being played all around the world, it changed how people looked at skateboarding, with many new teenagers picking up the board.
Session – 9
As all things come to an end, so does this masterclass.
The last session has tony make his prediction about the future of skateboarding.
He seems confident that it is in safe hands and emphasizes how skateboarding can soon be included in the Olympics.
He believes that just as the love for the sport and the right amount of training and practice, changed his life, it can change your life too.
He encourages you to pick up the board and try out tricks. I am definitely going skateboarding after this, are you?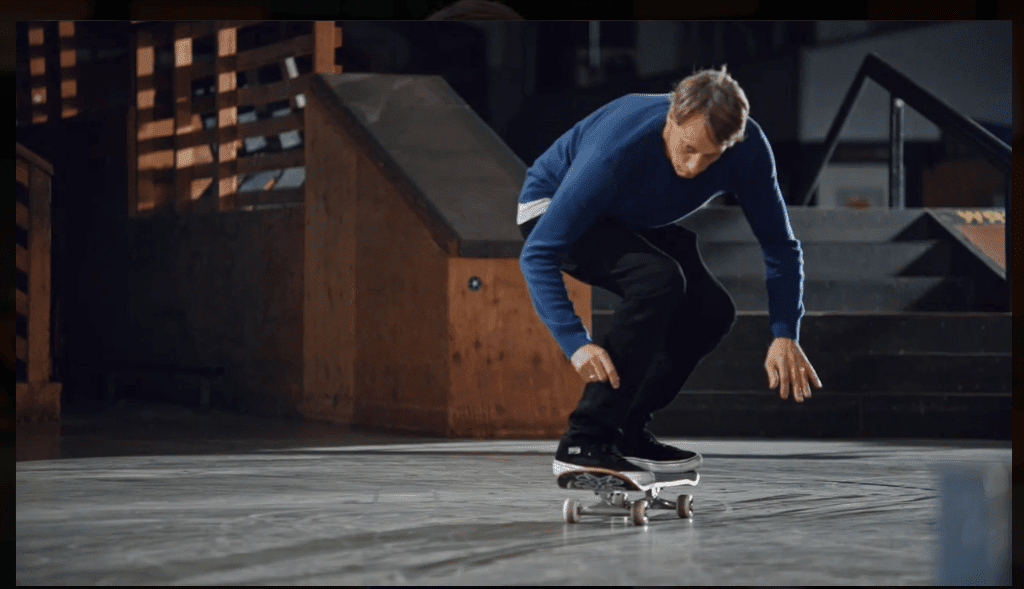 As I mentioned earlier guys, no matter what kind of expertise you possess over that skateboard.
This masterclass is for everyone willing to spend their time to improve their skateboarding arsenal.
Being taught by the best in the business, nobody should miss this masterclass.
This masterclass would serve a beginner and an expert equally on the basis of the knowledge it gives out.
With Riley and Lizzie giving us different perspectives on different types of skills and Tony focusing on the basics of skateboarding, anyone putting in the work after this masterclass is bound to become an exceptional skateboarder. 
Tony Hawk Masterclass Review Pricing
The Tony Hawk Masterclass All-Access Pass is billed at $180 and comes with a 30-day money-back guarantee. Grab this deal with Masterclass Promo Code.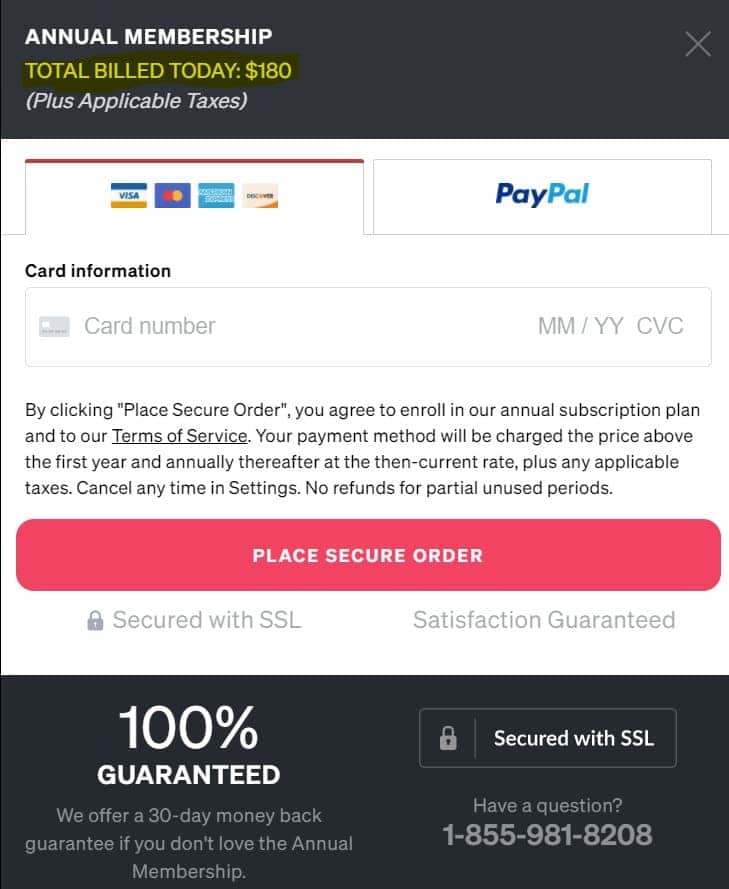 When you subscribe, you can enjoy all 80+ MasterClass courses. This means you get the best deal when you take several classes.
For instance, if you find 4-6 classes you're interested in, you're essentially paying $30-$45 per course. Just divide the subscription cost ($180) by the number of classes you like, and that gives you the price per course.
Tony Hawk Masterclass Pros & Cons
Pros 
Some pros that I found about this course are:
Amazing graphics pinpointing specific body movements

On-ramp footage of all the skills mentioned

A segmented perspective towards all three branches of skateboarding: street, park, and vert ramp
Cons
It is a detailed course, so some of you find the masterclass a bit lengthy
Quick Links:
FAQs | Tony Hawk Masterclass Review
👤Who is Tony Hawk ?
Tony Hawk is one of the most recognizable sports entities around the world. He has taken skateboarding from being a casual pastime to being a full profession for elite skateboarders. His aura and dominance are widely acknowledged around the skateboarding world.
💁What is MasterClass?
MasterClass is the streaming platform that makes it possible for anyone to watch or listen to hundreds of video lessons taught by 100+ of the world's best.
📺Where can I watch?
With MasterClass, you can learn and be inspired anytime, anywhere, including your smartphone, personal computer, Apple TV, Amazon Fire TV, and Roku streaming media players. You can even download your favorite lessons and watch on the plane or listen during your commute in audio-only mode
🛹Who should take this course ?
Anyone who is interested to learn skateboarding.
🤑What is the pricing of masterclass ?
Masterclass All-Access Pass is billed at $180 and comes with a 30-day moneyback guarantee.
Conclusion: Tony Hawk Masterclass Review 2023
I found this masterclass highly motivating.  The detail in explaining every move and the quality of knowledge shared is an A grade.
There is not one point in this whole masterclass where I felt bored or confused.  This masterclass is a one-of-a-kind tutorial for everything related to skateboarding. 
Also, I highly recommend the Skateboarding Masterclass course by Tony hawk, and if you wish to pursue this please go ahead without a doubt.
Also if you really like this review then please like and share the review with your social media network.
Tony Hawk Masterclass On Social Media 
Thanks for putting together an amazing library at MasterClass. I've been a happy subscriber, second year just started. Learning a ton. @RobertIger @neiltyson and @DanielNegrenau have been my favorite classes and instructors. Gonna have to add Tony (and a ramp) to that mix 🙂

— Andrew Nguyen (@OnwardsAndrew) December 30, 2020