Many students all over the world are developing their skills and learning online courses on different platforms. Corona has given enough time to all the students to learn new courses by just sitting at home and enhancing their skills.
And our technology has provided various platforms to all the students for online learning. 
Well, some platforms have certified courses and those certificates are well recognized. When you go for a job interview, employers always seek your additional skills in your resume.
If you have some extra skills besides your degrees, there you will surely make a point to beat your competitors. 
Here, we are going to discuss which platform for online learning is best for you. After reading this article, you will easily decide which one is the right choice for you. 
Udemy vs Lynda: Best Online Learning Platform 2023
Udemy vs Lynda: Overview
Due to online courses, you can sit at home and learn a new set of skills. It enhances your abilities to perform you better your challenging tasks, and hone your existing skills
Two platforms that provide you the best online courses at economical rates are Udemy and Lynda.  With a little help from Udemy & Lynda, you could be the next biggest online learner who has learned various courses and developed different skills. 
Udemy: Overview
With 60,000+ instructors and numerous online courses, Udemy is considered as the best online learning platform for over two million students all over the world. It provides its courses in 65+ languages, covering a hundred plus industry-related topics. It provides all the courses with lifetime access.
Once you enroll for your course, you can watch your videos anytime and any day, even you can watch them repeatedly, because you have lifetime access. 

We all know that personality development is very important in our lives. For the same, students can register for any personality development course available on Udemy. 
Online Marketing which we also call as Digital Marketing is a very known skill in this competitive world. Udemy provides a lot of courses on Facebook Ads Marketing, Instagram Marketing, Email Marketing at very affordable prices. It consists of all core features packed into a single platform. 
Here is a list of popular courses provided by Udemy:
Excel Advanced Learning Course.

C++ learning 

Programming learning

Instagram Marketing

Graphic Designing Course

Content Marketing

AWS Certification

Drawing Course from Basic to Advanced

Complete Data Science Learning

Machine Learning

Financial Planning Course

Business Intelligence

Game Development course

Video Editing Course
Lynda: Overview
Lynda was founded in 1995. It is the best platform for online learning which provides high-quality videos. Lynda platform has a wide variety of online courses. 
On Lynda, students only have to pay a subscription for a month and can watch 100+ courses with quizzes and assignments to clear every level of each course. 
Lynda does not charge money for every different course. I think this is the best platform for those students who want to develop various skills, not only one.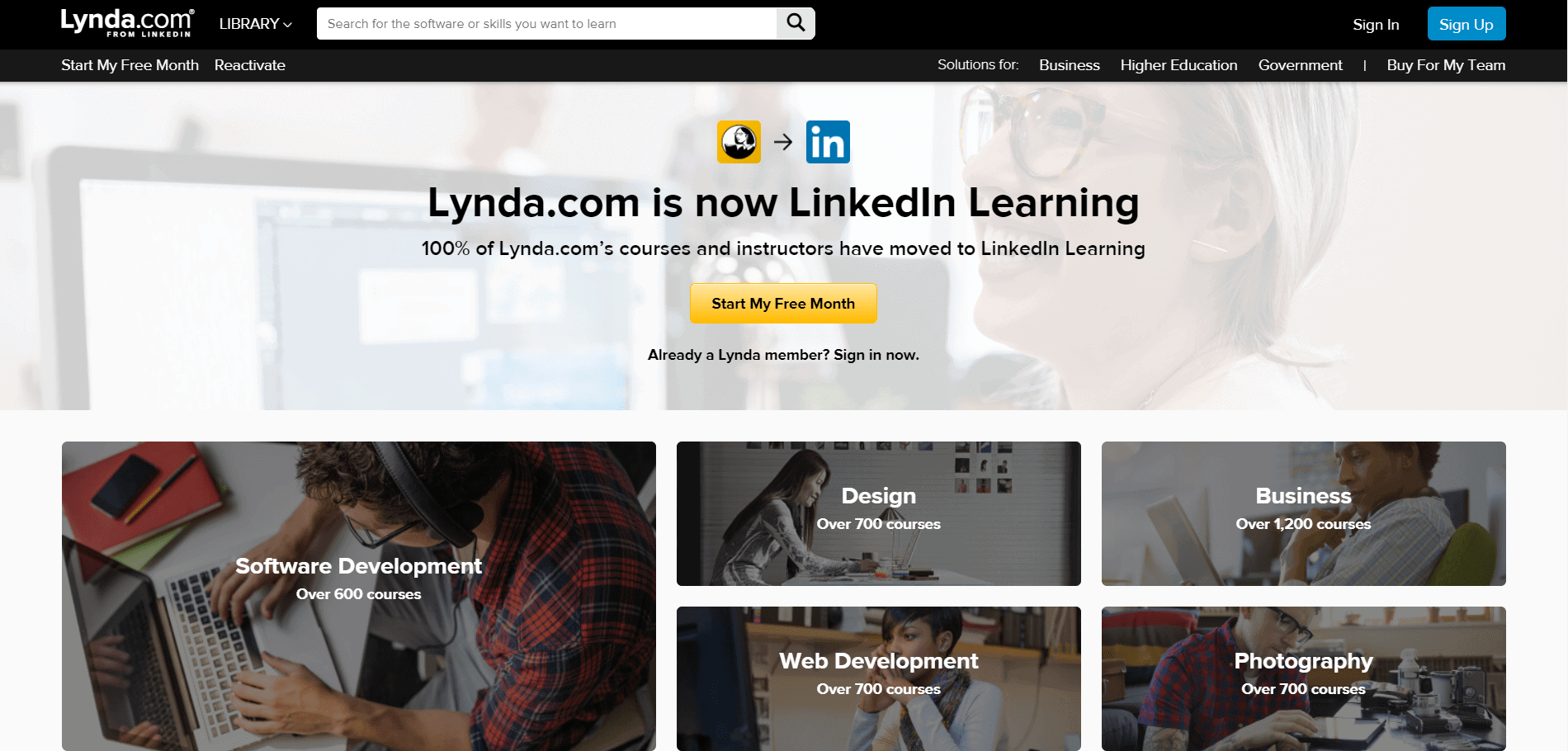 Having different skills besides your studies can sharpen your mind and enhance your abilities to make decisions. Additional skills always stand you out from the crowd. 
It has an amazing benefit for all the users that they can enroll in any course after taking a subscription for a month. 
LinkedIn Learning is the most popular course of Lynda, and Lynda is the only platform that has the best LinkedIn learning course. This course gives you complete detail of lead generation on LinkedIn. 
Do you know Lynda offers free online learning for the first month? Yes, you read it right. You can watch unlimited videos on Lynda in the first month for free. 
Here are the most popular courses available on Lynda are:
LinkedIn learning

Excel Training

Digital Marketing Tools learning

JavaScript Training

Python Bootcamp

Social Media Marketing course

Data Science Learning

Logo Designing Course.

Website Development

Coding

Critical Thinking Learning

Facebook Ads Marketing

Time Management Learning

Graphic Designing

Content Writing

Content Marketing

Microsoft Office Learning

Email Marketing Course.
Features: What They Offer?
Udemy: Features
Udemy provides a bunch of unique features to its students. Let's discuss what are they:
On Udemy, you can find lectures in the format of videos, audios and even text lectures are also available. You can download videos and audio to watch them later on. 
Quizzes are also available to check your abilities after every level of the course. Once you clear your quiz, you can jump to the next level. The score of your quizzes is also available. 
Certificate of Completion
You can download your certificates after completing the course, and add your certificates to your resume. 
Various payment options are available on Udemy for making the payment of your course. Google Pay option is available for Android app users and the Apple app store is available for iOS users. 
You can earn Udemy credits also and redeem them while enrolling in your course. The debit card option is also available, all Mastercard and Visa users can make payment. 
You can claim a refund in 30 days if you do not wish to continue the course in which you have enrolled in. Udemy will give you a 100% refund of your tuition fees. After 30 days, you cannot claim a refund.
Udemy provides a wide variety of free courses. Udemy has a lot of free courses on its website. And you get enough time to learn every free course in your respective field. Few popular free courses of Udemy are fitness and yoga, graphic designing, fashion designing, etc. 
All course videos on Udemy are not longer than thirty minutes. Thirty minutes is the maximum duration of every video lecture. All courses are self-paced. You can stop them anytime and replay it in parts if you wish to.  
No additional qualification is required
Any student can enroll for any course on Udemy. No additional qualifications or a bunch of skills are required before enrollment in the course. 
Lynda: Features
Lynda also offers a bunch of unique features like Udemy. Let's discuss what are they:
All video lectures available on Lynda are of high quality. No low-quality video lecture is there. 
Certificate of Completion
After completing every course students can get a certificate. All certificates of Lynda are recognized. 
New Courses added frequently
You can find a wide library of new courses weekly or monthly. Lynda adds 25 new courses every seven days. 
On Lynda, all video lectures only last for a few minutes. No lecture is longer than 25 minutes. 
On Lynda, you can watch all courses for free for the first month. You do not have to pay a single penny in the first month. 
You might feel sometimes that you are getting bored with the video lecture, so you can increase the speed 2x of your course. 
Few Comparisons Between Udemy And Lynda
Suitability: Udemy vs Lynda
Udemy: Suitability
Udemy has a wide variety of courses but all courses are suitable only for beginners. Students who are seeking basic knowledge in any of the topics can choose Udemy over Lynda. 
Lynda: Suitability
Lynda has a limited no. of courses but all provide detailed learning, and it is suitable for beginners as well as for experts. All instructors are professional in their respective fields and provide live examples to understand the basic and advanced concepts in all aspects. 
Verdict
Based on Suitability, Lynda wins the battle and takes this round home. Lynda is the most suitable platform for all those students who are preparing for exams because it provides in-depth knowledge on all your topics. Whereas Udemy only gives basic knowledge of your field. 
Therefore, we can conclude that Lynda wins this round by being more reliable than Udemy. 
Udemy vs Lynda: Instructors
Udemy: Instructors

On Udemy, anyone can become instructor. Teachers just have to clear some levels of being selected, then they can easily upload their courses on Udemy. No professional experience is required for becoming an Instructor on Udemy. 
Lynda: Instructors
Whereas on Lynda, all instructors are professionally experienced. Every teacher has to clear the selection process for becoming an instructor on Lynda. 
Without clearing levels, you cannot upload your courses and teach students. On Lynda, all instructors have done mastery in their respective fields. 
Final Verdict
Lynda is the clear winner again in this round because on Lynda, all instructors provide quality training and education to all students. Therefore, Lynda is an undisputed winner. 
Udemy vs Lynda: Mobile Application
Udemy: Mobile Application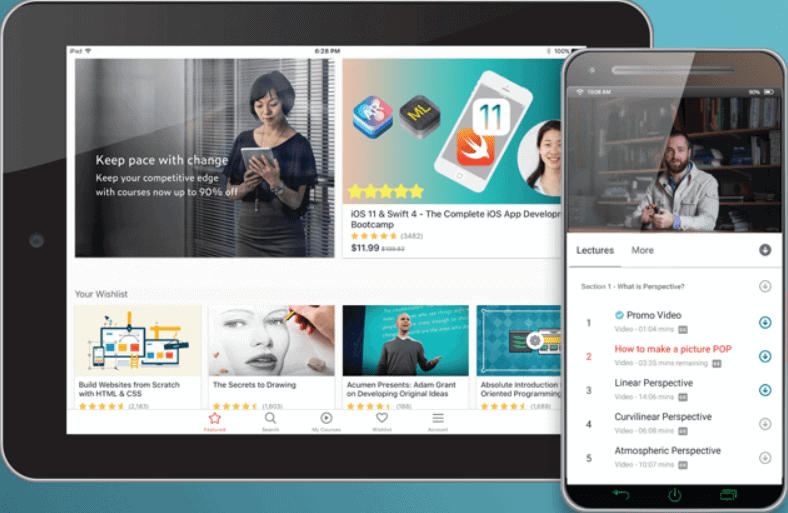 All courses on Udemy are mobile optimized. You can watch all videos, lectures, PDFs, on your Mobile Phones. No laptop is required for learning on Udemy. 
Lynda: Mobile Application
On Lynda also, all courses are available on Mobile phones. You can download all lectures, videos, documents, notes on your mobile phone and easily start learning without using a laptop. 
Verdict
Both have performed well in this round. Therefore it is a tie in both tools. All courses of Udemy and Lynda are compatible with all devices and browsers. 
Udemy vs Lynda: Access Of The Courses
Udemy: Course Access
On Udemy, you will have access to your course's lifetime. You can watch them repeatedly, anytime, any day. Once you enroll in your courses, make a payment, and then you can enjoy learning and make the maximum out of it. 
Sometimes it happens that what you learned you forget, but here you can recall all those notes, watch them again.
Lynda: Course Access 
Whereas on Lynda, you will get access to the courses only monthly or yearly. If you pay a monthly subscription, then you have access for a month, and if you choose a yearly plan, then you can enjoy learning for your courses for the whole year. 
Final Verdict
Udemy clinches this round from Lynda by providing lifetime access to their courses that students enrolled for. 
Udemy vs Lynda: Customer Support
Udemy: Customer Support
Udemy has a professional team for handling queries of customers. You can easily get all your issues solved within a few hours. The help desk of Udemy is active for 24/7 hours and 365 days.  

Udemy does not provide support via live chat but email support is available. Udemy has an exhaustive collection of help articles in their blog to assist you through any trouble. It has a quick response support team to answer any queries or solve any difficulties you may face.
Lynda: Customer Support
Whereas Lynda provides top-notch customer services to all the students. It provides support through chat email. Lynda has an online community for you to ask questions or share ideas. 

Their knowledge base contains articles on everything from integrating your website with Lynda to process payment.
Time and quality are what every customer expects from the company. There are also visual lectures provided by Lynda to understand the software. You will get an instant response to your queries by using a live chat feature.
Final Verdict
Lynda wins this battle as it provides community forum support and live chat features. It allows you to speak to a professional experienced instructor and clear all your queries and doubts you have while learning. 
Therefore, LYNDA is the clear winner again. 
Udemy vs Lynda: Pricing Plans
Udemy: Pricing Plans
On Udemy, you have to pay individually for every course you wish to enroll in. All courses on Udemy are available at economical rates.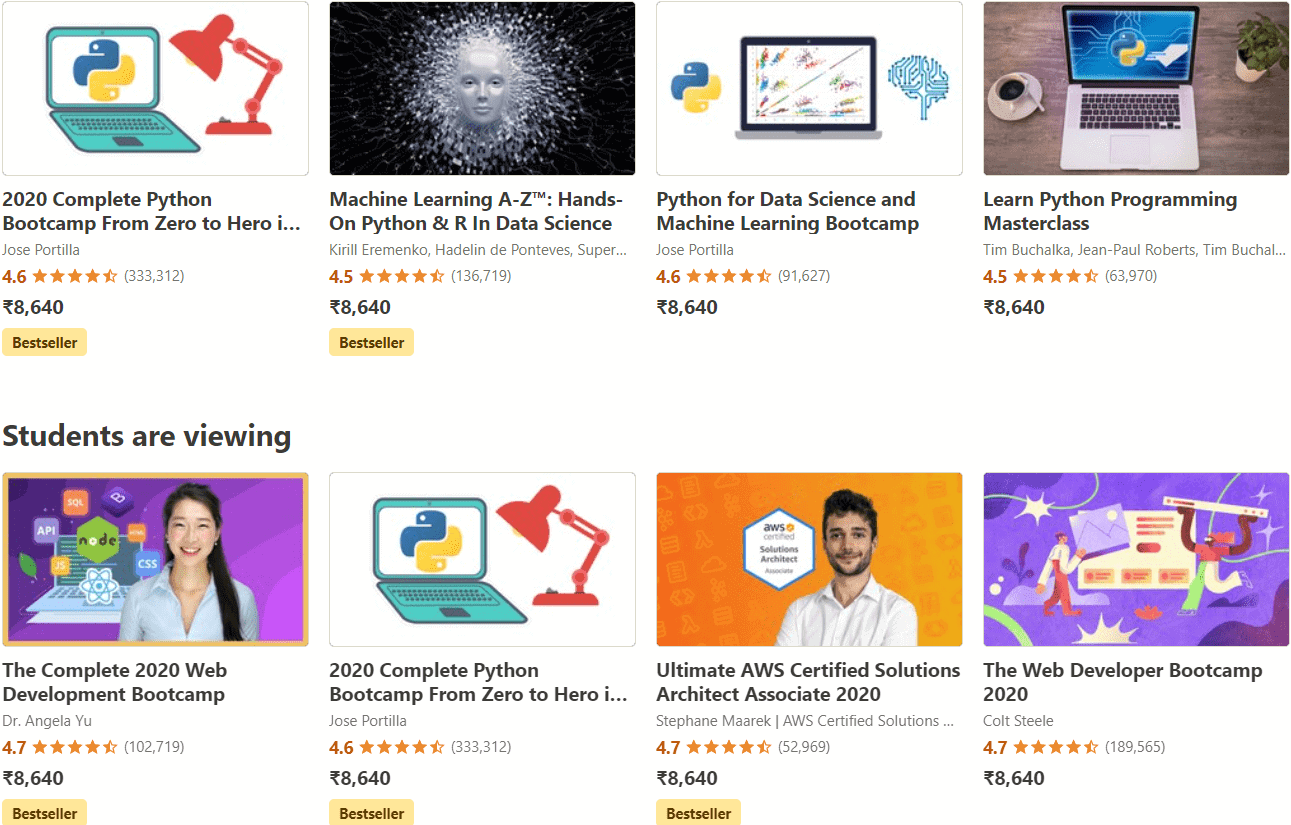 All popular course prices went down every few weeks after launching the course. It easily fits in your budget because all course costs are pocket-friendly. All courses are priced between $9 to $199.
Lynda: Pricing Plans
Lynda offers free learning in the first month of the registration. But it does not offer to make payments for every individual course. You only have a monthly subscription, and you can enjoy learning for all the courses.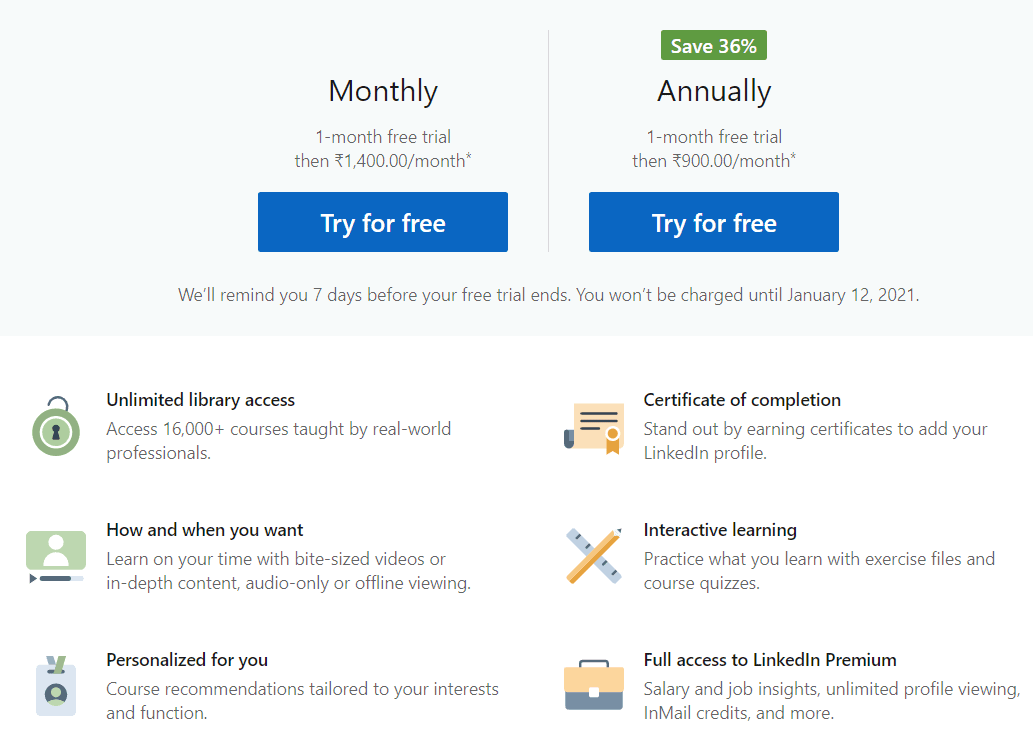 If you are looking to enhance your skills in a particular topic, then it may cost you very high. You can get a free trial for 30 days, and Lynda's starting plan for all courses is $29.99 per month. 
You can have access to 13000 courses by professional expert instructors for just $29.99 for one month. After completion of your courses, you will get a certificate. 
Final Verdict
Students who are looking to learn one or two courses on Lynda, then it is not the right choice for you. 
It is suitable for those students who want to develop a lot of new skills to enhance their abilities. It is an excellent platform for those who want to grab knowledge on diverse topics. 
For learning one or two courses, Udemy is suitable. And for those who are looking to have in-depth knowledge and detailed learning in a lot of industry-related topics, then Lynda is the winner. The best choice is yours. Make a wise investment decision. 
Udemy vs Lynda: Pros & Cons
Udemy Customer Reviews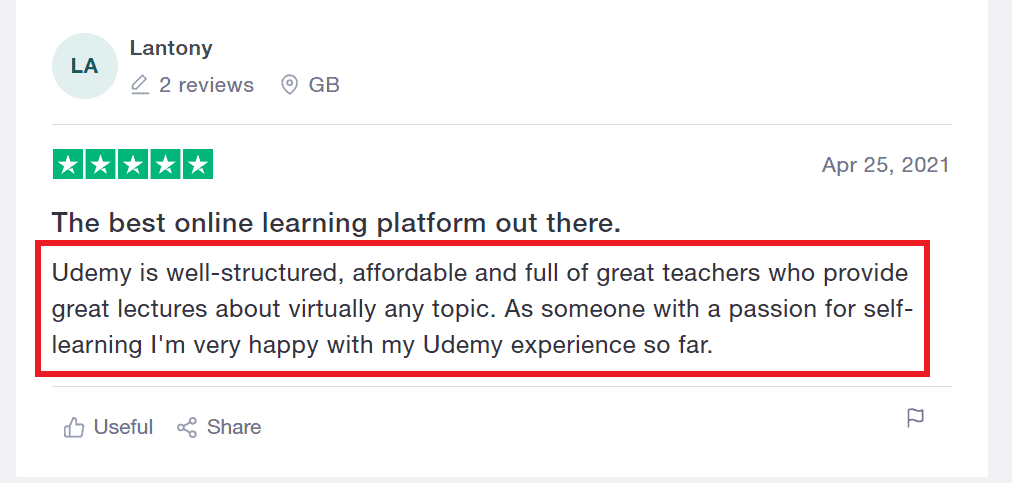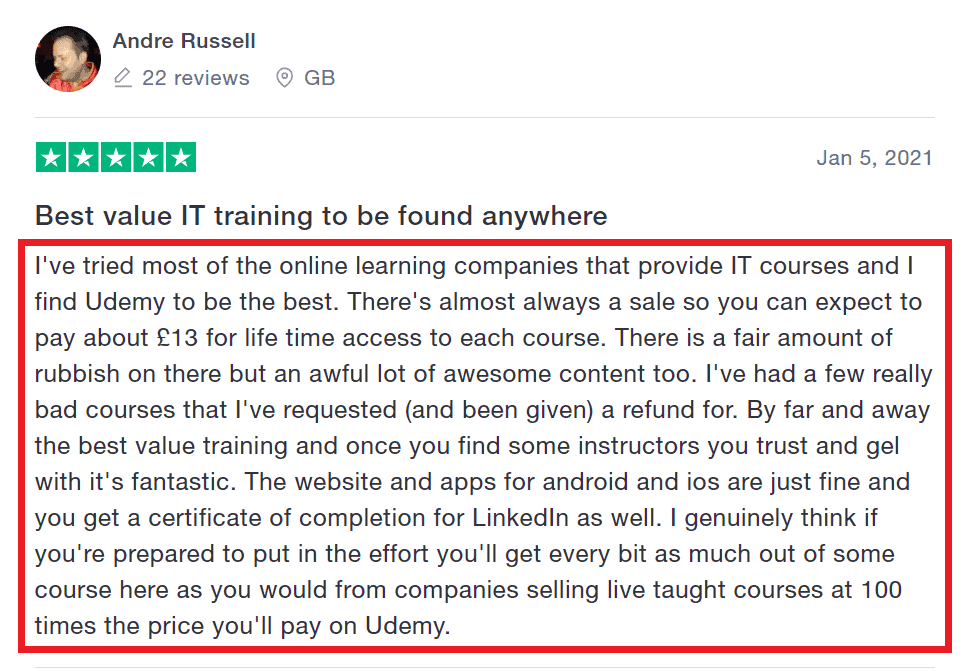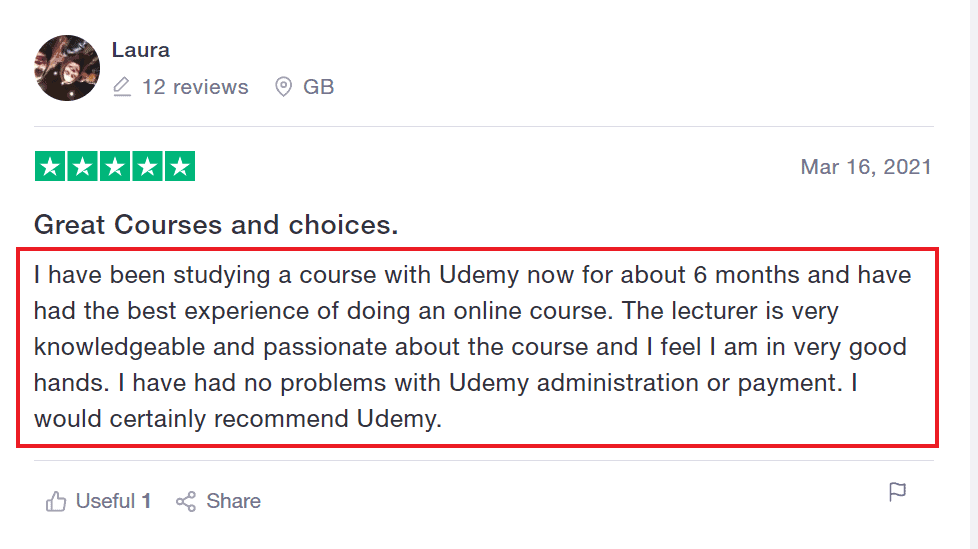 Lynda Customer Reviews
FAQs On Udemy vs Lynda
✅ Is Udemy worth paying?
es, Udemy is worth paying. It offers incredible benefits to their students like customer support via email, self-paced learning, free courses are available, and can download all video and audio lectures for future learning. It is considered an extremely popular E-learning platform for all kinds of courses.
⚡ How good is the customer service of Lynda?
The help desk of Lynda is open 24/7. Every business needs to frequently interact with customers and solve their queries timely, nurturing their customer-seller relationship. Live chat and Email chat support options are available.
💼 Does Lynda Offer Free Trial?
Yes, Lynda offers a free trial for Thirty days, and you can watch unlimited courses in those thirty days. Link not showing.
👉 Which Is Better Alternative To Udemy & Lynda?
Skillshare is yet another amazing alternative to Udemy & Lynda. It has amazing content quality and the subscription is even lower than the Lynda.
✔ Is Udemy better than Lynda?
Udemy is an amazing online marketplace that offers courses on specific topic whereas Lynda offers courses on various topic for subscription fees.
🎉 Are Lynda certificates worth anything?
An eLearning platform like LinkedIn Learning is worth anything only if it can get you jobs. In that sense, LinkedIn Learning is definitely worth the money and its certificates hold a lot of value.
Quick Links:
The Bottom Line: Udemy vs Lynda 2023
Both of these platforms were exceptional and great. Both online learning platforms provide a lot of flexibility in learning and developing new skills to all students. 
I believe both of them have performed well in this battle, as both of them are e-learning effective platforms. 
You can choose any one of them. If you are looking to learn one or two courses, then I must say go for Udemy. But if you want to develop a bunch of skills and want detailed learning, then go for Lynda. 
The choice of making an investment is completely personal and you have all the information of both e-learning platforms. 
I hope this article gives you a detailed peek into what these platforms are and how they are beneficial to you.
Udemy On Social Media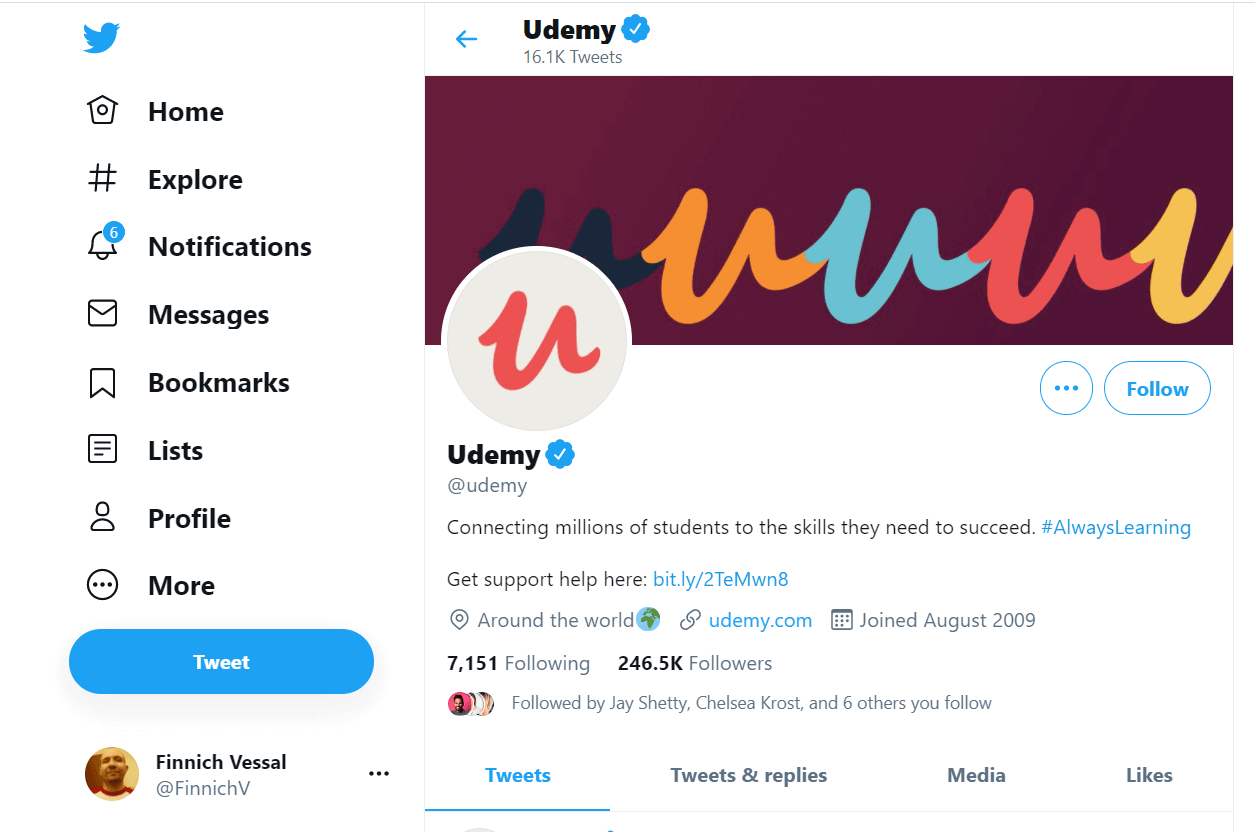 Lynda On Social Media
Udemy Best Videos