The advent of online courses started a decade ago, but their popularity has taken a surge in recent times. If you have an idea that people want to learn, then do not hesitate to teach it online. Myself, I have uploaded some financial courses and have struck gold.  
The cyber world is full of people looking to learn something new every time. Not only would you be providing a valuable service to the online community, but also you would be making a killing.
Here, we will talk about two online-course markets to help you achieve success in the digital world: Udemy & Pluralsight. Even though both of them provide the same service, their methodology differs vastly. A lot of people make the mistake of choosing the wrong option & then curse their luck.
Udemy & Pluralsight are two giants in the marketplace & knowing deeply about them would help you immensely. So without much delay, let's take a dive & try to figure out the choice that is perfect for you.  
Udemy vs Pluralsight: Basic Overview
Udemy & Pluralsight are both online course markets where you can sell your teachings. As the saying goes "when there is a gold rush, sell shovels". Inhabitants of the cyber world are keen to find a way to earn by being online.
There would be no shortage of takers if you offer a way to monetize their time on the internet. With a little help from Udemy or Pluralsight, you could be the next big online guru or expand your intellectual horizons by learning.  
Udemy: Overview
It is impossible not to talk about Udemy when the subject is online courses. Such has been the popularity of this online platform. Udemy was founded a decade ago in Silicon Valley, San Francisco, and was aimed at young professionals & students.

Udemy has risen into a giant and holds a monopoly over online learning platforms. With over 60000 instructors presenting to over 50 million students in 65 languages, it's not hard to see why.
Most of the courses available in Udemy fall under technology or personal development. Even though users can upload PDFs, audio files, presentations, or compressed files, video files are the most popular. Udemy is also available as an app for iOS and Android users.
Are you considering creating online courses online? If that's the case, Thinkific is a good option. To get the most up-to-date discount, visit here.
Pluralsight: Overview
Pluralsight was founded was back in 2004 in Utah, United States. It started as a medium for companies to train their employees. Pluralsight started offering distance training programs from 2007. They have grown exponentially since then and is now a publicly listed company in NASDAQ.

All the courses available in Pluralsight are based on programming & IT technology. Pluralsight boasts of having over 1500 expert instructors and more than 7000 courses.
Pluralsight also helps companies to optimize their work patterns. They have trained about 75% of the Fortune 500 companies in around 500 countries. Pluralsight instructors are experts in the industry. All of their courses are vetted to ensure quality.
Want to know about another create online learning platform? Then you must check out FutureLearn, which offers the best courses from the top organization. Click here to know about the latest deals and offers on FutureLearn and get the best discounts on your purchase.
Udemy vs Teachable: Ease-of-use
Udemy: Ease Of Use
Udemy is one of the easiest online platforms to use. You just have to upload your courses and then forget about the rest. Apart from being simple to upload, they also actively promote your courses. There are 4 simple steps to find success in selling courses in Udemy:
Course planning –

Create an outline of the course you are passionate about through Google Docs, MS office, or other similar files. Udemy even has courses on how to build your courses.

 

Video recording –

Recording a video for a course is a sure-fire way to success. All you need is a camera device & a mic to start recording. You can also use screen-recording software like Screencast to record a course.

Build a following –

The final step is to be more interactive with your students. This can be done through quizzes & assignments to create a wholesome experience. Udemy will provide you with all the tools to make your courses more engaging.

Get paid – You will be paid every time your course is purchased. Payment will be delivered monthly through PayPal or Payoneer according to your preference.        
Pluralsight: Ease Of Use
Pluralsight is relatively easy to use considering all the features that they provide. You can set up your channel in Pluralsight & upload your courses into it. There are plenty of articles available in their blog to take you through the process step by step. There are 4 main steps to create your course in Pluralsight:
Creating a channel – This is the landing page that bridges potential students to your courses. Add a channel description. Your channel description would make it easier for a student to know the type of courses they can expect.
Creating an audition video –

Their acquisition editors will help you create a short audition video to evaluate your teaching prowess. You can only start uploading content if your audition video is accepted.  

Uploading course content –

Pluralsight lets you upload courses as videos, assessments, written contents, projects, or labs. This process is pretty straight forward & you can edit it to make it look any way you want. 

Get paid –

Pluralsight will pay you based on the amount of content viewed per month and the total revenue it received.  
Verdict: Pluralsight makes it as easy as possible to use it considering the number of quality checks one has to pass. However, Udemy wins this round by being far more simple and straight-forward.
Udemy vs Pluralsight: Key Features & Benefits
Unique Features
Udemy
Customer reach:

Udemy does marketing for you. With students from over 195 countries, you can be assured of a truly global outreach.

Opt-in promotions:

Udemy runs special campaigns to attract new clients to your courses.

Technical support:

Udemy is responsible for any issues your students may face. And all their services are completely free for instructors.

Sell in an established market:

Udemy has a vast client base with over 50 million students.   
Pluralsight
Assessment tests:

Pluralsight will give you an assessment test and will suggest courses based on your knowledge level.

Quality content:

Only high-quality courses are accepted into Pluralsight. All courses have exceptional audio and video quality.

Subscription model:

You don't have to pay separately for individual courses. You can get access to a limitless number of courses by paying a monthly or annual subscription fee.

Skill paths:

This is a feature that organizes similar courses based on your level. The skill path will take you from beginner to advanced categories.
Similar Features
Course content type:
Couse content can be anything & can be uploaded as videos, PDFs, audio files, infographics, and Google Docs. Both Udemy & Pluralsight are very flexible when it comes to this. Although it is advised to upload as videos if you want more revenue from Udemy.
Course access:
Courses are accessible on all internet using devices. You won't have to worry about missing out on any particular device market. Both Udemy & Pluralsight comes with iOS & Android apps.
Certification:
You can attract more students to your courses by providing them with certification. Both
Udemy & Pluralsight will let you provide certificates. Certificates from Pluralsight are considered more valuable as they are from industry experts. However, neither of their certificates are as good as college degrees. 
Verdict: This a hard-fought round. But Pluralsight clinches this bout by providing features that are higher in quality than Udemy.  
Udemy vs Pluralsight: Quality of Content | Who produces better courses?
Udemy has more than 60,000 instructors producing around 150,000 courses. It would be difficult to check the quality of every single course since there are so many of them. And that shows.

A lot of courses in Udemy are well below par. Plenty of people upload substandard courses just to make a quick buck. But Udemy has high-quality courses as well. I have found that "The Complete Deep Web Course" by Jan Alderweirald and "The Python Mega Course" by Rob Stevenson is fantastic to learn.
Pluralsight has only around 7000 courses by 1500 authors. But all their courses are top-notch in terms of quality of content and quality of information.
All courses go through a stringent quality check before being uploaded into Pluralsight. These processes are:
Initial acquisition checking through author audition

Ensuring the quality of video & audio in a course through production editors.

Fact-checking for technical accuracy through peer reviewers.
Verdict: Udemy does contain a lot of high-quality courses. But Pluralsight stands head & shoulders above Udemy by providing uniform high-quality courses.  
Udemy vs Pluralsight: Security | Which Is More Secure?
There is a lot of data being stored in online learning platforms. Apart from an obvious concern like credit card data security; student data & course content should also be kept secure. 
Udemy
Since the reach of Udemy is very large, the security concerns also increase.

Credit or debit card information entered into Udemy is directly sent to secure databases. This makes it completely safe from any credit card fraud.

The courses uploaded in Udemy are not completely secure. There have been many instances of courses being stolen & pirated.
Pluralsight
All student data is SSL encrypted & hence will not be prone to leaks.

They have 24/7 monitoring to prevent outages from harming your data.

All payment gateways are ensured to be PCI level-1 compliant.
Verdict: Both Udemy & Pluralsight provide decent security for the protection of your content and personal data. However, Udemy does suffer a lot from piracy issues. Hence, Pluralsight wins this round by being more reliable than Udemy.  
Udemy vs Pluralsight: Pricing & Payment Structure
Udemy: Pricing Structure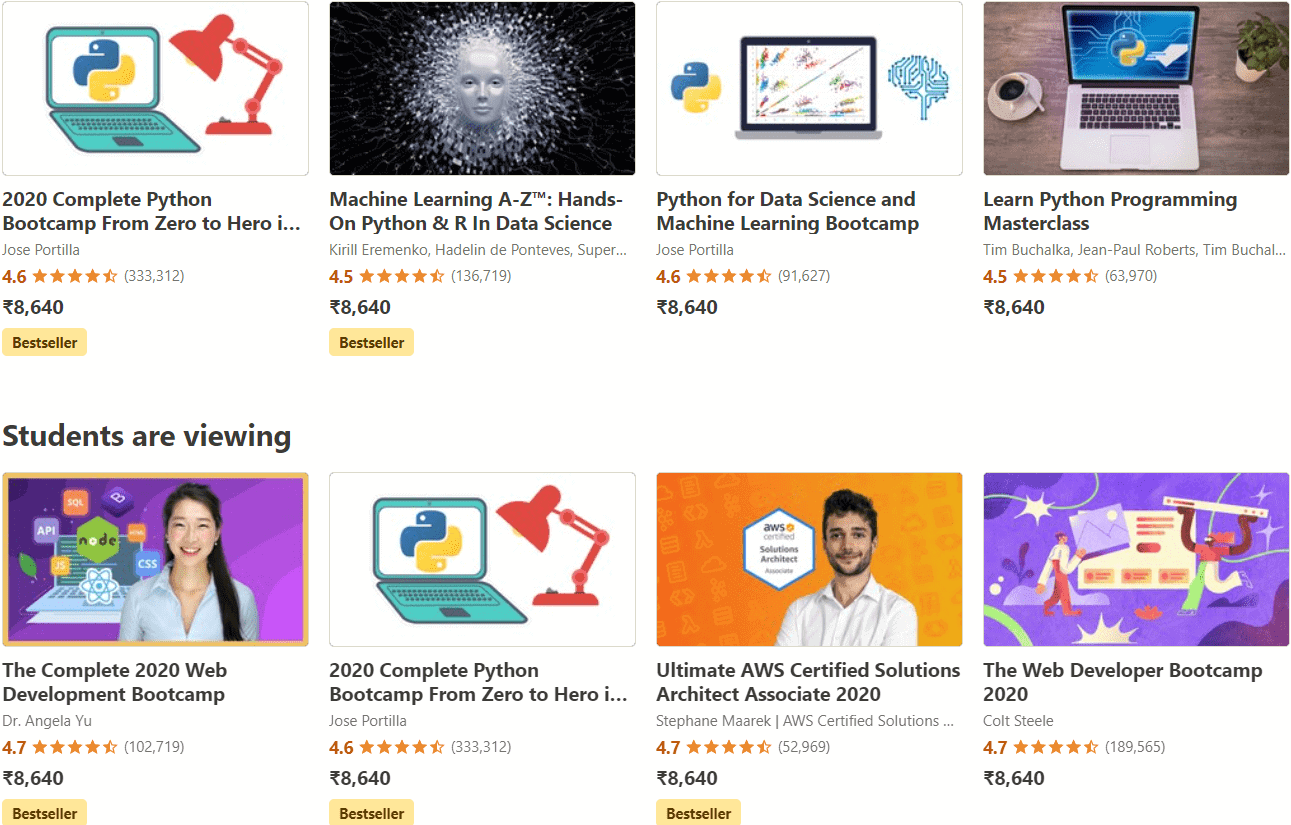 Udemy is a marketplace of courses. Courses are priced according to the sellers. A course can range from $9 to $300. Udemy conducts flash sales that will give you courses at hugely discounted prices.
Pluralsight: Pricing Structure
Pluralsight has a subscription-based pricing system. They have three levels of pricing that is split into annual & monthly payment plans.
There are also team-based plans for companies. The pricing packages differ with the features it provides. It starts with a basic plan at $29 a month.

Personal monthly package –

This plan will give you full access to all their courses for $29 a month. Additionally, you will receive learning paths, channels, exercise files, mobile apps, conferences & guides. It also includes various assessments like skill IQ, role IQ & course learning checks. 

Personal annual package –

This plan includes everything in the Personal monthly package for a fee of $299 annually. This plan will save you 31% compared to the Personal monthly package.  

Premium package –

This includes everything in the Personal annual package for $399 annually. There are additional features like Certification practice exams, interactive courses & projects.

Professional package –

This includes everything in the Premium package and additionally provide you analytics for $579 per user per year. The analytics features include trend analytics & usage analytics.

Enterprise package –

This includes everything in the Professional package and additionally provides you advanced analytics for $779 per user per year. The advanced analytics features include skills analytics, roles analytics & channels analytics.
All plans have free trials.
The payment plan
Udemy offers a very rewarding payment plan. It is completely free to create a course & host it on Udemy. You will have to pay only when your courses are sold, which is a boon for beginners. There are 3 types of revenue shares in Udemy:  
Self-promotion –

You will receive 97% of revenue share if students purchase your courses from course referral links provided by you. This type of purchase will generate the highest possible revenue for you per sale.

Organic sale –

You will receive a 50% revenue share if sales happen outside of instructor coupons or course referral links. Most of the sale takes place through organic promotion by Udemy

Paid advertisement sales –

You will only receive a 25% revenue share from this method. Udemy will put out paid advertisements or partner with their affiliates to promote your courses on a global scale. The revenue share could vary according to the advertisement costs.
You won't have to worry about choosing an ideal plan here since it is in Udemy's best interest to get you more sales.
Pluralsight receives its revenue from subscriptions. Pluralsight will pay you based on the amount of content viewed per month and the total revenue it received. 
They will calculate this amount by taking the total minutes of your contents viewed and divide it with the total revenue. You will receive a percentage of this sum as agreed.
Verdict: I will call this a tie. Udemy is perfect if you only want specific courses. Pluralsight is perfect for you if you are driven & want to learn deeply.  
Udemy vs Pluralsight: Customer Support
Udemy has an exhaustive collection of help articles in their blog to help you through any trouble. But they lack the personal touch by not providing live chat support.

Listed below are the types of support given by Udemy:
Help documentation – Exhaustive collection of helpful articles. Covers everything you would want to know about.

Email support – Udemy provides email support for any queries you may have. Although this can be slow-responsive.

Support ticket – You can raise a ticket by submitting a request for any queries or complaints you may have.
Pluralsight has a quick response support team to provide solutions for any difficulties you may face. They are over 350 articles in their knowledge base to provide you with a seamless working experience.

They also have an online community for you to ask questions or share ideas. These are the types of support they provide:
Help documentation – Their knowledgebase contains articles on everything from integrating your website with Teachable to processing payment.

Support ticket – All users will be given access to a help form through which you can raise a ticket. This feature is available 7 days a week.

Email support – Pluralsight provides 24/7 email support for any queries you may have.

Phone support – You will get an instant response to your queries by using this feature. Phone support is available only on weekdays at working hours (8 AM – 5 PM GMT). 
Verdict: Customer support of Udemy is not too shabby. But Pluralsight takes this round by giving their clients a wider range of support.
Also Read: MyThemeShop Review 
Udemy vs Pluralsight: Pros & Cons
Faq's On Udemy vs Pluralsight
☞Is Pluralsight free to use?
Teachable is not available for free. Teachable has a three-tier pricing system split into annual & monthly payment plans. The purchasing plans vary with the number of users, transaction charges & additional features. It starts with a basic plan at $29 a month.
☞Can I upload and sell infographic courses from Udemy?
Abosulety! Course content can be anything & can be uploaded as videos, PDFs, audio files, infographics, and Google Docs. Udemy is very flexible when it comes to this. Although it is advised to upload as videos if you want more revenue from Udemy.
☞What is the average income for a Pluralsight author?
According to recent surveys, the average income for a Pluralsight author is $80,000 per year. Which is a pretty good amount for a passive income.
Quick Links:
The Final Verdict: Udemy vs Pluralsight 2023
It was a closely fought battle. Udemy & Pluralsight are giants in the online education world. Both Udemy & Pluralsight have their unique strengths & weaknesses.
If you are a beginner looking to foray into the world of digital courses, then Udemy is for you. Udemy's free hosting makes it a no-brainer in this regard.
However, if you are driven and want to learn deeply about a subject in a structured manner, choose Pluralsight.