Learning online courses is one of the most lucrative ways to increase your knowledge in recent years. Many schools in India do not give quality education to your students. They will not teach you courses like Social Media Marketing, Coding, Python, Instagram Marketing, Content Writing, Tally ERP 9, and many more.
Both platforms provide the best online courses, but somewhere the teacher's methodology differs. Both platforms are popular in online learning terms. These platforms enhance your abilities and give you deep knowledge about industry-related topics. Online learning can stand you out from the crowd. 
So let's start and take a deep dive into the two best online course platforms that can help you to achieve success in the digital world.
Overview: Udemy Vs Udacity
Udemy: Overview
Udemy was founded in May 2010, and for almost 10 years, Currently, more than 35 million students are learning online courses on Udemy in 65 different languages.
Udemy offers various benefits to all the students like you can watch online classes at your own pace and it is compatible with all mobile devices and browsers.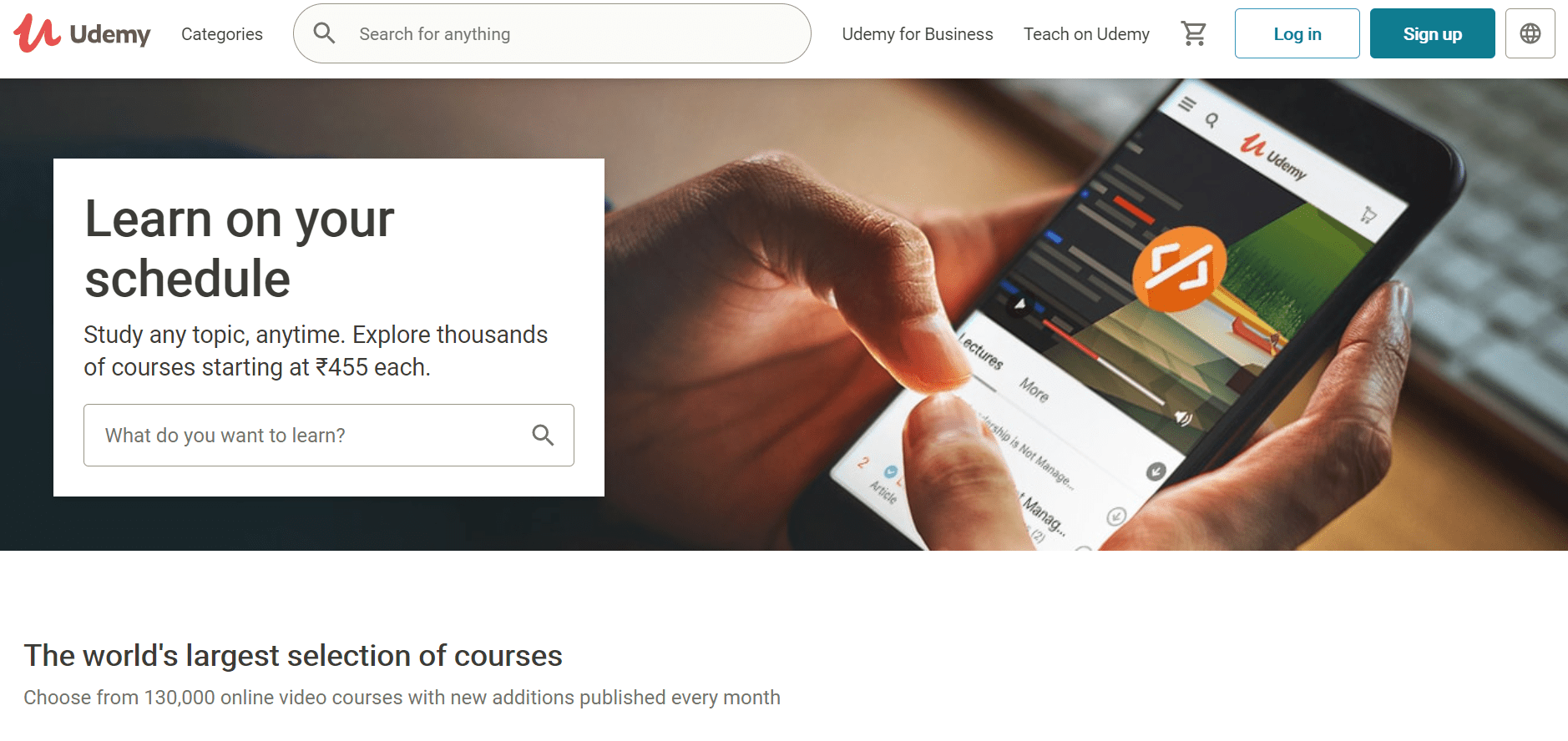 It has covered thousands of industry-related topics. It has various quizzes and assignments to get you to interact with your students. As well as it provides air-tight security to all the students when it comes to the protection of your data.
It is the most reliable platform. Udemy offers a fantastic benefit to its users that they can download PDFs, videos, and lectures to watch them anytime any day. 
On this platform, students can enhance their lectures by watching 80,000+ videos in the technology, Financial, and marketing department. Udemy provides various PDFs for learning and developing skills in different departments. 
Udemy offers online courses on new topics like Social Media Marketing, Artificial Intelligence, and Content Writing, Instagram Marketing, and many more.
Udemy is the best platform for teachers as well. They can publish their courses on Udemy and earn a lot of bucks from them. There are few best selling courses of Udemy are listed below:
Financial Analyst Course

Web Development Course

Microsoft Excel Course

Instagram Marketing

Social Media Marketing

Pinterest Marketing
Udacity: Overview
On the other hand, Udacity was founded in 2011 and almost 12000 students have enrolled for Udacity courses. Udacity's courses are quite expensive but all courses are taught by experts.
All courses are at the university level and after completing those courses, students completed their Nanodegrees. Sebastian Thrun is the founder of Udacity who started this amazing platform for students as well as for job seekers. 
Looking for an unbiased Bionic Turtle Review? Check out this review and find out  if Bionic Turtle is worth it and whether you should give it a try.

Udacity offers all technological and science-based courses and Udacity is considered the best platform for students as well as for job seekers. You can find reviews on the Udacity platform from graduated students, employers do give importance to Udacity certificates. Many graduates of Udacity are doing jobs now, they are placed. 
The main motive of Udacity is to provide high learning quality courses to all the students of the world. Udacity started so that every student in this world can get access to education.
This is the best platform for those students who cannot go outside to develop their skills but learn and enhance their skills by just learning from their homes. 
On this platform, teachers also can promote their courses and earn their second income. Listed below are the courses of Udacity:
Digital Marketing

Programming

Artificial Intelligence

Information Technology

Robotics Engineering

Android application development

Data Analytics
Udemy vs Udacity | Features: What They Offers?
Udemy: Features
Udemy offers plenty of unique features to its users. Let's discuss what are they:
Economical:

All the courses listed on Udemy are low cost, and easily affordable for all the students. Udemy does not charge a lot of bucks for its courses. They all are priced under $200. 

Refund Policy:

Udemy offers a 100% money-back guarantee to all the students. Students can claim for refund within 30 days of enrollment. After 30 days, they will not be able to claim a refund. 

Mobile and Desktop Optimized:

I like the accessibility of Udemy, that all courses we can watch from either Desktop or Tablet and smartphones. Udemy courses are compatible with all the devices. 

Lifetime Access:

You will be getting lifetime access to all the enrolled courses of Udemy. After completing the course, if you wish to watch it again then you can revise your online courses again. 

Download Videos and PDFs:

Students can download their lectures, videos, and PDFs to watch them later. They can learn all the courses at their own pace and get immediate access to the courses after their enrollment. 

Professional Experts:

All courses' teachers are professional experts. They have practical and professional knowledge in their respective fields. They give practical and easy examples to understand the concepts. 

Certified Courses:

All courses are certified courses on Udemy online learning platform. Every student will get a certificate after completing their respective courses.

Technical support:

Udemy is responsible for any issues your students may face. And all their services are completely free for instructors.
Udacity: Features
Udacity offers plenty of incredible features to its users. Listed below are the key features of Udacity:
Simple Interface:

Udacity has a very simple and clear interface, which is helpful for all students and instructors to use the platform. They will not face any technical issues or complexity while learning and teaching respectively. 

Free Courses:

Udacity gives free courses to all its students. And the quality of all those free courses is the best. Almost 200 free courses are available which any student can get access to, but those free courses do not offer certificates after completing the course.

Certified Courses:  Udacity's certificates are well recognized. After completing 6-12 months, every student receives a certificate. All the certificates of Udacity are worth it. Students can add their Course Certificate to their CV. 
Source of Income and Learning:

Udacity is one of the best platforms for all teachers and professional experts to earn a good income by teaching students and students can also learn and develop their skills from industry-related experts.  

Mobile Optimised:

Students can watch their online courses from any device, whether it is a mobile or computer. All devices and browsers are compatible with Udacity courses.

Industry-related  Programs:

Udacity has some industry-related programs for its students which are built by top companies of the world, like Google and IBM. 
Udemy vs Udacity: Duration Of Courses
Udemy: Course Duration
Udemy Courses are short and interactive. All course duration falls from 3 to 5 hours maximum. And some of their detailed courses are 20 to 25 hours. You can easily complete your courses in just a few days or one week. It won't take much time unless you don't study regularly.
Udacity: Course Duration
On the other hand, all Udacity courses are for 3 to 4 months. If you can devote at least 10 hours per week, then you can complete the course in almost 4 months. Courses have subdivisions like introductory, basics, professional, assignments, quizzes. Therefore completing all the levels with assignments takes a lot of time. 
Final Verdict Udemy is the clear winner as it offers fewer duration courses from all industry related experts. 
Udemy vs Udacity: Free Courses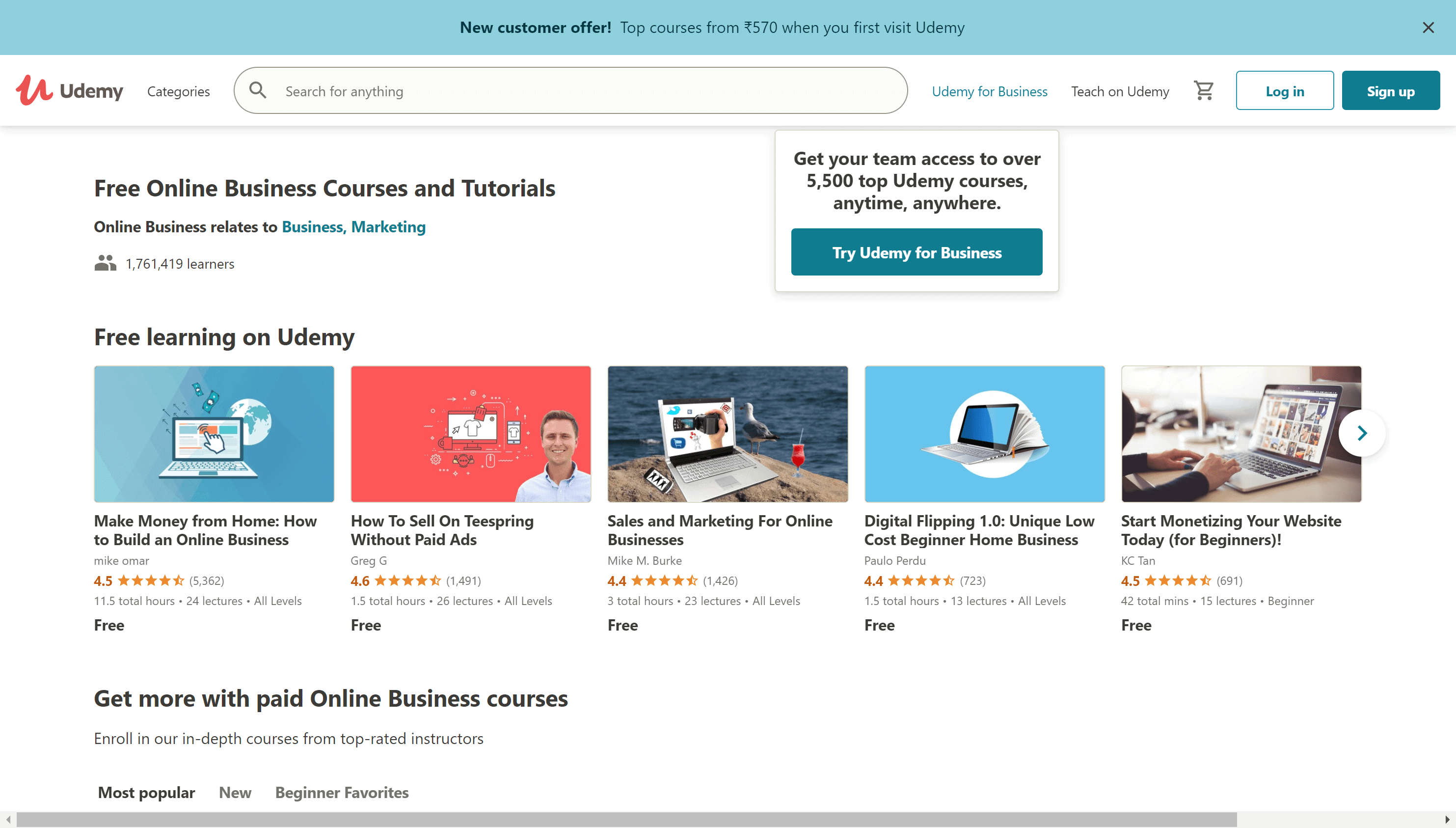 Well, every student searches for the platform which gives the best free courses. 
Udemy has a lot of free courses on its website. And you get enough time to learn every free course in your respective field. 
For Business and Accounting, Udemy provides 400+ free classes for students. 

In the IT and Software stream, it offers 1500+ free classes.  

For Lifestyle, It has 300+ free classes. 

For the Marketing stream, it has 870 free online lectures. 

For Fitness and Yoga, it gives 500+ free online classes. 

For teaching, academics, and expertise – it gives 1500+ online lectures. 

Designing includes graphic designing, interior designing, fashion designing, it offers 875 free online lectures. 
Whereas Udacity also offers free courses but it has only 200 free online courses to its students. Udacity does not offer many free classes, because all the instructors of courses are professionals and industry-related experts. All Nanodegrees of Udacity is paid only. 
Final Verdict: Udemy wins the battle of this round because it gives more free courses to its students of the best quality as compared to Udacity. Udacity offers only 200 free courses whereas Udemy has a library of free courses. 
Language Supported: Udemy vs Udacity
Udemy supports several languages and it offers its courses to students in different languages. Udemy supports the following languages:
German

Spanish

Portuguese

English

Chinese

Dutch

Korean

Turkish

Indonesian

French

Thai

Romanian
On the other hand, Udacity only offers its courses in English. All the instructors can upload their courses in English only on Udacity. 
Final Verdict: Udemy is the clear winner again. Udemy clinches this bout by providing more language support whereas Udacity only provides its courses in one language. 
Certified Platform: Udemy vs Udacity
Every student on Udemy gets a certificate after completing a course. All Udemy Courses certificates are not recognized. They are not accredited like a university or a recognized institution.
Whereas in Udacity, all certificates are recognized and accredited like an educational institution or university. All certificates of Udacity are called the Nanodegrees. Students can add their certificates or Nanodegrees in their resume or CV when they apply for the job. It creates a better impression on the employer that an employee has developed his/her skills in its respective field.
Final Verdict: In this battle, Udacity is the winner. Finally, Udacity wins the first battle. It offers all accredited and certified courses which are known as the Nanodegrees and Udemy's courses are not recognized and certified. 
Easiness To Use: Udemy vs Udacity
On Udemy, Students can easily register by giving a few details like name, email id, password, qualification, contact no. After completing the registration, you will receive a notification for confirming your email id. 
Once you complete your registration, You can select and create your categories for different courses you want to learn. You can download videos or take notes for your learning and developing your skills. 
On the other hand, Udacity also has the same registration process. In that, you just have to fill details like name, city, email id and password, contact no. Udacity will send you mail for confirmation. 
Once you complete your registration, the interface of selecting courses is very simple on Udacity. It has a very clear structure and you don't have to create categories for learning courses. Your all videos will be played on Youtube. 
Final Verdict: Here, Udemy loses the battle and Udacity wins the battle. Udacity is relatively easy to use considering all the features that they provide. There are plenty of articles available in their blog to take you through the process step by step. Therefore we can conclude that Udacity is a more simple and straightforward platform. 
Who Are The Instructors?: Udemy vs Udacity
On Udemy, it is very simple to upload your course. Instructors only have to clear one assessment and their course will upload on Udemy. The final step is to be more interactive with your students. This can be done through quizzes & assignments to create a wholesome experience. Udemy will provide you with all the tools to make your courses more engaging.

For clearing the quality assessment, the instructor must have some basic as well as some expert knowledge. 
On Udacity, Instructors have to clear some rounds and they have to prove that they have professional experience and knowledge in their respective fields. At Udacity, teachers are very knowledgeable and professional. 
Udacity instructors interact with other course mentors, and Udacity curates its content and collaborates with big corporations like Amazon, Uber, Google, IBM, etc. On Udacity, teachers interact with their students by conducting quizzes and assignments. 
Final Verdict: Here also Udacity wins the battle. Now Udacity is back in the game. The score of Udemy vs Udacity is 3-3. Both platforms are performing well now. But let's see who wins the final battle. 
Customer Support: Udemy vs Udacity
Udemy's Customer Support is fantastic. They solve all the questions faced by students of instructors in a very short period. I love their customer support. They have a technical team that gives solutions to all the queries. 
Time and quality are what every customer expects from the company. There are also visual lectures provided by Udemy to understand the software. 

Whereas Udacity's customer support team is very helpful. It is very easy to contact their customer support team. The help desk of Udacity is 24/7 active and provides solutions to all issues faced by the students. 
Final Verdict: Again this round wins by Udacity. Now Udacity is a game-changer. Now the scoreboard is showing scores are Udacity – 4 and Udemy – 3. 
Course Pricing: Udemy vs Udacity
Udemy: Price
On Udemy, every student has to pay for each course individually which they want to learn. After making payment and enrollment, you will get lifetime access for your courses. All courses of Udemy are very economical and easily affordable. Students do not have to pay much for enrollment in every course. All courses are priced between $9 to $199.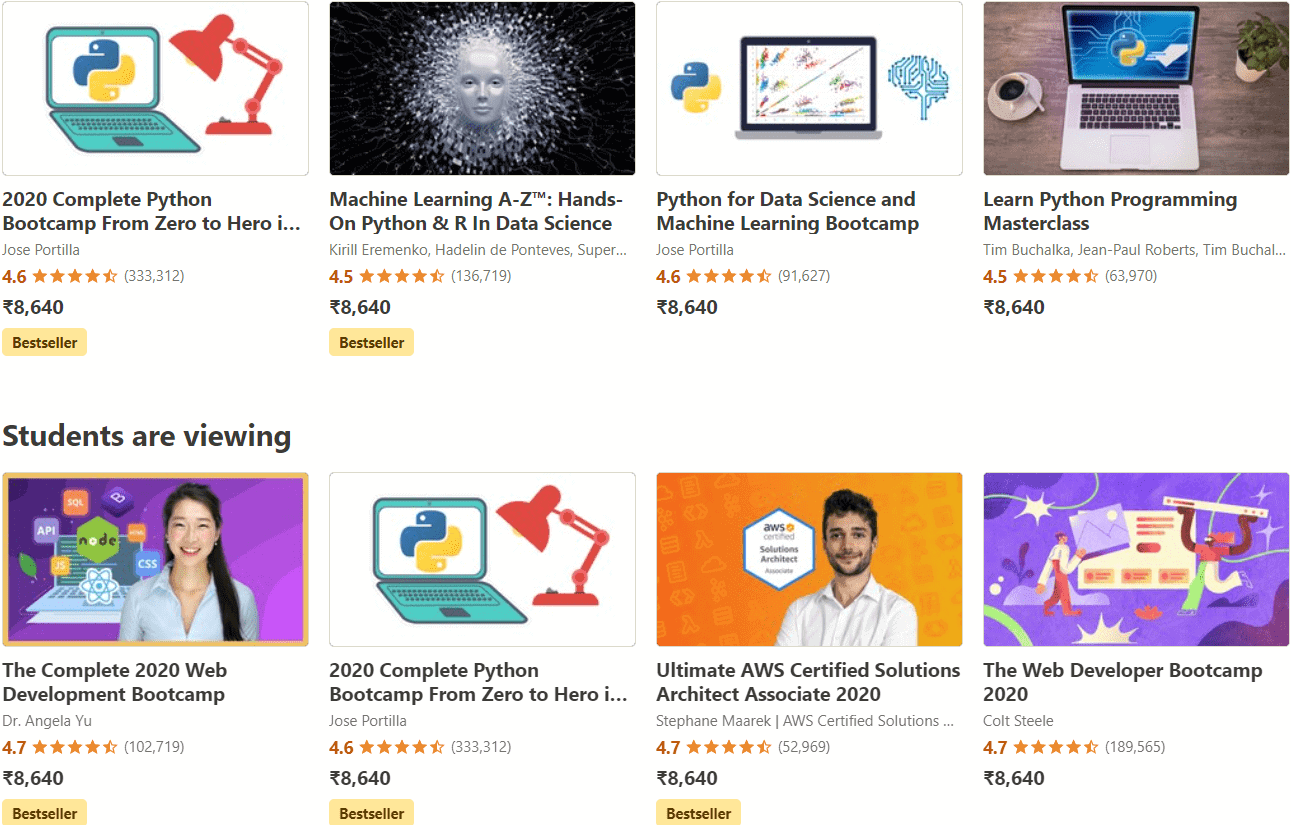 Udacity Price
On Udacity, we all know courses are very highly-priced. They aren't economical. Their courses and Nanodegrees duration is 3 to 4 months. For every course you wish to enroll in, you have to pay $399 per month. For 3 months, you have to pay almost $1200. It is very highly-priced and not affordable for all students. 
Final Verdict: Udemy is the clear winner as it provides economical and affordable courses. 
Udemy Customer Reviews: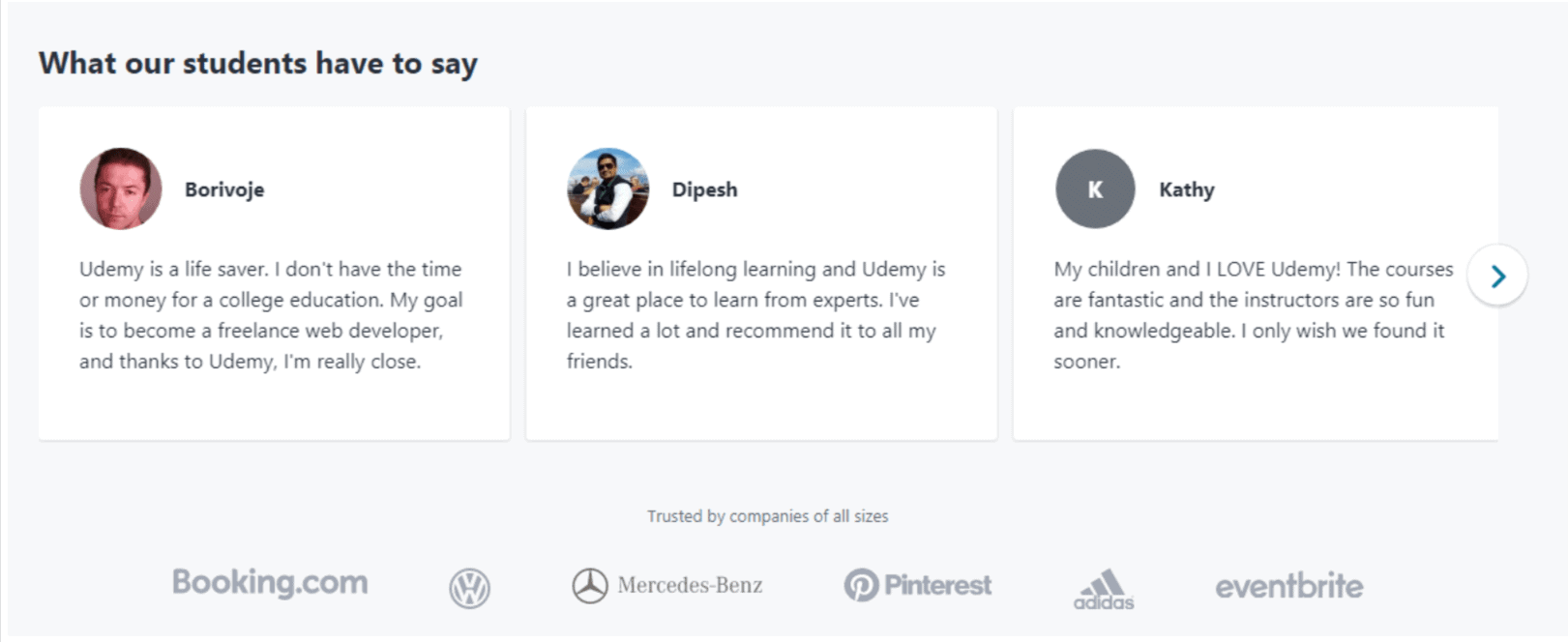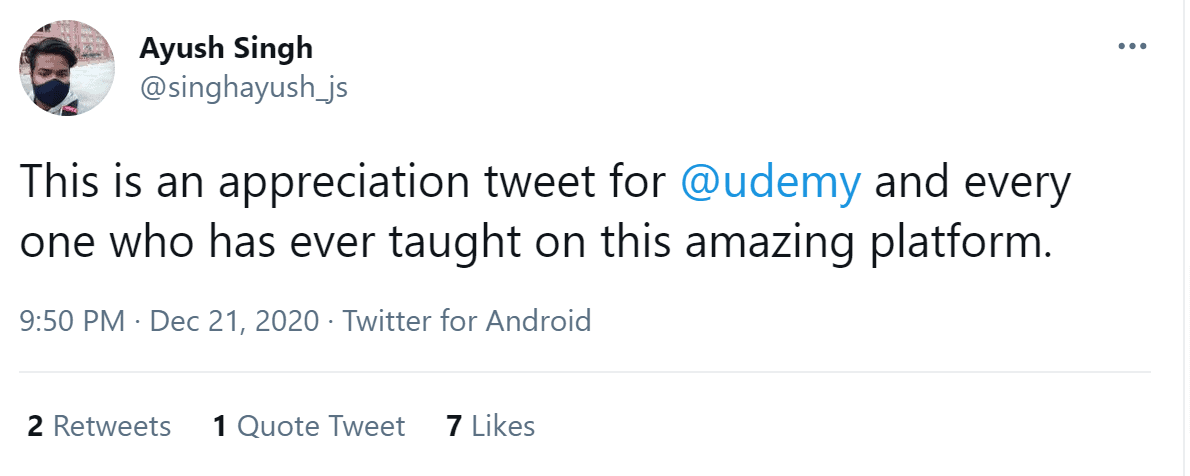 Udacity Customer Reviews: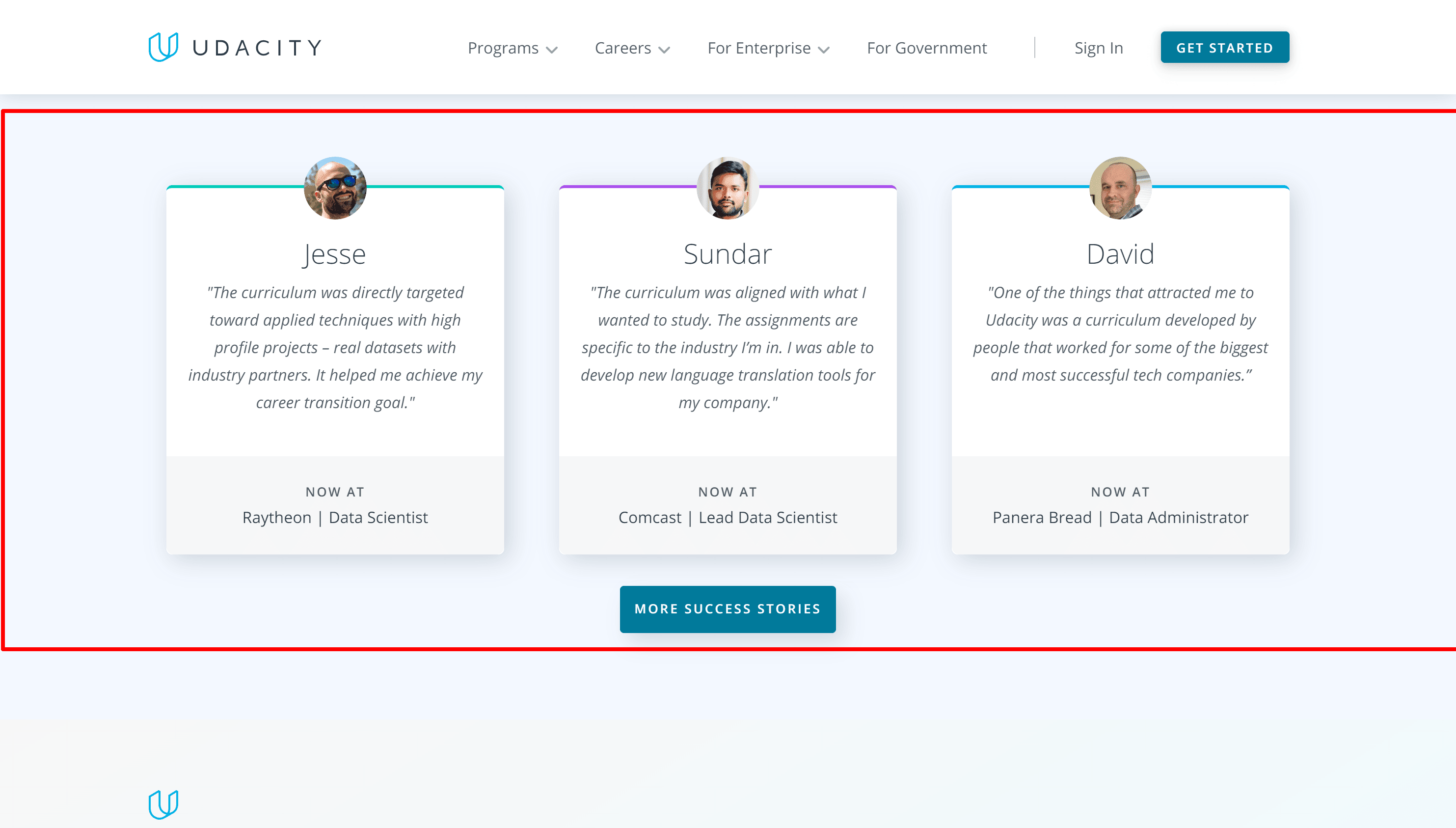 FAQ's On Udemy vs Udacity
✅ Is Udacity and Udemy same?
Udacity is a course platform with experts videos and tutorials whereas Udemy is a course marketplace where various instructors can upload their courses.
💼 Can I download videos and PDFs from Udemy?
Yes, you can download your videos and PDFs. You can watch them at your own pace of time. As you have lifetime access to your courses.
Which has the best customer support team between Udacity and Udemy?
Both platforms provide outstanding customer care services. But out of these two, Udacity has the best.
⚡ Can you get a job after udacity?
Chances are that you might get a nanodegree job after completing the Udacity course.
🎉 What is the process of registration in Udemy and Udacity for enrolling in courses?
For registration, students have to fill details like name, email id, password, contact no. and after that, they will receive a confirmation mail.
Quick Links:
Final Thought: Udemy vs Udacity 2023 | Which One Wins The Battle? 
It was a closely fought battle. Both the platforms performed well. Out of 8 rounds. 4 rounds won by Udemy and 4 rounds won by Udacity. It is tied between both of them. It's hard to say that which is better for you. If you are willing to invest a high amount and want to learn from professionally experienced teachers, then you must go with Udacity.
If you cannot pay a high amount, then you can go with Udemy. Because Udemy provides quality learning and all courses are of short duration. It supports multiple languages. And customer care services of Udemy are incredible, and it provides a lot of benefits to all the students.