Both of these apps offer numerous courses to enhance your skills and learn new technologies. These apps are interactive, self-paced, and engaging.
By enrolling in the courses that they offer, you can experience a new method of learning.
With video lectures clips, online quizzes, and assignments, you can easily master any course. They also track your performance based on lectures and assignments you have covered and award you a completion certificate in the end. These certificates add value to your resume.
Udemy and Coursera offer free and paid courses to students in numerous languages.
Isn't it interesting?
But now a hard choice to be made, which one is better?
Read the whole article and you will get your answer.
Udemy vs Coursera: Overview
Coursera: Overview
Coursera might interest you if you are a knowledge-thirsty person who wants to learn in their free time. They offer an unparalleled range of online training and e-learning university courses.
Coursera is a relatively new MOOC (massive open online courses) provider which gained a network of loyal users very quickly. The number of students who have completed their chosen course and gained benefits from that has increased tremendously.

Each course on Coursera is taught by professionals from top universities. The course is taught in the form of pre-recorded video lectures, discussion forums, and homework assignments.
You will get a completion certificate upon completion of each course. You will be able to finish a typical course within 5 weeks. And the course materials are constantly updated so that you can learn the latest skills.
The courses which can be used to brush up your skills and courses on demand are some of the best features offered by Coursera.
As Coursera is 100% online, anyone with a pretty decent internet connection can access their education. Also if you are from rural areas or have travel deficiencies, Coursera is for you.
The courses on Coursera are taught in multiple languages so that everyone has a chance to learn without any boundaries. Besides the fact that Coursera offers many free courses, even their fee for the paid courses is pretty low, making the learning affordable.
Udemy: Overview
Udemy is an American massive open online course provider. It offers a plethora of courses to students and adult professionals. The vision Udemy has "to help anybody learn anything online".
It has a simple enough design where the instructor provides instructions and the students follow them to learn the courses.
Udemy allows you to share the knowledge you have with the student community if you meet certain qualifications. Udemy provides a technological platform that lets the teachers/ instructors plan, design, and present instructions on learning a particular course.

As of January 2020, Udemy has more than 30 million students from all over the globe. There are about 50,000 instructors and 400 million course enrollments. The courses are taught in over 60 languages. Simply to say Udemy produces instructive videos on the largest scale.
Udemy offers a comfortable learning platform and flexible schedules. You can learn from your home at any time you choose. The subject variety they offer is amazing and their help desk will help you choose the best course for you.
Many of the courses will provide you with a certificate upon completion.
These certificates have only little academic value as there is no independent verification. Applying the practical knowledge in your professional setting for improved results is the main motto of Udemy. It helps you to raise your value and improve your skills in a particular field.
We have already given a depth review. To get details to click here.
Udemy vs Coursera: Common Features
Impart Academic Courses/ skills to learners
Udemy:
Udemy is a platform where you can learn academic as well as co-curricular skills. You can get a diverse range of courses from yoga to coding on Udemy.
Instructors are common people who upload their videos on Udemy. Once you buy the course, there is no time limit to complete the course. You can complete it whenever you feel like it.
Coursera:
Coursera is an online learning platform where you can learn academic skills and knowledge from experienced professors of top universities.
The courses come with a completion deadline and after that, you cannot access those courses.
Verdict:
If you desire to learn any skill just as a hobby or for the certificate, you should opt Udemy. But, if you desire to genuinely gain knowledge and enhance your resume, there can be no better option than Coursera.
Completion Certificate 
Udemy:
Udemy offers a completion certificate once you have completed the course including video lectures, assignments, and tests.
The certificate is issued by Udemy only, no matter who taught you the course.
Coursera:

Coursera also offers you a completion certificate on the completion of your course. These certificates are accredited by the best universities in the world.
For example- if you have completed the course that was delivered to you by Harvard University, then you will get the Coursera certificate accredited with Harvard University.
Paid Courses
Udemy:
Anyone can learn anything on Udemy. It proposes courses from dance to ethical hacking. There are numerous paid courses on Udemy that are affordable and reasonable.
Udemy also brings out weekly sales for students or learners where you can enroll yourself in a course for free or can get a discount. You also get a 30-days refund guarantee.
Coursera:
The lessons of Coursera are purely academic. Every course on Coursera is a paid course with no discounts and free enrollment. But, by logging into University-sponsored programs, the students of that University have free access to those courses.
Udemy vs Coursera: Unique Features 
So, what makes Udemy and Coursera stand out in the crowd? They do have their unique features; let's take a look at them.
Udemy: 
One main feature that makes Udemy stand out is its wide range of courses. As anyone with basic qualifications can teach at the Udemy platform the result is a never-ending course list.
As the teachers get paid or selected by their ratings, they are always improving and providing the best quality education.
Another unique feature Udemy offers is the period in which you will get access to the course materials. Most of its competitors only give access to the course material for a limited time, mostly for the time taken for the course to complete.
But Udemy offers lifelong access. Once enrolled you can access the materials any time you want.
Coursera:
One of the unique features Coursera offers is the learning choices. 
The choices are audits, certified courses, specializations, and degrees. If you crave to learn a course but the course is too costly then you can opt to audit the course. Then you will get full access to the course material, free of cost, but you cannot apply for a certificate.
By choosing a certified course, you can enroll and learn a course; you will also get the completion certificate. In specialization, you can choose several different courses which are based on one topic. A degree is a huge deal. If you choose a degree you are signing up for a university, just online.
Scholarships and financial aids are other great features. You have to submit a special form, and if Coursera decides that you are worthy you will get financial aid to study a course. Pretty cool, right?
Udemy vs Coursera: Courses
Udemy and Coursera are two of the most preferred platforms for online pedagogy that have hundreds of courses in different fields available, both for free and paid mode.
Categories like IT and software, business finance and accounting, personal development, photography, teaching and academics, designing, and many more are found in these platforms. Out of these, I have very keenly selected the bestselling courses on both platforms for you to start with.
Let's get the details of all. 
Udemy: Courses
Of all the programming languages around, python is the most popular one of them. All the data languages like Java, javascript, etc are left behind by this language, so don't you think we need to get onto it soon? Yes, this is why I brought for you the best python courses offered by Udemy.
If you are starting from scratch I recommend you go with a complete python Bootcamp course where you will be taught skills that help in improving your programmer experience. With access to 185 lectures constituted into 24 hours, you are all but benefitting from this course whatsoever.
Alongside this course, there are many other python courses categorized in programming languages and data science that you will find on the official website of Udemy. Below  are a few other courses that cover python Bootcamp:
  -Python: programming made easy
  -Python 3 network: project-based python, algorithms, data structures
  -Design patterns in Python 
  -Interactive python dashboards 
  -Python programming masterclass
Learning Excel in today's world is as important as knowing any other languages and the best online platform for this is Udemy.
There are so many affordable courses that cover all the levels of Excel that I almost got lost in its maze. But to save you from this, I have gathered the top courses from its list you should start with: 
-MS Excel: Excel beginner to advanced
-MS Excel:  Advanced Excel formulas and functions
-MS Excel: Data analysis with Excel pivot tables
-Excel essentials
With the global businesses running majorly on the internet, the need to gain knowledge about the world wide web has become so important.
And to do this, you have to learn it from scratch, selecting courses that suit your level of intelligence. Here are a few courses to help you out in stepping into the web development world. 
-The complete Javascript course
-The complete web developer course 2.0
-The complete front-end web development course

If your business has an online presence then you have to learn the skills of digital marketing and for that, I have brought for you some of the freshly picked digital marketing courses from Udemy that will help you not only in learning the skills of digital marketing but also going pro with the secret tricks of pursuing any visitor and turning them into a customer.
These courses will guide you with the fundamentals of digital marketing, how to start, promote and expand your online business and make sure you are visible to your customers, mobile and social media marketing, etc. Here are a few courses that you could go for:
-Google digital marketing courses
-Reliablesoft academy
-SEMRUSH Academy
-HubSpot online marketing courses
-Udacity digital marketing course
Coursera: Courses
 I have made your work easier by bringing up the top courses from Coursera that will help you in choosing them without having to waste much time on the internet searching for reviews. 
Programming with everybody-
This is a course where you will get to know everything about Python since it is that one programming language you need to know before entering the programming world.
It is offered by the University of Michigan. This course offers you the basics of entering the programming world through python and provides instructions on how to build your programs with a series of steps. Covering level python 3, a student will be eligible to enter other advanced programming courses after clearing this one.

This course includes parameters of a human's well-being and how they may increase and build up their productive habits and learn the skills of gratitude and happiness.
Initiated by Yale university, this course mainly focuses on how our mind makes up itself regarding self-worth and self-doubt, and misconceptions that surround our mental health.
I would highly recommend every one of you not to miss this course thinking it is unimportant in the corporate sector. This is very much important for your stabilization that is required to enter the corporate world. It is available in three languages- English, Spanish, french.
Machine learning has become an important field in computer science that helps in determining the supervised and unsupervised learnings such as support vector machines, parametric/non-parametric algorithms, recommender systems respectively.
Coursera is offering three major machine learning courses which will make you a pro at logistic regression, artificial neural network, and many more. These courses are: offered by Stanford junior university
– Machine learning
– Mathematics of machine learning
– Deep learning
Udemy vs Coursera: Pros and Cons
Udemy: Pros
Coursera: Pros
Udemy vs Coursera: Pricing
Udemy: Price 
Python courses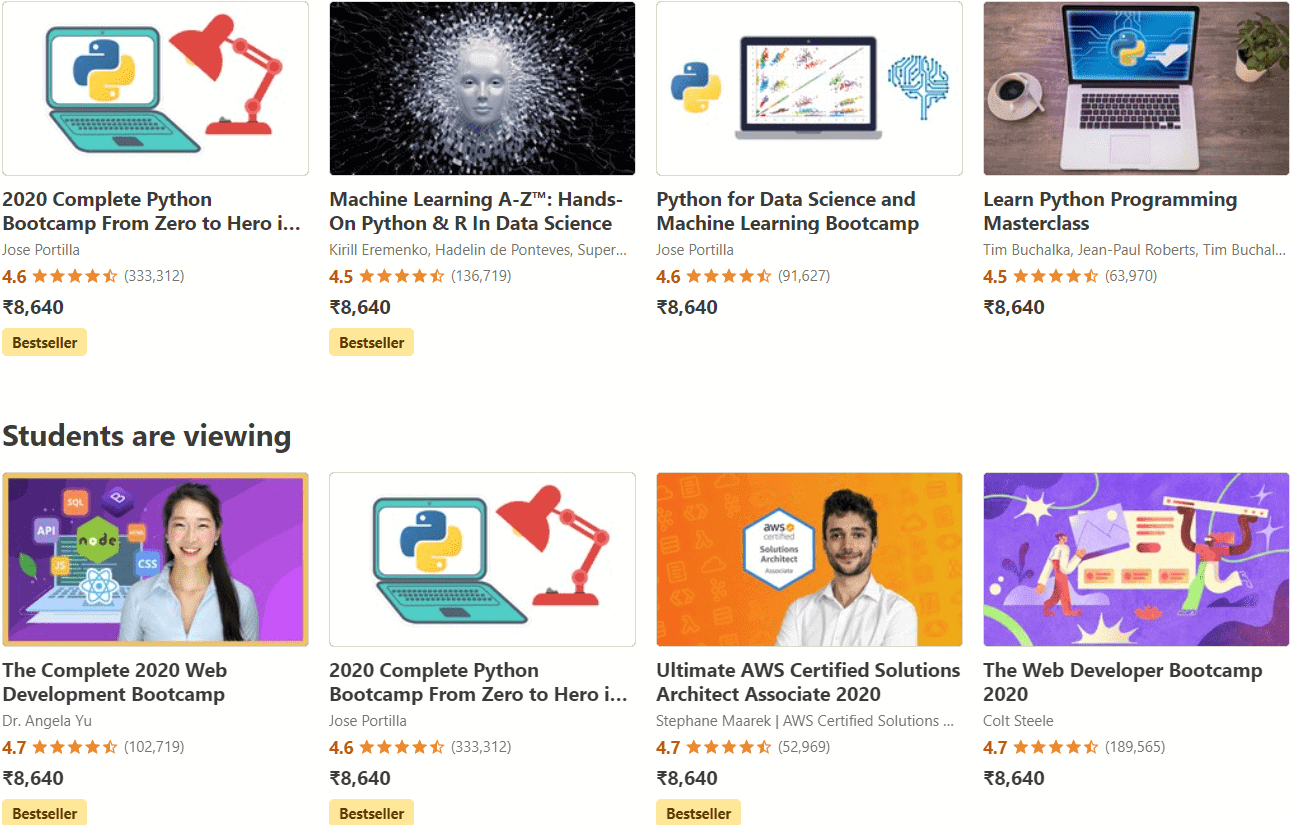 Complete Python Bootcamp: Rs. 455

Python 3 network: Rs.455

Design patterns in python: Rs.455

Interactive python dashboards: Rs. 455
Excel courses
Microsoft excel- beginner to advanced: Rs. 462

Excel essentials: Rs. 455

Microsoft excel- data analysis with excel pivot tables: Rs. 455

  
Web development
The web development Bootcamp: Rs. 455

The complete web developer course 2.0: Rs. 455 

Complete front end web development course: Rs. 481

The modern javascript Bootcamp course: Rs. 455
Coursera: Price
All these courses in Coursera are free to audit, but you would have to pay a certain amount to obtain the certificate.
Programming for everybody( getting started with python): $79

Science of well being: $49

Machine learning: $50
Coursera Customer Reviews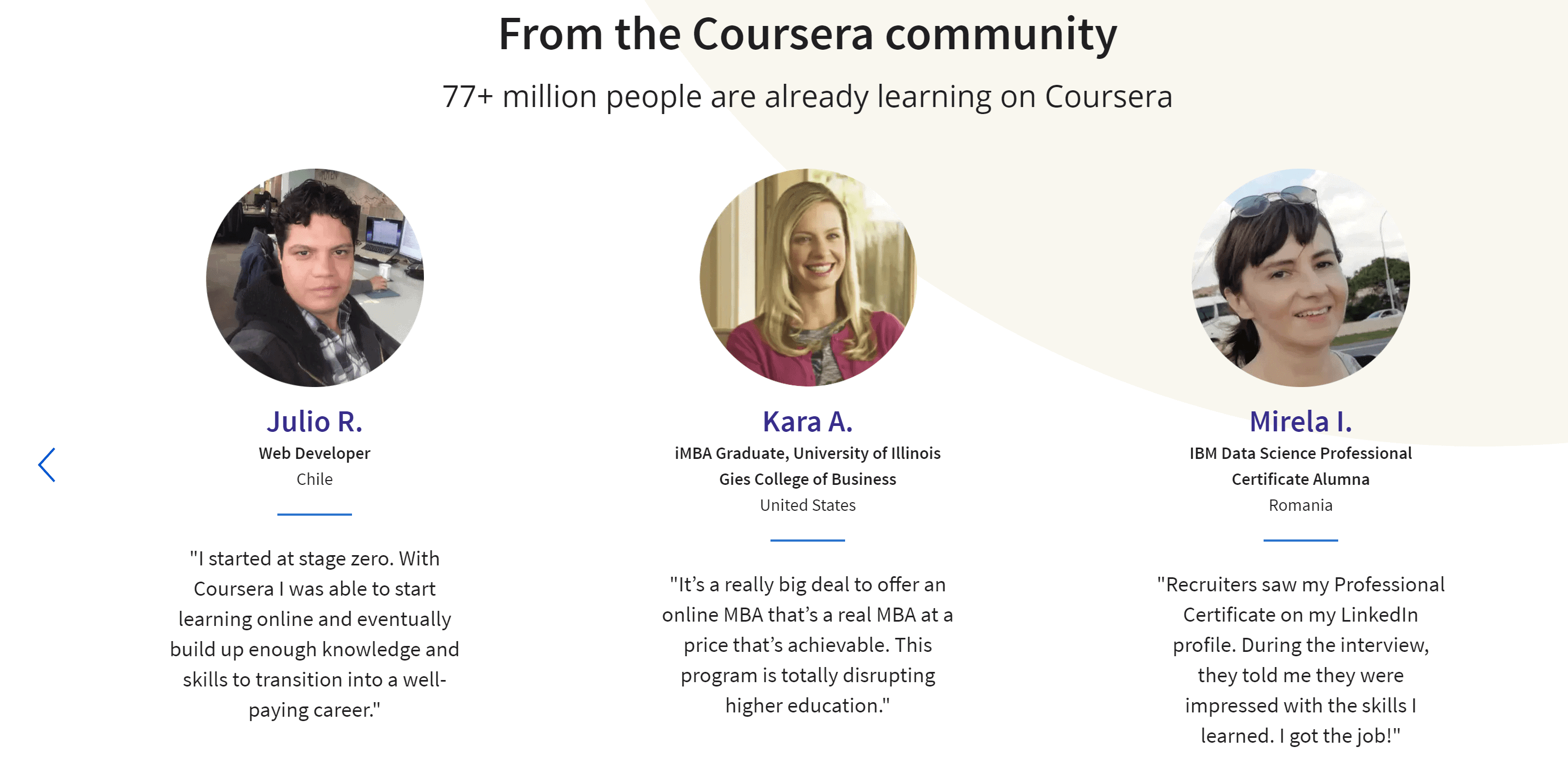 Udemy Customer Reviews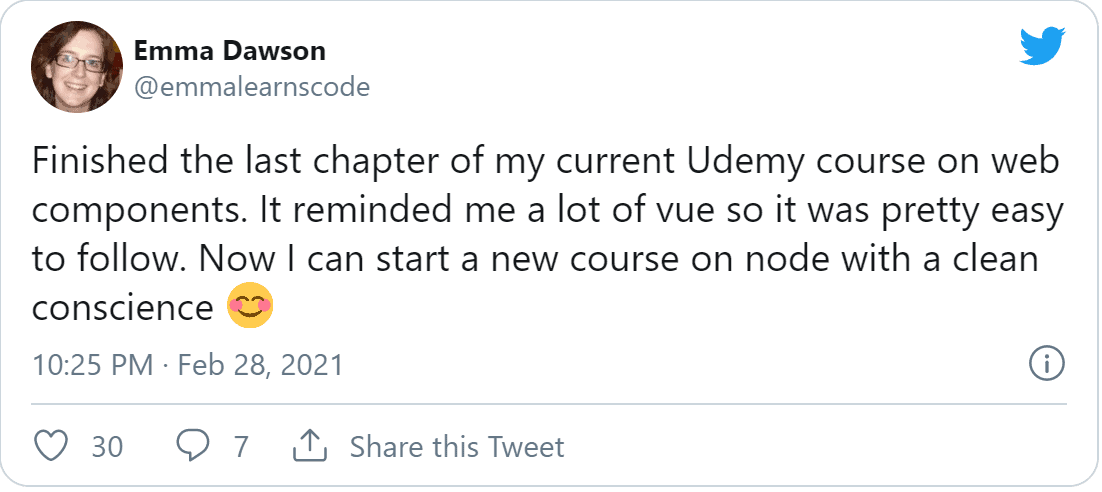 Coursera Customer Reviews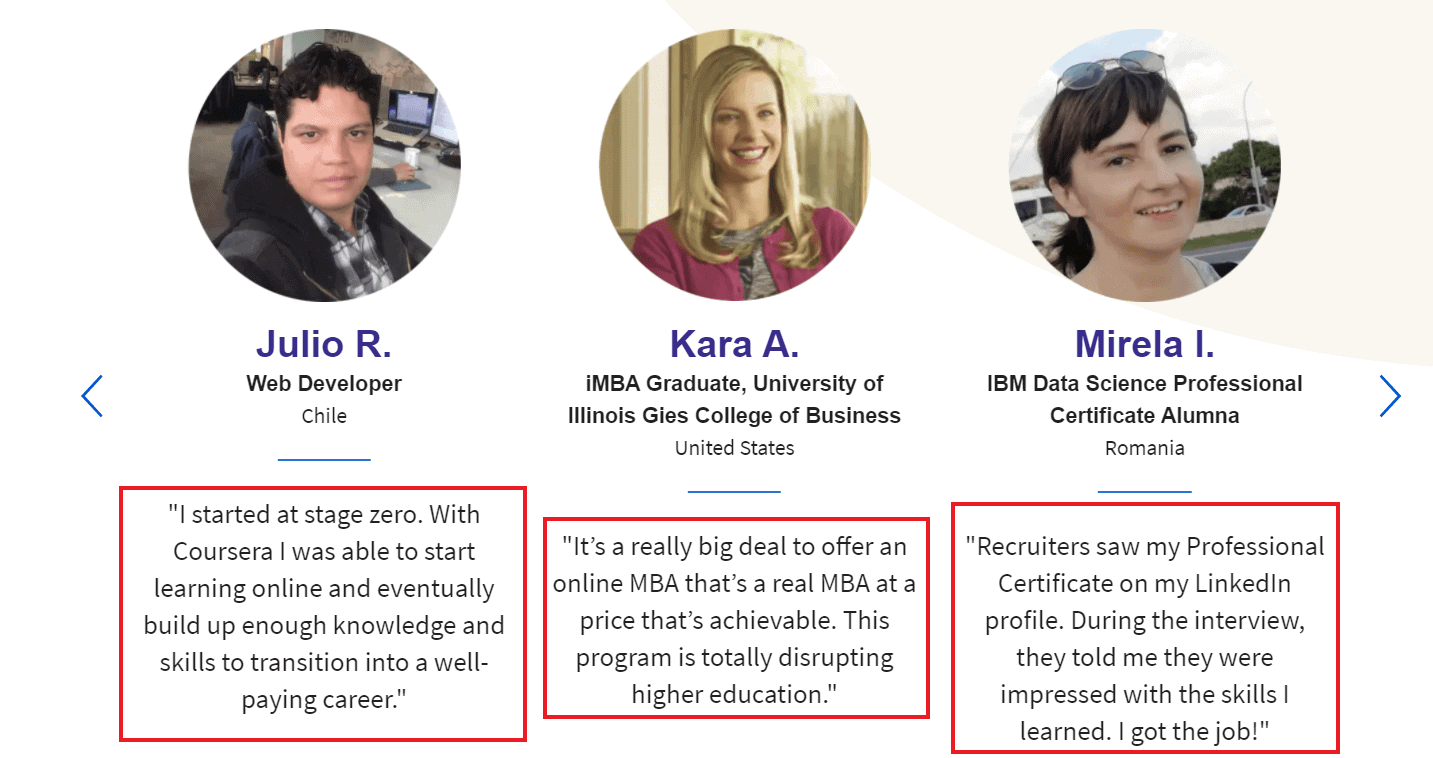 FAQs On Udemy vs Coursera
✅ Which is better for online learning, Udemy, or Coursera?
Well, that is a broad question and the answer depends on what you expect from an online learning platform. In this article, I have discussed in detail both the online learning platforms so that you can choose the one that best suits your needs.
💼 Are the Udemy and Coursera certificates of any value?
If getting a certificate is your ultimate goal then Coursera is the winner. Coursera courses are more methodical with graded tasks, permit to instructors, and more authentic. Udemy also provides certificates but it depends on your future employer if the certificate is valuable.
👉 Is learning online costly?
This depends on your selection of an online learning platform. Both Coursera and Udemy offer you a range of free courses. Coursera has single, one-off payments and subscriptions. Single payments cost around $50. A subscription costs from $40-$90 per month. Udemy's regular price is $199 but is brought down by about 95% to about $10 per course.
Quick Links:
Udemy vs Coursera 2023 Final Verdict | Which Is Better Course?
Udemy and Coursera are both effective online learning apps Proposing a variety of learning options.
From the comparison, I found out that it depends on how you hope to gain new skills.
Udemy offers both free and paid courses and you get knowledge from various local experts and experienced teachers who create their lectures and upload it on Udemy. 
Coursera is a platform where you get a valid certificate from top universities which can help you to build a strong resume and gain proper knowledge from intellectual professors of top universities of the world. All the courses are paid and properly structured.
So, if you yearn to learn any new proficiency to boost your knowledge then you should go for Udemy but if you seek to acquire mastery from specialized professors of top universities, then go for Coursera.
Udemy On Facebook
Coursera On Facebook
Udemy On Twitter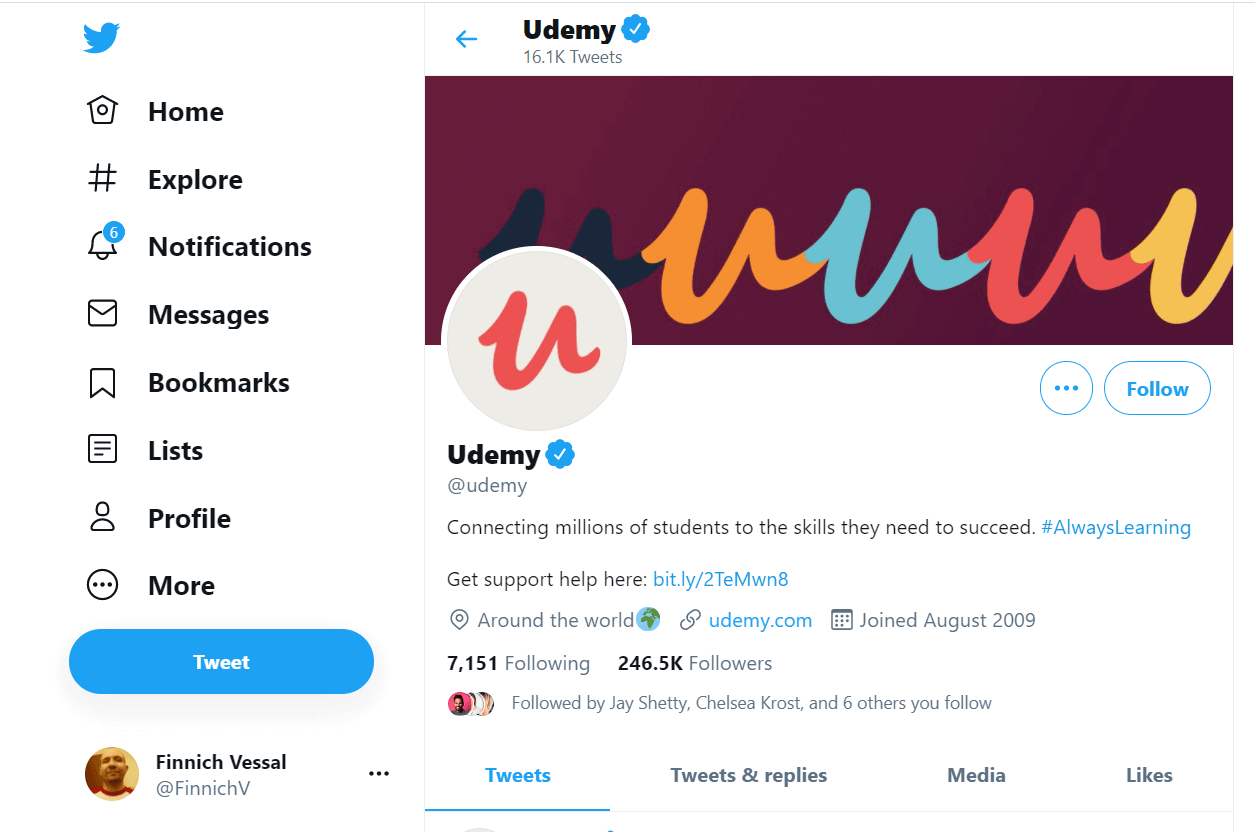 Learning new skills… for free. What's not to love? Check out our Free Resource Center to get started. https://t.co/MBj2oHlcmv

— Udemy (@udemy) March 31, 2021
1️⃣ Set a goal
2️⃣ Get started
3️⃣ Practice & apply
4️⃣ Reflect
5️⃣ Make it social
6️⃣ Build the habit

Courses start at $9.99 to help you learn more in the new year. Plus, you get a free learning guide with purchase. Terms apply. https://t.co/4gTV4TLpst pic.twitter.com/DpdWZLxCTz

— Udemy (@udemy) December 31, 2020
Coursera On Twitter
Enter your next interview with confidence by learning proven techniques from the team at @biginterview. Learn what interview questions to expect, how to prepare effectively, and how to make the most of every interview experience. https://t.co/iqXGFxaqle pic.twitter.com/LJPfF12LsM

— Coursera (@coursera) April 25, 2021
Udemy On LinkedIn
Coursera On LinkedIn
Best Videos of Udemy
Popular Coursera Videos