Are you looking for the best AI copywriting software & tools? Then this guide is for you.
It is likely that you are already familiar with AI copywriting tools and are looking for one of the best AI copywriting software that can create creative and compelling copy and encourage your audience to take some sort of action, such as clicking on the advertisement campaigns or purchasing a product, by reading this blog.
Copywriting is an essential part of advertising your items and raising consumer awareness of your brand. Inexperienced copywriters may find it difficult to get a professional copywriter, especially when they're just starting out.
As a result, in this article, I'll go through some of the greatest copywriting tools driven by artificial intelligence and the GPT-3 writing model for creating excellent advertising copy, blog posts, product descriptions, and sales copy, among other things. Let's get started right now.
6 Best AI Copywriting Software & Tools 2023
Let's have a look at various options.
Jasper AI is a cutting-edge content generation software that offers a variety of features and benefits for users. With its powerful GPT-3 technology.
, Jasper AI is able to generate high-quality content for a variety of purposes, including SEO-optimized blog posts, listicles, school papers, YouTube videos, book scripts, and more.
In spite of its price, Jasper AI offers good value for users looking to do a lot of writing and copywriting without needing to hire expensive outside help.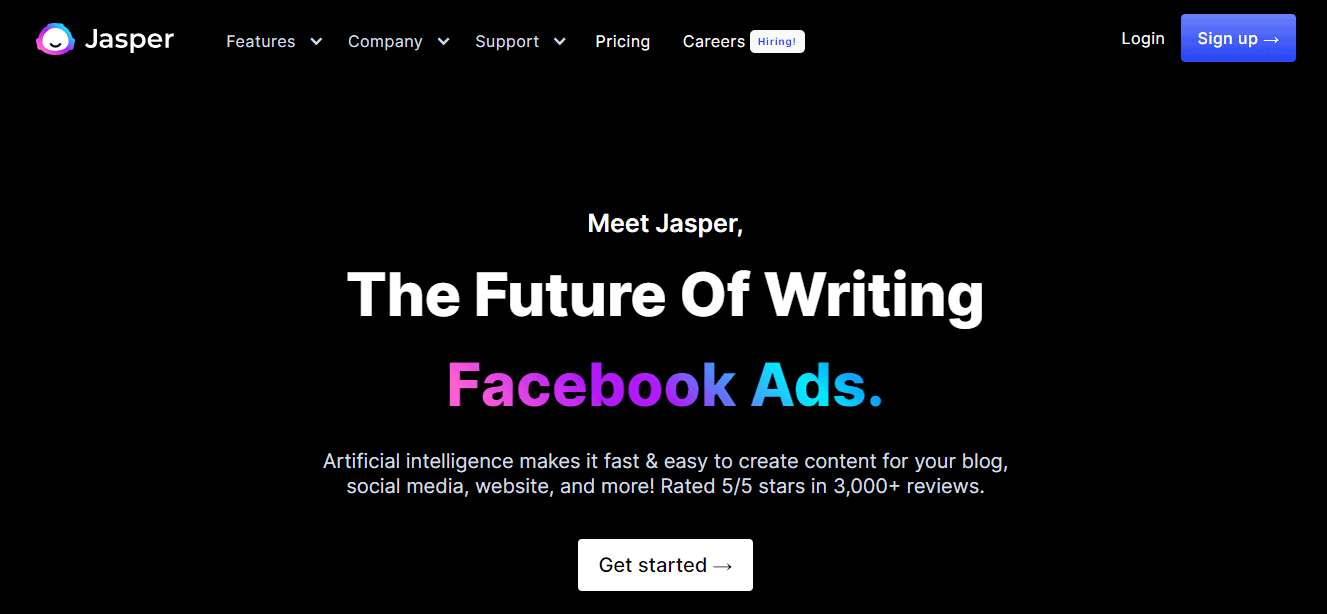 The software's competitive features, clean user interface, and high-quality output potential make it a great choice for those in need of content generation assistance.
While Jasper AI can be a little difficult to use at first, it is well worth the effort for those who need its powerful content generation capabilities.
Features:
Jasper understands 26+ languages. It converts and writes multilingual articles in 26+ languages.
The app leverages AIDA's framework. Attention, Interest, Desire, Action.
PAS framework is also used. It's a method used to develop captivating messages that target audience problems, excite them, and then provide solutions.
Rytr follows as the next top AI copywriting software and tool on our list. You can use Rytr to grow your content production process and meet your company's objectives, whether you're a blogger, copywriter, or digital marketer.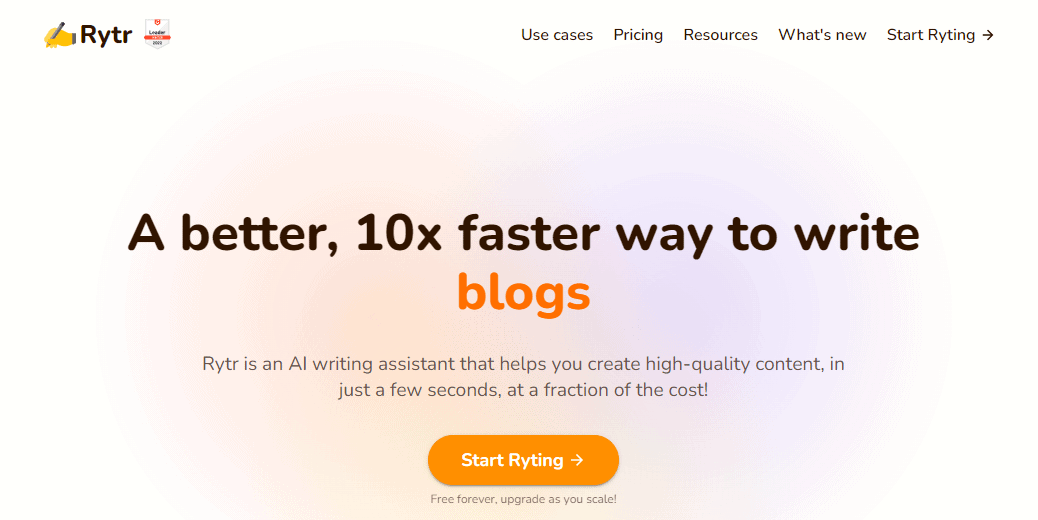 On top of that, they produce material that seems natural and engaging, which is one of the software's key advantages.
Features:
15+ languages and 20+ speech tone types for extensive output customization.
Rytr quickly creates ad text, social media posts, and blog posts.
To use Rytr, pick the use case, tone, and languages, then add words, and phrases.
You may use this AI copywriting tool whether you are creating blog articles, sales copy for websites, or product descriptions to turn your ideas into well-written text.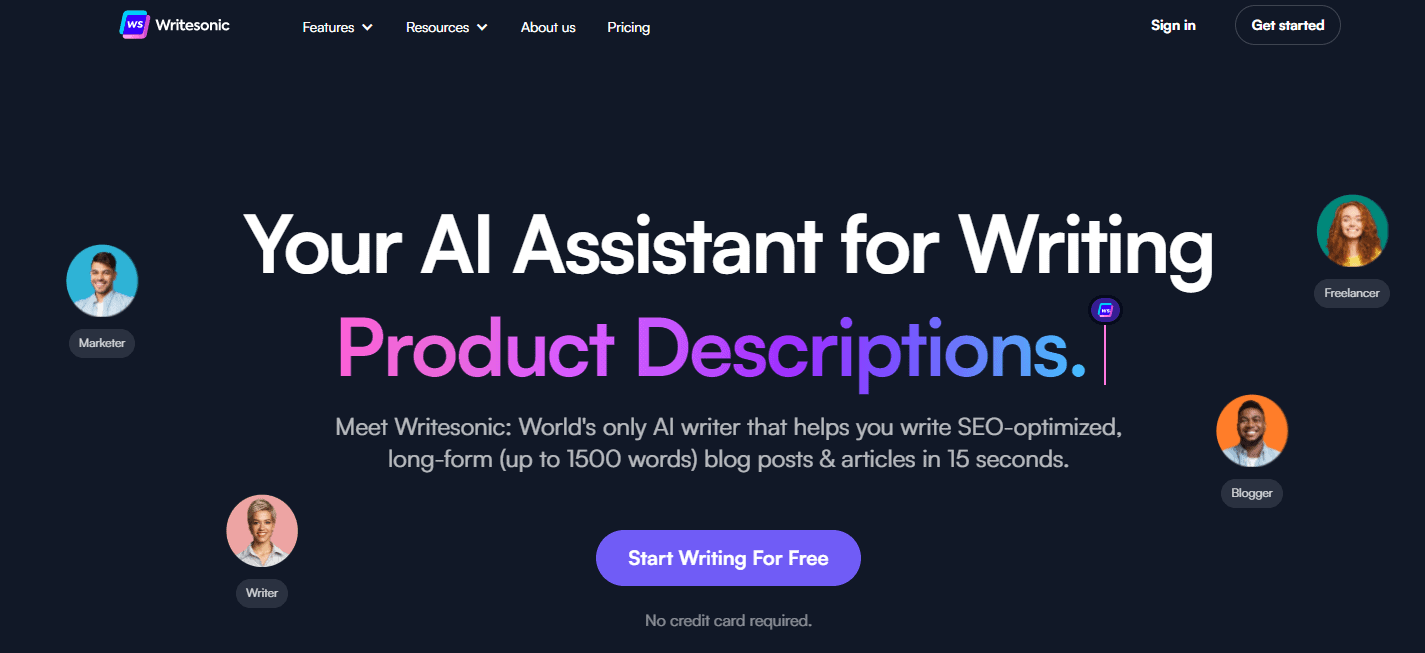 The AIDA and Pain-Agitate-Solution copywriting formulae are used by this copywriting generator to produce high-converting marketing material for your business.
Features:
Writesonic is accessible in English, Spanish, French, Italian, German, Polish, Portuguese, Dutch, Japanese, Russian, Swedish, Finnish, Estonian, Chinese, Bulgarian, Czech, Danish, Greek, Hungarian, Romanian, Slovak, Slovenian, Lithuanian, and Latvian.
Its user interface is tidy while having much functionality. First, pick what sort of material you want to create using Writesonic.
It also repairs grammatical errors in created material.
Anyword has been at the forefront of AI copywriting innovations since it launched in 2012. For the purpose of teaching its system which material is most effective for different types of audiences, it spends $250 million on advertising each year.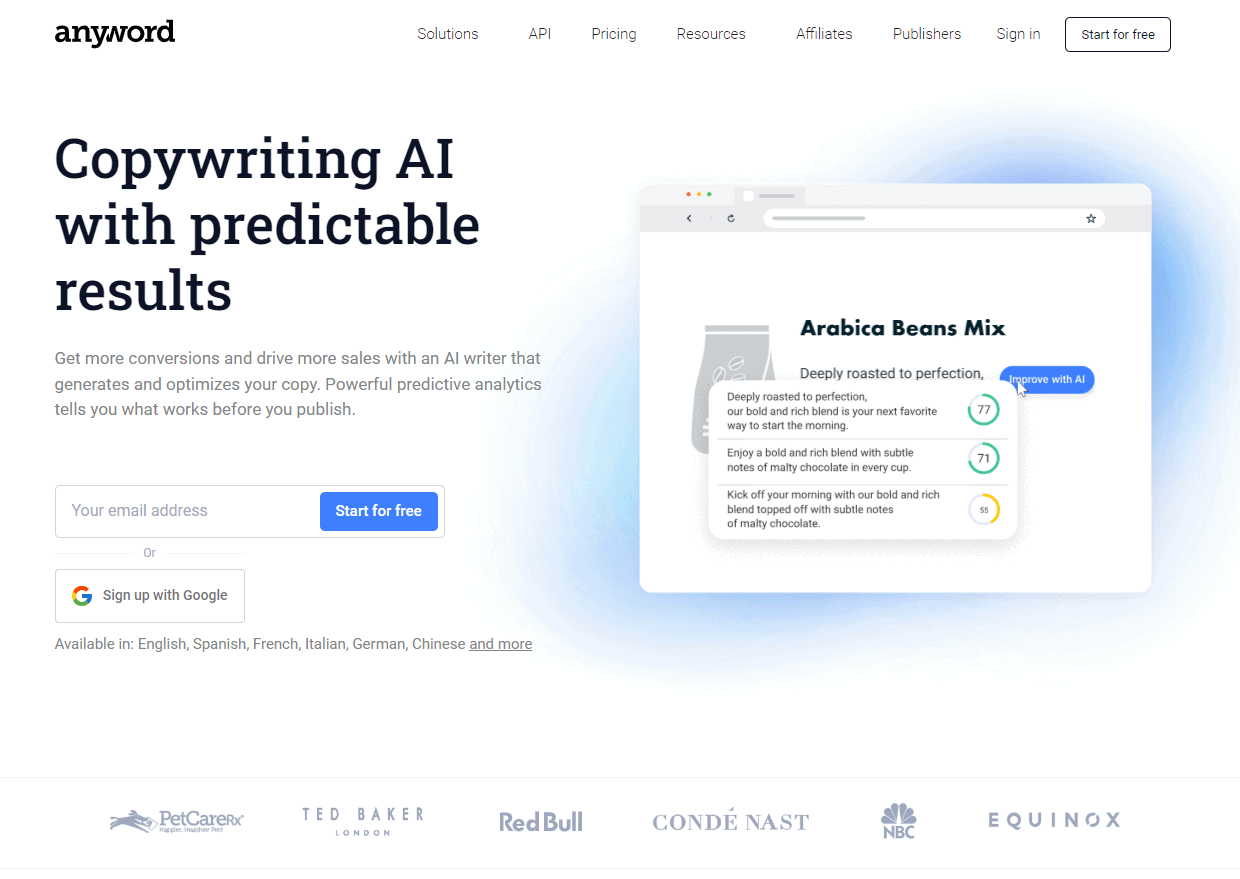 The predicted performance score is one of Anyword's most distinctive characteristics. Anyword is able to predict in advance, based on the massive amount of data it has gathered, the possibility of a certain copy version being converted by the audience once it has read it.
The time it takes to optimise is greatly reduced by this functionality.
Features:
Amazing material just requires three steps. Insert URL, choose content type, then click.
A predictive performance score reduces A/B testing time.
Anyword features custom mode. It may copy any text's style.
When it comes to brainstorming partners, CopyAI may be the finest choice for you. In a flash, you may extend your perspective and come up with compelling writing or content for your marketing efforts.
It's possible to come up with fresh and creative material for your website, from digital adverts to blog entries to product descriptions.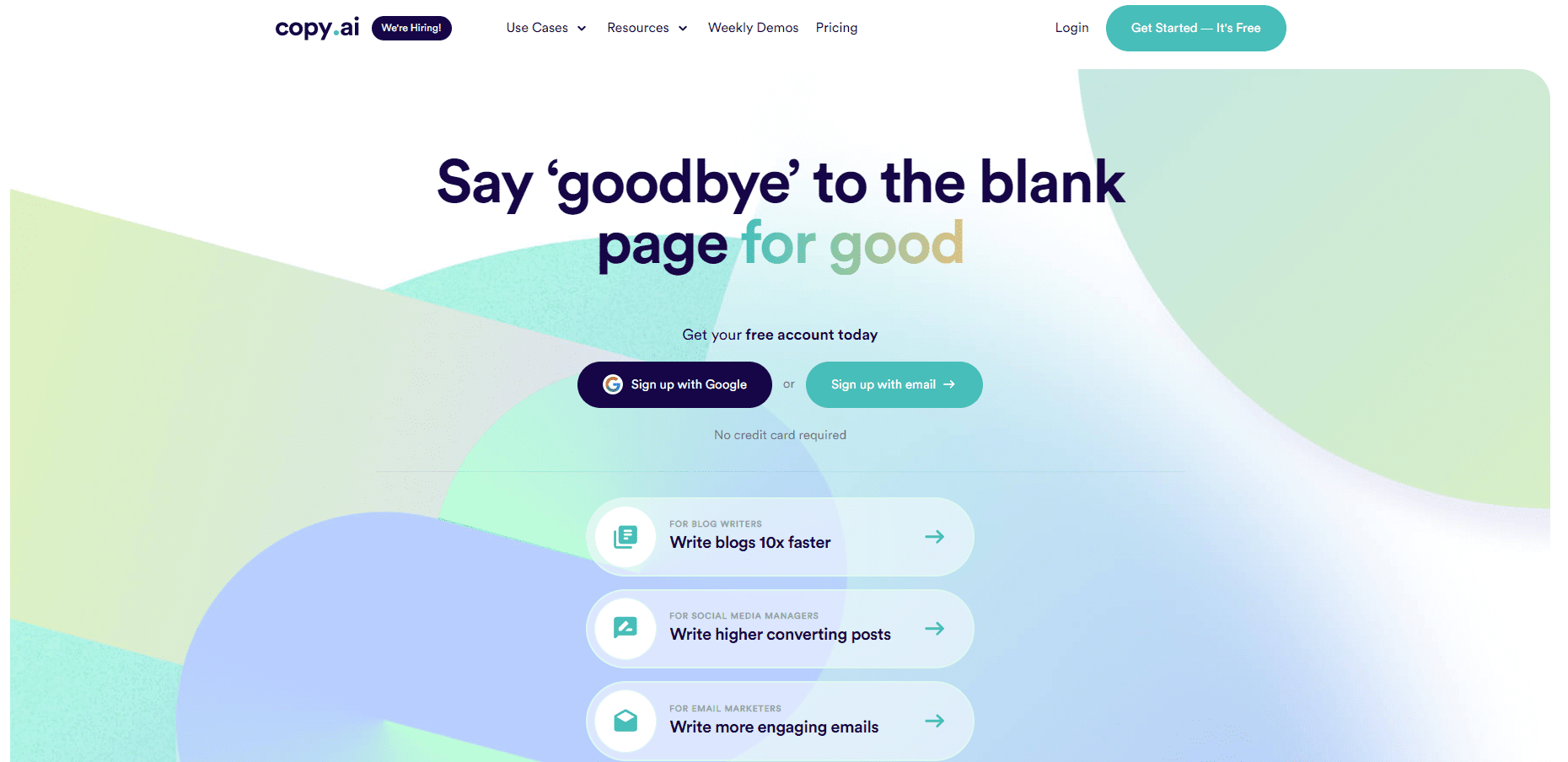 Using CopyAI is as simple as selecting a kind of copy you want to make, entering a few phrases, and then clicking the generate button to get results in a matter of seconds!
Copy.ai, on the other hand, will only show you 10 results at once. You may re-run the experiment to get more findings if you choose.
Features:
CopyAI uses the most advanced AI-language model to create high-quality copies.
This automatic copywriting programme has a Chrome plugin to improve productivity.
CopyAI now supports Portuguese, Italian, Spanish, German, French, Chinese, Japanese, Russian, Dutch, and Polish.
The tool's beautiful, uncomplicated UI jumps out.
Copysmith is another excellent programme that can be found in the top 10 list of AI-powered copywriting tools.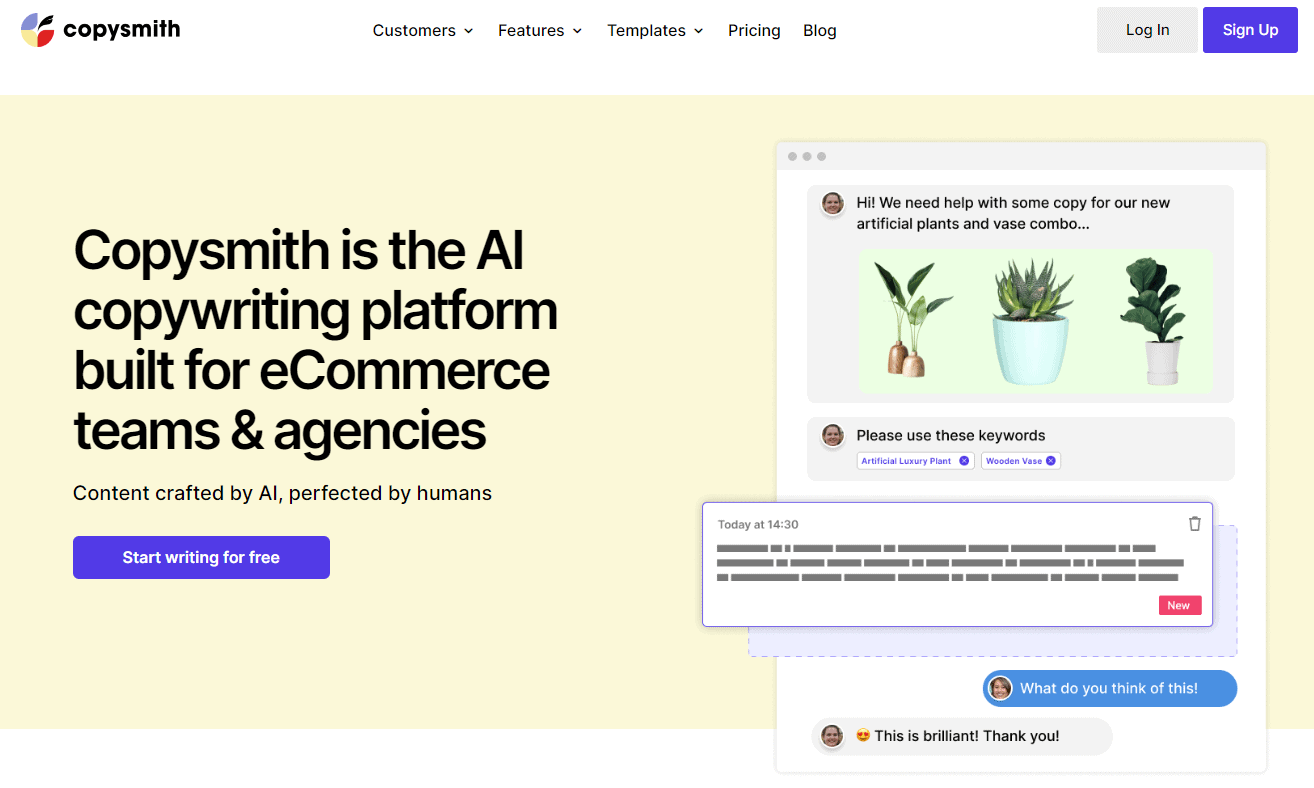 It has a wealth of functions that you probably aren't aware of, but it serves you far more than you anticipate. It is jam-packed with complex features.
Features:
Copysmith only supports English, unlike other programmes mentioned.
Google Chrome lets you exchange ideas across your browser and workplace.
It employs cutting-edge artificial technology to produce hundreds of product descriptions at a fraction of the cost.
They've also added Shopify, Google Ads, and Frase.io connections.
Quick Links:
Conclusion: Best AI Copywriting Software & Tools 2023
You are now in possession of a list of the top AI copywriting software and solutions that carry out the intelligent job on your behalf.
The machine may be programmed with a few simple instructions, and the rest of the work will be carried out by the tools at your disposal.
Before you commit to making a purchase, I strongly suggest that you join up for the free trial and evaluate the products on your own. What kind of ideas do you have?
How do you practise your writing talents to improve them? Which piece of copywriting software do you like to use when producing material of a high standard?
In the part below devoted to comments, please share your thoughts on which of these are your favourites.