Are you looking to make extra money from the comfort of your home? If so, then affiliate marketing programs may be a great option for you.
Affiliate marketing is the process of promoting another company's products or services in exchange for a commission when customers purchase them.
It is an easy way to make money online, with no start-up cost or prior experience needed. Let's take a look at what you need to know about affiliate marketing programs as a beginner.
Getting Started with Affiliate Marketing Programs:
The first step in getting started with affiliate marketing is to join an affiliate program.
There are tons of different companies that offer affiliate programs—from large corporations like Amazon and Walmart to smaller businesses like Etsy and Airbnb.
Each program has its own requirements, so do your research and find one that meets your needs.
Most companies have websites where you can learn more about their program and sign up for free.
After signing up, you will receive a unique tracking code that allows the company to track sales that come from your website or blog.
Making Money with Affiliate Programs:
Once you get started with an affiliate program, there are several things you can do to maximize your earning potential.
For example, focusing on quality content creation will help ensure that visitors who find your website or blog are actually interested in what you have to say—which increases the likelihood of them clicking on your links and making purchases from merchants you're affiliated with.
Additionally, utilizing strategies such as email marketing, retargeting ads, search engine optimization (SEO), etc., can help drive even more traffic and conversions from potential customers who may not have otherwise found out about the product or service being promoted through your link.
17 Best Affiliate Marketing Programs For Beginners 2023
Need a quick and easy strategy to increase your online store's profits? Have a look at these available options:
Shopify is a renowned e-commerce platform that allows you to quickly and easily establish an online store.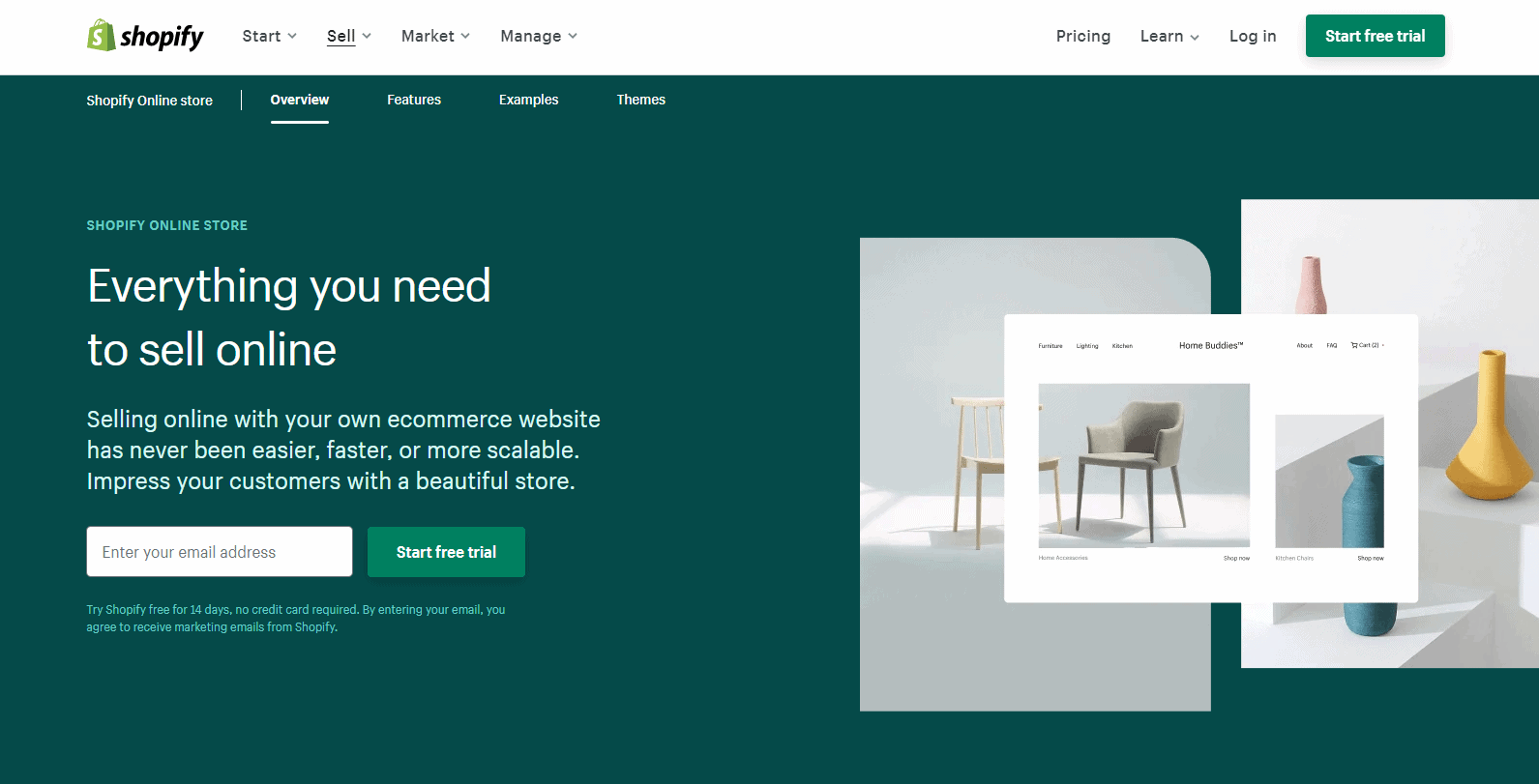 Shopify gives everything you need out of the box, including online shop layouts, payment processors, shipping partners, and Shopify App Store marketing tools.
It is an excellent affiliate network for marketers whose target audience consists of e-commerce businesses.
Affiliate marketers working with Shopify receive a 100 percent commission on the first two payments of any subscription plan purchased by a referral.
For instance, a Basic Shopify plan costs $29 per month, therefore you will receive $29 for the first month a referred customer pays.
If your referral remains for a second month, you will receive $29 again, for a total of $58 for that referral.
If a customer does not return for a second month, you will not receive the commission for the second month.
Shopify offers commissions on all of its subscription programs. So you can refer your audience's current and prospective business owners to the Shopify plans listed below: 
Basic Shopify: $29/month (commissions up to $58)

Shopify: $79/month (commissions of up to $158)

Advanced Shopify:- $299/month (up to $598 commission)
Commission rate: On the first two payments of recurring membership, Shopify pays a 100% commission. 
Getting paid: For balances over $25, payment is made five business days after the 15th.
Payment method: PayPal.
Cookie duration: 30 days.
Affiliate support: Yes.
Amazon is currently the largest online retailer, selling virtually anything. It's an excellent affiliate network to utilize in your content if you are a blogger or an influencer.

You can recommend things you believe your audience will purchase and earn a commission of up to 20% on any referrals.
For instance, CamperGuide's founder, Jonathan Smith, is an Amazon Associate and utilizes his website to review and recommend products that complement the campers and RVs he sells.
Amazon Associates is an excellent affiliate network for beginners in affiliate marketing because of the extensive selection of products offered by Amazon.
Commission rate: 1% to 20% commission, depending on the type of product. Amazon additionally offers variable flat commission rates for "special commission income."
Getting paid: Monthly, although payment for the current month will be made 60 days after the end of the month.
For instance, you will receive payment towards the end of March for commissions earned in January.
In addition, Amazon withholds payment until you make a minimum of ten dollars as an associate marketer.
Payment method: Check, Amazon gift card, or direct deposit.
Cookie duration: 24 hours.
Affiliate support: Yes.
Rakuten is a cashback company that rewards customers for making purchases on its website.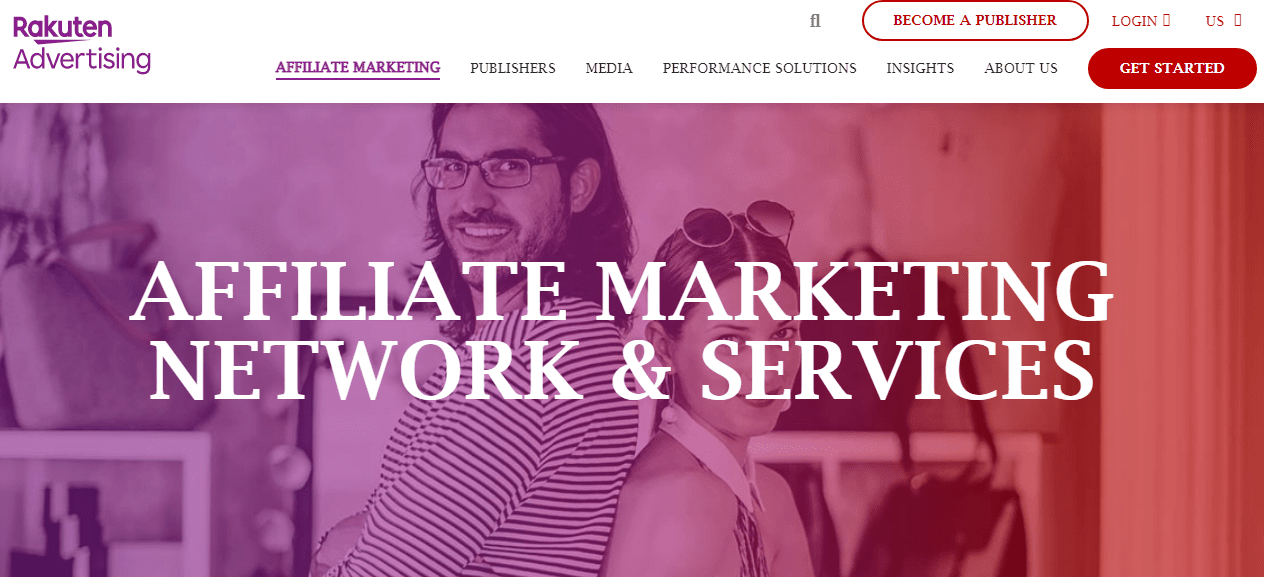 It is rapidly becoming a popular shopping website, with Q2 2021 revenue of $3.4 billion, an increase of 15.8% year-over-year, and continued growth.
It has the third-largest affiliate network market share, with 7.85%.
Similar to Amazon Affiliates, Rakuten's affiliate publishing network is connected to over 2,500 retailers selling a variety of products.
You may easily locate a brand to advertise through Rakuten as an affiliate. The Rakuten affiliate program offers three sorts of commissions to increase your sales:
Dynamic commissioning, allowing advertisers to see their goals and receive payouts for scaled revenue

Coupon commissioning manages and monitors coupon code rules

A multi-touch commissioning system lets you be credited for your contributions at every step of the customer journey
Commission rate: Different commission rates apply to different merchants.
Getting paid: Pays out only after Rakuten has been paid by the merchants, often 90 days later. In addition, you must have at least $50 in commissions before Rakuten would send you payment.
Payment method: A direct deposit or a check.
Cookie duration: It varies from merchant to merchant.
Affiliate support: Yes. Rakuten provides email addresses, online chat, and telephone numbers for the majority of nations. It also supplies affiliate marketers with articles and educational tools.
eBay was one of the first online marketplaces to match customers and sellers when it was founded in 1995. It is still a globally renowned brand that now incorporates affiliate marketing agreements.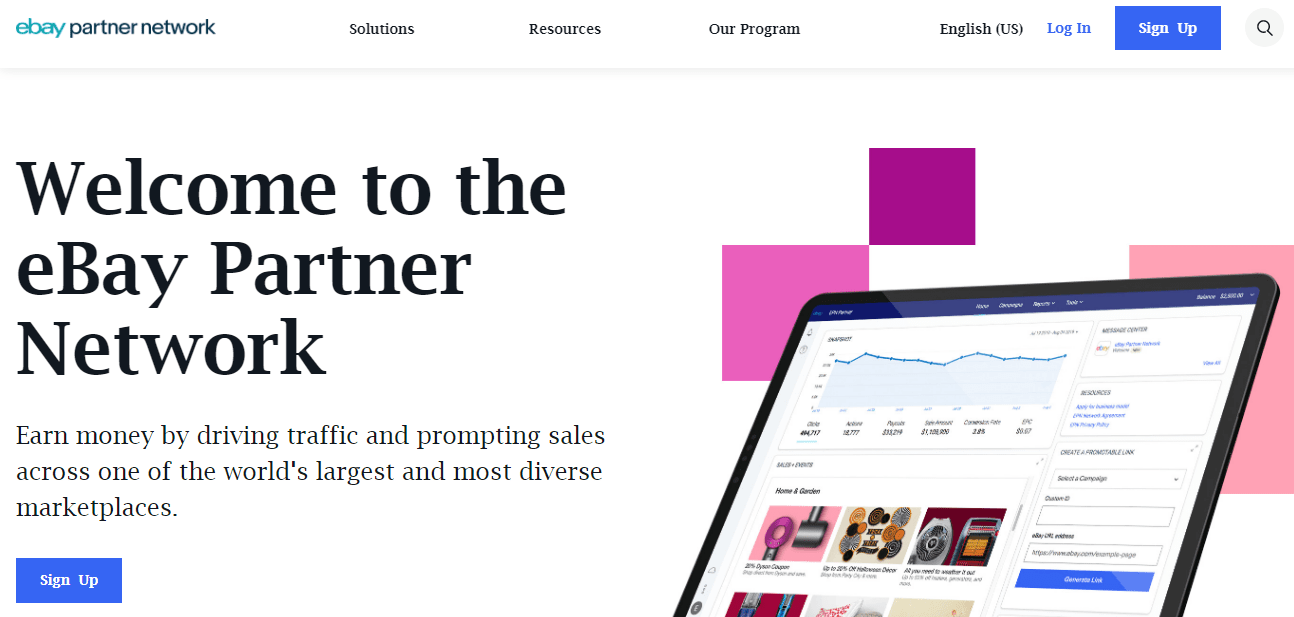 Regarding commission rates, eBay Partner Network only pays a commission on the sale's net profit. Moreover, these commissions vary based on the sort of product sold.
For instance, suppose someone is selling a PS4 for $200 on eBay. Your affiliate link is clicked on by someone, and they purchase a PlayStation 4. For this recommendation, eBay will earn a profit of $20 if they make a profit of $20 on this sale.
Since eBay allows almost anything to be sold, eBay is appealing to a wide range of demographics. 
Commission rate: $.50 to $1.00 when an eBay user who hasn't made a purchase in over a year clicks on one of your adverts and begins bidding on things. Additionally, you get a commission on completed sales. Prices vary based on the nature of the goods.
Payment method: On or about the 10th of each month, accounts that have earned more than 10 units of your country's currency will be credited (i.e., 10 US dollars, 10 euros, etc.).
Getting paid: Direct deposits (if your country allows it) or verified PayPal accounts.
Cookie duration: 24 hours.
Affiliate support: Yes—eBay Partner Network offers a comprehensive FAQ page with a number of articles that answer a variety of frequently asked issues, in addition to an email address for affiliate partners.
Leadpages is a well-known website builder that enables small businesses to create landing and sales pages.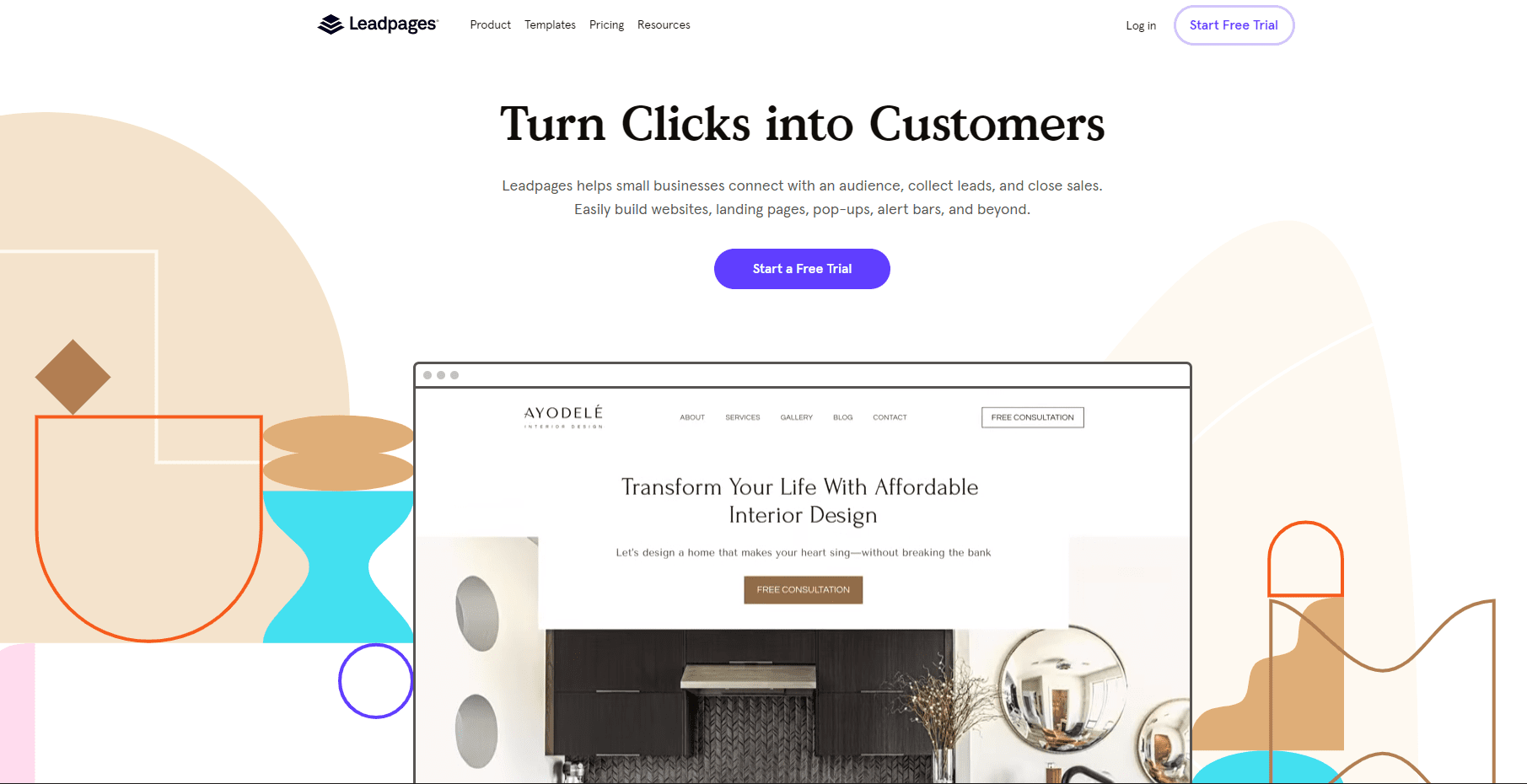 Its industry-leading affiliate program gives recurring income of up to 50% for each sale generated (including plan renewals, updates, and one-time purchases).
The program is available to everyone, regardless of whether they utilize Leadpages.
Additionally, Leadpages provides its affiliates with promotional assets, tutorials, and training resources so that you may increase your sales and compensation rates.
Commission rate: Between 10% and 50%.
Getting paid: Calculating commission tiers on a 30-day rolling basis. Your earnings are determined by the revenue produced by new customers during the past 30 days.
Payment method: PayPal or Stripe are used to pay out rewards on the 13th of every month. 
Cookie duration: 90 days.
Affiliate support: Yes.
The affiliate network of ConvertKit is ideal for artists marketing to other creators. Email marketing tools simplify the planning, sending, and administration of email campaigns.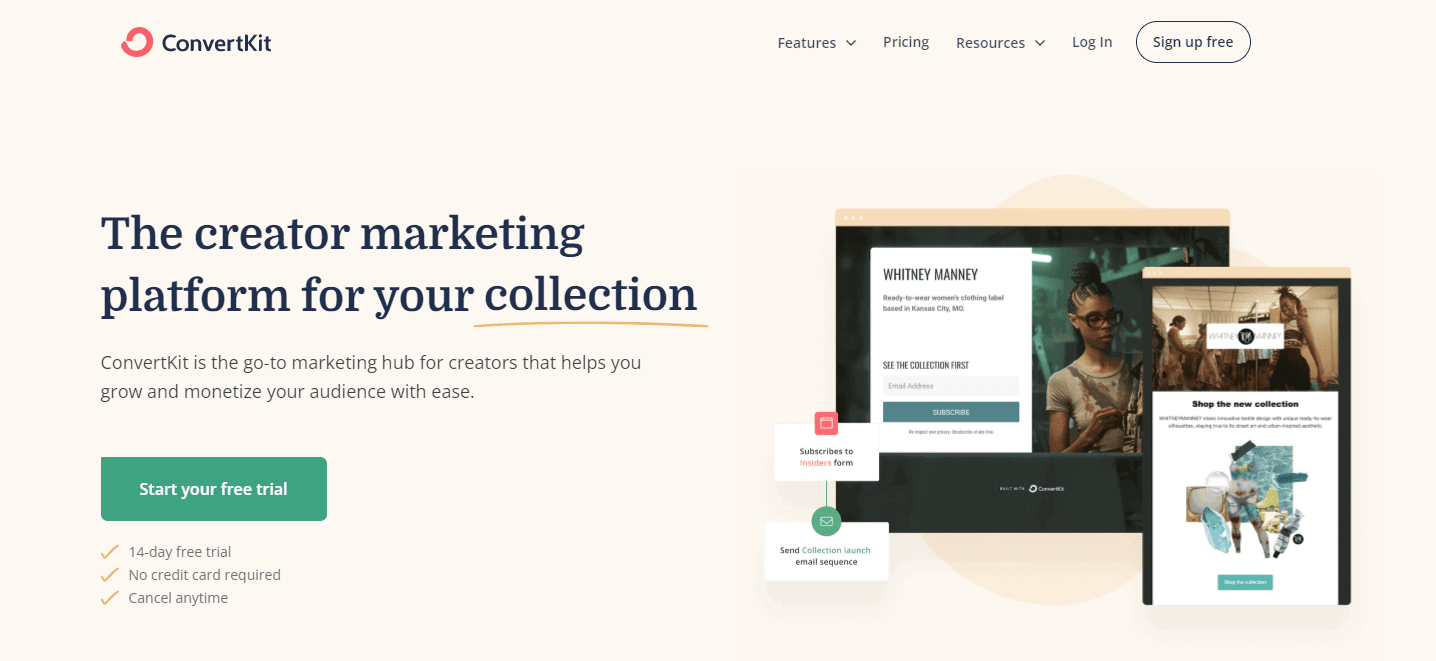 Plus, ConvertKit is user-friendly, so everyone from novice bloggers to seasoned influencers may utilize it successfully.
ConvertKit pays a 30% commission for each user who subscribes via your affiliate link. You will receive the commission each month for as long as the account of the referred customer is active.
The amount you earn also depends on the monthly plan of your referrals. For instance, if they have a huge email list and purchase an upgraded plan, they will receive a higher monthly commission.
The example below illustrates the monthly compensation you will receive for referring 10 accounts with up to 1,000 members each.
Commission rate: 30% recurring monthly commission. As their account increases, so does your commission.
Getting paid: ConvertKit authorizes and pays all commissions on the second day of every month. Anticipate up to a sixty-day delay in payment due to client returns. For example, if you earned a commission on August 5, you will receive payment 55 days later, on October 1.
Payment method: PayPal is the only method of payment.
Cookie duration: 60 days.
Affiliate support: Yes.
Semrush is a popular SEO tool that assists online marketers and businesses with keyword research, SEO, and rank tracking.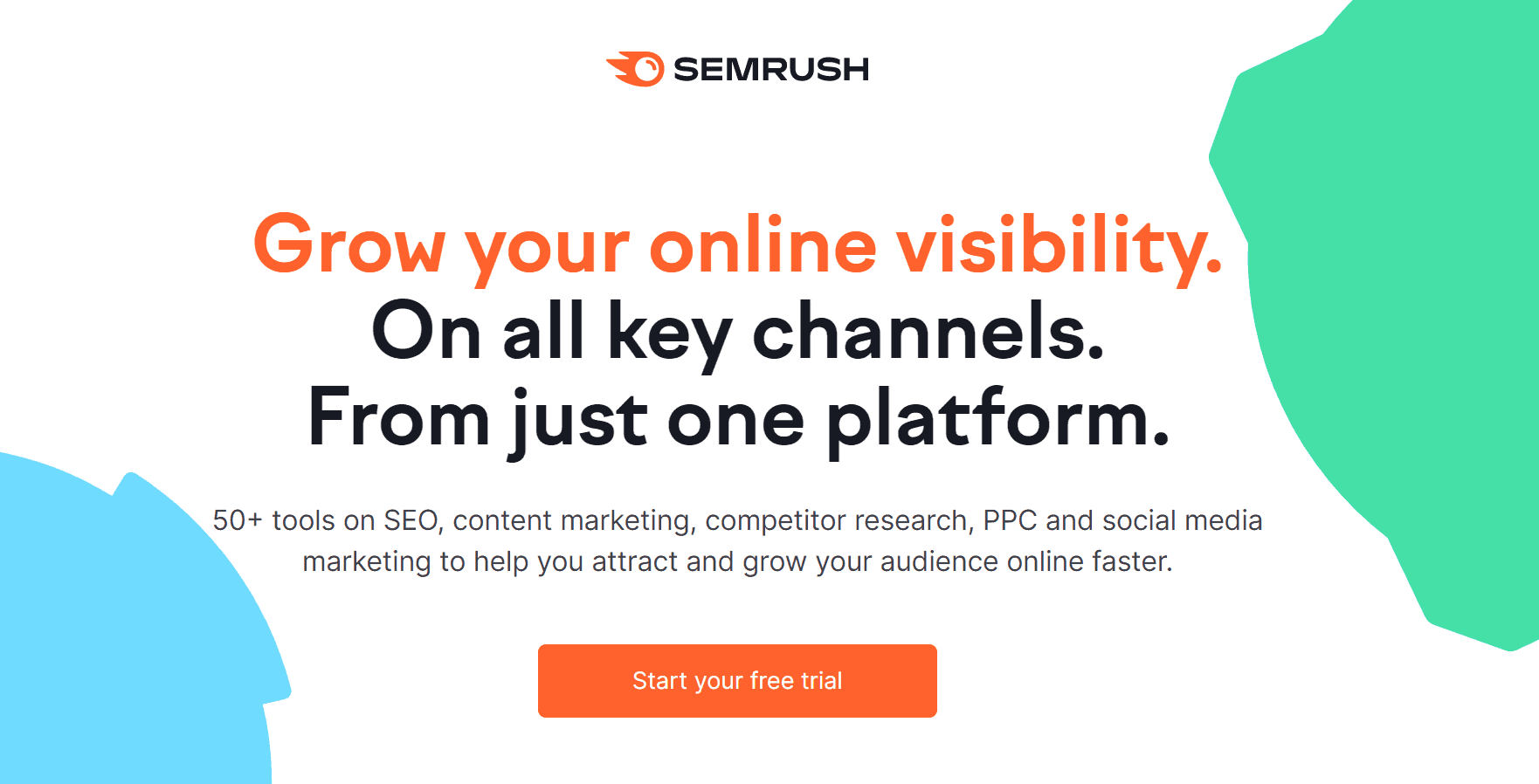 Its affiliate network is an excellent way for publishers, agencies, paid search professionals, and course developers to generate revenue online. Impact Radius, an affiliate network, handles signups.
You'll receive a commission for each phase of Semrush's sales funnel, beginning with last-click attribution and a cookie life of 120 days:
Every Semrush subscription sale will earn you $200

Each new trial is worth $10 

Every new signup earns $0.01
Commission rate: Depending on the type of referral.
Getting paid: The affiliate program for Semrush is housed on the Impact network, so you will withdraw your commission in accordance with their payment procedures. You can specify a monthly payout date or be paid upon reaching a predetermined threshold.
Payment method: Bank transfer or PayPal.
Cookie duration: 30 days.
Affiliate support: Yes.
Fiverr is a site that links freelancers with businesses in over 300 service areas.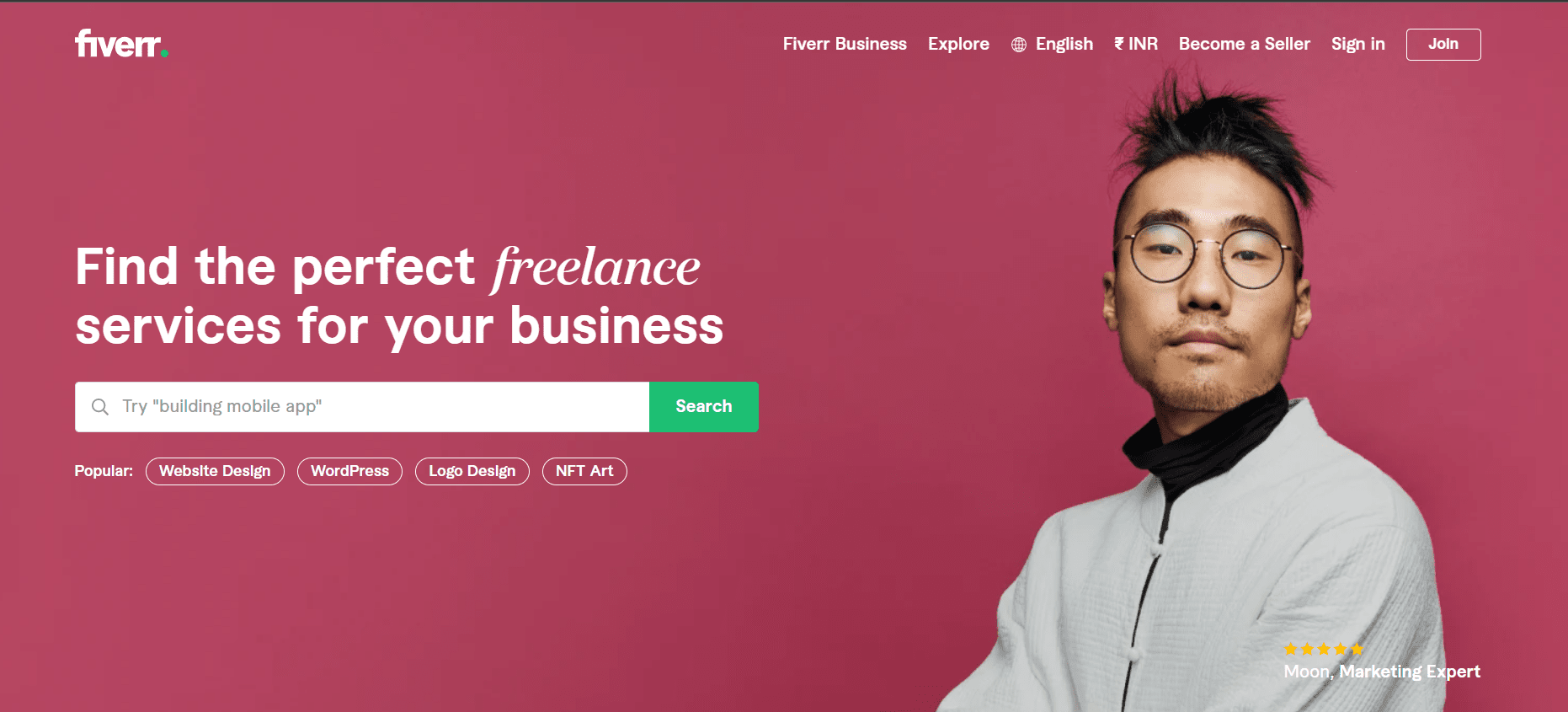 Customers pay in advance for "gigs" in which they describe their needs, and freelancers then apply for the gigs mentioned by the customer.
Fiverr's affiliate marketing network is relatively lucrative and offers multiple commissioning options.
You can either receive a flat rate for each acquisition or a predetermined CPA (cost per acquisition) for the initial purchase of a course or subscription, followed by a revenue share of the subscription you referred.
Commission rate: varies based on the goods purchased. Fiverr offers variable flat fees based on the category from which a buyer makes a purchase.
In addition, it provides commissions ranging from 10 to 50 percent for courses and subscription plans.
Getting paid: Accounts earning more than $100 are paid once a month.
Payment method: PayPal for payouts under $1,000; wire transfers for payouts over $1,000.
Cookie duration: 30 days from the first click.
Affiliate support: Fiverr's website features a detailed FAQ page, blog, and email template.
The VPN service NordVPN provides secure and private internet access. It safeguards your online data with an encrypted connection, allowing you to use public Wi-Fi with confidence.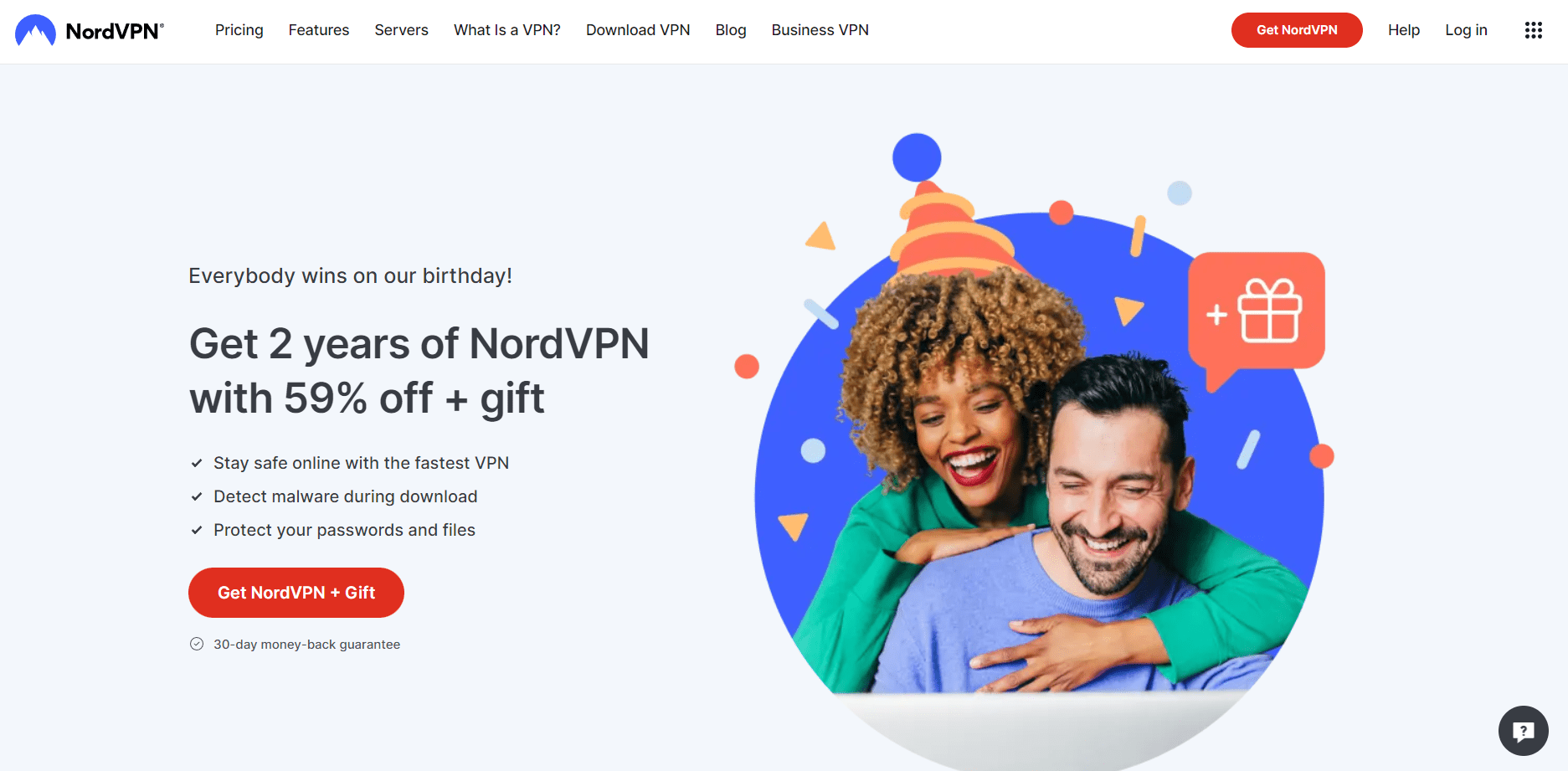 Using NordVPN, you may securely access personal information and professional data while maintaining your online anonymity.
The affiliate marketing scheme of NordVPN gives excellent recurring commissions. In addition, it offers a sign-up commission of at least 40% and an additional 30% incentive for any customer renewals.
Commission rate: Variable based on the subscription plan purchased by the consumer: 40% or 100% commission for a new sign-up, and 30% commission on all renewals throughout the lifetime of the customer.
Getting paid: Minimum payout threshold of $10 NordVPN utilizes CJ Affiliate and Impact, therefore payout times will vary depending on which network you choose to use with NordVPN.
Payment method: Wire transfer or PayPal.
Cookie duration: 30 days.
Affiliate support: An account manager is assigned to each affiliate.
Without assistance, keeping track of everyone in an organization can be challenging.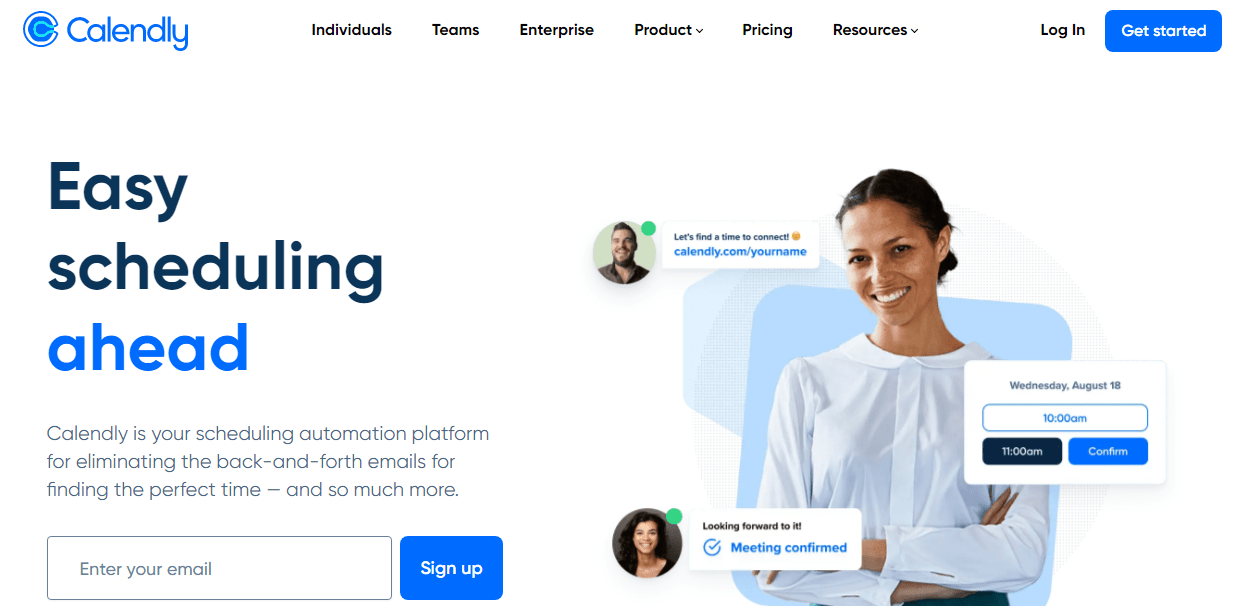 Calendly is a center for scheduling meetings professionally and efficiently, without the need for frequent email back-and-forth.
It provides both a free and paid service for $12 per seat each month.
You can earn a 15% recurring commission on monthly and annual referrals as a Calendly affiliate partner. The duration of this recurring commission for each customer is one year.
Commission rate: One-year recurring commission of 15%.
Getting paid: 30 days after the month ends.
Payment method: Stripe or PayPal.
Cookie duration: 90 days.
Affiliate support: Yes.
Wordable is an application created for content managers and blog editors to facilitate the transfer of data and blog posts from Google Docs to WordPress.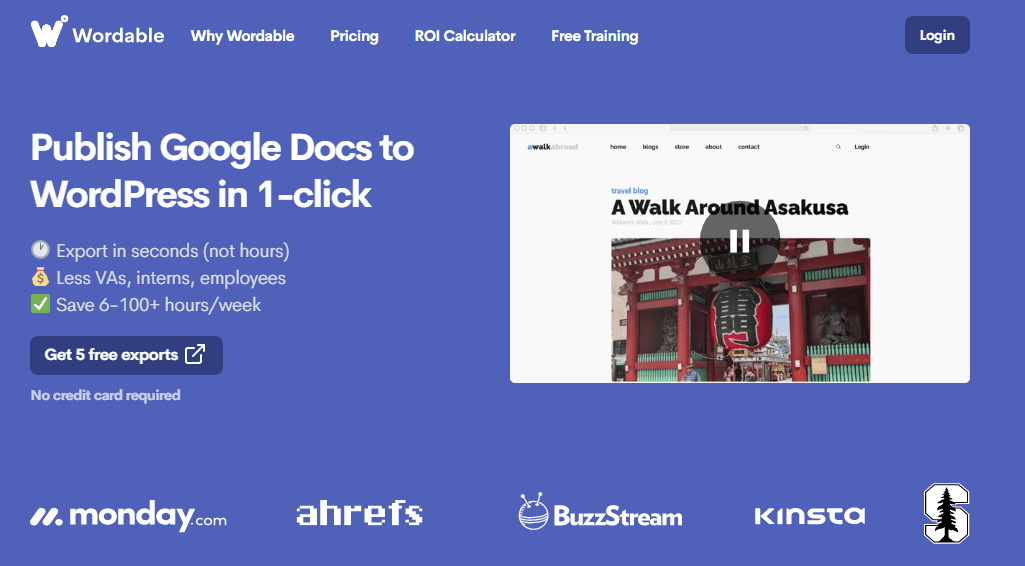 It enables you to take a document from a collaborative setting and publish it effortlessly on your favorite platform.
Wordable offers a variety of membership rates, ranging from $49/month to $999/month, to assist organizations of all sizes to discover the ideal plan.
Wordable, as an affiliate partner, gives a 30% commission on all new signups and a 30% commission on all plan renewals.
This rate will remain in effect for the first year after acquiring a new customer, after which your commission rate for subscription renewals will drop to 15%.
Commission rate: 30% commission for first-year sign-ups and renewals, 15% commission for renewals. 
Getting paid: On a monthly basis.
Payment method: 20 different payment methods are supported by Tapfiliate, including ACH, PayPal, and crypto.
Cookie duration: 30 days.
Affiliate support: Yes.
Loom is one of the most user-friendly video chat solutions currently available. It enables you to send video messages that simultaneously record your desktop, camera, and microphone.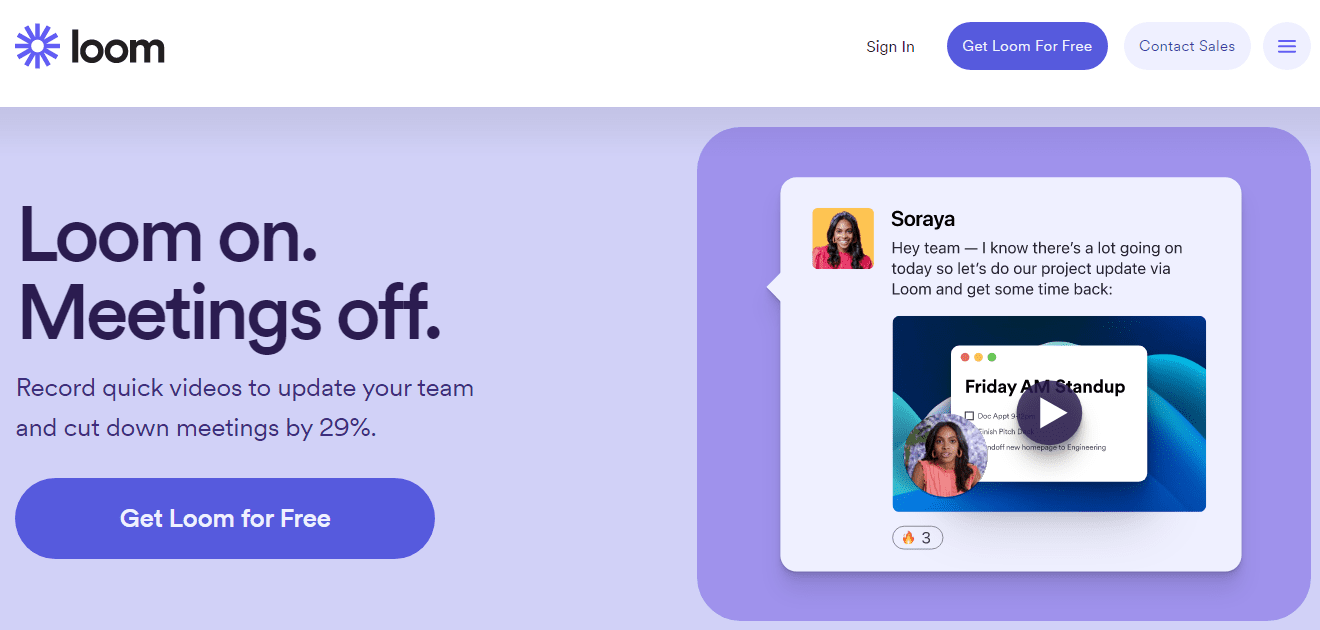 Additionally, you can publish and distribute these videos virtually immediately.
The Loom Creator Program provides a 15% recurring commission for any paying user you refer to Loom throughout their first year as a customer.
You will have access to display creatives, platform screenshots, and other promotional materials. Cookies are valid for 90 days.
Commission rate: 15% for each paid user you refer to Loom during their first year.
Getting paid: After the commission is earned, one month later. 
Payment method: Stripe or PayPal.
Cookie duration: 90 days.
Affiliate support: No.
AWeber is an email marketing service that gives users everything they need to expand their email list, engage their audience, and boost revenue.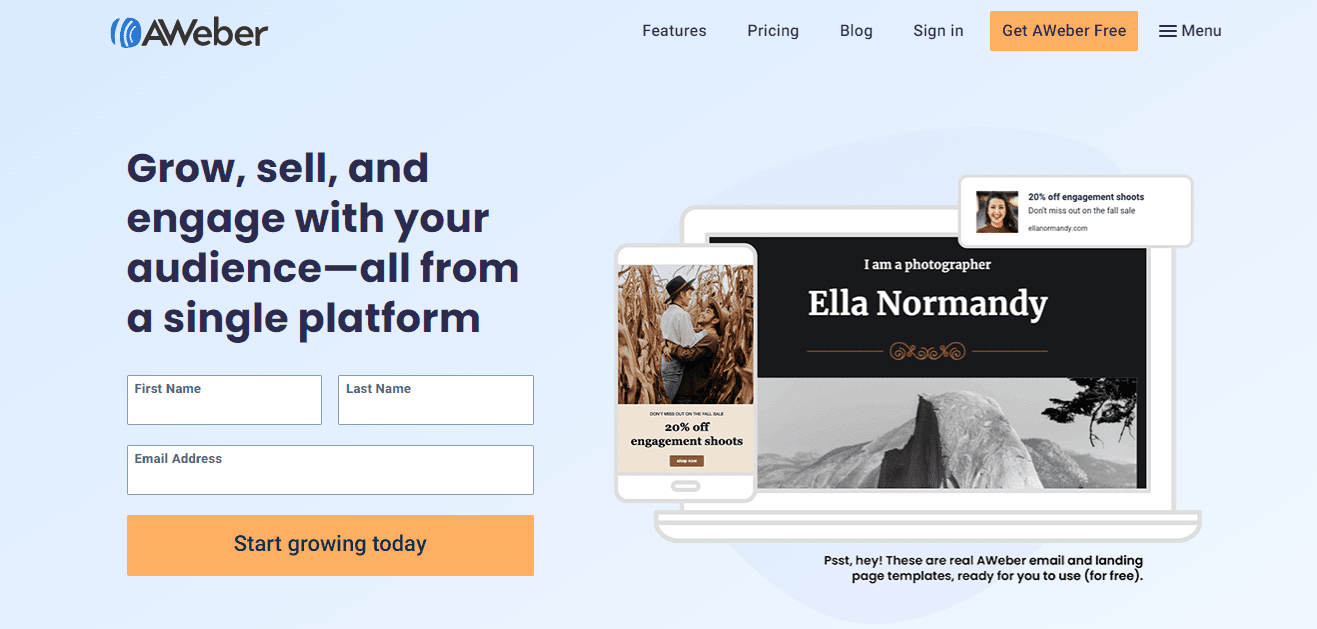 It offers subscription packages that are charged based on the number of subscribers each account has.
If you have 500 subscribers, AWeber will only charge you $19 per month. If you have above 100,000 subscribers, the monthly fee is $369.
AWeber's affiliate program offers a 30% commission on all recurring referrals for the duration of the customer's subscription renewal.
Therefore, if you are able to refer five individuals who join up for a $19.99/month Pro membership, you may potentially earn $360/year without doing anything else, so long as those five people maintain renewing their subscriptions.
Commission rate: recurring referral payments of 30%.
Payments are made monthly, about 15 days after the commission period ends. The minimum commission amount for AWeber is $30 before commissions can be paid out. 
Payment method: PayPal.
Cookie duration: 365 days.
Affiliate support: Yes. It even provides a dedicated advocate manager.
ClickBank is one of the oldest affiliate networks in the industry, having paid over $5 billion in commissions to over 100,000 affiliates worldwide since 1999.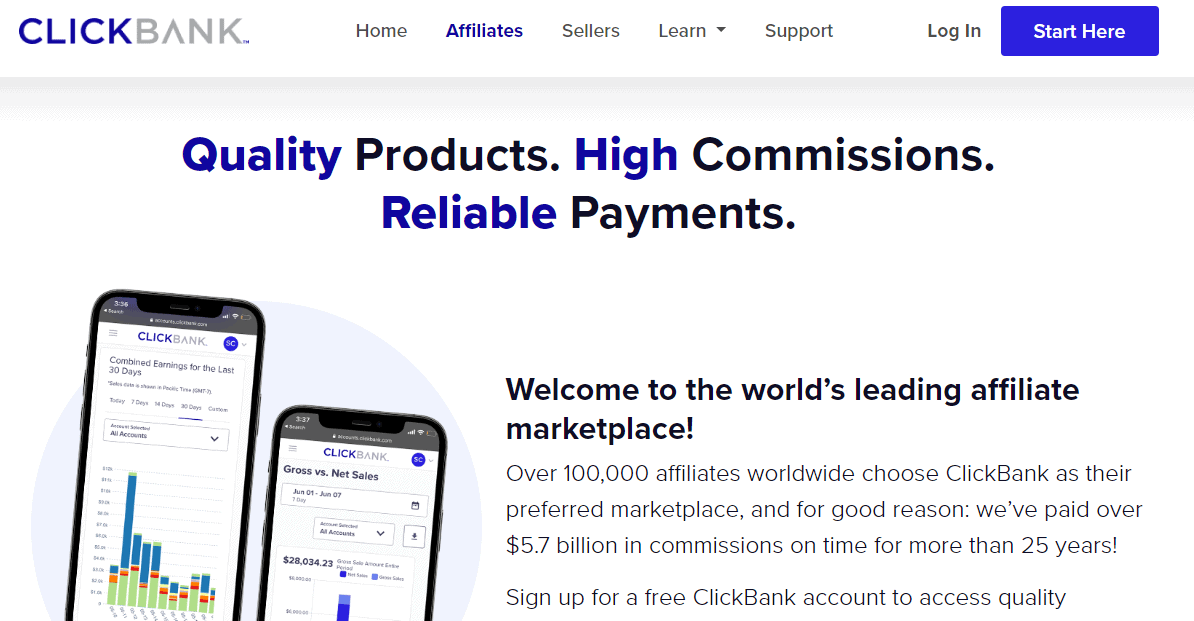 It is quite simple to open a ClickBank account. There is no need for a lengthy verification process. Once you have an account, you can begin to generate affiliate links and make money.
The ClickBank affiliate program offers a wide variety of digital products that correspond to your expertise.
You will be in competition with a large number of affiliates, but you can promote as many items as you like to enhance your earnings.
Categories include:
Arts and Entertainment

Home and Garden

Business and investing

Sports

Games

Green products 
In addition to delivering large profit rates, ClickBank advertiser commissions average between 50 and 70 percent.
It is ideal for bloggers, TikTokers, YouTubers, and other influencers seeking to monetize their material.
Commission rate: Between 50% and 70% on average.
Getting paid: On a weekly or biweekly basis.
Payment method: Checks, wire transfers, Payoneer, direct deposit.
Affiliate support: Yes.
ShareASale is an affiliate marketing network that lets you choose from more than 2,500 different programs.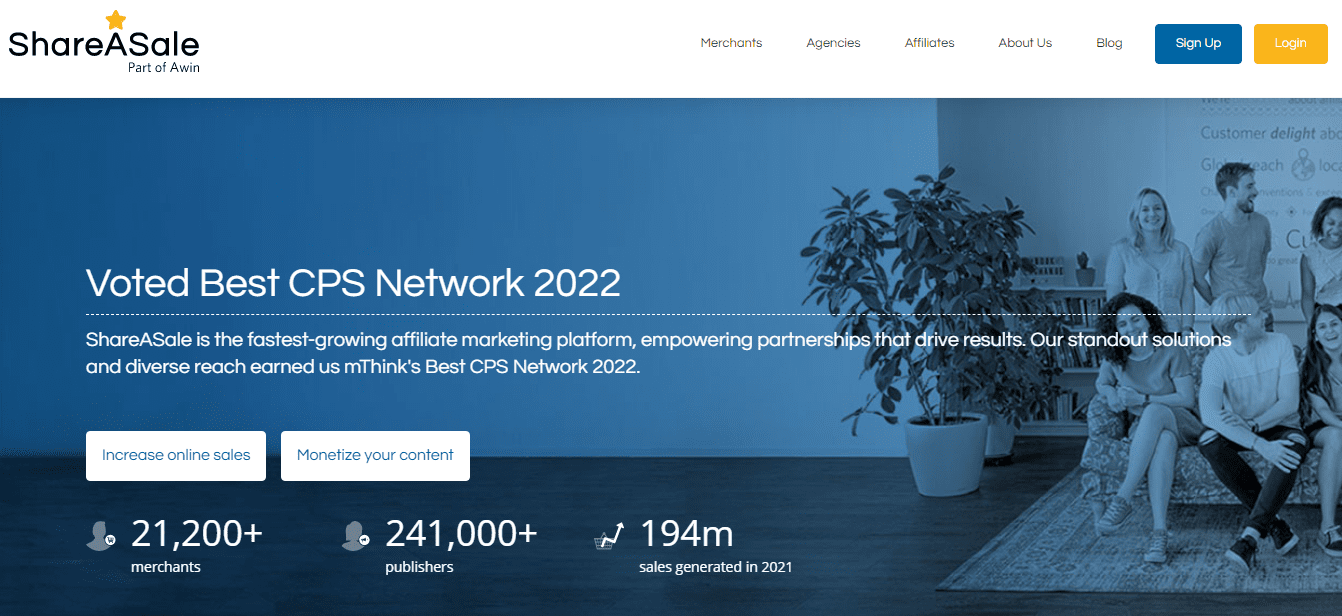 ShareASale is appealing because it's free to join and has an easy-to-use interface that's great for people who are new to affiliate marketing.
ShareASale also works with tens of thousands of merchants. No matter what niche you choose, you'll be able to find products and services to sell that are related.
The commission rates for ShareASale's affiliate program depending on what the merchant wants.
Ahmed Mir, the founder of Sip Coffee House, said, "ShareASale's partnerships with content creators and technology partners are the best part of their affiliate program."
You only have a few ways to get paid through ShareASale, and you need a website to become an affiliate.
Commission rate: Depending on the seller.
Getting paid: For the previous month's commissions on the 20th (or the nearest business day). 
Payment method: Payoneer, direct deposit, and paper check.
Affiliate support: Yes.

CJ is one of the bigger affiliate networks out there. It has 8.14 percent of the market share in the industry.
A number of big business brands work with the company, including J.Crew, Priceline, Overstock, and Barnes & Noble. CJ also gives affiliate commissions worth more than $1.8 billion each year.
Publishers who join CJ's affiliate program have access to top brands and data that make it easy to make money from their online business.
Rates for commission depends on how much advertisers pay.
CJ also has many advanced tools and features, such as ad and content monetization, omnichannel tracking, and an interactive onboarding experience that makes it easy to join programs and make sales with just one click.
Commission rate: Depending on the commission rate of the seller.
Getting paid: Commissions for the current month are paid on the 15th following the month.
Payment method: Direct deposit, paper check, or Payoneer.
Affiliate support: Yes.
Another well-known affiliate network is called Awin. It gives you access to more than 14,600 advertisers, some of which are well-known brands and names you might know.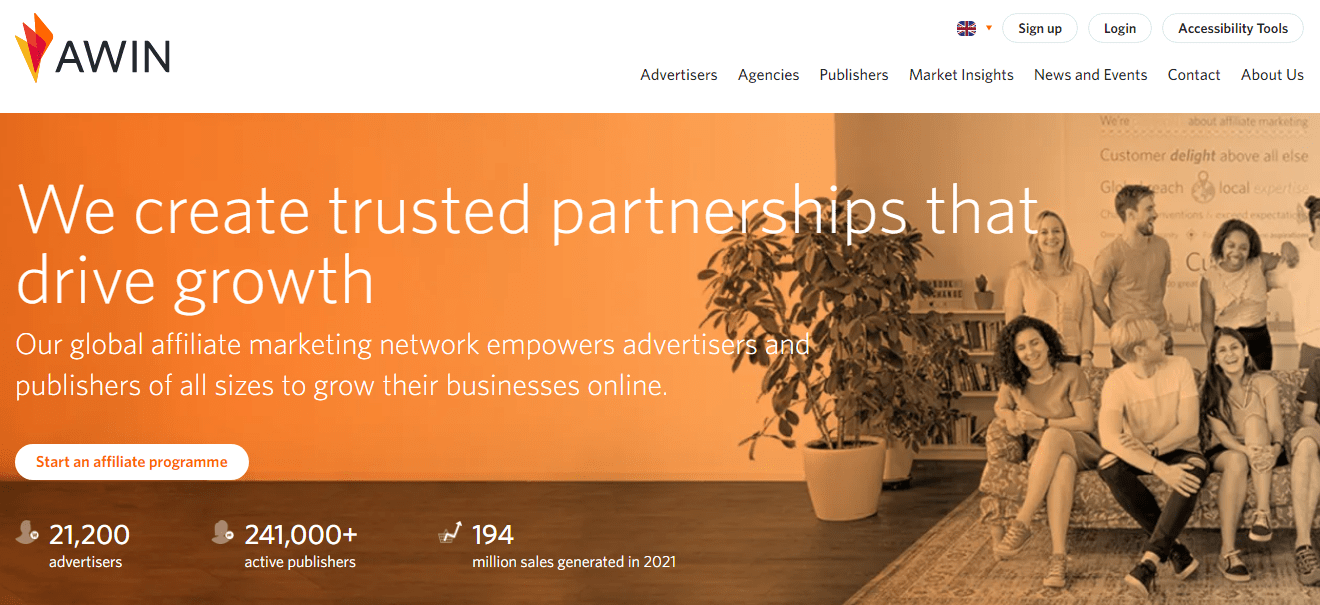 You can search for any program you want to join or get in touch with someone from the brand to talk about a partnership through Awin's advertiser directory.
A website is not necessary. Awin works with affiliates who use YouTube, Instagram, Pinterest, and other social media sites. When an affiliate wants to join Awin, their information is checked by the compliance team.
To join Awin, you also have to pay a $5 deposit, which is refunded when you reach your first payment threshold.
Commission rate: Sellers determine their own rates.
Getting paid: Every 1st and 15th of the month for commissions earned the previous month, but the minimum payment threshold is $20.
Payment method: International wire transfer, BACS, or automatic bank transfer.
Affiliate support: Yes.
Quick Links:
Conclusion: Best Affiliate Marketing Programs For Beginners 2023
Affiliate marketing programs provide an easy way for beginners who are just starting out in the world of digital marketing to make money from home without any start-up costs or prior experience needed!
All it takes is finding an affiliate program that meets all of your criteria; choosing what products or services you want to promote; creating content related to those topics; and linking back product pages using a unique tracking code!
With some dedication and effort put into researching affiliates programs and understanding how they work implementing them into content strategies correctly – anyone can become successful at making money through online marketing!