Since most individuals learn best via visuals, audiovisual material has a distinct advantage over textual information.
The WordPress team of experts and programmers has responded by developing several tools for making such visual representations inside the editing interface.
In WP, data visualization is used to graphically show information. These methods have been utilized by website designers for decades, and yet they continue to evolve and improve.
What Is Data Visualization?
To visualize data simply means to represent numerical data visually, such as in a chart, table, interactive graph, or infographic.
Making data more visually appealing may aid in the identification of patterns and trends. You may use this to better understand the meaning of your data.
If you use Google Analytics to track your website's performance, you'll probably find yourself staring at a line graph. The data may indicate that traffic has been on the rise for the last half year.
Data visualization may be used to improve blog articles, increase site interaction, and even generate email options in the form of a special report.
You may expand your readership and monetize your online presence by doing so.
7 Best WordPress Data Visualization Plugins 2023
Let's have a look at the top data visualization plugins for WordPress.
The wpDataTables plugin's name suggests otherwise, but it's really as simple to use as Microsoft Excel. It's a simple way to incorporate data into attractive charts and graphs for online and offline use.
You may submit information either by typing it in or by uploading a file. Users may also construct editable tables. Their charts will update instantly.
In order to easily display just results from certain dates, regions, etc., you may define filters for your data.

There is a "wizard" that walks you through the method for creating a data table, as well as a tonne of documentation.
If you'd prefer not to shell out the cash for the full plugin, a free light version is also available. It's important to keep in mind that this has certain restrictions.
When utilizing the free version, users can't do things like modify tables.
Excellent For: Detailed information or interactive graphs and tables where users may enter their own data.
In order to build dynamic data visualizations for your site, you may use the Visualizer plugin for WordPress to generate tables and charts.
The free edition includes several chart kinds, such as line, area, bar, column, pie, geo, table, bubble, and scatter diagrams.
These charts may be added without the need for any additional software.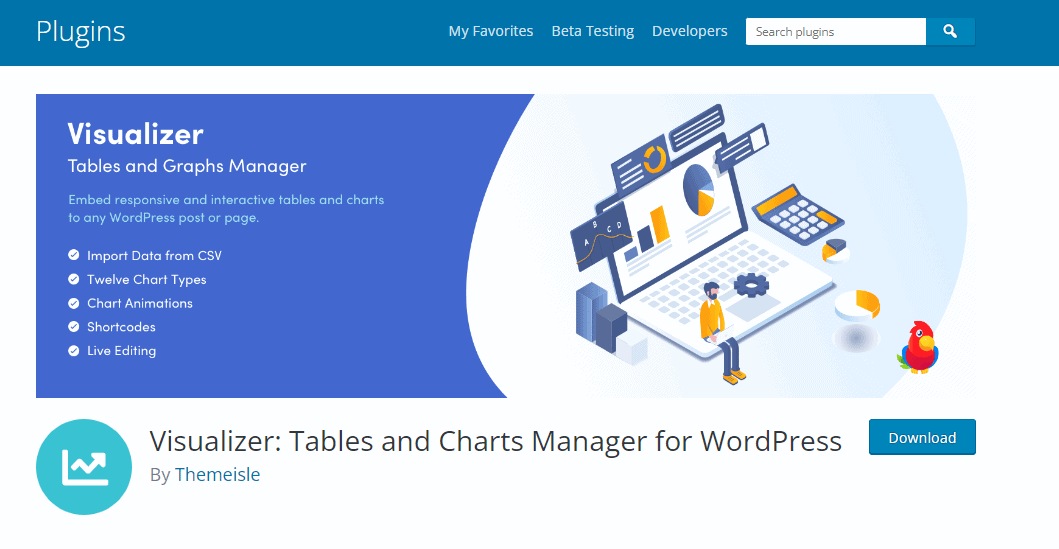 Additional chart kinds and email assistance are available in the paid edition. If you don't like it, you may get your money back within 30 days.
Visualizers may also be used to create interactive tables, such as price tables, for your website. Users may quickly navigate between pages of your tables, and they can also search and sort the data in them.
Excellent For: A cost-free service for making charts and graphs. Visualizer's free edition is a good option for those who are just getting started with data visualization.
Graphina adds support for charts and graphs to the WordPress plugin Elementor. It has robust capabilities while ensuring that the visual graphs are not impacted by factors like your site's performance and speed.
There are a dozen different graph choices and many chart variants available. Your website's visuals will change to better fit the information being shown.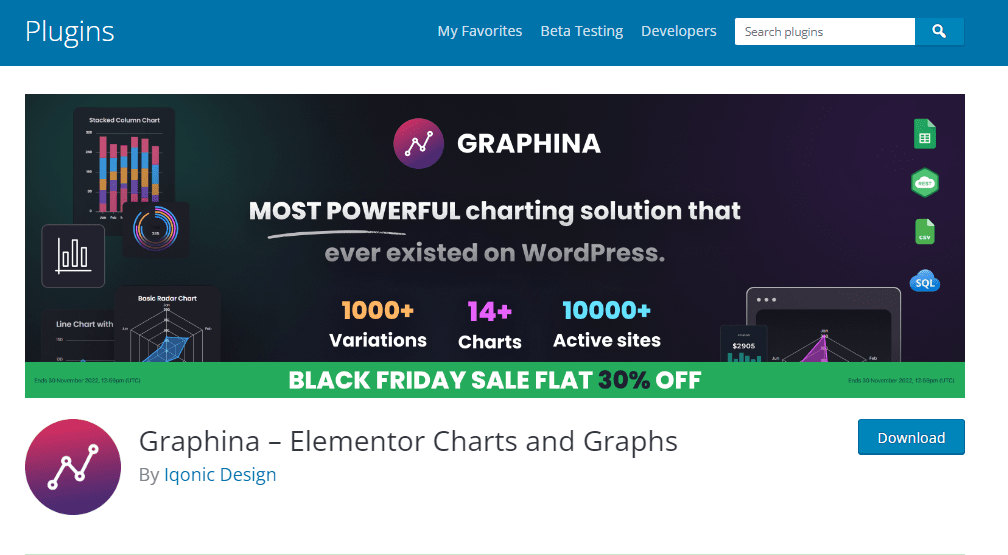 Graphina also offers graphs and charts for the Divi builder, which is part of the famous Divi WordPress theme. It's compatible with any WordPress theme, not only Divi, and it works well with that theme.
Excellent For: You may use Elementor or Divi to include charts and graphs in your design pages.
With iChart, a free plugin for WordPress, you may generate several charts without breaking the bank. Line charts, pie charts, doughnut charts, polar area charts, and many more sorts of diagrams are included here.
The plug-in includes a chart builder for creating eye-catching charts and graphs even for novice users. Colorizing the backgrounds of individual data points and their associated labels helps you present your information clearly.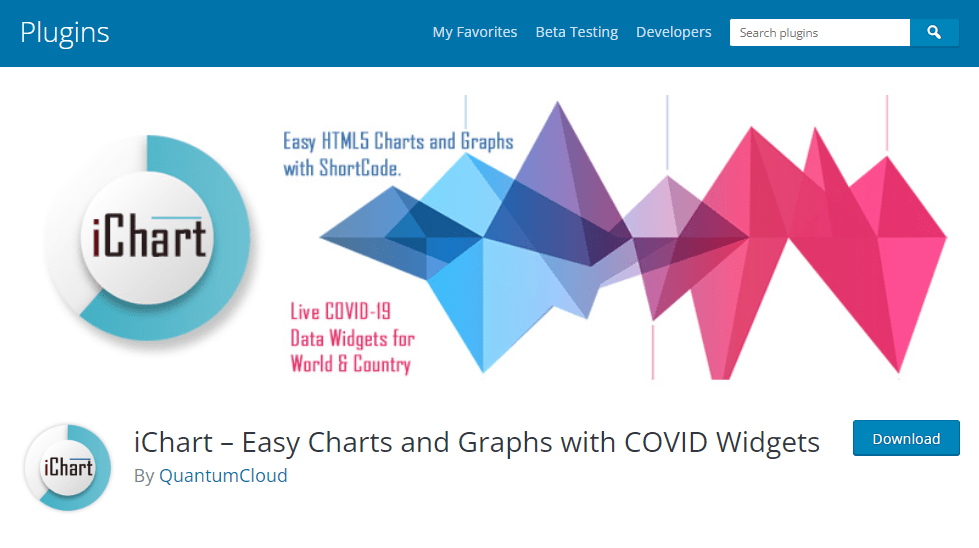 After entering your data, you can utilize its shortcode generator to include visual representations of that data in your WordPress posts and pages. Previewing the charts on various screen sizes, browsers, and devices is simple.
Excellent For: Creating a wide range of high-quality, free, and easily understood charts and graphs for online data presentation.
WordPress plugin developer Supsystic offers a plugin called Data Tables Generator that helps you create mobile-friendly tables.
To make your own charts and graphs, you'll need to upgrade to the Pro edition. These are courtesy of Google Charts. Create bar graphs, pie charts, doughnut diagrams, and any other typical chart form with ease.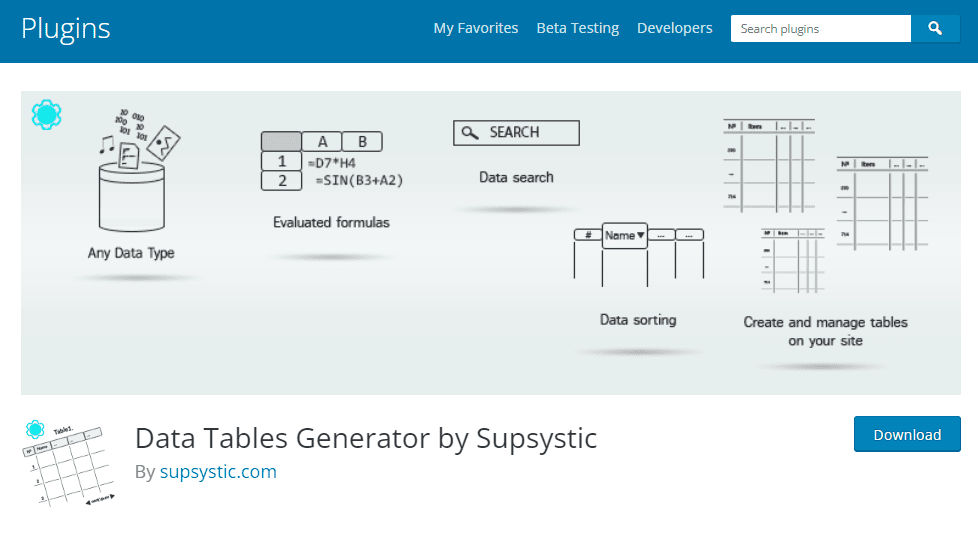 In addition, you may take the information you've compiled in a spreadsheet and apply it to other projects. CSV, Excel, PDF, and Google Sheets import are all supported by the plugin.
Data Table Generator is a wonderful plugin because of its WooCommerce integration. Make product tables that are simple to search in.
Ideal for: Making product tables for your WooCommerce shop. The user may sort and filter them to their liking.
When it comes to WordPress plugins, WPForms is one of the best. You can use it to conduct polls and surveys on your blog, and it works well. Visualization is facilitated as well for better understanding.
You'll need to upgrade to the Pro plan or above on the WPForms site in order to conduct a survey using the plugin. After everything is complete, you can go ahead and add the plugin to your website.
It is necessary to install the Survey & Polls addon before you can create a survey. To install and activate, visit WPForms » Addons in your WordPress administration area.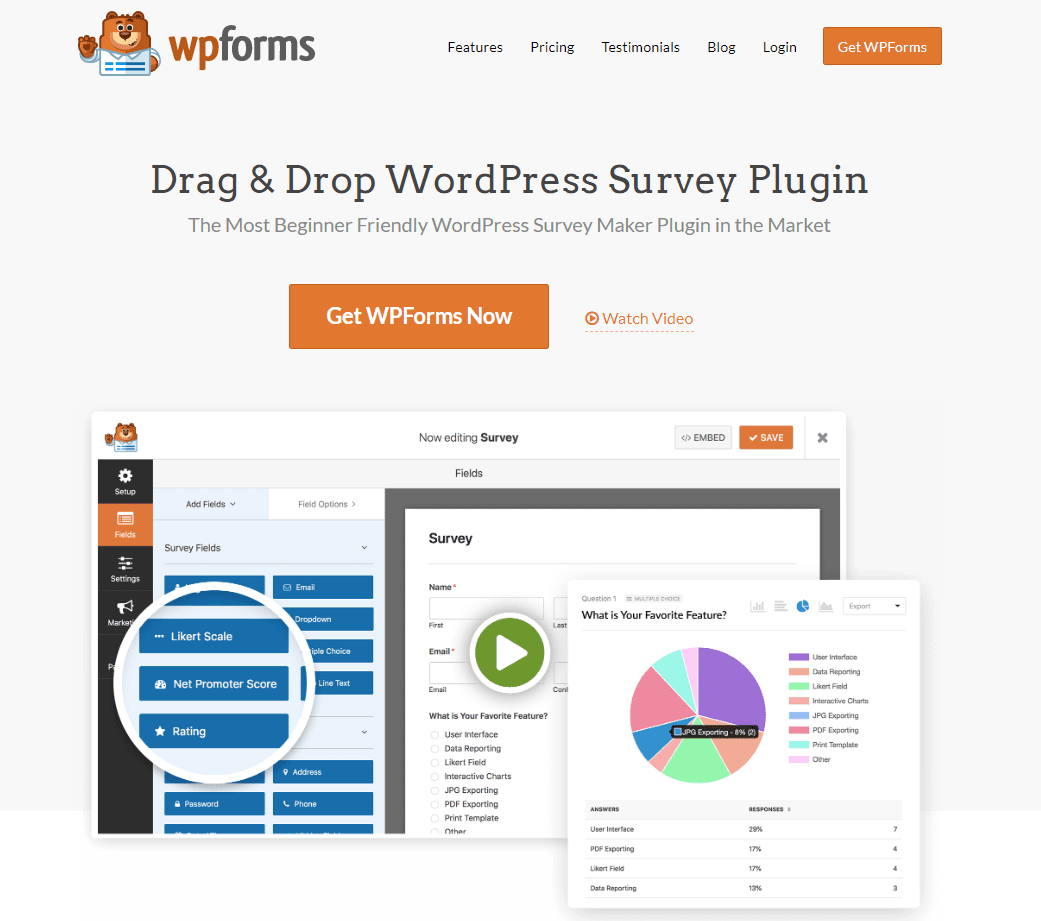 WPForms' survey functionality is wonderful since it allows you to effortlessly convert your current forms into surveys. If you have a data collection form already in place, this might be a huge time saver.
If you want to construct a survey in WordPress, you may use WPForms by following our step-by-step guide.
This plugin allows you to quickly and easily change how your data is displayed. In terms of charts and graphs, you are not restricted to a single option.
Your charts and graphs are also available for download in a variety of formats, including JPG and PDF. With this, sharing your findings with readers of your blog, your superiors at work, or your customers is a breeze.
Ideal For: Surveying site visitors for information is a top use for this tool. This information may then be visualized in insightful charts and graphs using WPForms' in-built capabilities.
Create complicated forms with ease with Formidable Forms, a powerful WordPress plugin for creating forms.
Column charts, horizontal bar charts, line charts, pie charts, area charts, scatter charts, histograms, stepped area charts, and geographical heat maps are just some of the many formats that may be generated with its help.
By using a shortcode, you may place the charts anywhere on your site. As a result, they may be effortlessly integrated into existing content on your site.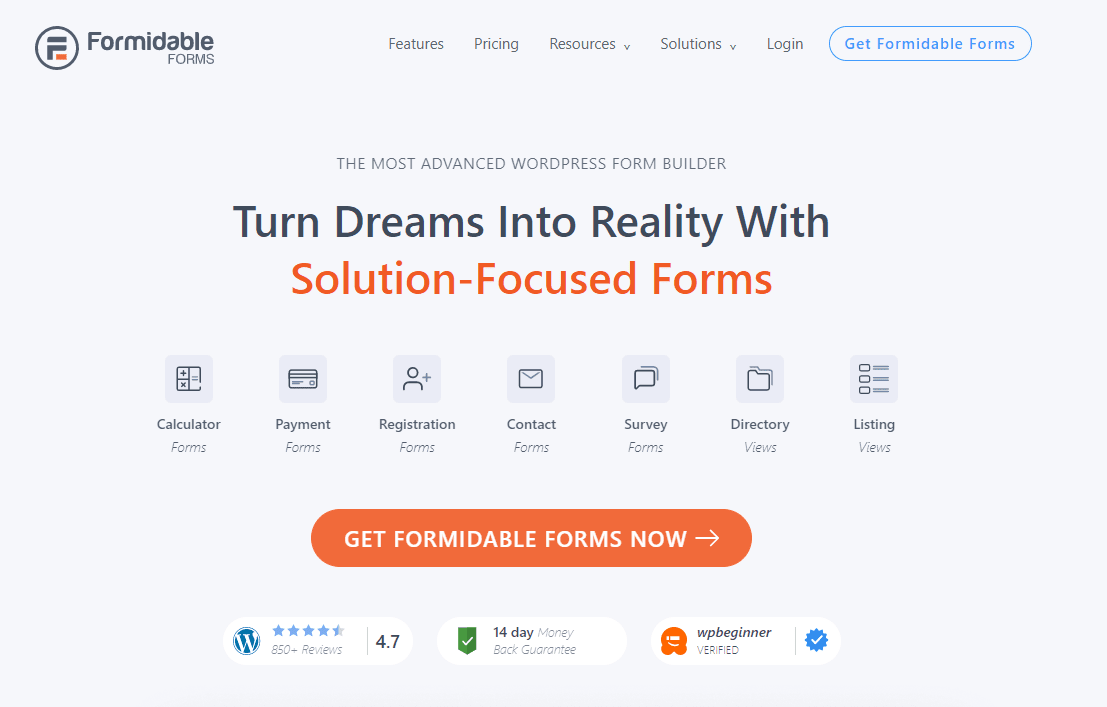 You'll need to utilize the plugin to collect data, much as with WPForms, before you can make a chart. By altering the shortcode's data-type parameter, you may transform any collection of numbers into a visually appealing chart.
By adjusting the shortcode settings, you may modify the appearance of your charts. By entering hex codes, for instance, you may choose the colors that appear in the shortcode.
Furthermore, user-specific filters allow for the filtering of graph data. Don't worry if you aren't familiar with shortcodes.
The shortcode builder that is along with Formidable Forms consists of a series of dropdown menus from which you can construct your shortcode.
Best For: Anyone interested in building a complicated form or displaying a large amount of information in several formats, such as calculators, data-driven applications, user listing tables, directories, and much more.
Quick Links:
Conclusion: Best WordPress Data Visualization Plugins 2023
The importance of data visualization in bringing in fresh visitors and retaining existing ones is well-known among WordPress site owners and authors.
Now that you have read this, you should have a much better idea of how to improve a WordPress site for maximum effect.
If you like this piece, please consider sharing it and providing feedback in the section below.