This article is dedicated to Best Inventory WordPress Plugins. If you're planning on selling your goods online, then WooCommerce is the greatest plugin for you.
However, one downside of WooCommerce is that it doesn't have an inventory management tool. This means that you'll need to install a separate WordPress plugin to keep track of your stock.
There are many different plugins available, so it's important to choose one that will best suit your needs. To help you make a decision, let's take a closer look at some of the most popular options.
5 Best Inventory WordPress Plugins
Here we have the best inventory WordPress plugins:
1. Katana For WooCommerce Plugin
Using Katana, you can easily manage your online store's inventory with the finest WooCommerce inventory management WordPress plugin.
A simple drag and drop editor makes it easy to maintain your inventory, produce invoices, arrange production orders, and much more, all from a single, easy-to-use dashboard.
Features:
Improve the efficiency of your inventory transactions by automating them.
Manage the stock of various warehouses from a single location.
Control the progress of the production process from the beginning to the end.
From accounting to e-commerce, you may use this inventory plugin with your favorite web apps.
It's simple to handle a wide range of items and materials.
Another well-known WooCommerce order and inventory WordPress plugin, Veeqo allows businesses to simply manage their online storefronts and different sales channels from a single control panel.
It's possible to manage the amount of inventory that appears on your website, as well as product data across numerous channels, with this plugin.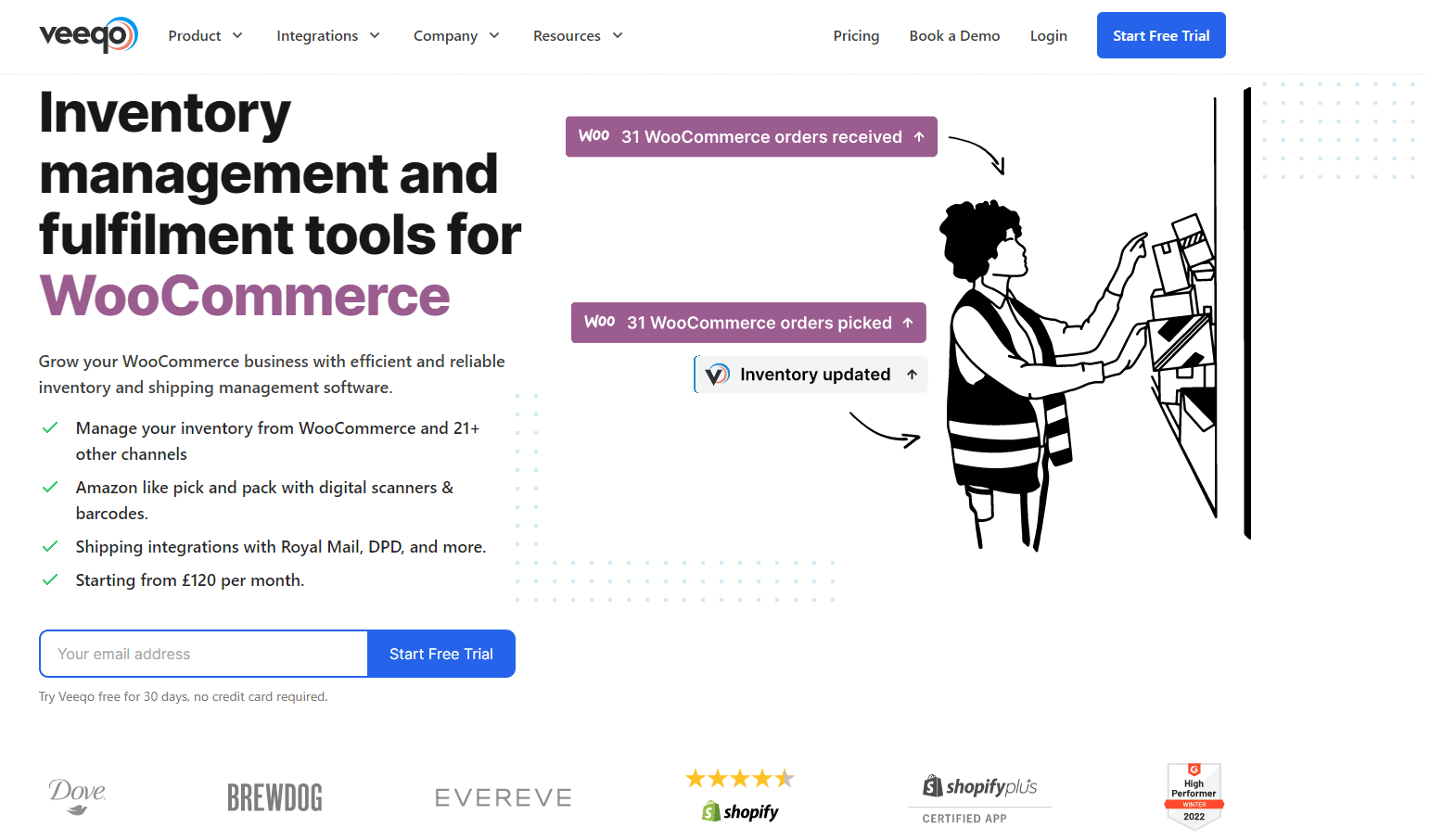 All of your other shops on Veeqo will be updated when someone makes a purchase from a business selling your goods.
Features:
When you use Veeqo WooCommerce inventory, you can quickly and easily import client orders from any of your online businesses.
Multiple warehouses may be created and their inventory synchronized in real-time between them.
With the help of a smartphone app, you can keep track of inventories at all times.
Verify and amend product information in real-time across all of your warehouses.
3. WP Inventory Manager
It's an open-source WordPress plugin for inventory management that provides a wealth of functionality. Permission to add or change things in your inventory may be delegated to a particular individual.
Whether you're a vehicle dealer, a parts dealer, or an art collector, this is the plugin for you. With the help of this plugin, users will be able to effortlessly manage their WordPress website's merchandise, equipment, and more.
Features:
More than one category may be supported
Allow customers to design their own labels
Add a field and a label to meet your specific requirements.
For speedier database access, divide the tables into their own databases.
4. WP ERP Inventory
Customization possibilities are available in WP ERP, a WordPress inventory plugin, allowing you to manage your inventory exactly as you see fit.
Product codes, selling and purchasing prices, the number of goods remaining in stock, and a slew of other information are all available with this inventory management plugin.
Features:
Allow for the calculation of all sales and pre-sale taxes without any ambiguity. Only the tax rate has to be set, and the plugin will handle the rest.
Importing new items to your inventory through a CSV file eliminates the need for extensive manual labor.
Using the built-in search, you can quickly find everything you're looking for.
5. Z Inventory Manager
You may use Z Inventory Manager, a free WordPress inventory management plugin, to keep track of everything from sales and orders to shipments and bills.
Features:
Track sales, orders, delivery, and shipments in real-time
Real-time inventory management and stock availability checks are available.
Increase your inventory by placing new orders and keeping track of the shipments you've made so far using sales receipts.
Quick Links:
Conclusion: Best Inventory WordPress Plugins 2023
I hope this post will help you select the finest WordPress inventory plugin. All of the inventory WordPress plugins listed above, whether free or premium, are excellent.
If you require more features, you may upgrade to a commercial version of the plugin.