The most difficult challenge for any WordPress developer is to create a visually appealing website that takes up little space, loads quickly and is simple to navigate.
So far, there are only a few WordPress themes available that provide all of these functionalities but at a price that is out of reach for most inexperienced developers.
However, GeneratePress promises that their Free and Premium versions of the theme will include all of the required functionalities and even more.
So I am here today to give you an unbiased review of GeneratePress.
Let's get started.
What is GeneratePress?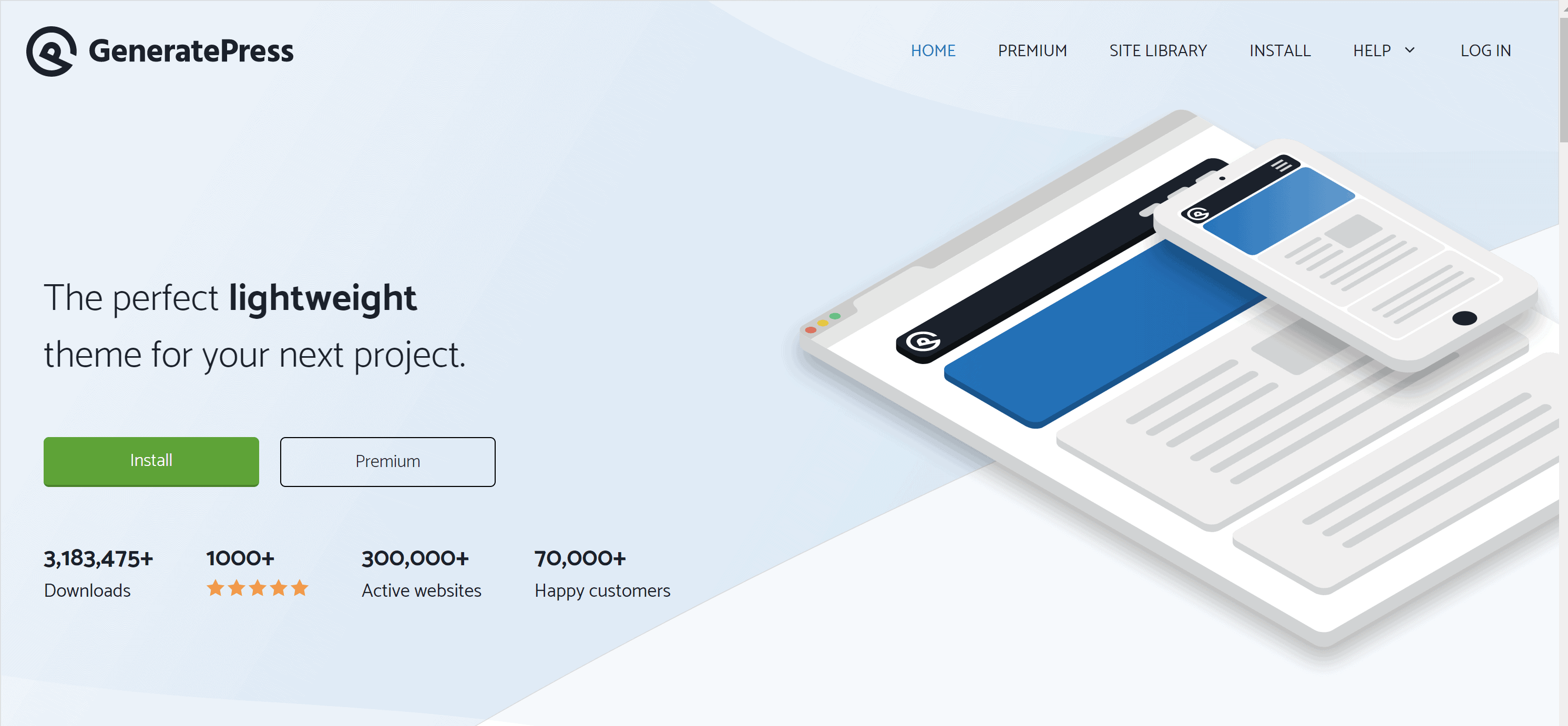 Generatepress is a lightweight multipurpose WordPress theme focusing on stability, speed, and accessibility through minimal code and block features.
GeneratePress can be used to create a blog, a professional website, a portfolio website, an eCommerce website, a brand website, and a newsroom. In short, you can create any website for your company or a client's company.
This lightweight theme is available in both free and paid versions. The best part about this theme is that it offers a Lifetime deal to its users, which we will go over in detail in the following article.
In brief, if you are looking for a theme that aids in performance optimization, is low-cost, and has an easy-to-use page builder, we highly recommend GeneraptePress.
It is intended for digital nomads, hobbyists, digital agencies, or freelancers who require a quick WordPress site. It is compatible with any hosting provider, including Linux, Windows, and VPS!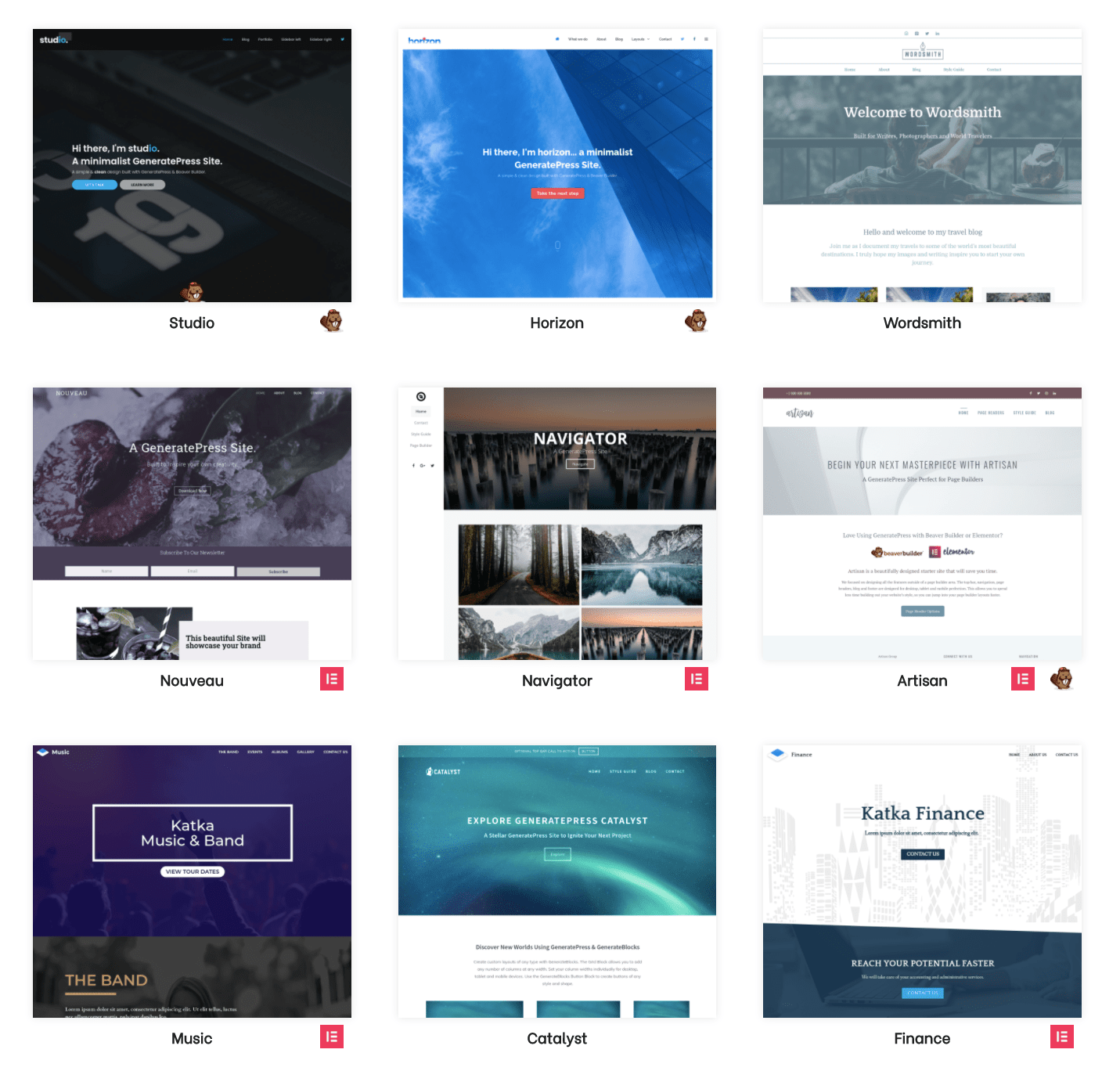 Why is GeneratePress so popular?
Optimized Performace & Faster Loading
GeneratePress is extremely lightweight. And this is not any exaggeration. It only takes 60KB of the server.
This allows websites and pages to load faster, improving the user experience with the website.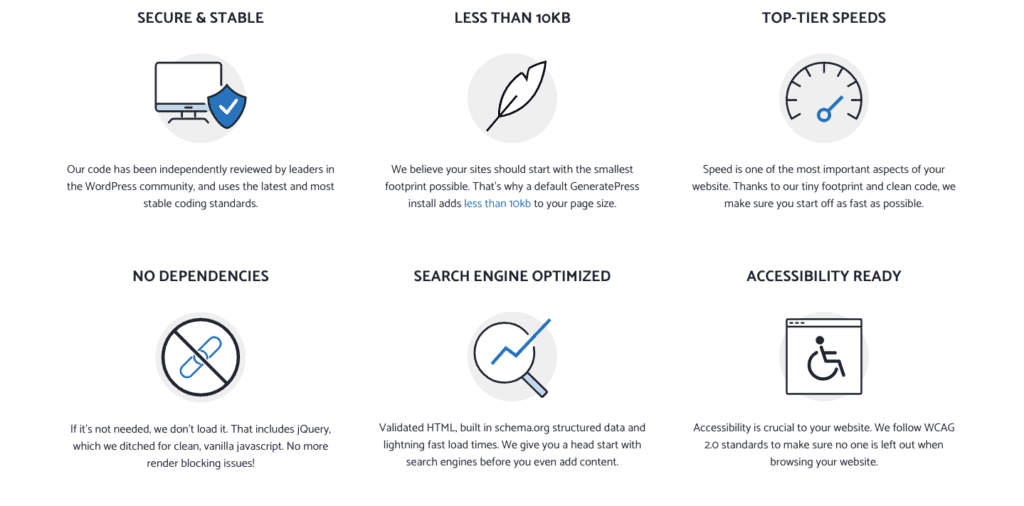 Seamless Customization in Real Time
While designing a website, you want to know how it looks in your user's eyes.
To know that, you need to have a real-time view of how it looks while making the changes, and GeneraptePress gives you that real-time view of Customized blocks.
Greater control over Page & Post level Settings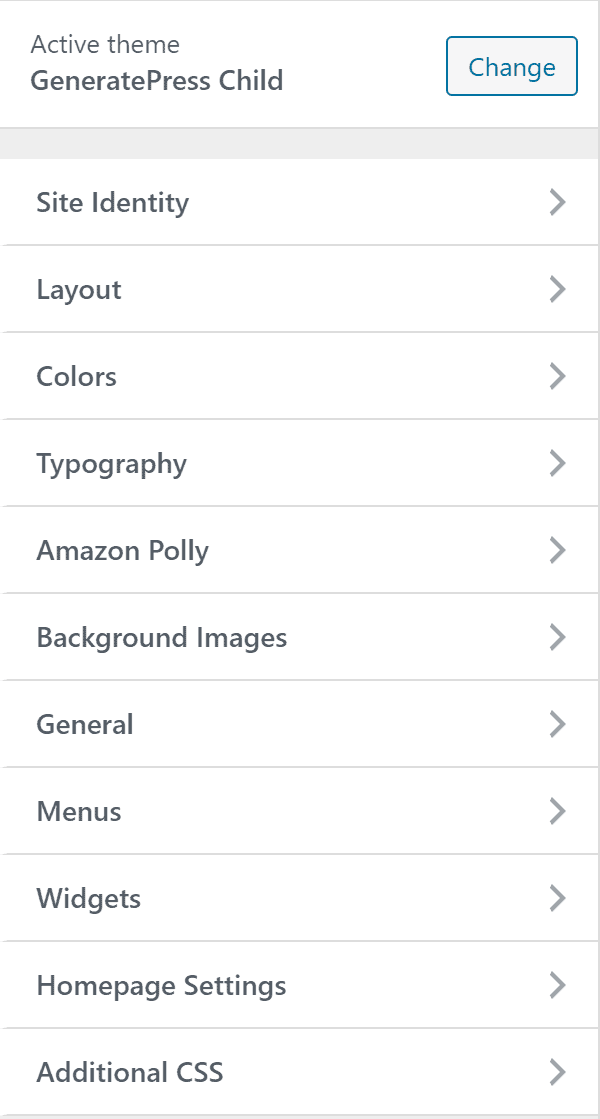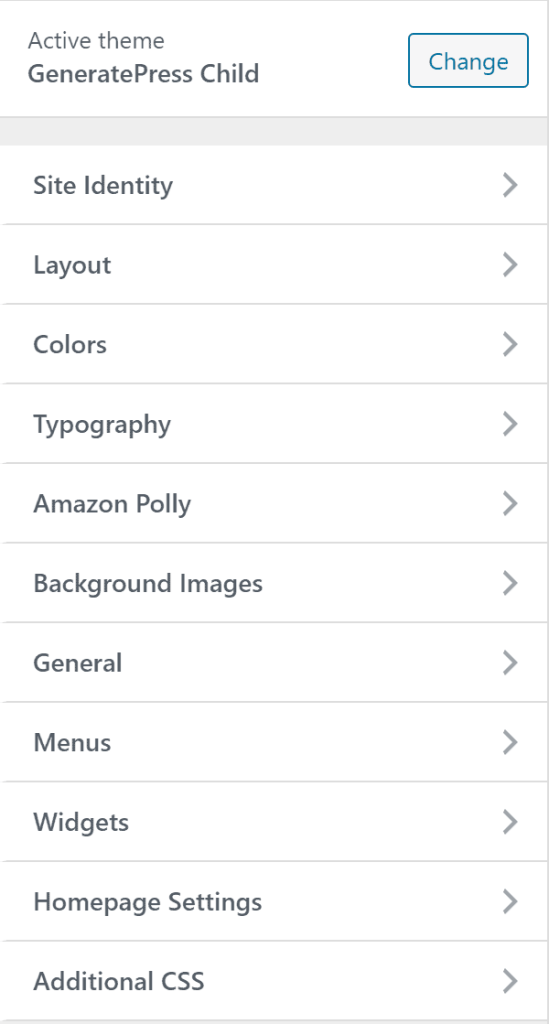 You can edit and customize various elements in your website at the post/page level, giving you complete control over the overall appearance of your site.
You can choose the sidebar orientation in each post/page.
Change the header/footer location
Disable specific elements, and much more
Pre-made gallery of sites
GeneratePress provides a massive library of pre-made site templates. It's simple to use, and you must import it from your WordPress dashboard.
It's especially useful for first-time website builders and bloggers because you don't have to start from scratch. You only need to customize a pre-made template, saving you hours of laborious customization work.
Premium Extensions and Modular Approach
GeneratePress will provide you with many sophisticated premium extensions at a reasonable price, which I will discuss in the following paragraphs.
GeneratePress also provides a Modular design, where you select and activate the features you want to use. It's extremely useful because you don't have to give up valuable loading time or SEO rankings for features you'll never use.
GeneratePress Free Version Review
GeneratePress free version is represented in light blue and is a fast-loading-free WordPress theme.
The free GeneratePress theme is simple and attractive compared to many WordPress themes available in its library.
List of features available in this Free theme:
Fully Mobile responsive
The site is comprehensively SEO-friendly.
An unlimited number of sites are available
Lightweight & sites load quicker and faster
14 Pro Models available for easy customization
Easy Reset option absolutely for free
Access to CSS Customization whenever required
Availability of More than 100 Fonts
Tutorials & Documentation available for flexible use of the theme
GeneratePress Premium Version Review
This Premium version of Generatepress comes in dark blue, is more advanced, and has a variety of features compared to its parent-free version promises a money-back guarantee within 30 days if not satisfied.
List of features available in the Premium version:
Site Library 
You will be ready to import your favorite theme from the 33 demo websites in just three simple clicks.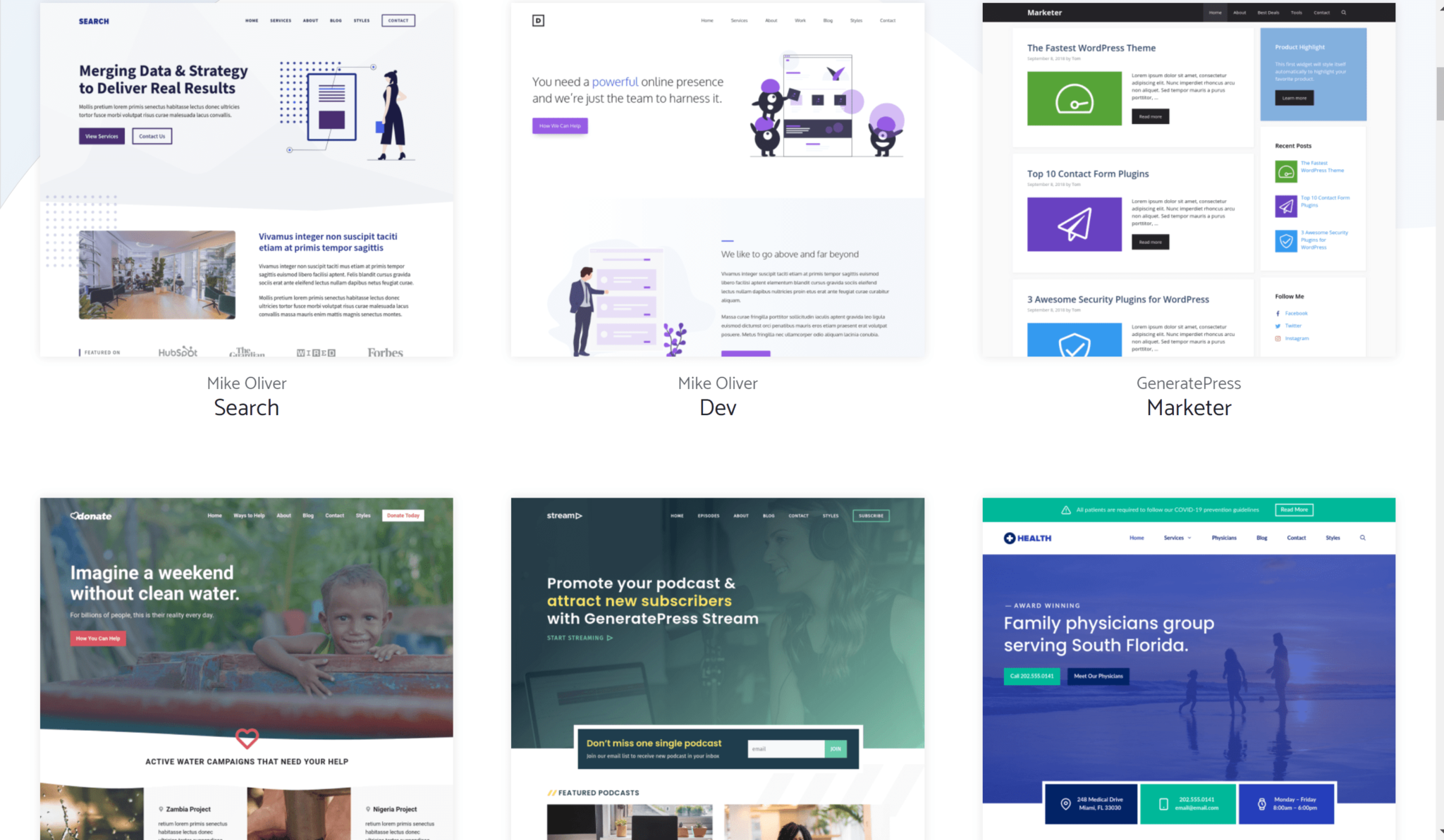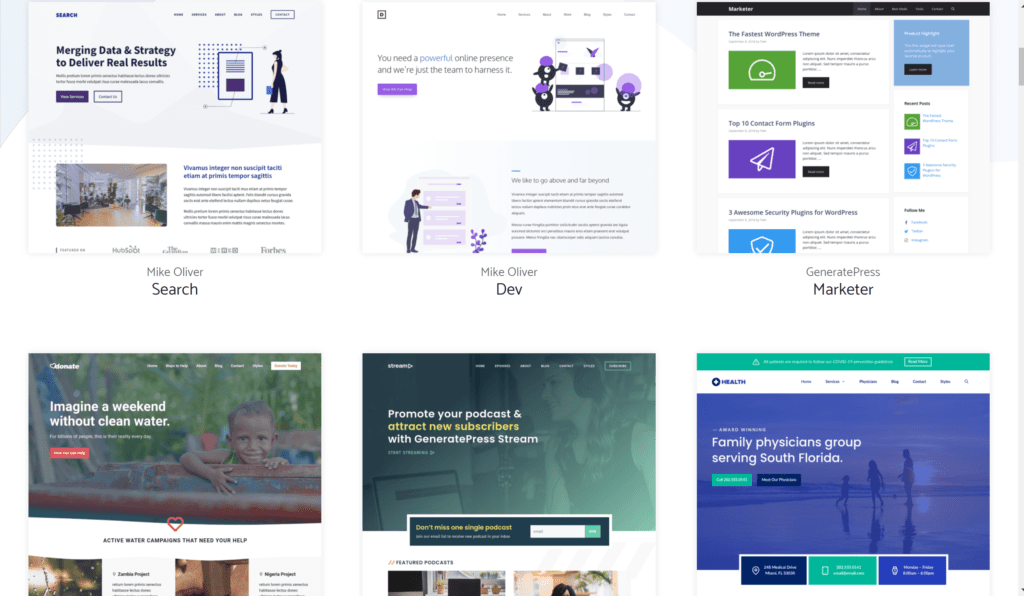 Page Header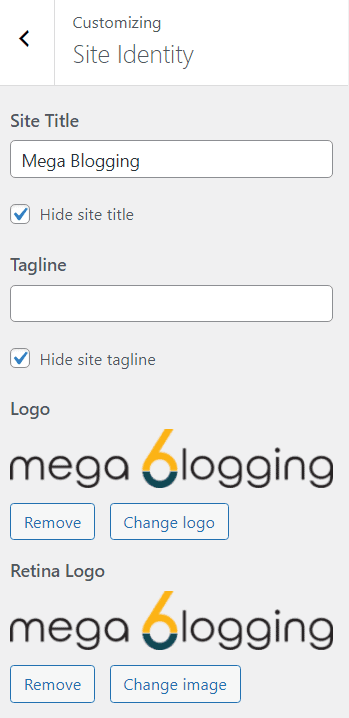 You can easily add your transparent header & custom logo to the site without any third-party plugins.
Background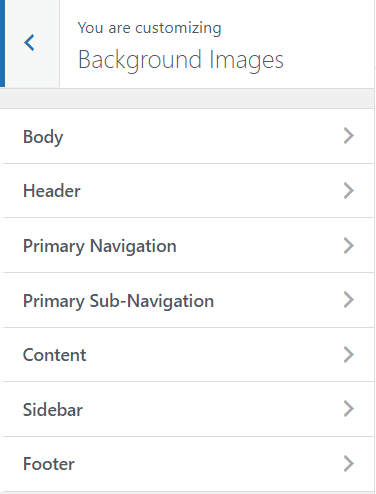 You can remove and add background images and design them with available parallax effects.
Woocommerce Store Optimization
One of the best features we should discuss is Woocomerce store integration.
Woocommerce is a plugin for WordPress to create an e-commerce site. It is a free and open-source plugin. So before using this module, you must install and activate the Woocommerce plugin on your website.
It allows you to customize your product pages, checkout pages, and other pages on your site by using colour, layout, and typography options.
Blog Customization 
Blog Customization is the most advanced feature coming for an affordable price range. You can control image options, set column dimensions, alter element spacing, edit scrolling options, and more.

Elements
The most important module of GeneratePress Theme is Element, which allows you to add dynamic heroes, advanced hooks, layout options, and so on.
You can use Elements Module to implement the majority of advanced features. Most of the time, users and developers use this module to tweak and achieve advanced customization.

Colors 
GeneratePress allows you to play with colors on different sections of your website.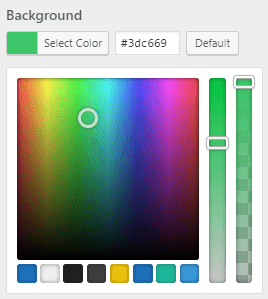 You can choose different colors for your header, Navigation, widgets, primary text, button, content, forms, and even footer section. It comes with 60+ color options or you to choose from.
Secondary Navigation
With Secondary Navigation, you can add an extra menu to your website. It also allows you to customize the menu with a variety of typography, colors & layouts to choose from.
Sections 
Sections are the Mini page builders available only in the GeneretePress Premium. This is an alternative to Page Builder plugins like Elementor and Beaver Builder. However, if you have an advanced version of these plugins, you can go ahead with them.
Block
The Block Element module is the most advanced in the GeneratePress Theme. Instead of using HTML, Block Element allows for advanced customization via the Block Editor.
You can use Block in conjunction with GenerateBlocks to create a separate site footer, header, right sidebar, and left sidebar.
Spacing 
The spacing add-ons assist in steering margins, padding, and controlling the size in GeneratePress.
You can use this module in the header, menu item, container separate, sidebar width, content padding, width padding, footer widget & footer padding, secondary menu, and so on.
Typography 
You can style your site with over 70 different System and Google fonts in the typography module. You can customize each area of the GP theme's fonts.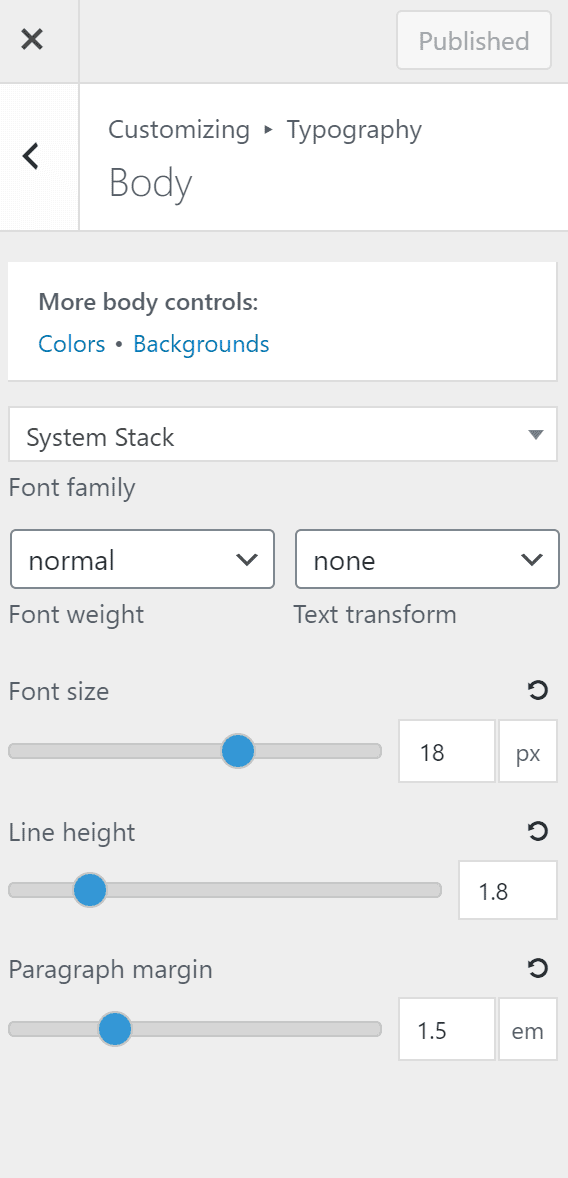 You can change the font family, font variants, font weight, font size, and so on in the header, footer, sidebar, body, and menu. To optimize and speed up your site, you can also host Google Fonts locally in WordPress.
Disabling Elements 
Disabling Elements is another well-liked feature of GP. You can disable the Elements for specific posts or pages.
You can find the disable elements section at the post/page level.
Copyright 
The copyright module allows you to edit or change the website's copyright in the footer section.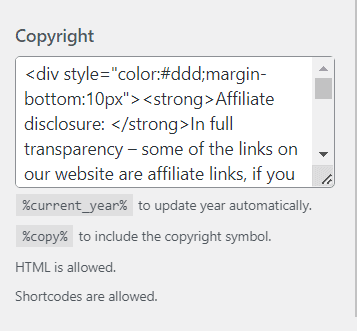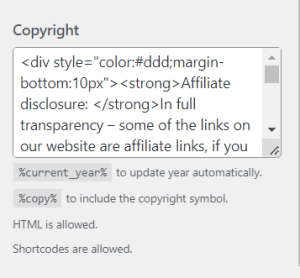 Support 
The most important factor to consider before purchasing any theme is their support.
On wordpress.org, GeneratePress premium support is excellent, and it has 5/5 stars for its eagerness to assist and resolve the issue, and Free GP Theme has over 1300 5-star ratings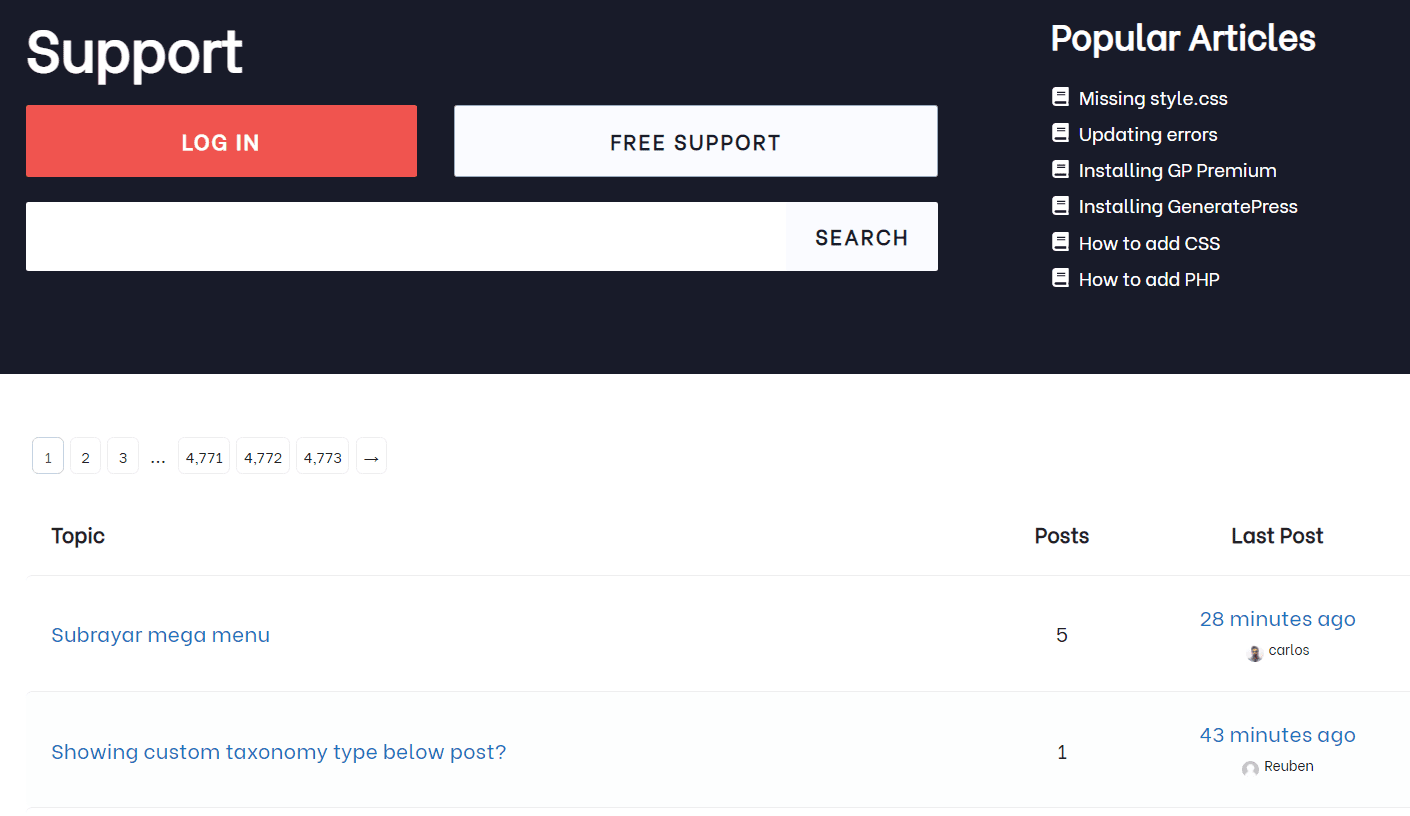 Documentation 
Documentation is always an important part of any project, and GeneratePress Theme has the best documentation. The GeneratePress Theme Documentation is available at docs.generatepress.com.

The Documentation is divided into four sections, making navigating and searching through the knowledge base easier.
There is an in-depth guide for each module, customization, Hooks, Filters, etc.
Furthermore, you can use Google Search for any related issue; the official GP Theme documentation ranks higher in SERPs. As a result, everything is easier to find on Google.
GeneratePress Lifetime Offer
GeneratePress lifetime offer comes at $249. It is the best deal you can get if you are a professional web designer or developer and constantly working on creating new websites for clients and your website.
In this lifetime deal, you will get all the features available in Premium for life. No additional charges are included, and you can use these features for up to 500 websites even if you do not own them.
All premium features & Modules available for a lifetime

Full access to site library (no strings attached)

Lifetime updates

Lifetime premium quality support and advice

30-day money-back guarantee if not satisfied

You can use it on up to 500 websites
GeneratePress Theme Speed
According to Google, the speed of the website is one of the ranking features of a website.
Here, GeneratePress claims to have the lightest themes that allow users to load their website quickly without much waiting.
Tom has set up a speedtest.generatepress.com subdomain to test the GeneratePress Theme, and he recommends using the free Autoptimize plugin to optimize it.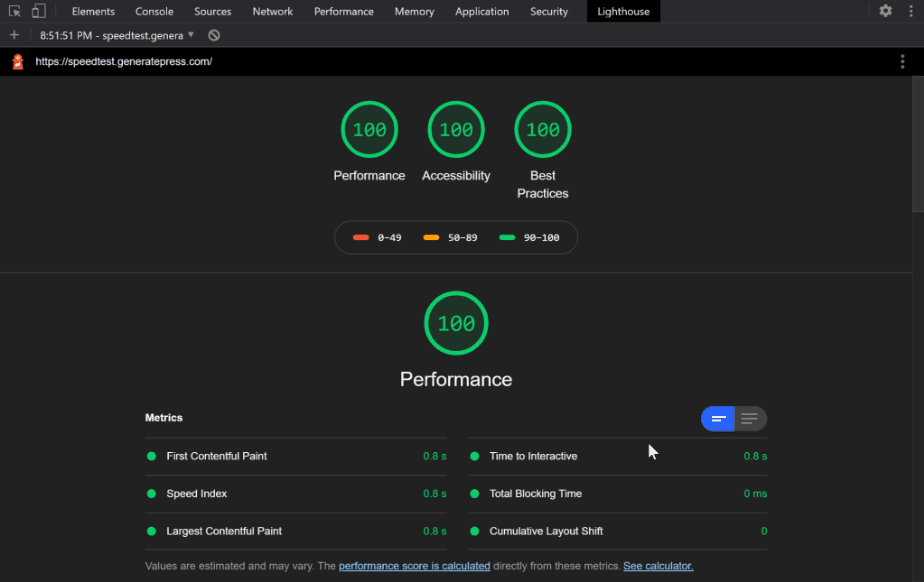 Customer Reviews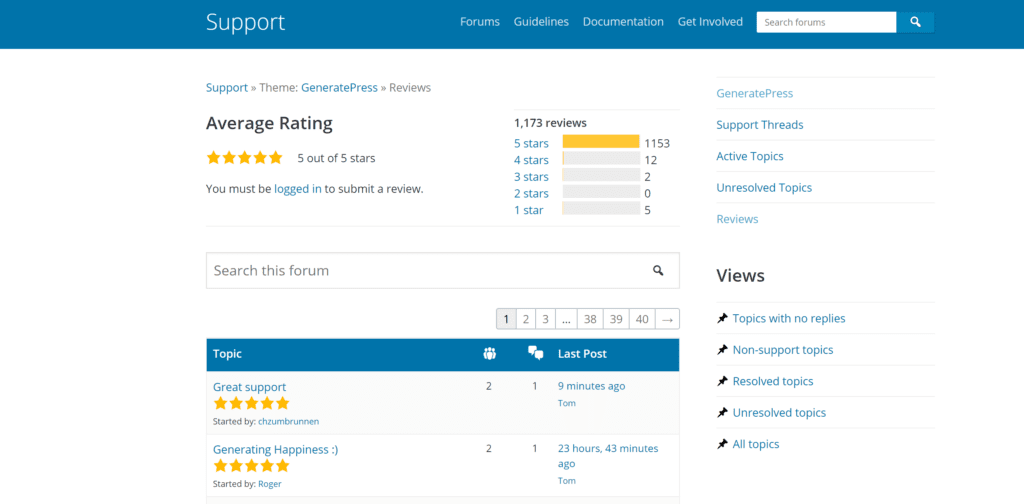 WordPress is highly regarded by customers and is admired for its limitless customization options and SEO optimization. You'll be surprised to learn that GeneratePress has surpassed 3,10,000 downloads, and I'm proud to say I'm one of its users.
In addition, you can see 3,00,000+ active websites and 70,000+ happy customers of GeneratePress.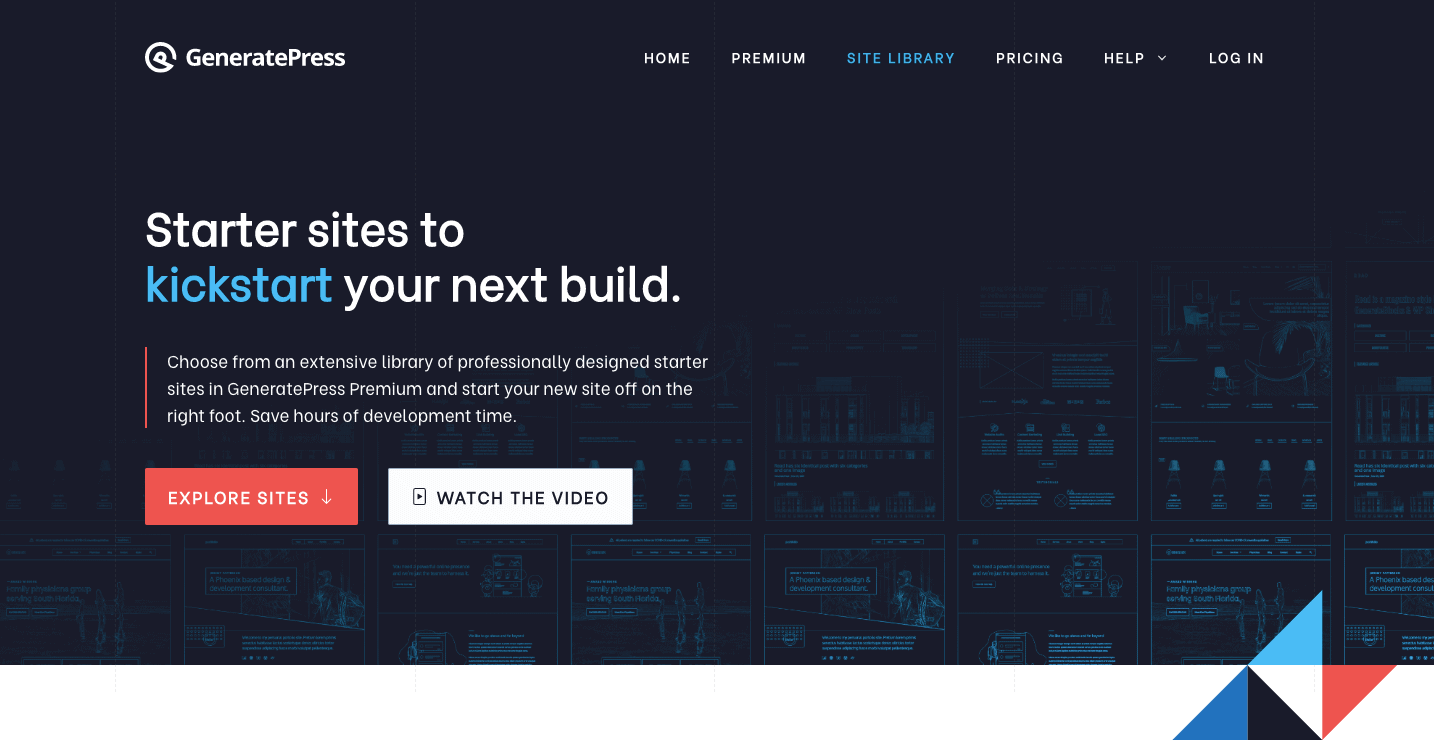 Furthermore, over a thousand users have given GeneratePress five-star ratings, and I am one of them.
GeneratePress Alternatives – Comparison with Three Major WordPress themes

In the world of WordPress themes, there are already some pioneers who are offering similar and advanced features. Astra,  Genesis, and OceanWp stand apart in the industry.
Astra vs GeneratePress
Common Features:
Pre-built themes

Library of templates

Customize without prior coding experience

Ability to make full-width pages by replacing sidebars

Colors and typography

Header layouts

Customizable blog and archive designs

Faster website speed
Choose Astra if you want a well-rounded free theme but don't want to upgrade to the premium version. Its free version has far more features than GeneratePress's free version.
Use GeneratePress Premium if you want to take advantage of the power of Gutenberg blocks and create custom block-based templates without using a page builder plugin. GeneratePress 3.0 has transformed it into a fantastic block-based theme. This is why it is used on PassionWP.
Genesis vs GeneratePress
Common Features:
Pre-built, customizable themes
Custom page templates
Powerful theme customizer with live preview
Customizable header
Can add your logo
Ability to add a custom featured page featured post and user profile
Mobile-friendly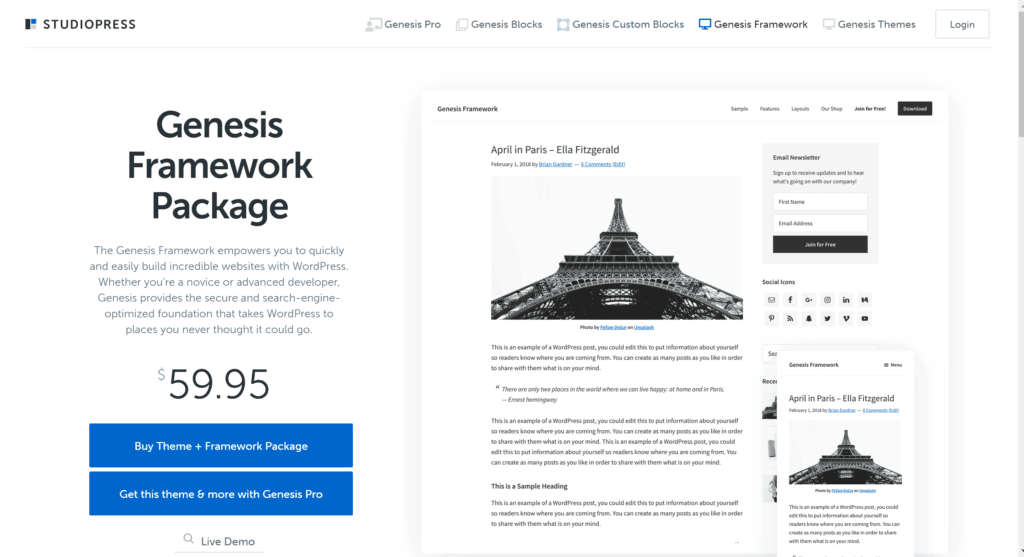 The Genesis Framework has a lot of hype surrounding it. It costs a lot of money and needs more important functions.
OceanWp Vs GeneratePress
Common Features:
Demo video tutorials
Mobile and Tablet friendly website
Enhanced loading speed
WooCommerce integration
RTL language support
Support
OceanWp comes with almost all the GeneratePress features; the only drawback is that they still provide the most basic features for a premium price. Budget-wise, it is visible that GeneratePress passes all the odds.
Price Comparison
| | | | |
| --- | --- | --- | --- |
| Theme | Free Package Available | Premium & Pro Packages | Lifetime Package |
| GP | Yes | $59 | $249 |
| Astra | Yes | $59, $169, $249,$499, $699 | No |
| Genesis | Yes | $59.95, $499.95 | Yes |
| OceanWp | Yes | $39, $79,  $129 | yes |
Except for the price range, all the theme mentioned have their build templates and are easily customizable with guided how-to tutorials and expert community help.
However, for more information, you can work on each theme website and find the best theme.
Step-by-Step Process to Install GeneratePress Theme (Free & Premium)
Step 1: Download the Free Theme in WordPress 
On your WordPress Dashboard > Appearances > Theme > Add New
Search for GeneratePress and click Install & Activate the Free Theme
Step 2: Download the GP Premium Plugin from the Official Website
Visit the website –

generatepress.com

Click on Login 

Log in using your Username & Password (if don't have one, create your account & log in)

You will be redirected to Download Window

Download GP Premium (Plugin with the latest version available, license number & Expiration date)
Step 3: Activate the Plugin & Modules
Now go back to WordPress Dashboard

Go to Plugins 

Hit Add new plugin & upload the downloaded GP Premium Plugin from your computer

Install & Activate the Plugin

Now go to Appearance Tab again

Click on Generatepress

Enter the License Key (provided when downloaded or to your email)

Activate the necessary Modules (depending on your requirements)

Good to start working with Premium Theme Modules & Elements.
GeneratePress Testimonials & Real Customer Review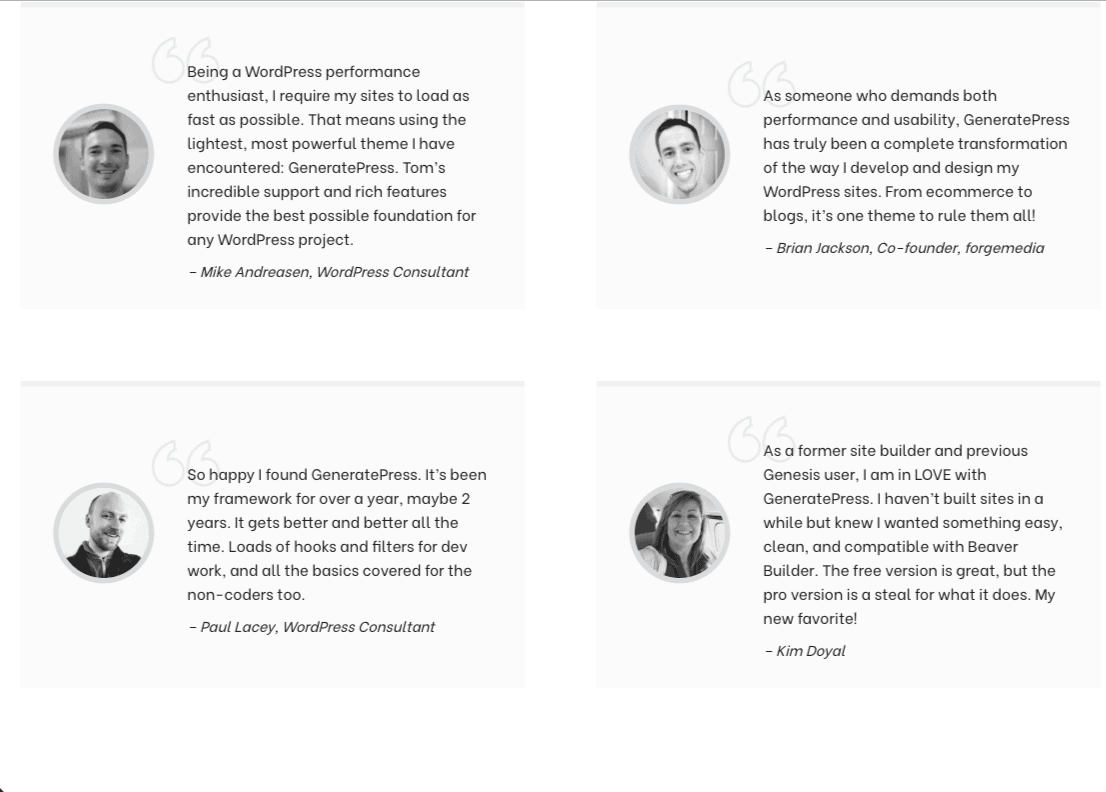 FAQs:
What is GeneratePress?
GeneratePress is a versatile, lightweight free WordPress Theme developed by Tom Usborne, mainly focusing the performance, security, and usability. This WordPress Theme is available in both Free & premium versions.
Is GeneratePress Free?
Yes, GeneratePress has a Free version. But it comes with limited options. You can download the Free theme directly from WordPress Themes. But to enjoy the features of the Premium version you have to pay $59 (yearly plan) or $249 (lifetime deal) to get access.
Can we build Pages with GeneratePress?
GeneratePress has its page builder feature in its premium version named GenerateBlocks.
Can we work with Elementor for GeneratePress?
Elementor and GeneratePress work perfectly in WordPress. The free and premium versions work flawlessly, but the GP Pro version has many features.
What is the price of the GeneratePress Premium Theme?
The GeneratePress Yearly plan costs $59 and includes access to all of its Premium features. It also offers a lifetime deal for $249, which includes access to the same premium features as the yearly plan.
Also Read:
GeneratePress Review Conclusion 
Compared to all the prominent and well-known WordPress themes available, Generatepress stands out and provides you with the most advanced and uncommon features in its Free & Premium package.
If you are still deciding whether to choose GeneratePress, look at what other developers say about this Amazing WordPress Theme.