In this article, we have featured Generatepress Pros & Cons, GeneratePress is a solid platform on which to build your website. Many seasoned developers rely on GeneratePress for all of their projects.
The free version isn't all that great right now. I'm not trying to bash the theme, but the options are extremely limited, and I don't think anyone would argue with that. The free version allows you to create a very basic site, but most people use GeneratePress's Pro version.
I mentioned earlier that the developer has strong opinions. This is good, but if you want a theme that evolves its feature set, GeneratePress may disappoint you. That isn't necessarily a bad thing, and some people prefer it. You can also check out our latest GeneratePress Review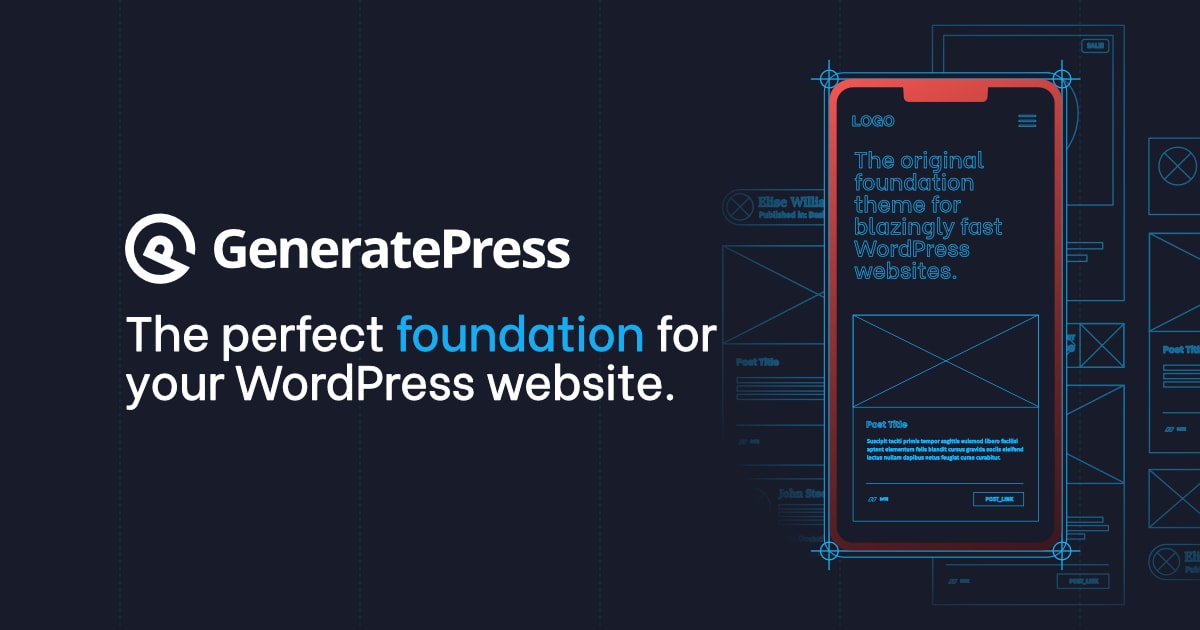 Generatepress Pros & Cons 2023
A multi-purpose theme that loads quickly.
The theme is lightweight and has an install size of less than 10 KB (Gzipped).
Page templates that are ready to use and can be easily customized.
Theme builders such as Elementor, Beaver Builder, Brizzy Builder, and others are fully supported.
Theme customization options are extensive.
Options for sticky and transparent headers are available.
There are numerous blog and page layout options.
Using the Elements feature, you can create your own layouts.
WooCommerce support is complete.
With the GenerateBlocks plugin, you can extend functionality.
It's a WordPress template.
It is a simple Multipurpose Theme.
The GP theme now costs $59 per year or $249 for a lifetime license.
Money-back guarantee for 30 days, no questions asked.
The yearly plan includes one year of updates and support, while the lifetime deal includes lifetime support and updates.
Tom Usborne is the company's founder and lead developer.
Old customers receive a 40% discount on yearly renewals, while new customers receive no renewal discount.
You can use the theme on up to 500 different websites.
Time for development and support, as well as a dedicated team.
The GP Theme is Gutenberg-compatible.
Over 30 languages have been fully translated.
RTL languages are fully supported.
Access to premium modules and the site library is unrestricted.
Responsive – This theme works on all screen sizes.
Optimized for Speed – The base theme is simple and light. Its modular design allows you to add features as you require them rather than dealing with a bloated theme that includes features you may not require.
Microdata Included – This theme includes Schema.org microdata, which ensures your site is as search engine optimized as possible.
Secure and stable coding – The developer stays up to date on the latest coding practices used by both WordPress developers and general developers.
Customizable – The live theme customizer provides a plethora of options.
Color Options – It allows you to set the site's custom or global color.
Typography System – Use options such as Font & Typography Manager to improve text readability across multiple elements on your website.
Layout Options – Quickly change the width and style of various elements.
There is no charge for the GeneratePress WordPress theme itself; however, there is a GeneratePress Premium Plugin available for those who want more extensive adjustments and functionality. Additionally, GP Premium is still reasonably priced. It is only $49.95, and it allows you to use it on an unlimited number of websites.
There are no hidden fees when you sign up for your account, and there are no hidden charges.
Site Libary: GeneratePress premium members have access to a library of 45+ pre-built website designs. If you are a subscriber to the "GP Premium" plugin, you will be able to import theme styles with only one click.
Code that is developer-friendly: The developer of GeneratePress is available to provide active help. This theme contains a large number of hooks and filters, making it an excellent choice for developers.
For newcomers, the most important component of a theme will be the extensive documentation it provides them. They have an extensive library of articles, films, and other materials.
Integration with WooCommerce: If you wish to create an eCommerce website, you must first install the WooCommerce
plugin. GeneratePress is compatible with WooCommerce, which means you won't have to purchase a separate theme for your eCommerce website.
Most Effective Customer Support: GeneratePress includes support forums, where you can ask issues directly to the developers of GeneratePress. This forum is quite busy and well-maintained; you will receive responses within 12 hours.
What Is This GeneratePress?
You are able to develop ANY form of website with the help of GeneratePress, whether it be a business website, portfolio website, agency website, cryptocurrency website, eCommerce store, etc., because GeneratePress is a lightweight and multipurpose WordPress theme.
GeneratePress is currently one of the most well-known and highly rated WordPress themes that can be purchased on the market. It is a theme that can be customized to fit the needs of any kind of website you want to build.
In the five years after its initial release, it has consistently ranked among the most reliable, feature-packed, rapidly loading, and best supported WordPress themes that are currently available.
Generatepress Features
Extremely lightweight and quick, with no reliance on jQuery at all. It has a modular architecture, which gives you the ability to turn on or off aspects that you don't want to be active. This is one of the primary reasons why I have such a deep appreciation for GeneratePress.
Completely responsive, maintaining a high-quality appearance across all devices. Powered by the extremely capable Flexbox Grid.
Built-in schema for improved performance in search engine result pages (SERPs).
Outstanding compatibility with the WordPress Customizer. In the past, I haven't been too fond of the customizer, but Tom does a good job with it.
WPML is compatible with all of the most popular plugins, including Yoast SEO, WooCommerce, Easy Digital Downloads, BuddyPress, and bbPress. Excellent support for browsers.
It has excellent compatibility with widely used page builders like as Elementor and Beaver Builder.
Completed translation at hand.
Accessible in every possible way, which is an essential characteristic that is frequently neglected.
Elements, which provide you with the ability to add stuff to your website in any location you like.
It has a large number of hooks and filters, making it an excellent choice for developers.
Incredible help from a proactive developer and a top-notch group of people. There are, on average, three new posts each month. Tom will frequently be seen responding to queries posted on the forum.
It works wonderfully in conjunction with Tom's newest plugin, which is called GenerateBlocks. This is a small collection of WordPress blocks that are very lightweight and can be used to perform almost anything.
Who Is The Creator Of GeneratePress?
Tom Usborne is the one who initially developed GeneratePress.
The WordPress theme Generate Press is so popular that it has racked up over 4.1 million downloads to date and has received over 1000 5-star evaluations from satisfied customers.
GeneratePress vs Astra
Two of the most prominent WordPress themes, Astra and GeneratePress, are extremely well-liked among users due to the ease with which they may be utilized, the rapidity with which they can load websites, and the fantastic personalization possibilities they provide.
The performance of GeneratePress was a primary consideration during its development. It does not add extra weight to your site by providing a large number of customization choices and integrations with third-party services. It is less than 10 kilobytes in size. Astra, on the other hand, is a lightweight theme that weighs only 50 KB. It is feature-rich and comes with a large number of connectors that you can use to construct your website.
The ability of course authors to take advantage of Astra's superior integrations with WordPress LMS plugins such as LearnDash and LifterLMS is a distinct benefit. read more on our detailed GeneratePress vs Astra comparison.
Conclusion: Generatepress Pros & Cons 2023
Changing themes is a time-consuming and nerve-racking process. It's similar to purchasing a new car. Will you enjoy it? What if you don't like it, or it doesn't work as well as you hoped?
Choosing the right WordPress theme is critical because you want to stick with it for many years. That is why I did my research before purchasing GeneratePress.
I am now overjoyed that I switched to GeneratePress; it has exceeded my expectations. GeneratePress is a WordPress theme designed by Tom Usborne, a well-known WordPress developer.
The free version of GeneratePress is available for download from the WordPress repository and comes with a limited but adequate set of features.
At the time of writing, the free version had been downloaded over 2,170,000 times and was active on over 200,000 websites, with over 800 positive reviews and 5-star ratings from its users. please tell us in the comment section how you like our article Generatepress Pros & Cons