Instagram is one of the most popular mediums that is helping fuel the craze of social media, especially amongst the youth. Whether it is food accounts or fashion accounts or travel accounts on Instagram, all are grabbing massive attention.
A recent trend of How to repost a video on Instagram has been doing the rounds.
Repost simply means to retweet, reblog, or share depending on your social site of choice. Uploading videos on Instagram has been quite prevalent.
It is an incredibly important platform for brands and marketers and helps to grab a lot of eyeballs for their products.
However, one can only upload a 60-second video on Instagram. Earlier, they were limited to only 15 seconds.
In case you happen to be an iPhone user, you can upload multiple clips from your camera roll into one amazing, minute-long Instagram post.
However, many times people wish to repost a video or a photograph that captures them or that is worth sharing with others, while rendering the credit to the original poster too.
To help you carry out this process, let's have a look at how to move forward with reposting on Instagram.
Reposting On Instagram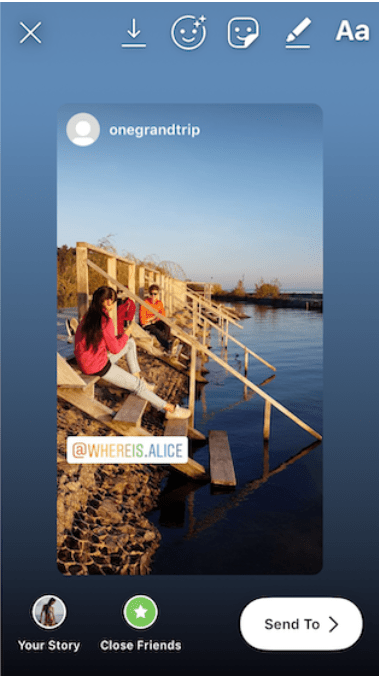 Instagram does not come with a single button to facilitate the process of reposting a photograph or a video. Thus, you need to-
Download an App- All you need to do is download an app that is specially designed for reposting on Instagram. You will find both free and paid apps that initiate this particular process of reposting.
Connect- Now, just connect your Instagram account with the new app.
Process- In the reposting app, just find the photo or the video you wish to repost and press the repost button in the app.
It will share the photo or video with your followers but will have the original username associated with it.
Usually, the watermark of the app also comes along. For a photograph, you can simply capture the screenshot and share it.
Various Apps For How To Repost a Video On Instagram
Instagram doesn't have an inbuilt share function.
Thus, one needs to take the help of various apps to facilitate the process of reposting. The internet is flooded with tons of apps that help facilitate the reposting process.
Let's have a look at some of the most popular and trending apps to repost videos on Instagram:
RepostWhiz App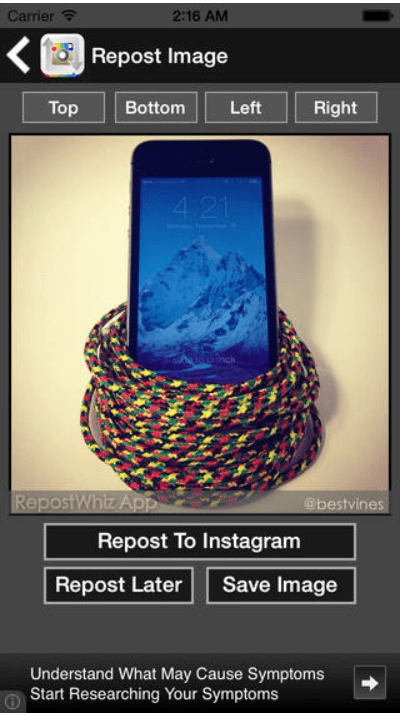 It is one of the most amazing and simple-to-use apps that help you repost with ease. Let's have a look at the process:
Install the RepostWhiz app on your phone.
Open your Instagram feed while operating your RepostWhiz app.
Search for the person via his Instagram handle or select a particular video you want to repost.
Now, you can modify or edit the caption as per your desire and can even decide to remove or keep the RepostWhiz logo and watermark in your photo.
Simply click on "Repost to Instagram" and you'll automatically be taken there.
You can even apply filters and tag anyone you would like to tag.
Iconosquare App
Iconosquare is a web-based Instagram viewer and is imbibed with a lot many useful features. In fact, it is one of my personal favorite apps to repost Instagram videos and photos.
Follow the below-mentioned points to understand that how do you repost a video on Instagram:
Sign in using Instagram
Click on the picture you want to share, and find the repost button below the photo.
Then click "send me by email" to receive an email with the preview image attached.
Open the email from your phone.
Save that to your phone's photo library and upload it to Instagram as normal.
The name of the person who actually uploaded the photo or video will appear in your post.
The cherry on the cake is that you can give an extra mention in your caption too.
Repost App for Instagram
It is an app that is free for iOS and Android. It gives credit to the original owner and allows you to quickly repost Instagram videos and pictures.
The best part about this particular app is that it offers a minimal amount of ads and a very clean repost credit display with no watermarks.
It adds the status from your reposted image into your status automatically. Furthermore, you can choose a light or dark theme as per your picture requirement.
Follow the process:
Install the app and sign in.
Then, tap on a picture you'd like to repost.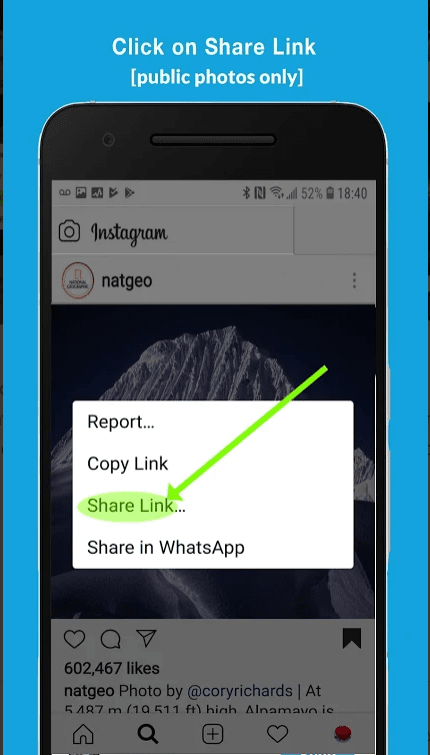 The user's account and profile picture automatically appear as a bar on the image.
Click repost and type whatever Caption you want to write.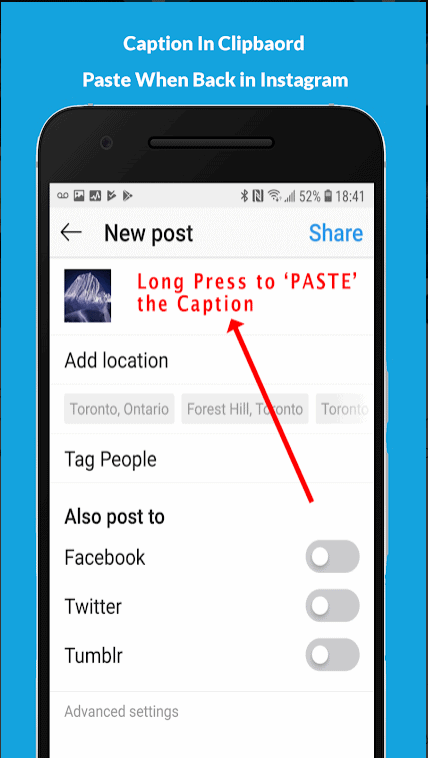 Click "open Instagram" and follow the normal directions of uploading a picture on Instagram.
Instagrab App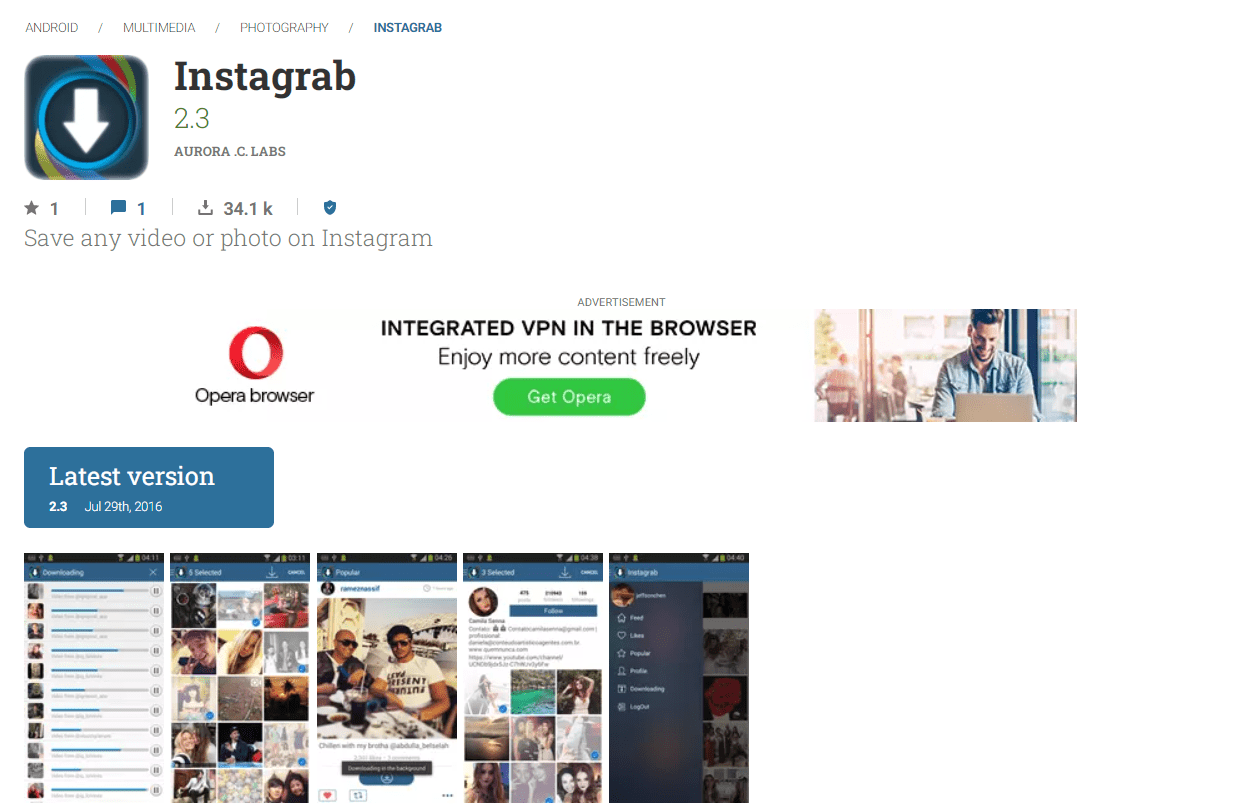 This particular app is imbibed with a lot more features in comparison to others. The highlighting part is that it barely has any ads and has no repost watermark. Using this app, you can even repost to Facebook or Twitter.
Regram 7 App
It has a format that is similar to your regular Instagram feed.
The main drawback is that you cannot click on the hashtags or like or comment on the photos through the app. It automatically reposts and tweets with the hashtag #Regrampp.
However, you can always turn off this feature if you wish to.
Ads at the bottom can be a little annoying. Thus, make sure to buy the Pro Upgrade to remove the ad annoyances.
Conclusion | How To Repost A Video On Instagram 2023
There is no denying the fact that Instagram is the most popular and trending social media amongst people these days.
However, while reposting a video or photo on Instagram do not forget to mention and give credit to the original owner of the post.
It is always preferable to watermark the reposted media and give the original poster a shout-out in a caption, like "Re-posted from @username" or "Original image via @username" or something like that.
In order to, How to repost a video on Instagram, just follow the basic credentials, take help of third-party apps and enjoy posting and reposting on Instagram!
Quick Links –