BuddyPress, the most commonly used WordPress plugin which the website owners use to create communities on the online platforms. Check our detailed BuddyBoss Review to get detailed insights into it. 
Today we will be looking into how to use BuddyPress. Being well – supplied with the features that are commonly found on the platforms available online such as conversations, profiles, activity dashboard, and many more. 
To extend the functionalities, the users can take the help of third-party plugins or components, which makes it more flexible with the working.
Taking into consideration a developer opts out for the usage of a few features involved, they are free to do so as the application tends to adapt seamlessly to the buttons, the needed items as well as the display of just the pages.
This platform is generally used by organizations where there is a sharing of confidential information so that they don't have to worry about security and safety.
It is serviceable mostly for the hobbyist, students, and colleagues and also to other people who want to communicate with each other and exchange ideas.
Designed mainly for groups, teams, and online communities, it helps to build customized profiles, manages secured and private connections, monitor friendships, creation of groups, and many more.
A lot of plugins and addons are also present.
New users need a lot of time to get used to it.
BuddyPress, the most commonly used WordPress plugin which the website owners use to create communities on the online platforms. Check our detailed BuddyBoss Review to get detailed insights into it.
BuddyPress Overview
BuddyPress is a convenient tool for creating online communities, which will help you to build professional connections across the world. It is flexible and user friendly.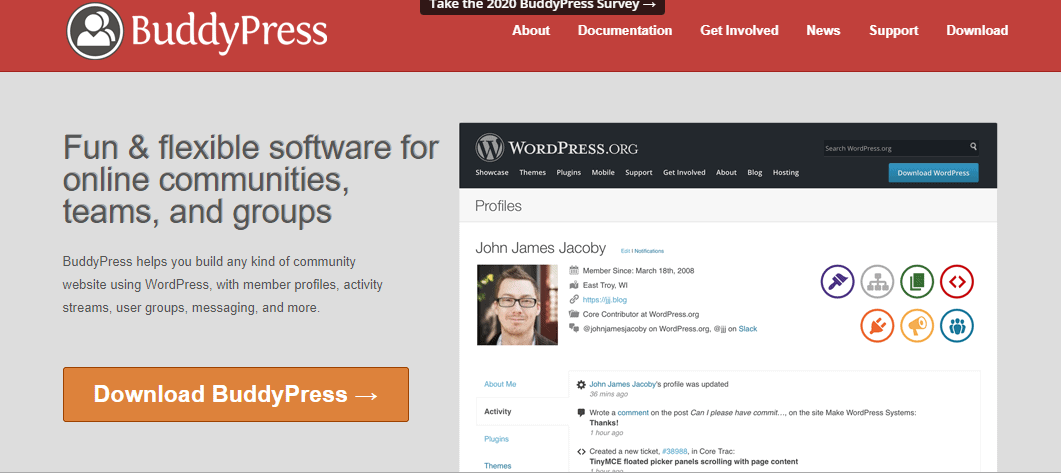 Also, it comprises various features and tools for creative posts.
BuddyPress consists of numerous free and exclusive themes, and the BuddyPress components look attractive in responsive themes too.
If you'd like to bring people together on a social platform and want to convert your site into a community of users with common interests then the free BuddyPress plugin is apt for your idea.
What is BuddyPress?
BuddyPress is a fashionable, powerful, and complex social network that enables excellent add-on attributes through WordPress's intensive plugin system.
BuddyPress is an excellent resource to ease the operation, integration, amiableness, and usage of any social community website.
Members will register on this website to make user profiles, create social connections, have personal conversations, produce and move in teams.
BuddyPress helps you build an internet geographic point for your company or alternative community. BuddyPress is out there in several languages.
How can BuddyPress help you?
BuddyPress code helps the website creators and developers to affix varied public attributes to their websites.
It's a good theme affinity (API) application programming interface that will do its best to make each BuddyPress page look excellent. you'll be able to change styling and characters to create the positioning look intact.
BuddyPress themes square measure like WordPress themes with some extra templates. It additionally offers you an option to customize your own themes.
BuddyPress has inherent support for various considerable WordPress plugins. In case, you're victimizing any of them, then visit their settings pages and verify that everything is per your feeling.
How To Use BuddyPress?
Here is the detailed procedure on how to install and configure BuddyPress that could help in turning your WordPress into a community.
The first thing to keep in mind at the time of installing BuddyPress is that you have to make sure that the basic WordPress has been set up ready for it.
Although it is quite a complex task, the potential it has for beginners is all worth the effort. Selecting a good quality WordPress host (version from anywhere near 4.8 or higher) is the first task that helps in safeguarding the server currently in use.
The most probable recommendations for host support are HTTPS, PHP support of 7.0 or a greater version, and MySQL with 5.5 or greater version.
Installing BuddyPress
Before installing any plugin, you have to make sure that you have turned on the allowance of new members to sign up by going into settings>general and select the anyone can register and open your website for all new users. 
Hop on to the dashboard in the WordPress admin screen then click on plugins and then proceed on by clicking on "add new".
It will display all the available plugins in BuddyPress. Click on the install button heeded by the selection of the activate plugin link and that's it, your BuddyPress is successfully installed.
You will be taken to the BuddyPress welcome screen that will help in providing various links that will help you in setting up and organize your entire BuddyPress community. 
Configuration
Configuration starts with choosing the correct modules that you expect to be included in your website followed by customizing pages and settings of your choice.
Choosing the right modules helps in giving a kick-on effect to other settings.
There are two options to choose these modules, either by going into settings> BuddyPress and clicking on the components/modules tab or right at the welcome screen where they give a setup components link.
Some of the components that can be named are 
Notifications

Friendships

Groups

Site tracking

Community members

Extended profiles 

Account settings

Private messaging
These components can be selected according to your website's lookout that you planned. All you have to do is check on the boxes that you prefer to be included in your website and click on the save settings button.
 The next step is to create the pages that your plugin will use.
Previous users have claimed that before configuring the pages, the user needs to create a couple of pages for enrollment and initiation.
So, let me clear this to you that this whole step can be skipped if you are adding your community manually. Moving on, the selection of pages starts with going on at the WordPress admin block, then pages>add new and then create the usual enrollment and initiation pages.
You will get to see these two on the main pages listing screen and now that the basic step is complete, you can start off configuring your pages for BuddyPress.
Now you have to go back to dashboard>settings>buddypress and select pages. There will be five pages for every function that has to be selected by clicking on the save settings button.
 

Activity: presents you with a wide range of activity series

Activate: the new users can activate their accounts here. Buddypress sends an email to the new user's email address where they can confirm their accounts. Confirmation through this email allows them to start their membership for website development.

Groups: this is where all the communities appear for the user to keep a check on.

Members: list of subscribers can be seen as similar to groups.

Enrollment: all the information related to website registration is displayed here. Your username, password, and everything required by default is automatically filled by BuddyPress.

The final step is to configure your BuddyPress settings. Clicking on the

settings

tab, the screen will come up with numerous options for you to enable/disable and add on to your website by clicking on the

save settings

button as per your feature requirement. To name a few such:
Activity settings

Main settings

Profile settings

Groups settings
And that's it you have successfully set up your BuddyPress for your website, but it needs a little configuration on WordPress before progressing towards setting up other widgets and menus.
It's a little work on your part that can give a helping hand to the visitors.
Two settings need to be dealt with, i.e. permalinks, that have to be turned on to set up the development of your URL and a reading setup that helps the user to see the recent activity. Don't forget to click on save changes after amending these settings.
Furthermore, installation of the theme, attaching widgets and navigation menu, and a trail with mock content is left to finish up the setup. 
Installation of Theme
There are many themes with layouts and designs that are compatible with BuddyPress more than any other but if you are looking out to create a plugin with your own theme, then it is not much of a hard task to follow, just a little addition of extra theme template files.
To do so, you are asked to go to appearance> themes that will take to add a new button. There is a free theme available called spacious, type its search bar and the theme will be displayed. Click on the install button then click on the activate link. And it's done. 
Attaching widgets and navigation menu:
Generate and allocate your navigation menu to your site by going to the dashboard and clicking on Appearance>Menus and then select create a new menu link.
Give a title to your menu(anything like apex, or header) and verify the primary navigation checkbox and save the changes by clicking on create. This allows you to configure your website's menu. The most used pages on BuddyPress for navigation menu are 
Activity

Friends

Groups

Profile

Login /logout

Enrollment
Trial with mock content
The BuddyPress community has to be tested with mock content before being launched for the common public.
Buddypress plugin has managed to help with this one by providing BuddyPress default data where the user can import dummy content to the screen for easy testing. All you need to do is go to plugins>add new and install the default data plugin.
Then click on tools> BuddyPress default data. The plugin screen will now show you the content according to the modules that you have selected in the initial process of configuration on your site.
Import users, user profile data, activity posts, grouping, and creation of friend connections are some of the options that will appear on your screen. Clicking on import selected data, the plugin will now show you the dummy content for your trail.
After finishing up this process you can erase all the input by returning to the plugin's screen and clicking on clear BuddyPress data.
A plus point here is that you can easily create a backup by putting your website into maintenance mode.
Following all these steps, you will be able to successfully set up your BuddyPress plugin for your website. 
BuddyPress Key Features & Benefits
BuddyPress is a platform that permits people to create full-fledged social networking sites that are easily customizable. Adding the cherry on the top of the cake, the feature set resembles Facebook and Twitter.

Addition, creation, and customization of the profiles by users

– Users can effortlessly customize their websites according to their needs. The site administrators set the parameters easily for the user profiles.

Making friends on the platform

– The site plugins allow the users to make new friends and have the connections onboard.

Permits to send private messages

– BuddyPress has a great feature of sending messages personally to any of the users present onboard. Moreover, just like Facebook, the settings can be altered if you don't wish to hear from a certain person.

Groups can be formed and joined

– The Administrators can permit the users to make groups for the people of the common interest. The groups can be helpful for a wide range of things within the website.

Following the activity stream

– The activity stream of BuddyPress provides the statistics of the ongoing activities either within the site or with respect to a specific user.

Creation of blogs by the users

– BuddyPress gives a proper exposure to the users for the capitalization of the full functionality of the BuddyPress, the most commonly used blogging platform globally.

Participation in quick forums by the users

– As BuddyPress is completely integrated with the bbPress, which is a slick forum system, the users can participate in many ongoing discussions.  

Ease for the members

– The members can make a directory, can select a member cover image as well as a member avatar. The users can also mark the unnecessary and unwanted users as spam and can also allow the pending users to add to the list.

Extended range of profiles

– Talking about the profiles, the user can add a lot of things into it such as profile field groups, rearrangement of the profile groups or fields, profile fields as well as the extended screen for the addition of profile by each member.

Groups of the users

– The groups can be created and then in addition to that, the group settings and roles can be changed, the group directory can also be customized, any group can be edited either in the front end or at the back end, the group avatar can also be changed.
Pros and Cons Of BuddyPress
Pros
Since the BuddyPress is very effortless to be set by the users, things get cleared very fast in the eyes of the users. The default pages have an automatized creation wand and are also mapped to their specific functions.

The creation of a small network to get socialized with the users and extend the circle with the people who are ready to accept the new users takes just 20 minutes.

BuddyPress has mature products and it also has a lot of support.

A lot of plugins and addons are also present.

With the use of BuddyPress, the website developed by the user becomes interactive and social.

BuddyPress is very easy to be customized by the user as well as it is also free.

Customization of the WordPress site of any client is very easy since the tool provides a lot of support and additional plugins as well as many features that are generally found on social media such as the addition of review, ratings, and adding the user groups.

The major advantage of this tool is that the usage of this tool is independent of coding.

Even after the creation of the website, the customization of the site is also very easy and time-saving.

This site is a great way for the communication of parents with other parents. Since the use is effortless, the parents are also comfortable using it.

The similar features with the other top websites such as the themes, the messaging features, and setting up a profile attract many users.
Cons
Although the plugins are good, the editing and the customization features are very basic. There are no built-in features for the users to chat along with work.

Though the addons are present, the users aren't allowed to add photos for updating statuses without prior research related to the plugins, installing them, and then settling them to the website, which serves as a source of annoyance for many of the users.

The activity updates have also been crippled similarly as well as there are no text editors for the users to add the inline links for the hypertext.

For the newbies, compatibility is the issue that they might have to combat, especially for the users of WordPress. The plugins might not work well in accordance with some plugins and themes.

Some features might turn out to be a little confusing and some of them are even a little bit archaic and also outdated.

Though it provides a small glimpse of the features related to social media, it does not provide full access. Some additional features and plugins are required to use them completely.

The video quality of the plugin needs a lot of improvement.

The people who are pro with this software can only gracefully prepare the website. On the other hand, new users need a lot of time to get used to it.
Pricing
Free trial: BuddyPress does not offer a free trial rather provides them with an all-time free version to its users where they can start off their work on respective websites with no enterprise fees for stressless carrying on with creating social communities.
FAQs About BuddyPress
👉 Will WordPress multisite support this?
Yes! If multisite is enabled in your WordPress installation, BuddyPress can support the world trailing comments, shares, posts, blogs, and custom posts.
👉 How to merge BuddyPress with Associate in Nursing already existing WordPress themes?
👉 Is BuddyPress a forum script?
No, BuddyPress isn't a forum script. it's a social networking plugin for WordPress. Associate in Nursing open forum provided for BP teams exploitation bbPress and additionally offers the expertise of richer forums.
Quick Links:
Conclusion: How To Use BuddyPress In 2023
Buddypress is proven to be one of the potent tools in the creation of online community circles. With developer-friendly and smartly customizable features it gives the user a better group plugin in WordPress.
Although it doesn't give you an overall social media site feature, features such as user group, attaching reviewing and rating by the visitors, etc have made it very comprehensible and interactive.
In short, if you desire to build a website that gives complete authorization for people to socially connect and interact freely without any intermediaries then BuddyPress is the right place to come to.
Its multiple language availability has benefited a lot of beginner entrepreneurs around the world making it a well-growing and better software for everyone.