Looking for a Buddyboss Theme Alternative? I give you the best ones to help you decide and make your choice! 
Have a WordPress website? Want to make it look more attractive? Well, for making your WordPress website look stylish and modern you need a quality theme to work upon.
There are several themes out there on Google from which you can choose one. Some are paid, and some are free. The paid themes have better features and look when compared to free themes. 
Buddyboss is one of the paid themes to use for a WordPress deployed website. But Buddyboss's theme costs $59 and a whopping $228 for the full package which will serve just 1 website and will most probably leave a hole in your wallet after spending such an amount on just a theme. 
There is a lot to know about BuddyBoss and you can check that out in our detailed BuddyBoss Review.
This Buddyboss theme alternative article will tell you the 7 best alternatives for BuddyBoss. Let us first have a brief look at what BuddyBoss has on the plate for us. Go to our best picks of Buddyboss Theme Alternative.
Buddyboss Theme Alternative
High WooCommerce compatibility.
Errors caused when you add 3rd party plugins
This Buddyboss theme alternative article will tell you the 7 best alternatives for BuddyBoss. Let us first have a brief look at what BuddyBoss has on the plate for us. Go to our best picks of Buddyboss Theme Alternative.
Buddyboss Theme Alternative 2023: Overview 
Buddyboss theme helps your page look great, helps you optimize the page, and can turn your webpage into a fully working social media page as well if you wish.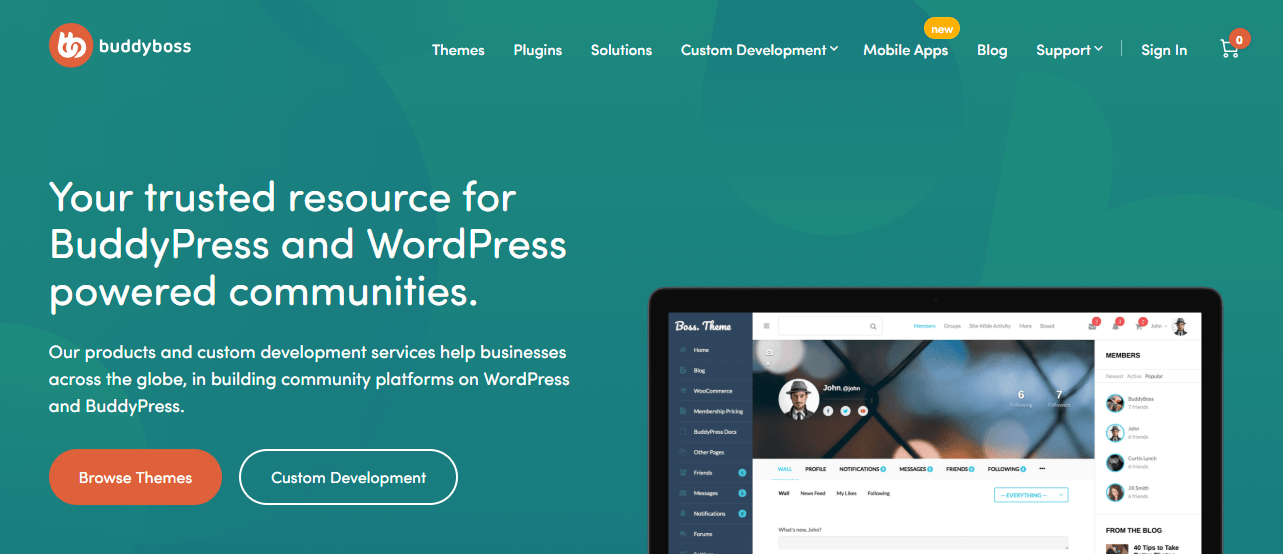 This means, you could create user groups and ask them to join, these could be private or public, and you can message each user privately as well.
The interface is easy to use with its drag and drop features. 
It also has an email notification system wherein you get notified of all the critical activity done on your page.
Several integrations come with BuddyBoss, and these help you in selling your products online, creating e-learning websites, and also integrating BuddyBoss with different compatible WordPress plugins.
Well, there are certain features that BuddyBoss does not have and as mentioned earlier, buying this theme can lighten your pocket enormously. So, let's have a look at potential BuddyBoss alternatives which can come in handy in 2023.
7+ Best Buddyboss Theme Alternative In 2023
1. Boss Theme
Overview
Boss themes are a bit like KLEO and have many unique sets of features to offer.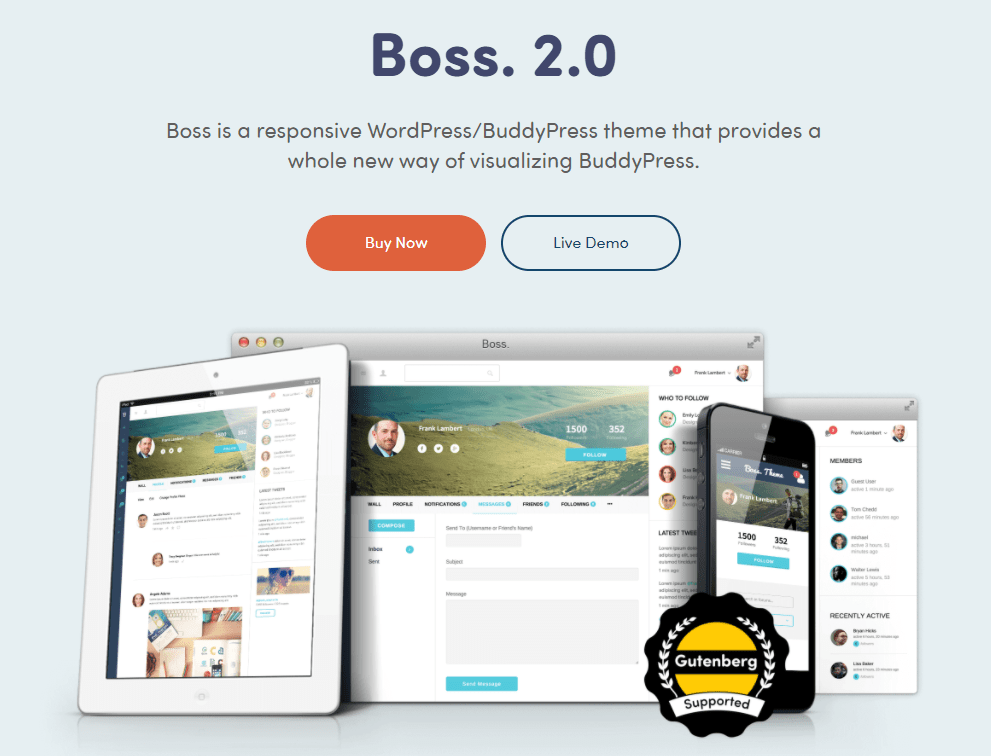 The Boss themes are desktop as well as mobile compatible which makes it an essential Buddyboss theme alternative.
Like Buddyboss and KLEO, Boss themes are also majorly used to make your website like a social networking page.
With this theme comes a design customizer and pre-built shortcodes which eliminates coding from the picture.
The theme integrates with the Buddyboss plugin as well as other modern plugins too, to help your site look catchy, and optimize it to give users a great experience and also rank higher on Google.
Features and benefits
The Boss theme has two layouts to choose from. This layout will be displayed on your webpage, depending on which one you choose.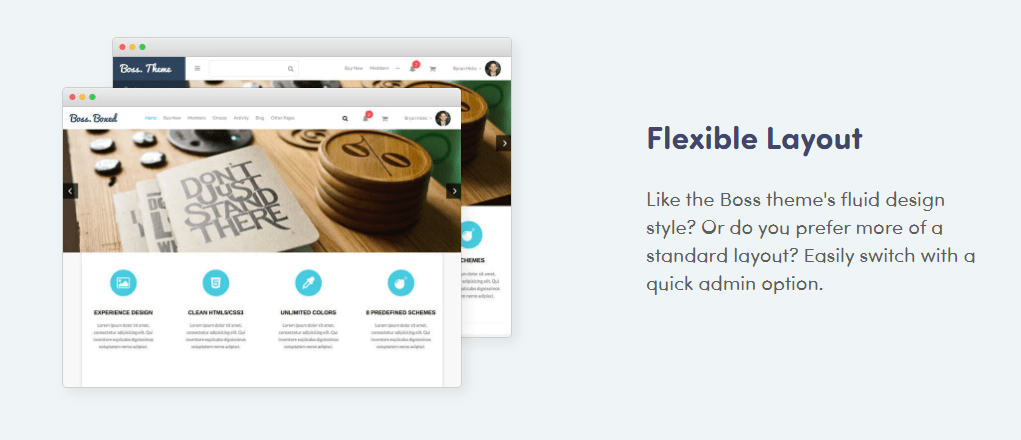 The first kind of layout is the fluid layout, where your users will see a menu as a sidebar and can skim and navigate through that sidebar to go wherever they want to on the page. The second type is the old and classic boxed layout, where you get a menu at the top of your webpage.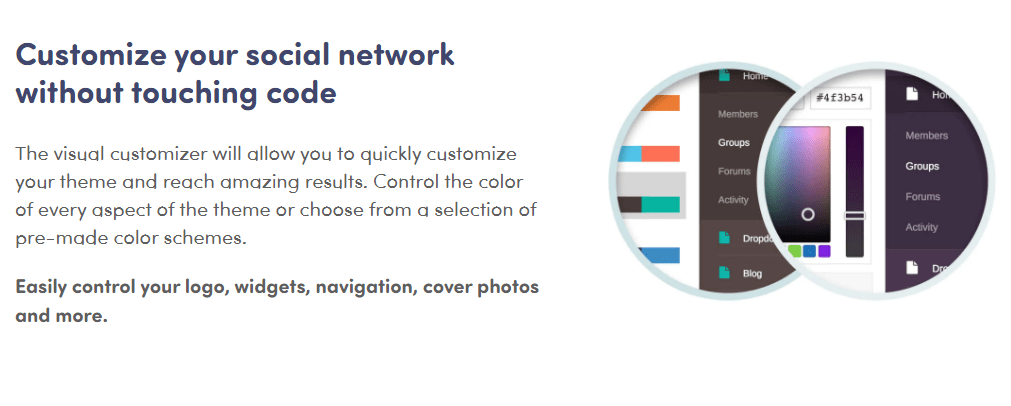 This customizer of the Boss theme does the heavy lifting of coding and all you need to do is select what you want, Boss theme design customizer will take care of the rest.
You can select unlimited colors for your website background, text, or headings.
You could do all the customization here from changing the logo to adding multiple columns to your page. All you need to do is click.
Social Login and register integration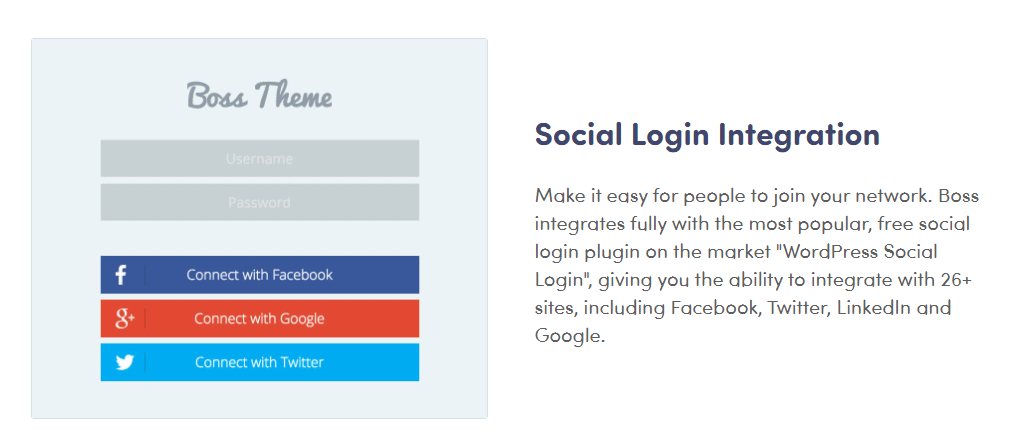 You get the option to set up an integration with social media platforms like Facebook, LinkedIn, Twitter, and many others which helps people log into your website via these platforms.
The Boss theme integrates with many payment platforms. This helps you create a membership website and provide services and content to your members depending upon the member classes you decide to set up. You can receive the payments with many platforms like PayPal, Stripe, Braintree, and CyberSource from your members.

If you are planning to create a storefront and want to earn by selling online, the Boss theme provides you with the integration of WooCommerce that will take care of all the elements you need for an eCommerce website.
Multilanguage and RTL support

If you are planning to take your business global, the boss theme comes with in-built language translation files that help you translate your website into any language you want. It also helps you set up your text from right to left (RTL), in case you have a language such as Urdu in mind.
Pricing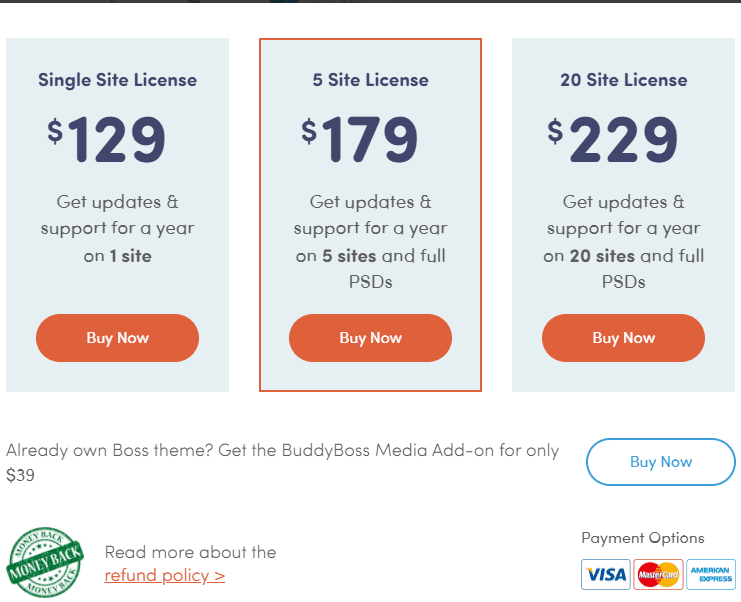 CLICK HERE TO GET 50% OFF ON YOUR PERSONAL FINANCE SOFTWARE 
Pros
The price is reasonable when compared to its competitors.

The features are top-notch, especially the multilanguage and RTL support.

The best theme on WordPress is under the tab educational.
Cons
The installation of the theme is a bit tedious when compared to other themes.

There are times when social login and register integration does not work correctly.
Conclusion
With such features as the boss theme, there are significantly fewer themes that can compete with it in the same price range. Buddyboss theme is good, but the boss theme is even better in all aspects. Therefore, the boss themes are a perfect Buddyboss theme alternative in 2020.
2. KLEO Theme
Overview
KLEO is a theme that can be used via BuddyPress and bbPress free versions, which are available on WordPress as plugins. You can import the KLEO theme just with one click.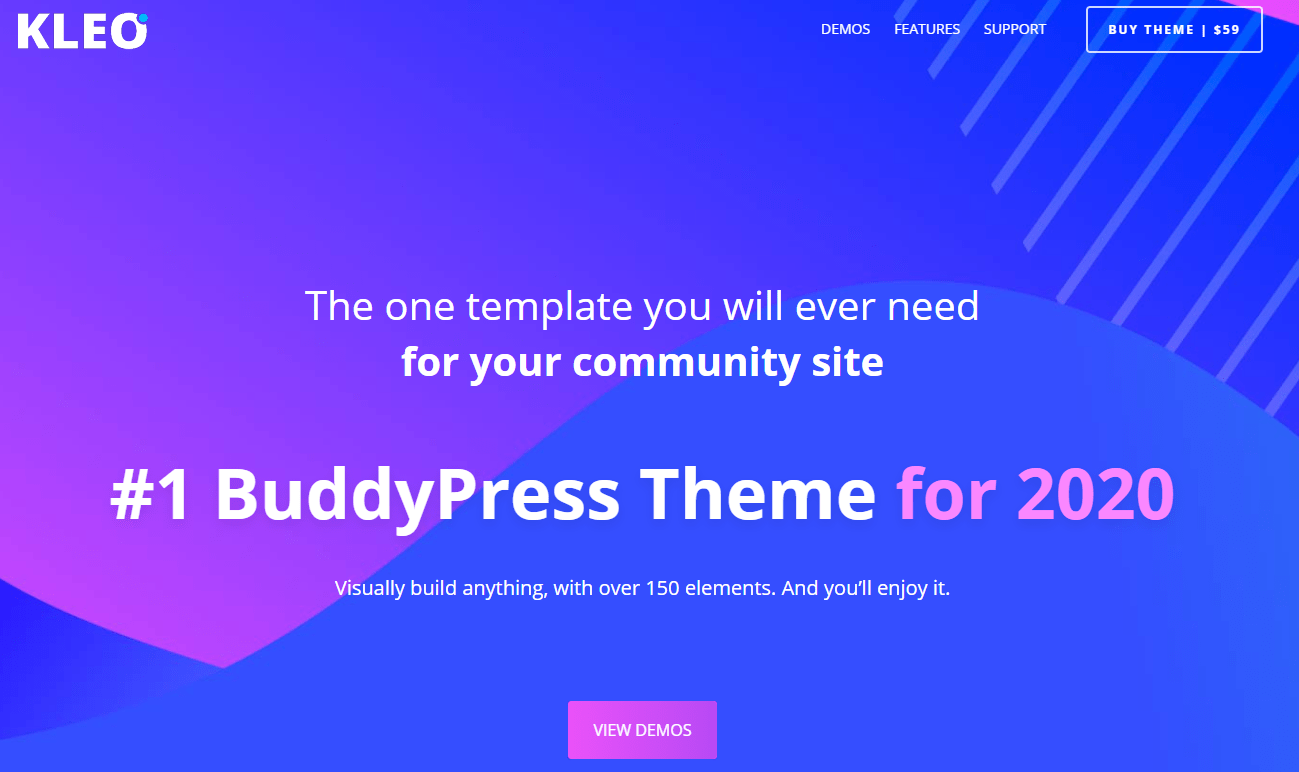 Like Buddyboss, KLEO also aims to make social networking sites.
But you can use KLEO as a multipurpose theme, i.e. it does not only aim for social networking sites, but you can use it for making a storefront, a blog site or to sell any digital service as well.
KLEO is quite popular and is developed by Seventh Queen.
Let us have a look at what features KLEO provides.
Features & Benefits
Setup Wizard makes installation easy
To install KLEO is straightforward, you do not need to read, skim, and then install.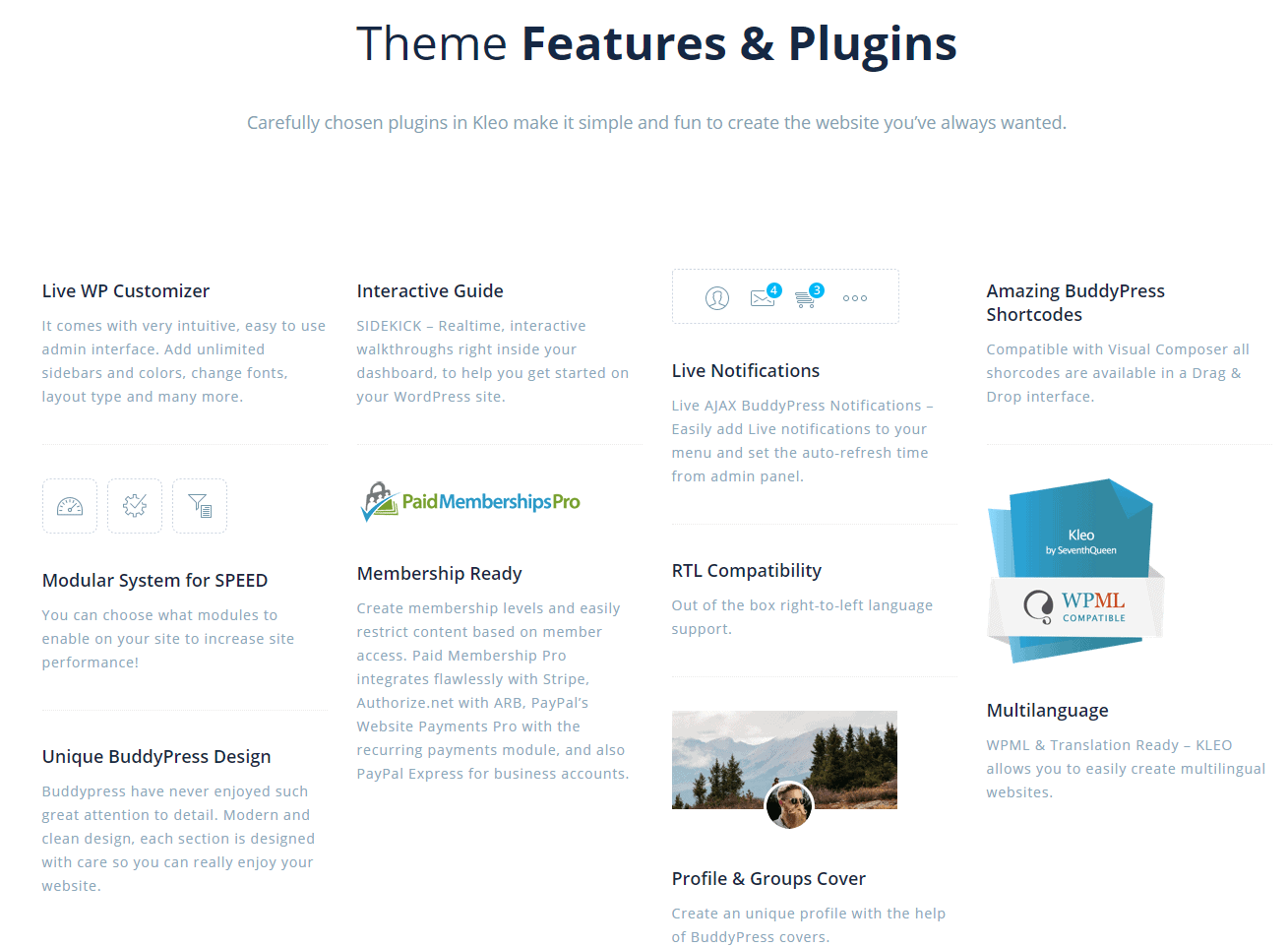 As soon as you install the theme, a setting page will appear where you can set the required setting and get started.
The next step is to set your theme for an auto-update so that you do not need to go to the KLEO theme, check for updates, and click every time to update the theme.
In the next step, KLEO gives you options of various add-ons and WordPress plugins that can be used for free along with KLEO, to optimize your page and deliver an amazing user experience.
The next step will ask you to choose the kind of demo you need and to import the same. There are 22 demos available to choose from, which are quite attractive and modern. After completing this step, you are good to go.
You can create different membership levels for all your users and restrict them from editing posts if required, or can also hide content from users you want.
Facebook login or register feature
Your customers can quickly log in with their user id and password to the website.
You can have access to this feature via activating the same from the admin panel.
Live Notifications option
You can get a live notifications option via KLEO and get to know all activities being held on your website.
The design templates and the themes on KLEO are clean, optimized, and modern.
The tools in KLEO are extremely easy to use and you do not need to be a professional designer or developer to use these tools. Even a beginner can use these tools.
You need no coding to design a page for your website. With the drag and drop feature of the KLEO theme, you can place various elements just by clicking across the page.
Pricing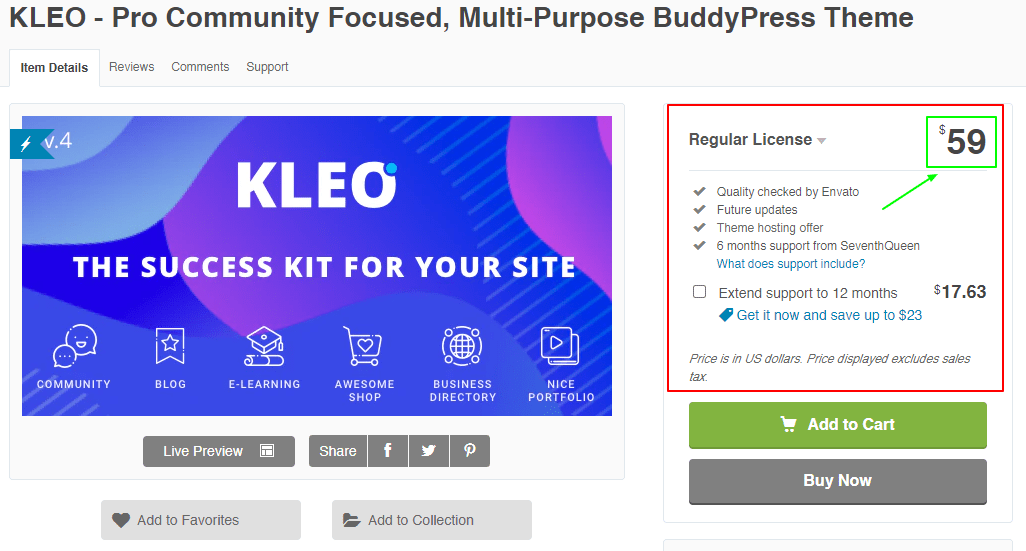 Pros 
The customer service provided by KLEO is impressive. They have only email support but are effective and quick. The technicians are also quick in resolving the problem.

The price is reasonable.

Unique and modern features.

Best them if you are planning for an eCommerce website.
Cons
Being a pre-built theme, KLEO can sometimes crash or have security problems.

It would have been better if the customer service also has phone call support.
Conclusion
With versatile features, unique design and user-friendly interface KLEO is a strong Buddyboss theme alternative in 2020.
3. Divi Theme
Overview
Divi is a very big brand and a popular one when it comes to themes. It comes with a boatload of features and has almost all features for every domain. It has two kinds of themes: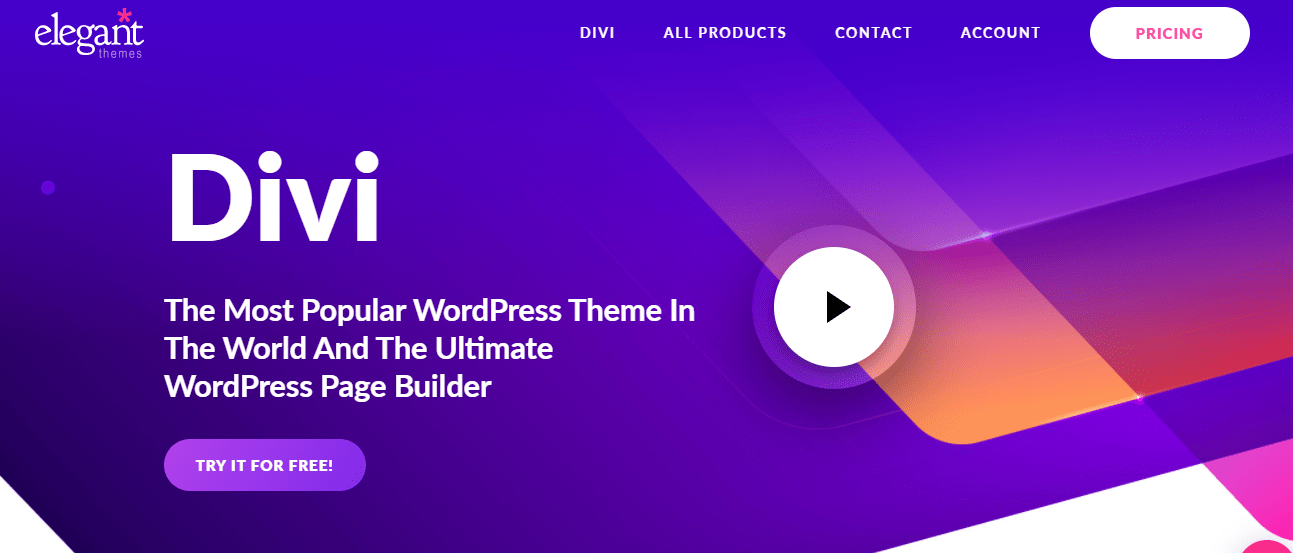 Divi all in one theme and Extra magazine theme.
Let up take a deep dive into its features.
Features and Benefits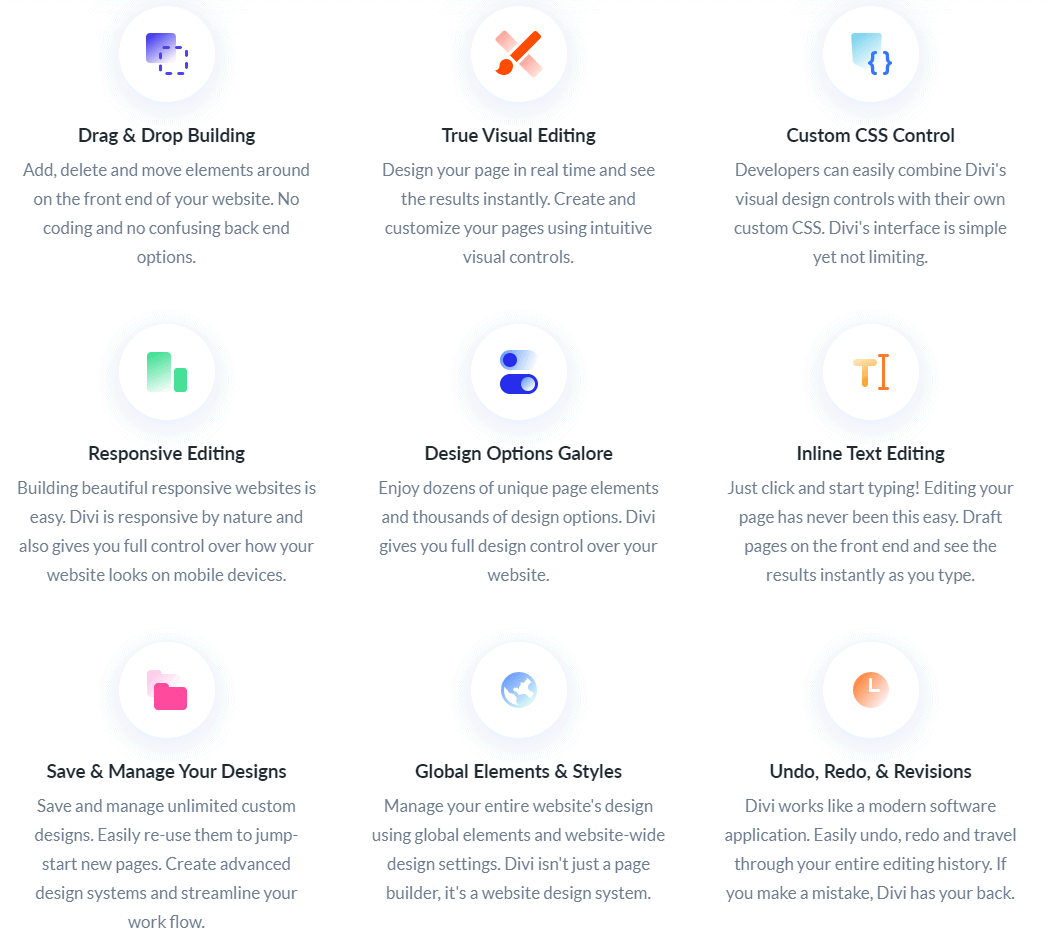 Like all the themes Divi also has a drag and drop feature which is easy to use and very useful.
With Divi, you can see the changes you do on the page instantly. It helps you understand better the elements you use on the page. You can switch between desktop, tablet, and mobile versions of the website and edit your web page accordingly.
You can add custom CSS snippets to your page, to make it more stylish and personalized. The only catch to this is you should know CSS i.e. you should be a developer. With CSS there is no limit to the personalization you could achieve for your webpage.
All Divi templates are mobile responsive. Since more and more people are now switching to the mobile version of web search. It has become essential for your website to be compatible with mobile as well.
You have multiple design options to choose from and have full control over your webpage, from making minor changes in coloring to changing templates, you need not worry about any errors.
You could just click on the web page frontend console and start typing and get instant results about the looks of it when you click on preview. It makes editing text easy and quick.
Saving and managing designs
Like and template and want to save it for later pages? No problem, with Divi you can save any design with just one click. You can also design systems and manage your workflow in a significant way with Divi.
Global elements and styling options
All the features and elements of Divi are global and do not show any kind of display error worldwide.
With the recovery feature you can easily have a look at all the revisions you have done on the webpage and if need be, revert the page to recent or earlier revisions.
Pricing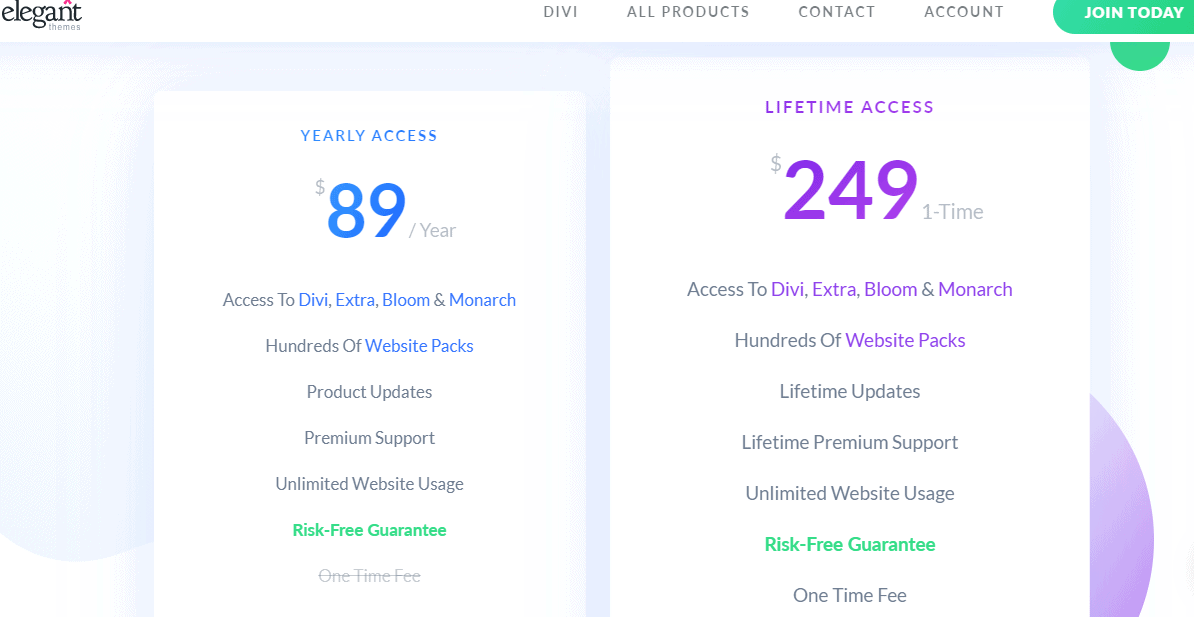 Pros
The customer service of Divi is really appreciable. You can contact Divi customer care via phone or email id, both ways the service is quick and effective.

User experience is excellent with Divi. Divi has been successful in building trust with its customers over time all because of its service which makes it a reliable brand.

The 1 click installation of Divi is commendable when compared to its competitors.

The themes do not slow down your page; in fact, Divi themes are the fastest-loading WordPress themes to date.

The interface of Divi has a wide variety of features and is very user-friendly.
Cons
When compared to the competitors, Divi is a bit expensive theme to afford.

The integration of Divi with WooCommerce is poor.

In general, integrations provided by Divi are not tremendous and lack many essential integrations that competitors provide.
Conclusion
When it comes to designing and features, Divi has a great set of features.
If your website domain is such that it requires a complex and impeccably designed webpage you could rely on Divi for it.
Yes, the cost is a bit high and WooCommerce integration is low, but for designing and unique features, the theme is a perfect Buddyboss theme alternative.
4. Elementor
Overview
Elementor is yet another drag and drop type of theme builder but is quite popular when compared to other themes and theme builders.

It helps you create beautiful web pages and has features to help you make your webpage dynamic to add more catchy images and text to it.
Just like Divi, Elementor has numerous features; in fact, it has more features than Divi. When compared to Buddyboss, the features of Elementor are far more superior.
Let us have a look at what Elementor has to offer.
Features and Benefits
The templates of Elementor are correctly designed, it has no coding errors and stunning designs to choose from. You can change the designs according to your needs.
The drag and drop feature helps you reach a new height when it comes to website designing.
You can choose from thousands of font options that Elementor provides or if you are not satisfied with the font style, upload one of your own.
Use complex color palates and gradients to make excellent color combinations for your webpage.
There are other design features as well as optimized element positioning, the addition of motion effect, CSS filters, blend-in modes, and spaces and dividers for different elements. All these elements help your page look great.
With Elementor you can integrate various marketing tools to get more traffic, potential leads, and sales.
Create content that your user likes and make it unique, Elementor will help you make the page stand out, and this way you can boost your content marketing via Elementor.
With Elementor, you can make little to consider changes to your webpage for optimization as well as personalization.
Design landing pages with a personalized experience for your target audience and convert your visitors into customers via Elementor.
You can even design pop-ups and target audiences during their exits, this is known as the exit intent. Elementor helps you do it.
Elementor has several widgets to choose from which include price tables, forms, optimized call to actions, social media icons, share button, animated headline, testimonial carousel, sliders, countdowns, counter, Facebook like button, and quotes.
If you are a coder, Elementor lets you code as well. You can tweak your webpage via CSS styling. 
If you have no clue what coding or CSS is, no issues with that as well, Elementor has several pre-built and pre-coded themes, add-ons, and products to use with just drag and drop concepts.
Create a website of your choice
Elementor is not just a specialized plugin. That means you could create your website how you want it. Be it an eCommerce website, a simple blog page, a Finance website, or even a membership website, Elementor has got it all covered for you.
Pricing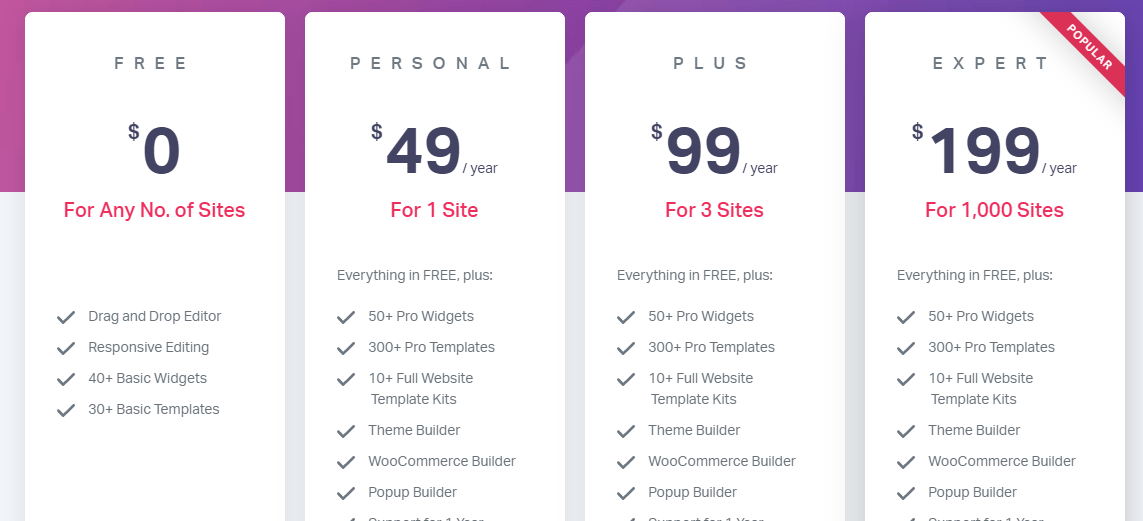 Pros
The customer care of Elementor is commendable. Like most other platforms, Elementor also provides customer care via cell phones as well as emails.

The themes and the tool are very easy to use, even if you are just getting started with website designing.

With the features, Elementor provides, its price is reasonable.

The best part of Elementor is it has a free plan to use, and if needed you can upgrade to the paid plan.

It has exceptionally high WooCommerce compatibility.

The drag and drop feature of Elementor, when compared to its competitors, is the best.
Cons
The templates and the library have various options but are not so unique or beautiful, you will have to make them catchy with a lot of work being done.

There are chances of errors caused when you add 3

rd

party plugins and start integrating them with Elementor.
Conclusion
With stunning looks and features, Elementor has a full package to make any website be it in any niche. When compared to Buddyboss, the features are superior and the price is also nominal. Therefore, Elementor is a tremendous Buddyboss theme alternative.
5. Social Learner Theme
Overview
The Social Learner theme is a theme designed by Buddyboss which has stunning features. It has integration with LearnDash and their add-ons as well.
The Social Learner theme aims to create an LMS website to sell your courses and other digital products or services online. Let us have a look at its feature and see if this is a better theme when compared to Buddyboss.
Features and Benefits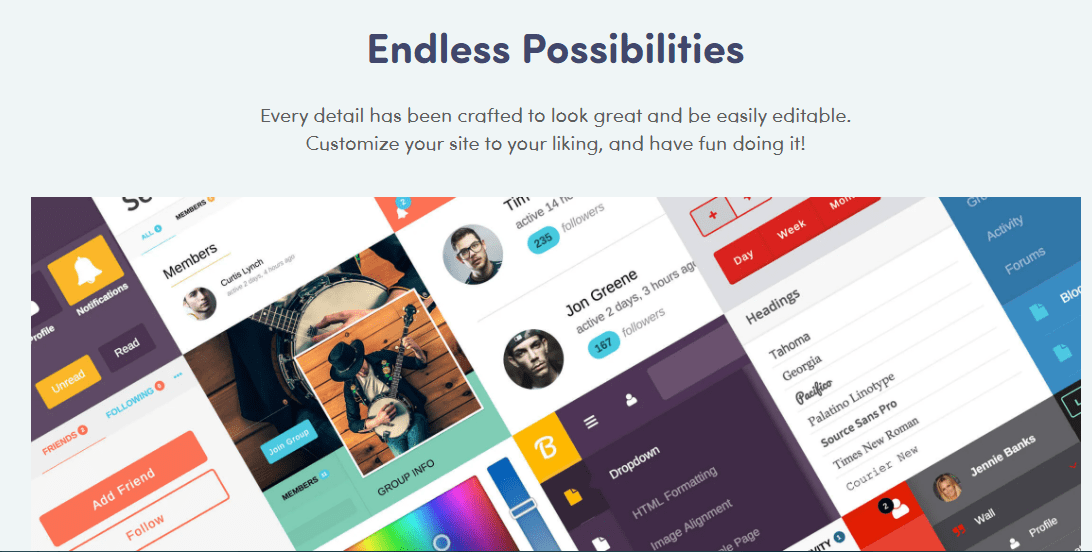 You can not only design a regular webpage to sell your course, but you can also engage learners with interactive quizzes, polls, and facts. You can even gamify your webpage to keep the user engrossed. It has extensive social media sharing features as well.

The integration of Social Learner themes with WooCommerce helps you design your product page and effectively sell courses.

The social theme has integration with LearnDash. This helps you build LMS websites. Some of the features of LearnDash useful for Social Theme are multi-tier courses, lesson times, drip-feed content, quiz setups, user reports and analytics, access expiration, email notifications, and 3

rd

party integrations.

You can allow your enrolled students to chat with each other and diversify their knowledge base.

You can manage all the themes, layouts, font sizing, and styling on the admin panel which is easy to understand and use.

The social theme is compatible with some other plugins on WordPress like LearnDash, WooCommerce, Invite Anyone, WordPress social plugin, BuddyForms, etc.

You can add different membership levels and set your course content accordingly.
Pricing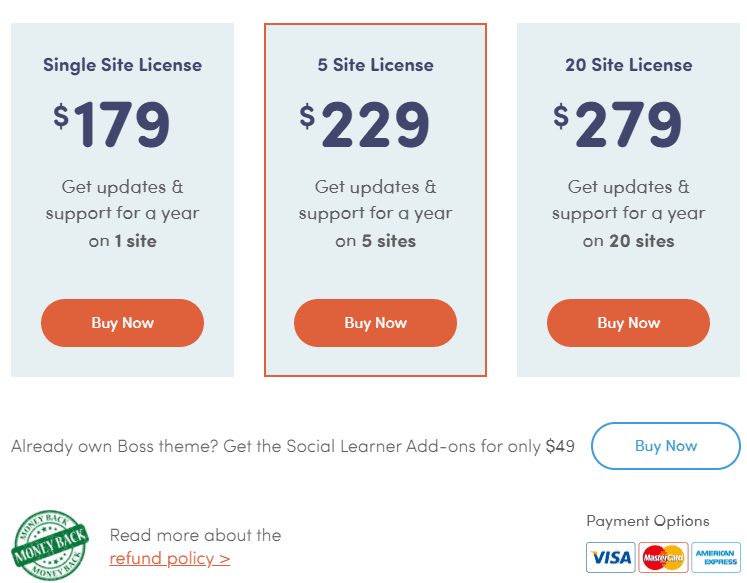 Pros
Affordable price when looking at its numerous features.

Great list of features to choose from

It stands at the top of the Social Networking theme category in WordPress.
Cons
Has a multilingual option but no RTL support

Being an LMS theme, WooCommerce compatibility is vital, but Social Learner Theme's compatibility with WooCommerce is not up to the mark.
Conclusion
If you want to build a website for selling your courses, Social learners must be one of the options to be considered. Yes, the WooCommerce compatibility is low, but the feature set of this theme dominates the market. Therefore, the Social Learner theme can be an excellent Buddyboss theme alternative.
6. Kudos Theme
Overview
Kudos is a multipurpose theme and comes with a lot of features and integrations.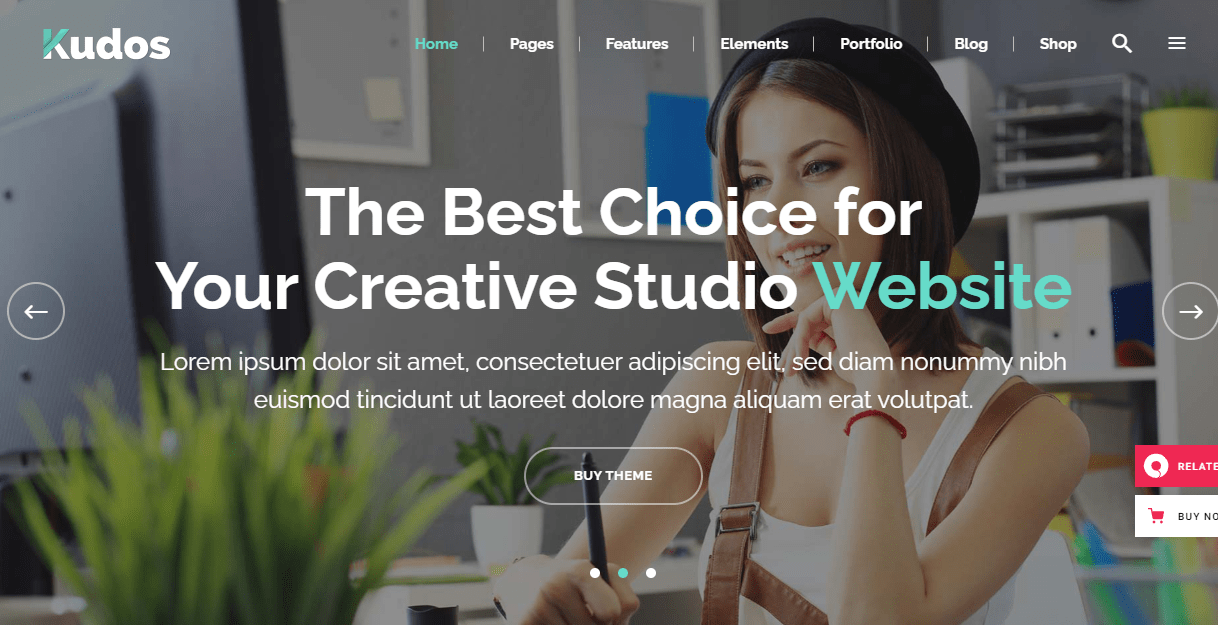 It helps your site with optimizations as well as codification if you need it. It is totally compatible with the Weebly plugin, which helps you design great web pages.
Let us look at the features which Kudos has to provide.
Features and Benefits
Like all the themes Kudos also has the essential feature of drag and drop which makes it easy to design a page for a newbie.

You can add/remove sections on your webpage and customize and personalize each section according to your needs.

There are several widgets to choose from with Kudos.

Kudos integrates with the Weebly 4 commerce plugin for managing the sales and payment section of your webpage.

There are various templates as well as theme options you can choose from for all the individual web pages on your site.

It integrates with Ken Burns sliders which come free with Kudos and is one of the best slider plugins on WordPress.
Pricing

Pros
Affordable price

Great for Dating websites

Covers almost all the domains you can build a website on.
Cons
Fewer features when compared to its competitors.

No WooCommerce integration provided
Conclusion
If you are looking for a cheap rate and a simple and useful option for your website, you should go with Kudos Theme. It comes with a little fewer features but will save a lot of money. So, for an affordable theme, Kudos Theme is a viable Buddyboss theme alternative.
7. Sweet Date Theme
Overview
This theme helps you build cute and attractive dating sites. These are membership sites that serve as the platform for meeting new people and building relationships.
Let us see what the Sweet Date theme has for us in its features pack.
Features and Benefits
You can create different membership levels and show them their choices accordingly.

You could show the active users, the top members, and famous ones in a slider to gain more attention.

You can track your user's recent activity and recommend them relevant suggestions

Sweet Date theme helps you design your 404-error pager as well. So, whenever a person accidentally lands on a page that shows the page not found error, he could be safely redirected to your homepage or any other page you desire.

You can add top, bottom, left, and right menu bars and columns to display what you want.
Pricing
Pros
Affordable pricing

Features when it comes to dating websites are great

The best dating website theme on WordPress
Cons
WooCommerce compatibility is very poor and mostly does not work with this theme.

It does not have various layouts and templates to choose from when compared to its competitors. 
Conclusion
When it comes to dating websites, the Sweet Date theme has better features and customization options than Buddyboss. Therefore, in the dating domain, the Sweet Date theme is a potential Buddyboss theme alternative.
Quick Links:
FAQs On BuddyBoss Theme Alternative
👉 Do I get a free trial for any of the themes?
No, these are all paid themes with no free trial, as free trials could hamper the company's business. Although, with Elementor you get a free version to try out with many features. If you want a dynamic website though, you will have to go for its pro version.
👉 How is the customer service of all these themes?
One thing about all the BuddyBoss theme alternatives is that they have very good customer service. Although many themes have customer care only through email, the service is quick and effective.
👉 Which is the best alternative for BuddyBoss out of these 7?
Well as mentioned above it all depends on the domain you want to get in. But according to me Elementor is a multi-domain website platform and comes with a free version as well so it is one of the best alternatives for BuddyBoss.
Conclusion: Best Buddyboss Theme Alternative?
The website building and designing domain are growing at a very fast pace and there are several options to choose from.
The above 7 themes are the best Buddyboss alternatives you can use for creating your desired website. It all depends on what kind of website you want to build.
Read the above alternatives and pick the theme according to your target domain.