Have you ever wanted to learn from the best in the world?
Whether it's cooking with Gordon Ramsay, writing with Margaret Atwood, or filmmaking with Martin Scorsese, MasterClass has something for everyone. But what if you're not sure if MasterClass is worth it?
What if you want to try it out before committing to a subscription? Does Masterclass have a free trial for new users?
In this article, I will tell you everything you need to know about the MasterClass free trial, how to sign up, what to expect, and how to cancel if you decide it's not for you.
So read on and get ready to learn from the masters!
Is there a MasterClass free trial?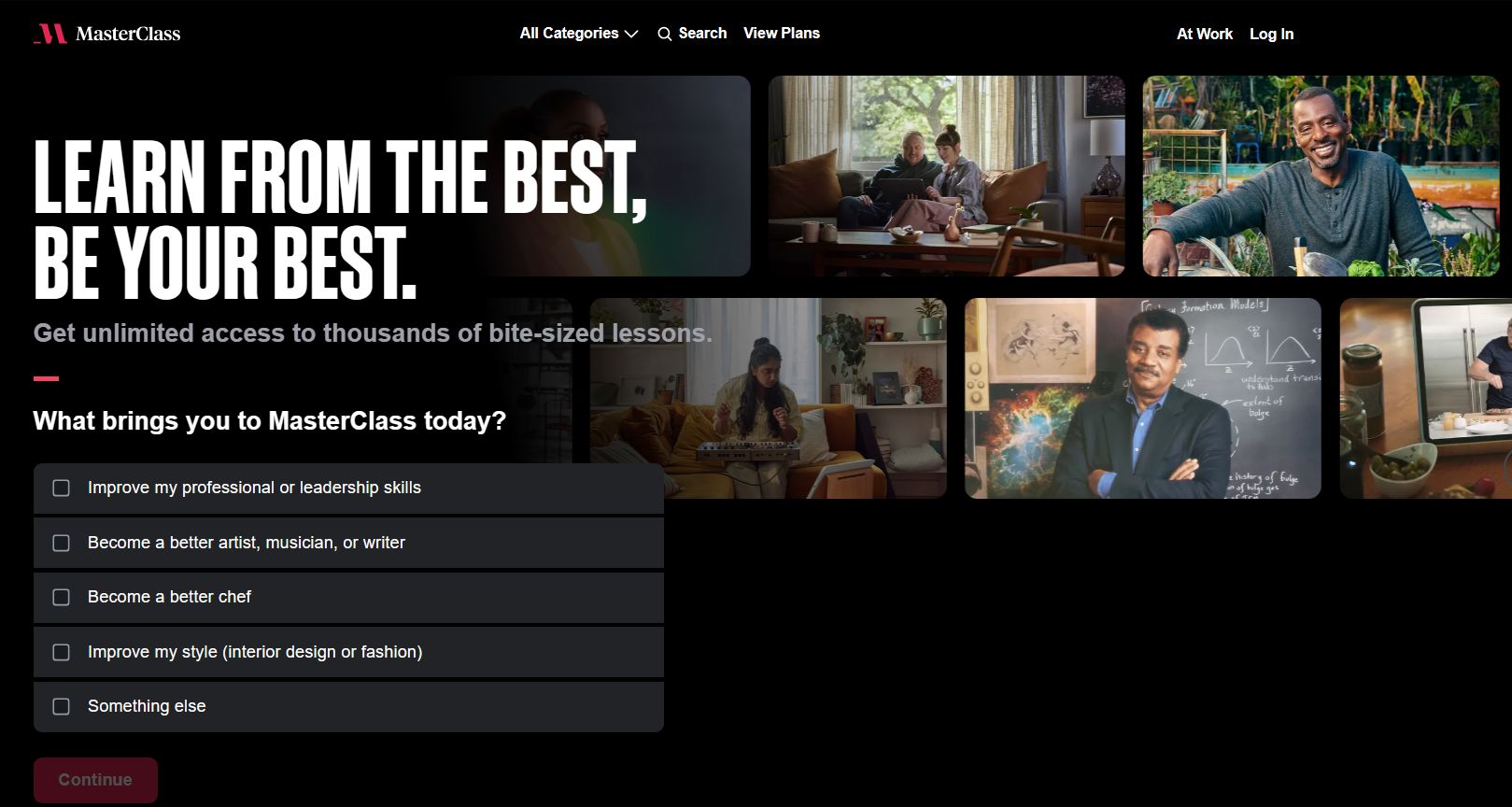 When it comes to trying out the courses, there is no Masterclass free trial offer available at the moment.
Having said that, MasterClass does offer a 30-day money-back guarantee, allowing you to browse through all 150 courses and experience the platform. Each course comes with around 20 video lessons, which are around 10 minutes long.
Additionally, you also get to use MasterClass smartphone and TV apps, offline lessons, and join their community of learners. Starting at $10 per month, a MasterClass subscription provides an immersive learning experience.
If, within the initial 30 days, you are not satisfied with the experience, you can initiate the cancellation process and receive a full refund.
While it may not be a conventional free trial, this approach allows you to explore MasterClass courses and see if they are worth your while, before committing to a full subscription.
Are there any MasterClass deals?

If you're considering joining MasterClass, you have two options: the individual pass or the MasterClass all-access pass.
Choosing between them can be a common dilemma. While the individual pass is more affordable, the price of the all-access pass may not be budget-friendly.
However, I believe it's worth it. Why?
The all-access pass costs $15 per month when billed annually, totaling around $180. On the other hand, selecting a single course costs $90.
The all-access plan provides unrestricted access to all courses, whereas the individual pass limits you to one course. To decide which option suits you best, consider what you want to learn.
If you have more than three interests, the all-access pass is worth it. However, if you're primarily interested in one specific instructor, you can opt for individual classes featuring renowned experts like Chris Hadfield, David Rogier, Helen Mirren, or Dan Brown.
How much does MasterClass cost?
MasterClass offers 3 different MasterClass pricing plans as of today. The pricing ranges from $10 to $20 per month billed annually.
| Plan | Price per month (billed annually) | Devices you can watch at the same time | Download for offline viewing |
| --- | --- | --- | --- |
| Individual | $10 ($120 per year) | 1 | No |
| Duo | $15 ($180 per year) | 2 | Yes |
| Family | $20 ($240 per year) | 6 | Yes |
MasterClass Individual Plan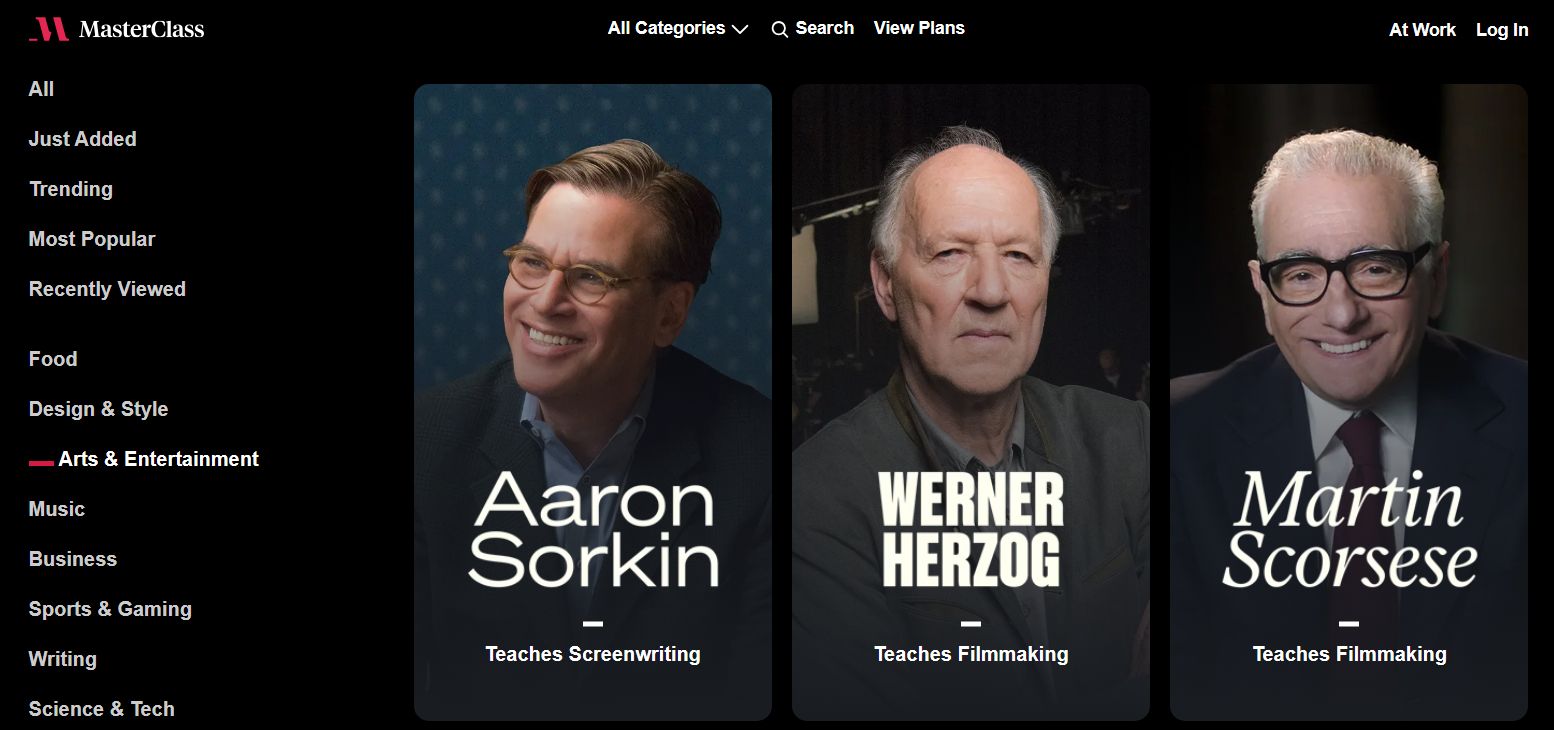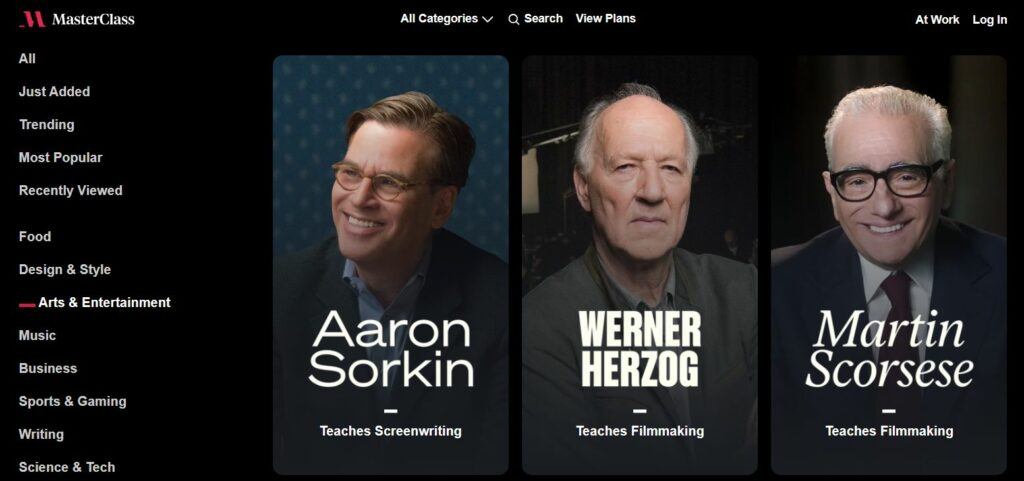 The MasterClass Individual Plan is a great option for anyone who wants to learn from the best in their fields.
With this plan, you get unlimited access to all the classes on MasterClass for one year. Accompanying workbooks, assignments, and community discussions are some of the benefits which come included with this plan.
The individual plan allows you to stream the classes one device at a time be it on your computer, TV, phone, or tablet. However, you don't get the option to download courses for offline viewing.
The plans cost $10 per month when annually at $120. This is the most inexpensive plan from Masterclass, with a restriction to view content from one device at a time. If you want to share your Masterclass subscription with others, then this might not be an ideal plan for you.
Here are the key features of the MasterClass Individual Plan:
Unlimited access to all the classes for one year
Stream the classes on your computer, TV, phone, or tablet
Access to original series and bonus content
Cost-effective price of $10 per month, billed annually at $120
30-day money-back guarantee
MasterClass Duo Plan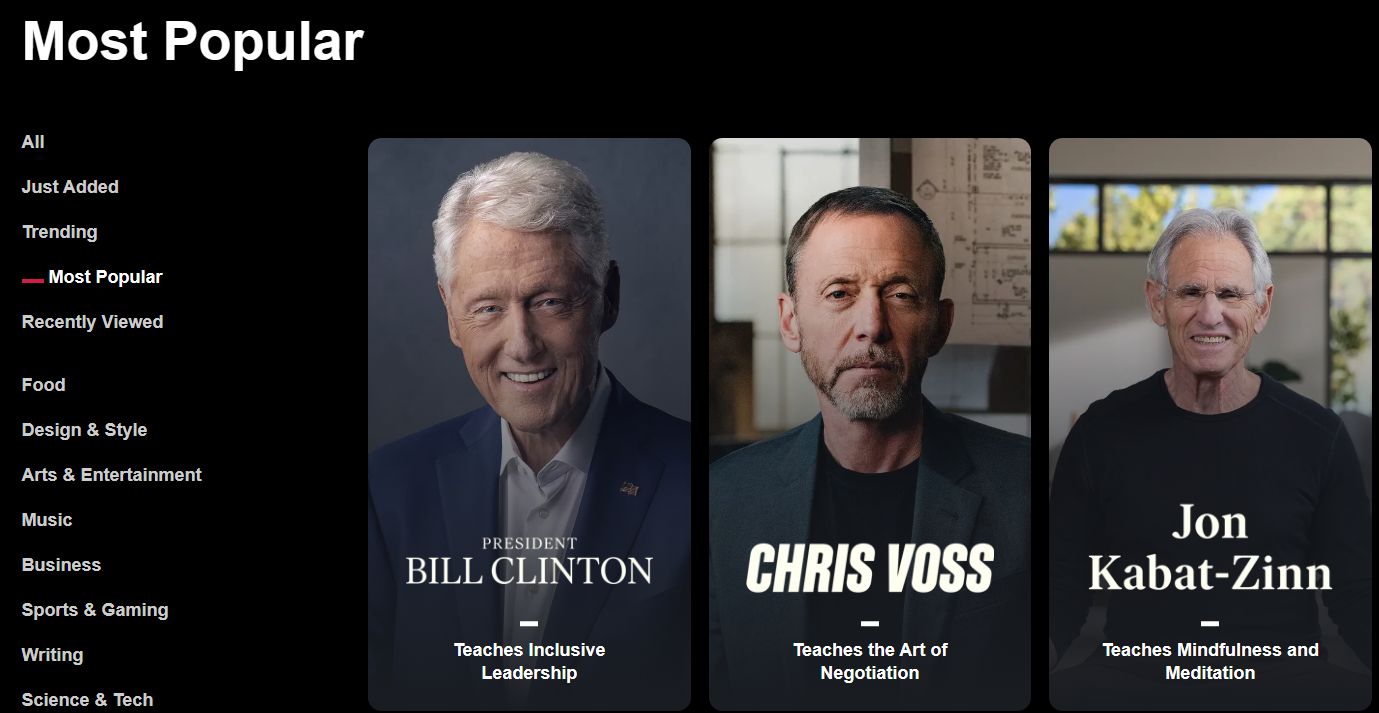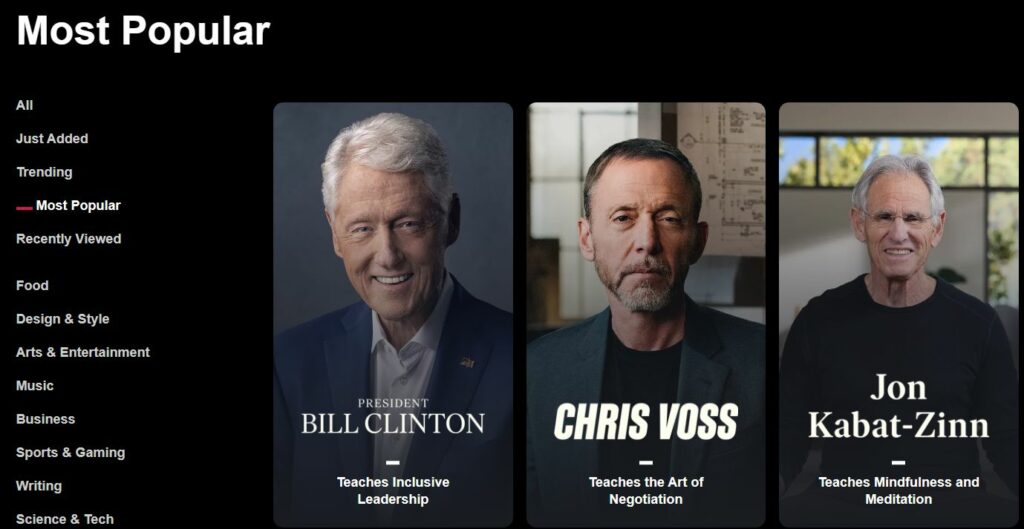 The MasterClass Duo Plan enables two devices to stream the classes at the same time and also save the lessons for offline access.
The Duo Plan comes with workbooks, bonus content, and about twenty hours of course content.
New students and skilled workers both can benefit from the MasterClass Duo Plan's huge course selection and flexible payment options.
It's an excellent option for partners because it allows streaming on two devices at once. If you'd like to save lessons for offline viewing, the Duo Plan is a better option than the Individual Plan.
Here are the key features of the MasterClass Dual Plan:
All features of the Individual Plan
Stream the classes on two devices at the same time
Download the classes for offline viewing
Cost-effective price of $15 per month, billed annually at $180
MasterClass Family Plan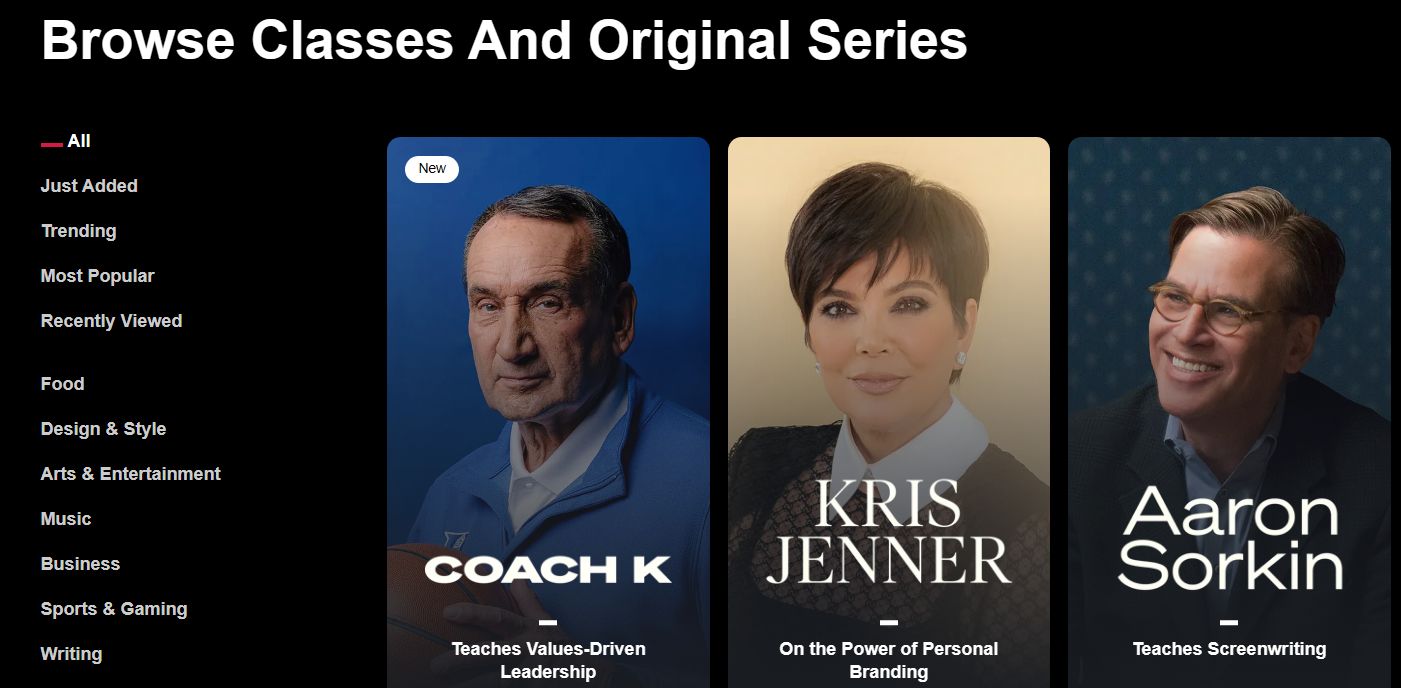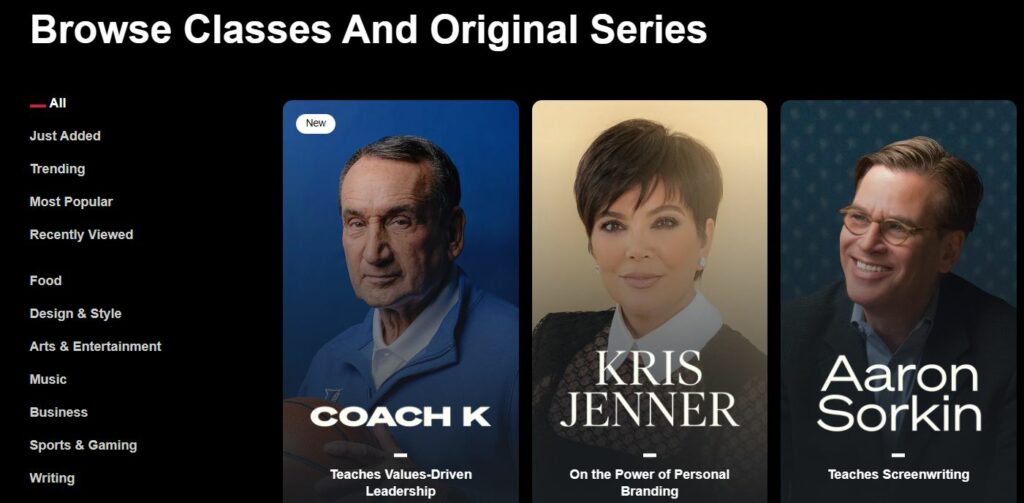 The Family Plan enables six devices to stream the classes at the same time and to save the courses for offline access and participation.
MasterClass offers a rewarding learning experience with amazing video quality, legendary instructors, a user-friendly app, and self-paced.
Here are the key features of the MasterClass Dual Plan:
All features of the Dual Plan
Stream the classes on six devices at the same time
Cost-effective price of $20 per month, billed annually at $240
Is MasterClass Worth It?
For the last couple of years, I have used MasterClass and have checked out different courses, and to me, it was a great experience.
The best thing that I liked about MasterClass is that each of the courses is different from one another.
Some courses give you a step-by-step guide while some courses give you tips. Also, there is a course that gives you strategies to become better at the profession you are pursuing.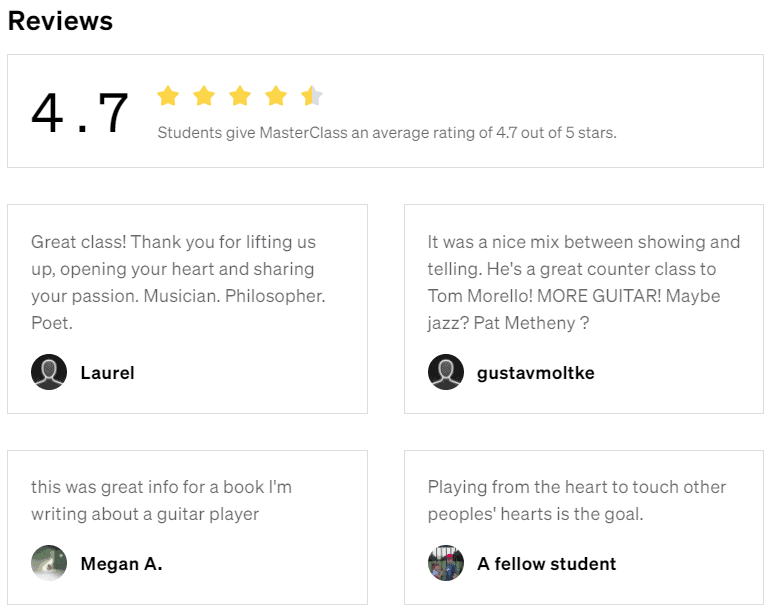 The course is pretty enjoyable and easy to understand, and you will get a detailed amount of information. It was like you have entered into a class without knowing what it is all about, and when you get out of the course, your mind is filled with knowledge and information.
Moreover, to help you understand a course in a better way, there is downloadable content too. Be it exercise, homework, or some digital downloads. It made sure that I was not just feeding information to my brain, but I was making sure that I am learning. 
However, not all of the courses are top-notch ones.
There were certain courses that I wish had more content.
Like step-by-step, guide into the process and not theoretical information. Also, some of the courses are not too long. A few courses were about 5 to 6 hours only. 
But overall, the platform is a great one. It allows you to learn from people who are pros at their job.
And it is always fascinating to know the insights that a famous person already went through and how we can follow the same process as them.
Hence, I would say yes, MasterClass is a worthy investment that you can make. However, I would not suggest you go with an individual plan, as it only gives you access to one course. 
I believe that we should always learn something new, and the MasterClass all-pass will get you access to all the courses, and it is more affordable compared to the individual plan. So by making a one-time payment yearly, you can learn different things.
The platform also keeps on adding a new course now and then. So you will always find something new and interesting to learn.
FAQs 
Does MasterClass have a free trial?
MasterClass does not offer a free trial. However, it offers a 30-day money-back guarantee for all membership plans. You can also use a virtual card to sign up for MasterClass without providing your real credit card information.
Can I get MasterClass for 1 month?
MasterClass does not offer a monthly plan. You can only pay for your MasterClass membership on an annual basis. However, you can choose from three different plans that vary in the number of devices and features. You can also cancel your membership within 30 days and get a full refund.
Is MasterClass worth getting?
MasterClass is one of a kind and unmatched in its inventory of teachers and instructors, which are A-list, world-renowned celebrities and masters of their crafts. The subscription fee in comparison to other platforms still fits the range of subscription packs available. So, MasterClass is surely worth getting.
How much does MasterClass cost?
MasterClass costs $180 per year for the Individual plan, which gives you access to all classes and features. You can also choose the Duo plan for $240 per year or the Family plan for $276 per year, which allows you to share your membership with more devices and download classes for offline viewing.
Is MasterClass hard to cancel?
MasterClass is not hard to cancel. You can cancel your subscription auto-renewal at any time within your account settings on the MasterClass website. You just need to click on the Cancel Membership button under the Membership section and follow the steps. If you subscribed through Apple or Google Play, you can cancel through the respective app stores.
Quick Links 
Conclusion: MasterClass Free Trial 2023
So the question must arise after reading this Masterclass review: should I pay for the MasterClass or not?
Well, if you are someone who feels that he or she lacks inspiration in their life, then MasterClass can be a great option for you. Or if you are someone who is struggling to have a career in the creative field but is not sure how to get done with things.
Then MasterClass could be a great fit for you.
The thing with MasterClass is that they have a course for almost everyone, and there is always something to learn. If you are struggling with your career, then through this platform, you will be able to get valuable tips and insights on how to pursue things.
The platform also does not cost you way too much, and it comes with a 30-day money-back guarantee too.
So you can always ask for a refund if the platform does not seem up to the mark.
You can follow Masterclass's social media handles, like Facebook, Twitter, Instagram, Linkedin, and Youtube here.