Cloud Computing is not only the future, it is present and it is ever increasing. You don't want to miss this train to meet your goals at a supersonic speed. Since, the cloud computing has been in focus with high productivity and less work. Many companies have now launched and modified their plans so that they can attract a new generation of beginners and developers on their platform.
Top Cloud Hosting Providers
Here are some of the best companies which are best in the world in providing you with excellent cloud computing services.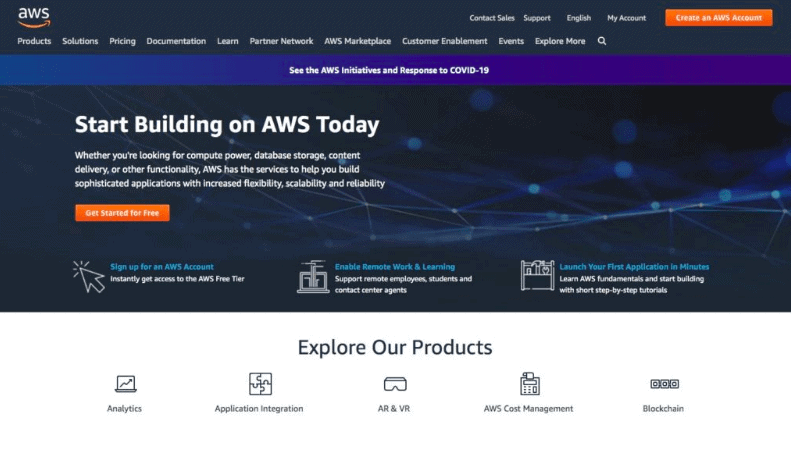 Amazon Web Service, as the name suggests is one of the subsidiaries of Amazon. Launched in 2006, the company didn't waste any time in climbing to the top. Especially in the last few years, company has been dominating the cloud market. Many other enterprises like gaming, media and healthcare rely on Amazon Web Service.
Windows as well as Linux based cloud hosting configurations are present.
More than 70 availability zones are present in 22 world regions.
Customizability is high as there is no set plan and every user can get the experience they like.
Billing options are mainly put in three categories – 'pay per use', 'save when you reserve' and 'pay less using more'.
Many security features are present including the assistance of Amazon Web Service's team.
Due to being highly customizable, it is not as suited to beginners as some of the other cloud computing service providers.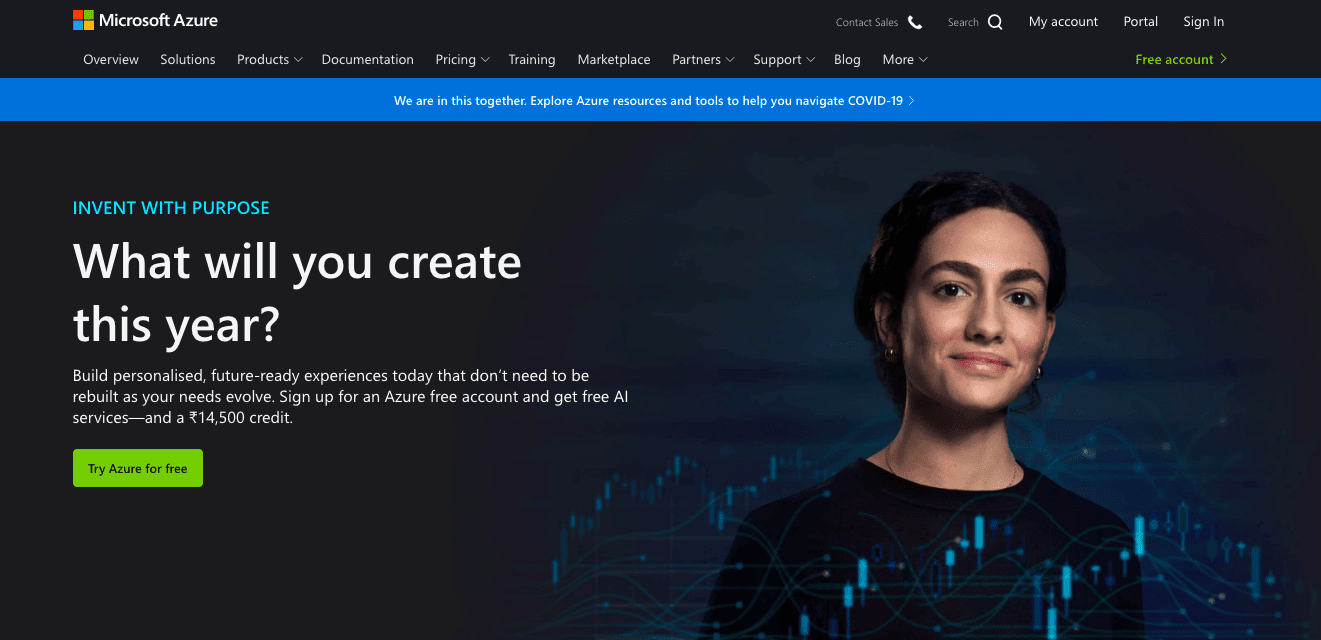 After seeing Amazon's success, Microsoft launched MS Azure and quickly became the biggest competitor of Amazon Web Service. Sometimes, it's hard to find a fault in something and in this case, that something Microsoft Azure. Microsoft provides over 600 services in different areas of cloud computing. With almost 17% of the total market share, it can be seen how popular this service is.
Even though it's a Microsoft product, you can still get Linux support but Windows is preferred.
Languages like Python, Java and NodeJS can be used to run web servers. MySQL databases can also be used.
Options such as deploy, test, build and manage are provided to give control over your projects.
The support team is one of the best as you can expect a big corporation like Microsoft to deliver.
Scaling on Microsoft Azure is one of the best in any given platform with customization given on every level.
Prices are affordable and better when chosen with monthly subscription.
Learning and using can be stiff for new users.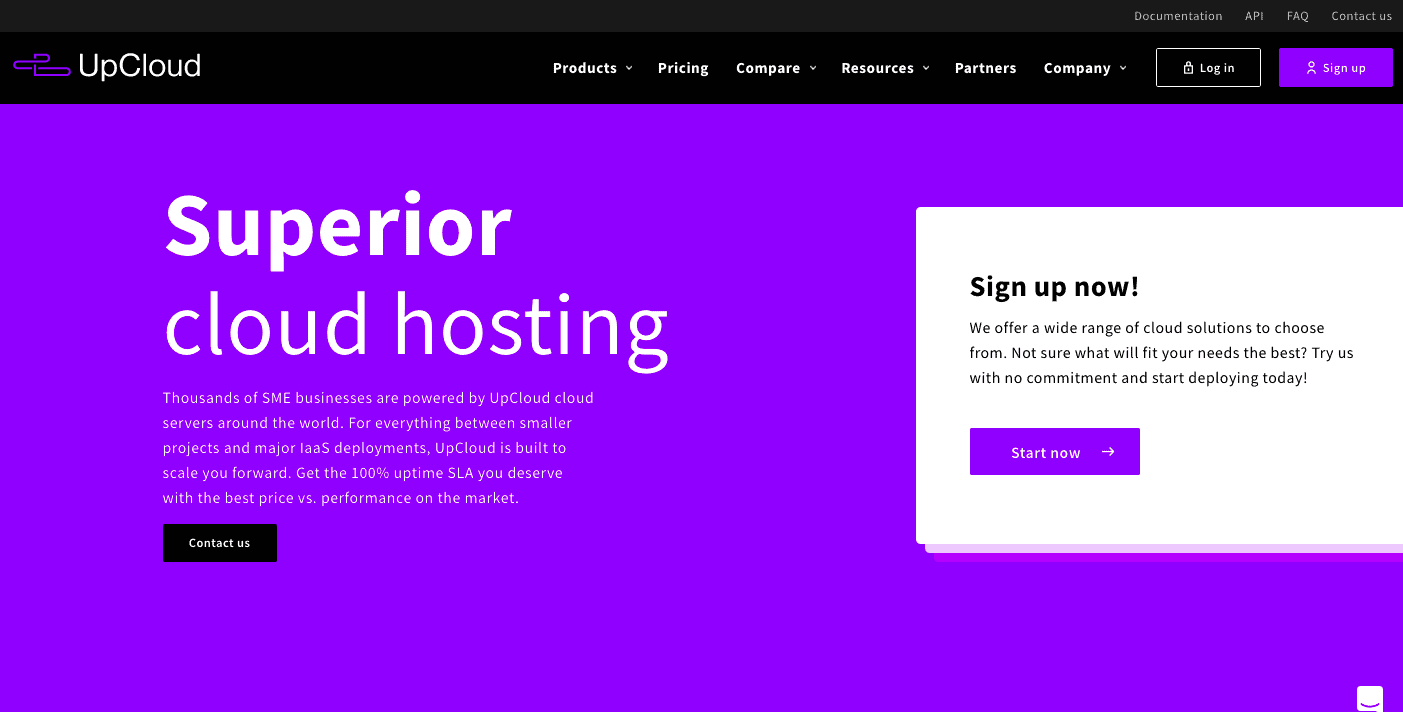 UpCloud is a type of company you generally see in movies with more focus on innovation. Other than providing the basic cloud computing services, the backups and restoring system of the company are its unique selling point. It can be said that this company is better for those who know what they are doing and first timers may feel burdened.
The security can get loose sometimes, which make it a quite big issue sometimes.
Beginners will feel a little too suffocated with all the advanced features, so they may prefer to leave this option alone.
100% uptime SLA is guaranteed to you. If you find any fault with this claim you are liable to get up to 50 times the payback amount.
Plans are made relatively simpler and mostly there are no hidden charges or miscellaneous cost that you have to worry about. You also have the option of claiming the 30 day money back scheme.
The user will get scalable MaxlOPS block storage even at lower priced prices and the performance will not be tempered.
Customer support that you will be getting is good and will help in any difficulty that you might be facing.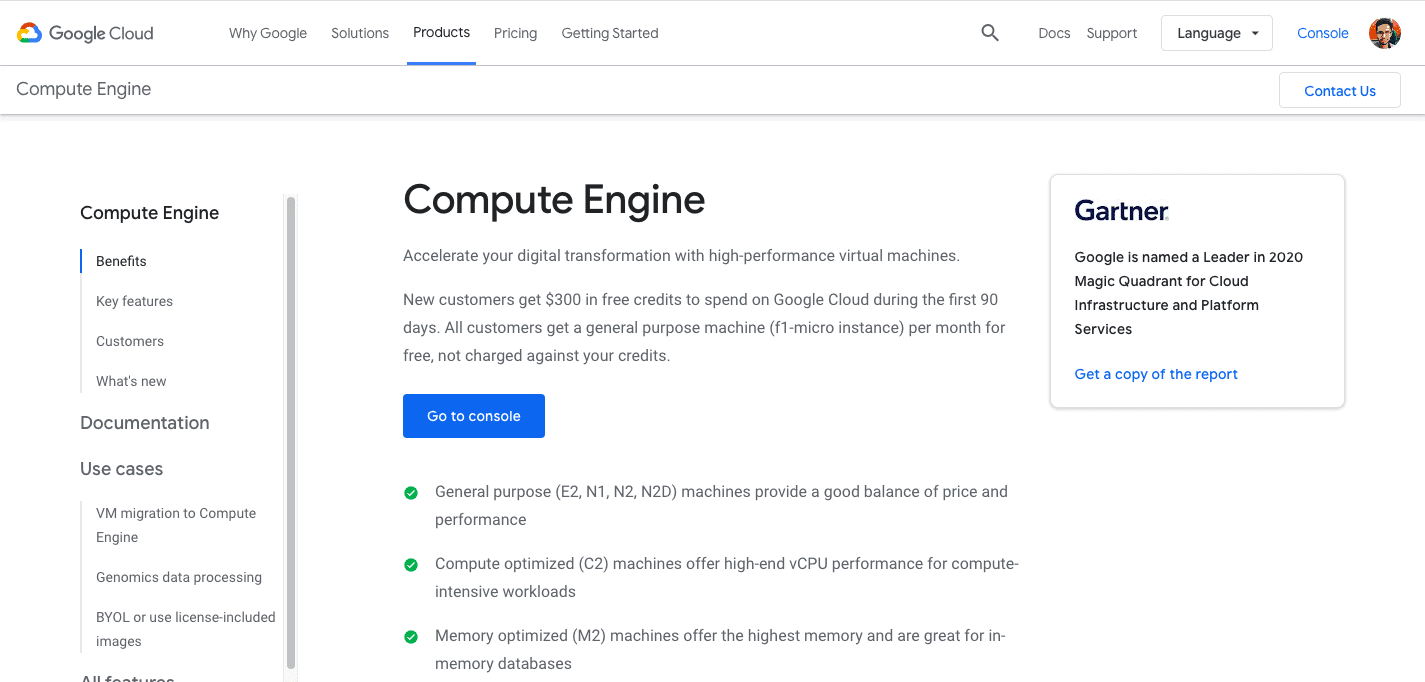 Now, Google is regarded as one of the best if not the best company in the digital age. With so many products and innovations in Artificial Intelligence, media, machine learning, and other internet related avenues, it was a matter of fact before Google Cloud's success matches that of its sister services. One unique thing about Google Cloud is that other technological companies prefer it to any other cloud computing service. With over 8% market share, it's only behind Amazon and Microsoft in the cloud computing service provider
As you would expect, Google Cloud does provide users with control with their multi-layered infrastructure.
Features like App engine, big query, Compute Engine, and Cloud object storage are also present in the toolkit.
With the help of many user-friendly applications and focus on intelligent analytics, this cloud computing service helps to provide increased productivity.
Security is not an issue thanks to the multi-layered security of Google Inc.
Support is provided at various levels depending upon the category of the problem. Two general levels of support are – basic level and role-based level.
The one thing in which it does go a little behind the competition is pricing. Google Cloud can get very costly indeed.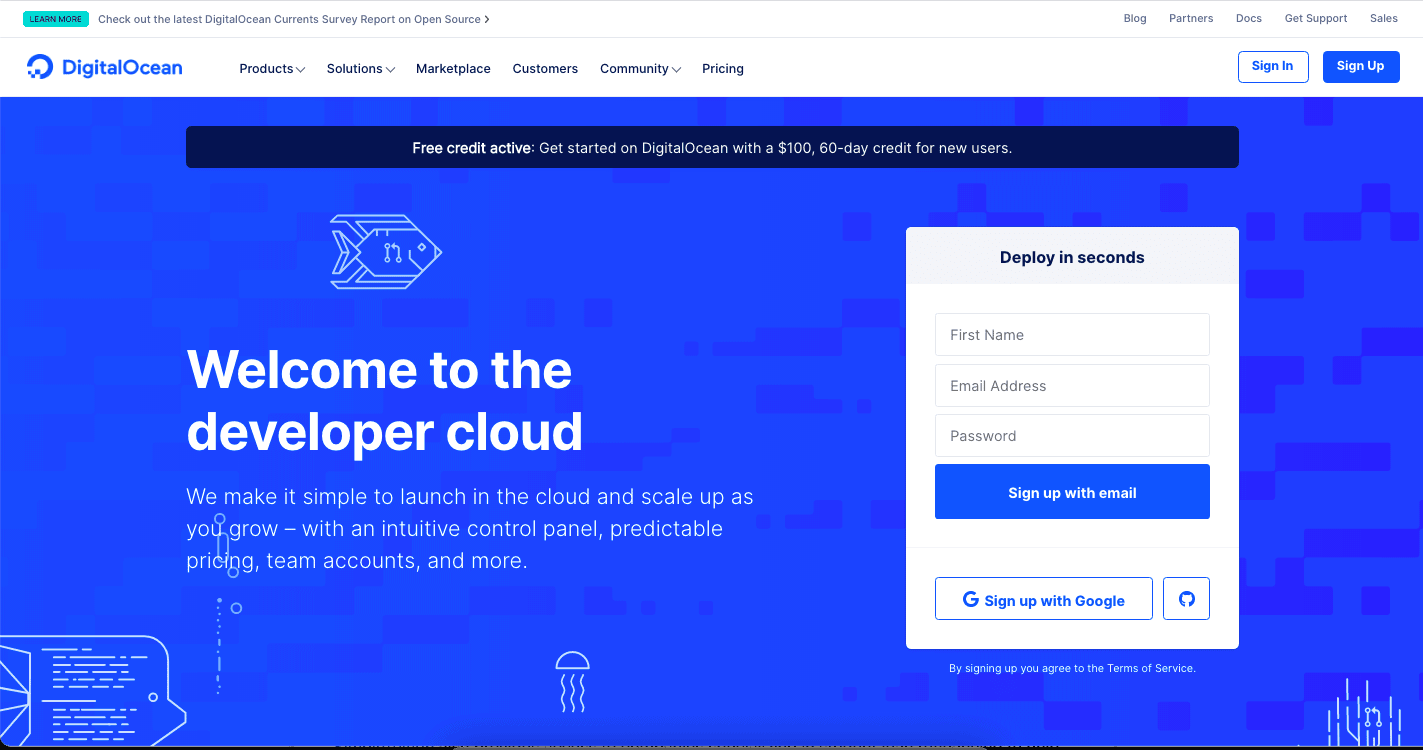 DigitalOcean is an American cloud computing company. The basic services provided by the company include deployment and scaling of applications on multiple systems. With incredible growth in last one decade, the company stands at the top of the market in terms of web facing computers.
DigitalOcean platform adds many basic facilities including security, increased storage and monitoring to run and manage applications.
Deployment of Droplets, a scalable computer service helps in getting a good and reliable connection.
Droplets also help in picking the price points that are beneficial to the user among data centre regions.
Deployment of custom image, standard distribution and one click features is present.
According to the service you need, you can choose from – standard plans or performance plans.
DigitalOcean has a community based system, which can help in exchanging the information and learning the knowhow.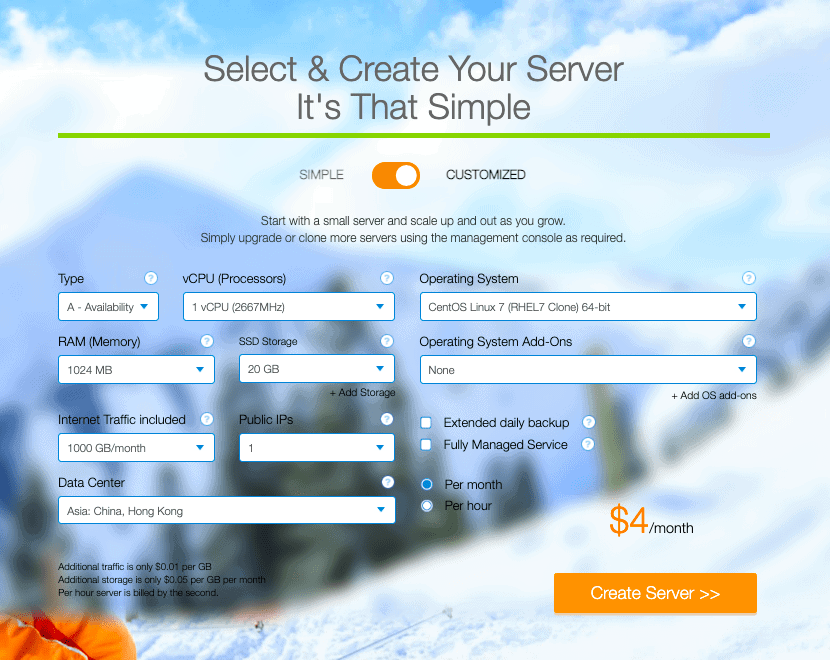 Kamatera originated from Israel and has been present for a quarter of a century in internet based services. The company has made its name steadily by providing a world class experience. With servers in the most of the data centre locations of the world, the company keeps the quality of computing high.
Kamatera does provide with two basic packages – basic and advanced.
It's the advanced package that will provide you with quite good service and options.
Features like the weekly reviews, DNS updates and log clearings will be provided by Kamatera's support team.
Servers are highly customizable and emergency options like disaster recovery are also present.
Billing system can be managed as per your choice in hourly and monthly basis.
Beginners might not like the user interface as it can get complicated.
This cloud computing service can get costly.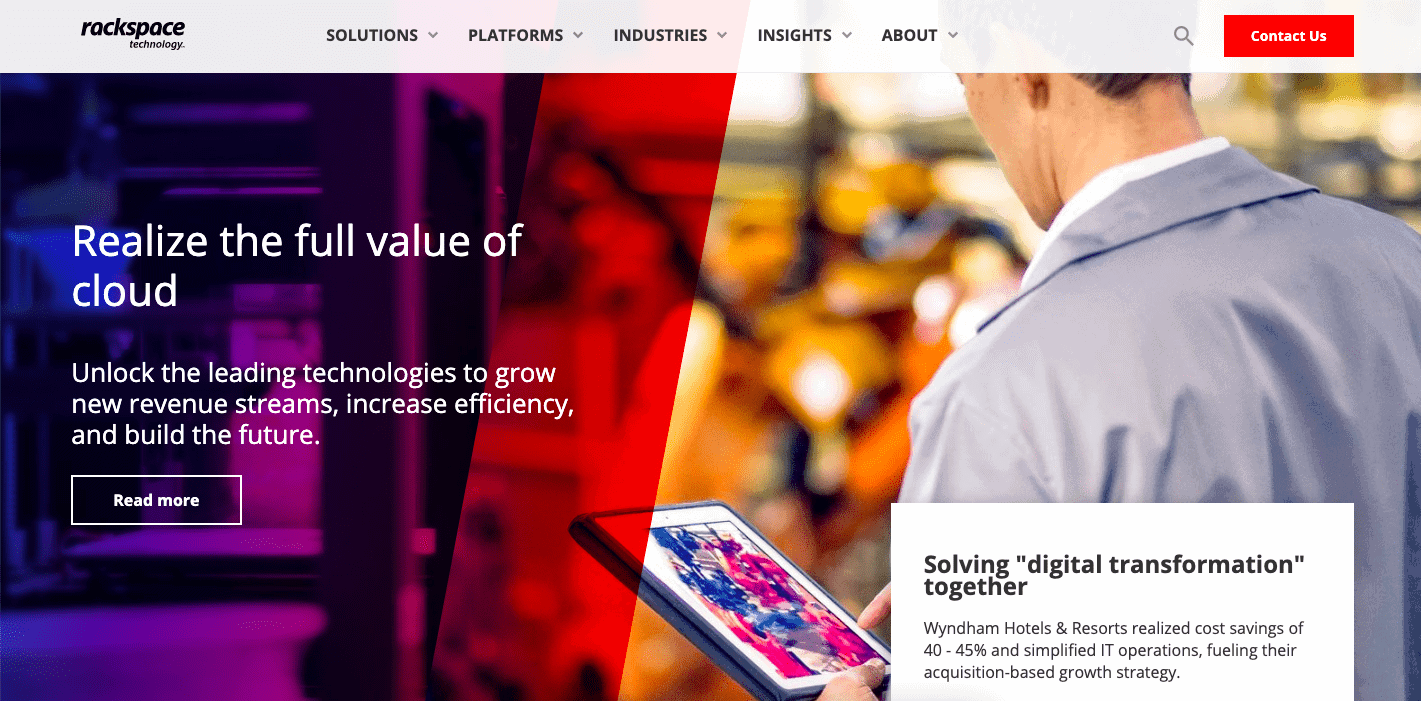 In the market for over two decades, Rackspace was launched in 1998 to be a company with focus on web hosting service. And focus it did, as the company soon became big enough and acquired companies like DataPipe, Slice Host and Jungle Disk. Now, this Texas based company is one of the leading cloud computing service providers with clients from all over the world.
Projects and assignments with unpredictable traffic are better suited to Rackspace.
The company believes in new technology and has updated and modernized infrastructure.
Linux users generally enjoy Rackspace as latest versions of CentOS, Arch, Fedora, Gentoo, etc. are present.
A huge library of tutorials and other documentation is provided.
Support has been good over the years but still there is scope for improvement.
Pricing is generally modified according to the usage which is good in some cases and could be quite confusing for beginners.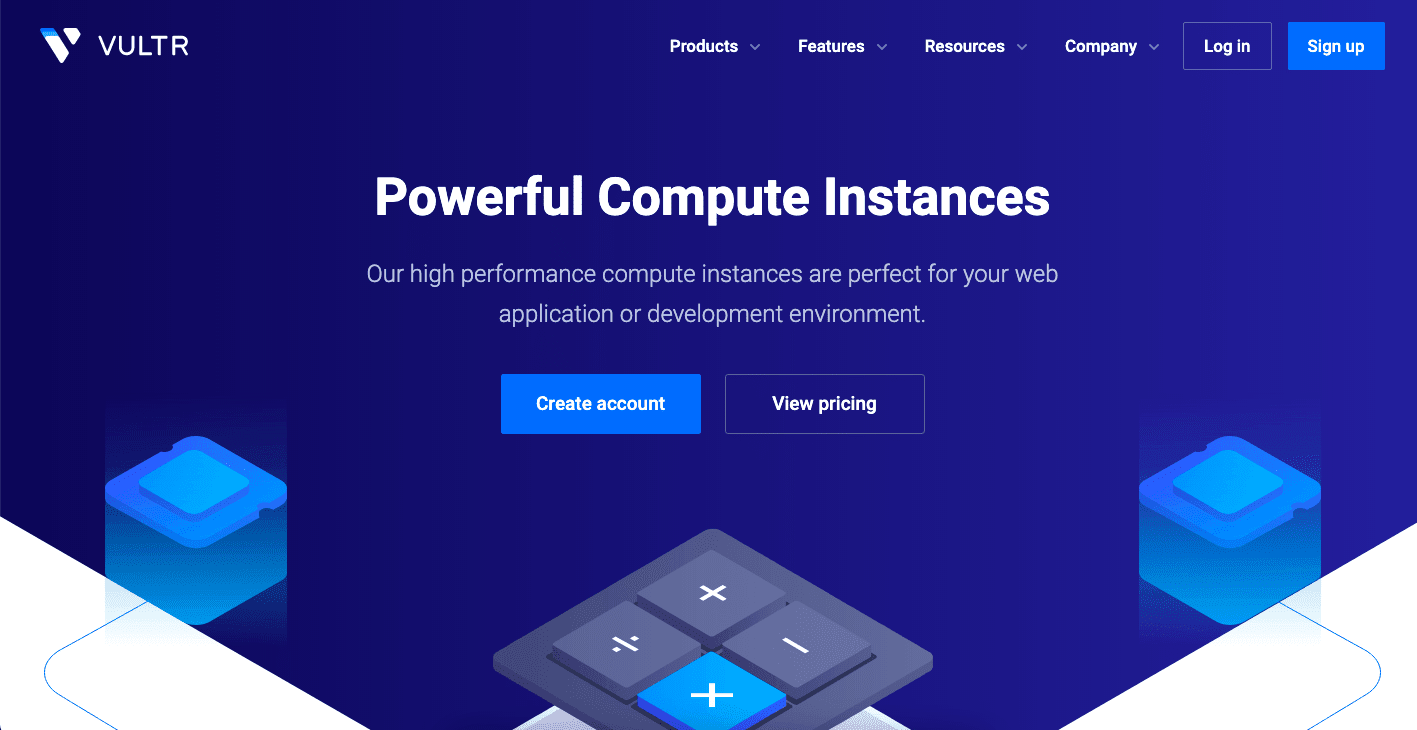 Vultr is not as old as some of the other offerings in the list. But they surely have done very well to make themselves a brand to trust. David Aninowsky, the founder of the company was previously employed with DataPipe, another cloud computing service provider. And it was during that time that he decided to make a cloud computing service as simple as possible.
The starting services are easier to choose from as you get many packages.
Another great thing going in its favor is the hourly pricing model.
Deployment of a server is quite easy and many simple as well as advance options are present.
Vultr also has a feature called High Frequency Compute for hosting demanding apps.
Some basic features such as DDoS protection and automatic backups do come at a price.
You might get in a pickle while finding good customer support.
One of the oldest technological companies, IBM has been around since 1960s. Started their cloud service in the 1990s, IBM Cloud has managed to make its own brand thanks to its reliability image. The quality of IBM Cloud can be assessed by the fact that major corporations still use IBM's cloud services. Banking sectors generally seem to love IBM Cloud all over the world with almost every top bank associated with it.
Services and solutions such as 'infrastructure as a service' or 'platform as a service' and Infrastructure Management System (IMS) are given easy access.
IBM Watson, a supercomputer processing service is provided to answer questions and can be used as an assistant.
The backup planning and disaster recovery method of IBM Cloud is surely one of the best in its class.
Free Lite account set up is not too hard and can be a useful starting feature.
As with some of the other names in cloud computing service providers, the pricing of IBM Cloud is not very clear and can be quite frustrating.
Complex file management system and not being very intuitive also work against it.
When it comes to cloud infrastructure and virtualization, there maybe be few better than VMware. VMware is a publicly traded company with Dell Technologies having majority of the shares. Apart from being good for Windows, macOS and Linux, it was the first commercial successful companies to have virtualized x86 architecture.
It can perform different roles depending upon the use, from being a workplace productivity container to a more traditional operator. It can do all this thanks to its hybrid design and environment.
VMware provide cloud computing services with lower expenses, IT intricacy and flexible services.
It also offers different approaches as – private clouds and public clouds.
If you are someone who needs to have some synchronization between different services, VMware does offer third party as well as custom tools and applications.
Other features include smart storage, disaster recovery and networking in a secured and protected way.
Due to some pricing and complicated interface, it has lost some market in the last few years.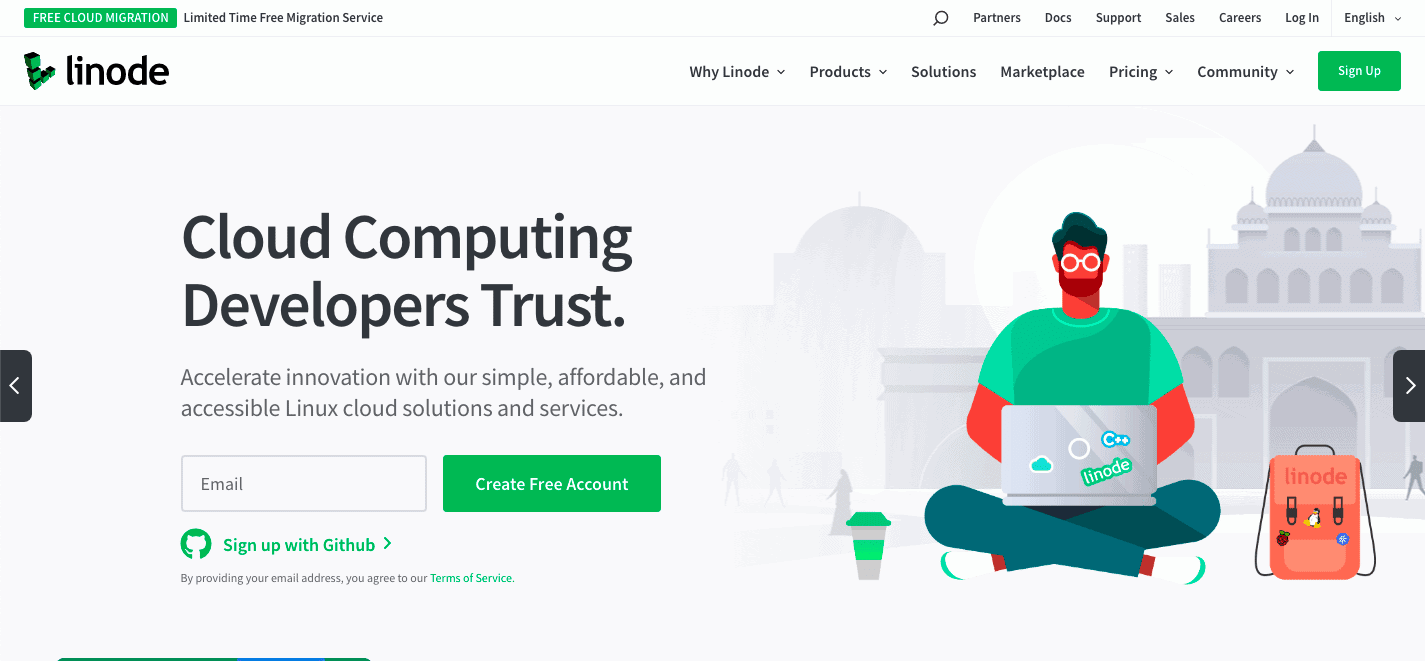 Linode is an American based company that does provide with virtual private servers. Being in business for less than two decades, it has made its name as a cloud computing service which have taken care aspect of users. Its flagships models provide with different price points according to the usage among other things.
The company had major issues when roughly 40,000 bitcoins were stolen in March 2012.
The data centers are present in six major locations around the world. You can choose anyone after doing a procedure of standard tests.
Each plan comes with Intel E5 processor, Solid State Drive (SSD), SSH access and root access.
You will get three standard types of the plan in Linode. They are Dedicated CPUs, High Memory Data and VPS Hosting Plans.
Linode gives you guarantee for a 99% uptime and you can claim for damages if the server is down for some time.
In terms of customer support, you are on your won. If you want to get help on anything, head straight to Linode Library and your work will be done.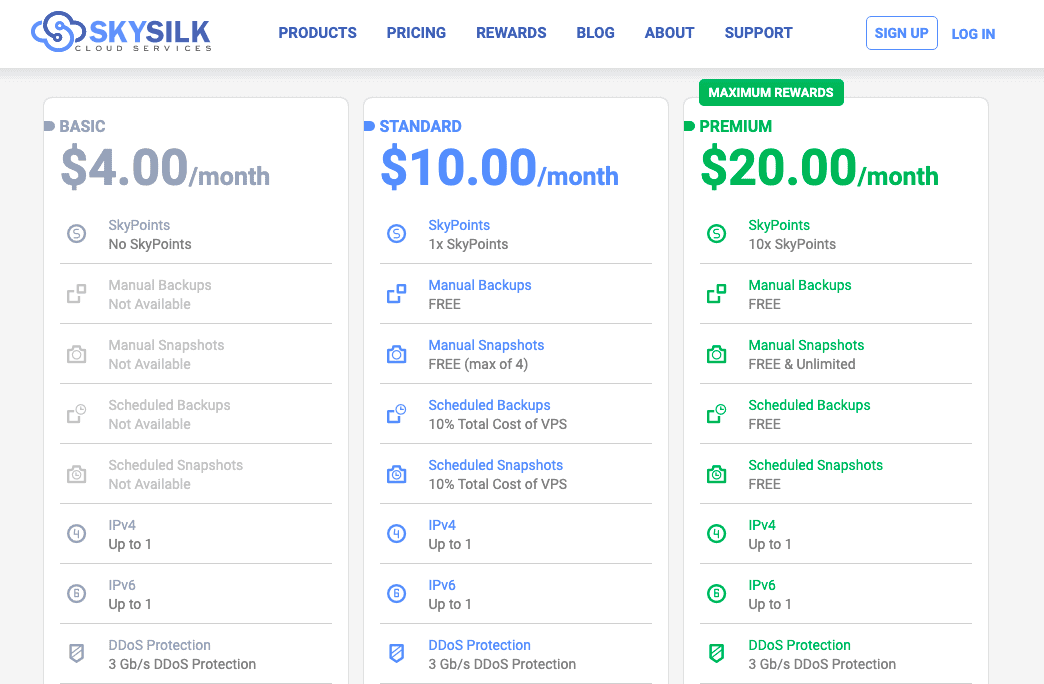 Launched in 2015, it is new in the market as compared to other cloud hosting services. Being a not so big name in the world is largely because of using its main and only language as English. Features like high bandwidth, manual backups, unlimited transfer, etc are provided by the company.
It has become famous in the cloud computing universe due to its feature called VPS boost, which can help you get ready in advance for the influx of high traffic.
It is great for all type of businesses as it gives almost every management option with affordable prices.
SkySilk also replicates the SSDs of customers, this helps in achieving a very secure premises for your data even if a hardware problem occurs.
The lower plans do not come with the option of manual backups and you will have to depend on the automated system for that.
The top plans however do get the unlimited resources of simple features such as scheduled snapshots, scheduled backups and manual snapshots.
Operating systems which SkySilk provides the users with include Ubuntu, Fedora, CentOS and OpenSuse.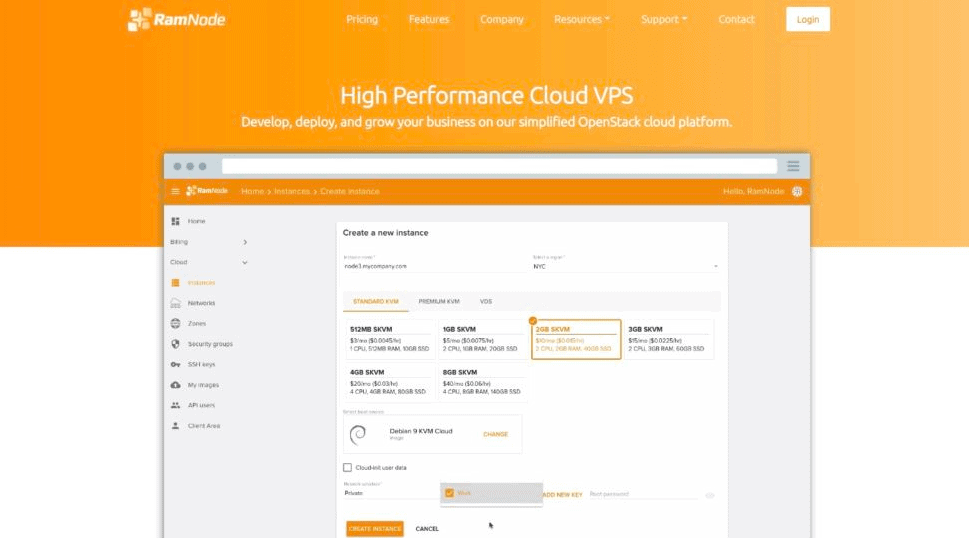 RamNode is a U.S. based cloud computing company launched in 2012. It can be used for small scale businesses and group based websites. Some of the basic features that are provided by RamNode are free migrations, almost 100% uptime, daily backups and quick recovery.
Intermediate and advanced users will find this platform quite lackluster, though this makes it quite a beginner friendly platform.
The pricing is low and will suit most beginners and first timers as the risk with large expenditure increases.
You will be getting many value added features with RamNode including unlimited access to SSL certificates, bandwidth, domains, e-mails and databases.
The platform is perfect for those who are in the initial stages of their business development or want a personal sort of a webpage.
RamNode offers the users two forms of shared hosting. One is shared hosting with unlimited bandwidth and databases up to 15GB and other is reseller with which you can sell hosting to others.
The thing to not with RamNode is that you won't be getting the drag and drop builder.
MassiveGrid is a massive name in the market for almost for last one and half decade. They have good service providing facilities with many other additional features. They offer both virtual private and public clouds.
It provides the users with a web control panel which is especially useful for private clouds.
The service support team is quite good and they claim to able to help you around the clock all around the year.
The infrastructure is good and they tend to keep their promises of availability intact.
The dedicated servers for ultimate uptime are available with different plans giving you amazing benefits.
You can also use PaaS (Platform as a Service), which is quite exciting for the developers who want to have a reliable platform with complete tool kit.
Alibaba is the biggest cloud computing company originating from China. You can say that they are almost as big as Amazon but in China. In recent years, Alibaba is trying to make a mark in the cloud computing space around the world. They are also using specialize features for every country they provide their services to.
Alibaba Cloud maintains their server standards and ensures that you get high availability of the cloud computing infrastructure.
If you have to describe Alibaba Cloud in one word, that would be 'elasticity.' You will get elastic networking, storage, architecture and all this help you will to combine your resources.
Alibaba cloud offers you an availability time of 99.975% which is quite good considering the completion.
Alibaba Cloud tries to make its customer believe about the strict security measures they implement. To do so, they have passed several certifications and assessments from international agencies.
The billing method is quite flexible in Alibaba Cloud as you can choose between monthly subscription, real time bidding subscription, pay as you go method and other different ways.
LiquidWeb has been a company in market for almost two decades. This company is more creative than any other you have experienced. They make you do creative workout rather than having to learn the infrastructure and working. A good service for those, who want to jump straight in; as you will not get bogged down by server management or cPanel.
SSL certificates are free and you will be getting them in every plan of your choice.
A certain staging area will be provided to you so that you can preview the changes beforehand.
There are no restrictions on number of views per plan. So this is one aspect you won't have to worry about.
You get all the latest technologies and features in your WordPress managed website. Nginx, PHP 7 and many others, you name it, you have it.
The customer support is very good and you will glad to have chosen this cloud computing service. The method to contact is generally via ticket.
Salesforce has been a major company from so many years and it deals with Service Cloud, Sales Cloud, Marketing Cloud and much more. Though the company offers so many services, the main area of work is related to cloud based CRM (Customer Relationship Management).
Implementation of a new application is done quickly as you don't get caught up in the complexity.
There are no costs or price that you have to pay for new application. Whole system of cloud based computing generally works on monthly subscription basis.
Salesforce provide a highly scalable cloud infrastructure. So you can change the setup according to your needs at that particular time.
You also can dump your stress as you don't have to maintain your cloud every single time. Since, everything is stored in cloud; this phase can be evenly distributed.
The security of Salesforce is top notch and you will not be finding nay fault with that side of the system.
Want to learn about the CRM tools for managing the members in your program? Then read this review about Wishlist member here.
Oracle is one of the popular companies in the world of computers. They also have a quite good cloud computing service called Oracle Cloud Infrastructure. The company believes in innovation and helps you in managing the workload. Other than that, you also get real time elasticity so that you can integrate applications and security.
Oracle Cloud is perfect for enterprises who want to get higher performance and lower costs. Additional benefit is that the migration is quite easy to this platform.
The choice of deployment of the cloud applications is with you. You can utilize Oracle's public cloud with all its features like Autonomous Linux, Autonomous Data Guard and Autonomous Database.
Security is quite good and an essential commodity added to the list of your services. The infrastructure is built with security first approach.
Using artificial intelligence and machine learning, all database tasks are automated with high efficiency and security.
There are no time limits on the selection of services provided to you. Developers will find the platform very suitable.
Dell has been a popular company in IT sector for so very long. But it is generally associated with hardware side of the computing things. Dell does offer a cloud platform and a very handy infrastructure that brings all the cloud computing components at a single space. All of this side of Dell's business operates under the name 'Dell Technologies.'
Dell Technologies Cloud will provide you with complete fully integrated turnkey solution and will help you in getting closer to hybrid cloud success.
The costs are managed by the monthly subscription and you are free to innovate without worrying about the overhead costs.
You can also free up your resources with consumption based strategy. This will help you as-a-service solutions to get highly optimized.
Dell Technologies Cloud along with VMware helps you in simplifying the operations and with that you achieve higher control, consistency and flexibility.
You can improve the experience of working with clouds as the Dell Technologies Cloud infrastructure will provide you with private, public or hybrid clouds.
Navisite or NaviCloud offers the users with a variety of managed or semi managed cloud based infrastructure solutions. The main professional work is done with Azure Cloud Management (Microsoft) and VMware Cloud Management. You can set up any business irrespective of size on Navisite.
The hardware orders will be supervised and will get to you in good shape.
The customer support will help you in managing services that you are using at that very particular time.
Although, the charges for services and managed cloud computing systems are fixed, you still should look for any additional charges that could be added to the bill.
The incident of power failure has made quite a bad reputation for Navisite and even though it is uncommon but could be a future issue.
The Best Cloud Hosting Provider?
These are some of the best cloud computing service providers in the world and can manage different things as per the scope and level of your business. You can also take a back seat with the management process and can concentrate on improving the business and innovating it further.