This article is dedicated to WordPress Store Locator Plugins. Businesses with many locations may benefit from WordPress store locator plugins.
Helping hotel chains, retail stores, and beauty parlors locate their locations using store finder plugins.
They aid in the discovery of your business. These plugins use Google Maps to display locations. The features of Google Maps, such as map views, geolocation, and store directions will be available to you when you sign up.
These WordPress plug-ins may reveal users' true locations if you offer directory services. To begin, here are some of our favorites (they're not in any particular order).
10 Best WordPress Store Locator Plugins 2023
Here are some of the best WordPress Store Locator Plugins discussed, let's have a close overview:
1. Locator for MapSVG Retail Stores
MapSVG may be used to create a location map for a store. There are a large number of map layouts to choose from, as well as containers (for map menus, filters, and information) that may be customized by the user.
Custom fields, such as an address or a city, may be used to narrow the results. As an alternative, let people search for local businesses by location. Need additional maps?
MapSVG Gallery may be used to create a popover or details view gallery. Sliders, images, and thumbnails that respond well to touch. It makes it easier to find places.
Using the built-in template, CSS, and JS editors, developers may customize the plugin.
Additional plugin features include the ability to create custom vector maps, clickable shapes, a directory of listings, automatic map markers, and cross-browser compatibility.
It's easy to create dynamic store location maps using Mapify's extensive, but simple, features.
Customizable tooltips, customizable location filters, endless map marker icons, front-end user contributions, bespoke image maps, map clusters, and language support are just a few of the many features available to map users (via WPML). In addition, there's more!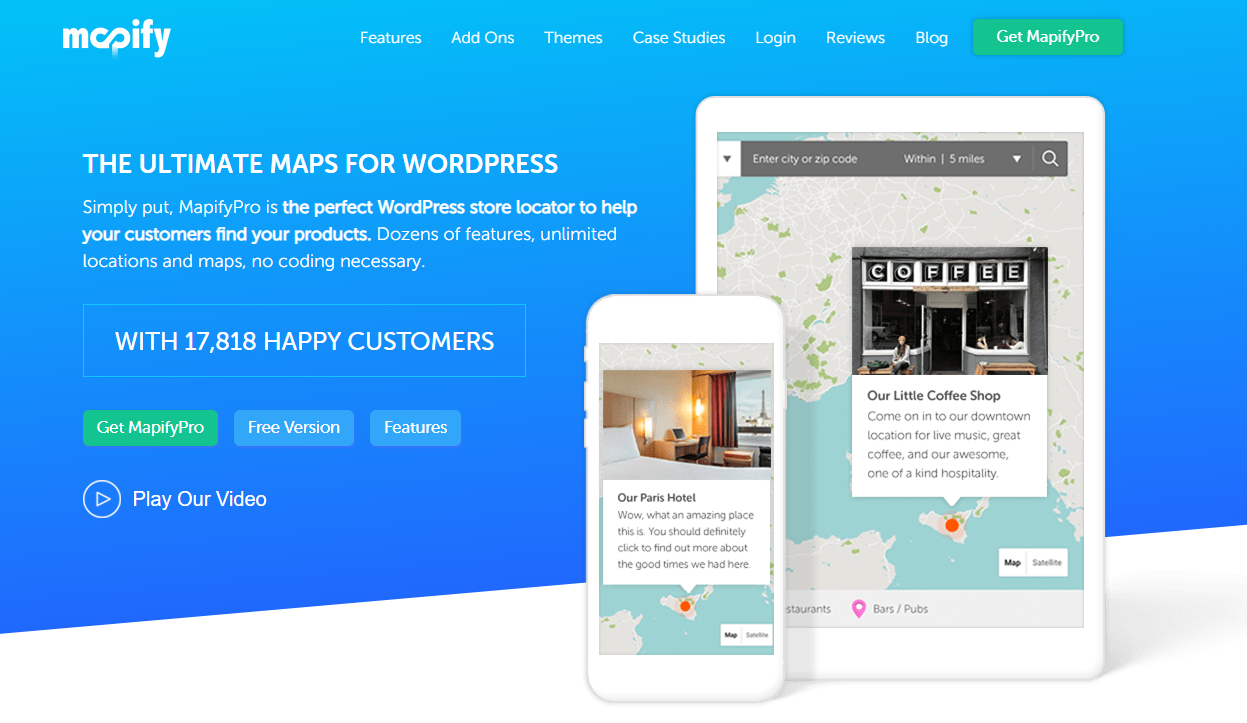 When looking for a shop, using parameters like radius and adjacent locations might be helpful. Map locations may be linked to specific websites, such as Yelp, or to third-party websites, such as TripAdvisor.
To get a taste of Mapify, please contact us. You can get started with Mapify Lite by downloading it now (keep in mind it will not have all of the features in the Pro version).
3. Installing WP Multi-Store Locator Pro
Plugins like WP Multi Business Locator Pro make it easy to publicize and list your retail locations. Address, website, and instructions should be included.
Site visitors may then browse by category or tag to find nearby businesses. Store statistics, a shop manager, and import/export functions are all included in this plugin's features set.
WP Multi Store Locator Pro may be used with page builders like Beaver Builder and WP Rocket. Utilize their Beaver Builder and Visual Composer custom blocks (with more page builders on the way).
Why don't you take a closer look? The WP Multi Store Locator Pro layouts may be seen in action.
WP Store Locator places all of your locations on a map that you can personalize with markers. You may have the map and instructions in the language of your choice.
Identify each location with a unique name and make it easier for visitors to find it by using radius or category filters.
The admin page of WP Store Locator shows shops and offers the option to choose the plugin's language. It is possible to use shortcodes to include information such as opening and closing times as well as addresses and phone numbers.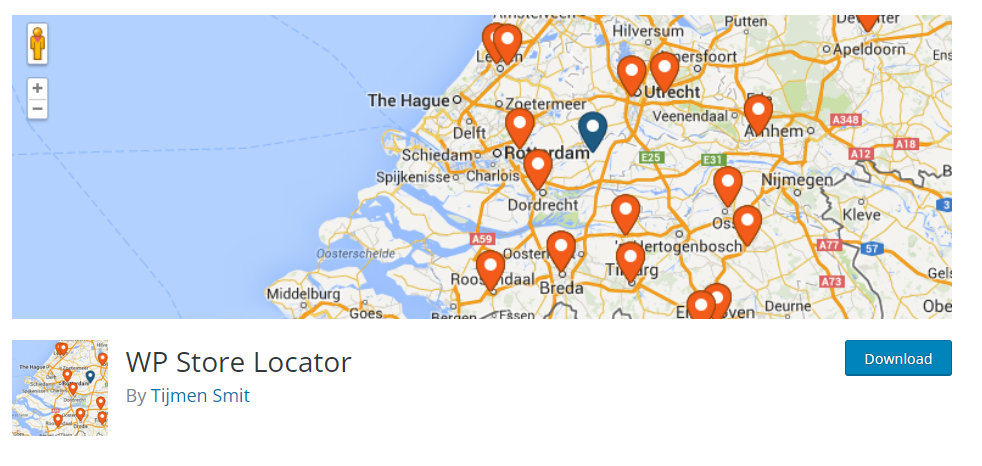 These nine retina-ready marker icons are available in the map editor. Having markers clustered together is advantageous in locations where there are a large number of shops.
Add-ons for bulk import, statistics, and search widgets are included in the premium version.
5. Store Locator Plus (Free)
If you have two or more companies, WordPress Store Locator Plus will help you create a location finder for them. Input your locations into a shortcode on a new page.
This plugin is used by Bosche to help consumers find local businesses. Add-ons in the Admin panel let you customize CSS and HTML.
Add-ons allow you to customize the user experience by enabling or disabling search, categorizing locations, and creating individual SEO-friendly pages for each of these locations.
Custom fields, social networking connections, and location management are all examples of third-party add-ons.
It is possible to create new forms with the aid of Gravity Forms, as well as attach events to specific locations. The free plugin is available in several languages.
6. Agile WordPress Store Locator
Full location management is provided by Agile Store Locator. Admins may manage themes, styles, and markers from the backend of the app Show custom maps, import/export store locations, and edit categories.
Use templates and personalize your display to your liking. The same-store may appear in many categories. To show just open stores, use a Time Switch to turn it on or off.
Nations, states, cities, and merchants are just a few of the themes available in this plugin's many options. A search may be limited by marker clustering, custom filters, and category markers.
Copying a store location is as easy as clicking a button. Shows the most popular searches, stores, and locations in the Analytics Bar Chart. The Admin dashboard has metrics for the store, search, categories, and markers.
7. The Super Store Finder
The admin interface of Super Store Finder for WordPress is robust and features a responsive design.
This admin interface allows you to make changes to the map, categories, tags, and notifications, among other things. It is multilingual and has full-width Google Maps functionality.
In addition to the flat-themed shop locator, Super Store Finder includes a foldable store filter. Customers may find your store's exact location and quickest route thanks to built-in geolocation.
Customers may find your store using zoomable street views. Showcase your store with images and videos. With this plugin, you may narrow your search by location and other parameters.
Bulk store addresses may be imported into CSV files. Marks may be dragged and dropped to help you find specific locations. The functionality of a program may be enhanced via the use of add-ons.
8. Advancing Store Finder
You may choose between a list of stores and a map when using Advanced Store Locator. You may also use shortcodes to link to any location in a WordPress article.
It's an effective tool for both enthralling readers and providing them with locational information. A list of related articles is provided below. A user may search by address, use street view, or get instructions.
Using the built-in UI, you can quickly add, change, or delete stores and geocode locations. Zip codes and addresses may be used to locate a nearby store.
Using a secure HTTPS URL, the plugin determines a user's location and presents the nearest store.
9. WordPress Store Locator
Unlimited filters are available with the WordPress Store Locator Plugin. You may use shortcodes and live filtering along with this plugin.
By tying product categories to store categories, you'll be able to automatically filter products on your shop's product pages.
Customize search results, information, and buttons that direct users to take action. Establishing defaults will streamline the process of adding new businesses.
A store locator is added to WooCommerce product pages by this plugin. A modal window with the location information appears.
As an example, the details window may provide a phone number or an email address. Your consumers will be able to easily find your business thanks to the 10 layouts and 90+ options available.
There is a shop locator included in Yoast's Local SEO Plugin for WordPress. A yearly license is required for use of this locator.
Retailers within a certain radius, state, or zip code may be found by using the plugin. Add your store location by clicking buttons and checking the boxes that appear.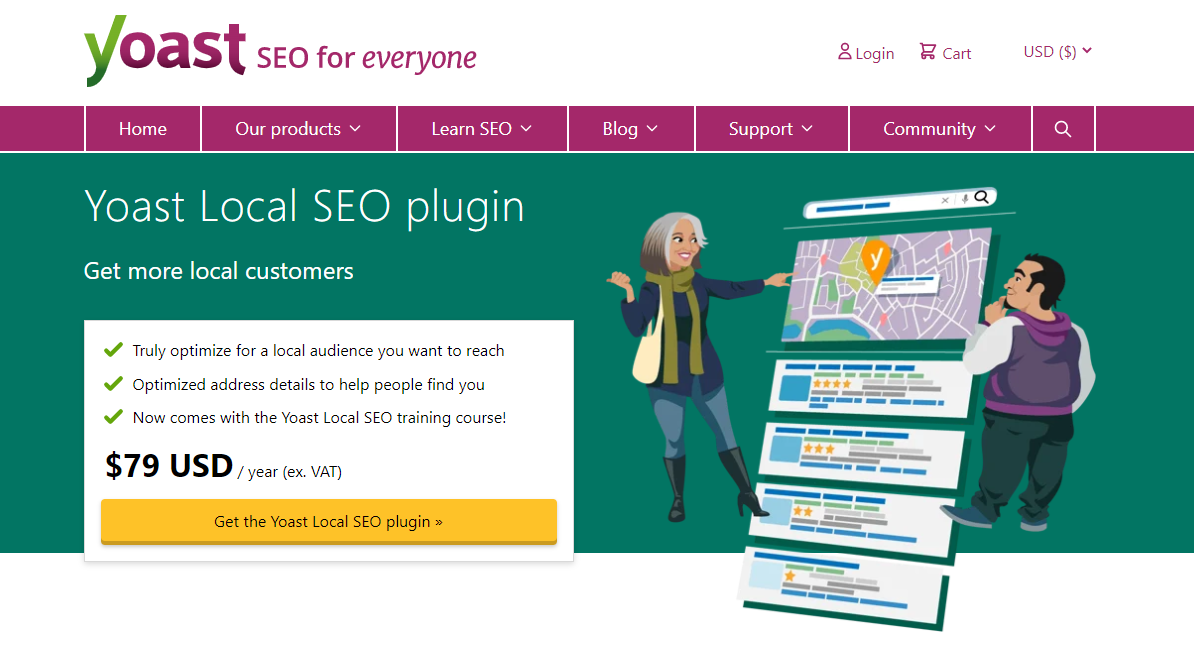 Place your business's hours of operation next to your address. Shortcodes may also be used. Adding shortcodes to a website, a post, or a location page is simple and quick. A WordPress store locator widget may also be added to your website.
Quick Links:
Conclusion: WordPress Store Locator Plugins 2023
You have a wide range of options to help your customers locate your companies on a map. Were you able to put any of those ideas to the test?
We'd appreciate it if you could let us know which choice was the most useful. If you choose, you may also display your locations on a map in a unique way.