Are you thinking about using Beaver Builder on your WordPress site? 📚 I'll help you determine whether this popular page builder is perfect for you in our hands-on Beaver Builder review.
You want to build a website but don't have the time or money to learn how to code.
Building a website from the ground up can be extremely challenging and time-consuming, especially if you don't know how to code.
Beaver Builder, one of the best-known WordPress page builders, has a user-friendly visual, drag-and-drop interface that allows for the creation of attractive designs with no coding experience required.
The addition of the Beaver Themer add-on expands its functionality by allowing users to create their own custom templates for the site's most crucial parts, such as the header, footer, single post, and post list. Because of its adaptability, a WordPress theme's design may be uniform throughout.
As a page builder, Beaver Builder shines because it simplifies things by concentrating on the essentials. The optimized performance it provides right out of the box is only one of the ways in which it stands out as one of the lightest page builders.
However, it's worth noting that Beaver Builder can be lacking in comparison to other popular builders like Elementor and Divi in terms of functionality, design possibilities, and pre-built themes.
In the end, it's up to the user's specific requirements and tastes to choose which page builder is best. Those looking for a website builder that prioritizes speed, efficiency, and basic features may find Beaver Builder to be a good fit.
You may make a well-informed choice that meets your personal needs by comparing the features and services provided by various builders. In order to meet the needs of a wide range of customers, every builder has both advantages and disadvantages.
What Is The Beaver Builder Page Builder?
Beaver Builder is a flexible, content-rich drag-and-drop page plugin that helps to make modified WordPress content.
It works as the first-line defense to ensure that the page looks almost similar to what the public perceives.
It is a reliable and user-friendly interface providing maximum support with desirable features making it the most trusted page builder.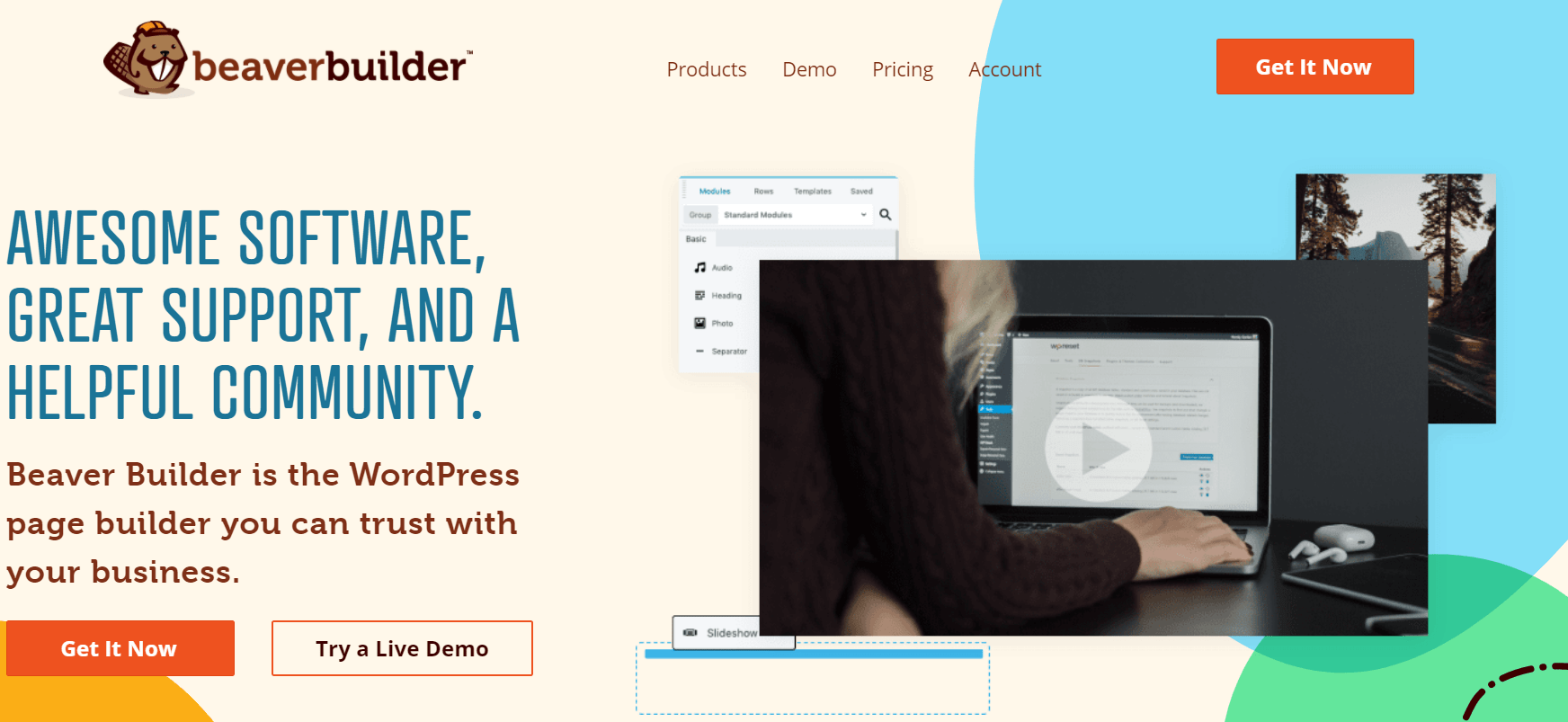 Along with being fiscally feasible and time-saving, it is a toolbox that facilitates work.
When you learn about all of the features, you will realize that it is the one genuine page builder that we have all been waiting for to put together the concept of WordPress website development and make it appealing in no time.
Why use Beaver Builder?
In today's WordPress world, you might question why you'd use something like Beaver Builder if there's a Block editor. Well, the Block editor is pretty new and not flawless yet.
It's not as flexible as Beaver Builder, a page builder. You see, the Block editor isn't truly meant for building whole pages; it's a version of the regular WordPress editor that's divided into blocks.
On the other hand, page builders, like Beaver Builder, take you beyond the usual WordPress editor. They team up with the right theme to switch out the plain editor with a visual picture of your site.
This cool feature lets you see your page come to life as you work on it, making sure you're getting everything just right. So, while the Block editor has its place, page builders like Beaver Builder give you more freedom and a better look at your creation.
Also, You May Like This:
How Beaver Builder Works?
Let's figure out our way with Beaver Builder:
This page builder has easily tampered with the WordPress User Interface. When you launch Builder Beaver, a dialog box appears asking you for the desired settings.
The best part is that you can skip this section and return later to change the settings to suit your needs. The following step is to begin creating a new page. A blank canvas with a collapsible sidebar will appear.
The sidebar provides the following options: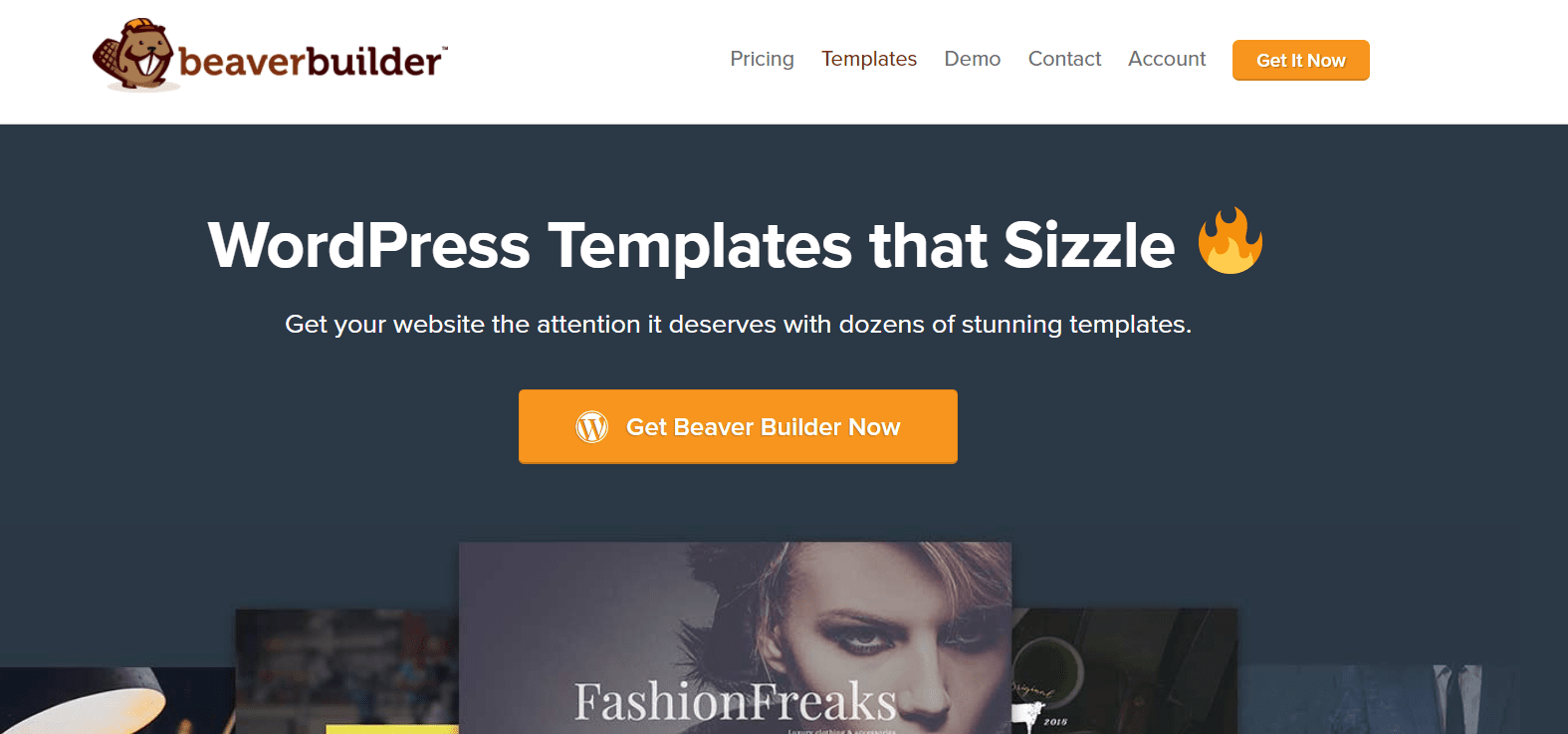 Start adding elements to your page by clicking the blue plus icon. You can begin by adding rows, and then move on to columns.
Each column can have modules or elements such as text, images, and videos.
You can change the number of rows and columns, as well as their size, designs, and structures, by using the drag-and-drop feature.
When you add a row or column, a pop-up dialog box appears with all of the appropriate and advanced setting options to customize it.
I can't go into detail about how it works you can check the full document here.
There are numerous tools and features that you will discover once you become acquainted with it, as well as how efficient and time-saving this page builder is.
Beaver Builder Pricing Plans: How Much Does It Cost?
Unlike other page builders on the market, we can easily download and use Beaver Builder lite for free.
This page builder comes in three tiers, each with better and more advanced features, but it all depends on the need of the hour and how complex and large your website will be.
If you don't have a lot of money and need to perform some high-tech tasks, you can get by with the lite's limited features and support.

The three plans of the premium version are-
Standard ($99):

It comes with all the basic features like working on multiple websites, pre-formed plugins, and modules with premium support for 1 year.

Pro ($199): 

The Pro package has an additional shipment of Beaver Builder themes and multi-site capability along with all the features of the Standard version.

 

Agency ($399):

The only extra feature it comes enabled with is white labeling using which you can remove the label of Beaver Builder and put your brand name.
To be completely honest, Beaver Builder is not the cheapest, but it is also not the most expensive. Many alternatives are inexpensive and have similar tools, but not all of them are as versatile.
Many other alternatives provide far fewer options at their price, so it is the best option to select. The sensible option is to choose between standard and pro.
The Agency license includes white labeling, which appears to be completely unnecessary. The decision to purchase a license is based on your requirements.
If you only need a simple website for a blog or a descriptive business, the lite version is adequate; however, if you need to create larger websites or design websites for clients, higher packages are recommended.
How To Install Beaver Builder On Your WordPress Website
Installing Beaver Builder on WordPress is next. Beaver Builder has both a free version (called "lite") and a paid version (called "premium"), and both are easy to set up. I will explain how to load each version one at a time.
Free (Lite) Version
Go to WordPress Dashboard.
Click Plugins > Add new.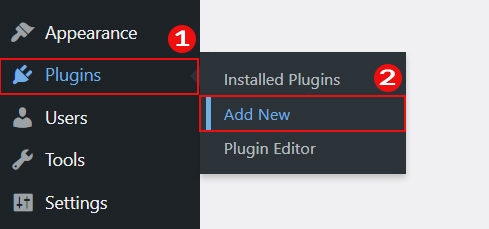 Search for Beaver Builder in the search bar on the right.
Click on the install button, then activate it.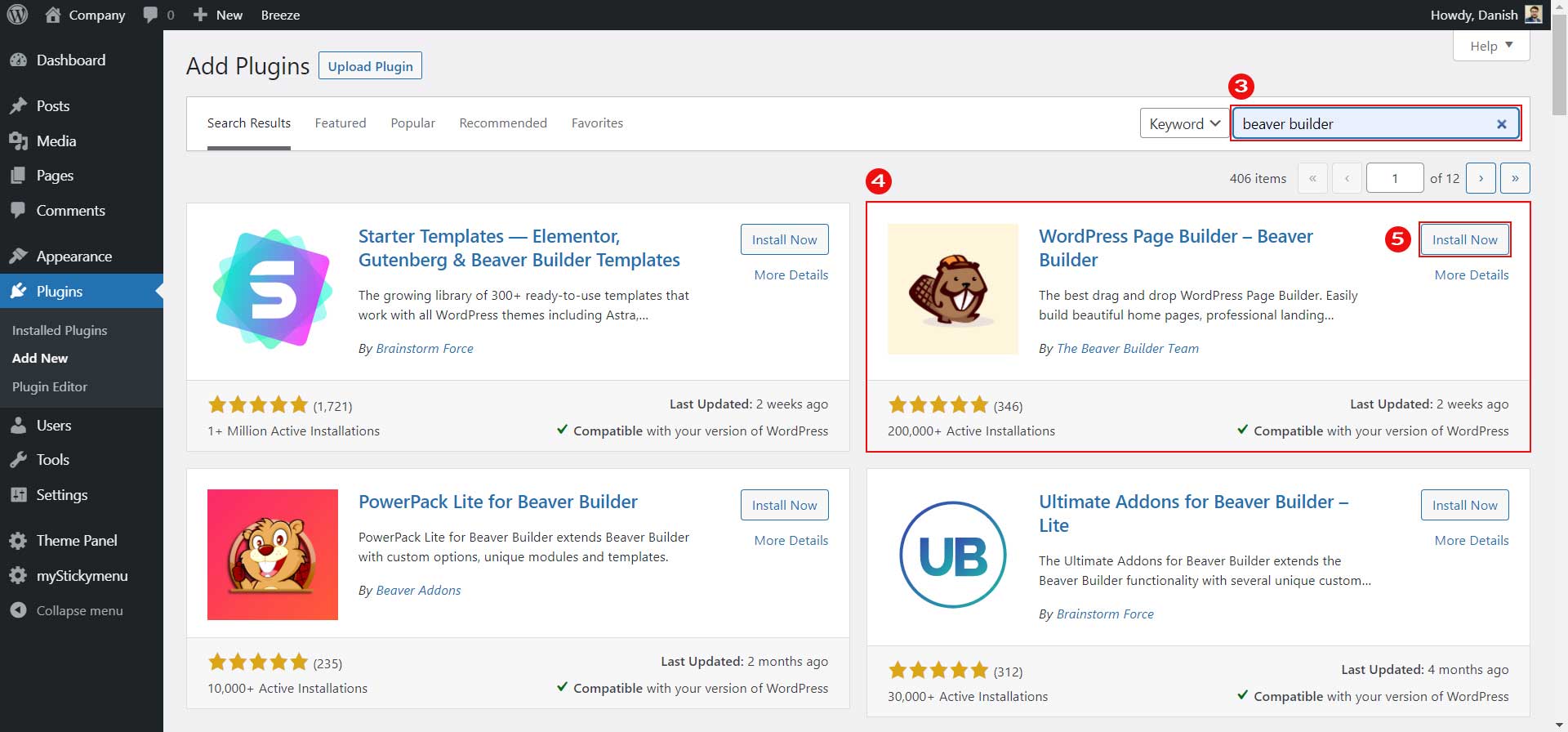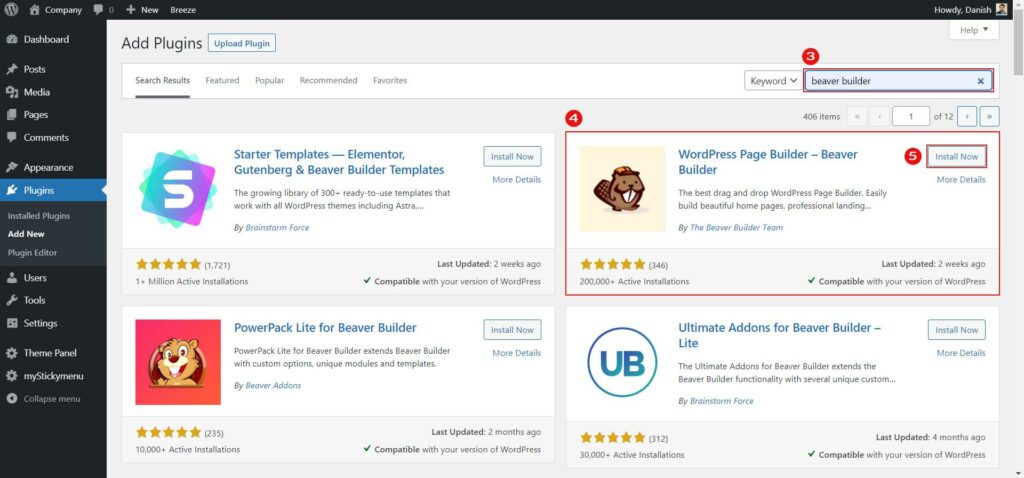 Once you install and enable Beaver Builder, a new Beaver Builder choice will show up when you move your mouse over any page or post in your dashboard.

Premium Version
If you want to switch to the paid version of Beaver Builder or install it right away, you need to do the steps below.
On the "My Account" page, you can get the zip file for your Beaver Builder app. On that page, your license key is visible above the links to the zip file.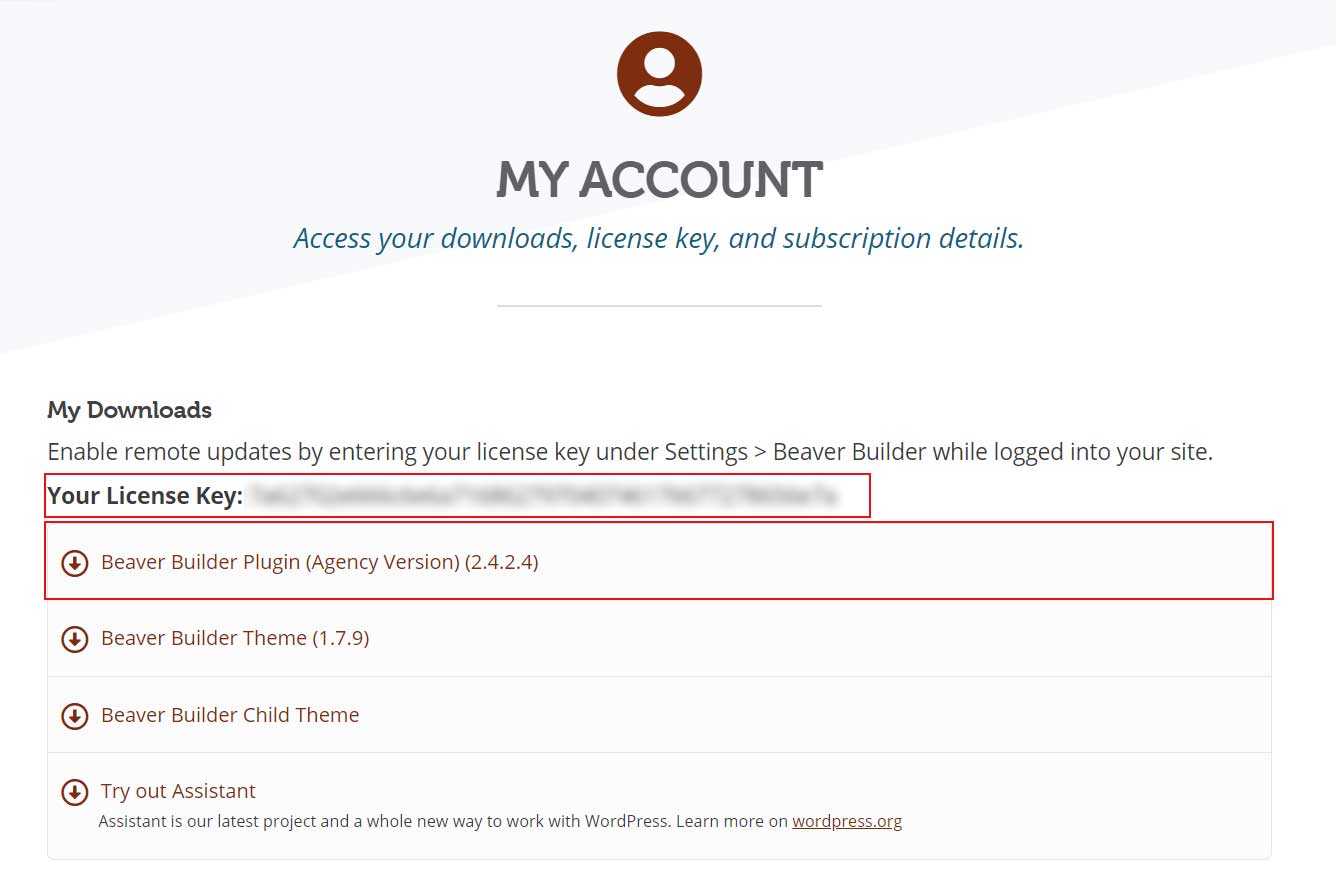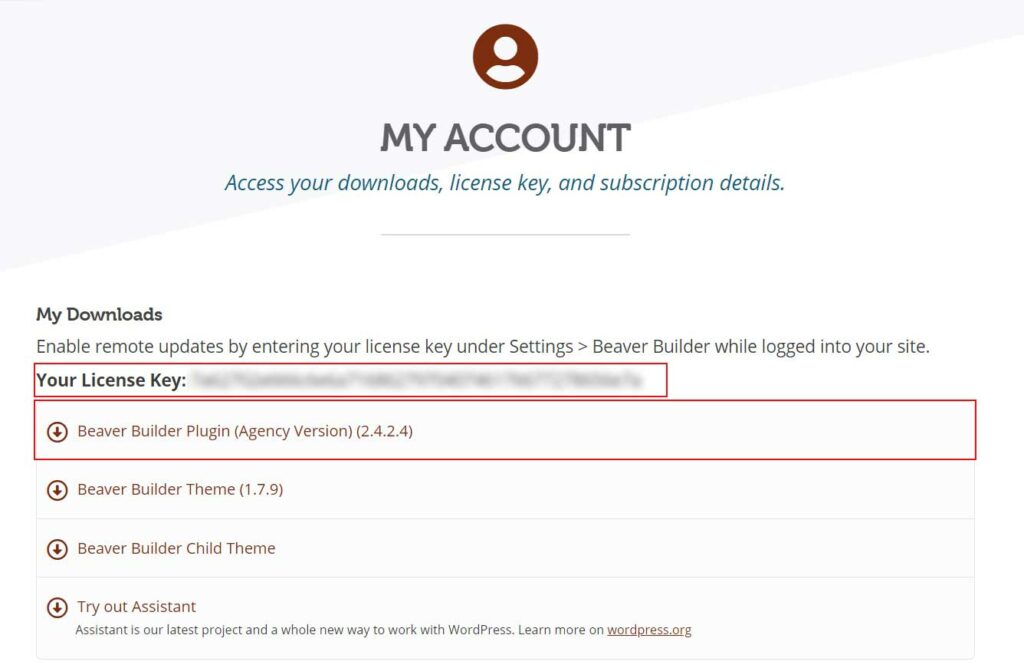 Go to the WordPress Dashboard, then select "Plugin" followed by "Add new," and finally click on "Upload plugin."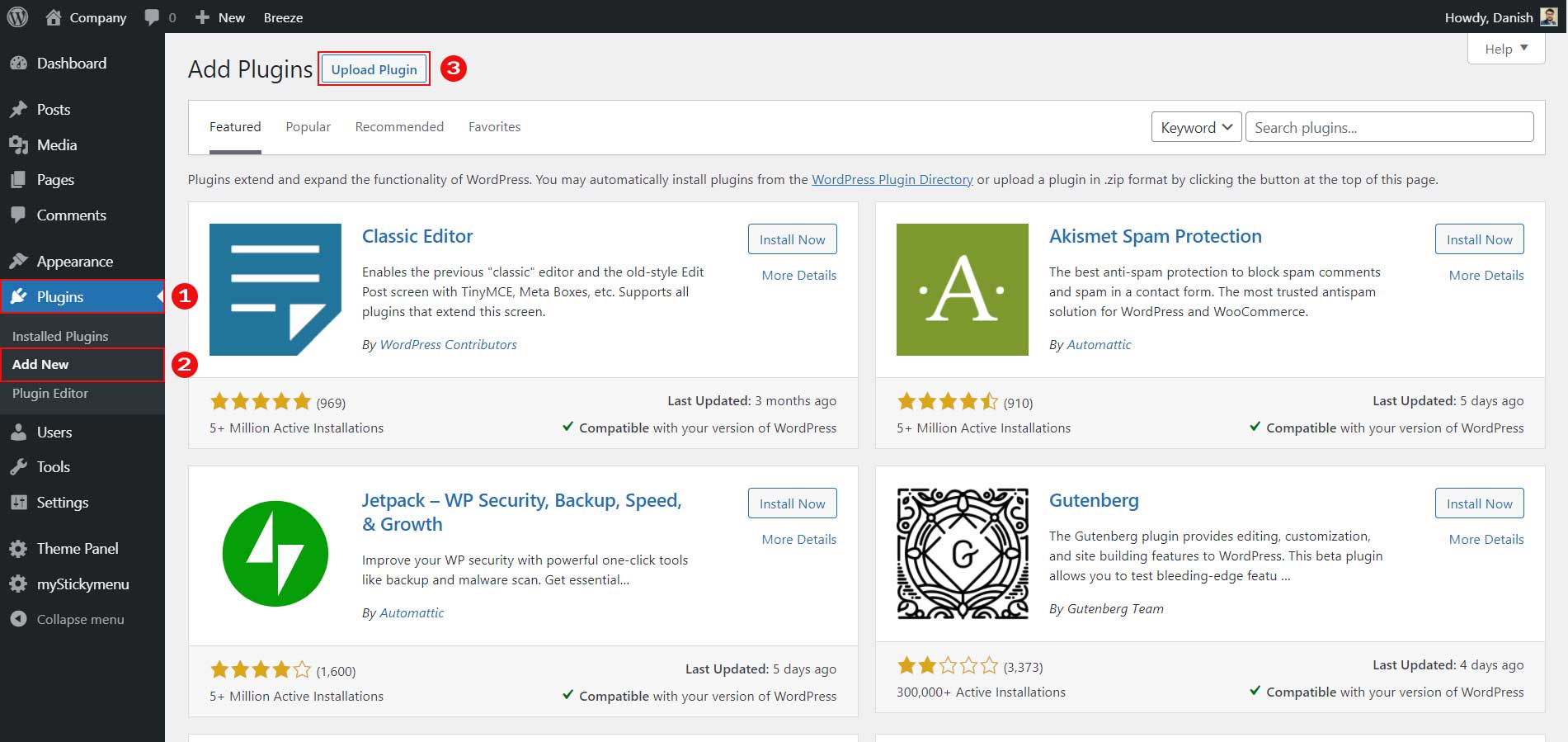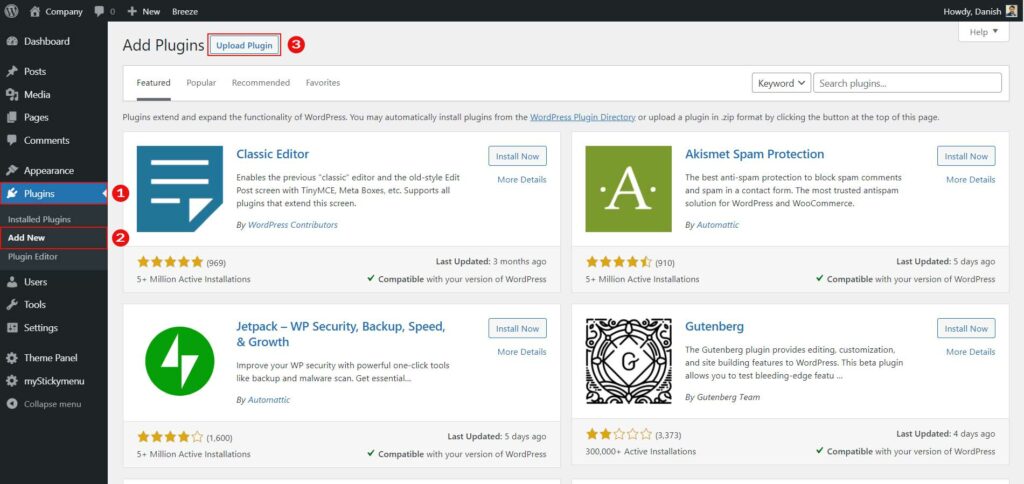 When you click on "Choose File," the computer window will pop up.

Choose the Beaver Builder zip file from your computer, or simply drag the file over the Browse button. The name of the zip file will be shown to the right of the Choose File button.
Click Install Now.

Before you turn on the app, you should understand the situation. If you already have the Lite version loaded, it will be turned off when the Premium version is added. If you already have a paid version, you can replace it with the one you just uploaded by clicking "Replace current with uploaded."
Click Activate to activate the plugin.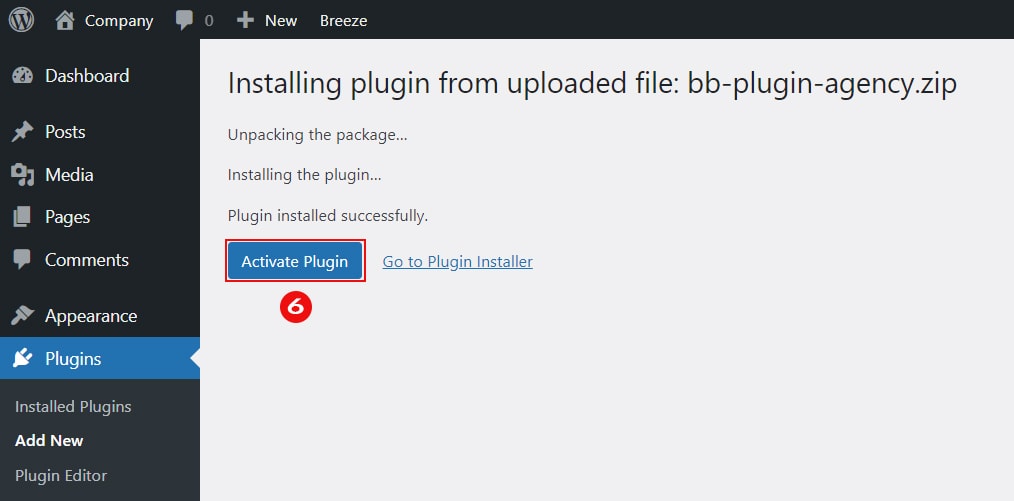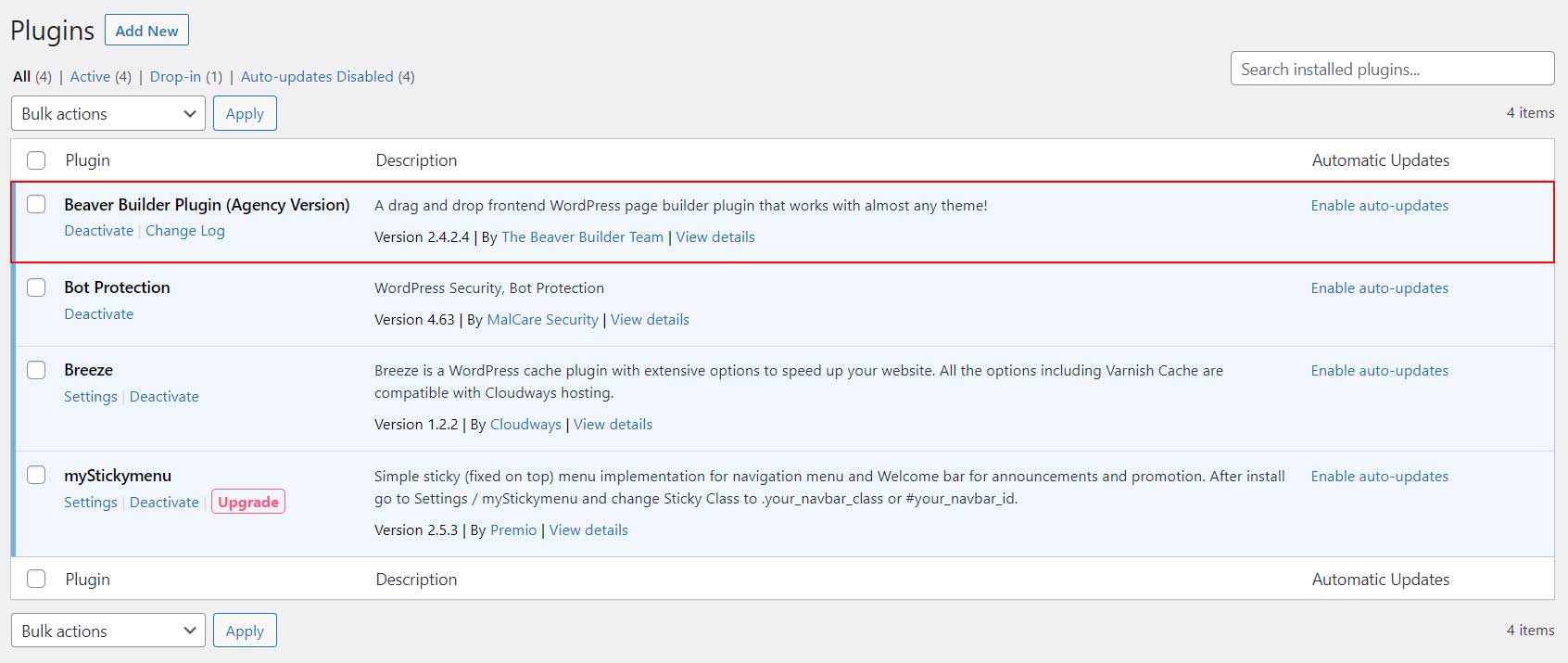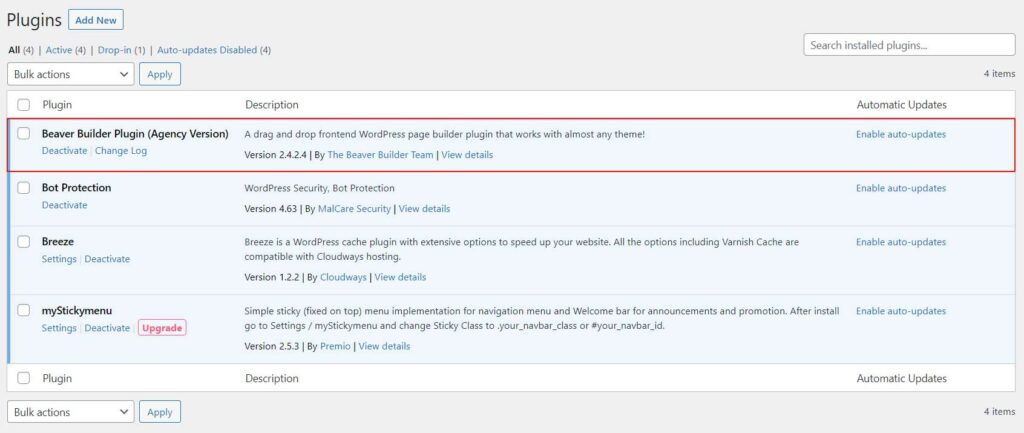 License Activation
After you've installed and turned on the Beaver Builder plugin, I'll tell you how to activate the license:
From the WordPress homepage, go to Settings > Beaver Builder, then click the License tab.
You can find your License key on the My Account page.
When your license is valid, you can get upgrades and downgrades. The number on the card should not change.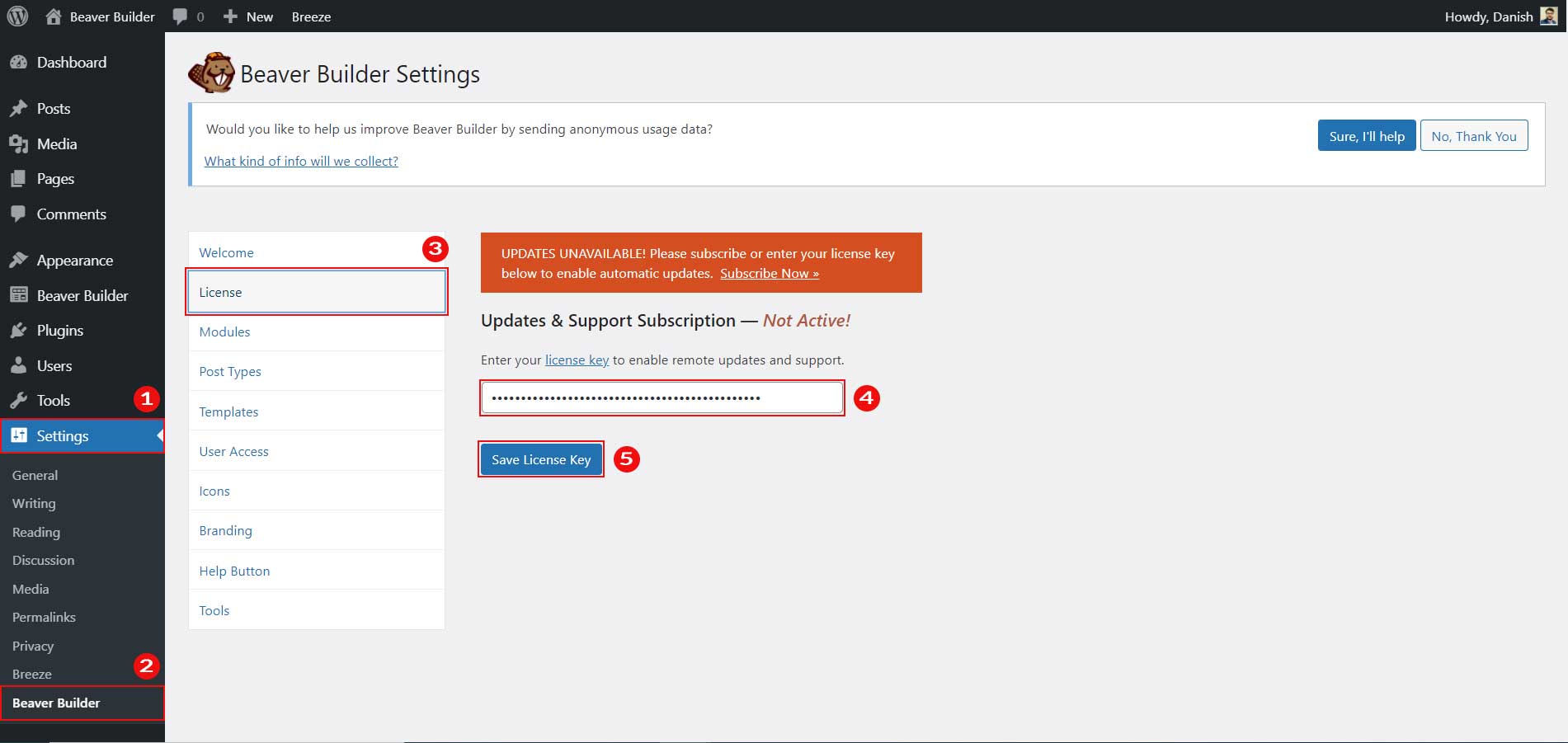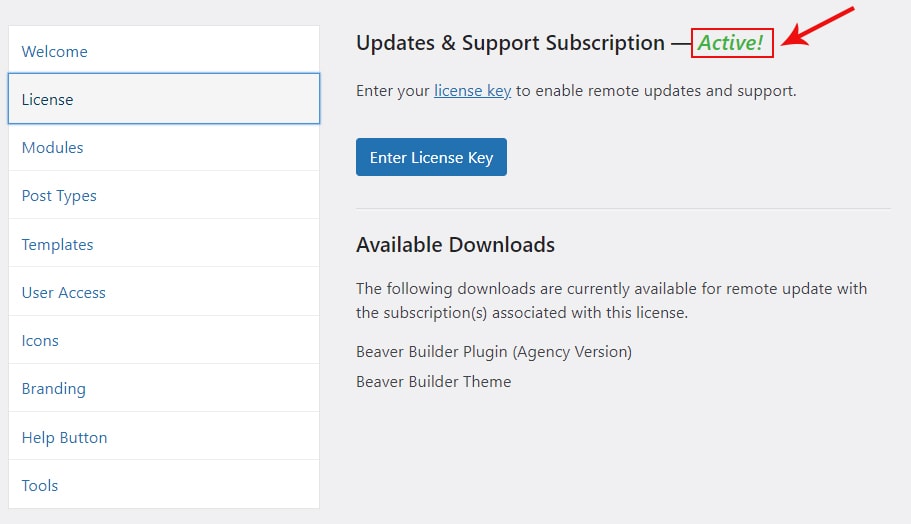 People REALLY LOVE Beaver Builder (Testimonials)
The Ultimate Plan from Beaver Builder is my favorite set of tools for WordPress.

It gives me a real WYSIWYG setting where I can drag and drop, a fully customizable header and footer, and modules for almost all basic functions.

Bret Phillips, bretwp.com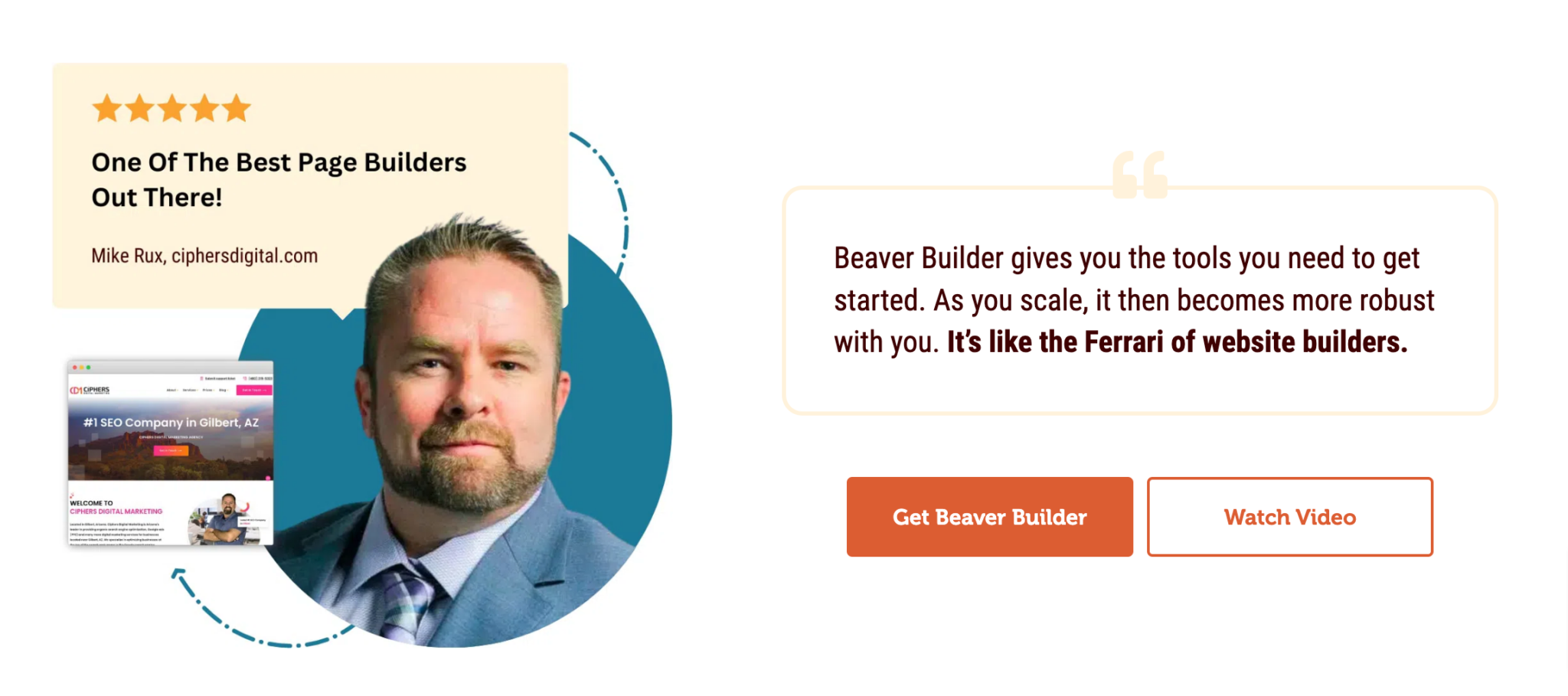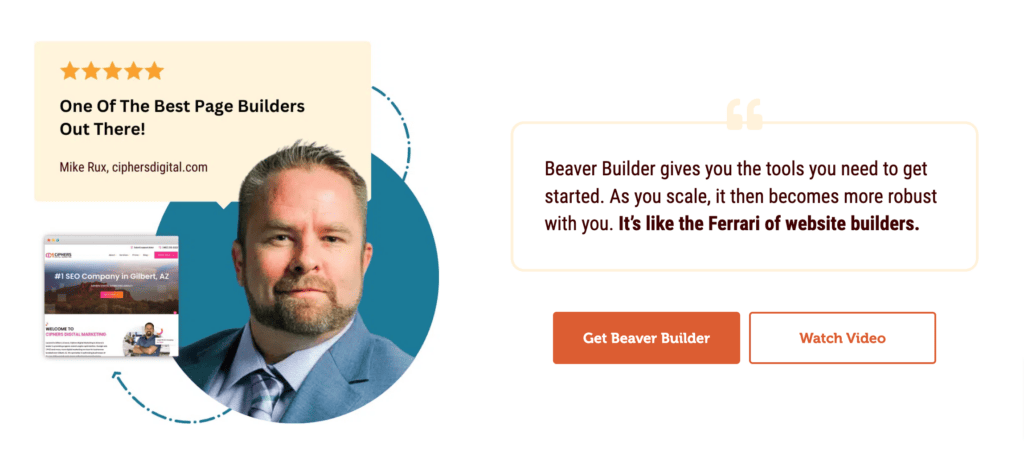 Beaver Builder is the best out there.

Nothing compares to what my team can do with Beaver Builder when it comes to building unique WordPress sites for our customers.

Ventin.pro, James Bullis
I was on the verge of giving up.

When I first started learning WordPress, I was so close to giving up until I found the great Beaver Builder. I do think about it every day.
I just got great help from the Beaver Builder team, which should be recognized.

It's so important to know that a complicated technology problem gets their attention and is fixed quickly.
FAQs On Beaver Builder Review
Are all the themes well suited with Beaver Builder?
Almost all the themes can be used with beaver builder but there are a few which are comparatively more compatible and to get the most advantage from the website the themes friendly with this page builder are best suited.
Are shortcodes supported by Beaver Builder?
Yes! This page builder supports shortcodes. Shortcodes help you to access Beaver Builder along with your other favorite plugins without any issues.
Can we use block editors instead of Beaver Builder?
Block editors are the additions being made for building the web page and they can be used but page builders are still a better option to gear up the web page as it is more pliable and allow us to modify the whole page.
How much does Beaver Builder cost?
The Beaver Builder Lite version is available for free while the Standard Plan starts at $99/year and the Pro plan costs $199/year. The Agency plan costs $399/year.
Can Beaver Builder Make a website for me?
No. Unfortunately, Beaver Builder does not offer such a service. It boasts only great plugin features and can bring about the professional edge that your website so dearly needs through its superior tools. Yet it does not design your website for you.
How does the Beaver Builder Booster plugin work?
As soon as you install the plugin, you can initiate it and the additional modules by actuating on the Beaver Builder dashboard. After you refresh the normal Beaver Builder Interface, you will be able to see all modules accessible on the sidebar of the page. The code of this plugin is designed in such a way that it is compatible with both the WordPress interface as well as Beaver Builder interface. This makes it possible for users to avail themselves of the modules of the add-on with ease.
Is Beaver Builder the best content builder there is?
Even if you have no experience creating or maintaining websites, Beaver Builder's drag-and-drop capabilities will likely enable you to generate amazing content. Additionally, Beaver Builder's interaction with the user is very intuitive. It has real front-end editing, which means that creating content pages or landing pages is similar to working with a Word document. So, we can say that it is the truth.
Which version should you choose, beaver builder lite or pro?
Its Lite edition is limited to editing the page's content section. However, the Pro Version includes the Beaver Builder Theme, which enables you to personalize your header, footer, and sidebar as well! We will highly recommend the pro version.
Why Have I Stayed Loyal To Beaver Builder For So Many Years?
You know the answer. It is the best of all the others. It just worked fine and there was and is no better alternative.
How to Get Started with the Beaver Builder?
The content section of WordPress is distinct from the header, footer, and sidebar. The Beaver Builder plugin enables the creation of layouts according to the content area. Additionally, you may use the Beaver Themer plugin to build layouts in places beyond the content area.
What Can You Use Beaver Builder For?
It is helpful for anyone with a website. It is the industry's finest drag-and-drop page builder for WordPress. It enables you to quickly and simply build stunning websites and landing pages without writing a single line of code. Beaver Builder rather helps you to work more efficiently, not harder. For all WP Engine clients, It is the perfect WordPress page builder.
Quick Links:
Conclusion: Beaver Builder Review 2023
Beaver Builder is a new name in web design that has grown in popularity since its release. It is extremely simple to use, dependable, and constantly updated by developers to make it more user-friendly.
The software is being improved and modified in response to user feedback, making it better with each passing day.
This page builder is the ideal combination of all the characteristics required for the development of the virtual sector in today's world.
There are more affordable alternatives on the market, such as Elementor and Divi, which are comparatively cheap and offer more features.
It is worth a try in their free versions than Builder Beaver's lite because of its dependability and support.
The additional features are the built-in templates and themes, as well as the opportunity to showcase your hidden creativity by designing your own themes.
I would strongly advise everyone to use it and experience the ease of working for themselves rather than simply believing my words.
Beaver Builder Customer Reviews