Elementor editor is one of the best tools used for WordPress websites. WordPress websites are well designed with the Elementor Editor. It has one of the best design element tools which enhances the build of the best design for your WordPress site.
It has the best design ideas as well as templates provided so that it becomes an easy task for us to choose and start working on it still you might get into some elementor editor not working problem.
Before we move forward read our detailed Elementor Review.
We don't have to put up more effort in choosing the design and think about it. Whenever we want to change or update anything, we can simply update it by choosing Elementor Editor.
Why Use Elementor Editor
Let's say you want to develop beautiful and attractive pages for your brand new website. But alas, you have zero experience in coding. Well, you can always approach a professional to set up a page for you.
But what if you are on an extremely tight schedule and that particular solution doesn't suit you. So an ideal solution will be to visually develop a page, mostly using something like drag and drop method.
Well, guess what.  There is a tool that allows all of these for an unbelievably reasonable price. Meet Elementor Editor.
Elementor The editor is a simple page builder. it works in a  drag and drop method and will eliminate all the guesswork involved with coding. It makes the procedure of developing your website a smooth and fun process.
All the alterations you make are almost instant. As added perks, there are a plethora of characteristics that Elementor Editor has. 300+ pre-designed themes and 100+ widgets make editing your page impossibly easy.
Also, the popup builder allows you to add pop-ups even on those pages which are not developed using Elementor Editor.
Yet another amazing feature Elementor Editor employs is that it lets you preview your page on different sized devices and edit accordingly. And revision history lets you compare before and after shots of your page after an update.
You don't need any more reasons to use this amazing editor right?
Why Does Elementor Editor Stop Working?
Sometimes we all face some technical issues or run-time errors. Elementor Editor is no exception. You may face some errors or glitches with the Elementor Editor, but Don't Worry! We are here to discuss the possible reasons and solutions to the most common issues faced by the people.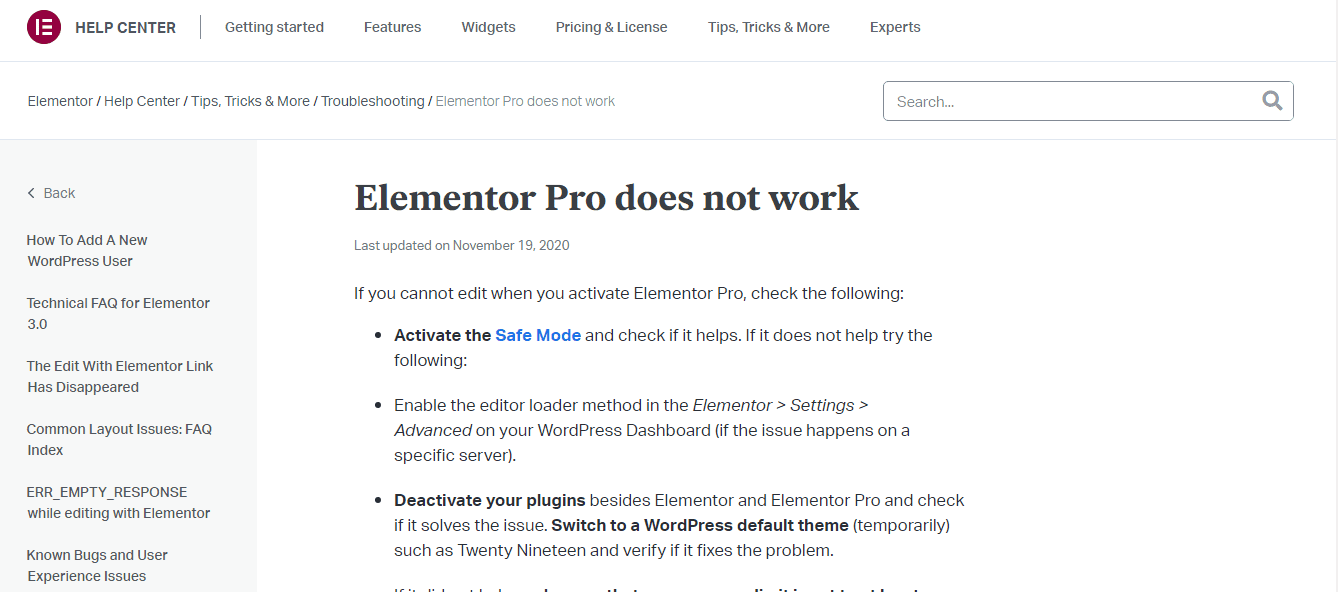 But before we start some quick points for you to keep in mind. 
If the word "Elementor" is not on your screen then Elementor is not responsible for any error. The error you are facing is from some other source or hardware problem. 

If with "Elementor" some addon's name is also appearing then most probably that particular addon is not updated and you can try to update it first to and try to the run Elementor Editor and it will work fine.

In case you can not resolve the issue or update the addon then you can always contact the Elementor Editor Support team and they will readily help you anytime.

Some errors are caused by data corruption of your device. If the "core" code of Elementor is on your screen then you might believe that your device is corrupted due to some plugins or other products integrated with your WordPress website.

This hinders the Elementor Editor's performance. In case you are using any Data Optimization plugin ensure that you have deactivated it before processing any updates for any Elementor addon.

If you receive a message saying "Deprecated", then your Elementor Addon is not updated. To be sure, you have to deactivate the addons individually for Elementor by the method of FTP, so you can know exactly which one is causing the issue.
Now we discuss some common issues that you might face and their easy solution.
Blank Page-
Sometimes people have reported that their screen is stuck to the blank screen, where no tools or page is available to edit. Many like to call it a "Screen of Dormancy". 
The probable reason for this issue is the lack of memory storage on your computer or some other fatal issues which might have occurred while installing the plugin. Do check the above-mentioned points are not the reason for the issue. If your answer is NO then we move forward to other solutions. 
We advise you to check your system compatibility with Elementor Editor. You can easily do this by reading the system requirements prescribed by the Elementor Editor.
Once you know the problem then you can easily resolve the issue on your own. 
But if the problem has occurred due to any memory issues, then you can try deactivation some plug-ins and see if that helps. If your problem was the memory, then you can always contact your web hosting service provider and ask them to increase your memory storage for the WordPress website. This will solve the issue, and you won't have to deactivate other plugins.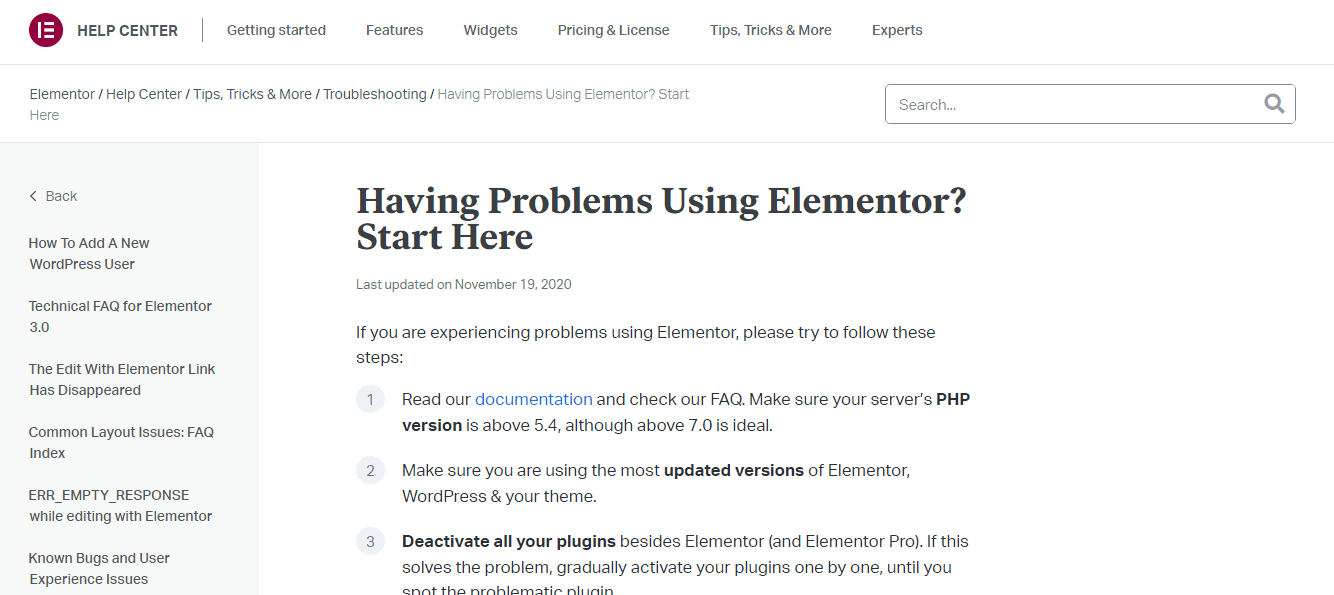 If the above solution did not help you then, sometimes the blank screen is due to the error in the installing process. To resolve the issue you can follow these steps:
Go to the setting on the Elementor Editor, you will find it on your WordPress Dashboard. 

Go to Advanced option and a dropdown menu will appear.

Enable the setting for "Switch Editor Loader Method"
Or there is another plausible reason too.
Sometimes the Backend and Frontend URLs are not the same, which creates an issue in the functioning of the Addon. So for this step, you compare the URL with the WordPress URL. 
The same problem can also be due to plugin conflict or due to some other software resent in your device. You can try a different device to rule out this issue.
If you are still not sure about the cause or method of resolving the issue, then you might always ask your Hosting service to provide you with the logs of the PHP errors of your server.
Endless Loading-
Is the buffering isn't over even after an hour? Does it show loading for what seems forever?
If you are getting a grey page saying loading, probably it is due to some contradicting plugins which hinder the performance of your Elementor Editor. Sometimes a script inserted inside a theme can cause the same issue.
This problem can be resolved in a very simple way if you are the administrator with administrator privileges, you can simply change to the safe mode. 
Or else, you can try deactivating plugins one after the other to figure out the faulty plugin. Sometimes there are compatibility issues with different kinds of plugins. In simple words to plugins might not work efficiently in the same WordPress site.
Though Elementor Editor has tried to solve this issue, some problems might still exist. You can always report such an issue to the Elementor Editor support page. The Elementor Editor team will surely try to resolve your issue with the conflicting plugin.
This problem occurs due to the browsers also. Try changing your browser. Particular add ons 
installed on your browser can cause this endless loading issue. Alternatives browsers are always available and you can try any other one.
In case you are using a theme preloader, disable it to see if the problem is resolved. This can be easily done by going into the theme options or within the customizer settings. 
The cross-origin issues for X-frame restriction also cause gray page issue. To be sure you can go to your browser console and check it for error messages. If you see errors are there then try to contact your hosting company and let them help you with it.
Issue With The Widget Panel-
If your widget panel is all grey and nothing is available on your screen then you are facing some conflict with a plugin. Again we suggest the similar methods of deactivating all the plugins individually and then try to figure out the faulty or the incompatible plugin.
Then you can report the conflicting plugin to the Elementor Editor support page and their support team will certainly help you. 
In case this issue is only for the text editor widget, you can refer to additional troubleshooting instructions available on the Elementor Editor website.
Access Error-
Every time you try to edit a page but you are redirected to the live page then you must be having an issue with the memory or maybe a plug-in conflict. Check the troubleshooting procedures mentioned above to fix this malfunctioning.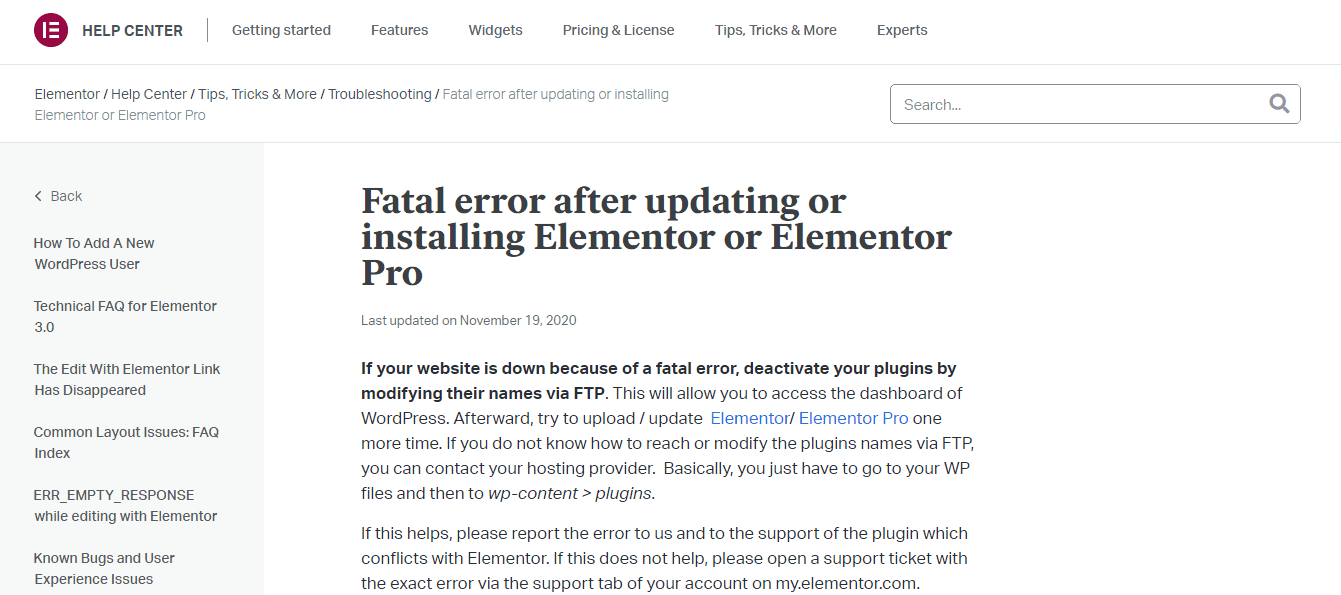 Refer to the troubleshooting guide if the edit with the Elementor link is not appearing in the admin bar on WordPress.
Customer Service
Elementor provides you with the best support and services available by them. For any issue or doubt, you face there is a team of people sitting right there to help you with your questions. Simply drop a message in the support page layouts will be resolved in less than a few minutes. 
They provide you with various documents and blogs to help you to understand their workings, comprehend their clauses, and their system requirements. You can access the FAQs to see if your doubt has already been resolved in this section. 
I remember when I started with Elementor, I did it with the help of video tutorials, and just after watching the videos, it was super easy to work with it. They provide you with detailed videos and guide you through each and every step necessary.
You can even join their community, to meet like-minded web creators and get their support. Even you might be the one who can help other people who come up with their queries.
Will I Lose My Work If My Element Editor Stopped Working?
Depending upon your error or issue your work might be affected. Usually, when an issue occurs you will not be able to work on the document, but in case if you have saved your document on your device, then you need not worry about any loss of work. 
In case you did not get a chance to save your document, then still your work is automatically saved on the Cloud-based servers of the Elementor Editor
Pricing
Elementor Editor offers the following schemes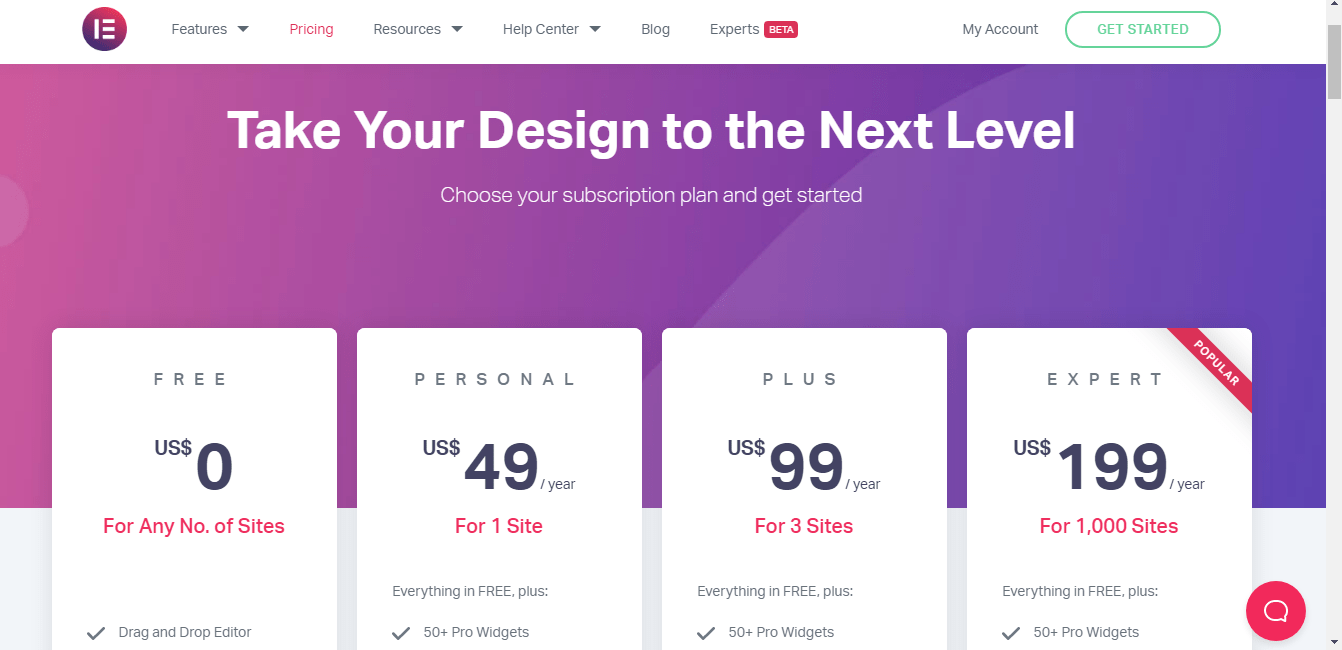 1.Free Plan
Cost: none
No. of sites: any number of sites.
They make the editing process an undemanding and painless experience. They offer features that are usually offered by high-end page builders. An amazing number of content widgets are accessible to you, which makes shaping your page an effortless and smooth process. You can also attach all your presentations, videos, and documentation.
Responsive editing will help you see the preview of your page on different-sized devices and edit directly in that device size view.
You will be amazed to know that 35+ templates are available at your disposal. These templates can be saved. Furthermore, options to import or export them are also available.
Front-end visual editor help you control all the pages on your website. You will also be able to use any of the WordPress widgets with Elementor. And all these are non-proprietary and mobile-friendly.
2.Personal Plan
Cost: $49 per year.
Number of sites: one website.
The personal plan offers all the features that are available on the Free plan. There are also many other added benefits too. Here more than 50 widgets and more than 300 templates are at your disposal. 10+ full website template kits are one of the main attractions. There is a popup builder which will increase your site traffic. WooCommerce Builder will enable you to build amazing stores without touching one line of code. It provides support for one year and if any updates within this one year you will get it free of cost.
3.Plus Plan
Cost: $99 per year
Number of sites: 3 sites
It's got the same features as that of the Personal Plan.
 4.Expert Plan
Cost: $199 per year
Number of sites: up to 1000 sites
Particularly useful for the companies which own a huge number of websites. It's particularly attractive as anyone can edit using Elementor Editor.
Pros and Cons
User Review at Elementor Editor Not Working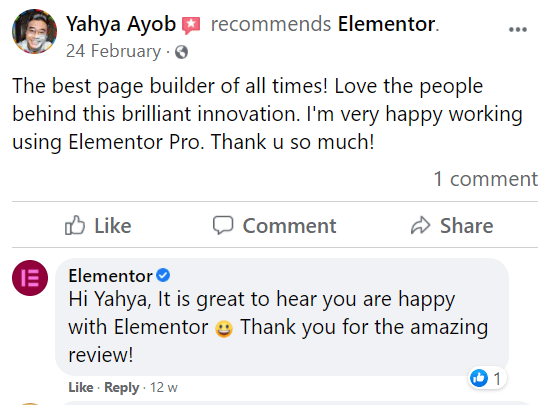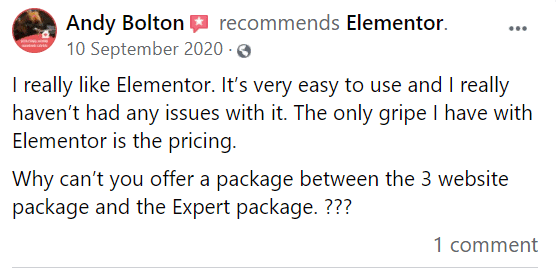 Quick Links:
FAQs On Elementor Editor Not Working
🙌 Does using the Elementor Editor make my website slow?
The one-word answer will be no. Elementor Editor is a very lightweight plugin. it is not bloated with codes like so many other page builders. It uses drag and drops technology makes it very powerful and easy to handle.
☞What are the main features Elementor Editor offers?
Even the free version of Elementor comes with a huge number of templates and widgets. There are popup builder, WooCommerce Builder, full website template kits, and many other features. All these features aim to make your page building experience a pain-free and fun experience.
🙋‍♀️ What to do when my page turns blank when using Elementor Editor?
This may be caused due to a lack of memory. Deactivating a few plug-ins may solve this problem. If that doesn't solve the problem check how the editor is loaded. Check the front-end editor loader to rule this possibility out.
📁What's the difference between Elementor (free) and Elementor Pro?
The free edition of Elementor provides an infinite number of design options. However, Elementor Pro equips you with additional professional tools that streamline your process and increase conversions and revenues.
📕 What Is a WordPress Page Builder Plugin?
A simple WP Page Builder plugin may enable you to create stunning landing pages, and custom layouts for your site. With a Page Builder plugin, you can quickly and easily add any kind of content to a website by dragging and dropping ready-made content components, such as widgets, modules, or blocks.
⁉️Pricing: How Much Does Elementor Cost?
$ 49 per year is an attractive amount to pay to upgrade to Elementor's pro edition. It costs just $ 99 for a three-site license and $ 199 for a 1,000-site license. All WordPress users may install the free version of Elementor to get acquainted with the plugin's capabilities and limitations.
📎Do you need Elementor Pro?
Totally depends on your requirements. However, we do highly recommend it.
Conclusion: Elementor Editor Not Working 2023
Elementor Editor is one of the best page-builders for WordPress out there. In my opinion, it must be the go-to editing tool for everyone who has a website. With its amazing collection of templates and widgets, you can make a webpage that will meet the highest standards.
There are tons of other features to increase your site traffic.
Elementor indeed receives a lot of good as well as bad reviews. but both the haters and lovers agree on one thing. The Elementor Editor deserves your attention.
Whether to upgrade to the pro version when you get all these features in the free version depends on your needs. The Pro version does have a few advantages.
The fact that they don't force you to upgrade to the pro version may be one of the reasons that make Elementor Pro stand out from the rest.
As every coin has two faces this amazing editor has a few downsides. The usual problems reported by its users are widgets not loading, blank pages when editing, grey pages, unending loading, and getting error 500.
All these problems are minor and can be rectified in a few steps. Elementor Editor has released many update patches and has a 24/7 customer service to help you with these problems.
So, in a nutshell, definitely check out the Elementor Editor. It is worth your time.
Elementor Popular Videos
Elementor On Social Media
Page Builder Summit 2021 (@summit_camp) is starting tomorrow! Get your FREE ticket and talk to over a 35 industry experts including @bpines1 . Excited to be sponsoring this great event. See you there! 💻🎉https://t.co/gDtFpUJLBH

— Elementor (@elemntor) May 9, 2021
Step aside and welcome our April 2021 Showcase. 🏆🌷 This month we applaud 10 design agencies from all around the globe. This diverse collection accounts for the Elementor web creation talent around the world. 🌎 https://t.co/bwwOUDQCuu

— Elementor (@elemntor) May 19, 2021