Facebook is the most loved platform for bloggers and one of the topmost ways to get traffic also.
Facebook has changed the world so drastically that people are spending too much time on Facebook.
If you are a businessman then I agree that Facebook gives a lot of business but if you are in school or college then I can guarantee that you spend too much time on this social media network.
Facebook is a great medium to get in touch with the world because all the latest news goes viral in such a short time.
It is the best way to meet family members and friends. But this is the big source of distraction only. I myself never do logout and if do then it happens after 10-15 days only.
So there is a need for such an extension which can help you to do this job.
Facebook Nanny is such an extension that is designed for such purpose so that you can devote more time to your work and get notifications when there is any important.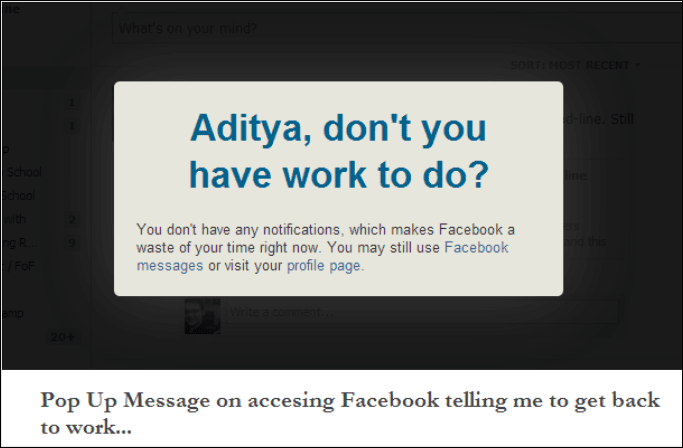 I installed this app today and when I spent some time on Facebook this popup this message which is shown above.
I was happy to see that this app is suggesting something nice 🙂
If you are also a person like me or all other people who keep wasting their precious time on Facebook then this is the time to install Facebook Nanny.
Now, the first step is to navigate to the extension link and install the add-on for your Google Chrome browser (sorry Mozilla users, you would need to find something better).
Now, when you use Facebook the Nanny will keep a watch.
Check the application out on – Facebook Nanny (Chrome extension)
Quick Links –