GeneratePress child theme is a well-established child theme that accesses the 'parent' theme until and unless the same file is added to the child theme. The same copied file grants us the admission to Mark certain changes, without any interference to the parent theme.
This is extremely essential because as and when we get new updates, WordPress will automatically delete the files and folders(directory) from the parent theme & simultaneously upload a new one.
Even, the changes made with the parent theme are deleted and substituted with the new or updated ones in the designated place.
In this article, we will talk about 
GeneratePress

Child theme

How to create a child theme

Adding templates

Pros and cons

And finally, we would know how exactly GeneratePress child theme works.
About GeneratePress
GeneratePress is one of the most popular and exquisite WordPress themes. It is designed and built in a manner, where it mainly specialises in speed and feasibility.
It has been constituted with excellent and exceptional performance. GeneratePress is even served to be one of the productive and appropriate page builders, letting you carve and construct the content with the right themes. 
GeneratePress is even regarded as a  'lightweight' theme.it is highly stable & secure, ensures remarkable performance, search engine optimised and Generatepress is even less than 10kb.
Extending its field of importance to other friendly features as well. Like page builder-friendly, offering excellent layouts, incorporating typography and colours, compatible with plugins and much more. 
The users and operators are extremely happy and satisfied with the respected & relentless features of GeneratePress.it has been able to give them innumerable ways to create the content in best ways possible.
GeneratePress is one of the most powerful and lightest themes encountered by users. its rich features, speed & performance make it superior and fantastic.
How To Create a Child Theme?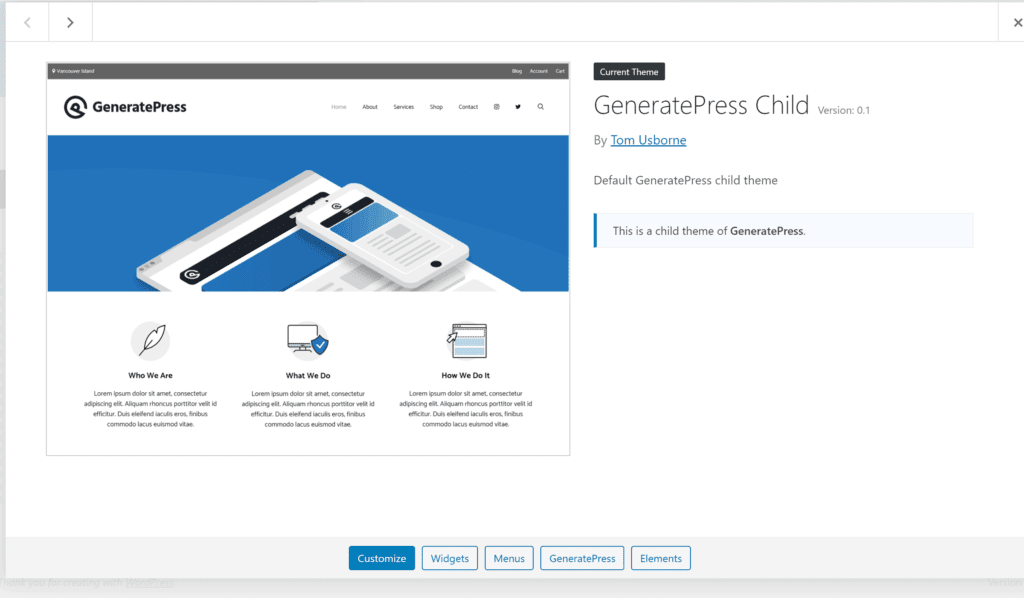 It can be created simply, through the following steps as mentioned below.
Step 1: Carve out a theme folder 
Firstly, we need to establish a folder only in the themes option guiding us to the directory, which would be located with a certain name. The directory even has an appropriate name. The name can be based on the parent's name. 
Step-2:  To Establish a stylesheet with (style CSS option 
The users will be needed to establish a file with it, which will let you discover and unveil some of the most important and needed CSS guidelines and declarations, which will stimulate your theme.
The stylesheet should incorporate the heading comment located and placed at the top of a file. The style tag proves to be an important file whereas the function PHP option is needed to embark certain modifications accordingly.
Step-3: Queue stylesheet
The final step guides you to queue not only child theme stylesheets but the other theme too.
To queue stylesheets, The parent one is supposed to download both the required themes. We need to examine and hunt for a code to know exactly what it does. Secondly, we need to know the name of the user handling the parent theme.& the handle name would easily be visible to you.
Step-4: Download or install child-related theme-
Download the child-related theme, then copy the desired folder to the website and we can even create a child theme folder, having given us the option to choose the ways of the structure of the folder. Then
Click on Appearance

Click on Theme

Click on add new to a zip file.
Step-5: Activate the installed child-related theme–
Child theme will be ready for activation. Login via Administration screen on-site, go to the administration screen, click on appearance and then on themes.
Users would be able to discover the child theme ready to be installed and activated. Read more about GeneratePress Child theme installation here.
Pros and cons
The pros and cons as mentioned and incorporated are as follows –
Pros 
The child theme has post formats as described by the theme.

Register-transfer level support – we can support these register transfer level languages and then we are supposed to add the small URL provided.

Internalization- child themes are prepared and designed in a way, which needs to be translated into other languages too only through internalizationAPI. 
Cons
To understand the functioning of the child theme, one needs to have a detailed study and invest in to understand & learn the parents' theme.

Operators and users might lack interest in the parent theme & abandon it.

Certain changes and modifications can reduce or decrease the performance of your website.
FAQs Related To GeneratePress Child Theme:
👉 What is the main motive of the child theme?
Child theme includes and incorporates functionality aiming at styling the other theme, also known as the parent theme. It makes modifications and customizations while preserving the code and designs.
💼 Will I get an update for the GeneratePress premium plan after 1 year?
No, you won't get updates if you don't apply for renewal of your license.
💥 Can I use a child theme with GeneratePress free version?
Yes. Child theme is fully compatible with Generatepress free version.
👉 Is there any free Generate Press child theme generator available online?
There are various generator tools for creating child themes but we would recommend you to download blank theme for lightweight and error-free theme.
💼 How to find child theme CSS in Generatepress in styles?
In your WordPress dashboard, All you need to tap on Appearance >> Theme Editor to view CSS directory.
🎉 When my child theme is active the menu looks different?
It happens because of the custom CSS code added in the parent theme.
💲 Is the child theme is usable with site library such as spacious, marketer etc.?
Yes. You can install the site library of this theme no matter what.
Also Read:
Final Thoughts About GeneratePress Child Theme:
GeneratePress child themes is an amalgamation of GeneratePress and child themes. GeneratePress is a lightweight theme associated with WordPress.  It is highly spectacular and exceptional in its performance, speed, feasibility and what not.
What is even more astonishing is, it's compatibility with other plugins. GeneratePress has other special and unique features as well like, microdata integration, 9 widget areas, sidebar layouts, navigation location and to name a few.
Whereas child theme is even associated with WordPress, consists of an entrenched functionality and from the other WordPress theme (parent theme).
Child themes are favourable for making certain changes and modifications without losing onto the ability to upgrade the themes. Developers and users mainly use a child theme to enhance the speed, making the work less time consuming and simple. Both in their ways have been commendable and excellent.
Yet, we need to try these beautiful themes to enjoy its benefits. I have tried both of them.  
Therefore, GeneratePress child theme is a perfect WordPress based theme one can use for creating and styling their content. It is extremely amazing and productive in its functionality and usage. It is fully packed with full-fledged features, which sets it apart since it is best from the rest.
Thus, we cannot forget to try GeneratePress child theme as it is highly legitimate and incredible.