If you're in hurry, read this verdict to know who the real winner is!
Bottom Line Upfront: If you ask me, I will say Elementor as the real winner!'

 It offers a user-friendly interface, seamless integration with any WordPress theme, and a wider range of integrations and add-ons. Elementor also stands out in building WooCommerce stores, making it the superior choice for e-commerce websites. While Themify has its merits, Elementor's ease of use, extensive features, and free availability make it the preferred option for creating and designing websites efficiently.
Let's read this comparison in detail now!
What is Elementor?
Elementor is a leading WordPress website builder that has gained immense popularity since its launch in 2016. Serving as a comprehensive solution, it empowers users to design all aspects of their WordPress websites effortlessly.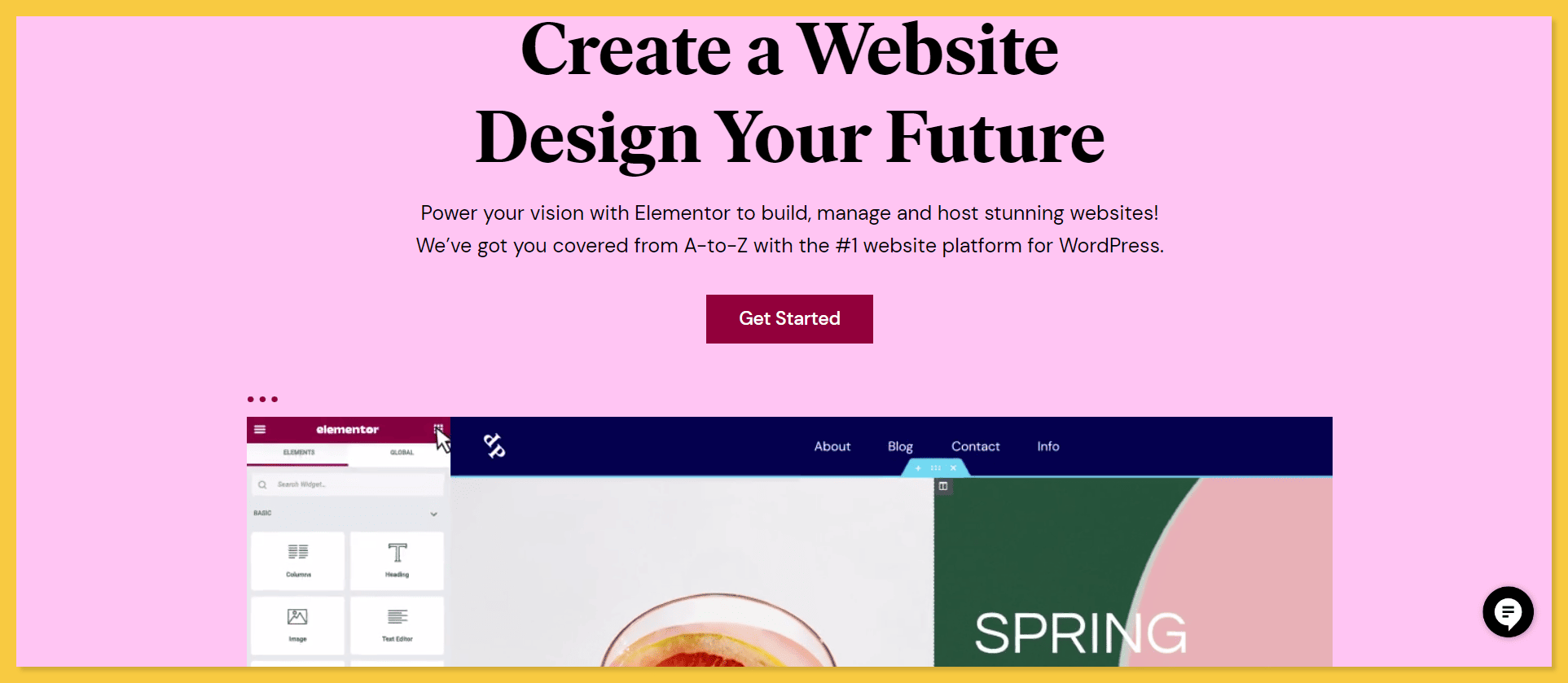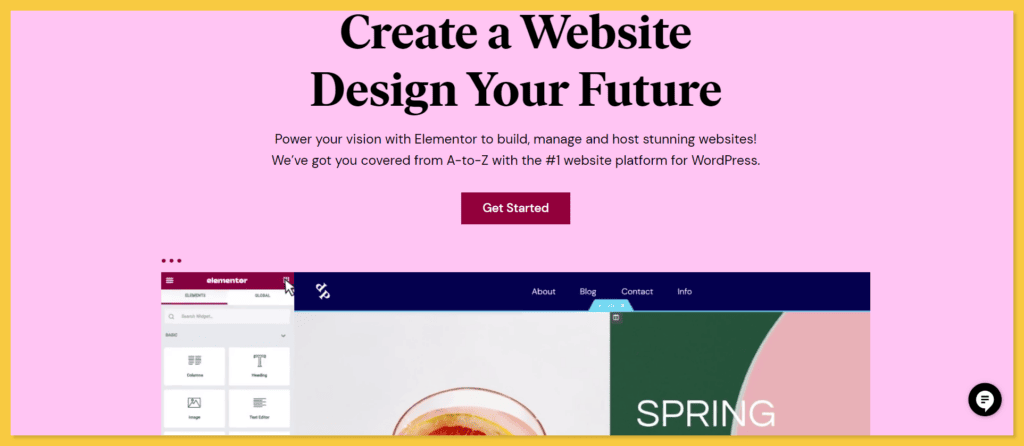 With over 5 million active installations spanning 180 countries, Elementor has established itself as a dominant force in the web development realm. It provides the ability to create individual web pages, complete themes, and much more, offering unparalleled flexibility. Check out the detailed Beaver Builder vs Elementor.
Elementor surpasses other competing tools like Brizy, Avada, WPBakery, and Beaver Builder due to its simplicity and adaptability, core principles during its development. The builder is user-friendly, ensuring a seamless experience for users of all skill levels, and is compatible with any WordPress theme.
Moreover, Elementor caters to digital marketers by offering features designed to enhance lead generation and conversion rates. Its comprehensive tools enable marketers to optimize their websites for optimal performance and success.
What is Themify?
Themify is a WordPress website builder that has been around since 2010. It offers a selection of WordPress themes and plugins to help you create your perfect website. With over 100,000 WordPress site owners using Themify, it has gained a solid reputation in the industry.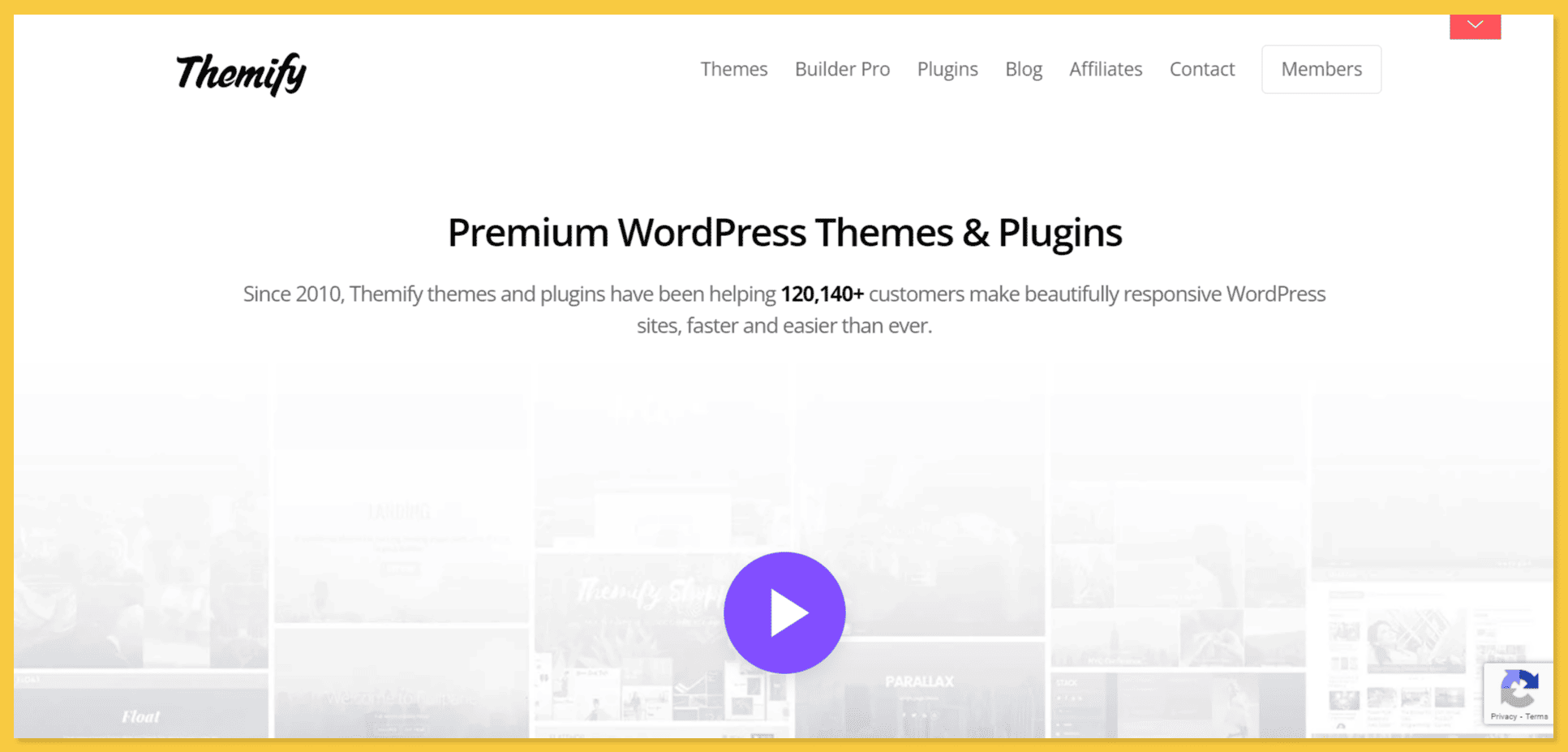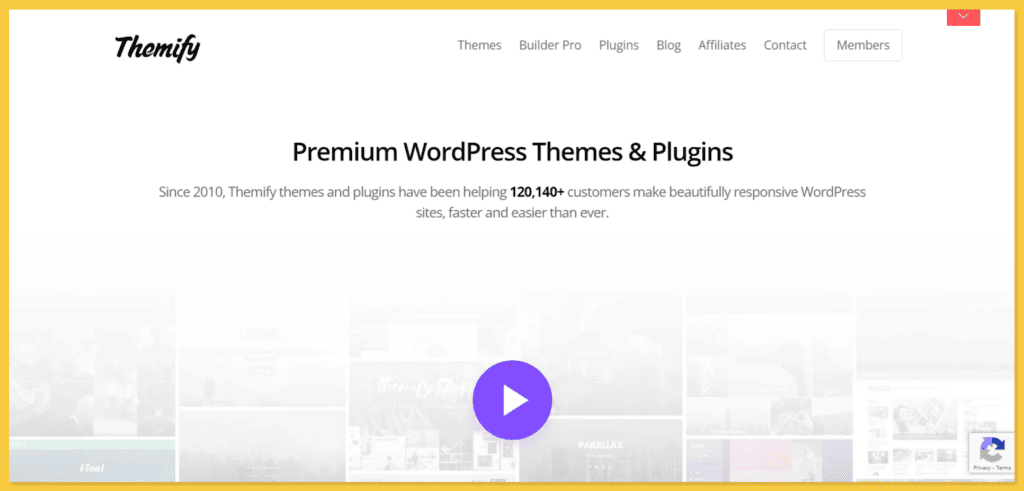 Building a website with Themify is quick and straightforward. You can choose from their featured themes and easily customize them to suit your preferences. If you prefer a more hands-on approach, you can use the Themify builder to design your web layouts from scratch. Whether you go for the free version or upgrade to Builder Pro, you have the flexibility to create and personalize your site as you please.
Themify operates on a premium model, but they provide a 30-day money-back guarantee when you sign up. By subscribing to Themify, you gain access to a range of benefits, including over 40 WordPress themes, 11 plugins, and around 25 builder add-ons.
Elementor vs Themify: Key Features Compared
The Themify Builder and its collection of tools offer website owners a wide range of options, from design to functionality:
You can switch between a frontend and back-end website page builder as you create pages.
42 Complete website templates with original Photoshop files, content, and the ability to quickly import a complete website with all pages and designs.
Additional layouts, components, and widgets, including blog and gallery layouts, forms, image sliders, and more, are included in 25+ Builder addons.
All WooCommerce themes are fully compatible with the Themify Builder so you can fully customize them and import products to your website pages.
Using a theme builder, you can create custom themes with reusable page layouts.
To cover everything, Elementor has too many features and capabilities. But a few of the most significant ones are:
A sizable template library with more than 300 pre-designed pages and block templates for one-click import that can be used to quickly build entire website pages.
10+ Complete website template kits that include all the pages and content necessary to quickly launch a complete website are available.
pixel-perfect control over the positioning of elements on your pages for a more personalized look and feel.
Using specific page templates and layouts, you can build your own theme with a theme builder to quickly reuse designs.
50+ widgets, such as Google Maps, Facebook pages, reviews, media galleries, carousels, sliders, and more, can add flair and functionality to your website.
Page Builder
Elementor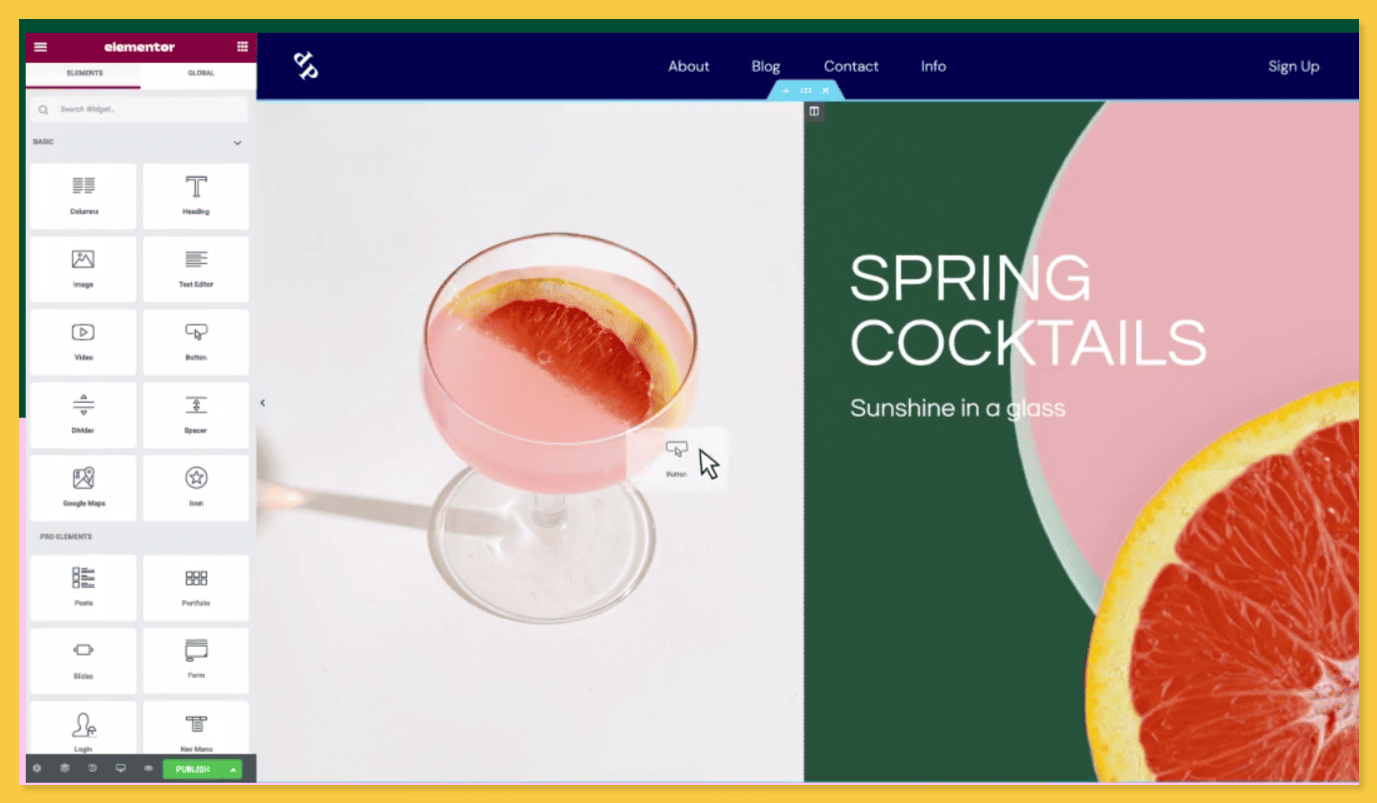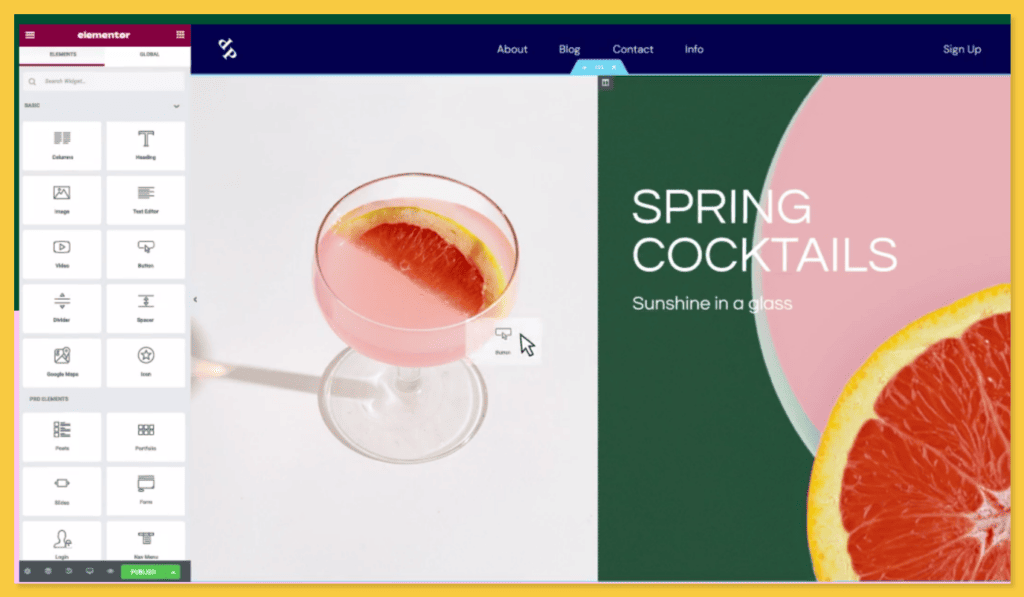 Elementor offers a comprehensive set of features that make it a popular choice among users. It provides a vast library of pre-designed templates and blocks, allowing you to create professional-looking pages quickly.
Elementor also supports dynamic content, global widgets, and custom CSS for advanced customization options.
Themify
Themify Builder, the page builder included in the Themify framework, offers a range of modules and pre-designed layouts to choose from. While it may not have the same extensive library as Elementor, Themify Builder still provides enough flexibility to create unique page designs.
Themes
Elementor
Elementor has a collection of professionally designed kits and templates.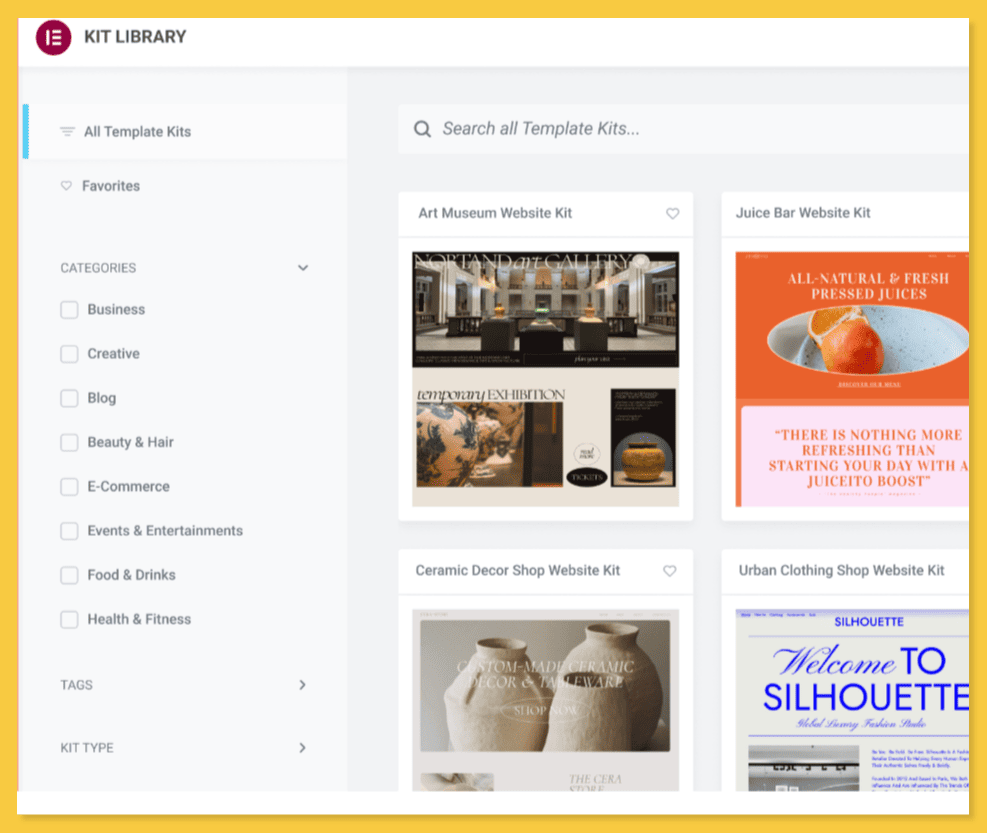 The kits are complete themes with multiple pages, while the templates are one-page designs. However, since they are kits, you need to import and install the individual pages one by one.
The Elementor library includes over 200 kits and templates, but only a few are available for free. To access all of them, you need to subscribe to a premium plan.
In the Elementor library, you can find kits and templates for various niches such as Photography, Real Estate, Portfolio, Law Firm, Fitness, Magazine, Blog, and more. These themes can be edited using the builder plugin.
Themify
Themify offers a diverse range of themes across various categories, including blog, corporate, eCommerce, magazine, multimedia, portfolio, and more. In total, there are 42 Themify themes available.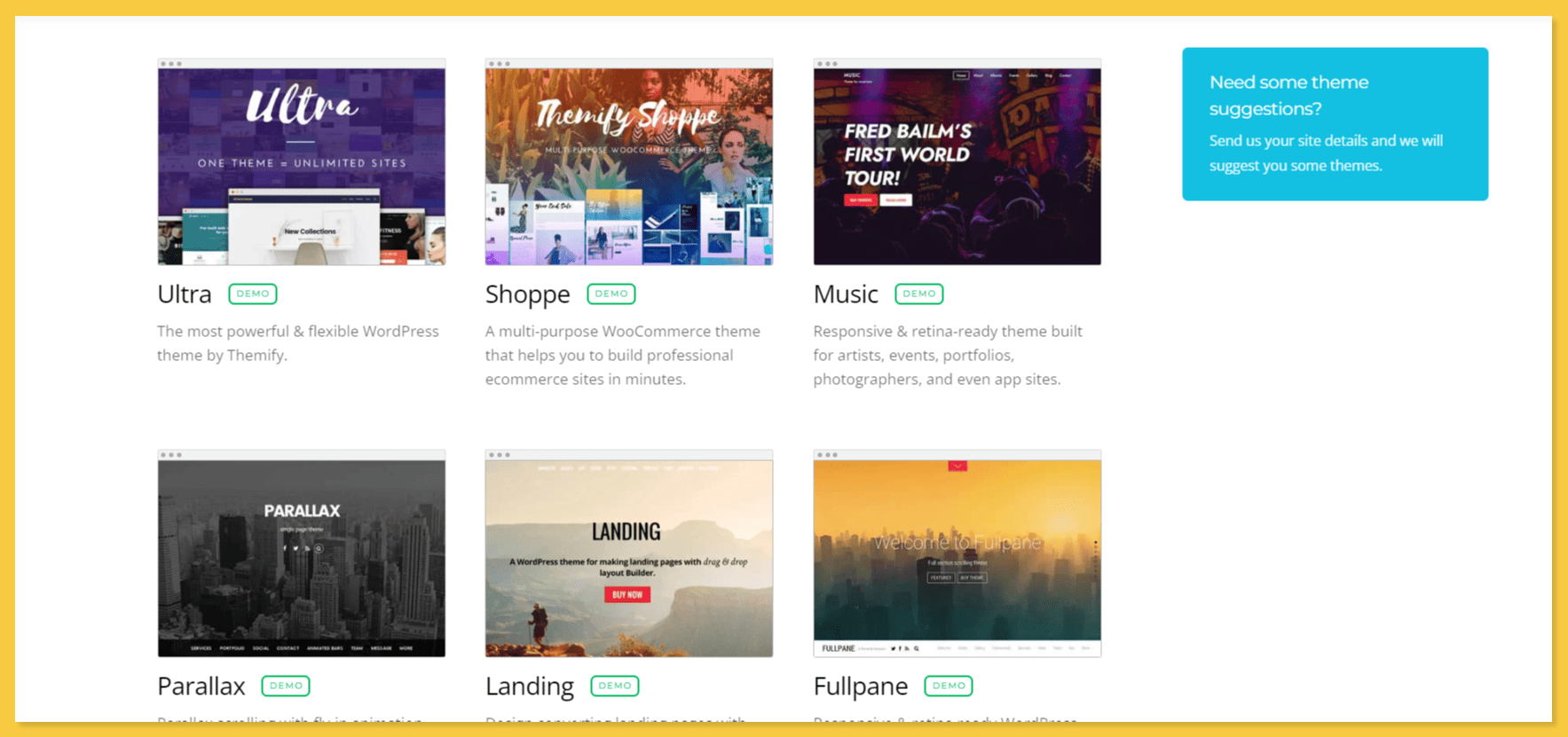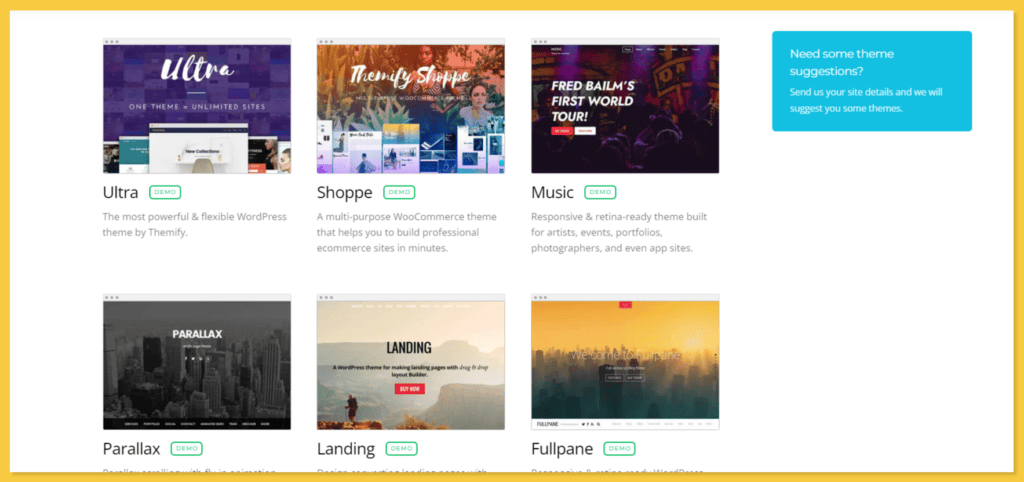 While the number of themes accessible may vary depending on your subscription, opting for the Master Club subscription grants you access to all 42 themes.
When it comes to installation, you have the freedom to install Themify themes on an unlimited number of websites without any restrictions. Furthermore, you can easily customize these themes using the intuitive Themify Builder or the Theme Options Panel, allowing you to personalize your website according to your preferences.
Ease of Use
Both Elementor and Themify offer user-friendly interfaces that make website building accessible to users of all skill levels.
Elementor:
Elementor stands out for its intuitive drag-and-drop interface, allowing you to design and customize your website effortlessly. The live front-end editing experience lets you see your changes in real time, making the design process smooth and enjoyable.
Themify:
Themify also provides a visual front-end editing experience. With a user-friendly interface, you can easily create and customize your website using the drag-and-drop functionality. Themify offers a range of pre-designed layouts and templates, making it easier to kickstart your design process.
Design Options
The design options offered by a page builder play a crucial role in creating visually appealing and unique websites.
Elementor: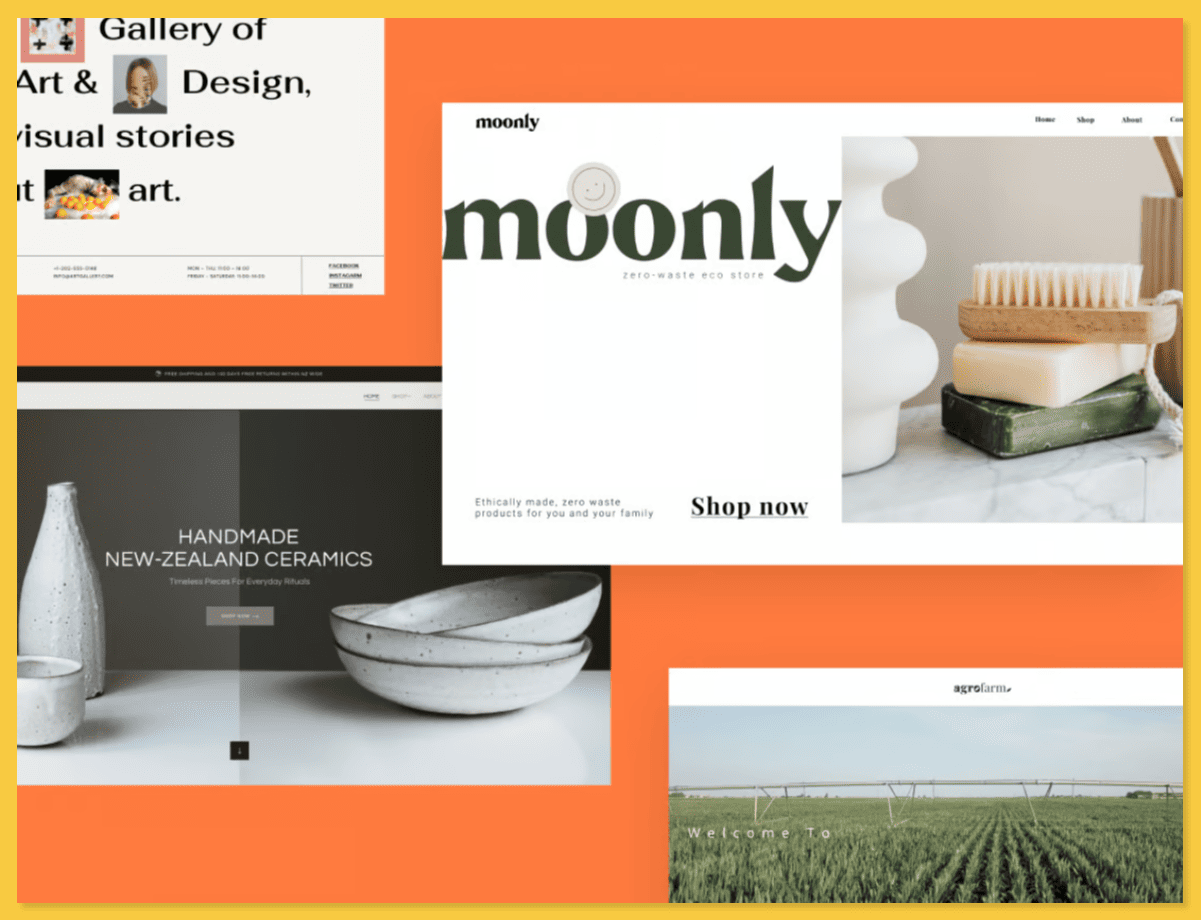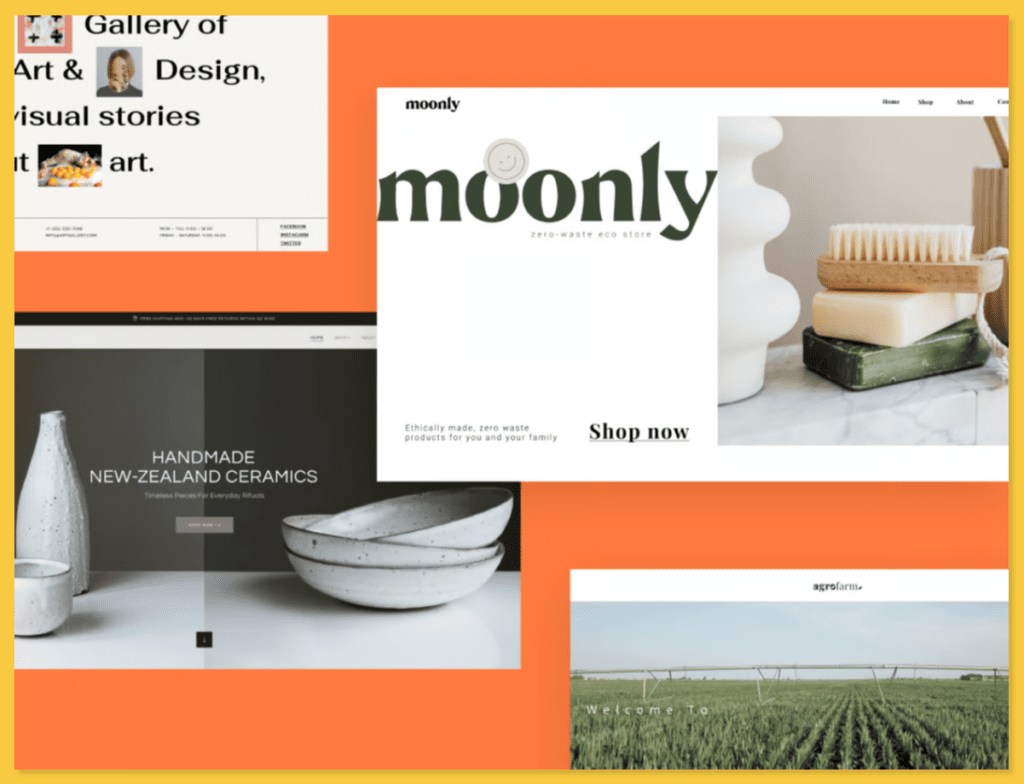 Elementor shines in this aspect, with its extensive library of design elements and templates. You have access to a vast selection of pre-designed blocks, widgets, and templates that you can customize to match your brand and style.
This library empowers you to create eye-catching and professional designs without extensive coding knowledge.
Themify:
Themify also provides a good range of design options, though it may not be as extensive as Elementor.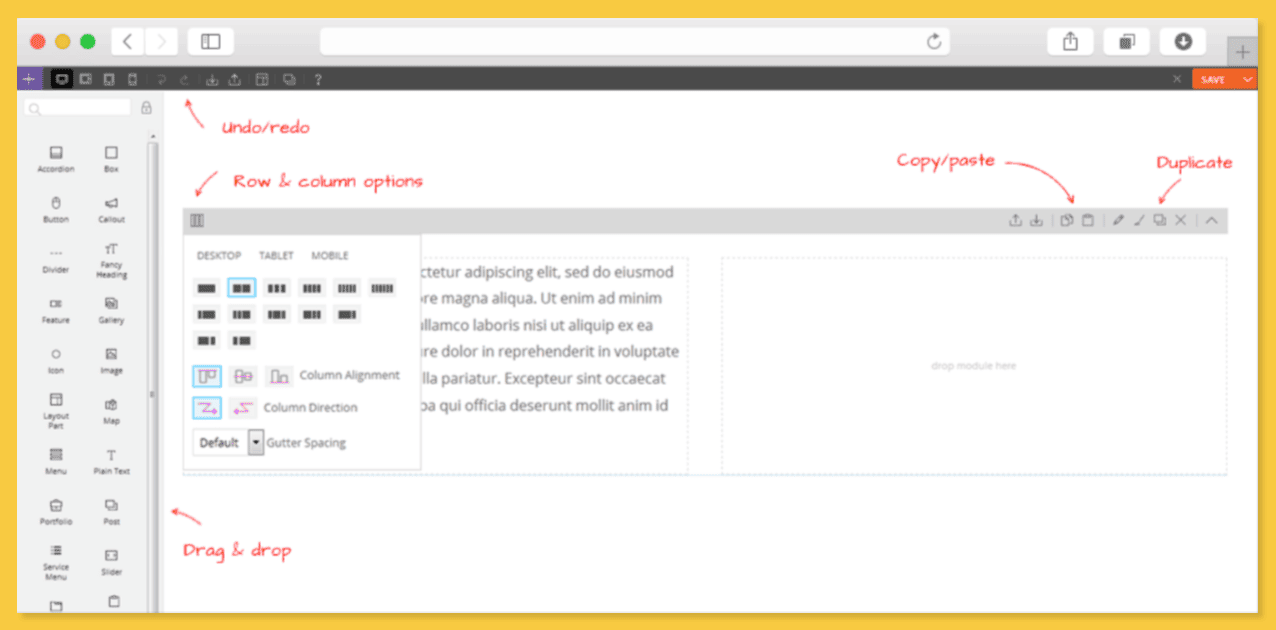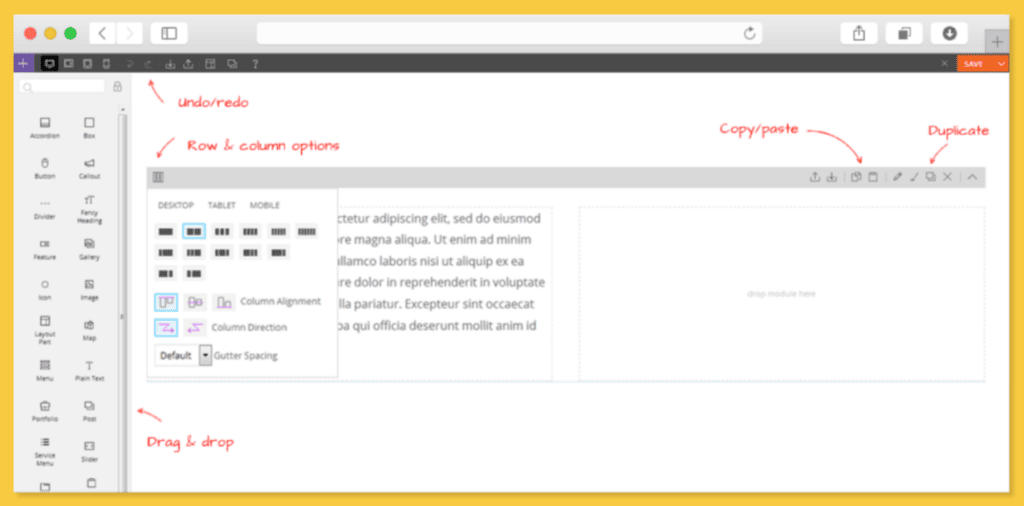 You can choose from their collection of pre-designed layouts and themes, which can be customized using the built-in styling options. While the selection may not be as vast, Themify still offers enough flexibility to create visually appealing websites.
Customization Flexibility
The ability to customize and tailor your website to your specific needs is an essential factor to consider when selecting a page builder.
Elementor:
Elementor provides exceptional customization flexibility.
You have complete control over various design aspects, such as fonts, colors, spacing, and more. Additionally, Elementor's Theme Builder feature enables you to create custom headers, footers, and sidebars, giving you the freedom to design every element of your website according to your preferences.
Themify:
Themify also offers a decent level of customization flexibility.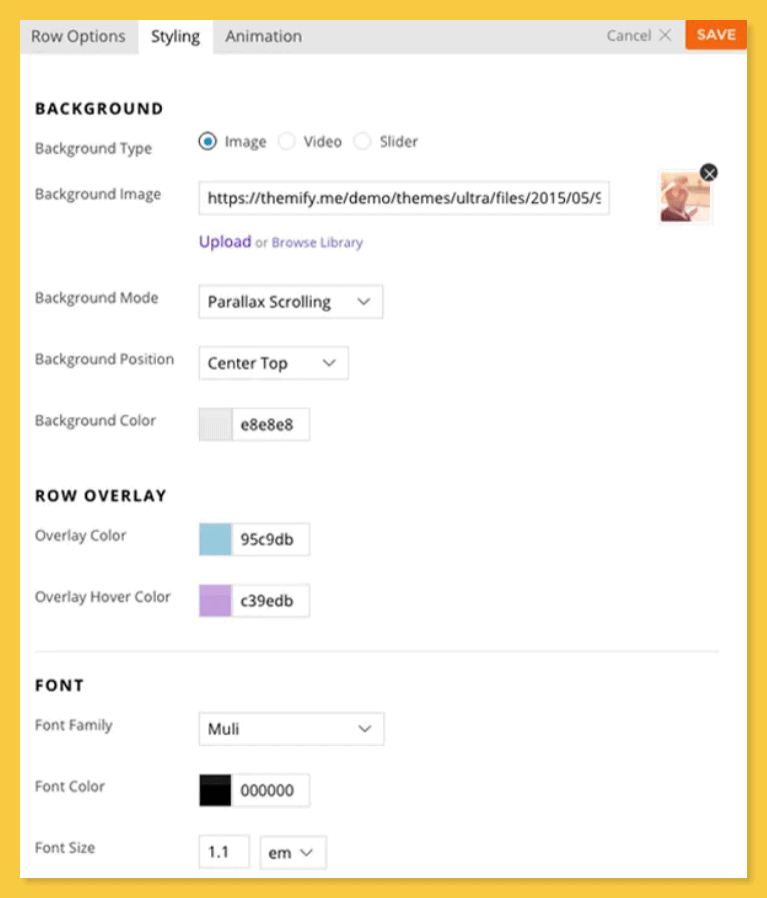 While it may not provide the same level of fine-grained control as Elementor, you can still modify various design elements to achieve your desired look and feel. Themify's options panel allows you to adjust colors, fonts, and layouts, making it suitable for users seeking a balance between simplicity and customization.
Third-Party Integrations
The ability to integrate with third-party plugins and tools enhances the functionality and versatility of a page builder.
Elementor: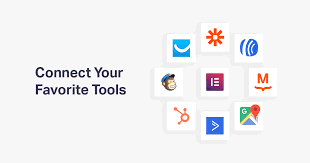 Elementor is well-known for its extensive integrations with popular WordPress plugins and third-party tools. It seamlessly integrates with WooCommerce, Yoast SEO, and many other widely-used plugins, providing you with a wide range of functionalities. This compatibility ensures that you can incorporate the necessary features into your website effortlessly.
Themify:


Themify also offers integration with various third-party plugins, though it may not have the same breadth of integrations as Elementor. While it covers essential plugins, it's worth checking if the specific integrations you require are available before making a decision.
Performance
Website performance plays a crucial role in providing an optimal user experience and achieving higher search engine rankings.
Elementor:
Elementor prioritizes performance and speed. It generates clean code and ensures minimal bloat, resulting in fast-loading websites. This optimization helps to reduce bounce rates and keeps visitors engaged.
Themify:
Themify also focuses on performance, though some users have reported slight performance issues when using certain features or complex layouts. While performance may vary depending on the specific elements used, Themify strives to provide a smooth user experience.
Pricing
Pricing is crucial when choosing a page builder, especially for those on a budget.
Elementor:


Elementor offers a free version with limited features, allowing you to test the waters before committing. To unlock the full potential, upgrading to the Pro version is necessary, starting at $59 per year for a single site. The Pro version offers advanced features and premium support. Read the complete Elementor Pricing.
Themify:




Themify follows a similar pricing model. It offers a free version with basic features, and the premium version starts at $59 per year for a single site. The premium version provides access to all features, including priority support and additional addons.
Additionally, Themify features separate pricing plans for the builder pro plugin;
My Verdict: Which One Is Better? 
Based on this comparison between Elementor and Themify, there are a few things that both platforms do well. So, it can be hard to choose between the two.
But between Elementor and Themify, I would say Elementor is the better WordPress page builder. The main reason is that Elementor is easier to use and is designed to work with any WordPress theme.
You can also use Elementor for free, and it has more integrations and add-ons than other tools. You can also make better WooCommerce stores without much trouble.
Also Read: