The majority of businesses and other operations have moved online as a result of the pandemic's severe effects. Therefore, presenting your project ideas no longer just depends on how enthusiastic you come across in person.
Enhancing your online profiles and website is one way to leave a lasting impression. What better way to develop these skills than using the many different Google Sites templates?
Your ability to click, drag, and drop, as well as upload images, gives you everything you need to create a website for either personal or professional use. Anyone can create a website using Google Sites in an hour or less.
The top websites and templates for 2022 are included in the list below, so your presentation will showcase your work ethic and attitude!
What are Google Sites?
Google Sites is a platform that lets you build websites for free. You can work on your projects by yourself or create shared virtual workspaces with other people.
It's up to you to decide what kind of access you give these collaborators. You could either make them editors like you, let them make comments, or just let them watch.
This platform for making websites works with Google Docs, Sheets, and Slides to make things easier for you.
Best Googe Sites Templates 
#1: Photo Portfolio Templates
The simple look of Photo Portfolio keeps visitors' attention on what's most important: your work. Both the homepage and the project galleries look nice and are easy to use. Each photo has room to breathe when there's a lot of white space around it.
The navigation is just as easy to use as the design. The simple menu fits well with a portfolio that focuses on images and only takes up a small corner of your page. Visitors can click on the drop-down "Work" menu to see portraits, landscapes, urban life, or interiors, among other projects. They can also click on the captions of the photos to see a full gallery of photos that go with the topic.
Google Sites doesn't have any tools for e-commerce, so you can't add a shop where collectors can buy your work online. But you can ask people to sign up for a newsletter, and your contact information will be at the bottom of every page.
And if you want to link your Facebook and Instagram accounts, you can put a widget on your website using HTML or JavaScript code.
#2: Research Project Template
Google Sites aren't just for those in the business world! If you're a student looking for a unique way to present your research, this template is for you.
These Google templates assist you in highlighting and emphasizing the relevant parts of your research. Furthermore, the streamlining and divisions add a refined touch to your work.
There is no better way to make an impression than by giving your research project the visual attention it deserves.
#3: SalonTemplate for Beauty & Makeup
The modern vibe of Salon is conveyed by the full-page cover image and the bold typography. Sections and pages are set aside for explaining what you offer, how much it costs, who makes up your team, and what satisfied clients have to say about you. A pleasant surprise is how easy it is to create a fully functional website for a salon or spa with the help of the provided sample text and images.
An announcement bar on the homepage advertising sales and monthly specials is a great way to get people interested in your services. Attractive call to action buttons encourage customers to make appointments.
Customers can find all the information they need, including your business hours, address, phone number, and email address, on your company's Contact page. They can use the integrated Google map to find their way.
#4: Archi template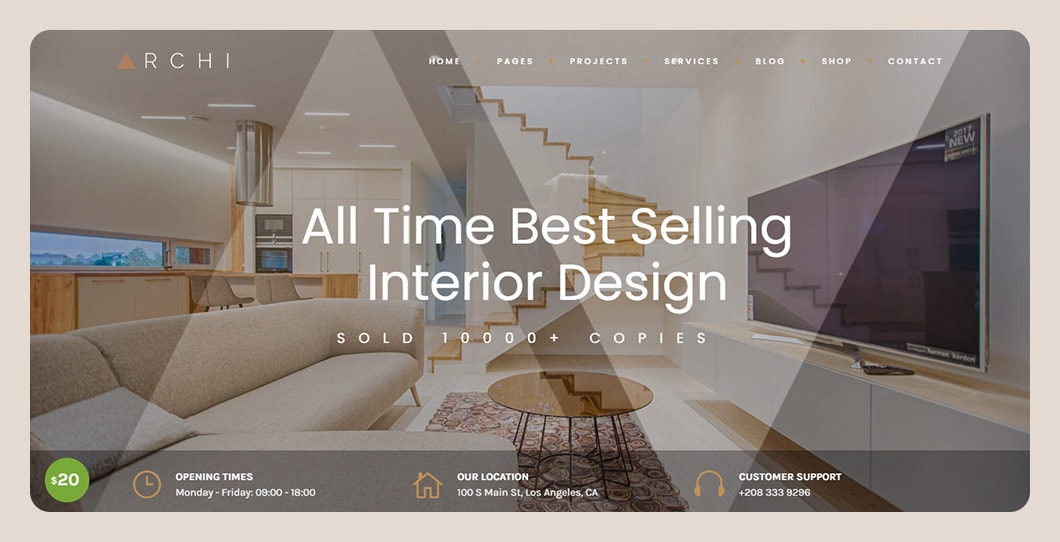 Look no further if you want a powerful, responsive, and multi-purpose website. Archi provides premium templates for displaying your Design, Architecture, and Photography Portfolios, among other things.
It is currently very fashionable, so go ahead and give it a shot!
#5: Consulting Business Template 
The Consulting Business Wix template has a sleek and informative design that's ideal for launching a new business or service, or taking an established firm to the next level. Visitors can learn about the services you provide, browse past projects, and view your client list by scrolling down the homepage. Testimonials provide additional evidence of your abilities and expertise.
Wix Bookings allows customers to check your availability, book an appointment, and pay with just a few clicks. Another noteworthy feature is the Tools and Tips page, which allows you to upload any materials demonstrating your industry expertise. You can even specify whether your materials are available to all site visitors or only prospective/current clients.
Finally, the built-in Wix Chat app allows you to collect leads while also providing high-quality customer support to site visitors.
Conclusion
Building websites is now much more convenient thanks to Google Sites. One explanation for this is that none of the templates demand programming language knowledge.
Therefore, whether you are a seasoned developer or a beginner, working with Google Sites will be a seamless experience. You can choose from a variety of themes, layouts, and settings.