An online portfolio builder can help you quickly and simply construct a powerful online presence. The majority of modern website builders are straightforward to use even for novices, so you don't need a lot of coding knowledge.
You may even design your own online portfolio without any website-building expertise or understanding of CSS or HTML. Most website builders employ a drag-and-drop editor to position design components.
Most online portfolio website builders allow you to start with a pre-designed template and add your own material. There are many possibilities, so we'll focus on the finest.
Best Portfolio Website Builders: What To Look For
Building a company website or a portfolio website requires certain software that meets certain parameters. From a creative perspective, there were a few features that all top portfolio websites had in common.
1. Flexibility:
The finest portfolio creator must allow you to modify it. After all, a portfolio is all about showcasing your brand and look, thus the display vessel should readily match your concept.
It's important to be able to build your portfolio to fit the style and feel of the work you're showing.
2. SEO skills:
When creating a creative masterpiece, you want people to be able to locate it. That also means you may not have the time or interest to spend hours guessing and trying to decipher the code yourself.
Lesser-known portfolio website builders will automatically optimize your site and ask you to fill in all required fields. Instead of optimizing for search engine rankings, you may concentrate on topics like art direction and brand positioning.
3. Useful:
You don't want to spend time navigating an overly complex dashboard or building a site from scratch.
It should be simple to learn a system and not stressful to acquire a completely new set of abilities only to establish an artist website. The foundation, landing page, and post updates all need user-friendly systems.
5 Best Portfolio Website Builders:
Let's have a look at the various Portfolio Website Builders and their features.
1. Duda
Duda is a website builder with slick designs for a sleek portfolio. Its layouts are organized, so your portfolio will always seem professional, even if you don't have much creative flexibility.
Duda is perfect for those who want a great portfolio without the hassle of complete creative control. There are over 90 clean, simple, and attractive themes to pick from.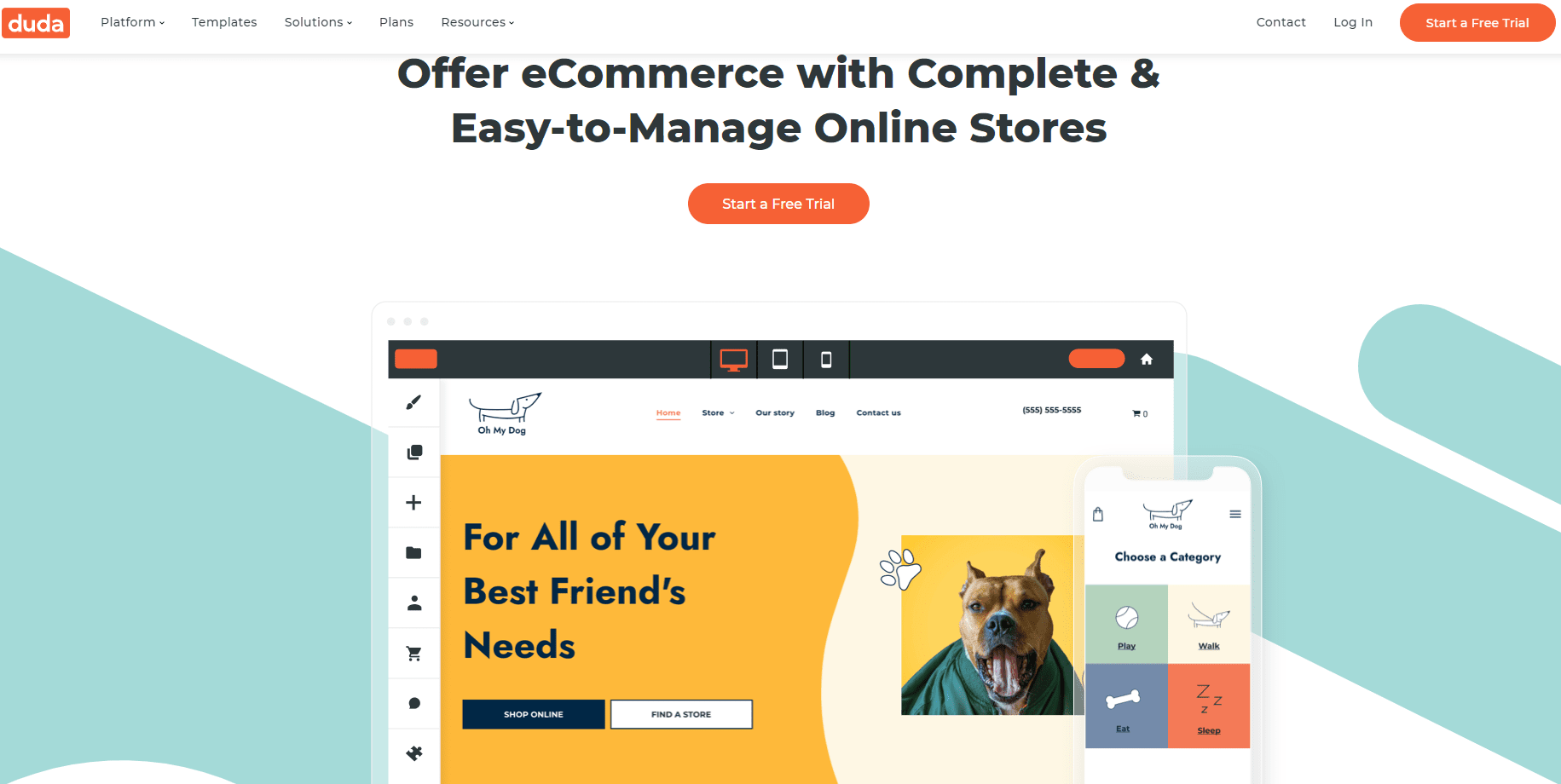 Unlike Wix, you can't completely modify your site's layout, so select a template you prefer. All templates are mobile-friendly, so your work will appear great on phones, tablets, and computers.
Duda's design flexibility scored 4.1 out of 5, placing it with Squarespace, Wix, and GoDaddy in our analysis.
2. Wix
Wix is a perennial favorite among website builders, and it excels when creating a portfolio. Wix shines in the simplicity of use with its drag-and-drop editing platform and coding-free interface.
This builder skips the technical language and gets to the point: creating a professional portfolio. This system focuses on personalization, enabling you to create a unique portfolio.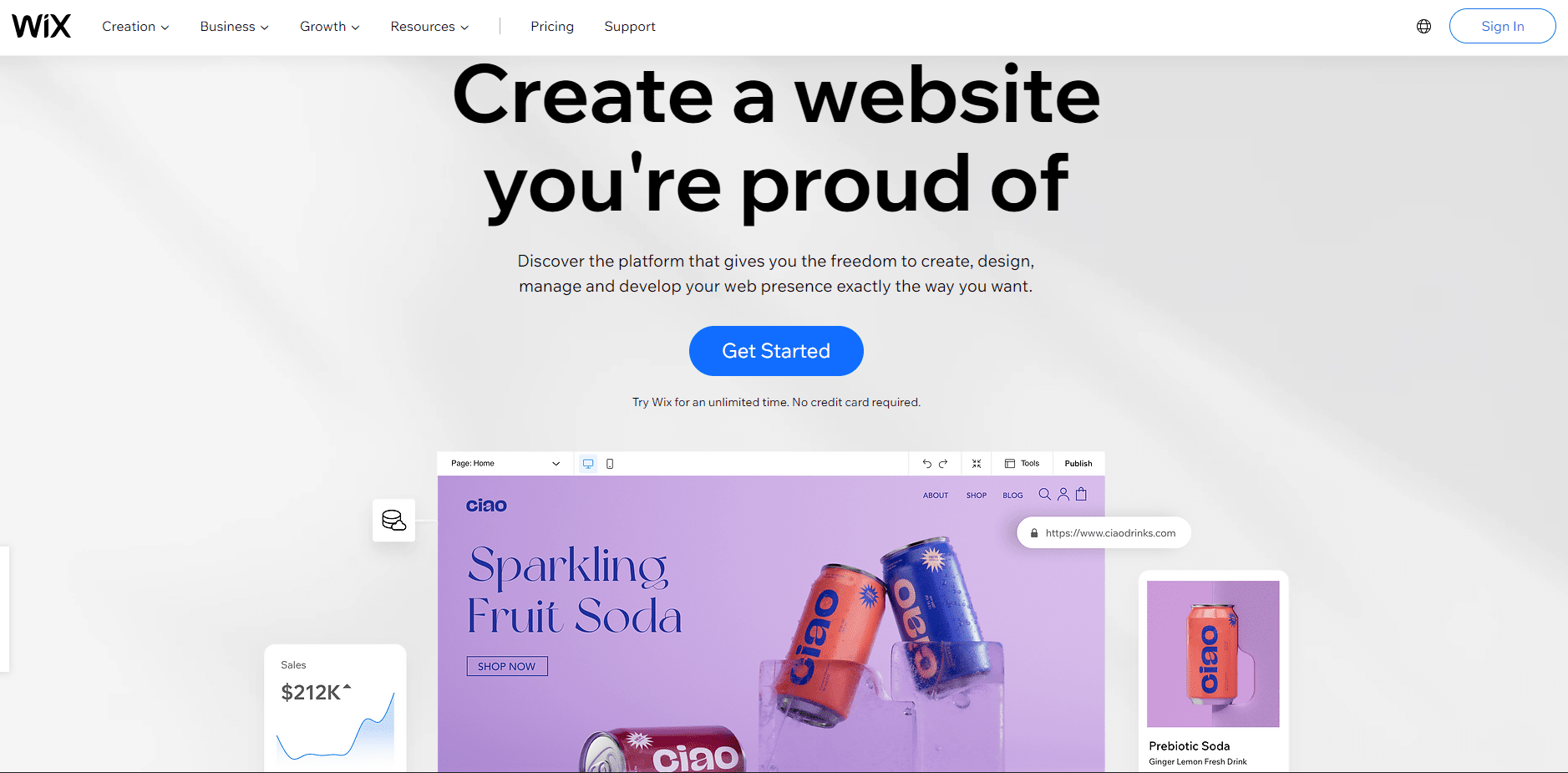 So you don't have to find out how to set up color themes on your own. Wix's simple interface can collect crucial colors and palette possibilities for your complete site just by uploading a picture.
Wix removes the difficulty of site construction and emphasizes the power of optics to effectively present your work.
3. Squarespace
Squarespace is recognized for its sleek, professional, and well-styled designs, many of which are built to display portfolios. This makes it a no-brainer as a top portfolio builder; you might even claim Squarespace has established itself as a market leader.
Squarespace sites are designed to showcase creative work. The above templates or themes are not only aesthetically beautiful but also simple to use.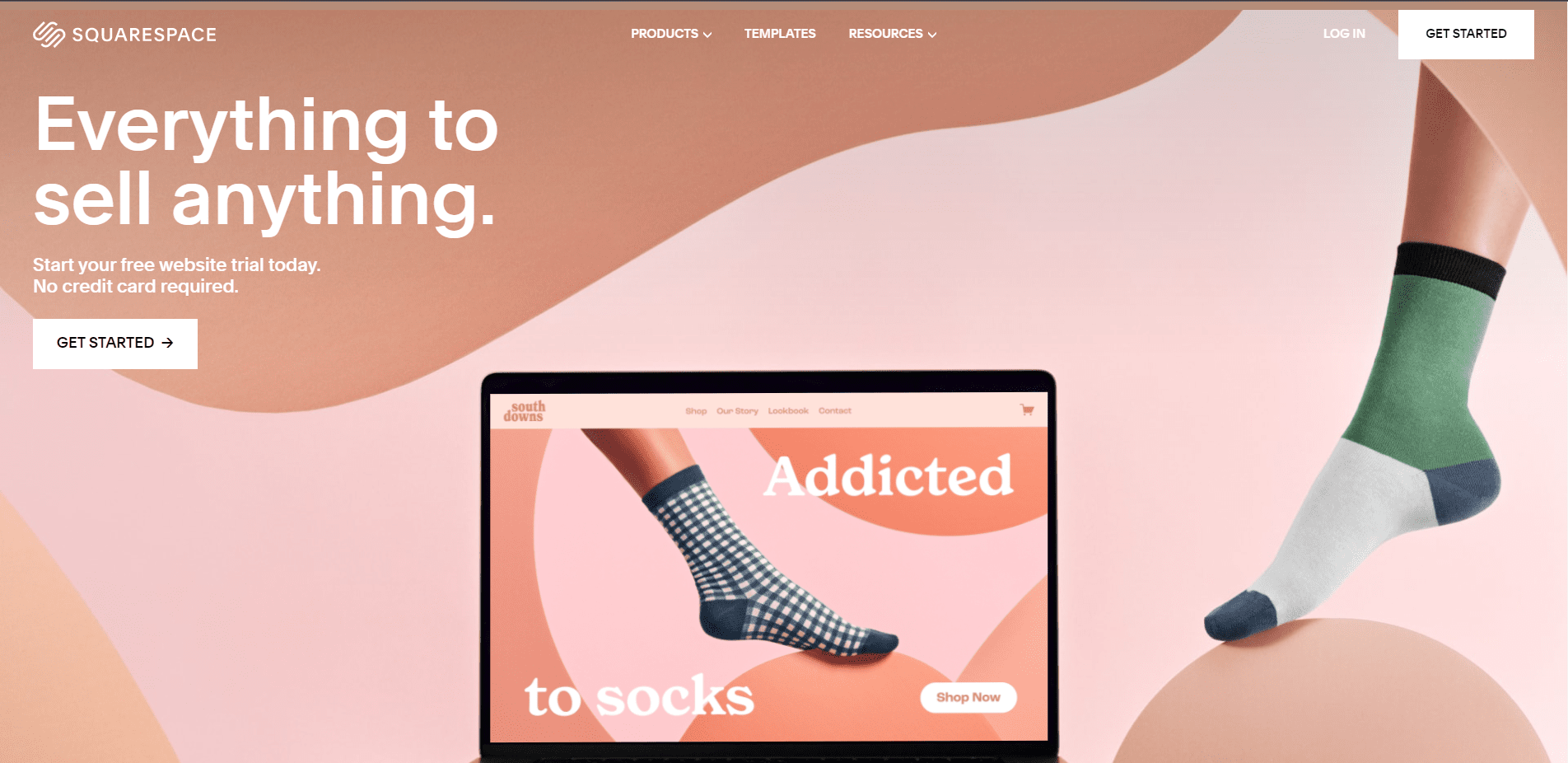 Squarespace also keeps things simple. Its lack of widgets and applications allows it to concentrate on creativity, while it does provide certain plug-ins to boost some features, including promoting your brand and measuring success in metrics that matter.
Squarespace also has built-in blogging, which helps you improve your SEO and brand. It also makes things simple for you by enabling you to plan posts in advance, assign several writers, and create a professional-looking blog for less than $12 per month.
4. Weebly
Weebly enters the fray with a solution that is both cost-effective and simple to use. Weebly, like its e-commerce counterpart, is simple to use and packed with useful options.
For starters, it has an ever-expanding selection of templates, and the templates are meant to be simple and easy to upload.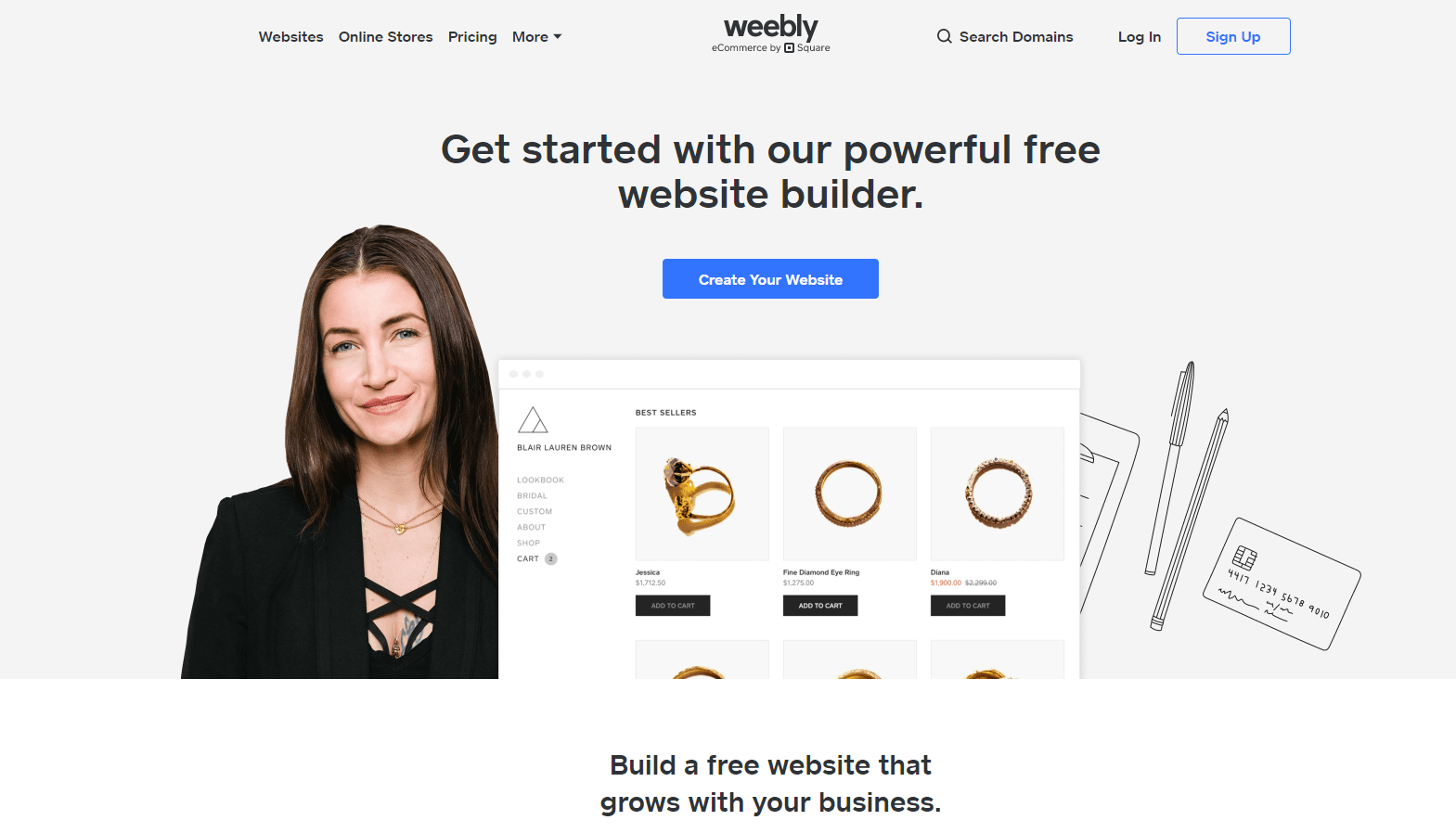 You can be certain that your portfolio will look great on both mobile and desktop platforms thanks to the well-optimized templates.
If you decide to sell your work, setting up an e-commerce component on your Weebly portfolio is a cinch.
With an annual membership, Weebly sites start at just $6 per month, and the next level is only $12 per month (paid yearly), which includes unlimited storage and a branded domain.
5. GoDaddy
In the past, GoDaddy was renowned for its domain name registration service, but its website builder has taken the internet by storm in the last few years. With an overall score of 4.4 out of 5.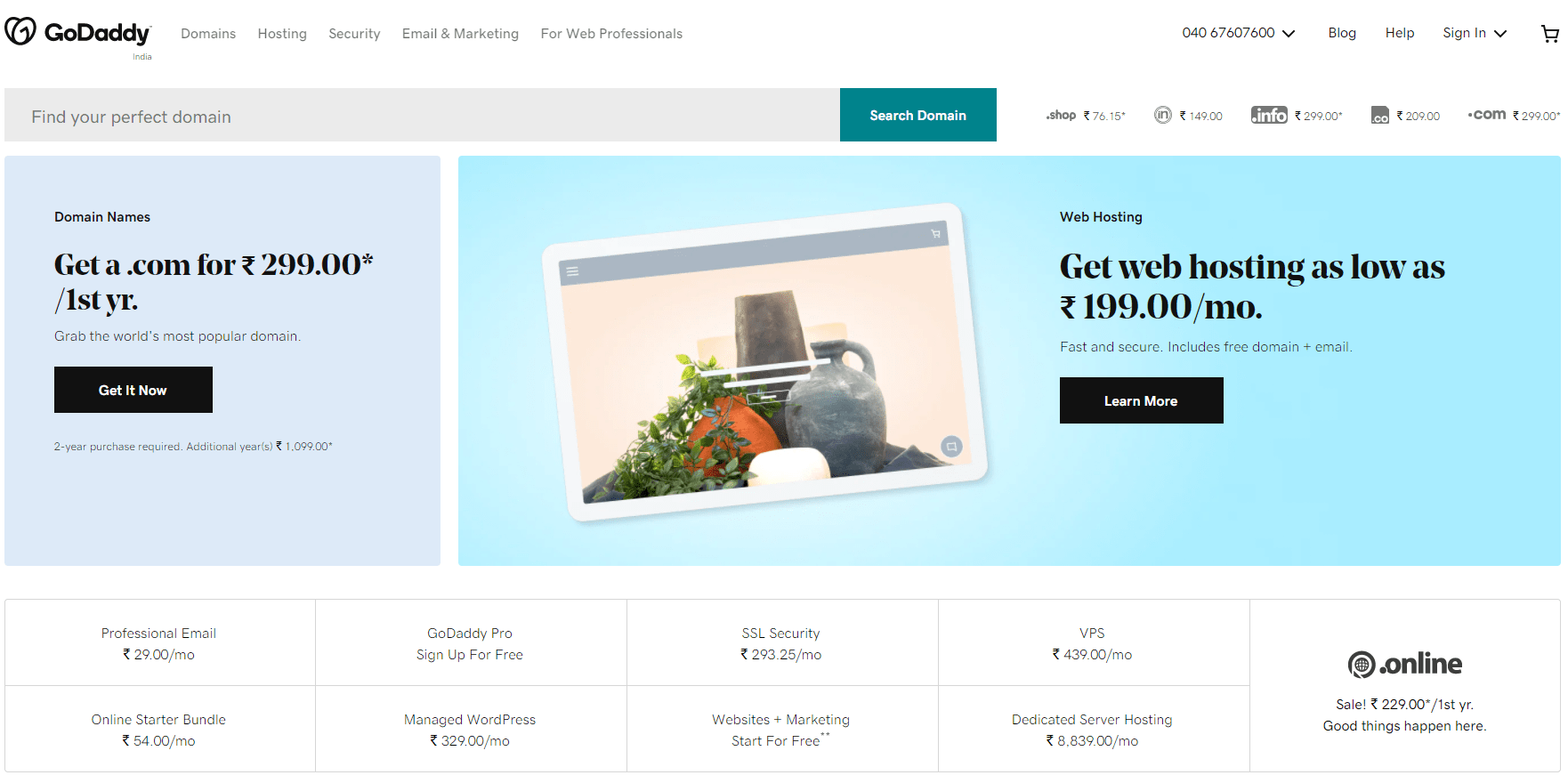 In addition to its ADI builder, it has a wide variety of essential features that make it ideal for swiftly constructing a stunning portfolio.
However, it's worth mentioning that, compared to Squarespace and Wix, its customizability outside of this feature is restricted.
Quick Links:
Conclusion: Best Portfolio Website Builders 2023
We took the time to research the most key aspects of a successful portfolio and assigned a score to each one.
We examined and graded each builder to compile this final list, taking into account cost, design, SEO, and convenience of use, among other factors.
This list includes a wide variety of portfolio website builders, so you're sure to find one that suits your needs. Only you can tell which one is ideal for you based on your own preferences.
Let us know how it goes using the portfolio builder of your choice after you've finished!