This article is based on Jimdo Alternatives. 'Create your own free website and online store in minutes!' says Jimdo.
500 MB of storage, 12,500 photo uploads, a simple drag-and-drop interface, and more. It is a Website Builder in the Business & Commerce category that allows you to create your own website for free with no prior expertise.
For a range of platforms, including Online / Web-based, SaaS, Windows, Self-Hosted solutions, and iPhone, there are over 100 Jimdo alternatives.
Excellent, because we'll be discussing the most viable options to think about right now.
What is Jimdo?
Jimdo is a German website builder and all-in-one hosting solution that allows users to create their own websites without any prior knowledge of web design.
Privately held, the corporation is based in Hamburg, Germany, with offices in Munich and Tokyo. Creator and Dolphin are Jimdo's two products, both of which have free and premium plans.
5 Best Jimdo Alternatives 2023
Below are the 6 best Jimdo alternatives which will blow your mind for sure.
1. Woocommerce
WooCommerce is a WordPress-specific open-source eCommerce platform. It allows you to sell physical and digital things, as well as products from other marketplaces.
WooCommerce "comes packaged with PayPal (for accepting credit card and PayPal account payments), BACS, and cash on delivery for accepting payments" in terms of payments.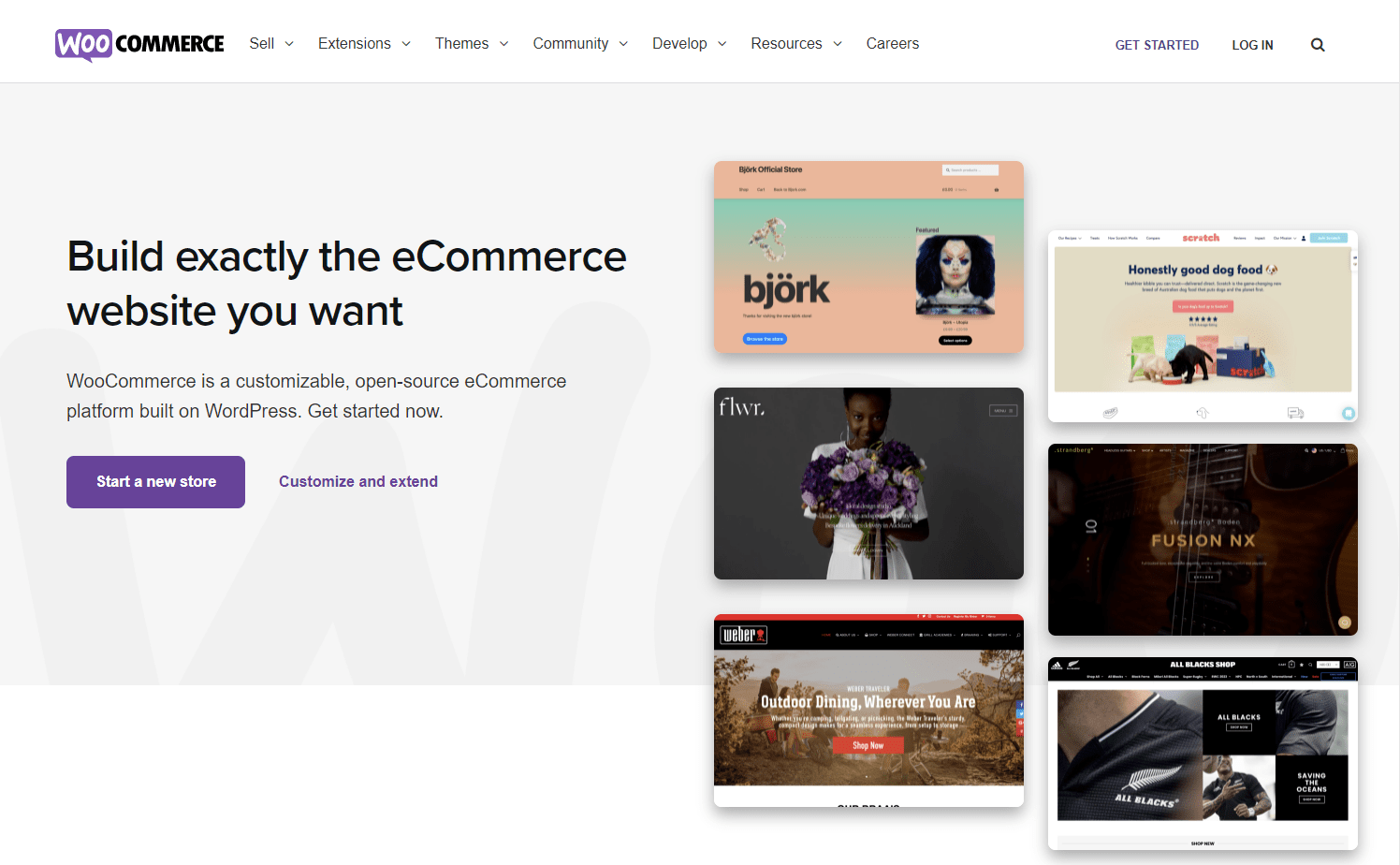 WooCommerce also interfaces with a variety of third-party services, including Facebook, Sage, Zapier, MailChimp, ShipStation, Square, Stripe, Fulfilment by Amazon, and others.
PROS
⦁ It's ideal for WordPress users.
⦁ Because it's open-source, it's quite configurable.
⦁ There are several integrations available.
⦁ Developers and specialists form an active community.
CONS
⦁ Updates to WooCommerce aren't always compatible with WordPress.
⦁ Because it's self-hosted, you'll be responsible for all upgrades and upkeep.
⦁ WordPress knowledge and skill are required.
2. Squarespace
Most people have heard of Squarespace, which is a marketing and business-building platform. After years of great marketing and promotion, the firm is well-known.
However, there are still a lot of individuals who aren't completely aware of what Squarespace is and how it operates. You can create a website in no time with Squarespace, utilizing drag-and-drop features to see precisely what you're doing.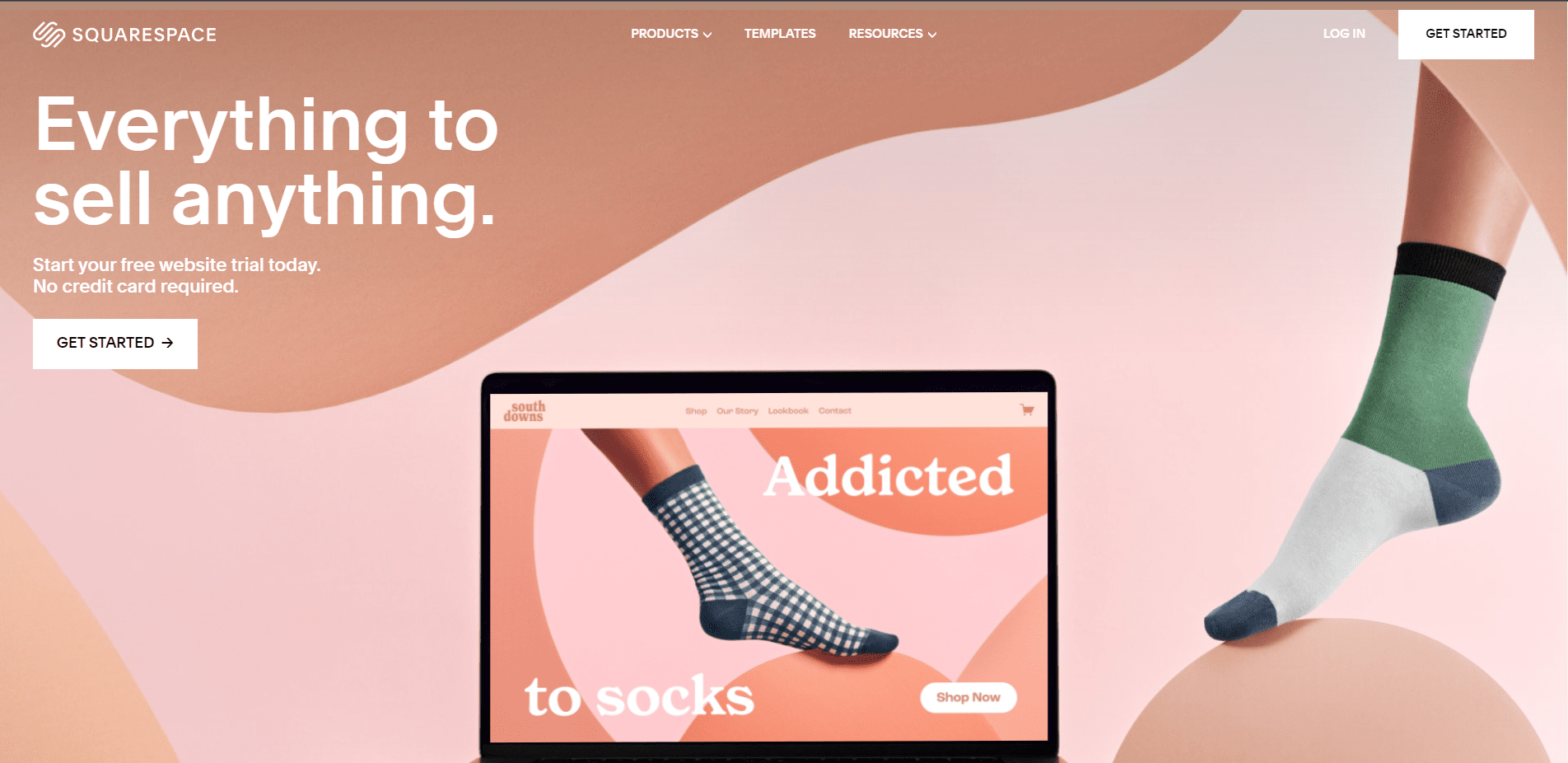 Squarespace allows you to build a website without knowing any coding or needing to choose your own web host. It contains some of the greatest themes available in the website builder environment, as well as a robust set of capabilities.
PROS
⦁ You have the ability to create extremely gorgeous websites.
⦁ Exceptional uptime
⦁ When you buy something, you get a free domain name.
⦁ There are several features for selling online.
⦁ A complete support desk is available.
CONS
⦁ Slowly performable
⦁ Payment choices are limited.
⦁ It can be tough to get about.
⦁ Templates that are restrictive
3. Weebly
More than 40 million websites are powered by Weebly. It's the equivalent of 2% of all presently operational websites.
When compared to the large array of website builders available, it appears to be excellent. "Anyone should have the tools to take their business from idea to launch to growth," it was based on the notion.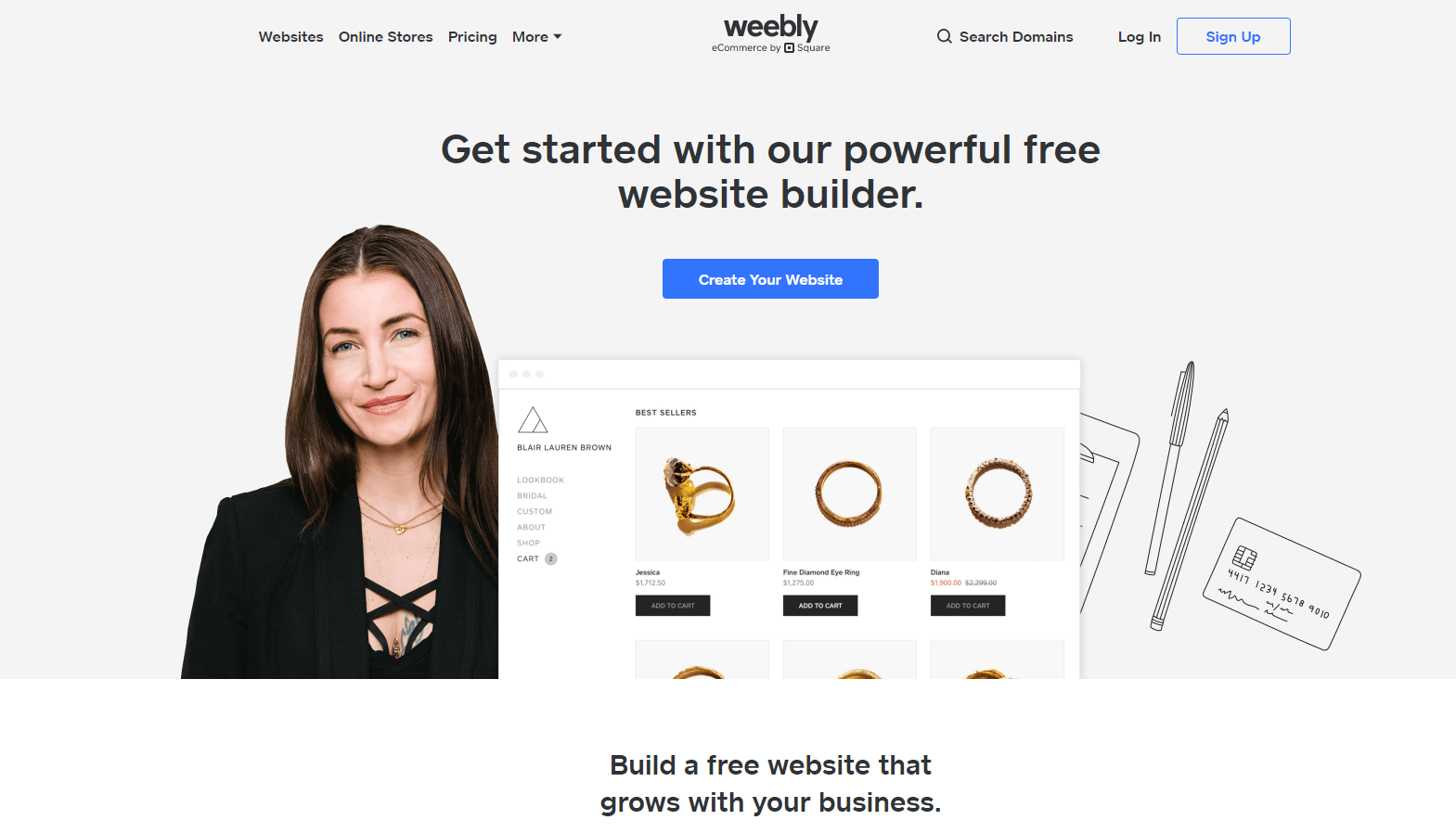 Weebly operates by providing customers with a very visual interface via which they may create websites with no prior knowledge of coding. Drag and drop items, resize with a mouse, and add or change text and photos are all you need.
PROS
⦁ A good mix of templates is available.
⦁ Site editor that is simple to use
⦁ App Center on Weebly
⦁ Analytical tools assist you in keeping track of your website.
⦁ SEO tool built-in
CONS
⦁ Bloggers may be hesitant to participate.
⦁ Assistance Can Be Expensive
⦁ The Backup System Isn't the Best
4. Wix
Wix is a popular website builder that allows users to construct websites in a freeform, drag-and-drop format. With hundreds of excellent website themes and smart tools, the Wix editor makes website construction simple but powerful.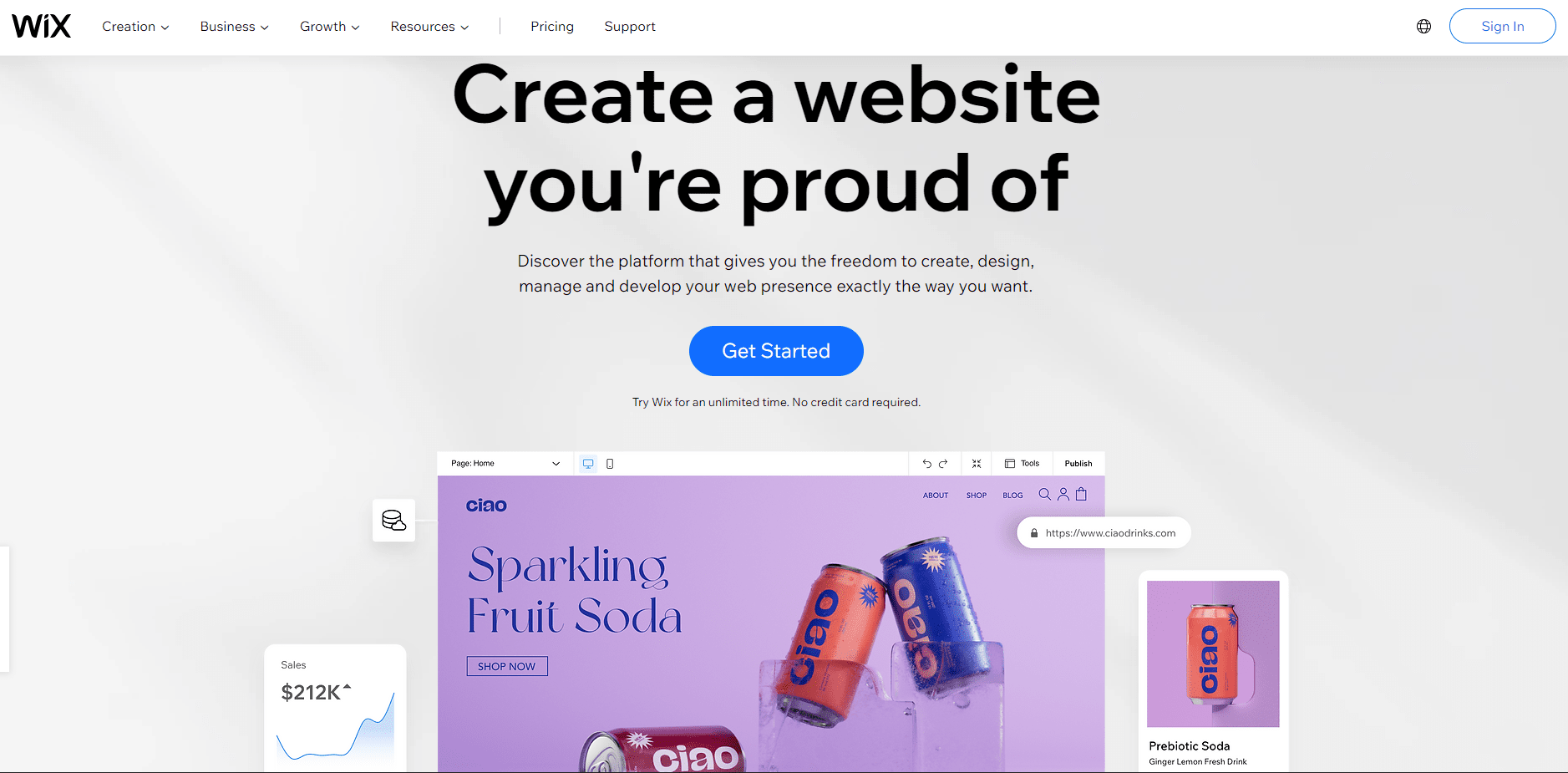 Wix is a do-it-yourself solution that can replace an entire staff of web developers for most organizations.
PROS
⦁ Wix's drag-and-drop construction capabilities make its editor incredibly user-friendly.
⦁ If you're wanting to start an online store, Wix provides a superb array of e-commerce features that make it a top pick.
⦁ It offers the tools you need, no matter what sort of website you're constructing.
⦁ You have a lot of creative freedom and flexibility, which means you can easily alter your template.
⦁ You have a lot of creative freedom and flexibility.
CONS
⦁ You can't change your template once your site has been launched without starting over.
⦁ You may have to pay more to install third-party apps for long-term scalability.
5. Shopify
Shopify is now one of the top fully hosted eCommerce systems available. It's competitively priced, has great functionality, and offers round-the-clock service.
It also supports different channels (selling on Facebook, Amazon, and so on). As a result, Shopify is a fantastic all-in-one eCommerce solution that can help businesses sell more — both online and offline via integrated POS systems.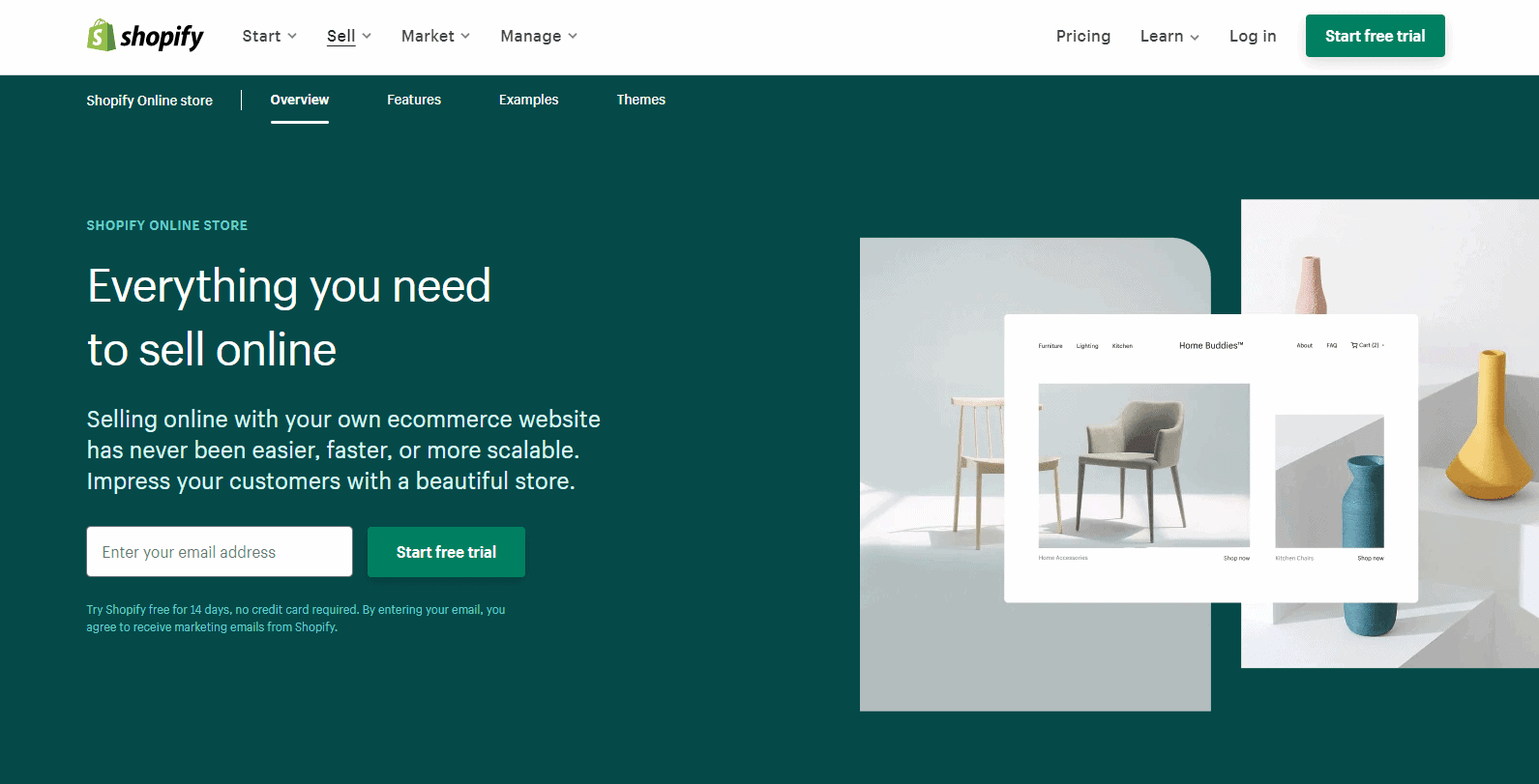 If you're searching for a basic website builder, though, this could be a little too much for you. However, the extra tool integration is beneficial and should be considered in its favor.
PROS
⦁ Ideal for larger establishments.
⦁ Selling on several platforms
⦁ Functionality and adaptability in design that stands out
⦁ Numerous payment options
⦁ Customer service that is thorough and available 24 hours a day, 7 days a week
CONS
⦁ It's more costly than it appears.
⦁ Transaction costs are very high.
⦁ Apps have become overly reliant on us.
⦁ Not as user-friendly as other platforms
Quick Links:
Conclusion: Jimdo Alternatives 2023
Finding a reliable Website Builder Software solution that not only meets your goals but also fits inside your financial constraints may be a real struggle in certain situations.
When comparing Jimdo alternatives, keep in mind that there are a variety of factors to consider, including the available plans, degree of customer service, supported mobile devices, and possible integrations.
With enough information, you should be able to choose software that has everything you need at a reasonable price.