If you like to learn on the go and are interested in online courses, you must have heard about Udemy.
It is one of the best platforms, which consists of a plethora of courses on several topics such as business, design, photography, personal development, marketing, software, and much more.
Well, the best things don't come for free, but Udemy goes on sale many times in a year. So, to know more about how often Udemy courses go on sale, all of its deals, and when is the best time to access a course with the best offer, I am here to help you reap the best benefits! 
Now, you may think that this just happens once a year or you might have missed any previous offers. But, guess what? Udemy gives the learning aficionados a chance to grab great offers and discounted prices by bringing out the biggest sales and deals you may ever get. 
Udemy provides good and reasonable prices on almost all of its courses to benefit the learners.
The content that they provide is absolutely amazing, excellent and so interesting that the courses are worth the money and make you want to learn more and more from the website. As said before, they have a good number of fields to choose from and plenty of courses in a field to learn from, making this a never-ending experience as there is always something new to learn.
Now, let's go into detail about the sale, shall we?
About 
Udemy goes on sale almost all the time and you can never miss it because there is always a new offer that comes up.
But a good time to invest in a course is at the beginning and the end of the year because that's when you come across huge deals and offers. Udemy has several sales like the 24-hr Flash Sale, Cyber Monday Sale, Black Friday Sale, New Year Sale, and many more such exciting offers.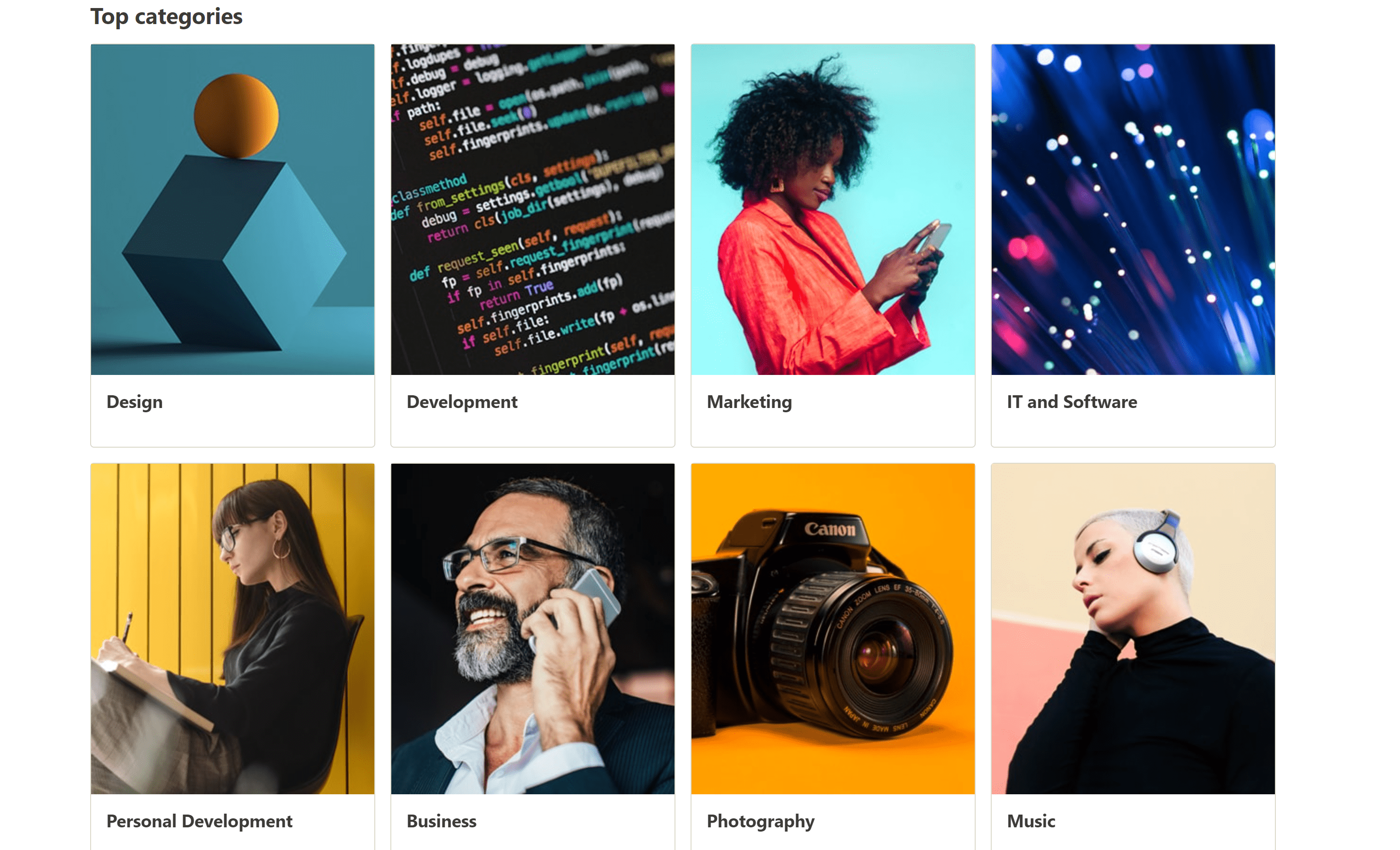 If you are new to Udemy, you can avail of the New Student Deal.
Now, for every sale, the percentage of discount varies. For example, Cyber Mondays offer a discount of up to 50% on all courses, New Student Deal offers all courses at a low price of Rs.455. These offers usually stay up for a whole week, a whole day, or just a few hours depending on the type of sale.
Make sure you reach in time and grab the courses at the best prices. 
Udemy does pretty good work when it comes to convincing new users to continue using their websites. They give out all the courses for a very low price to its brand new users.
When the user buys the course and likes it and is ready to study a new course, the prices go back to normal. This way Udemy can keep the two-way profit, provided with student satisfaction.
Benefits of Using Udemy
As online learning is pacing speed now-a-day, and massive growth is experienced in online learning. And I believe that this online learning trend will be continued over the next decade.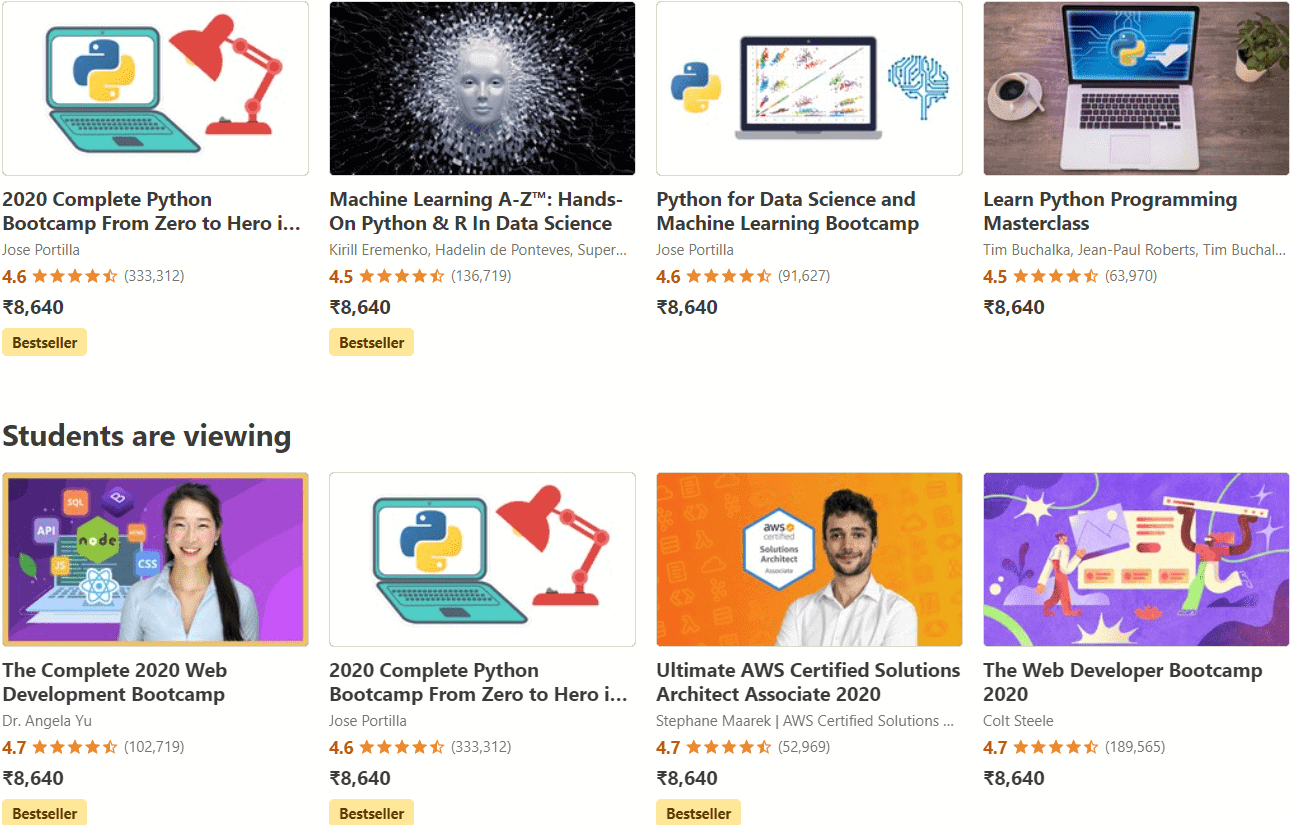 Online learning has tremendous benefits. Firstly, education is scalable and more affordable and also provides easy access to teachers from all over the world.
This is very exciting, as this paves the path of equal opportunity for people who want to learn several things. E-learning is the most remarkable development which makes people move forward in their life.
There are many important names in the online industry. The rapid growth of curiosity among the students about a particular course attracts numerous customers into the field.
One such name is Udemy, a global learning online platform. You can even sell and publish your course. There are thousands of online websites which provide the facility of learning. Then how Udemy is separated among others? The answer to this question is the significant features of Udemy.
The advantages of Udemy are never-ending. Udemy believes in barrier-free learning and provides courses to already graduated students as well. Let's dive into some of its benefits, shall we?
Access to Q&A-

Student's questions are inquired and instructors help to cope with students who encounter difficulties. A tremendous advantage, like every student, is in search of this advantage. 
Participation-

Students are provided with exercises and assignments so they can check their performance. 
Pricing Control-

Market prices set up by course creators for the courses they offer. $10 to $30 per hour of content is recommended. For example, a four-hour course would be sold between $40 to $120.

Low-cost courses-

Udemy estimates that its significant courses are free. The company tries to build a base with distributed discount coupons where students try for free or for 50%.

Extensive course offerings-

Wide range of courses are being provided, ranging from development to foreign languages. It seems that the library has become small. 
So, these benefits would be useful to choose the Udemy online learning platform for you.
When do the sales Occur
Do many people wonder how often Udemy course sales occur? So, here is the answer to your question. 
Udemy has sales running every single day, and you can't afford to miss it because new offers come up now and then. But in the beginning and at the end of the year the courses offered are huge. Valentine's day offers and Black Friday offers are sales Udemy provides throughout the year. Special events are organized at different times of year to promote their product. For example, further discounts are offered for Cyber Monday. 

There is a full list of sales every month and that is awesome. Go quickly and check these sales, this would benefit you a lot. 
If you are already a user of Udemy and don't want to wait for these annual sales, then you could find a whole host of offers in your email box regularly. Some deals stay up for the whole week, or just a few hours depending on the type. So, make sure to grab this opportunity in time. 
Udemy Pricing
This e-learning website is predicted to reach $325 billion by the end of the year 2025.
Udemy is a platform that has instructors from all around the world speaking on various interesting and enlightening topics. It's entirely free for the instructors to sign up.
All they have to do is set up their PayPal or any other account for their payment.

As for the students, it is free to sign but all the courses have different prices. The prices are determined by the instructors. Both instructors and Udemy offer discounts on their courses at any time of the year.
You can have lifetime access to the course material as long as you have an account in Udemy. All the courses lie within the range of $19.99 to $199.99.
Udemy always gives large discounts to promote its courses at 80% or even 90%. Most of the courses on Udemy cost hundreds of dollars and then go on a sale of 90% to attract more and more people.
The courses come at their lowest price of $10-$15 during holiday times. They can even come off as free for a limited time. Never do the customers pay full price, and are always waiting for an email regarding the discounts.
As of this year, all the courses have been limited to $50 only. Great isn't it? So make sure you go and grab the deal immediately. 
Types of Coupons
Now, if you are a teacher working at Udemy, it depends on you on how to promote your courses to the students. Udemy gives you freedom in that area. You can create coupons and referrals to entice students to enroll in your courses.
The instructors get the maximum profit when students choose your course through the given coupon codes or referrals. Now, here comes the interesting part. Instructors can create their coupons.
There are 4 basic types of coupons:
The Current Best Price Coupon:

This is a limited period offer up for grabs by the students. It means the most reasonable price for that particular course, checking with the market prices, Udemy can offer to a particular student opting for that course. This coupon is valid for 5 days.

The Custom Price Coupon:

This coupon pricing is done by the instructors, in a given price range, analyzed and put up by Udemy. This offer is valid for up to 31 days for its students.

The 3-Day Free Coupon:

As the name suggests, the course is given out to its students for free, but for a limited number of days. This offer mostly lasts for 3 days.

The 30-Day Free Coupon:

This coupon gives out free courses to 10 randomly selected students, who are opting for the same course. This offer is valid until 10 students enroll for the course. If not, then this coupon will expire after 30 days.
How to create coupons if you are an instructor?
Creating coupons is an easy job. All you have to do is follow a few steps and you are done. 
Go to the promotions page on your account. 

Click on the

create new coupon

option. 

Select the coupon type of your choice. 

Edit the name of the coupon as you wish. Make sure it has a maximum of 20 characters only. 

Click on the review coupon. 

Click on 'Create a Coupon'. 
Easy isn't it? Your coupon is now created. To share your coupon, click in the option share coupon on the right-hand side. Your coupon will now be available to all potential students and can be applied automatically to a course with a single click. Always remember, once a coupon is created it cannot be edited or deleted. You can also deactivate the coupon after a few days. Make your coupons with the great Udemy platform. 
Quick Links:
FAQs (Udemy Courses Go On Sale):
✅Is there a Money-Back Guarantee with Udemy Courses?
Every course on Udemy comes with a 30-day money-back guarantee. If you are not impressed with the course, feel free to claim a refund but after 30 days, there is no refund.
💼 How often do courses go on sale on Udemy?
You can find sales almost all around the year. The sales are determined by the instructors themself. You can find Black Friday sales, Valentine's day sales, sales at the starting and end of the year, cyber Monday, back to school, and on a lot of other special and festive occasions.
⚡ Is Udemy worth the money?
It is definitely worth the money. Concerning the quality and quantity of content, it is the best and the fact that anyone can create and listen to Udemy courses is a double-edged sword. You can view and create courses on various topics. A few of the most popular courses on the website are Web Developer Bootcamp, Hands-on Python Learning, Excel courses for Beginners, Artificial Neural Network, SQL Bootcamp, Java programming, Photography, and much more!
Conclusion: How Often Do Udemy Courses Go On Sale?
If it is the first time that you are trying out the e-learning platforms, then Udemy is the best.
Don't go on thinking, just get yourself an account. If you are an instructor, then this is the best platform for you to make your courses to reach a large number of people.
If you are a student then you are lucky enough to be a part of Udemy as they have a wide variety of courses just for you. You don't have to worry about finishing it in a rush. All the courses are yours once paid, learn it at your pace. 
Don't even think about skipping Udemy sales because you will be missing a lot. Make sure you go look into it right now, it's just a few clicks away. I promise you it's an amazing platform and I have been using it for months now.
I do not regret it doing so, in the least bit! Be prepared and grab the deals as soon as possible. You will love it!