Online marketing rivalry keeps heating up as more websites are competing for top-ranking positions. And it makes total sense because the first five organic search results account for 69.1% of clicks. So if you want your online business to be successful, it should be able to effectively compete for the highest-ranking positions.
This might seem like a difficult task, but don't be afraid. SEO tools can make keeping a close eye on your competitors a lot easier. With them, you can gain valuable insights into their performance and discover ways to take your website to the top.
In this article, we'll take a close look at SE Ranking to learn how to analyze competitors and boost a website's competitive capabilities.
What is SEO competitor analysis?
Let's start by piecing together the definition.
Competitor analysis is the process of inspecting your competitors' websites and getting valuable insights to help you overcome them.
There are different ways to find useful information on competitors. SEO competitor analysis tool offer a wide array of functional capabilities for competitor research, which can help you: 
Identify main competitors in organic search.

Check a competitor's website traffic estimate and its cost.

Understand how a website is being promoted in terms of SEO. 

Find keywords that drive the most traffic. 

Compare and expand your own target keyword list.

Check key backlink metrics.
You can also take a quick look at your competitors' paid campaigns to more accurately determine what's going on in the SERP.
This information enables marketing specialists to form a deep understanding of their business's niche, detect direct competitors, and adjust their SEO efforts accordingly.
Now, let's closely observe SE Ranking's capabilities and how its tools can help you gain a competitive advantage.
Discover popular competitor pages
Now, let's move forward to analyzing pages on the competitor's website.
Listed under the Pages section are Google's top 100 organic search results (from the analyzed domain). You can see the percentage of traffic every page gets, the estimated traffic cost, and the number of keywords the page ranks for in the top 100 search results.
By clicking the URL, you can transfer to other sections to get even more details. For instance, you can view keywords, ads, keywords rankings, and so on.
Here are a few ways to use this information:
Identify pages that rank for the target keywords.

You can sort pages by the total number of keywords they rank for in organic search. This will help you figure out the most comprehensive pages on competitors' websites.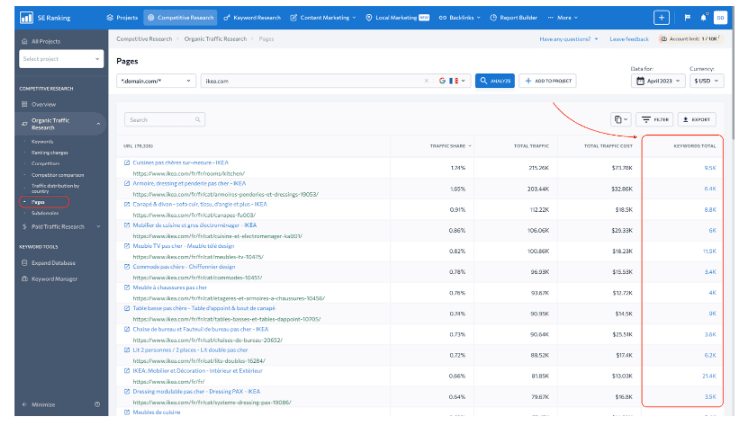 Identify pages that have the most traffic.

You can see the estimated traffic volume the analyzed page gets with current keywords. The value is calculated using a formula that involves search volume, current rankings, and the expected click-through rate (CTR).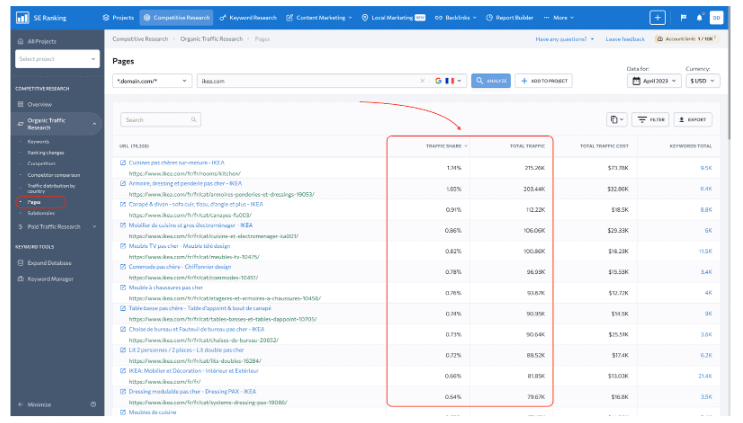 Analyze the content on those pages.

Visit the most effective pages to compare their content with similar pages on your own site. This will help you identify strengths and weaknesses to create a better content strategy and fill in content gaps.
Monitor competitor's search positions
SE Ranking enables users to monitor and analyze changes in keyword competition.
Go to the Rankings Changes section, where you will find a table that includes several categories: improved, decreased, new, and lost keywords.
This data helps you understand whether a competitor's online presence is growing or declining and for what keywords, as well as whether a small and unnoticeable website can become your direct competitor.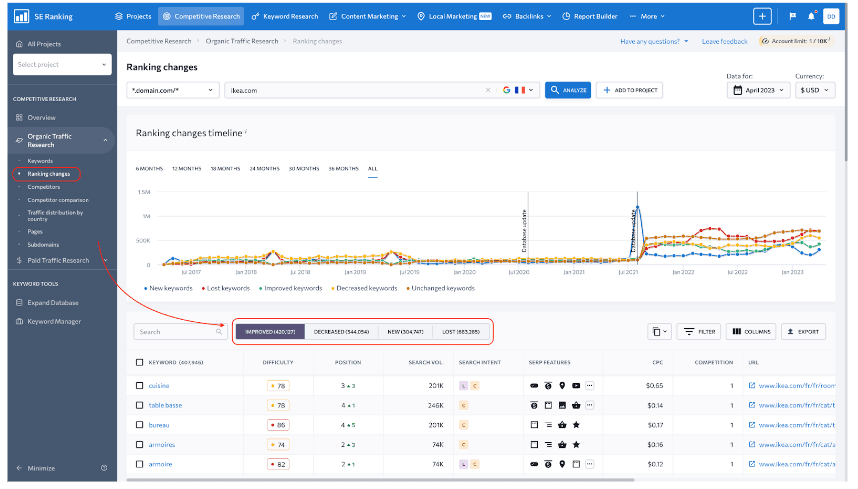 Let's take a look at how you can use this information:
Examine keywords competitors are actively optimizing their web pages for.

Track changes in positions of keywords on the competitor's website. If the position of a keyword considerably improves, this might mean that your competitor is working towards its optimization.

React fast if the competitor outranked your leading positions.

You can track and compare the dynamics of ranking results for different keywords. Check for changes in high-volume keywords. This way, you will know when you should react to make sure you are not losing the competition.

Take advantage of competitors' lost rankings.

There could be different reasons why competitors' positions decrease. In any case, it is important to detect these keywords and find opportunities to overcome competitors in the SERP.
Discover link-building opportunities
Backlinks are essential for SEO. Search engines are more likely to rank sites with a decent number of quality backlinks higher in search results. A high number of backlinks from authoritative domains means that the website is trustworthy and should be chosen to rank for a certain search query.
In the Overview section in SE Ranking's Competitive Research tool, you can quickly check Domain Trust and Page Trust scores, the number of backlinks, and referring domains. This will give you a general impression of your competitor's backlink profile.
SE Ranking also features the Backlink Checker, which helps in finding backlinks of any domain and analyzing them against over 15 parameters.
The Backlinks tab provides a detailed list of backlinks for a given site along with their URL, target URL,  anchor text, type (dofollow, nofollow), Domain Trust and Page Trust scores, and the date they were first discovered.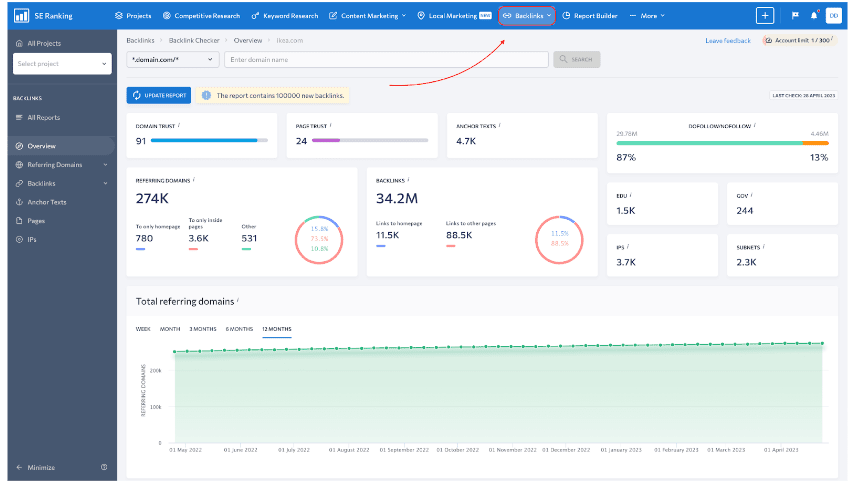 Here is what you can do with information about competitors' backlinks:
Check the link-building strategies of your competitors.

By analyzing their backlinks and referring domains, you can understand which link types your competitors used to expand their backlink portfolio. You can also check which pages your competitors are promoting and which anchor texts they use for it. 

Monitor competitors' backlinks.

You can see which backlinks work best for your competitors and add the best backlink sources to your link-building strategy. This way, you can discover the most reputable and relevant domains with backlinks to your competitors. After that, do not hesitate to reach out to these domains and arrange for including links to your own sites. If this works for your competitors, it may work for you as well.
Quick Links: