In this blog, I am going to explain to you how to quickly delete all WordPress comments with one click.
WordPress, as I've repeatedly mentioned, is the most used Content Management System in the world, powering over 25% of the global websites. Due to its immense popularity, of course, it's natural that some of its features need modification.
One such feature is How to Quickly Delete All WordPress Comments with One Click. There are quite a number of reasons for me writing this post today.
If you're a frequent Knowledge Cage reader, you might have caught my post on How to stop spam comments on your WordPress website, so this post is almost related.
By the end of this article, you'll learn how you can delete or approve all WordPress comments (or more than one at least) in one single click.
WordPress Comments, the Unspoken Truth:-
Now comes the question, why do you get so many comments that you've got to use this feature, right?
Well, the reason is, WordPress comments, let users leave their "Website URL" in the comment boxes while commenting. These website URLs are considered "backlinks" to a website.
Backlinks are one of the most important factors for rankings a website on the search engine giant, Google. So the point is, a lot of people come over to your website and comment on just about anything.
Without actually reading the content of the post or being interested in it, for the sake of "backlinks". And that's the reason why you might get hundreds of comments a day.
Now, deleting all of those comments manually is extremely time-consuming,
How to Quickly Delete All WordPress Comments with One Click:-
So okay let's get down to the part that you're excited about, the action.
In order to delete mass comments in one click, log in to your dashboard and click on Comments.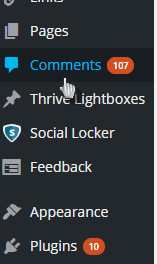 The next page will hold all the comments your website has ever received. Just select all the comments that you want to delete using the checkbox next to them.

Click on the "Bulk action" button at the top.

And select "Move to trash" from the options, and click on apply!
Done!
That's how easy it is to delete mass comments from a WordPress website in a single click.
How to Approve More than One Comments in One Click on WordPress:-
Now that I'm talking about it, why leave this option out, right? Of course, we all want to see clean, real feedback on our websites.
The basic steps are the same, you log in to dashboard > Go to Comments > Select the comments you want to be approved.

Click on the bulk action, and choose "approved" from the actions.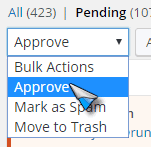 And click apply!
Done again!
How to Filter out Spam Comments from Non-Spam:-
I just thought it's worth mentioning out here how to do the filtration, right? I mean before you can approve or disapprove comments, you need to know which to approve or disapprove, right?
Hey before that, let me tell you what Spam comments are.
Spam comments are comments which are:-
Unrelated to the article. (Most often coupled with a link):- Like, Hey Admin, great post. Now there's no indication that the reader actually did read the post.
More than one comment from the Same User, repeatedly:- It happens that some users comment the same thing over and over again. Or if not the same thing, at least the person is the same, from the same name and I.P Address. (Again, mostly with links!). By "More than one" I don't mean two, I mean 5-6+.
Links to malicious sites:- Delete a comment as soon as you see it if it even remotely pronounces the words 'PO**" "se*" in the links. Adult links are just so hated by Google, you don't want to get in Google's bad books, trust me.
Comments with the sole Purpose of Linking:- You'd know when you read a comment, that the only purpose of the user was to gain a backlink from you. Let's say something like:- Hey Admin great post, would you love to check out my new post here:- www.blahblah.com. Yup, that's it.
Comments with more than one link:- Having links in the comments isn't totally a "Spam" thing! It's okay that if someone is leaving a comment on your blog, he might want to tell you which blog they're working on. Having comments with more than 1 link is! 99% times more than 1 link is pointing towards a spam comment.
Comments with HTML Codes into them:- Some comment plugins allow inserting and executing direct HTML links in the comments. Now, this is exploited by the spammers. They link malicious HTML codes in the comment boxes. So if you see HTML codes inside of comments, most of the time they're spam.
Comments from the same Ip Address:- One of the good features that WordPress offers you are, it shows you the IP address of the person commenting on your blog! Although it's not extremely easy to check IPs just by looking at them, if you see two or more comments from the same IP address but with different names, they're probably spam.
Quick Links-
Over to You:- How To Quickly Delete All WordPress Comments With One Click?
So that was all I had on How to Quickly Delete All WordPress Comments with One Click. I'm sure I made the guide simple enough. There's no rocket science to it, so I'm hoping it was simple enough.
In case I missed something, or you messed something up, do make use of the comment box down below! And it wouldn't hurt either of us if you hit the share buttons, it takes time and research to scribble these posts down, and all we ask in return is a share.