Imagine having a website that is visually very impressive, has all the product/service information, the after-sales services information, and all the works.
Your website visitors are thoroughly convinced that this is the product or service they are looking for but they don't make any purchases.
You would think why is this happening? You've virtually certainly heard of these two names Instapage vs. Leadpages. You can also, check out our detailed guide on Leadpages Review.
The reason is there is a huge 'online' market out there. Consumers have multiple options to choose from and it is very easy to jump between different websites to choose the best product. 
How would you convert this potential lead into a happy customer? The answer is very, very simple. By creating a Landing page on your website. A Landing page? What is that? Read the full article Instapage vs Leadpages to know the full details.
In simple words, it is a page on your website which offers a reward or a free download or anything related to the specific product in exchange for the potential customer's basic contact information. Yes, welcome to the new-age digital sales strategy.
As per Hubspot, a popular Marketing and Sales platform, Landing pages have the highest conversion rate (23%) compared to other sign-up forms. A landing page is more effective than a regular advertisement showing only a product.
This is because the customer is more likely to trust your services and your brand when they get offers or free interesting content in exchange for filling out the form.
Now, you would think how could I create a landing page for my website? There are numerous tools available for creating a landing page. The two most popular ones are:
Leadpages

Instapage
🚀Instapage vs Leadpages: Quick Expert Summary
Both Instapage and Leadpages are fairly easy to use, although Leadpages does have a bit of a learning curve. Once you get the hang of it, however, Leadpages is fairly straightforward to use.
In general, Leadpages is probably better suited for those who are somewhat familiar with web design, while Instapage is probably better suited for those who are new to the world of landing pages.
When it comes to features, both Instapage and Leadpages offer a wide selection of templates, integrations, and customization options. However, Leadpages does have some unique features that set it apart from its competition.
For example, Leadpages offers A/B testing capabilities on all of its plans (including its free plan), while Instapage only offers A/B testing on its most expensive plan.
In addition, Leadpages' higher-priced plans come with access to its team collaboration tool, which allows multiple users to edit a single landing page at the same time. If team collaboration is something that's important to you, Leadpages may be the better option.
A quick comparison of the main features: Instapage vs Leadpages
Before I get into the more in-depth comparisons between Leadpages and Instapage, I want to start with a brief general
introduction of the features of each tool so that you know exactly what to anticipate when I get into the more hands-on aspects of the comparison. Instapage is a tool that allows you to create landing pages in less than a minute.
The fundamental aspects of Leadpages
Editing via a drag-and-drop interface and visual previews are both included in the process of building landing pages.
More than 130 free drag and drop templates are available here. You also receive hundreds of additional free and premium templates that are compatible with the legacy editor that is included with Leadpages. These free templates are only the beginning.
Integrations with the tools you use most frequently – Connect to the email marketing provider of your choice, as well as your preferred webinar tool, payment gateway, customer relationship management system, and a great deal more.
Landing pages that are hosted – Leadpages handles everything for you, including the hosting of your landing pages and lead magnets, so you don't have to worry about it.
Easy A/B testing – Quickly generate fresh tests to optimize your landing pages using any of these two methods.
Detailed analytics—You can link to your preferred third-party analytics services or view the analytics directly within the dashboard.
Numerous website connectors in abundance – Publish your landing pages to your own website in a snap using HTML or a plugin designed specifically for WordPress.
Complete website development – The same drag-and-drop builder that you use to create landing pages can also be used to create complete websites (think Squarespace).
Notification bars – Create attention-grabbing notification bars to promote offers, grow your list, and do a variety of other things.
Other features: With Leadboxes, you can create two-step opt-ins that enhance conversions; with Lead links, you can sign up subscribers; and there are tons of other bonus features.
My Personal Experience On Instapage vs LeadPages

I have used LeadPages for a while and I am very happy with it. It is a great platform for creating landing pages and I have found it to be very user-friendly. The templates are easy to use and allow you to create a high-quality landing page quickly and easily.
Overall, I would recommend LeadPages to anyone looking to create a high-quality landing page quickly and easily.
1. LeadPages is easier to use for a first-time user, with more widgets and a more convenient interface.
2. Instapages are more responsive and customizable for different devices and tools.
3. LeadPages are better for selling products, while Instapages are better for delivering content.
Instapage vs LeadPages 2022: Overview
Both Leadpages and Instapage are very similar except for some minute differences. However, popular opinions suggest that Leadpages is an easy and simpler tool to operate and understand.
Instapage Overview: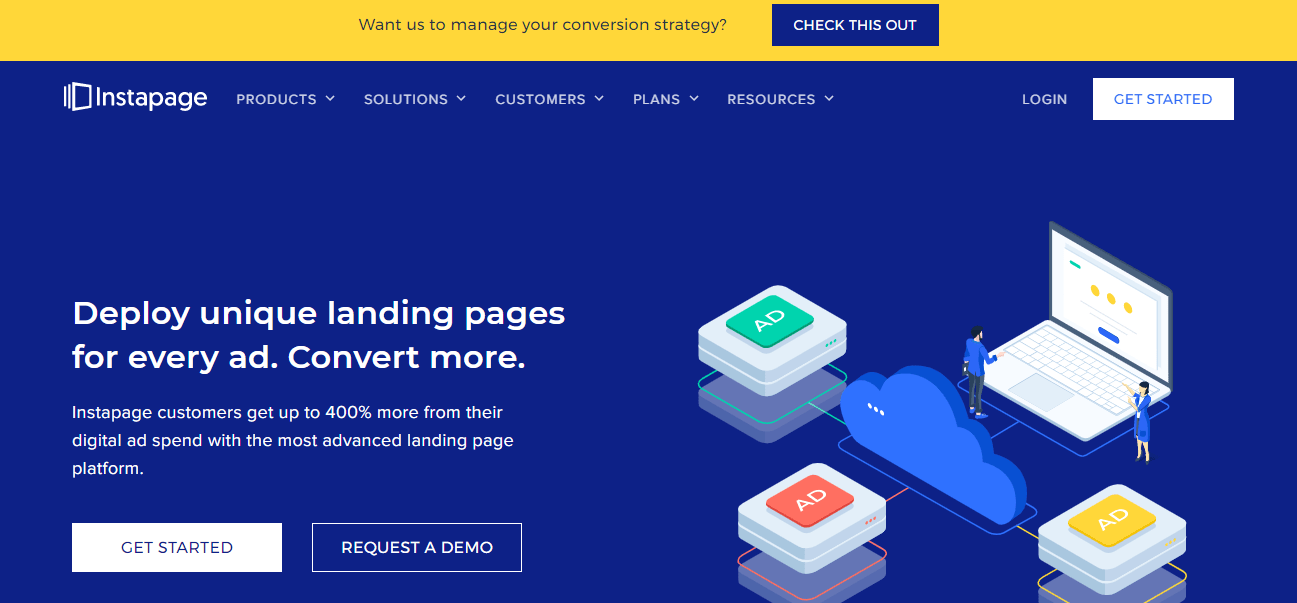 Instapage is also a software tool that creates landing pages. This software helps in your online marketing campaigns with features like A/B testing, easy page building, and multiple campaign management.
Instapage is a service that allows you to easily create landing pages for your online marketing and promotion campaigns. It includes features such as A/B testing, multiple campaign management, simple page creation, and much more!
Leadpages Overview: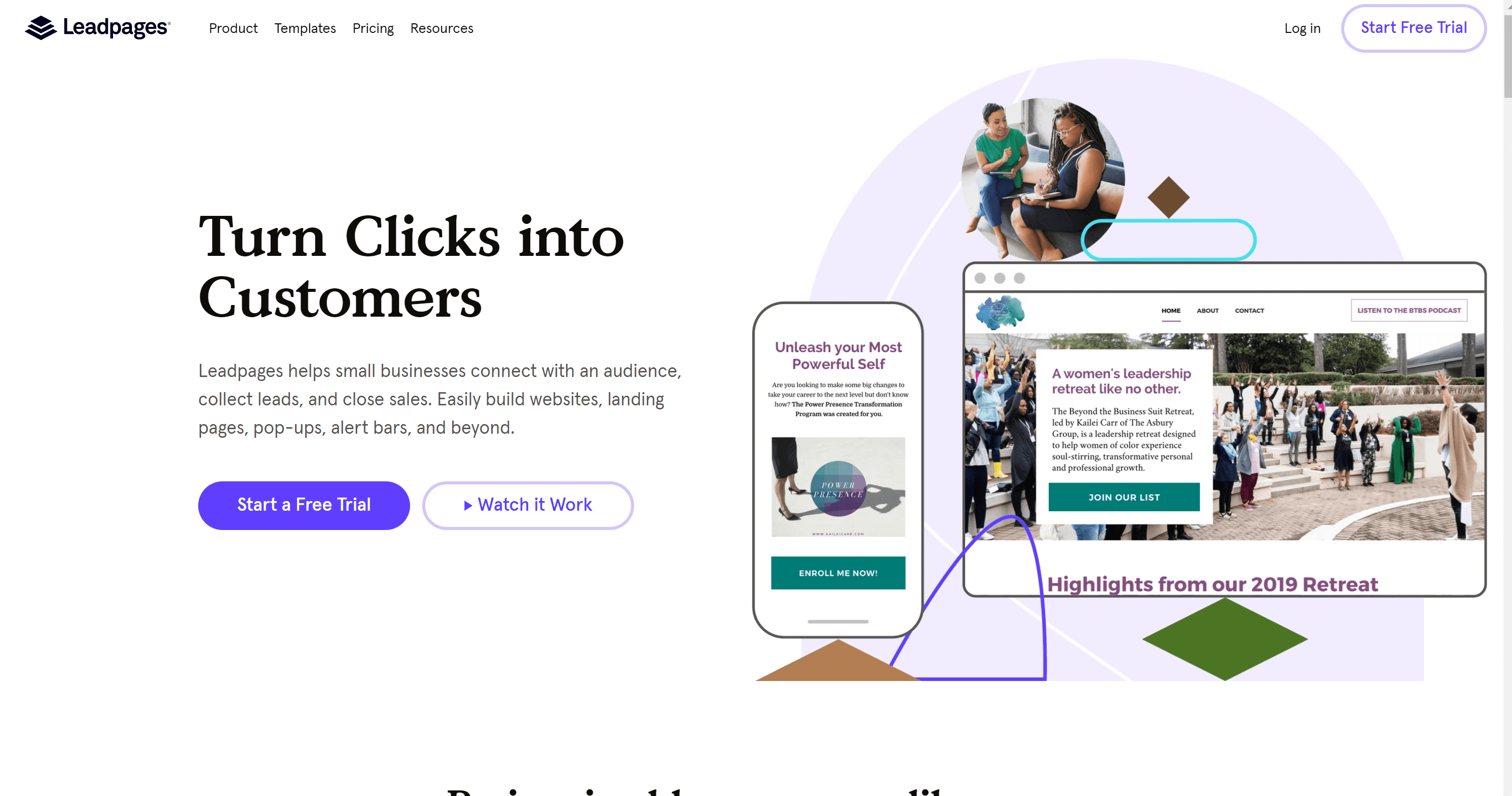 This is one of the most popular and best software tools available in the market to create an optimum Website and Landing page. When you open the official website of Leadpages, the home page says "Turn Clicks into Customers".
This says it all. It is a drag and drops software tool that can be used to set up landing pages, email sign-up forms, webinars, courses, alerts, pop-ups, and much more. 
Leadpages is a best-in-class website builder that enables entrepreneurs and marketers to easily publish web pages, generates leads with confidence, and converts clicks into customers on a consistent basis.
Leadpages help you get started and stay in business online, with everything from landing pages of websites.
---
Key Features: Leadpages vs Instapage: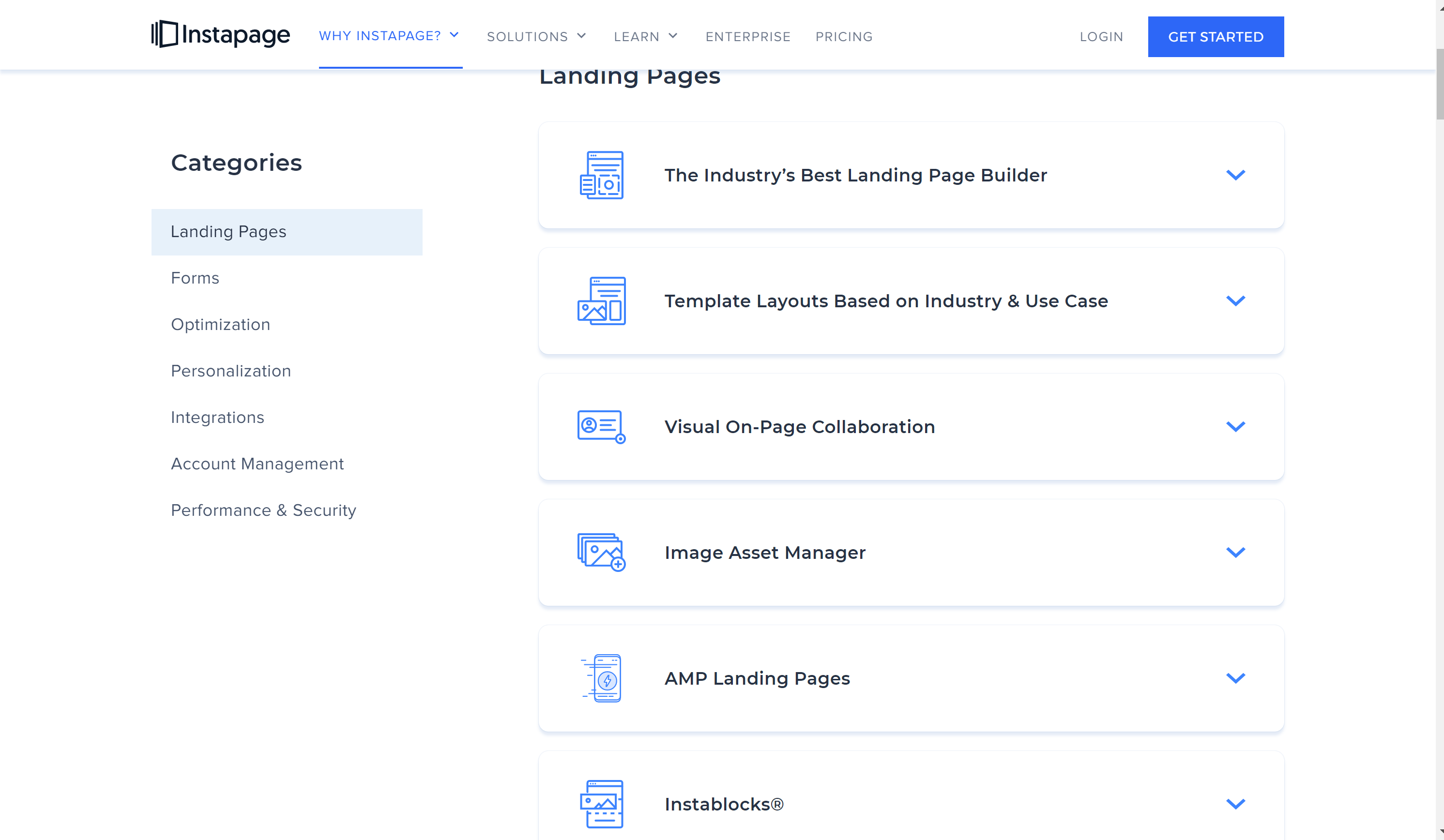 Instapage vs Leadpages: Marketing Automation Tools 
Leadpages and Instapage are highly aesthetic, well-regarded, and extremely popular landing pages. These online tools help you to enhance your subscribers. It facilitates small businesses to reach a wider audience.
These famous land page builders will help you to have access to the most splendid services resulting in, the building of pages for either promotion campaigning or designing a website into a more exquisite professional landing page.
It will further explain, which marketing automation online tools are better. , in whatever ways as compared.
One should be rational enough to understand the need for a more dedicated landing page tool for a more customized & adjustable landing page.
Let us dive into & have a closer look through all the characteristics & benefits from Lead pages to Instapage and help ourselves to choose a better option.
Instapage vs Leadpages: Analytics and Systems Tracking
Leadpages
Powerful analytics software to help you reap the maximum possible benefits from that of a landing page. The analytics and systems tracking in Leadpages is said to be second to none and has a very high conversion rate as compared to other similar software on the market. 
Instapage
Instapage is also very advanced analytics software and does indeed provide you with increased leads and conversions. Yet, despite it being very advanced it is not at the same level as Leadpages.
Verdict
Needless to say, although both Leadpages and Instapage have advanced Analytics and tracking, in this case, Leadpages is the clear winner. 
Instapage vs Leadpages: Motive and goals 
Drag and drop is the main and important option that helps you to construct the web page conveniently. Without the need for back-end development drag and drop, the option is the rapid technique to customize a web page.
Leadpages
It helps you to generate the web page or the whole WWW site and you can also create your destination page. It also combines you with the latest email retailing campaign.
Instapage
It helps you to generate destination pages or say landing pages, but it doesn't help with an entire web page, just like the land page it also combines you with the latest email retailing campaign. 
HTML widget (Hypertext Markup Language):
As previously stated, Leadpages do not necessitate the use of code. HTML widgets and CSS customizations are also available for more sophisticated developers who desire greater control over their page's appearance.
Sections to copy and paste:
By copying and pasting chunks, you can save yourself a lot of time. This feature ensures a unified design while also saving time for the designer. Oh, and it saves data in real-time. Consequently, you never have to be concerned about losing your job.
The Wistia video link is provided for your convenience.
Instapage:
Instapage is just as simple to use as any other website builder. In fact, one of the most gratifying parts of the platform is how easy it is to navigate the interface. It has several user-friendly characteristics, including the following:
Drag-and-drop without the need for a grid: Simply plug and play your way to a gorgeous landing page. Instapage's drag-and-drop interface is unlike any other, allowing for maximum customization (ideal for more advanced web designers).
In the end, both platforms provide a user-friendly environment across the entire app; no coding is required, and both platforms provide pre-designed content blocks to expedite the development process. Even the most technologically illiterate user will have no trouble using these tools. Your final decision is entirely dependent on your end goal.
With our grid style, Leadpages makes it simple to drag and drop pieces, enticing people who have limited knowledge or time to figure out the efficiency of conversion tools.
Additionally, with the Leadmeter, users can receive personalized conversion advice that will assist them in increasing conversions. And, after all, isn't it what we all want?
Alternatively, Instapage offers a very unique grid-free drag and drop functionality that professional site designers, who may be more accustomed to advanced design software, may find more appealing than other options.
Although this structure provides designers with the greatest amount of flexibility, it may be overwhelming or time-consuming for individuals with little or no design experience.
Within their commercial plans, Instapage allows you to view your revision history, and on Leadpages, you can simply revert to a prior version of your published page by clicking on the Revert button.
Core Features of Instapage
The following is a list of some of the most fundamental elements that are included in Instapage.
Landing Pages That Are Already Hosted Instapage hosts your landing pages and makes them simple to use by providing a plugin that you can install on your own website.
Free Templates: Select from more than 200 available free templates, or purchase additional templates from Envato.
Comprehensive Integration: Sync your landing pages to customer relationship management systems, email marketing providers, and more.
Freeform Drag and Drop Editing: This framework allows you to create comprehensive landing pages by dragging and dropping elements in a grid-free environment.
Streamlined Split Testing is a feature that allows you to optimize the designs of your landing page in a much more effective manner. It is a quick and easy A/B testing option.
In-built Analytics: An integrated analytics feature not only gives useful data but also establishes connections with a variety of third-party services in order to get more advanced data, such as heatmaps.
Collaboration Tools: The availability of a wide variety of collaboration tools makes it simpler for teams to cooperate in the process of developing efficient landing pages.
Instapage vs Leadpages: Designs And Layouts (templates)
Designs and layouts are the most important features and it clarifies the website pages and their making or construction process. As they can be readily available and easy to use, As per your brand requirement you can use these layouts and templates, and can be further made to order.
Leadpages
130+ various types of designs and templates are available for your referral and selection. At liberty, you can get hundreds of premium templates and layouts that customize with Leadpages main working staff and editors.
Instapage
150+ template designs are available on Instapage and through the scrap, you can construct your landing pages. For instance, you can even have a selection among these 150+ templates or pick up and buy another hundred templates via Envato. 
Instapage vs Leadpages: Widgets
Leadpage
 leadpage recently consists of 18 widgets
       

Headings

       

Text

       

Buttons/links

       

Countdown

       

Pictures

       

Video

       

Line

       

Spacing

       

Html

       

Form

       

Checkout

       

Shares

       

Comments

       

Likes

       

Progressing bar

       

Icon

       

Images + text

       

Calendar + text
In comparison to Instapage, Leadpages consist of one unique widget named as checkout widget, this widget allows you to sell the fundamental digital products.
Leadpages incredibly function to maintain the delivery part of the process and you can conveniently sell your products like e-books, and webinar tickets directly.
Great landing page ideas
Using a landing page builder does not guarantee more leads or higher conversion rates. To get the most out of your landing page builder, you should:
Catchy headlines: Your landing page's headline should never be confusing or vague. It should entice your viewers to keep scrolling. When I think about headlines, I think of one of my favorite business books,
Copy should make you a category leader. Even if your product isn't a category leader, consider positioning yourself as one. Is it possible that you are the #1 SEO tool for fashion bloggers? Conquer a category with your headline copy.
Mobile: Mobile traffic accounts for 54.8% of total web traffic, thus optimizing your landing pages for mobile. The good news is that the finest landing page builders allow you to preview your page on both mobile and desktop before posting.
Humans like social proof. We are more likely to buy when we see brands and user reviews. Using press badges above the fold on my landing pages has increased conversion rates by 10%. Press badges give your product credibility and encourage users to read on. Likewise, client testimonials help users visualize using your product, increasing conversion rates.
Consider how often you read every word on a web page… Seldom. The Images keep consumers on your page and illustrate your product offering. When in doubt, use a stock photo with people in it.
A/B test: Especially if you pay for traffic to your landing page, A/B test. It makes financial sense. If you're going to A/B test anything, start with your title. Because just 20% of people go past the headline copy, it's the most significant spot for the A/B test.
Features of Instapage
Compare to Leadpages, Instapage consists of only 11 widgets namely:-
       

Instablock

       

Headline

       

Paragraph

       

Pictures

       

Image

       

Video

       

Button/links

       

Form

       

Shapes

       

Social shares

       

Timer

       

Html
Unlike Leadpage, Instaplan consists of only 11 pages and these are the widgets that are missing from Instaplan:-
       

Checkout/sales module

       

Comments

       

Progress bar

       

Icon
Leadpage Unique Features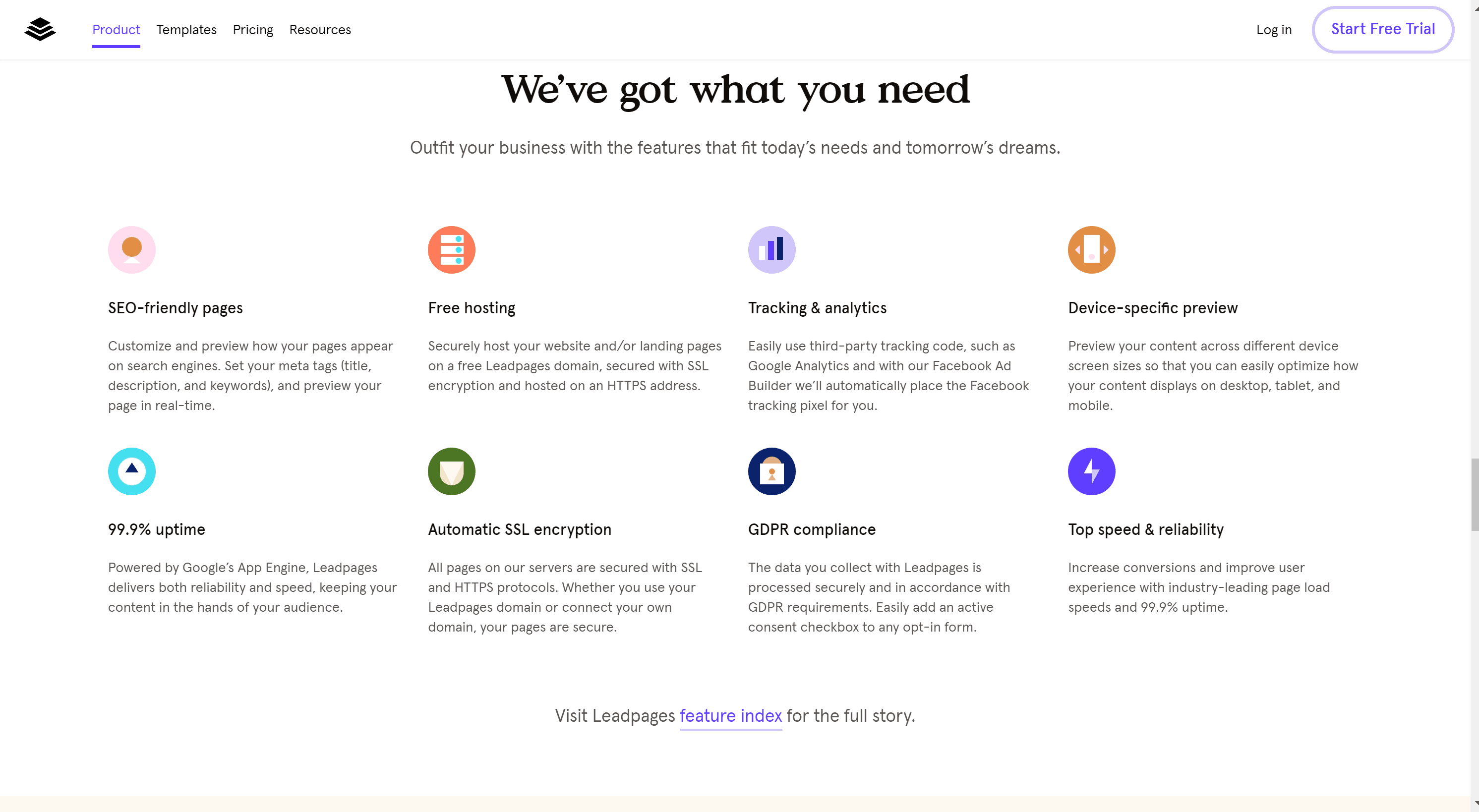 Lead boxes

– it allows you to construct or build the popups utilizing the drag and drop method or editors. The best thing is you can easily use lead boxes on any random page.

Facebook Advertisements

– to match up your destination pages you can easily create or build up your own Facebook advertisement.

Links

– you can create a link that is used by the subscribers to sign in automatically by clicking on the link.

Alert bars

– offers can be promoted by creating notification bars that can be used by users simply on any page.

Instagram unique features

Easy partnership

– Instagram is suitable for the partnership and collaboration with the working party and also has good partnership tools and devices.

Audit log

– in your own account you can track the changes and edits to landing pages.

Dynamic text substitution

– you can easily substitute the text in any real-time for a better alignment.

Instablocks

– this is one of the amazing features as it deals with saving an entire "block" and you can also reuse it on the other pages and it also reclaims your time.
Landing Page Builder
In just a few minutes, Leadpages allows you to construct easy landing pages. Its templates are tailored to specific needs, such as webinar registrations and email signups.
You may pick from a variety of page categories in the page builder, such as author profiles, checkouts, and so on. You may also include page features like autoplay video, headings, and copy.
Instapage, on the other hand, includes all of these capabilities, as well as the ability to add JavaScript, CSS, and HTML components, as well as font modification.
Instapage, unlike Leadpages, allows you to add modal popup boxes. These appear on top of the currently displayed landing page.
Instapage gives you a Page Version History as an extra editing feature. This allows you to link the results of A/B testing to the page version in order to make particular changes to your pages.
In terms of useful features, Instapage is somewhat ahead of the competition. Leadpages, on the other hand, include templates that are tailored to individual campaigns, making it a more focused option.
Comparison of Instapage vs Leadpages Using Side-by-Side Charts
Both technologies approach their primary aim in ways that are comparable to one another; nevertheless, one tool is superior to the other with regard to one or more aspects of conversion optimization.
Let's compare Instapage and Leadpages side by side in terms of their landing page builders, split testing, integrations, and their mobile versions so that you may have a better picture of the areas in which each product shines.
Landing Page Builder
You can construct straightforward landing pages with Leadpages in a matter of minutes. Its templates are created with certain functions in mind, such as signups for webinars and email subscriptions, for example.
You have access to a variety of page categories to select from when using the page builder, such as author bios, checkouts, and other options. You also have the option of including page features such as autoplay video, headlines, and content on your website.
On the other hand, Instapage offers all of these capabilities, in addition to the capability to add JavaScript, CSS, and HTML components, as well as the option to customize fonts, among other things.
In contrast to Leadpages, Instapage gives you the option to include modal popup boxes. These are displayed at the very top of the landing page that you are now on.
Instapage gives you a Page Version History as an additional editing perk for your convenience. This enables you to link the results of the A/B test with the version of the page so that you can make particular adjustments to your pages.
In this regard, we can observe that Instapage has a few more useful features than its competitor. Leadpages, on the other hand, include templates that can be tailored to the requirements of individual campaigns, giving it a more focused option.
A/B Split Testing
You can quickly conduct A/B testing with Instapage, and the platform will automatically divide your visitors between the two campaigns you choose.
The metrics that are highlighted include the overall number of conversions for each iteration of the campaign as well as highlight data such as unique visits, conversion rate, and areas of improvement.
On the other hand, Leadpages enables you to develop many versions for each campaign so that you may test them and determine which one results in a higher conversion rate. You are provided with an overview of data like as conversions and unique visitors in a certain period of time via the LeadPages user interface (UI).
Instapage and Leadpages both produce outcomes from testing that are comparable to one another. Leadpages, on the other hand, gives you a basic picture and is not as specific as Instapage does when it comes to the outcomes it delivers.
In the end, it will rely on the kind of data that you are seeking for as well as the level of specificity that you truly want in order to modify advertising efforts.
Integrations
The following online services can be integrated with Instapage:
MailChimp
GetResponse
Aweber
ActiveCampaign
KISSmetrics, InfusionSoft, Facebook, and a number of other platforms were used.
Leadpages is compatible with the following services and may be integrated with them:
The list also includes HubSpot, 1ShoppingCart, ConstantContact, and InfusionSoft.
In addition to this, Leadpages bought Drip, a technology for automating email marketing that is analogous to MailChimp.
At first glance, it appears that Instapage offers a greater number of possible integrations. On the other hand, when substantially integrated, Leadpages provides a more streamlined experience and loads significantly quicker than Instapage.
Instapage vs LeadPages: Pricing Plans
Leadpages Pricing Plans
Leadpages has three plans on a monthly and annual basis. They're subdivided into Standard, Pro, and Advanced. The rates are as follows:

Standard Pro Advanced
Monthly $37 $79 $321
Annually $25 $48 $199
2-year plan (Paid every 2-years) $17 $42 $159
Plan 1: Standard
The Standard package for Leadpages has landing pages and pop-ups,  mobile-responsive templates, and supports unlimited traffic, and leads.
Since it is limited to one website, it has limited features and so A/B testing and other important conversion optimization tools are missing from it.
Also, it does not support online sales or payments. The lowest level does not offer split-testing but the next level has A/B testing.
In this plan, unlimited landing pages, and lead-generation pop-ups can be created. With a tool built to optimize conversions, this is a must.
The platform employs the usual A/B testing methodology. It enables you to test multiple versions of your landing page or popup to determine which one receives the most clicks.
Plan 2: Pro
The Pro package supports three websites. It contains all the features of the standard plan along with unlimited A/B split testing, 10 opt-in text campaigns, and email trigger links as well.
Plan 3: Advanced
The Advanced package has a lot more features in addition to those of the standard and pro package. There are integrations to tools such as Hubspot, Salesforce, Pardot, and Marketo. It supports up to 50 websites and also gives the option of a personal Quick Start call with a specialist to help you set up the account and make optimum use of Leadpages.
Instapage Pricing Plans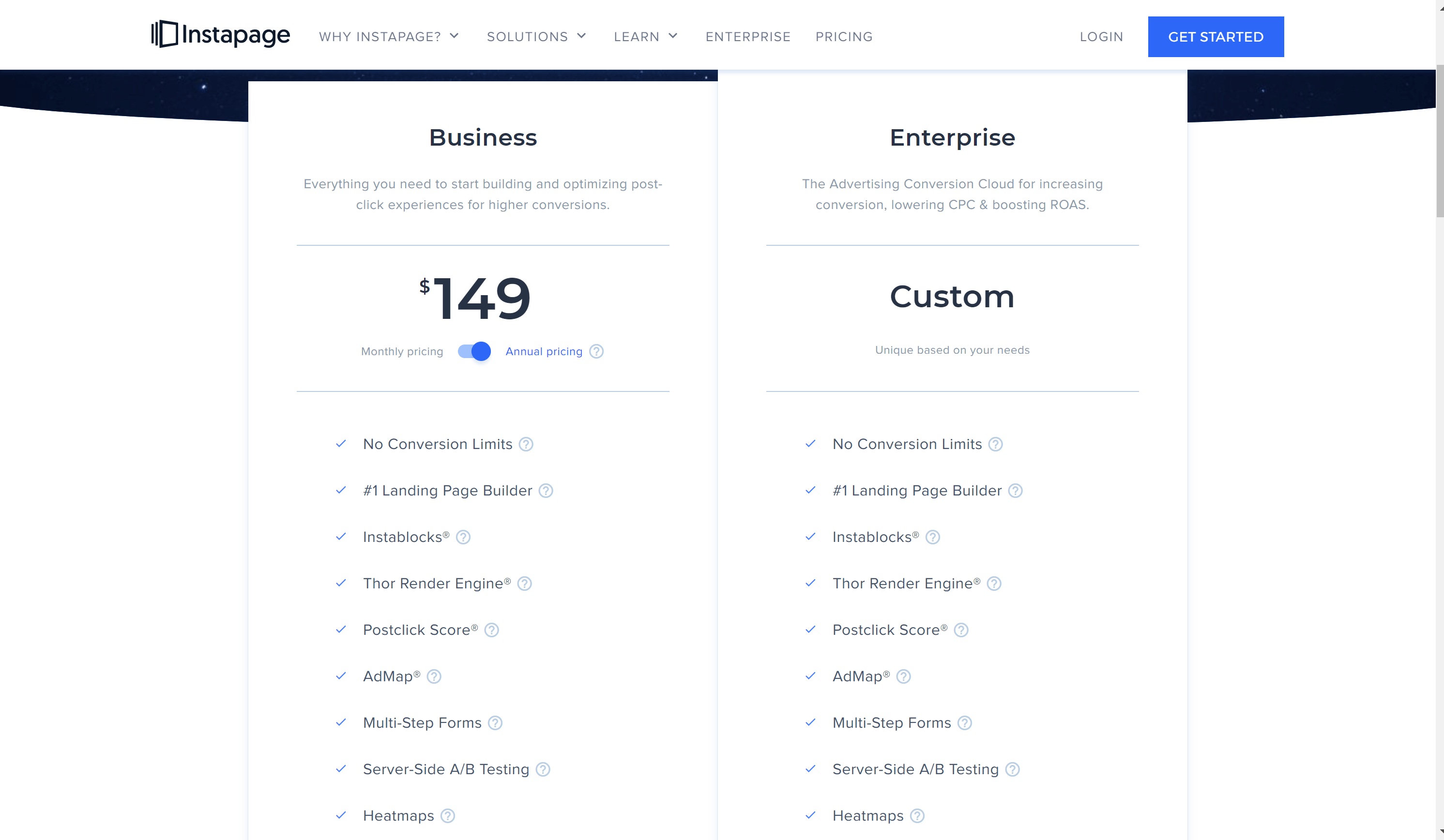 Instapage has 2 plans: Business Plan, Enterprise Plan
Plan 1: Business Plan
The Business Plan starts at a monthly $199 and also offers a 33% discount if the amount is paid in a lump sum. The discount amounts to a monthly $149.  A free trial for 14 days is also offered without credit card sign-up. Features include customizable templates, heatmaps, custom code editing, etc.
Plan 2: Enterprise Plan
An enterprise plan involves customized pricing for your needs. Several features are included for building up to 50 landing pages. A personal account manager is offered and also there are migration services for people who use other alternatives to Instapage.
For other features, a call with the salesperson is necessary to decide on the customizations you need.
Rest assured, the features can improve advertising operations and also give an optimum return on investment.
Verdict
Leadpages is a cheaper option as compared to Instapage.
Pros and Cons: Instapage vs LeadPages 
Instapage
Pros:
It has a built-in analytics tool

The interface is user-friendly

Really good designs and templates

It can be integrated with many software

It does not have any traffic limitations

There is dynamic text replacement for PPC campaigns

Many templates to choose from

It has direct integration to WordPress
Cons:
The basic plan does not allow A/B testing

The number of built-in images and icons is fewer so images need to be uploaded from Google.

comparatively expensive
Leadpages
Pros:
Good drag and drop templates

Easy-to-use interface

No need for HTML knowledge to add video or audio to your pages. Easy embed code

Professional results in minimal time

Customizable features

The highest number of landing page templates

Lowest plans at $25 per month

has a lot of app connections

Easy set-up
Cons:
Difficult to incorporate custom fonts

No option to start without a template
Leadpages Customer Review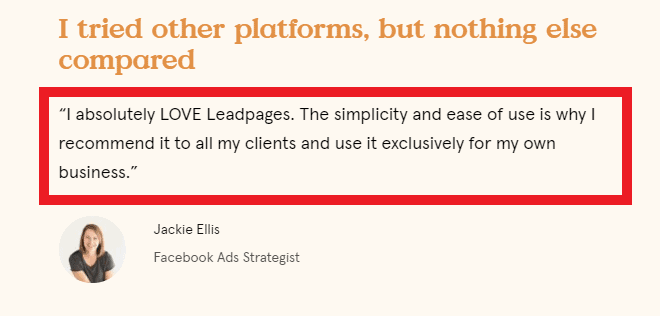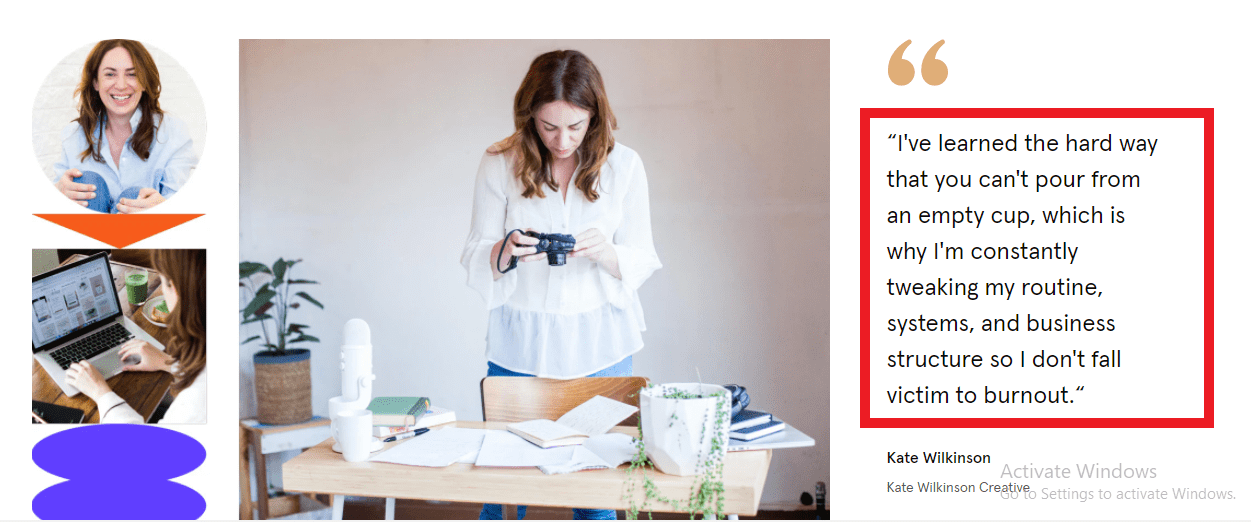 Instapage Customer Review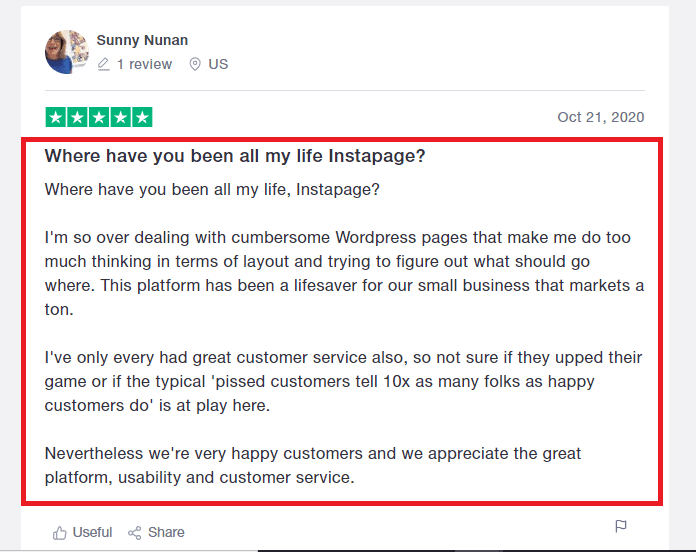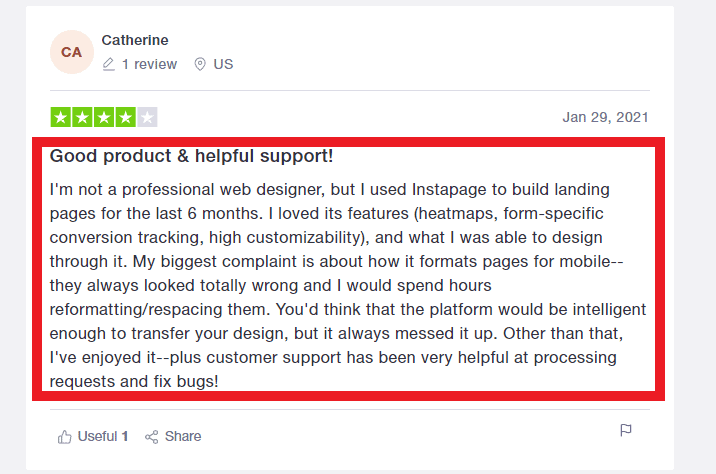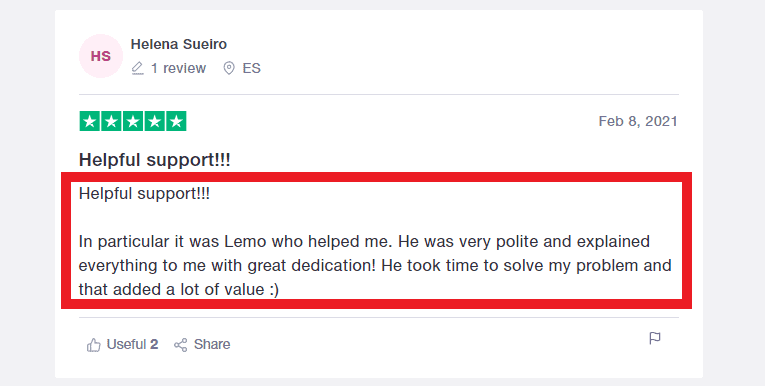 Leadpages On Facebook
Leadpages On LinkedIn
Leadpages On Twitter
"There's a lot to like about Leadpages. It's easy to use, produces great results, and is reasonably priced."

Thanks, @techradar for the glowing review! Check out the full #review for an in-depth breakdown of everything Leadpages has to offer. https://t.co/64kfn4ExVo

— Leadpages® (@Leadpages) March 30, 2021
Instapage On Facebook
Instapage On Twitter
You work hard to drive traffic to your landing pages. Don't let these common mistakes stop prospects from converting. https://t.co/MVWyeerOlm

— Instapage (@Instapage) March 2, 2021
Instapage On LinkedIn
Quick Links: 
FAQs Related to LeadPages vs InstaPage
🤞 What Leadpages can do ?
Leadpages helps small businesses gain recognition, helps them to connect with a wider audience, builds exquisite websites, pop-ups etc.
👉 How can I obtain subscriptions for Leadpages?
Customers should continue using their account for the next 14days, after a few days one becomes a paid subscriber to the same Leadpages plan which once you registered for free .
🤙 When to start Leadpages for business?
As Leadpages are quite convenient & affordable as compared to Instapage, whenever one joins the team, he/she will want something to promote. It makes it extremely easy & quick to promote business online which is well equipped with required conversion tools followed by other help .
Final Verdict: Instapage vs Leadpages 2022
This the toughest was part that we had to choose among one of these amazing quality products, they both are equally good and give us a good output but here are some points which must be noted down:-
Leadpages are budget-friendly as its cheapest plan starts at just $25 per month whereas $149per month is the cheapest plan of Instaplan.
Instapages are more convenient and flexible for responsive designs as it gives us a good responsive pages cover look than that in Leadpages and in Instapages you can also have your separate edits for different tools and devices.
Leadpages has a greater selection of widgets, one of the major drawbacks of Instapage is that it doesn't contain sales modules or say checkout widget which allows you to sell the fundamental digital product and it incredibly functions to maintain the delivery part of the process.
Leadpages contain more convenient features than Instapage.
Both do have their own important features but Leadpages are budget-friendly and have a good delivery tool with analytics and systematic tracking ways these two are the main and important things that users need the most, which essentially made Leadpages the winner!
Leadpages On Youtube
Instapage On Youtube