Looking for the best websites to get ideas for logos? In the creative field of graphic design, it's normal to need a new source of inspiration every day to keep going.
When you're out of ideas and can't come up with anything good, it's hard to make a good logo. From what I've seen, creativity is not a precise science. It's all about being passionate about your skills and turning them into art. Sometimes the creative juices flow, but sometimes we feel dry and out of ideas.
As a business owner, choosing a logo is one of the most important decisions you'll make about your brand. So how do you start? Checking out what other businesses have done is a smart (and fun!) way to get ideas for your brand's logo design.
Best Logo Inspiration Websites To Fuel Your Creativity 
1. LogoMoose 

LogoMoose is a community for logo designers that showcase logos created by some of the industry's most talented individuals.
You can submit your own original logo designs and interact with other members of the large design community in the site's lively forums, where you'll find helpful hints and advice, as well as critical feedback on your work.
2. LogoPond
Among logo designers, LogoPond is the most popular web logo gallery. It has hundreds of logos from almost every category. Simply enter a category name and it will return thousands of logos related to your search term.
It is the best place to get logo design inspiration, participate in logo discussions, rate logos, and submit your own logo. It is completely free to create an account and there are no restrictions; you can upload as many logos as you want.
3. LogoLounge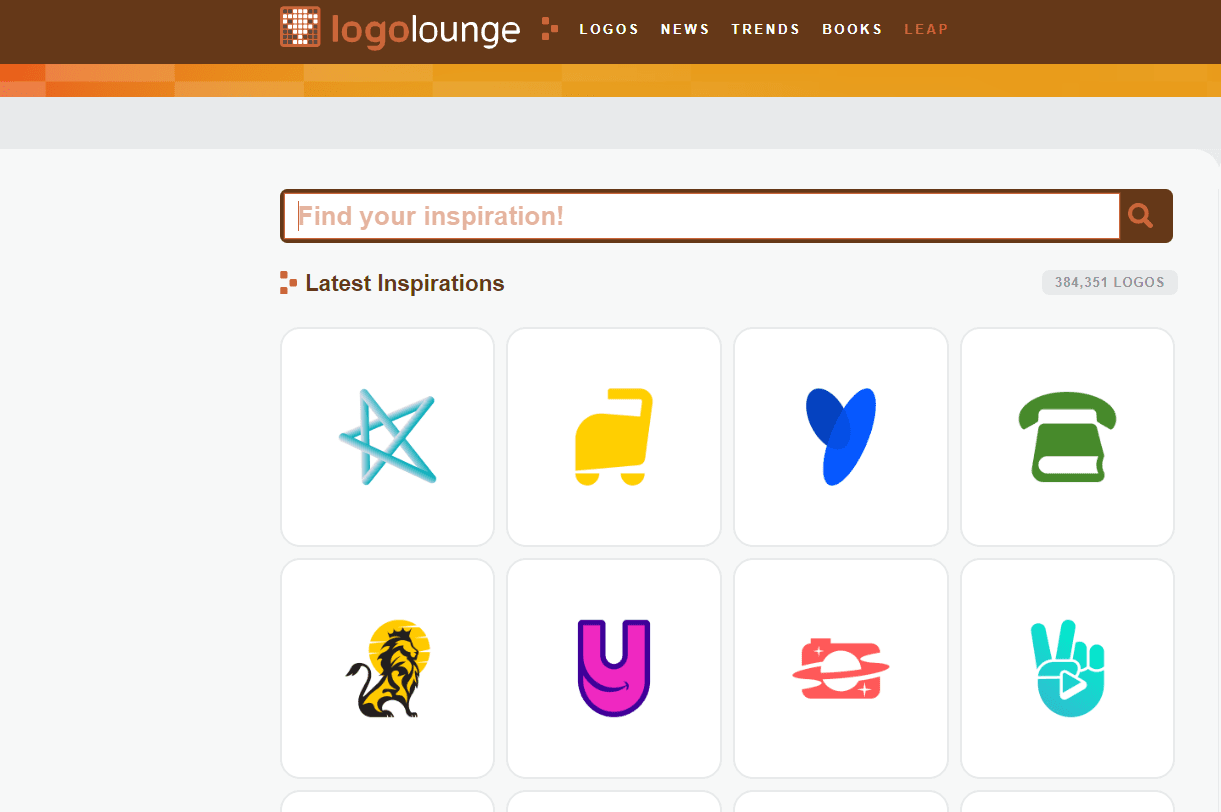 With more than 200,000 unique logos, LogoLounge has a sizable database of logos. It is a simple way to streamline your logo design research and find useful logo reference material.
You must pay $100 per year to upload an unlimited number of logos and to search through the thousands of logos that other designers from around the world have uploaded, so it is not entirely free.
4. Logofaves 

LogoFaves was created with the intention of providing the best logos and proudly introducing the most outstanding designs and artists in the world of logo designs.
This is accomplished by bringing all of these outstanding designs and artists together in one place and shining a light on their respective artwork. If you are the one who is looking to create a logo but are unsure about which design you should use, this is the webs best place for you to look because this gallery of designs is both simple and neat, and it contains thousands of different logo designs.
5. LogoHeroes 
LogoHeroes is a great website for logo designers, designers-in-training, and logo researchers to find inspiration, ideas, and references. Discover the most imaginative logo mockups created by skilled designers right here. Our team found it to be aesthetically pleasing and a constant well of creative content for designers.
6. LogoGallery
LogoGallery is the best place to find a stunning logo for your company. Due to its longevity on the web, this one-page website features numerous logos from various companies. The layouts are easy on the eyes, with thumbnails of each design laid out horizontally; users need only click on any of the thumbnails to learn more about it.
LogoGalllery is a group that has taken the time to compile the best logos from reputable online sources.
Conclusion
Use these sites as a place to start looking for your own ideas. Or get rid of them. But do let inspiration, real-life experiences, and the ideas of people you look up to into your design work.