In the present times, when so many website builders are available in the market, and each one claims itself best among others, it is a complicated task to decide which will work best for you.
Duda Vs Squarespace: Overview
Duda is an excellent website builder that is design-focused and best for those who require a platform to do all of their work.
Squarespace is an ideal platform for those who want to create a professional website.
Both Duda and Squarespace are closed-source and require a subscription plan for their services. So, to help you out in deciding which website builder is suitable for you, in this post.
I am going to make a thorough comparison of Duda vs Squarespace. I will compare them against each other in various aspects to find out which one tops them.
So, let's dive in.
Duda Vs Squarespace: Usability & Intuitiveness
Usability refers to ease of use. How effortless is it to use the website builder of your choice? This is the first thing that comes to your mind while selecting an option to create your website.
If a website builder is not innate and flexible to work with, you will waste a lot of time and will not be able to achieve your aim.
Duda:
It is relatively easy to use, but its main tools and features require some time to grasp. Signing up for the process of Duda is straightforward.
After signing up, you will be sent to a cluster of templates to select your chosen design. You can preview any design before picking it up.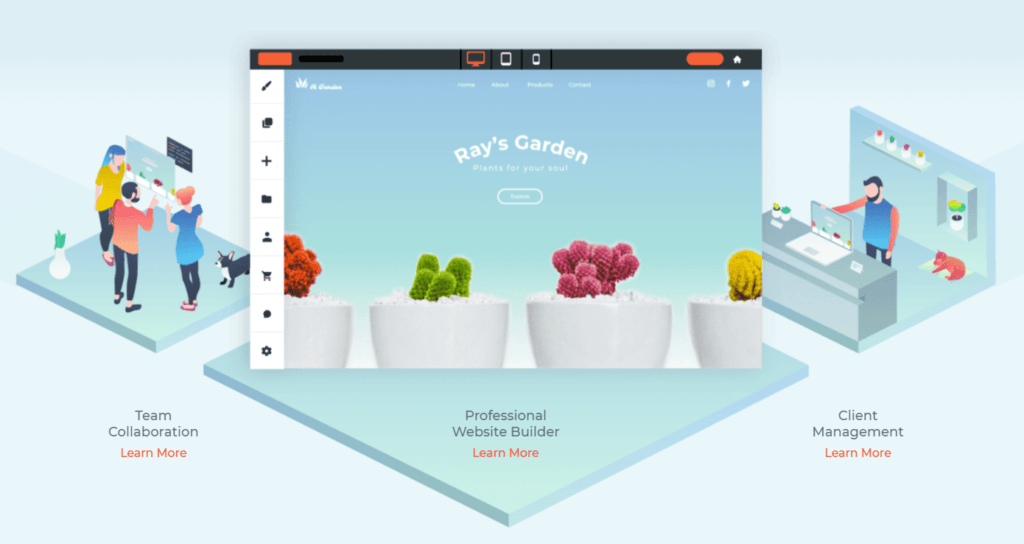 Duda comes with an intuitive drag-and-drop editor that is logically organized to ensure quick and smooth navigation. Select your required feature and drop it in a specific place on your website.
Also, Duda introduces you to the necessary parts of its interface if you are a first-time user. This also makes Duda beginner-friendly.
Squarespace:
Initially, the platform was very complicated due to various UX-based elements, but with recent updates, it has become more user-friendly for both professionals and newcomers.
Still, it requires some time to master its tools and features and has a small learning curve. Squarespace is packed with a website editor from WYSIWYG, which helps you manage and monitor all the modifications you do to your website.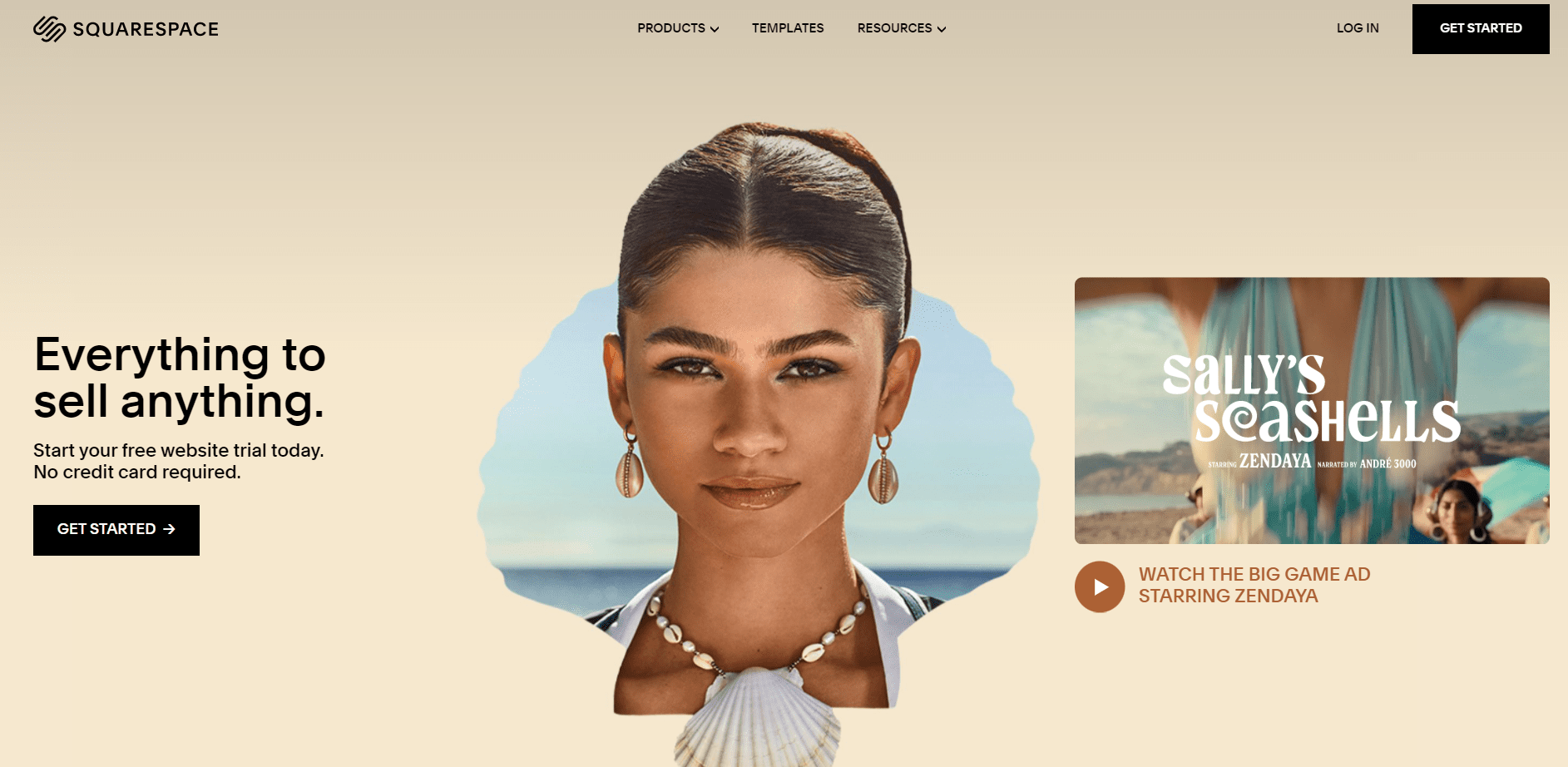 But the editor is not as usable and intuitive as Duda. It does not give you the option of previewing your website before making it live.
This is not good for beginners, who have to ensure everything about their website before taking it to the users.
Winner: Duda is the winner in providing a user-friendly and intuitive interface.
Featured Read: SocialPilot Reviews & Recommendations
Duda vs Squarespace: Designing Tools
Design tools are the most crucial aspect of website building. Comparing these tools will tell us how easy it is to customize your website structure and its degree.
Duda:
Duda has a large set of templates consisting of more than 100 designs. Its gallery is updated consistently to incorporate up-to-date modern designs that are highly responsive and customizable.
To make the work of searching a particular template easy for you, Duda has created theme categories and provided additional filters for searching.
It also offers you a blank theme with many custom features, in case you want to develop a template from scratch.
In Duda, you have the option of previewing your templates before launching your website to see the output of your site for customers on different screens.
You can also change your template design anytime during the designing process if you are not satisfied with it. Customizing Duda templates is comparatively easy using its drag-and-drop editor.
People who have knowledge of programming can also use the developer mode for injecting some code.
Squarespace:
It has fewer choices for templates as compared to Duda. Currently, it allows over 40 themes only. However, its designs are more up-to-date, competent, and modern.
By default, they are optimized for mobiles and available in various niches like portfolios, businesses, restaurants, blogs, etc.
It comes with a Cover Page Creator that lets you create a highly customizable, visually appealing cover page by modifying HTML, CSS, colors, fonts, etc.
For changing HTML and CSS code, you need to subscribe to the business plan. It also allows you to modify multiple designs at a time if required.
It has a Typekit collection of fonts, gives access to Google fonts, allows video integration, and other advanced designing features.
Winner: Duda offers more templates, but Squarespace offers deep-level customization and offers more professional templates, so Squarespace wins this round.
Duda vs Squarespace: Customer Support
There are times when you get stuck during your website building while using any tool.
So, it is essential for the website builder you are using to provide you with enough resources and modes of communication to help you solve your problems.
Duda:
Duda provides good customer service by offering comprehensive knowledge resources, which include several tutorials, and how-to guides written in simple language so that everyone can understand them.
It also gives the alternative of a ticket system for contacting their Support center, which will solve most of your system-related questions.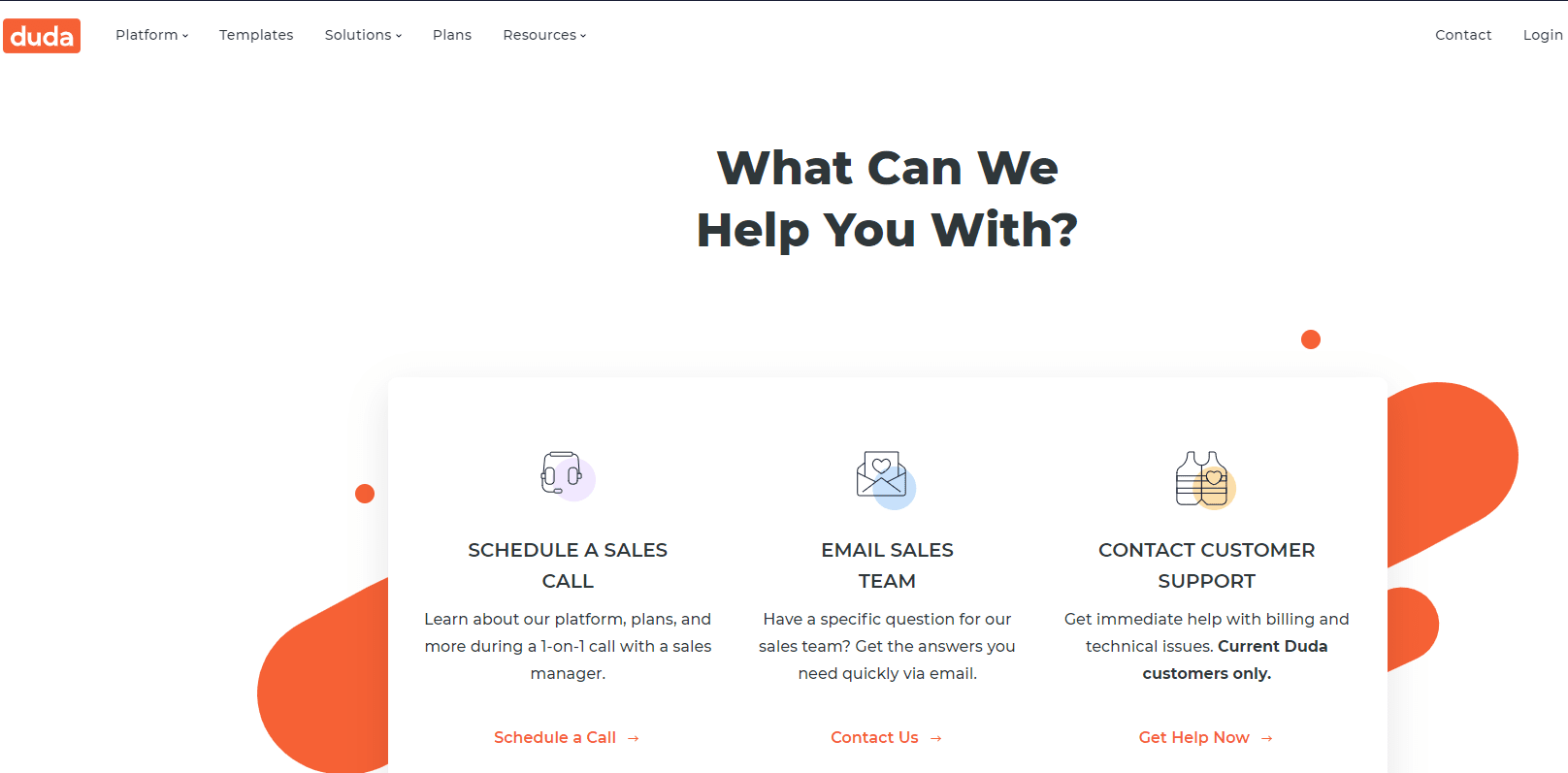 Besides, the website designer also provides video guides to help you make the most out of Duda. A forum is also there to resolve common issues together.
You can get in touch with the customer service team also if your problem is still not resolved.
Squarespace:
It also offers good support for its customers. It has numerous tutorials, and a community hub of customers to solve common problems together.
Live chat support is available 24/7 to reach customers quickly at any time. In addition to this, it also provides email support.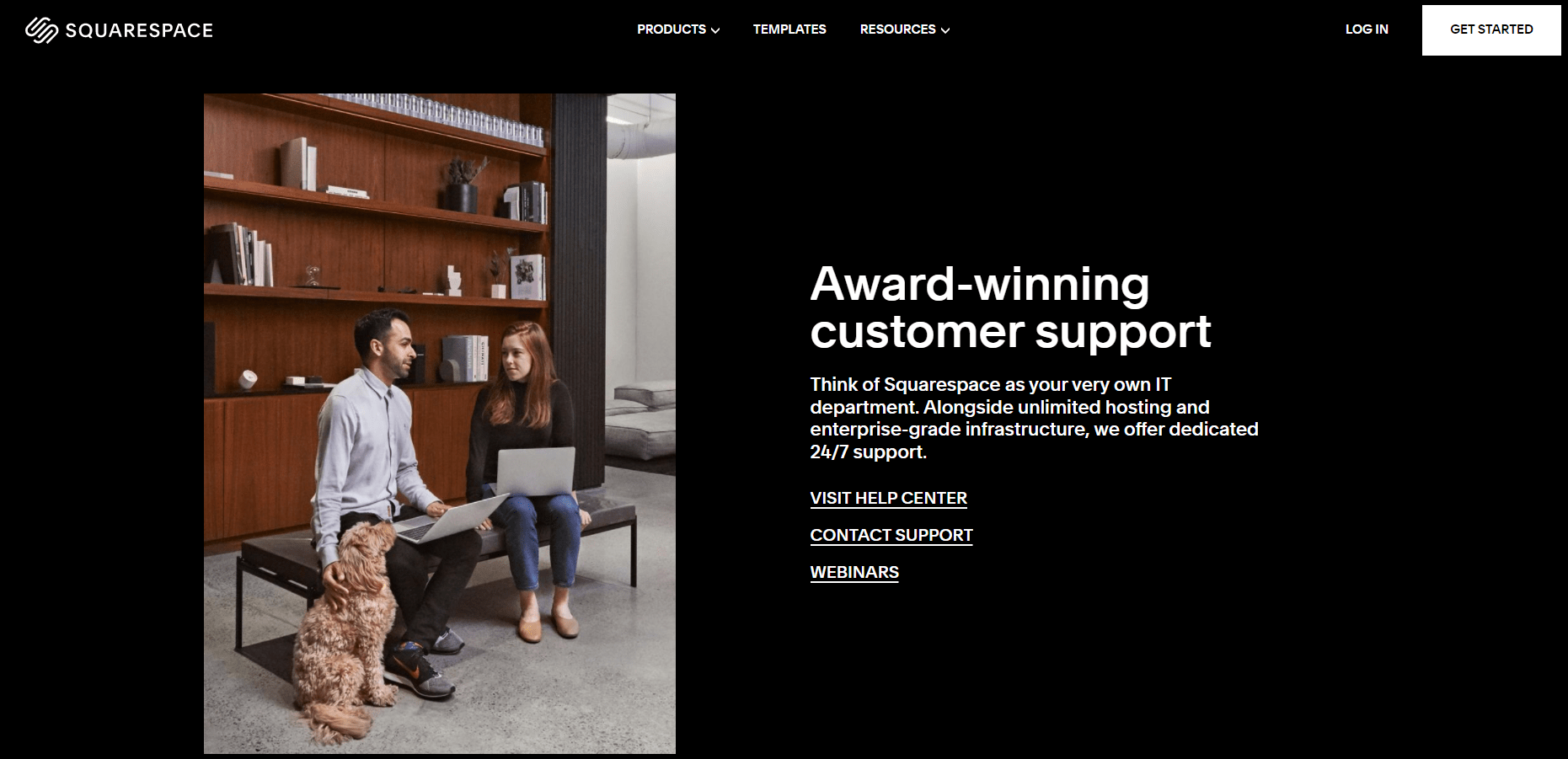 Winner: Both platforms provide significant support to their customers. Yet, Duda lags behind in providing the one-to-one support that Squarespace provides through live chat and email.
FAQs On Duda vs Squarespace
What is a Duda?
Duda is a leading web design platform for web professionals and agencies of all sizes, with powerful team collaboration and client management tools for building and managing websites at scale.
Is Duda any good?
Duda may not be the best website builder out there, but it's still a solid choice – especially if you're a freelancer or agency looking to build multiple sites quickly and easily. It's pretty unique in its client management features, helping you to create a professional service. Where Duda really shines is its designs.
What is Squarespace for?
Squarespace is a website builder tool that is aimed predominantly at small business owners. It lets users create a professional site in a browser without coding and edit it easily thanks to a user-friendly content management system (CMS).
Is Squarespace worth the money?
Is Squarespace worth the money? Squarespace is all about quality. You won't find better template designs or in-house features anywhere on the market. If you're looking for a cheap or free way to build your website, though, Squarespace isn't for you.
Quick Links:
Conclusion: Duda vs Squarespace 2023
In this Duda vs Squarespace comparison, Squarespace has won more aspects of website development in providing excellent features and flexibility, providing full support to its customers, and niche specialization.
However, it does not make Duda less usable.
The intuitive and easy-to-use interface already solves many problems that you may face with Squarespace due to its somewhat complicated interface and will require support. At the end of the day, the decision is yours.
If you need a platform that is simple to use, requires no coding skills, provides many advanced features, automatically does most of the work for you, and gives you long-term results, then you can go for Duda.
However, if you are not scared of investing a lot of time and money and want to experiment, you can go for Squarespace.
If you liked this comparison between Duda vs Squarespace and can decide which platform is right for you, please share it with everyone and comment your thoughts on my take below.